When I was in Barcelona I was offered the opportunity by the nice folk at Barcelona Tourism and the Catalunya Bus Turistique to take a day trip. A whole variety of destinations were on offer, but I chose the tour that went to the pretty looking towns of Girona and Figueras.
I mostly chose this tour because Figueras was the home of Dali, and is where the museum that he put together to house his works can be found. The museum also happens to be where he's buried. Being a fan of Dali, I was keen to see what a museum created by him might look like.
Generally, I'm not really a tremendous fan of your standard coach tour. This is largely due to memories from my childhood of the odd bus tour to seaside towns with my Mum and funny smelling old people. Weird how that can put you off. Plus there's something about being part of a managed group that just, well, doesn't work so well for me.
On the plus side, a tour like this is a handy way to see a fair amount of stuff in a short amount of time, with lots of information thrown in to boot. And this one was no exception. Our guide, who chatted to us as we drove between destinations kept us entertained and informed with stories of the Catalonian regions admittedly fascinating history, as well as with titbits about both Girona and Figueres. He was also very good at shutting up the noisy crowd at the front of the bus. All round, a jolly chap.
The bus ride from Barcelona to Girona, the first stop, was about an hour, and the view along the Costa Brava coastline was very pretty from the windows, with the sound of our guide burbling away happily in the background. The hour flashed by in comfort, and it wasn't long before we were arriving in Girona itself, where we set off on a guided walking tour of the highlights.
A quick tour of Girona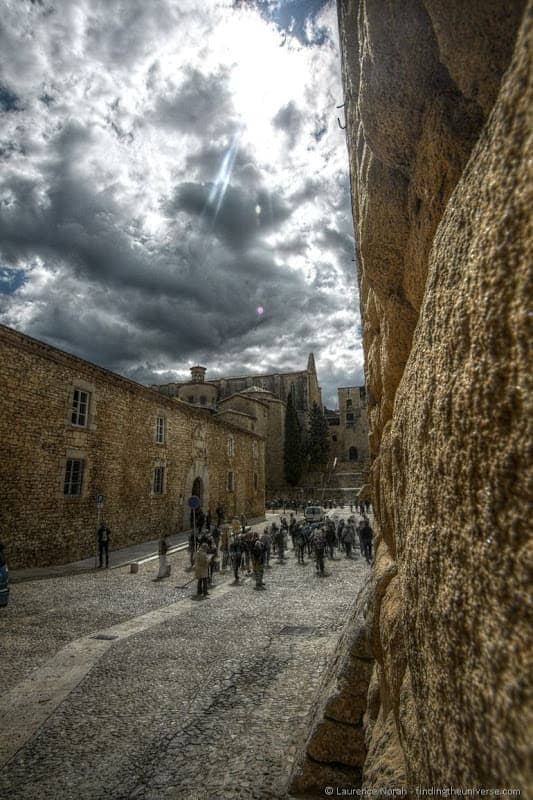 I knew essentially nothing about Girona before I got there. I quickly learnt that it's one of those cities, like so many in Europe, that has had its fair share of conquerors, rulers and invaders. Everyone from the Romans to the French have had a go at conquering the place, with an impressive 25 sieges to date. Presumably your average Gironian back in the day was fairly au fait with basic siege warfare tactics. The overall result of all of this is a town that consists of a fascinating pile of cultural collisions.
These days the only sieges the locals have to deal with are the army of tourists, of which we were but a small bastion. Our guide whisked us around the main highlights, including the crumbly old Jewish quarter, the spectacular cathedral, the Arabian baths, the colourful river frontage, the statue of the lion that you have to kiss for luck (and, presumably, to also contract a variety of fascinating diseases from other lucky folk) and myriad winding back streets. Our brains were filled with all manner of information, most of which I failed to heed as I was too busy glued to my camera's viewfinder.
Because Girona is, if it's anything, a magnificently pretty place, and if you're obsessive about trying to capture beauty and bottle it, then it's the sort of place you might find yourself being excited about. As I was. We finished our time there with a rather fine lunch (Spanish food is both excellent and great value), before heading back to the bus.
In conclusion for this part of the tour, we saw just enough of Girona to get a taste of the place, but I'll certainly be needing to go back.
For now though, let's head on to Figueres.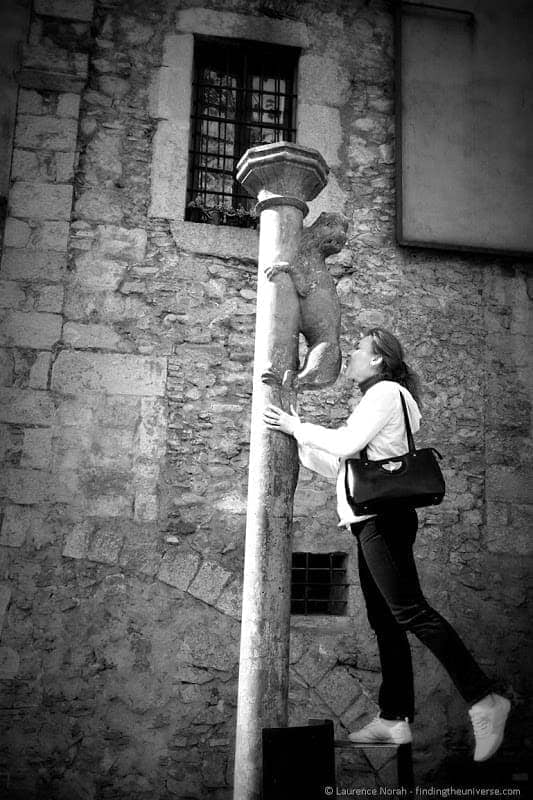 Figueres – it's all about Dali!
The town of Figueres is a little further away from Barcelona, requiring another ninety minutes of coach action. Again, the tour guide burbled as the scenery flashed by, with the foothills of the mighty Pyrenees mountains hoving into view.
Before we knew it, we were arriving into Figueres, which is mostly famous for being the home of Dali, the worlds greatest surrealist artist. The main draw is the Dali Theatre and Museum, created by the artist, and home to the largest collection of his works, as well as the remains of the artist himself.
As it was designed by Dali, the whole museum can be treated as one of his pieces. There are giant eggs all over the place, a huge dome over the top of the main stage, and seriously weird stuff throughout. It was also possibly the busiest place I've ever visited. Clearly there are a lot of people with a passion for Dali. Or a lot of people on bus tours carefully checking off destinations. One of the two.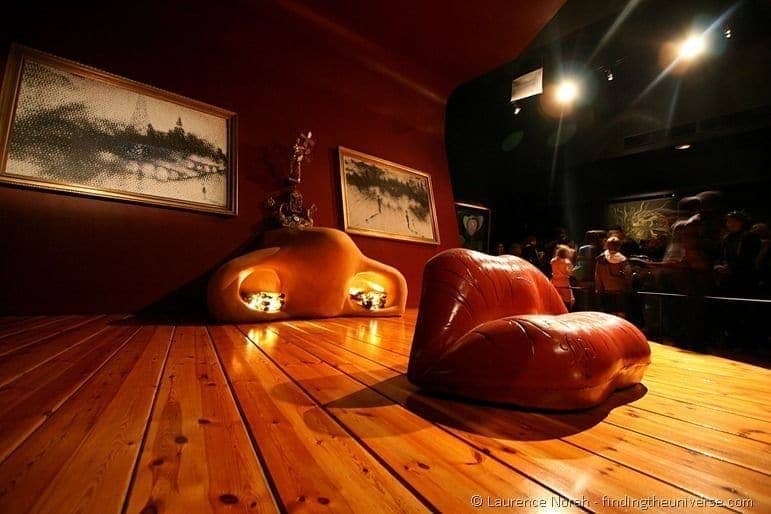 It was certainly an experience. The museum was fascinating, and I was able to see a lot of Dali's work that I hadn't previously been aware of, including some of his later styles.
Unfortunately, the incredible press of people meant that it wasn't the worlds most enjoyable visit, and I have to admit to being a little glad it was over and not having to battle for elbow room. Vera and I escaped into the late afternoon rain and ate croissants instead. I would love to go back, perhaps at a quieter time of the year. If the TBEX people are reading this.. a late night private opening would be lovely. Thanks!
In conclusion
We managed to pack a great deal into a day that we would otherwise not have not done, and it certainly opened our eyes to what is available outside of Barcelona. If you're on a tight schedule, and want to see some highlights and get some knowledge, a bus tour might be just for you.
Alternatively, you could roll your own experience, and grab a train from Barcelona out to Girona. It'll take about an hour, too, and may give you more time to explore if that's what you need. Whichever you choose, I can definitely recommend spending time in Girona. Also, If you're a Dali fan, and can find a quiet time, then the museum is also totally worth the visit. But I do implore you to find a quiet time!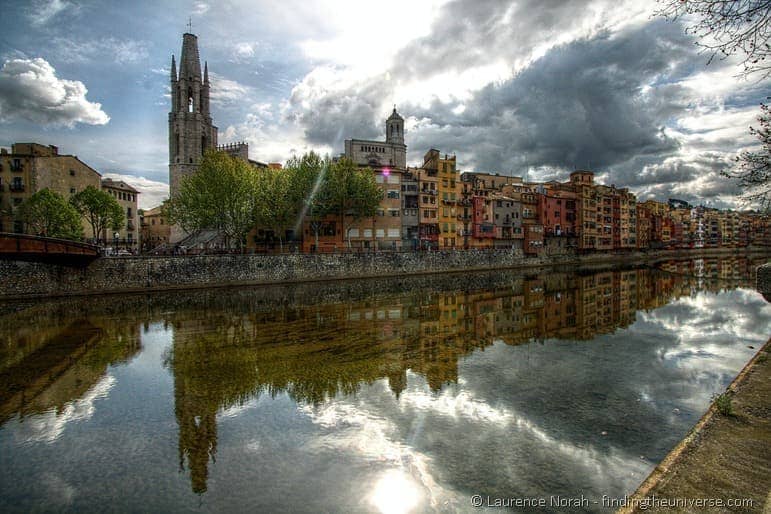 Thanks to both Barcelona Tourism and the Catalunya Bus Turistique for providing us the opportunity to take in these experiences during our trip down to Barcelona. Whilst the trip was complimentary, all the thoughts above are entirely my own. Do share your experiences in the comments below!