Now that I'm back in Europe, I'm looking forward to exploring all that this amazing continent has to offer, from local French attractions, to more distant jewels.
Having spent time touring in a country where the distance between towns was measured in driving days rather than hours, my perspective on the scale of Europe has now changed, so what once seemed far, is now a mere hop skip and jump away.
There are parts of Europe that I am lucky enough to already be very familiar with, with Italy being near the top of that list. Her capital, Rome, is a veritable travellers paradise, with endless options for exploration, from churches, to crypts, to crumbling relics of bygone empires. Today I thought I would share some of my personal highlights of Rome with you.
Before I plunge in, one point of note. Rome is an incredible city, but be warned, you'll be sharing it with a whole bunch of other folks enjoying their own trips. The must-see's though are must-see for a reason – it's hard to find this much history and culture stuffed into such a small area in many other places.
So get your tourist vibe on, load your camera with film, and take the billionth photo of the Coliseum. Then load up on gelato by the Spanish Steps. By the end of your time in Rome, you'll more than deserve it!
Things to Do in Rome
1. Vatican City
Whatever your religious views, the Vatican City in central Rome is one of those places that you really can't visit Rome without seeing. As well as being the seat of Christianity, this place is home to some of mankind's most famous pieces of art, including Michelangelo's David, and the Sistine Chapel.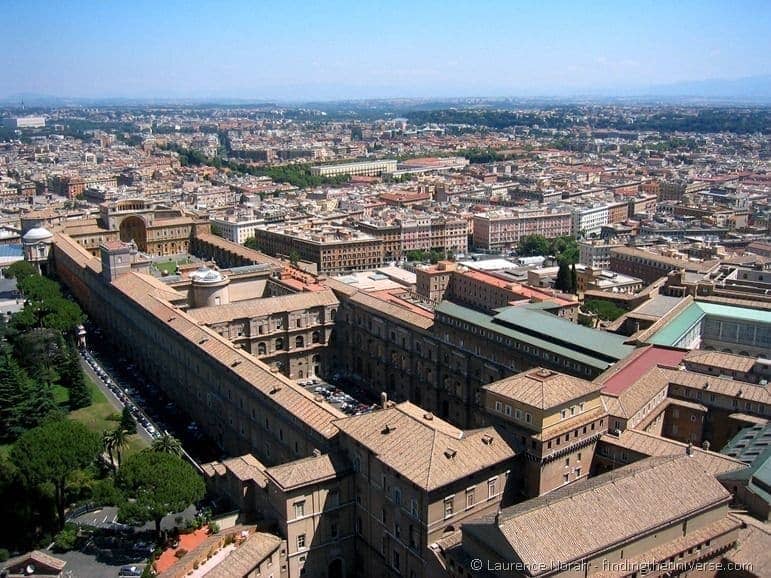 You could spend days just wandering around this labyrinthine city within a city, but my number one tip would be to get above it all by taking the walk up to the top of St Peters dome for unbeatable views across Rome. Worth the climb.
2. The Coliseum
There is perhaps no more recognisable Italian structure in the world than the coliseum, where early Christians were thrown to the lions, and gladiators battled to the sound of crowds baying for blood. People talk about the place holding a great sense of history and the smell of fear – on the occasions I've visited I've largely just noticed people posing with "centurions" and reliving scenes from Ridley Scott's Gladiator.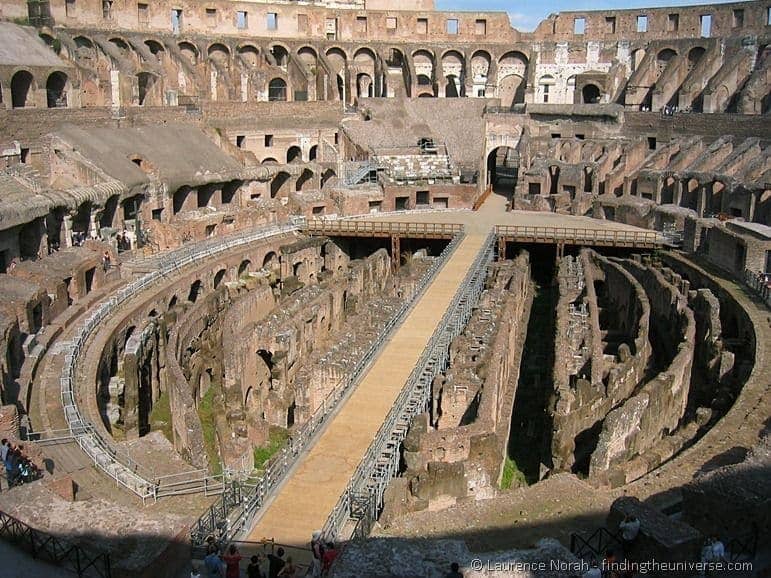 The structure however is just boggling, made all the more astounding given the fact that it has been standing in Rome since 80AD. Nearly two thousand years in fact. It is the largest amphitheatre that the Roman Empire built, and has to be seen to be believed.
3. The Pantheon, and other central must-see items
The Pantheon is one of my favourite buildings in Rome. Its original incarnation was even older than the Coliseum, although that was destroyed by fire. It is particularly remarkable for its enormous dome like ceiling, famous for having a hole known as the occulus at it's apex, through which the building is lit.
When I visited, for some reason, Led Zeppelin's song Stairway to Heaven was playing through a tiny speaker under a statue of the Virgin Mary, a memory that has always stayed with me.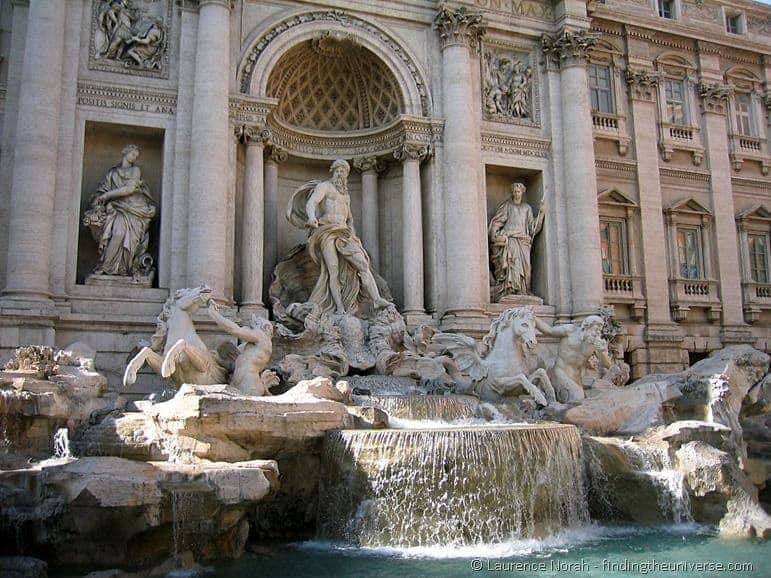 Around the Pantheon, since you are there, are some other highlights of Rome that you should take the time to see.
The Trevi fountain, for example, is one of the worlds most famous fountains. It is traditional to throw a coin into this fountain, and roughly 3,000 euros a day makes its way into the waters.
Also in this area are the Spanish Steps, famous for their people watching options, especially over an ice cream. If it's a sunny day, you'll probably want to take a break from all the ancient exploring, and get to grips with some of Italy's famous Gelato.
If you get time to explore beyond the immediate central attractions of Rome, there is again no shortage of awesome places to visit. A couple of my favourites are:
4. The Baths of Caracalla
The baths at Caracalla are one of my favourite places in Rome. I think what gets me about the place is just the crazy obsession the Romans had with bathing, and the process that they created around that, which resulted in vast complexes like this.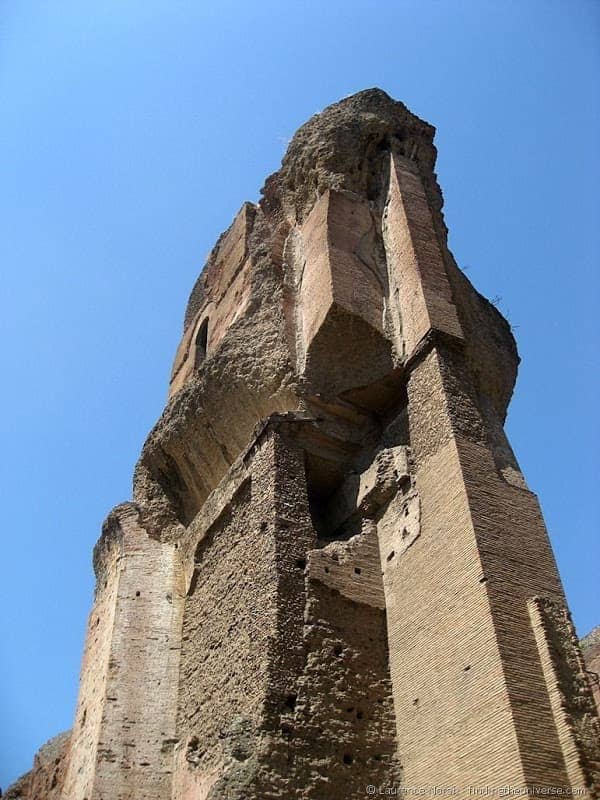 Sprawling over 25 hectares, these baths were built in the 2nd century AD, and operated for four centuries.  When operational they could accommodate around 1500 bathers at any one time, although walking around the gigantic ruins, you'd think that most of the Roman population could turn up and have a wash quite easily.
There are of course, examples of mosaics and statues to peer at as well, but really, just walking around the grounds is an incredible experience. If you've got time, this is one I definitely recommend adding to your to-do list.
5. The Catacombs
If you've visited the coliseum, and seen where the Christians got fed to the lions, you should continue your travels through Rome's slightly ghoulish tourist attractions, and head to the catacombs, where Rome's dead were buried.
With over sixty catacombs to choose from in Rome, you won't struggle to find a spooky underground cemetery to get your ghoul on. Perhaps the most famous though, would be those found along the Via Appia, or Appian Way. These are the ones I've visited, and do require a short bus ride out of Rome, but this is an entirely worthwhile bit of effort.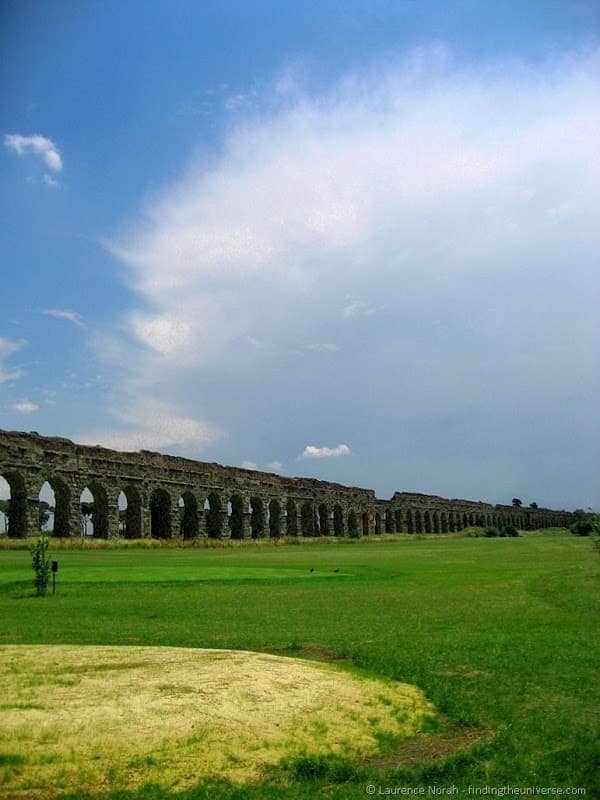 There is nothing quite like descending underground into dark musty corridors lined with ancient graves, dating as far back as 150 AD. The experience is claustrophobic and unnerving, a bit like being returned to the grave prematurely. And as with so much in Rome, absolutely worth doing.
And that's that for today's post on Rome! If you're visiting Rome for a little while and planning on seeing a few sights, check out the Rome Pass – it will get you into loads of attractions and will save you a good amount of money in the process!
We also use and recommend Walks of Italy – they're a fantastic company for small group tours, and they offer a number of excellent walking tours in Rome. See all their Rome tours here.
Plan your Rome Accommodation now!
Finding the best deal on your accommodation is an important part of trip planning – helping you to get the most from your budget, as well as find the property that is right for you.
Our current favourite place for finding great deals on accommodation is Booking.com. We find they have the widest choice of properties and very competitive rates, with everything from hostels to apartments and hotels.
Alternatively, if you prefer an apartment or more of a hosted stay, then I recommend AirBnB. I've tried all the others, and AirBnB consistently has the most options for locations around the world. Plus, if you've never used them before, you'll get a discount on your first booking with this link!
Between these options, you should find the best prices and places to stay for your trip, as well as a good selection of reviews and feedback to help you make an informed decision!
Home » Destinations » Europe » Italy »