Thinking about heading to the gorgeous and sunny Florida Keys, and wondering what to get up to?
Well, we've got you covered. In this guide to some our favourite things to do in the Florida Keys, we're going to take you on a tour of a massive brick fortress, meet six toed cats, eat Key Lime pie, feed tarpons – and lots more!
We spent five days in the Florida Keys and got up to a lot of adventures. Here are some of our favourite things to do in the Florida Keys.
Things to do in the Florida Keys
1. Feed the tarpon at Robbie's
There's a lot of sea life in the Keys, and if you visit Robbie's restaurant then you can get up close and personal with the tarpon – a fairly large species of fish that you can hand feed.
I didn't actually hand feed said tarpon – I left that task to the incredibly brave Justin, a fellow-blogger at True Nomads. Justin was a true solider, holding onto the fish food as long as possible, coaxing the tarpon higher and higher out of the water in order to help get the shot.
He was bleeding by the end of it (if you go, let go of the fish food before the tarpons get grumpy and encase your hand), although it was worth it for the photos. Nice job Justin.
2. Get blown away by the sunset at Mallory Square
Every day at Mallory Square, at the edge of Key West, there's a party at sunset known as the Sunset Celebration. Just across the water from here is an exclusive island, called Sunset Key.
These were hints that perhaps this was going to be a good spot for watching the sunset.
It was.
Words can't really do justice to the magnificence of the sunset that I witnessed that night. Which is why I took these pictures.
What I can say is that if you do go to watch the sunset, hang around a bit until after the crucial sunset moment. I hung around for a good while, which is how I managed to catch this, easily my favourite lightning shot to date.
3. Fly out to the Dry Tortugas
You can, of course, take a boat to the Dry Tortugas. It takes around three hours each way, and means your day is going to involve a lot of staring at the ocean and wondering what life would be like as a pirate.
Whilst this is no bad thing, a preferable option is to arrive in style and panache, by flying over in a seaplane. This takes half an hour, and is a heck of a lot of fun. Particularly because you get a headset, which as well as some knowledge about the journey and what you are flying over, is also filled with excellent songs.
Like I said at the start of this post, listening to some of your favourite music (the pilot had excellent taste) whilst floating in the air above turtles, dolphins, and postcard-perfect vistas is not a terrible way to spend half an hour of your life.
Of course, the journey was also about the destination, which in this case was very much worth it.
The Dry Tortugas are a group of seven islands located almost seventy miles west of Key West. They are a National Park, with the highlight being Fort Jefferson on Garden Key, a gargantuan brick fortress which is claimed to be the largest brick structure in the western hemisphere.
This hexagonal structure was originally conceived as a fortress, and whilst it did perform this function it was never actually completed. It was instead used in it's incomplete state as a prison fortress, a role it served throughout the American Civil War, with the prisoners tasked with the arduous job of continuing construction.
It's most infamous prisoner was Dr. Mudd, who was imprisoned here after helping to treat John Wilkes Booth, Lincoln's assassinator. Following the end of the civil war, the fortress started to lose military usefulness, and was from 1888 onwards instead used as a military quarantine station, before being turned into a National Monument and then a National Park.
Nowadays the structure is a tourist attraction, and what an attraction it is. In gorgeous surroundings I was just boggled by the sheer scale of the place, a four storey structure designed to accommodate 1,000 guns and to be impervious to any kind of attack. A hugely formidable place, it was hard to imagine anyone even considering an attack, which I guess was kind of the point.
4. Watch the world's most surreal music festival
I've been to a few festivals around the world, including Glastonbury, WOMAD and ConFest. However, nothing prepared me for the festival they hold annually in the Florida Keys – the Underwater Music Festival.
Celebrating it's 31st year when we took part, this two hour long event features costumed performers bobbing away on the bottom of the ocean, whilst the strains of ocean-themed music are played through underwater speakers.
I have to admit, there was something quite relaxing about snorkelling in the clear waters off the Keys whilst listening to "Under the Sea" from the Little Mermaid soundtrack, watching an actual mermaid playing a wooden guitar accompanied by both Spongebob Squarepants and Patrick the Starfish. Turns out you don't need to take any drugs at all to have a trip in the Florida Keys.
The underwater music festival is held every year, and you'll need to find a boat to get out to it as it's held a few miles out to sea, over one of the more popular diving and snorkelling spots. If you get a chance, it's totally worth doing.
5. Cycle the seven-mile bridge
You know when you have a brilliant idea for something that will look incredibly cool and make you seem like the hoopiest frood on the planet? And then it becomes blindingly clear within minutes that said idea is going to cause you a great deal of discomfort for a prolonged period of time, but damn it, you're going to crack on anyway because You've Committed?
That was my experience cycling the seven-mile bridge in the Florida Keys. Unlike everyone else, who chose a perfectly ordinary two wheel bicycle with modern trappings like gears, I decided it would be hilarious to hire a tricycle.
It was, admittedly, hilarious. For at least a few seconds. Until i realised that tricycles are heavy, awkward, prone to tipping over at the slightest hint of a sideways incline, only have one gear, and have a seat that wouldn't be out of place as a medieval torture instrument.
Anyway, I was committed, so I put a brave face on it and off we went.
The seven-mile bridge consists of two bridges, running parallel to each other. The original bridge was built for the railroad, and then converted for automobile use. However, it wasn't ever really wide enough for this purpose, and the new bridge was built next to it in 1978.
Nowadays the old bridge is only open to pedestrians (and foolhardy tri-cyclists), and offers a wonderful 2.2 mile journey over the shallow waters below, ending at Pigeon Key.
The ride out wasn't to Pigeon Key wasn't so bad, with the wind at my back, and the views were, it has to be said, just gorgeous. Puffy white clouds, endlessly azure oceans – you get the idea.
The ride back, with the wind having picked up and firmly blowing into my face, would best be described as a slog. Still, don't let me and my damaged nether regions put you off. I'd highly recommend hiring a bicycle and taking the time to peddle out to Pigeon Key. Just make sure it's a two-wheeler.
6. Eat all the Seafood. And the Pie.
If you ask anyone in the Keys what the local speciality cuisine is, you're going to be told about the seafood. Being surrounded by water, and with fishing being a major sport and livelihood in the area, that's not really a surprise.
And the seafood is, as you would imagine, pretty darn good, even if not exactly cheap. We ate seafood towers, lobsters, fish caught that day and grilled up, crab cakes cooked before us on tables set on the beach – it was a marine smogasboard.
If you don't like seafood, you are going to be in a bit of a pickle in the keys. Unless you like pie of course.
I can't talk about the food of the Keys without touching on the Pie, namely the Key Lime Pie. I lost count of how many slices of the stuff we ate in our five day trip, but it was an embarrassingly large amount. And of course, every slice was labelled as the best in the Keys. I'm not sure where my favourite was, but it was all darn good to be honest. Except for my waistline.
Highlights of our culinary journey in the Keys included dinner at the fabulous Latitudes Restaurant on Sunset Key and dinner on the beach at Marker 88, both of which I can recommend highly. Ideally accompanied by some sort of fantastically coloured cocktail or three.
7. Learn about Hemingway
Of course, no visit to the Keys is complete without a journey to to learn about Hemingway, who lived, drank and wrote here for eight years. The town has plenty of Hemingway related action, including the bars he frequented, and the annual Hemingway lookalike contest.
The dedicated Hemingway aficionado though will want to head straight to the house he called home from 1931-1939, now open to visitors and called, as you would expect, the Hemingway Home.
A tour of the property by one of the knowledgeable guides is the best way to get a handle on the home, you'll learn about Hemingway, his loves, his life in the Keys and of course, his writing. The house itself is also interesting from a historical perspective, being the first property in the Keys to have indoor plumbing, an upstairs bathroom and a pool.
If you also happen to like cats, then you're going to love the Hemingway Home, as it is home to at least forty of the legendary six-toed cats – all of whom are descendants from the cats that Hemingway himself had, and the majority of whom are incredibly friendly, and delighted to be petted.
If you want to learn more about Hemingway, check out this detailed post that Jess wrote, all about Finding Ernest Hemingway in the Florida Keys.
Where to stay and eat in the Florida Keys
We had the privilege of eating and sleeping at some fantastic properties during our trip to the Florida Keys, some of which I've mentioned through the post.
Here's a full list of our recommendations for where to eat, stay and drink in the Florida Keys, to help you plan your own trip.
In conclusion
We had a fabulous time in the Florida Keys. If you're into history, fishing, sea food, water-sports or just having a good time, then I'm sure you will too. Bring plenty of suncream and, depending on the season, insect repellent, although I wasn't bothered by any bites whilst I was there.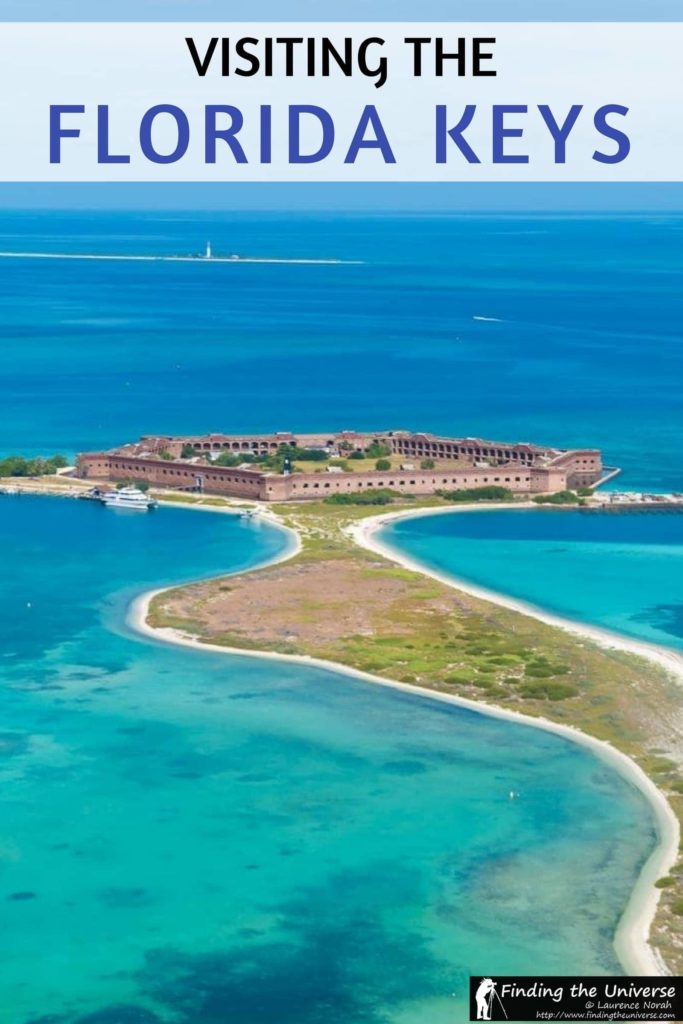 So you know: My trip to the Florida Keys was covered by the Florida Keys and Key West Tourism Council, who covered our transport, accommodation, activities and flights. All opinions remain my own – see my code of ethics for more on how this stuff works.