Hi there! This page is all about the people behind Finding The Universe & our other site Independent Travel Cats, Laurence and Jessica Norah. Thanks for your interest – it's appreciated!
If you want to find out who is behind this site... read on!
If you want to find out about how we can work together and feature you on the site – one of the worlds most popular travel blogs – which has also been featured by Buzzfeed, Facebook, Instagram, CNN, National Geographic, USA Today and more, then check out our partnership page instead!
Tell us who you are?
Hi, we're Laurence and Jessica. We're travellers, photographers and writers slowly exploring the world, and currently based in Edinburgh, UK.
Laurence started his journey in June 2009 after quitting his corporate IT career and looking for a change of scenery.
This blog was started in May 2010 as a way to catalog his experiences and share his photos, and has since evolved into a place on the web where you can find honest travel advice, humorous tales from the road, and photography to inspire!
Laurence met Jess in 2014 at a travel blogging conference in Italy. She's been running her own successful travel blog, Independent Travel Cats, since 2013, offering savvy travel advice to independent travellers, with more of a focus on luxury travel, cultural discoveries and history. They got married in 2015 on board the Queen Mary 2 – naturally Laurence took the photos of that.
Basically, Laurence likes to take the pictures and stand on mountains, and Jess loves to explore museums and discover what makes a place tick. Somehow, it works. Since meeting we've decided to move on through life together, share the experience of travel, and see what the world has in store for us!
Laurence's previous partner Vera also contributed a number of posts to the blog, which you will find as you roam through our content.
Where have you been?
Laurence's first adventure after leaving his corporate career was a road trip around Australia in 2009.
This trip was a year long 60,000km adventure around Australia, much of which you can read about here.
Laurence then spent a summer living in Germany, followed by a year travelling New Zealand by campervan, largely hunting Lord of the Rings filming locations. He also spent summers helping run a small adults only campsite in France.
After meeting Jessica in 2014 in Italy, we've spent time travelling in Europe, North America & Asia  – all sorts of places! Check out the blog navigation bar to see all the places we've been, and if you're interested to hear more about Jessica's origin story, check out her dedicated about us page.
At the moment we're based in Edinburgh, Scotland – you may have seen us looking for our home here in an episode of US TV show House Hunters International!
Where are you from?
Laurence was born in the UK, but spent a lot of his childhood growing up on a small desert island in the Seychelles. Jessica is from Ohio in the USA, and moved to live in the San Francisco Bay Area before she met Laurence.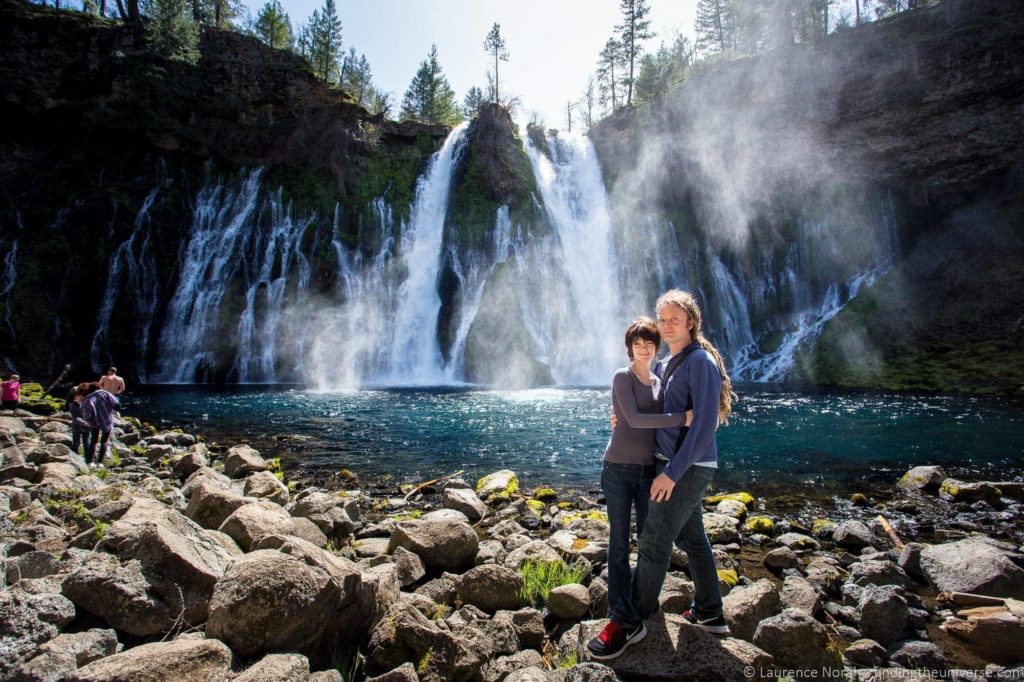 What's this all about then?
This site serves as the focal point for our travels and associated photography. We share our thoughts and tips on travelling, and photos of our adventures to inspire you to go and see the world.
When we're not writing about our trips, we'll often be talking about photography (Laurence also runs an online photography course) or offering advice from our travel experiences. It's only one half of our online presence – Jessica also runs a travel blog which you can find at Independent Travel Cats.
And the name? That's a bit weird, isn't it?
Is it a co-incidence that Laurence's favourite author's books happen to include a reference to the Universe in many of their titles? We think not. Laurence is hitch hiking my way through the Universe folks. He just ended up on Earth for longer than expected, met a girl from Ohio… you know how it goes. This blog is about life, the universe, and everything…
What's next?
We're always having adventures! We're going to be more fully exploring the UK and Europe, with trips further afield depending on where our mood takes us.
What else do you write about?
Laurence likes travelling and taking pictures, he's quite simple like that. He likes to write about how he experiences travel, and does his best to share some awesome photos. Jess writes more long form posts on everything from the psychology of travel through to detailed trip advice and stories. You should head on over to the Independent Travel Cats blog for more of those type of stories!
I like your stuff, how do I tell the world about it?
The simplest way is to hit any one of the sharing buttons on each post.

How can I be kept up to date with your adventures?
The best way is to sign up for our monthly newsletter – as well as sharing all our travel news and plans, we give travel and photography tips as well as an exclusive giveaway for newsletter subscribers. You can sign up for that (and see our latest giveaway!) here.
At the top right hand side of the page are a number of buttons that will let you follow us in a variety of ways. If you follow the site on Facebook, you'll be able to take part in the ever growing site community and see daily photos.
Do you get paid to do this?
Not in the traditional salaried sense! Any revenue comes from advertising content, partnerships with travel brands, and affiliate income when you purchase from a brand or product we believe in and link to.
If you have found what we have written to be helpful, you can click here to send a thank you contribution. This is absolutely not something we expect, but as we do get asked sometimes if it's possible to send us a contribution, so we set that up.
Can I buy or use your photos?
Of course! We take all the photos on the site, so get in touch for re-use and purchasing options. Pretty much every shot will be available in a high resolution format for printing.
Laurence currently shoots with a Canon EOS 6D, (more on our photography gear here). For other needs, just drop Laurence an e-mail at laurence at findingtheniverse.com, and we can work something out.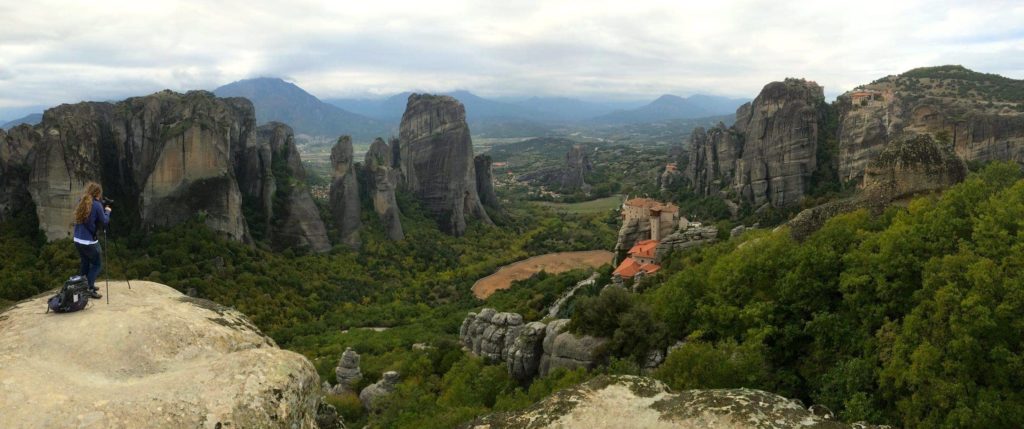 How can I contact you?
E-mail is the best way: laurence at findingtheuniverse.com. Or you can just leave a comment in the comments box if you have thoughts on a particular post.
Where else can I follow you?
You can find us at all kinds of places on the web:
I have more questions!
Well, we can't answer everything here, sadly. Post a comment somewhere on the site, or drop us a line, and we'll do our best to help out :). Or you can read 14 things you didn't already know about Laurence, and see how you score. That'll pass a bit of time. I'll leave you with this excellent comic from the xkcd genius, which explains us (Laurence at least!) far better than I ever could…