I like warm weather. This fact should be apparent by the destinations I've covered in the blog, and the way that they rarely seem to include snow, or ice. Other than that trip around New Zealand, where poor timing meant we occasionally saw some actual snow.
So when I booked my trip around a number of Scandinavian countries in March, it was with high hopes of a beautiful spring-like experience. Bunnies would be hopping in the fields. Daffodils would be nursing their way towards sunlight. Lambs would be playing cards in the fields. You get the idea.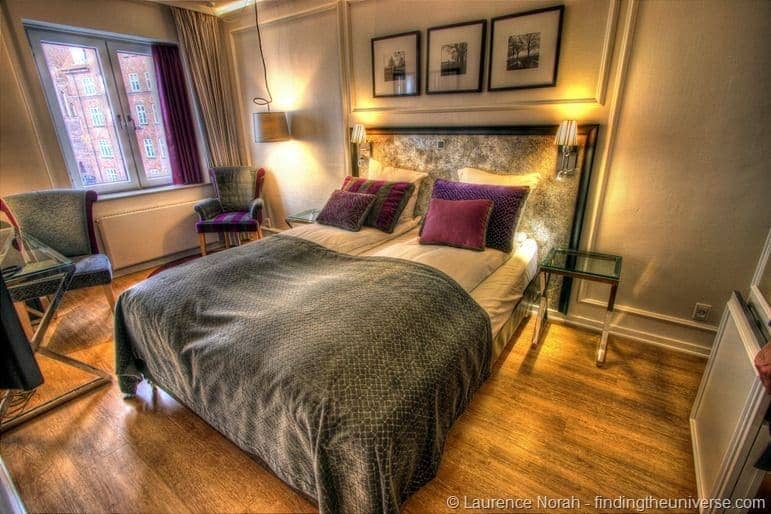 What I hadn't counted on was a severe cold snap hitting northern Europe in early March, leaving the streets of Berlin covered (I'd like to use the word dusted, but it would be a startlingly inaccurate description for the amount of snow that descended in one night) in the white stuff, and us peering at our itinerary which took us from Berlin, in a very northerly direction, to Copenhagen and then beyond. It seemed unlikely to be a directional choice that was going to result in warmer weather.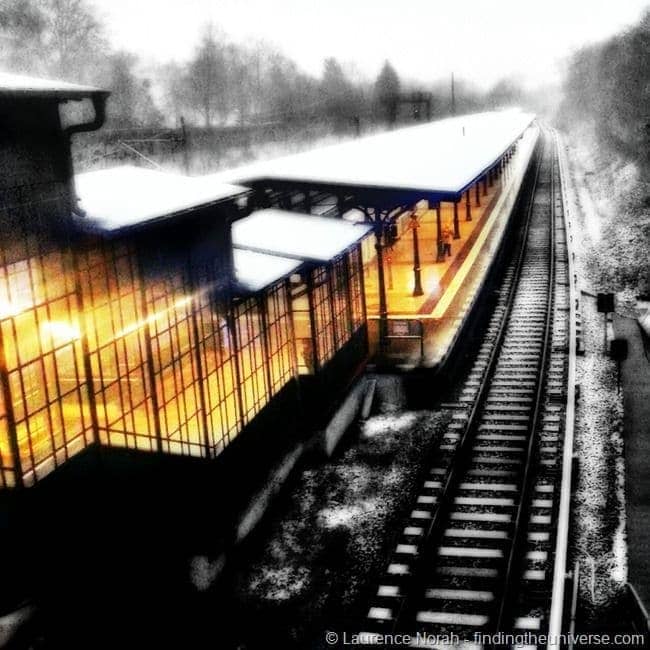 Our journey was by train, thanks to Interrail.eu, which meant it started with cosy warmth (after we got out of the blizzard at Berlin central station).
Unfortunately, a part of the journey required a ferry crossing, and due to a technical problem with the train, instead of it going onto the ferry as it would otherwise do, we had to disembark and walk to the ferry terminal.
This involved battling a severe sideways wind that was chock full of snow flakes and snow covered platforms, against which my choice of attire (basically as many things as I could put on at once) seemed oddly ill prepared to deal with.
We managed to board the ferry, in which we sat and watched as fierce winds blew snow around the deck. We wondered, for quite some time, as to whether or not perhaps Italy might not have been a better destination. Or Spain. Or maybe we should have stayed in Thailand – Europe clearly not being quite as warm in March as we might have initially hoped.
Still, we were where we were. Another battle against the snow later, and we continued our journey into central Copenhagen by rail, where, rather pleasingly, it was bright and sunny, with no evidence of any snow having fallen.
I have heard that it can be too cold to snow, and this probably explained the lack of snow, because getting off the train revealed that whilst it looked nice and sunny, the trillions of tonnes of fusing hydrogen nuclei around which we orbit were just a bit too far away to combat the icy wind which seemed more than capable of penetrating any weakness in my many layers.
Hopefully you've got the idea that it was quite cold.
Luckily for us then, it really wasn't very far from Copenhagen's central train station to our venue for our three nights in Copenhagen – the Absalon Hotel, which is only a couple of blocks away from the train station and so only about a five minute walk, even when rolling the kind of suitcase that Vera elected to bring round Europe, which is high in fashion value and low in actual wheelability.
The welcome at the hotel was friendly and warm, which went some way to helping defrost us, and our room was incredibly cosy, with a lovely big bed being front and centre. Having got up at 5am to catch our train, that was a welcome sight.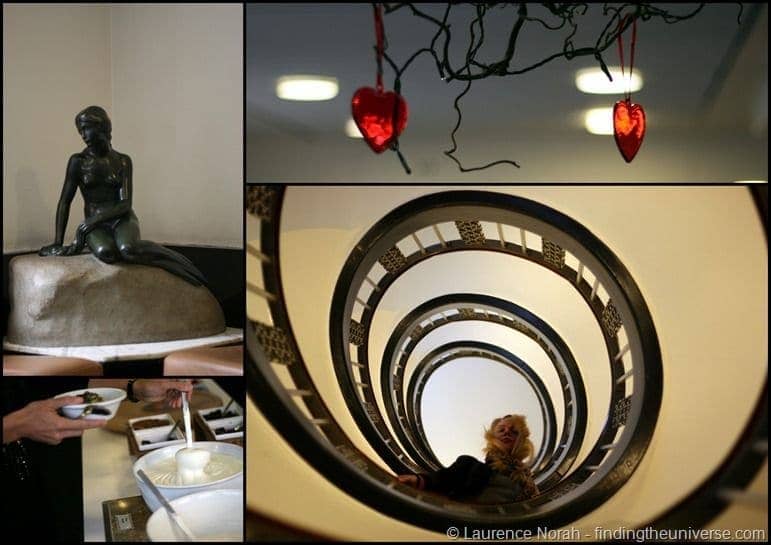 The staff explained everything to us, from the best way to get around the city, to how to walk to the various attractions, and even where to buy thermal underwear. Copenhagen, it turns out, is eminently walkable, although you'll want to wrap up warm if you visit in Winter and choose that option, like we did.
So our room. This was beautifully designed, with purple being the colour of choice to accent the room. I'm not normally someone to notice details like this or use phrases like "accent the room" (actually, I have no idea what I'm talking about), but as purple has long been my favourite colour, it rang a chord.
Other details helped out – the kettle and tea bags made Vera particularly happy, given her tea addiction, and the en-suite bathroom was lovely. Free wi-fi and an extensive buffet breakfast that kept us going pretty much all day was the icing on an already rather warm and tasty cake.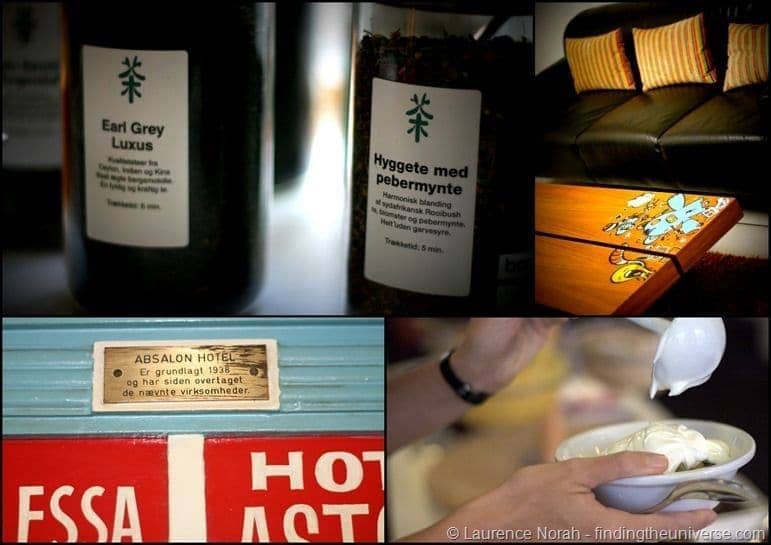 The Absalon Hotel makes the perfect base for a city based break in Copenhagen. It is in walking distance of all the highlights, and has friendly knowledgeable staff who speak excellent English on hand to help out. Rooms start at around sixty euros per night for a single, and 115 for two people, with en-suite.
We're happy to recommend the Absalon Hotel for your trip to Copenhagen – we really enjoyed our stay here. Just wear lots of clothes if you choose to venture outside in winter!
Note: our stay at the Absalon Hotel in Copenhagen was provided to us by HostelBookers.com and the Absalon Hotel, who asked that we pen our thoughts on our stay. The content of those thoughts is, as always, entirely up to us!