Situated near the top end of New Zealand's south island, the Abel Tasman national park is home to stunning golden sand beaches, rugged cliffs, native bush and a whole bunch of seals who could do with a breath mint or three.
It's a hugely popular summer time destination for Kiwis and tourists alike, with many choosing to tramp the 51km length of the classic Abel Tasman great walk.
In Winter on the other hand, when we visited, the park has a somewhat more desolate feel. The beaches are still golden, but are more likely to be framed by angry grey clouds and a blustery wind than the endless blue skies of summer.
On the positive side, the weather pretty much guarantees solitude, with the crowds staying away, and only a few hardy souls knocking about. Oh, and the sandflies. They don't give up in Winter either.
It was, admittedly, sunny when we arrived, a situation that didn't last too long into our two night stop over, with grey skies constantly threatening although thankfully never delivering rain. Our camp for the stay was a deserted, if well equipped, Department of Conservation campsite, sitting at the northern end of the great walk itself.
We opted to do a day walk of around 25km, which would take us to the lighthouse at Separation Point. Lighthouses, we are rapidly concluding, are to New Zealand what churches are to Italy. Unmissable, and available in great quantity. Expect to see more about lighthouses in the coming posts, if you aren't already saturated.
The walk we chose was a loop, and didn't look like it would be too strenuous. The highest point was Mount Gibb, a 405m lookout, and the rest of the track was a gentle perambulation up and down through dense native bush and along the aforementioned golden beaches.
Other than the final two hundred metres or so past seals to the lighthouse itself, which involved a fairly death defying scramble above crashing surf and jagged rocks, the walk met expectations. The distance was fairly long, taking us nearly seven hours, but the views, right across the whole Golden Bay area, more than made up for it.
Stunning hidden coves hove into view around most corners, as the path wove it's way (that's enough words ending in –ove for now) around cliff edges and along windswept abandoned beaches.
We celebrated the adventure with a campfire by our van (wood kindly supplied by the DOC ranger) and a veritable feast (well, chilli) to warm our bones.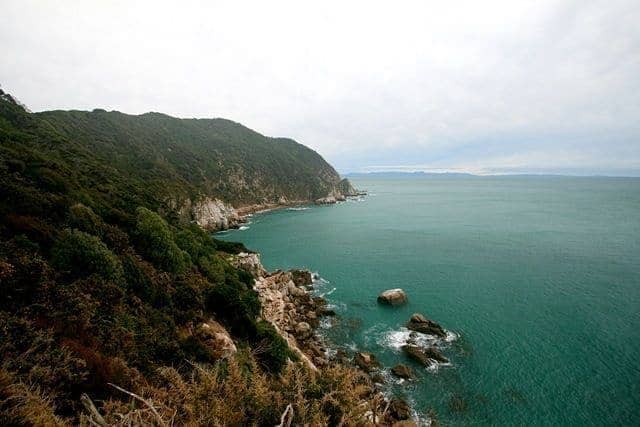 The Abel Tasman national park is generally already on most travellers to do lists when visiting New Zealand. I can add my recommendation to that, even in the off season. There is plenty to do and plenty to see – just make sure you bring lots of insect repellent…