One of Jess's dreams has always been to travel on the Orient Express on the overnight journey from London to Venice. And when the opportunity to do just that presented itself, well, obviously we had to take it!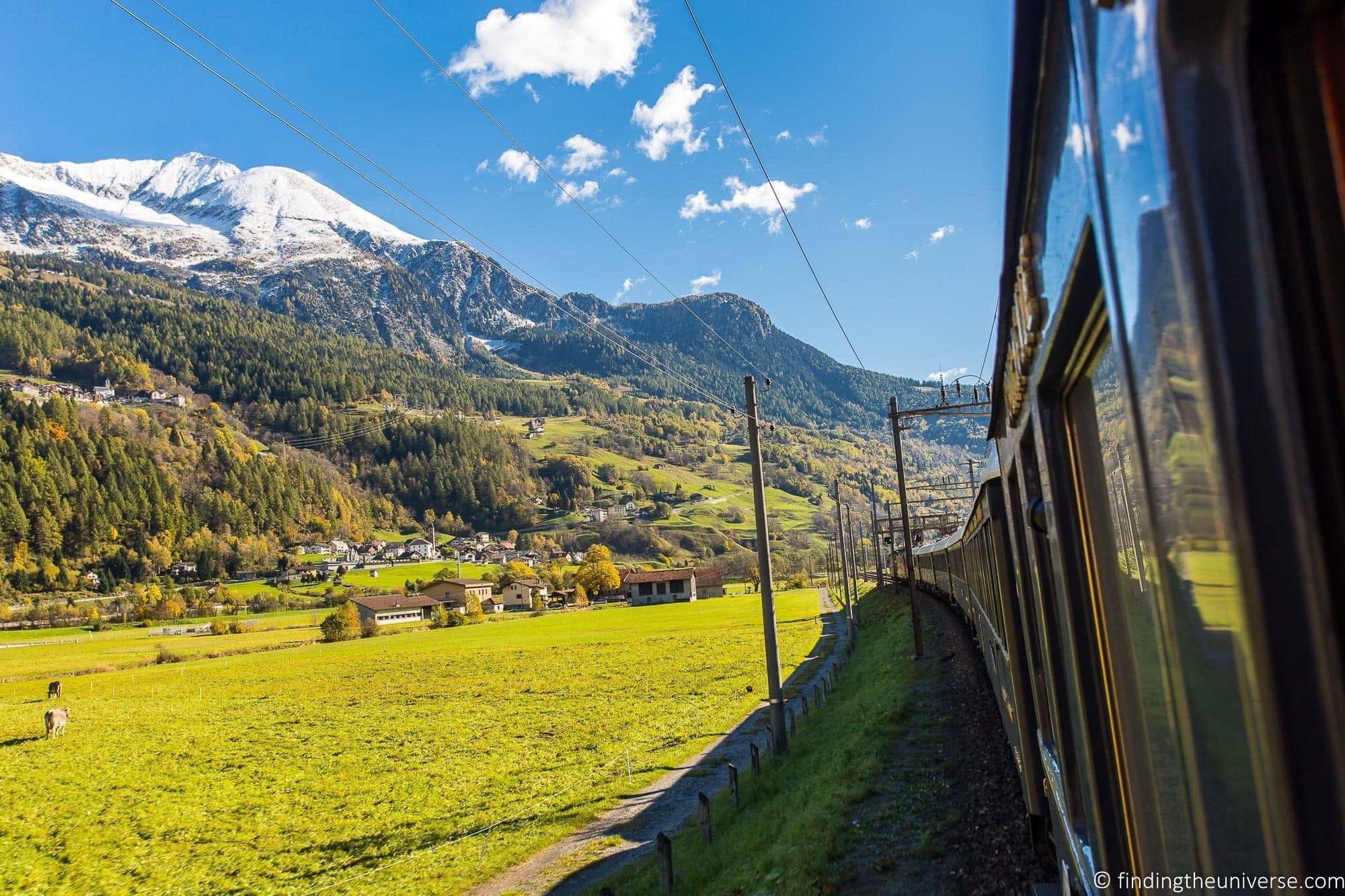 Personally, other than the Agatha Christie novel, I have to admit to not being an expert on either the Orient Express or luxury train travel. I mean, you're talking about a guy who camped around Australia in a tent living on canned food for a year.
But still, I was willing to make the effort and journey in five star luxury to see what that was like. Plus, we were holding our wedding ceremony in Venice, and this seemed to be the way to arrive! In today's post, I want to share with you some of my thoughts of our experience riding the Venice Simplon Orient Express from London to Venice.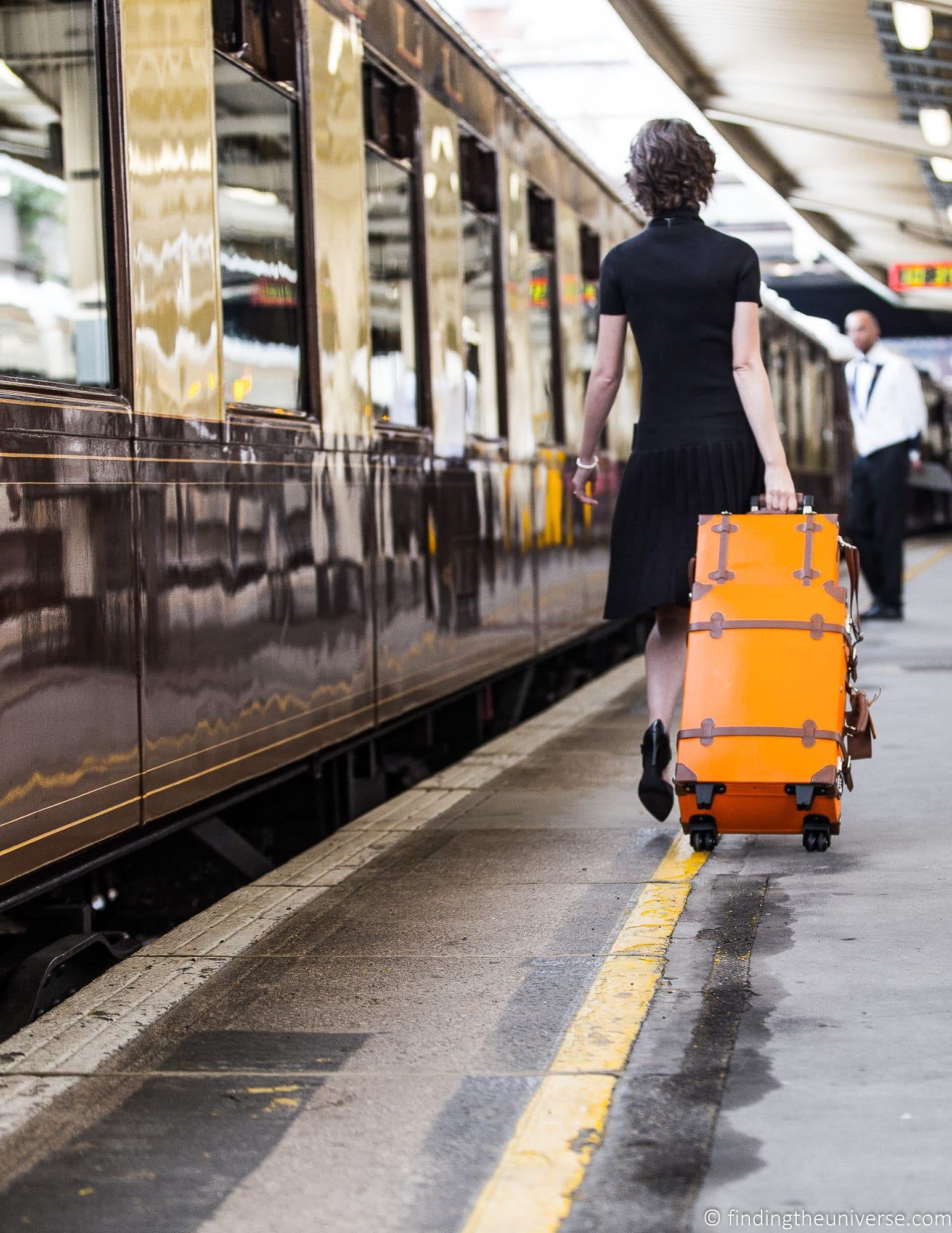 Our Orient Express Adventure Begins
Our adventure began in London, Victoria Station to be precise. It is from here that the train departs towards the coast, with its own special check-in area and waiting room.
A little history about the Orient Express to help orientate you, because it is a little confusing (if you want the full picture, you should read Jess's comprehensive Orient Express guide). Started in 1883, the most famous route of the Orient Express is from Paris to Istanbul – the gateway to the Orient. However, many variations in the route occurred over the years as the company saw a rise and fall in fortune, with the network running through Europe from London to Istanbul and Athens.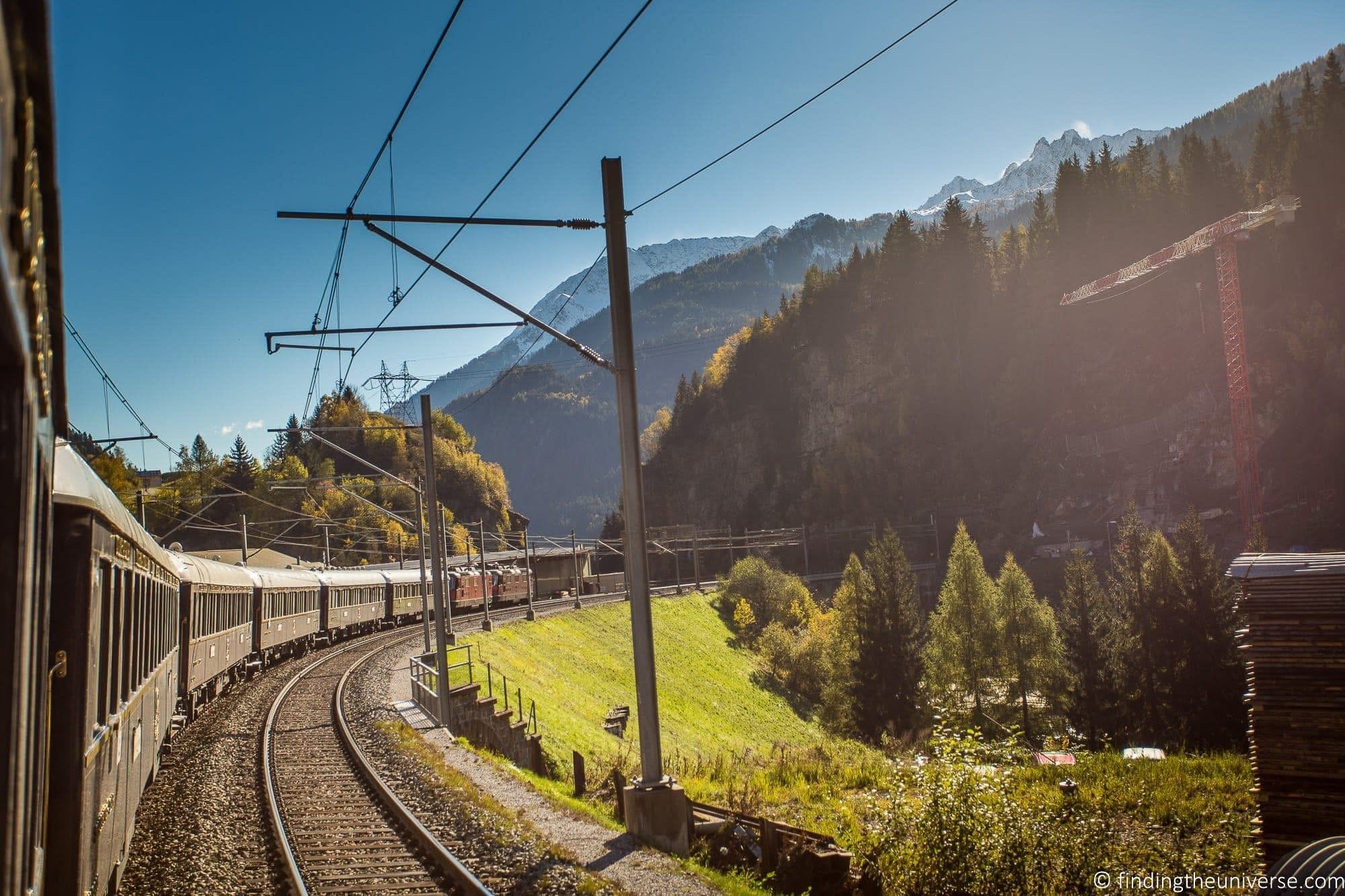 In its original (and final) guises, the train wasn't a luxury adventure – merely a way to get from western Europe to eastern Europe in relative speed and comfort, with sleeper cabins and so on.
Of course, most people (myself included), are familiar with the Orient Express for two reasons – it's synonymy with luxury train travel, and the famous novel by Agatha Christie, which has the train running from Istanbul through to Paris. That version of the train had its heyday in the run up to the second world war, with fine dining, luxurious sleeping options and butler service. After the second world war, and particularly as Europe became divided, the Orient Express entered a long decline, and the original Orient Express service which started in 1883 finally stopped running in 2009.
So if the Orient Express stopped running in 2009, how is it still possible to travel to Venice from London on the Orient Express?
Well, in 1982, the Venice-Simplon Orient Express service was launched as a private venture, running from London to Venice. This was set up specifically as a high-end luxury travel experience, using restored carriages from the 1920s and 1930s, and operates today from March through to November. In addition, there is an annual service from London all the way through to Istanbul.
This is the Orient Express that we took, and that does its very best to revive the glory days of high end luxury European train travel – a time when royalty and dignitaries would ride the rails, when you'd have a piano bar and choice of dining options, and each carriage would have its own steward.
And that's the adventure we began at London's Victoria Station.
Of course, anyone who knows anything about geography is probably aware that there's a bit of water between the UK and the rest of Europe. There is a train tunnel, but it's only used by the Eurostar services – no vintage trains on this route! So the Orient Express adventure that we undertook actually took place in three phases, a luxury train from Victoria to Folkestone, a luxury bus that takes the Eurostar to Calais, and finally, a luxury train from Calais all the way to Venice.
Our first train was the British Pullman (check out Jess's detailed post on the British Pullman here). Having checked in, we watched the train arrive, and then we boarded. Instantly, I had to forgot everything I knew about train travel. Large, comfortable armchairs greeted us at our two person table, beautifully set with a white tablecloth, fine silver-ware, glasses, flowers and a lamp. Our waiter showed us to our table, and we were able to peruse our brunch menu. It was all so exciting I almost forgot to look out the window.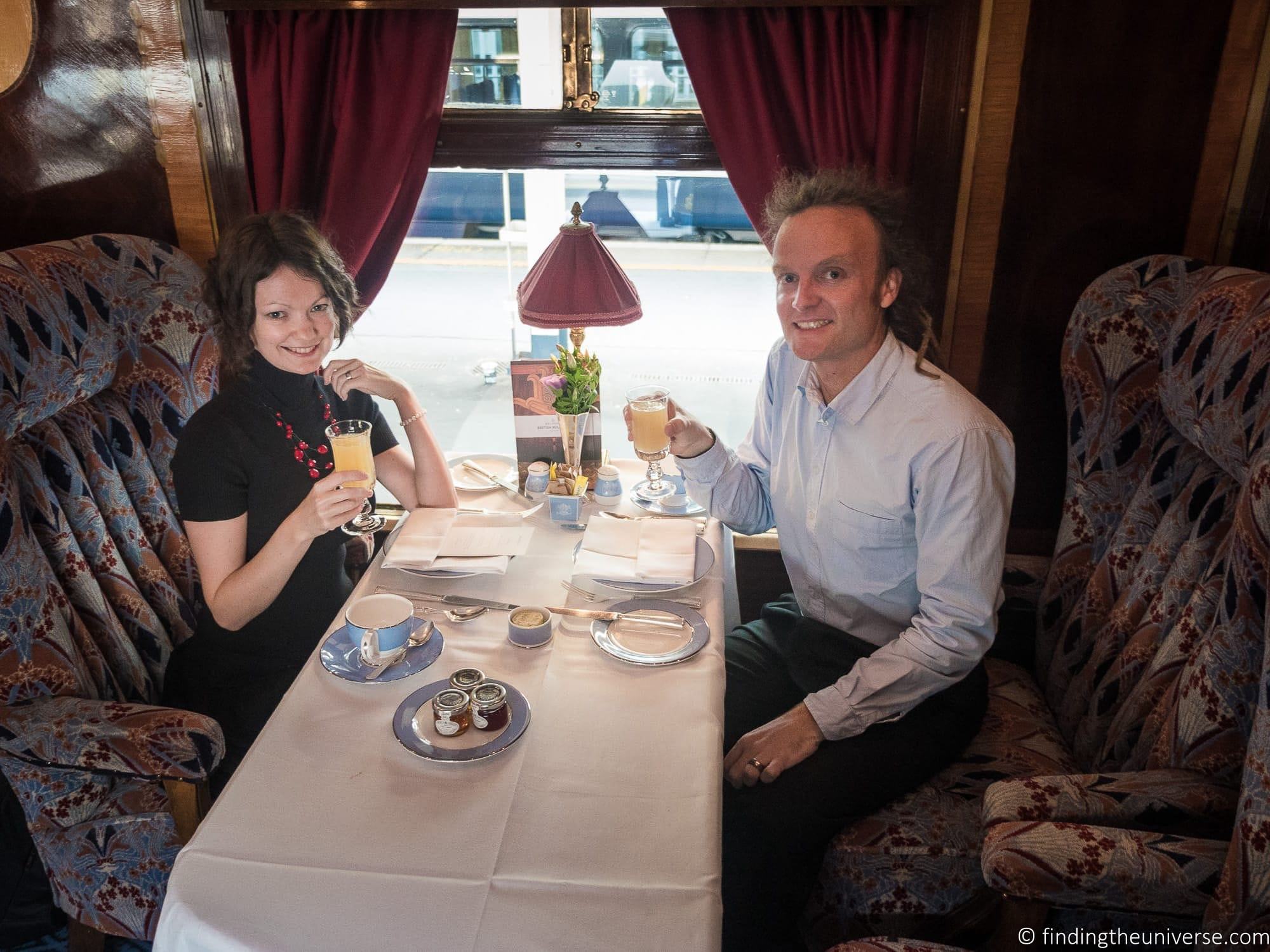 When I did, London was starting to fade away, and the countryside of southern England was rolling by. At which point we were offered glasses of Bellini's, and a fabulous brunch was served, so I went back to ignoring the outside, and thinking about how nice it would be if all trains would be like this.
With all the crumpets, smoked salmon, Bellinis and pastries, the journey just flew on by. We did take a bit of time to wander up and down the train, as each carriage was decorated differently, including the unbelievably ornate toilets, but we still ended up arriving at Folkestone well in advance of when I was ready to get out of my comfortable armchair. Ok, to be honest, I could probably stayed in that armchair forever.
Crossing the English Channel
The next part of our journey involved getting to the other side of the English Channel, which on our particular adventure involved boarding a luxury coach. The coaches have their own hostess who served us soft drinks, and we stayed on the coach all the way to Calais – the whole coach boarded the train, which was quite an impressive thing to watch. That said, we did spend a few hours in the process of getting off the train, loading onto the buses, driving to the port, heading through immigration, loading onto the channel train, crossing the channel and finally driving to our next train.
Whilst this part of the journey was unavoidable, and the coach was very comfortable, it was definitely the least exciting part of the trip, and there were some grumblings from fellow passengers about it. Still, it was just a few hours of the experience, and definitely better than a slow ferry ride across the English Channel!
Boarding the Venice Simplon Orient Express Continental train
Finally, in the late afternoon, we arrived at the Venice Simplon Orient Express Continental train. This is a beautiful blue, cream and gold train, decorated with VSOE livery, and is a joy to behold. As we arrived, the staff were all lined up outside, ready to welcome us on board, and we were given twenty minutes or so to get all the photos we wanted before we boarded. This being a once in a lifetime experience rather than a rush from A to B, touches like having plenty of time for photos at moments like this were much appreciated.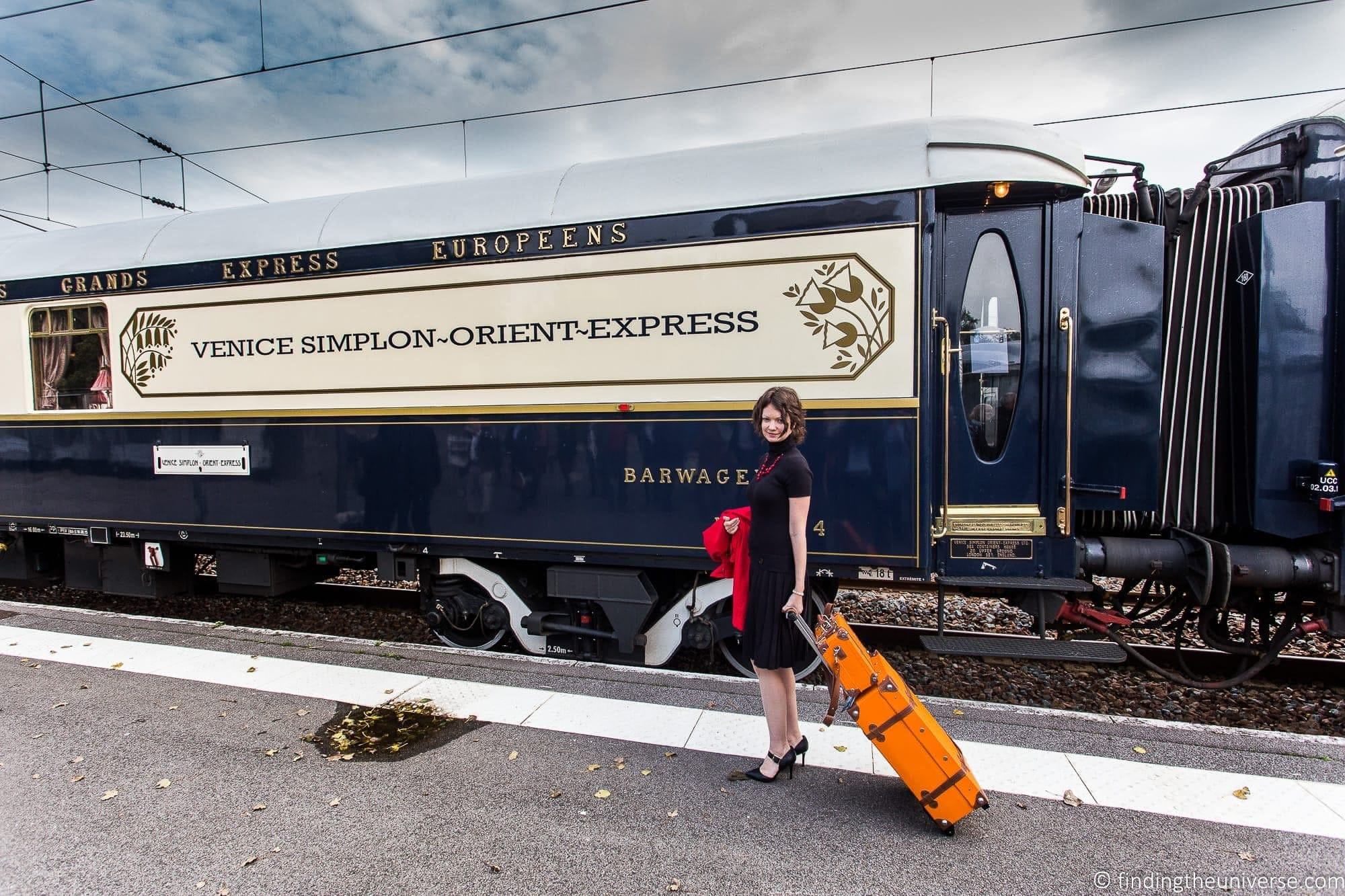 And then, after we'd taken all the photos we could manage, we boarded the train and were ushered to our carriage by Marco, our steward. Here we had a welcome kit consisting of bathroom products, and (more importantly) a half bottle of prosecco to start our adventure with. Marco showed us the various features of our cabin, like the washbasin, folding table and so on. It certainly wasn't a huge space, but to have a whole space to ourselves on a train was definitely a luxury.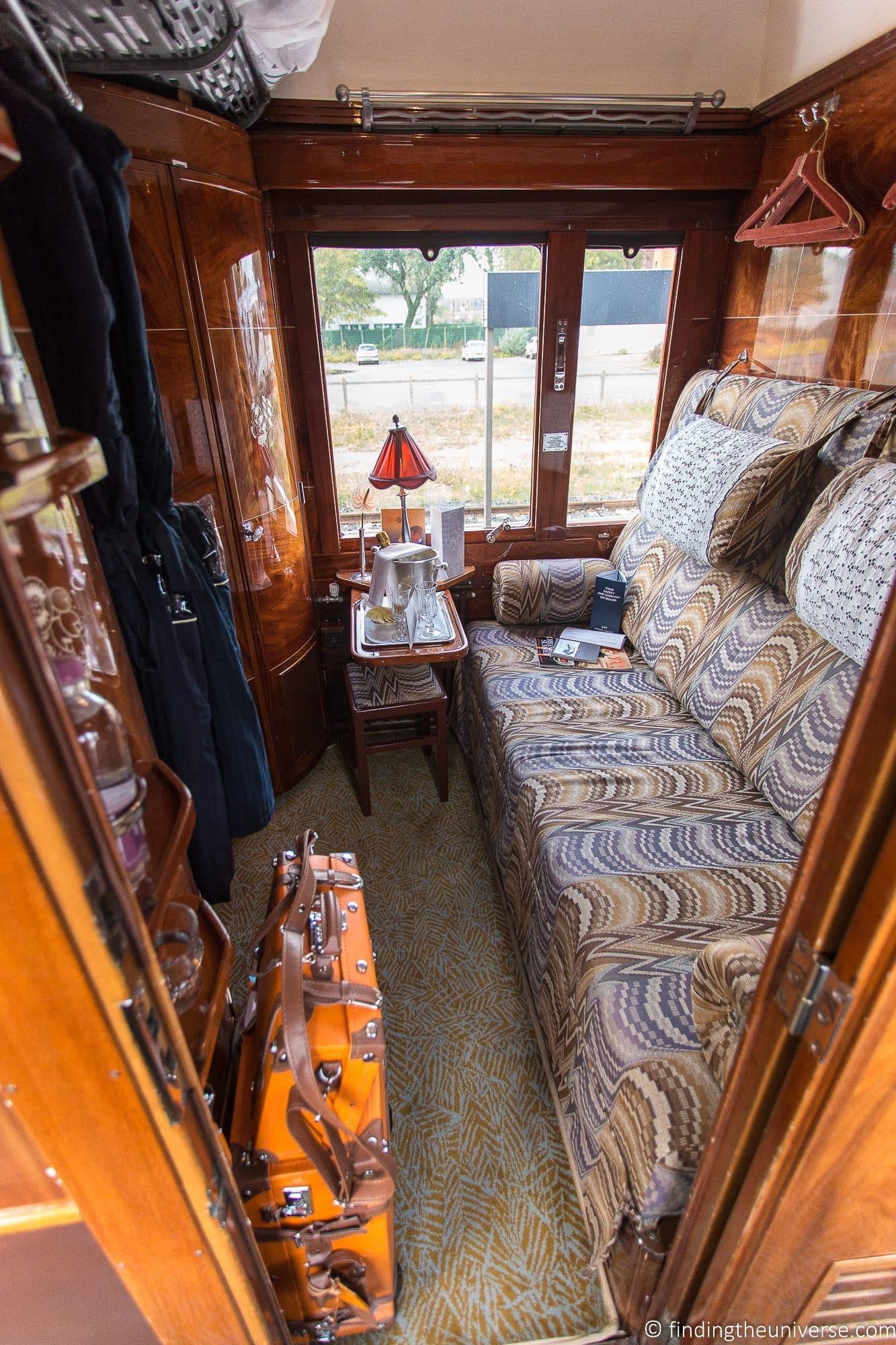 We pulled out of Calais, sipped on Prosecco, and watched the sun set. Then, it was time to get dressed for dinner – which obviously meant a full tuxedo for me and a lovely black dress for Jess.
How to spend an evening on the Orient Express
Dressed for dinner, we wandered along to the dining car. There are actually three different dining cars, all decorated differently, and if you're clever (like Jess), you can experience a meal in two out of the three by, well, just asking. Like I said earlier, you should definitely read her Orient Express post for the details on stuff like that!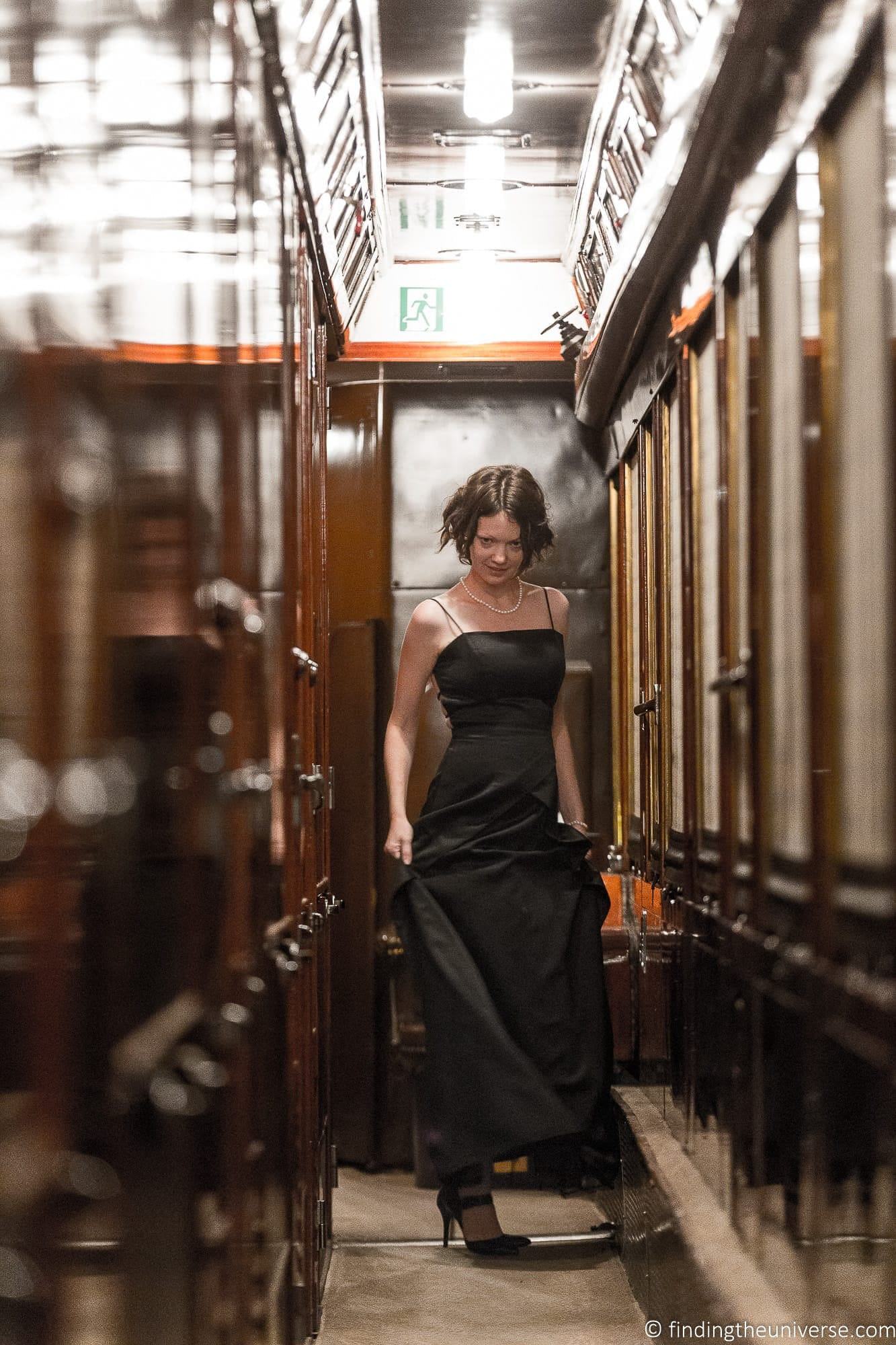 We had our first meal, dinner, in the Côte d'Azur car, where we were served some of the finest food I've ever had, with a four course menu including a blue lobster and caviar starter, a beef fillet main, a cheese course and a chocolate desert. Kind of hard to believe that this was put together on a train. The surroundings, with everyone dressed to the nines, were spectacular, and it was definitely one of the nicest "nights out" we've ever had.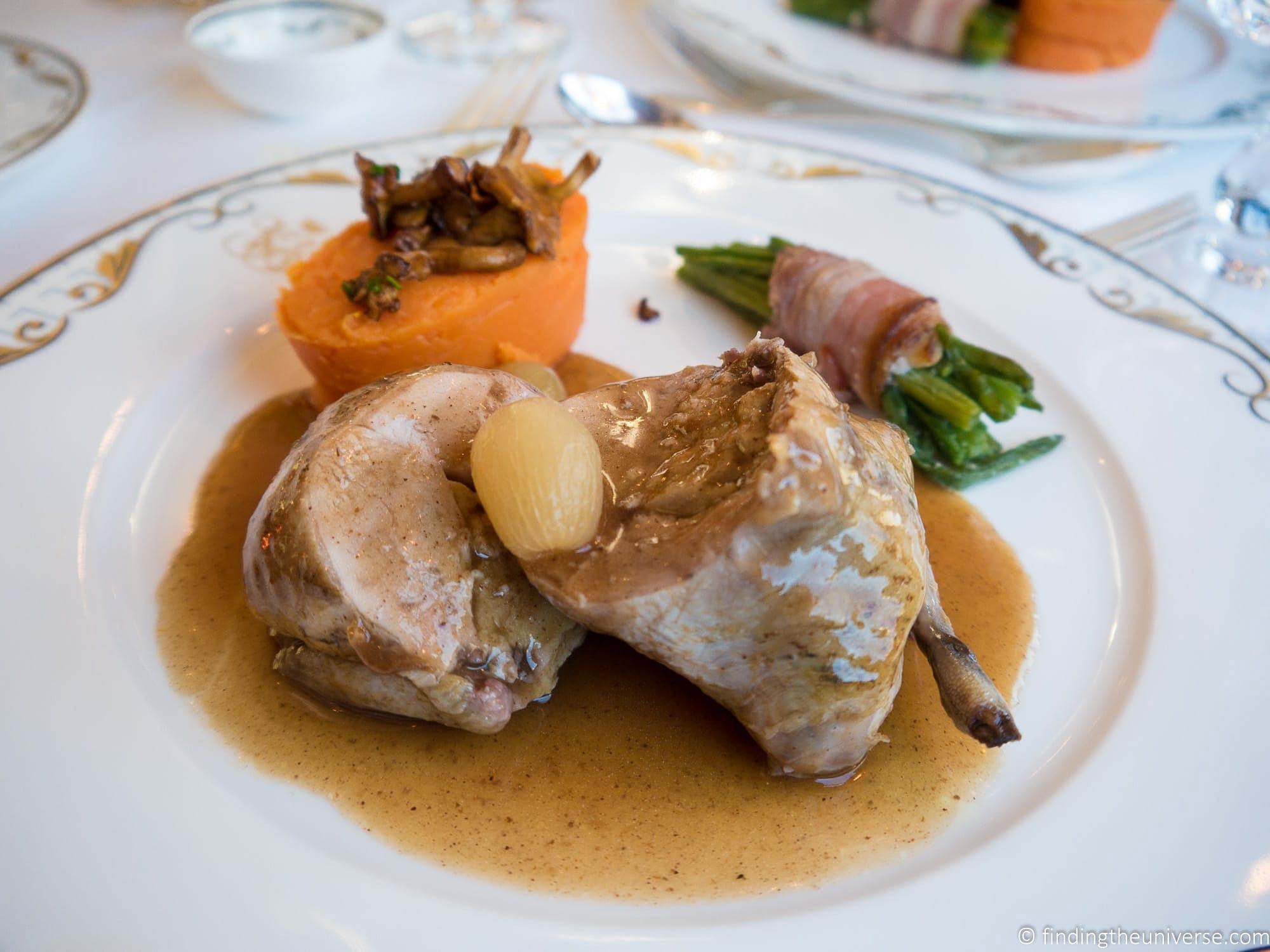 In case you're wondering, all the meals on the train are included if you stick to the fixed menu. You can go a la carte if you choose, for a supplement, and drinks are also additional. Given that we'd had Bellini's and prosecco, we were feeling fine on the drinks front anyway – plus we popped along to the bar car after dinner to enjoy a cocktail and listen to a little piano music.
This was a little bit crowded when we visited, so if you are keen on visiting (and getting a seat!) you'll want to come outside of the peak hours around dining time.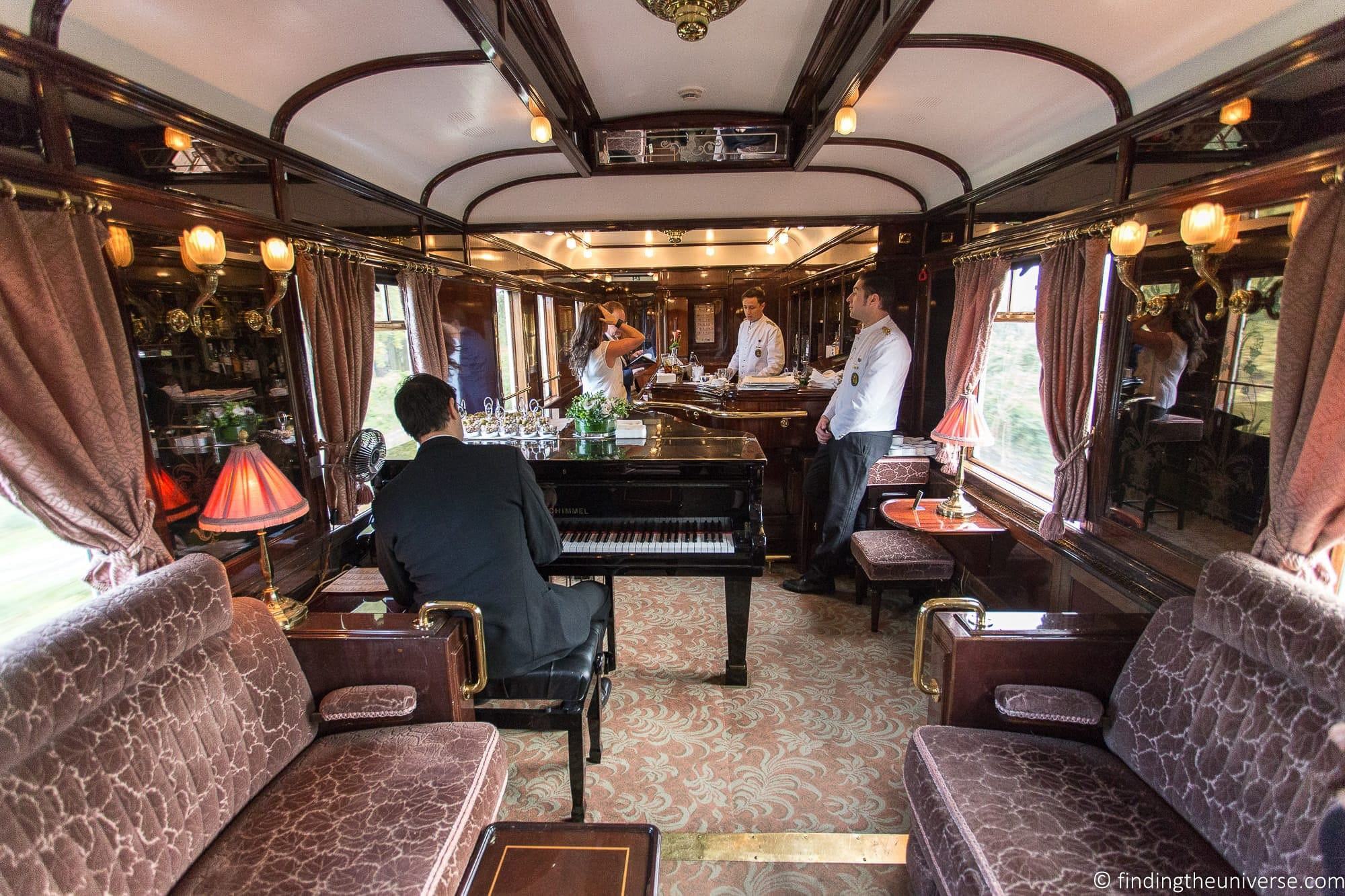 After our visit to the bar car, the train stopped for a short while in Paris. At these stops you are free to wander outside the train briefly, so we took advantage of that and took a few photos on the platform. After all, we were all dolled up in our evening wear, and the train was rather a stunning backdrop, so why not?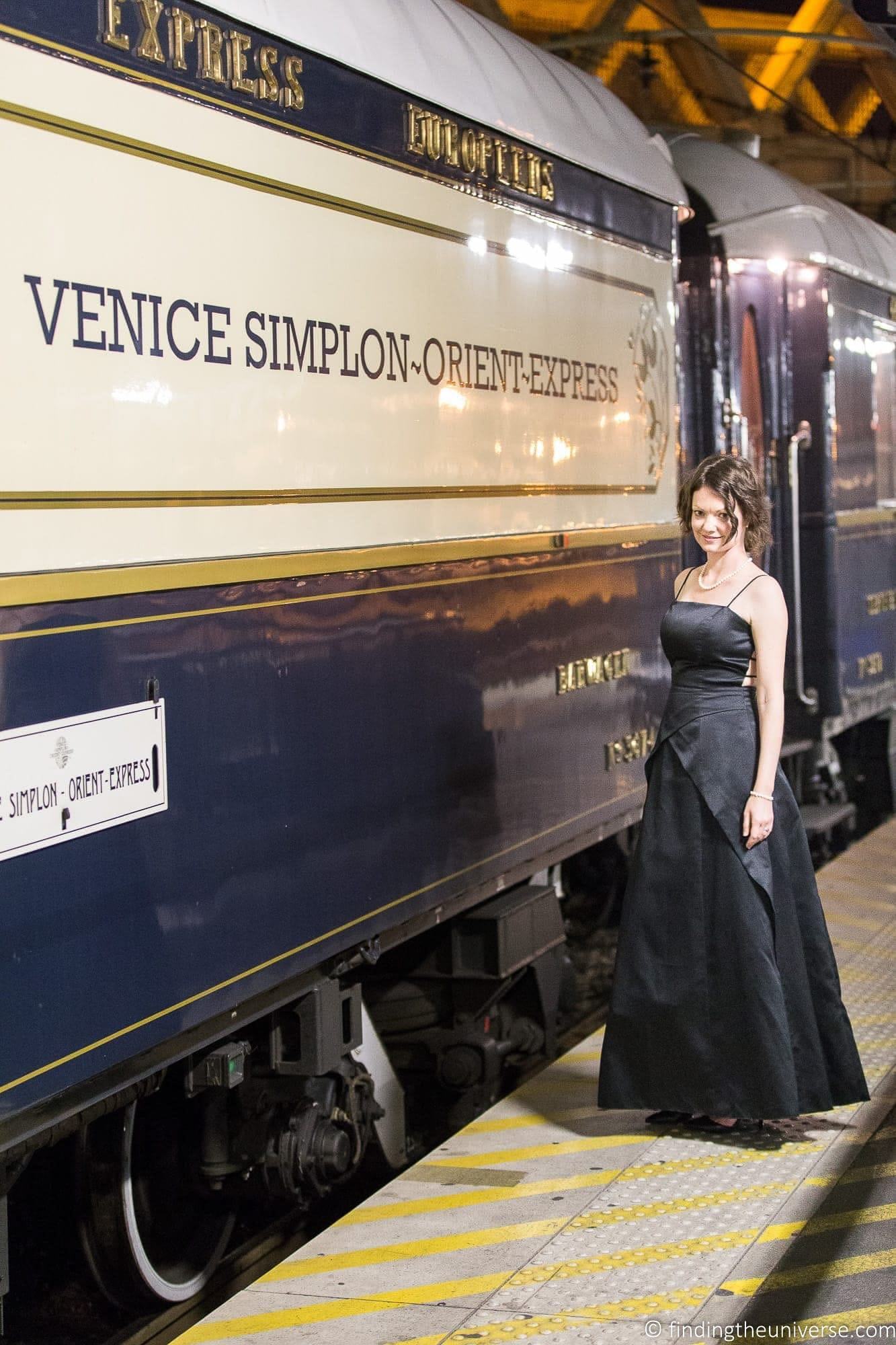 Sleeping on the Orient Express
Finally, it was back onto the train and into our room, which our steward had converted into it's sleeping configuration. This takes the form of two bunks, one above the other. It's definitely a fancy bunk setup, with lovely linen and so on, but yes, there's no double bed option on this train!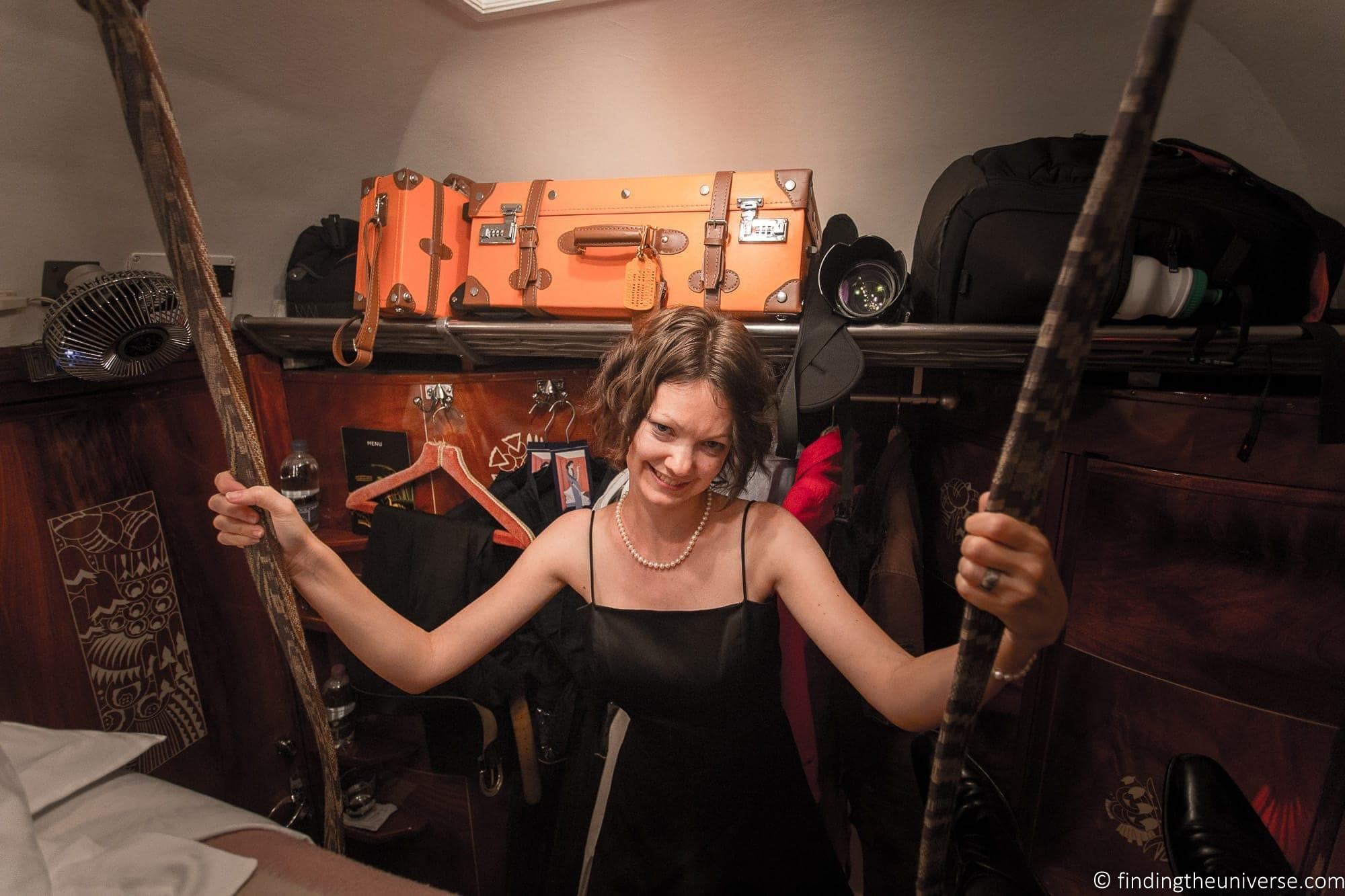 We passed a relatively uneventful night, with the exception of being woken in the middle of the night by a lady banging on our door and insisting we let her in. She had the wrong cabin, and after Jess shouted at her to go away, she wandered off.
This was definitely not the fault of the Orient Express team, but even so, they offered us a bottle of complimentary champagne to make up for it. A few minutes of disturbed sleep for a lovely bottle of champagne? We had no problems accepting.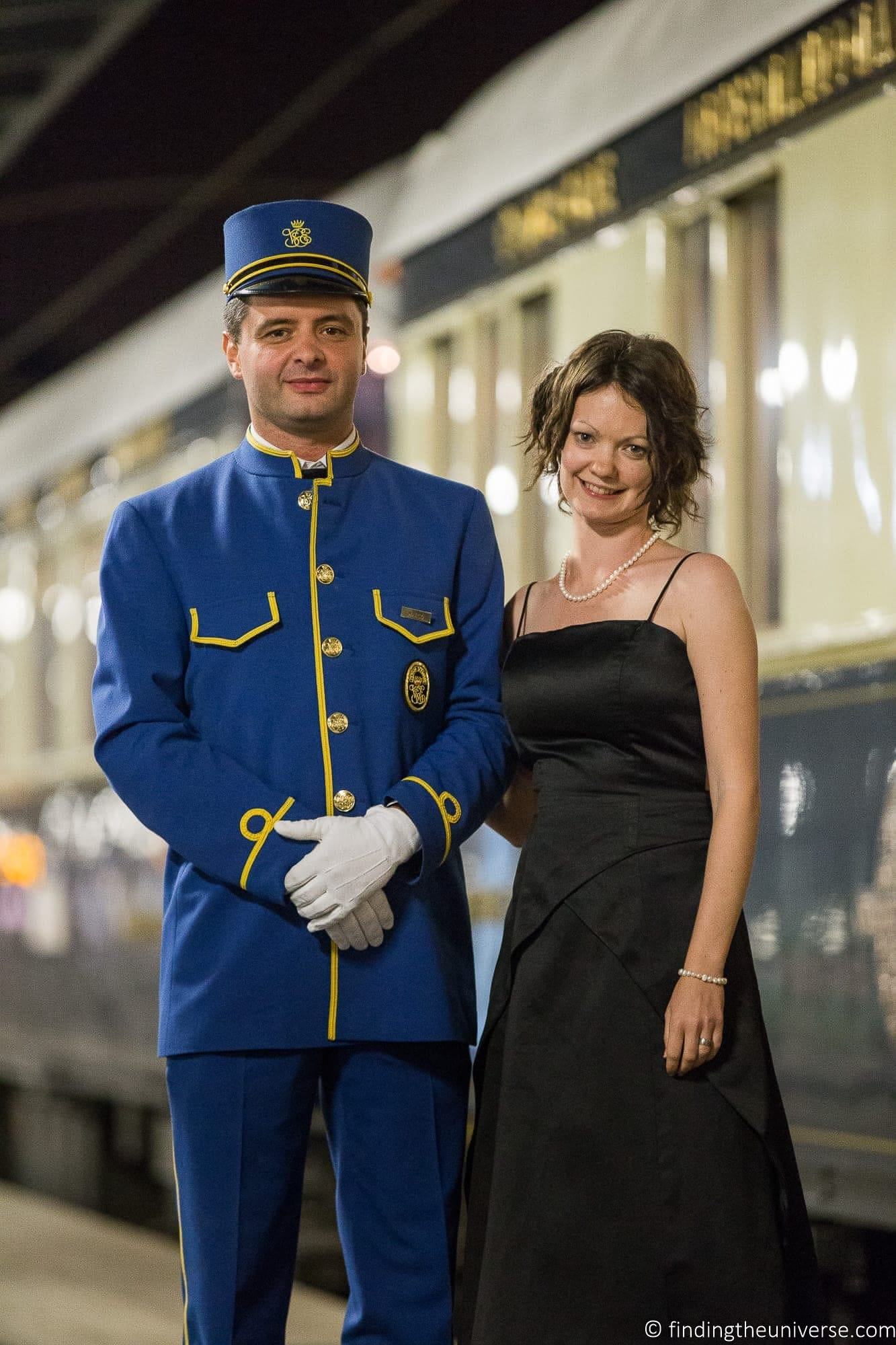 Otherwise, the night passed well. If you're not used to sleeping on a train, with all the little movements and noises, then you might struggle to get a great rest. We both took a bit of time to adjust, but overall awoke refreshed and ready for a full day.
Our journey across Europe
The full day travelling across Europe on the Orient Express is one of the real highlights of the voyage. The train journeys through some of the most spectacular scenery, particularly as it passes through the Alps, and we were excited to watch it roll by as we enjoyed the luxury of the train.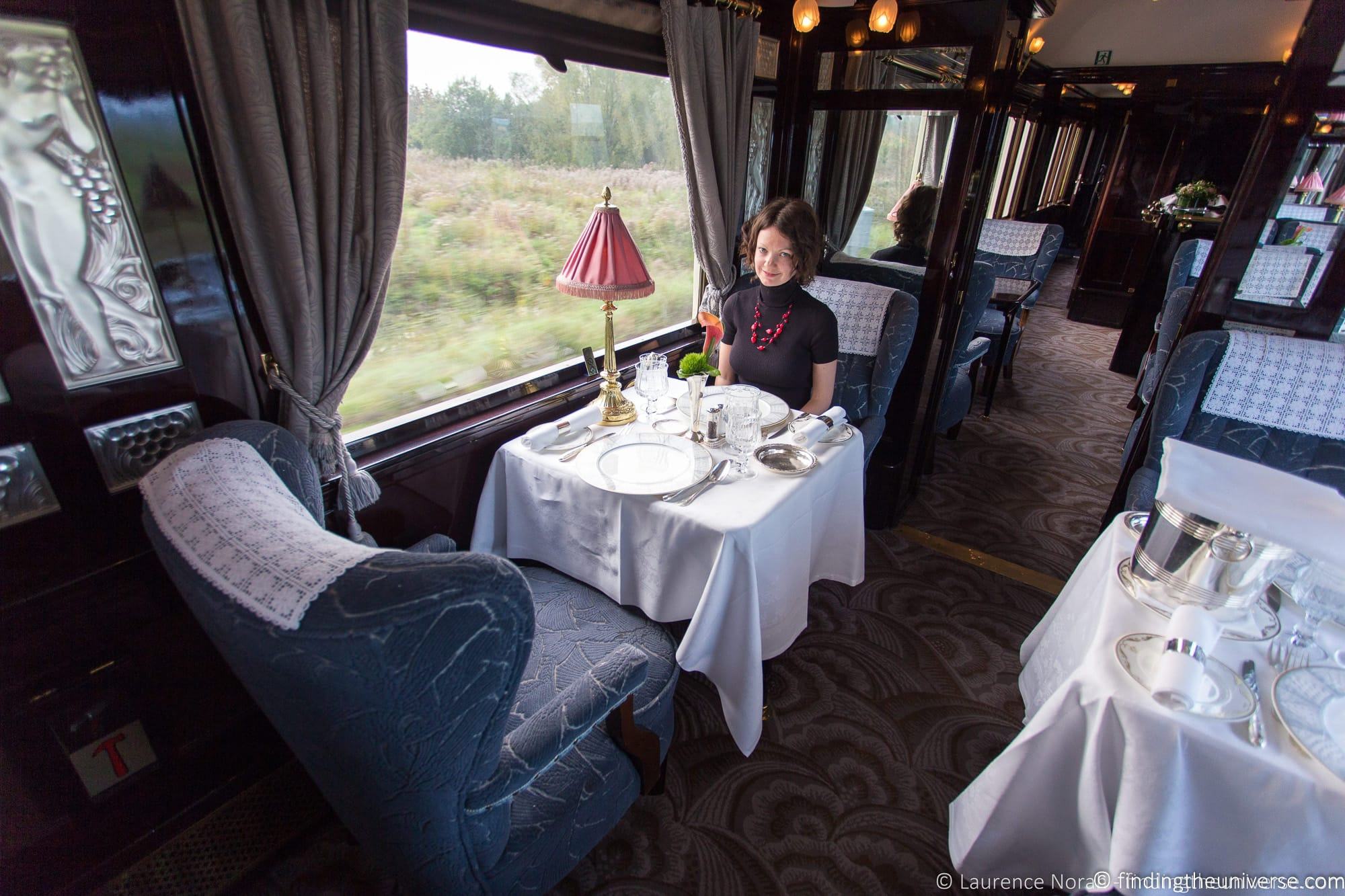 That said, I had to be admit to being little disappointed to wake to grey skies. Still, there was lots to be excited about, even if the landscapes were cloud draped – starting out with breakfast, which was served in our room. This required our room to be converted back from the sleeping setup to the daytime setup, so Marco our steward came along to do this. Then, it was breakfast time – a delicious full continental breakfast with bread and pastries, fruit, juice and coffee. This was a lovely way to start the day.
After breakfast, we grabbed our cameras and set out to take some pictures of the scenery and the train. At the end of the each carriage I was able to lean out of the window and get some photos as the train rumbled through the scenery, which continued to be rather grey and moody.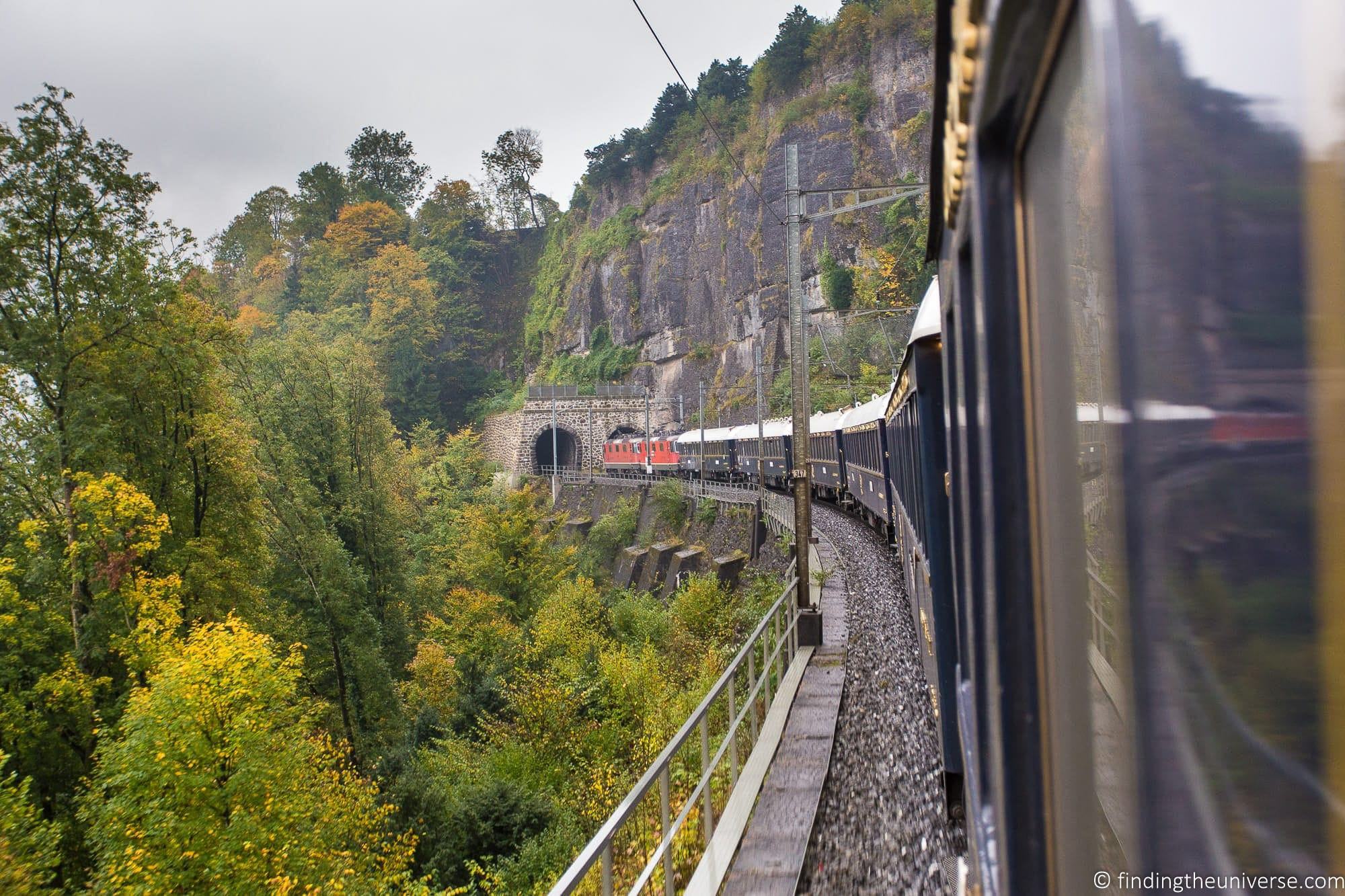 I also took advantage of the on-board shop to pick up Jess a pair of earrings as a somewhat belated birthday present! There's a good range of products on board, but if there's something you really want, I'd advise heading to the shop early on in the journey as items do sometimes sell out.
At around 11am, the train entered a long tunnel, part of the process of crossing the alps. You can imagine my surprise (and excitement) when we emerged out of the other end of the tunnel into glorious sunshine and blue skies, with mountains all around us.
Of course, I had to go up and down the train again and lean out of the windows to get some more photos.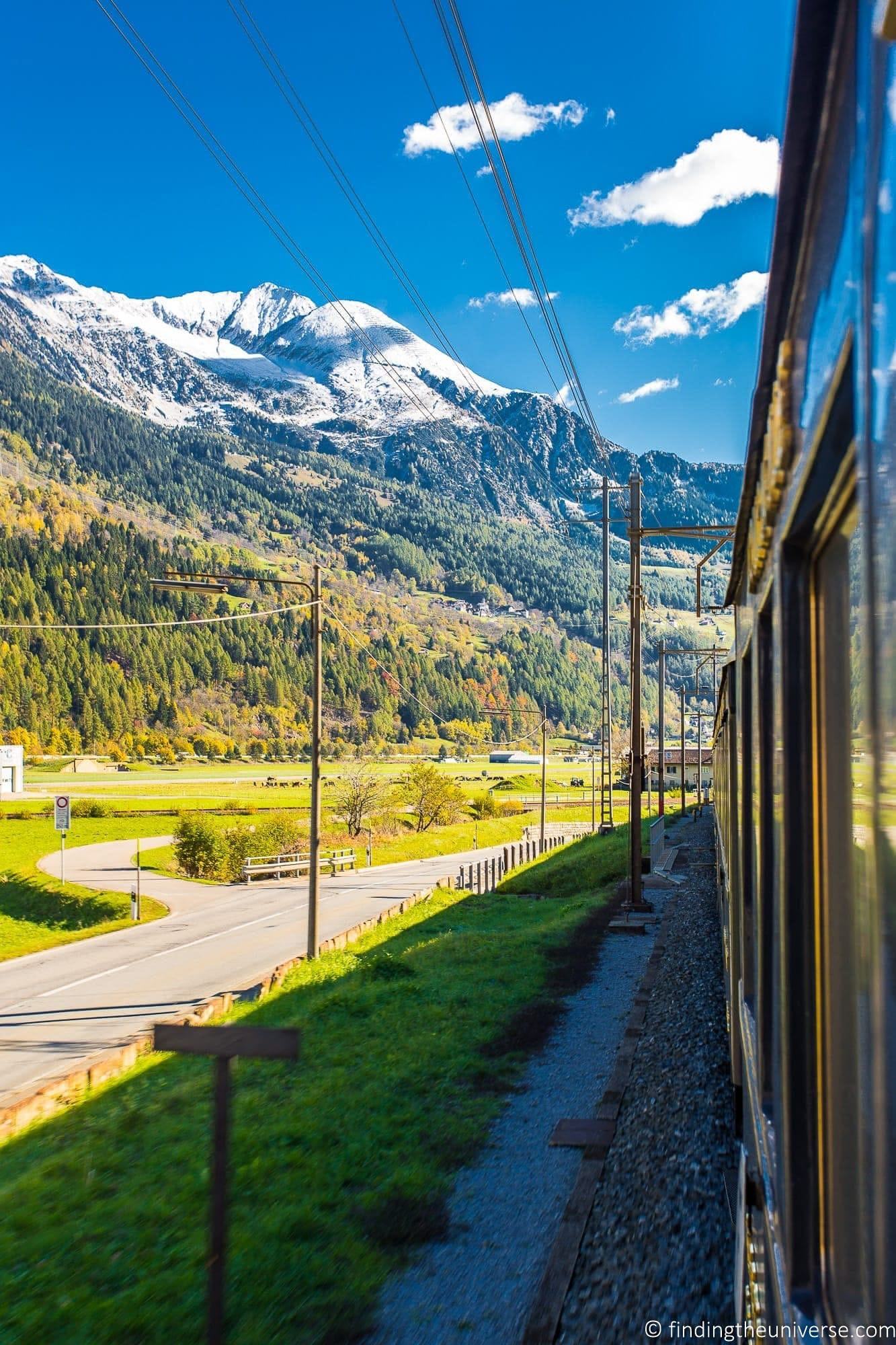 I was able to manage to drag myself away from all this photography fun when lunch swung round. This was a three course affair which we chose to have in the L'Oriental dining car, decorated with Chinese style laquer panels.
Lunch was another gastronomic odyssey, featuring turbot fillet, foie gras stuffed quail and honey caramelized figs. Again, one of the best meals we've ever eaten anywhere – let alone on a train!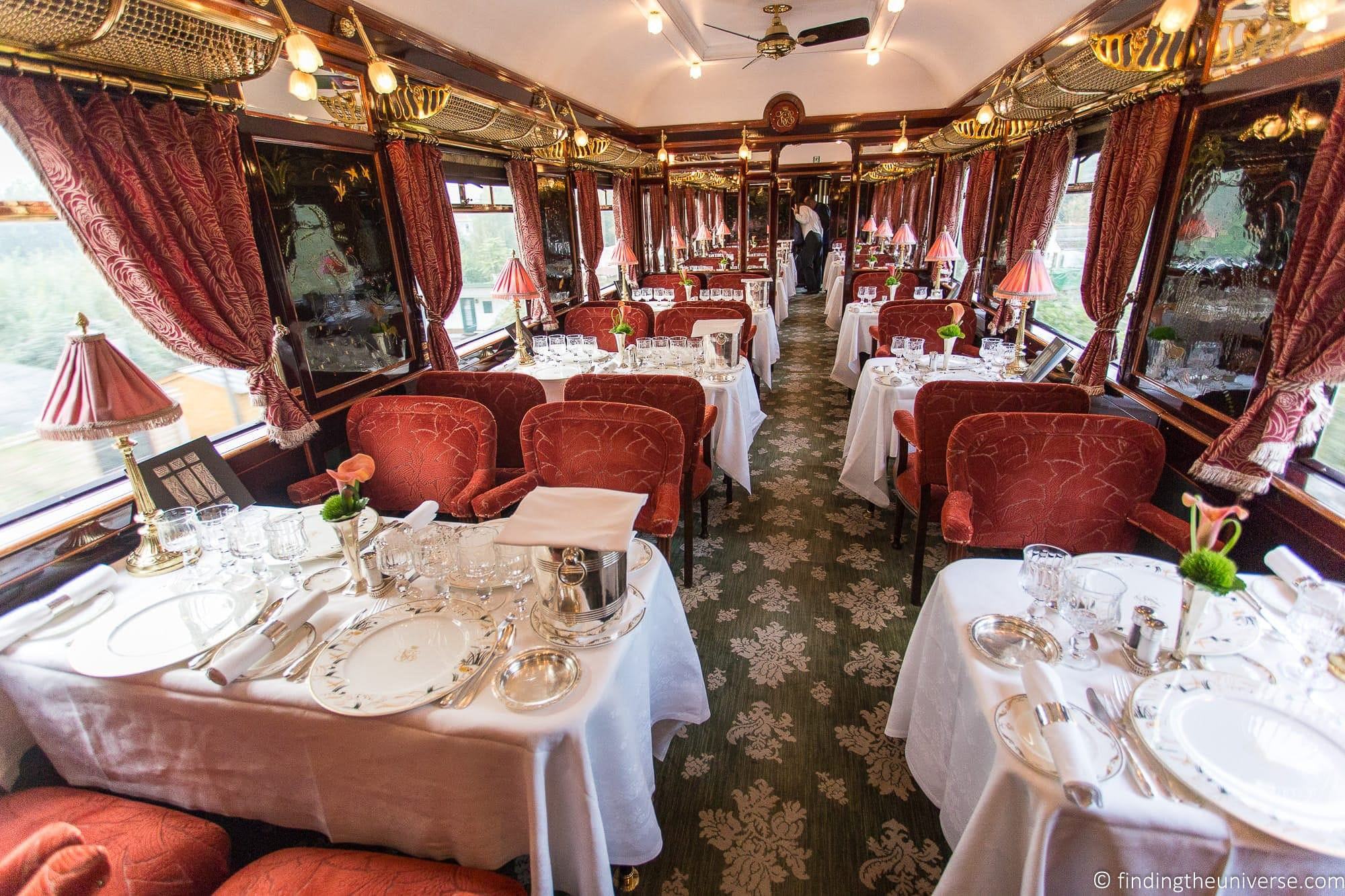 After lunch we continued to watch the beautiful scenery roll by – this is definitely one of the most beautiful train journeys in the world, and we relished every moment of it, only pausing in the afternoon to take in some afternoon tea.
We weren't really hungry, but if someone's offering you afternoon tea in your cabin on the Orient Express, with the afternoon light filtering across European scenery, you don't generally turn it down.
Venice – the end of the line
Finally, all too soon, the sun started to set on our adventure on the Orient Express, and, about 36 hours after we had started, we pulled into Venice. Of course, our overall adventure wasn't over, as we met friends and family in Venice for our wedding ceremony, and Venice being one of my favourite cities in the world, I wasn't totally distraught – but I must say, both Jess and I were somewhat sad that the journey was over. And I suspect you can't say that about many 36 hour train rides.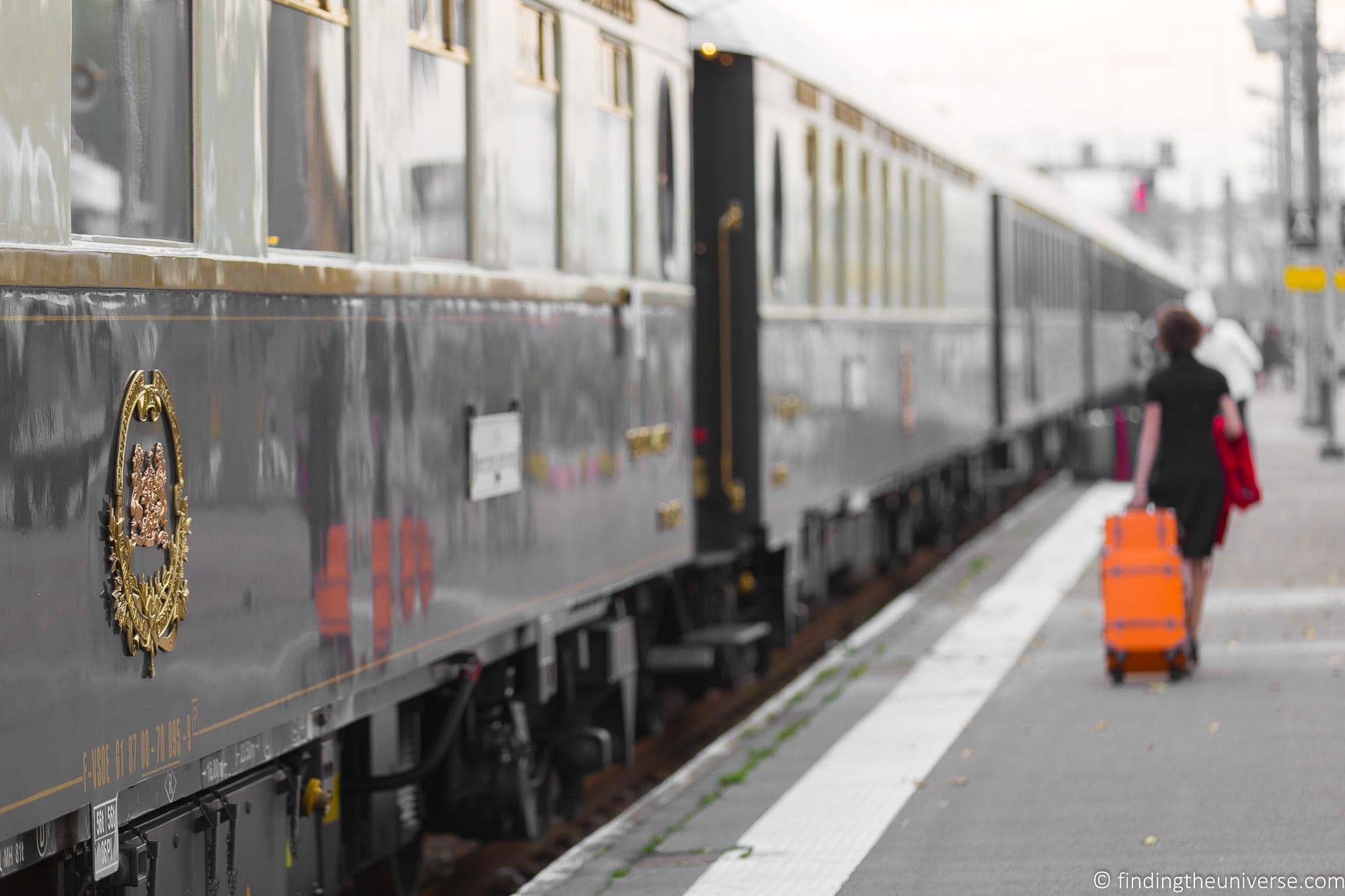 That just about sums up my experience riding the Venice-Simplon Orient Express. This isn't a cheap journey by any means, and for most is a once in a lifetime experience. It is an incredible experience though, and I would urge you to take it if the opportunity arises. It's a travel experience you'll never forget, and it's certainly a memory we will cherish forever.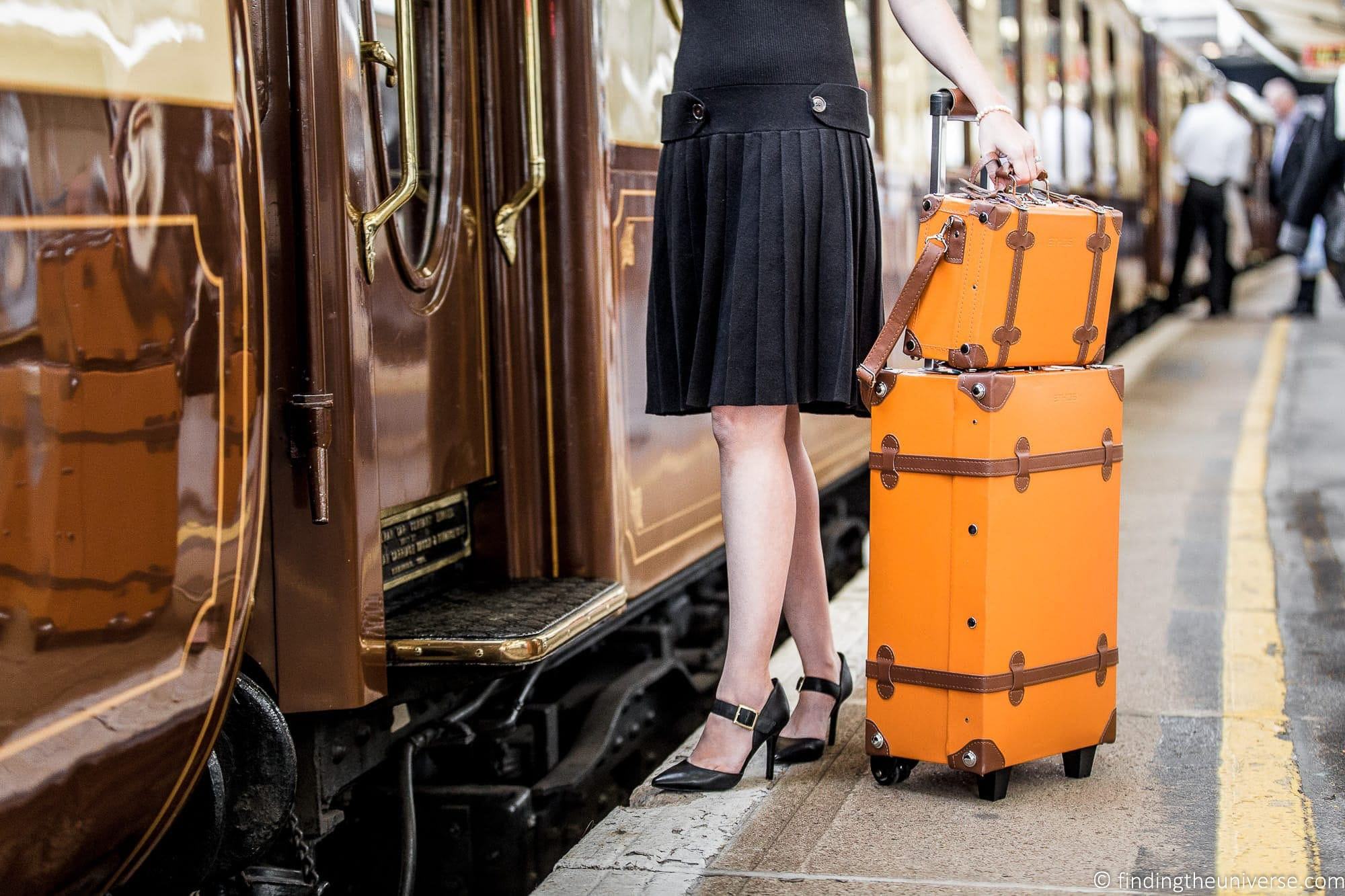 If you want to know more about the practicalities of taking this journey, with information on everything from how to book through to luggage allowances, and, well, basically everything you could think of, then I highly recommend taking a look at Jess's magnificently comprehensive Venice Simplon Orient Express guide as well as her detailed detailed post on the British Pullman guide. Those will answer pretty much every question you have. Enjoy!
Disclaimer: so you know, we were provided one complimentary passage and one discounted passage on our Orient Express journey from London to Venice by Belmond, and we covered all our other expenses ourselves. You can read more on our ethics page about how we accept work.