When we arrived in Oslo, the weather forecast announced that we would have a sunny day and a rainy day during our stay in Norway's capital. Ever the brilliant organisers we decided we would cleverly visit all the outside sights on the sunny day, and the inside sights on the rainy day.
And even though we have had our fair share of the weather forecast being completely wrong at times, this time everything went according to plan!
In fact the concept worked so well, that we are going to also use it for blogging about Oslo – you need some form of categorising, anyway, with the many sights on offer! So without further ado, let's go and discover Oslo's outdoor sights – sunshine on aaaand action:
Oslo's sights
The Holmenkollen
The Holm… what? If you can't even remotely think of anything that this could be, let me help you out: it's the world's first purpose-designed ski-jump! Yes, Norwegians take their winter sports seriously – we shared the subway with quite a few people in their full skiing monty. Oslo is a great city to live in when you're into skiing because you're out on the ski field in less than half an hour.
But that's not what made us tackle the hills – we came for the view! The Holmenkollen has a viewing platform on top, and what you get to see is pretty amazing: the city of Oslo, of course, but also the Oslo Fjord and all the surrounding forest. Plus, you get to stand on top of the ski-jump from where all the pros hop off into the valley, and might experience what experts refer to as "the jelly knee".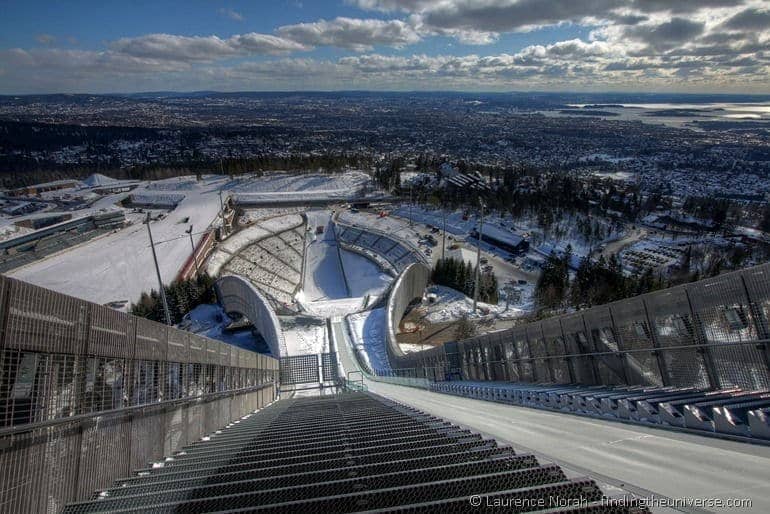 Should you have found the sensation that caused your jelly knees rather exhilarating, we recommend you top it off with a visit to the Ski-jump Simulator, which lets you experience the jump itself, as well as the looong way down.
We also checked out the Ski museum and found it really interesting – in a fun way! You learn about the history of skiing, which at the same time tells you a lot about the history and culture of Norway. So even if skiing isn't your thing, this museum is worth taking a look at!
How to get there
From the city you take the metro 1 to "Holmenkollen". From the station it's another 10-15 min. walk up to the ski-jump.
Admission
Holmenkollen ski jump and museum: 110 NOK
Holmenkollen ski-simulator: 60 NOK
Vigeland-Park
This is not your ordinary sculpture park: 212 statues made from bronze, granite and wrought iron populate this park to demonstrate the circle of life of man. It's a monumental piece of work, all created by one artist: Gustav Vigeland (1869-1943), who is said to be Norway's most significant sculptor. He also designed the Nobel Peace Prize medal in 1902.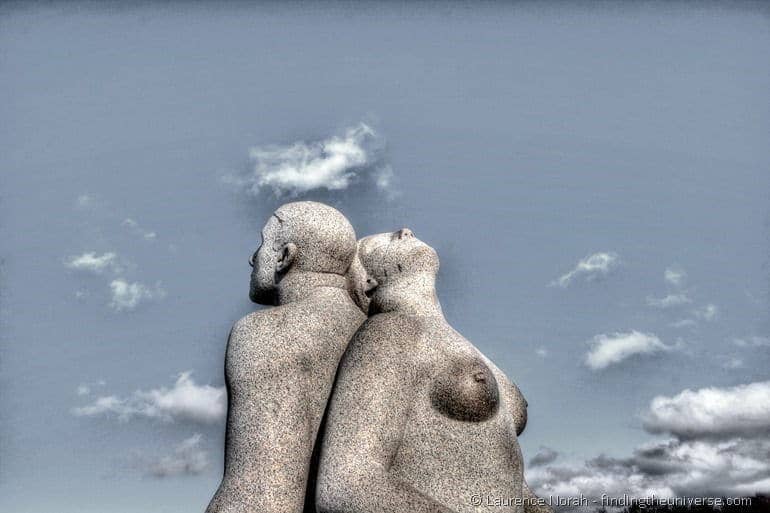 The Vigeland park is one of Oslo's most popular attractions – and rightfully so. Next to it lies the Vigeland museum, where you can not only find the almost complete collection of the master's works, but also more background information about the origination of the sculpture park.
How to get there
By bus No 20/ Tram No 12 to "Vigelandsparken", or by metro to "Majorstua"
Admission
Vigeland park: Free
Vigeland museum: 60 NOK
Norsk Folkemuseum
Interested in the cultural history of Norway? Then this open-air museum is the place to go! From the famous 12th century "Gol Stave" church to a rental apartment in the present: they have it all here. There are over 150 buildings for you to explore; be it a farm from the middle ages or a gas station from 1928.
The grounds are divided in two different areas: the country-side and the town. Additionally, there are some pretty interesting indoor exhibitions, both permanent and temporary.
It's really up to you what you make out of your visit. You can get a good impression by walking around for one or two hours, or you can spend the whole day here.
You can focus on the very old, or on the rather new. You can chat with a farmer from the 17th century about the 'good old days', or maybe you meet a Sami-girl and learn how to throw a lasso in order to catch a reindeer. I imagine you'll quickly learn to be excited what is waiting for you behind the next corner – I was!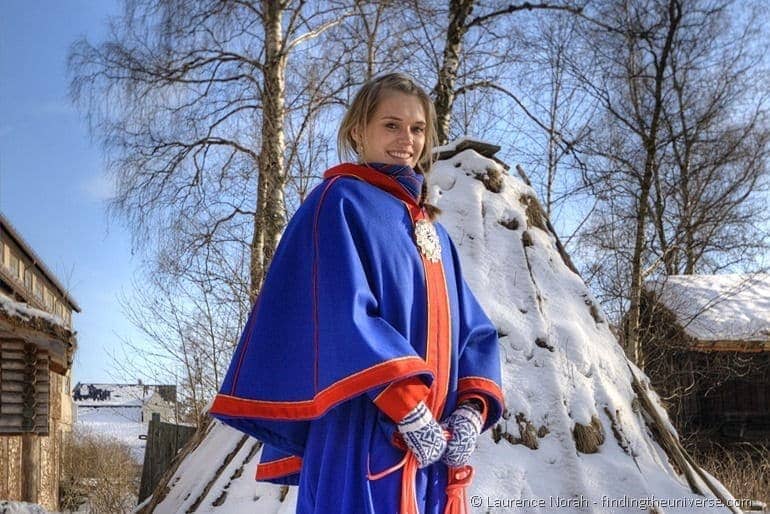 How to get there
With bus No 30 to "Folkemuseet" or by boat (only in summer, though) No 91 to Dronningen
Admission:
Norsk Folkemuseum: 110 NOK
Akershus Fortress and Castle
When King Hakon v. Magnusson built the fortress in 1299, he most likely didn't think that future generations would love this spot as a good place to enjoy the sunset from. Admittedly, the grounds have had their share of less peaceful activities – Swedish sieges, for example, or the occupation of the Nazis during WWII, when the fortress served as a prison.
Nowadays, after a thorough restoration, it is the residence of the Norwegian Ministry of Defence, while the castle is used for state representations and cultural events.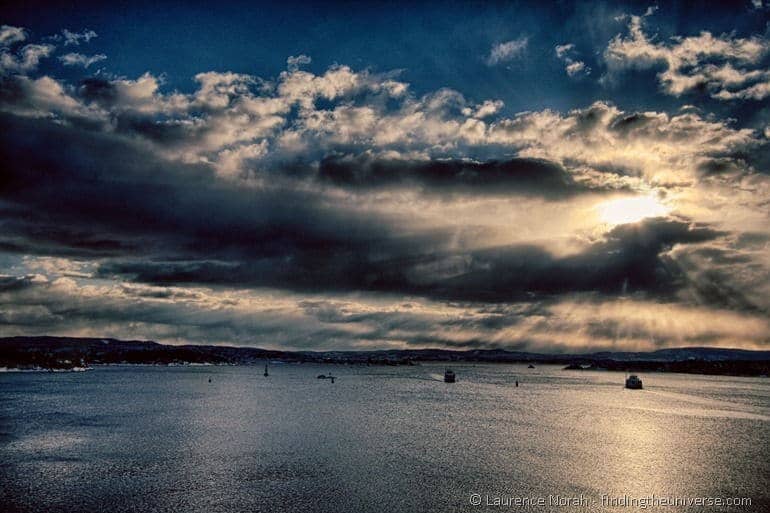 You can just wander around and explore (for the changing of the guard be there at 1:30pm), but you can also spend some time here and learn more about its history: either at the visitor centre, on a tour of the castle, or in the Armed Forces museum and the Resistance museum. The latter documents the five years of occupation under the Nazis during WWII.
How to get there
By metro: to "Stortinget"; by tram: No 12 to "Christiana Torv"
Admission
Fortress: Free
Castle: 70 NOK
Visitor Centre: Free
Norwegian Armed Forces museum: Free
Norwegian Resistance museum: 50 NOK
The Royal Castle and more
Although I've always added a how-to-get-there with public transport after each attraction, I find Oslo quite walkable. All the sights in this post are pretty central and can be reached by foot, apart from the ski-jump and the Folkemuseum – there you will need the metro or the bus. Having said this, I now present you with a series of rather representative buildings which you can see in the city centre and which are all fairly close to each other. Perfect for a tiny tour. Peeking inside optional.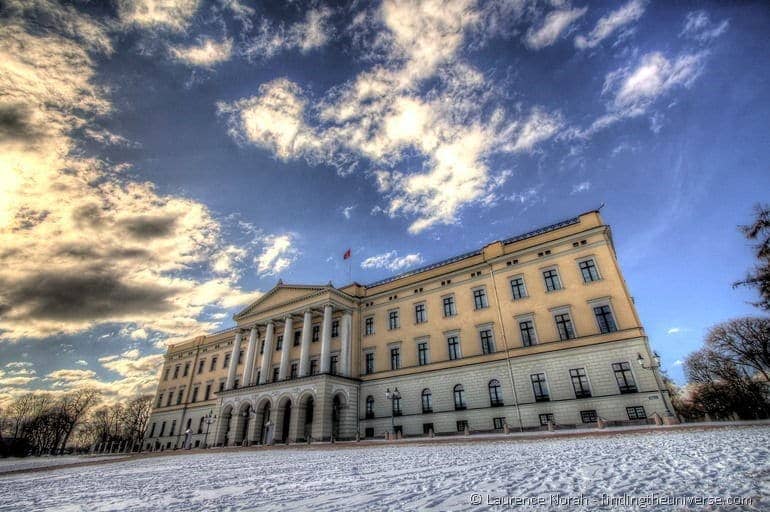 The Royal Castle: okay, this is more a 'palace' than a 'building'…There's a changing of the guard at 1:30 pm, and you can do a guided tour which lasts an hour (95 NOK).
The City Hall: built in 1950 and therefore not so old, but there's a bell tower and the facade is decorated with motifs showing aspects of Norwegian culture. Furthermore, this is the place where they host the Nobel Peace Prize ceremony every year.
Oslo Cathedral: inaugurated in 1697 and nowadays the cathedral for public events. The beautiful arcades around it were added between 1841-1858.
The Parliament: Crazy but true, it's the seat of the Norwegian parliament (who would have thought!). An impressive building (from 1866), with a pretty little park in front of it ("Eidsvolls plass"). Not too far away you'll find the National Theatre, quite a little gem, too, as well as the University, the Historical Museum and the National Gallery.
Modern: the Opera house and Tjuvholmen
Does this big white structure at the harbour look familiar? The Opera house was designed to resemble an iceberg rising from the sea and is therefore almost completely surrounded by water, with part of it even being under-water. Built out of glass, granite and marble, it was opened in 2008, winning the odd architecture award on the way. If neither opera nor architecture is your thing, you should still come, because this is the place where you can shout it from the roof top!
That's right, the opera's roof is walkable and a very popular spot for watching the sunset. From here you also have a good view of another fascinating piece of art: the sculpture "Hun ligger" ("She lies") is made out of glass and steel and floats on the waters of the harbour basin.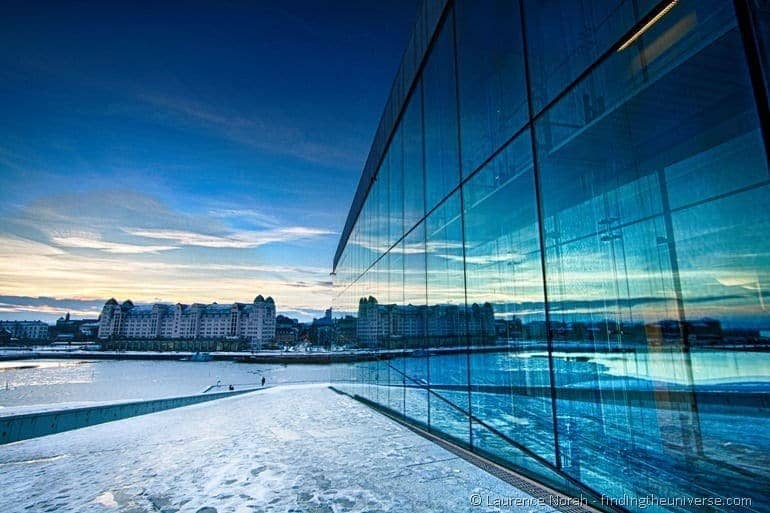 Tjuvholmen is a seaside township, and quite a stylish one, with many restaurants, shops and galleries. It's also the place where you find the Astrup Fearnley Museum of Modern Art, another spectacularly designed building. You can furthermore take a look at the associated sculpture park and many more architectural highlights and pieces of open air art whilst wandering around.
How to get there
Opera: by bus/tram to either "Oslo S" or "Jernbanetorget"
Tjuvholmen: by metro to "Nationaltheatret"; by tram No 12 to "Aker Brygge"; with various busses to either "Bryggetorvet" or "Vika Atrium"

Admission
Astrup Fearnley museum: 100 NOK
Last Tips and a Thank you
Like almost always, I recommend checking out the tourist information (situated between the National Theatre and the City Hall). This is where you get a map of the city, can browse brochures to see what's out there, and talk to friendly and helpful staff.
They are an excellent source of online information as well (you can find them under VisitOslo). We were lucky enough to work with them and were given plenty of tips and material.
We also received an Oslo Pass, which we can absolutely recommend. For example: all the sights in this post that cost entry are covered by the pass, as well as the public transport. Only exception: the guided tour in the Royal Castle and the Holmenkollen ski simulator (you do get 20% off the latter with the Oslo Pass, though). The 24-hour version costs 270 NOK which is already offset after visiting the Holmenkollen and two museums. Well worth it if you plan to see a lot and like a good deal that saves you some money!
We would also like to thank HostelBookers who took care of another important travel feature – our hotel! It ended up being "Cochs Pensjonat", a real former boarding house, which is centrally located (AND next to a park) and enchanted us with a cosy and wonderfully warm room.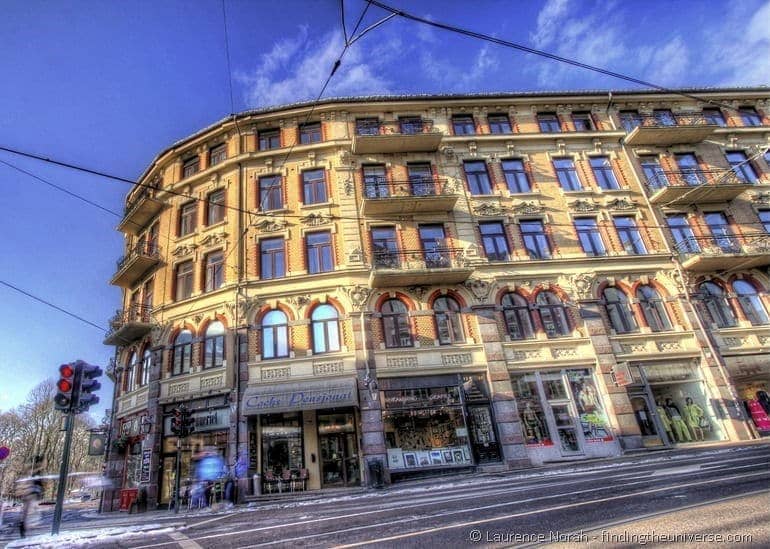 And you've made it! This was Part I of our Oslo tour – it would have been even longer if it had been summer, I reckon… So, did any of the above mentioned intrigue you? Would you like to visit Oslo, or have you already been and want to add another outside sight? Feel free to share your thoughts in the comments – and thank you for reading!