You would think that having a temple on a volcano that predates Angkor Wat would be enough for a region, and it could hang up its hat in terms of attractions. Well, when it comes to the area around the Thai city of Buriram, way over in the east of the country near the Cambodian border, this thinking would be incorrect.
Because as well as Phnom Rung, that splendid volcano temple, Buriram Province has all sorts of other attractions to offer the discerning visitor looking for a series of adventures in a part of Thailand that is often overlooked by visitors.
And un-crowded attractions that easily rival the rest of what this country have on offer are not to be sniffed at. This was what we got up to in our time exploring Buriram region:
Visiting the Lower Northeastern Cultural Centre (ศูนย์วัฒนธรรมอีสานใต้)
We started our Buriram adventure with a visit to the Lower Northeastern Cultural centre, which turned out to be a wise decision, as it helped us understand the rest of our itinerary a little better.
This is essentially a museum and research facility, dedicated to explaining the history of the region, from the rise and fall of the Khmer empire through to the various other Kingdoms that rose and fell in Thailand up to the present day. There was a fair bit of rising and falling, and the centre does a good job of explaining it all, with explanations handily provided in English next to all the exhibits, of which there are many.
This set us up well for the various temples and other cultural artefacts we visited, and I can very much recommend it as a way to get a nice quick bit of cultural orientation.
Exploring the temple of Prasat Muang Tam (ปราสาทหินเมืองต่ำ)
Another beautiful temple that is well worth the visit in this region is Prasat Muang Tam. This is special because of the way that it is laid out, with four lotus filled ponds between the outer enclosure and the inner complex, which makes for some beautiful reflections.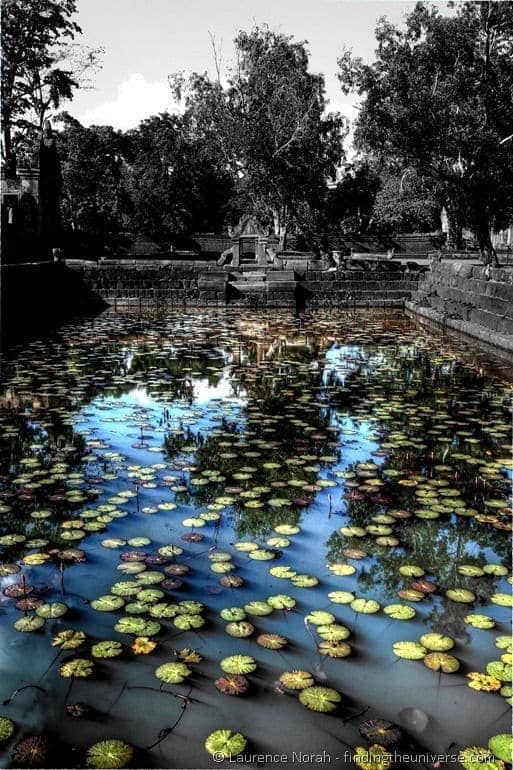 As well as those lovely ponds, the temple itself is interesting due to its age (it was built in the 10th and 11th centuries), its well preserved lintels (lintels are big in this area), and also of course for its historical significance as being a part of the Khmer empire. But really, it's worth visiting for those lovely ponds.
The Silk Weaving Village of Amphoe Na Pho (หมู่บ้านทอผ้าไหมอำเภอนาโพธิ์)
Vera recently wrote about the Opium Museum in the north of Thailand, which shows how the Thai Royal Family took an interest in helping provide an alternative to the opium trade and help solve the drug problem from the supply level up.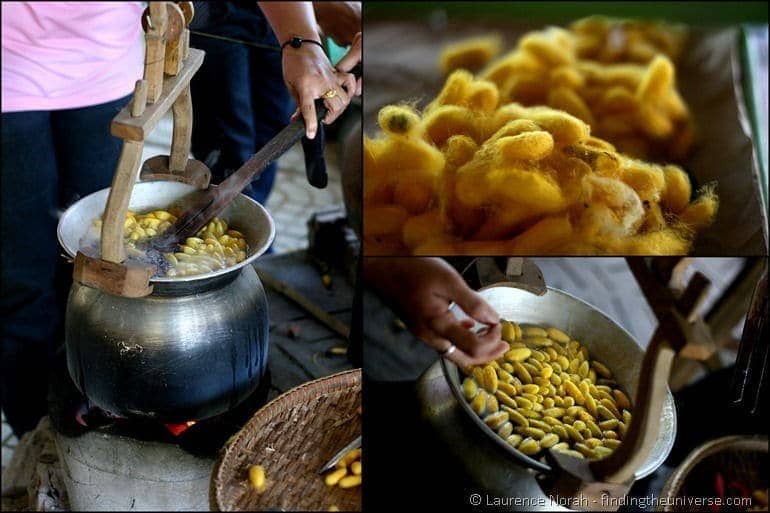 Well, that is far from the only project that the Royal Family has got going in Thailand. In Buriram for example, there is a silk weaving village, another Royal Project.
Here you can visit and learn all about the process of silk production and weaving, which is a far more interesting process than I had previously realised. Silk worms, it turns out, are entirely dependant on humans for their survival, and are one of the worlds most genetically modified animals. They've been bred for their silk for over 5,000 years, and dine exclusively on the leaves of the mulberry bush.
It's not all roses being a silk worm though. After the larvae have gorged themselves silly on mulberry leaves, they turn into little cocoons, each of which consists of 300 – 900 metres of raw silk. Unfortunately for the silk worm, the majority don't get to progress past this stage, because the hatching process destroys the silk. Instead they are boiled alive in their cocoons, and the silk pulled out of the water and turned into thread.
Around two to three thousand cocoons are required for 400 grams of silk, which is a lot of dead silkworms, although they aren't entirely wasted, as the larvae are also edible.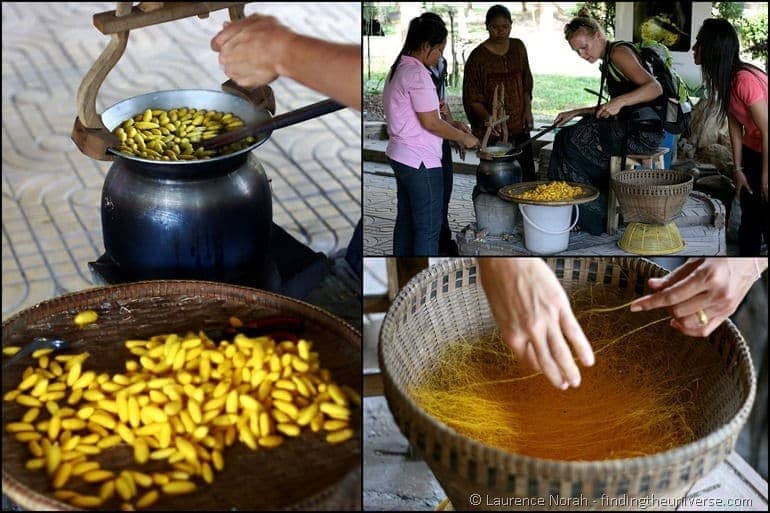 We discovered this last fact during our tour of the village, which let us experience the whole process from end to end. After watching the silk worms get boiled over a wood fire, and the silk threads extracted, we were each offered a boiled silk worm larvae. Which, I can report, taste a bit like boiled potato.
The ladies of the village, who were all very kind and friendly, really let us get involved with the whole process beyond eating the silk worms – we had a go a silk spinning, tried to extract the silk threads from the water, and learnt all about what the silk could be used for. A fascinating tour, and one I can highly recommend.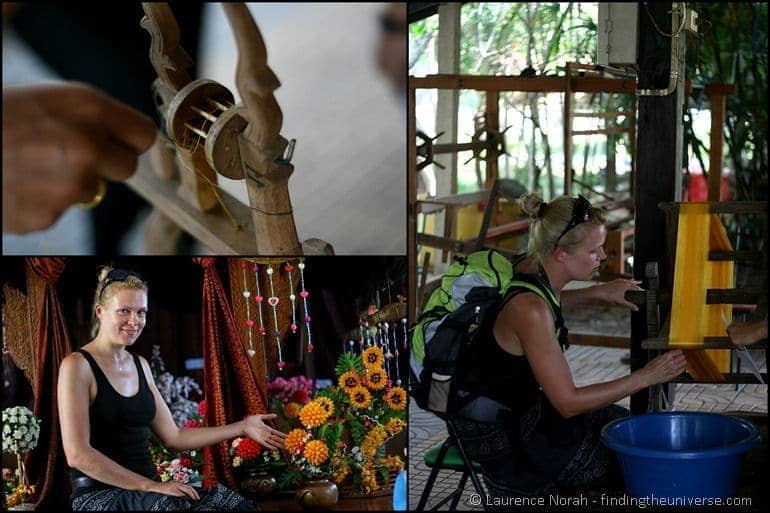 Lintels
Did I already mention lintels? Prior to my visit to Thailand a lintel was, from my experience, something that went over a door and served the important function of keeping buildings from collapsing on my head. In Thailand they do that too, but serve the secondary function of being used as decorative elements.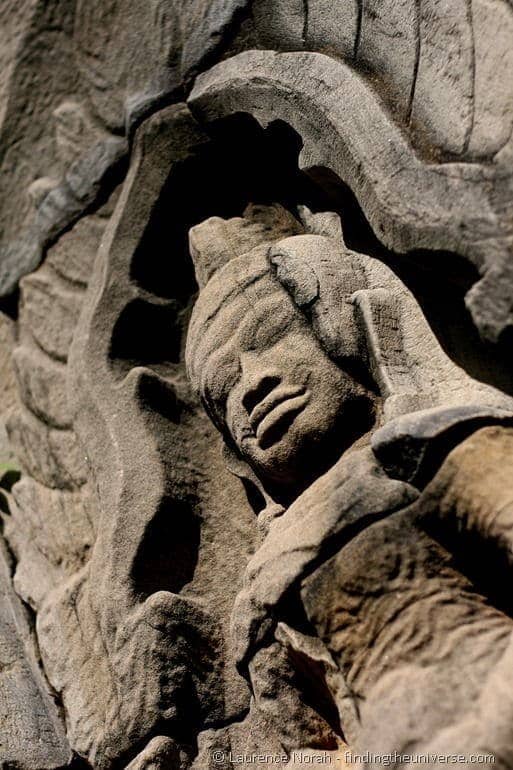 The Buriram region has some of the best preserved examples of this sort of decorative lintel in Thailand, not only at the two temples previously mentioned, but also at the cultural centre and at various less well known sites in the area. We visited a number of these, and whilst I'm not really an expert on lintels, I can confirm that they were very nice.
So if you have some spare time, do head out into the region and explore, you are bound to come across some fascinating finds that will likely be entirely devoid of other visitors.
Getting there, getting around and where to stay
You can get to Buriram city from Bangkok by taking the bus, train or plane. There are also public transport options, particularly buses, from many other regional cities in Thailand – the best way to find out is just to go to your local bus station and ask.
Getting around is going to be a little trickier. This isn't a hugely popular part of Thailand for tourism, so you are likely going to find it easier to hire your own transportation – either a car with driver, or a self-drive option. Many of the attractions are dispersed around the country side, so aren't necessarily reachable by public transport.
The main attractions, such as Phnom Rung, do feature on tour itineraries, so that is also an option to consider if that sort of thing is for you.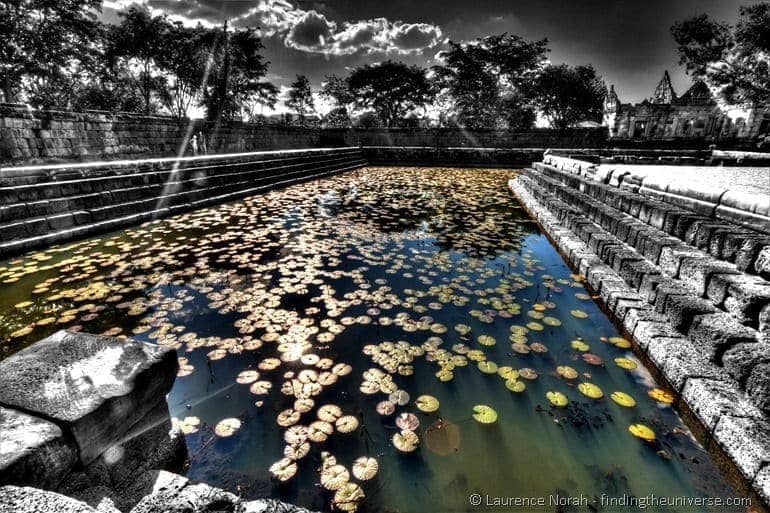 Part of our logistics for visiting this part of Thailand were provided by the Tourism Authority of Thailand, including transport and accommodation costs, although we chose our itinerary and paid our own entry costs. Regardless of this, our opinions as always remain our own!