When I had a real job that involved me wearing a suit and tie every day, I spent two and a half years living in a major brand chain hotel as a result of a project I was on.
When it got to the point where I was invited to the staff Christmas party, I realised that perhaps it was time to move on with my life. Although I did have some pretty excellent holidays thanks to all the rewards points I'd been able to accumulate, so that was good.
As a result of that experience I was, for a long time, sort of over hotels except in necessity. Give me an apartment, or a funky hostel, or, well, anything which doesn't have seemingly endless corridors of carbon copy rooms.
Anyway, I was recently invited to experience Arabian Hospitality in Dubai by the nice folks at the Al Ghurair Arjaan & Al Ghurair Rayhaan by Rotana Hotel. The name just skips off the tongue. This looked to be a rather nice five star property in the "old" (old being somewhat subjective in Dubai!) part of town.
After my visit to Dubai earlier on in the year, I have to admit that my interest in this city had been piqued, both from a photography perspective, and from an urge to try and understand the place, which I had entirely failed at doing when I first arrived, baffled by the way it exists, improbably sandwiched under scorching skies between the sand and the sea.
So the invite seemed to be a rather handy way to explore a bit more of Dubai, and also to see if I was ready to take on hotels again. Not to mention take a lot of photos of everything.
That rambling introduction aside, I am here to now share with you my experience of the Al Ghurair Rotana. It's not going to be a review (you can find lots of those on Tripadvisor, long story short, people pretty much love it), rather my thoughts on who the hotel is for and what my personal experience was.
Also, I'm going to be telling you how you can win flights to Dubai, as well as an exclusive offer if you want to go stay in the hotel. It's not all about me today.
Let's talk about the hotel.
Actually, let's talk about the location first.
Where is it?
If you're not familiar with Dubai, you might be surprised to hear how spread out it is. There's that enormous building that you've probably heard of, the Burj Khalifa, which is in the business district. There's also the enormous man made series of islands in the shape of a palm tree, but that's about 15km south of the Burj, in the Dubai Marina area. That's where I snaffled this photo:
The Rotana hotel I stayed at is in the Deira part of town, which is neither of the above, and is instead next to the Dubai Creek – the original part of town, and also handy for the airport.
Fifty years ago, this area was Dubai – a small trading port based around the creek, with traditional houses constructed from mud. Electricity, running water and concrete were things other places had.
The pace of change since then is fairly boggling, and really interesting to learn about. I'm going to share some ideas for exploring Dubai in an upcoming post, including a visit to the museum and older parts of town where you can learn about this stuff.
Anyway, the Rotana is in the Deira. It's a good location for shopping (ok, everywhere in Dubai is good for shopping – as far as I could tell shopping is a big thing to do in Dubai), and also for exploring this part of the city, which is arguably one of the more interesting regions, at least in terms of how quickly this place has exploded.
If you're not the exploring type, then you can just hang out and be pampered. This is not a terrible option, and is likely what I would have been doing if I wasn't taking photos of everything that moved, and lots of things that didn't.
The Hotel
A little more about the hotel and amenities. First up, it has the Zen Spa, where I had one of the best massages ever thanks to the talented hands of Cipriano, my masage therapist, who spent 60 minutes with various oils trying to overcome a lifetime of general ambivalence towards skin care. Not an easy task, but he rose magnificently to the occasion.
There's also a gym and two pools, one for adults and one for kids. Families will love this hotel. More on that later.
It also has two restaurants. The first of these is the Liwan, which offers all day buffet style eating, covering cuisines from around the world, from sushi, to Indian to Arabic specialties. I ate there a lot, and it was always superb.
The other restaurant is a bit more specialist, the Shayan, which focuses on Iranian cuisine, with a talented Iranian head chef who directs operations.
I ate here a few times as well, and the food was spectacular, giving me the opportunity to try a cuisine I'd never experienced before. The set menu options were particularly good, although be warned, you'll want to come with a very empty stomach to take advantage of the mountain of food you'll be presented with.
I also took advantage of the room service menu once. I had a giant suite after all, and it seemed a shame not to spend some time in it, enjoying the cityscape view. The room service menu was also excellent, although as a tip, you'll likely be able to feed two people with a single portion if you order the lamb curry!
The rooms
Speaking of the rooms, they are, as you would expect, rather nice, with six options to choose from in varying sizes and prices. You can read all about them here. I took a look at three of the room configurations.
There are three classes of standard room, all of which come with a large bed and bathroom, pretty much what you'd hope for, and which vary in floor space.
Then there are three suite options, which vary in terms of layout and configuration, and certainly won't disappoint, offering separate lounge and sleeping rooms.
At the top of the range is the Premium suite, which looks like this:
Just about enough room I would suggest. These rooms are particularly popular with families, as they have the option to link up with a standard room next door.
My favourite room though was the one I had, which is the Deluxe suite.
Whilst slightly smaller (apparently), I appreciated the fact that it was the full width of the building, meaning you got views from both sides of the hotel. So I could see the whole creek area and out to the Burj, as well as the other side of town and the sea. Pretty cool.
The suites also come with rather nice bathrooms and of course, that large separate bedroom.
All in all, a great choice of rooms, and you'll be happy with whichever you choose.
The staff
The title of this post is Arabic Hospitality, and you can't have hospitality without people, right?
I have to say that the staff of the hotel were what made the stay for me.
Admittedly, I do have the feeling that the staff were perhaps briefed that I was there. It seemed a little odd that all five hundred of them appeared to know my name. That, or maybe the regular clientele doesn't have dreadlocks and spend their time photographing the lobby lighting installation with fierce intensity.
Anyhow, the staff. Ok, so it's kind of normal for staff at a hotel like this to be friendly, polite and courteous, checking in on your day and making sure everything is ok.
I'm going to give you therefore a specific example of a staff interaction that made my stay.
On my last night in Dubai I was flying out at the rather depressing departure time of 1am. The hotel kindly let me keep my room as late as I wanted, and I decided to spend my last evening dining in the Shayan restaurant, exploring more Iranian dishes. I know, it's a tough life.
Anyway, I was dining alone. I've done this a lot and it doesn't bother me. It seemed pretty normal at the hotel too – in the Liwan restaurant when I dined alone they asked if I'd like any reading material.
In the Shayan, I wasn't sure what I wanted to eat. I asked my server, Kavita, what she would recommend. I explained what I liked, and what I'd already tried.
Based on this, Kavita went through a whole variety of options, before we settled on a main course of a fish stew, and a spinachy starter. So far, so standard restaurant experience.
Before the meal started, Kavita brought me a yoghurty drink called a Doja (??) *Vera: it might be 'doogh'*. This is slightly weird, as it has salt in it, so the taste was a little unexpected, but after my palate had figured it out, it turned out I liked it a lot.
It's supposed to be a palate cleanser, but after I drained the glass quickly, Kavita asked if I wanted more, which came in a Much Larger Glass. I drank that pretty quickly too.
As the evening progressed, there were lots of little touches like that. All the food I received came with a detailed explanation as to the ingredients, and what was special about it, in relation to Iranian dining. Again, all of this was standard.
What didn't seem like standard service though, was the wonderful conversation we had. We chatted at length about life working in Dubai as an expat (Kavita is Indian, like 50% of the population in Dubai, and an expat, like 80% of the population). We talked about what we did in our spare time, where we had travelled – the kinds of things you chat about when you meet a new person.
I actually felt like I'd made a friend – the genuine nature of the interaction and warmth of Kavita's personality really shone through, making my last evening in Dubai exceptionally special.
Kind of awesome in a large hotel with so many staff.
On with the show.
Some things to note
Ok, so there have to be some downsides, right? Well, the first one is likely a deal breaker for many people – this is a dry hotel. Yes folks, there's no alcohol served in this property.
The good news is that this makes for a jolly nice, family friendly environment. Plus, the selection of fresh juice-based drinks is almost enough to make you forget that you'd really like a beer as you're enjoying the sunset view from the restaurant balcony.
The other things are just minor quibbles. Wi-Fi for example, isn't included by default. I have no idea why decent hotels insist on charging for this service these days, but there we are. Again, there's good news in this regard – if you book the offer I've arranged for you guys, you will get free Wi-Fi as part of the package, as well as a 60 minute spa treatment. Panic over.
Who's it for?
This hotel would be a great base for anyone looking to spend a bit of time in Dubai in good value five star comfort. It's particularly handy for the airport, if you're on a shorter stay, but folks here for longer will find no shortage of things to do, both in the hotel and around. I took advantage of the on-site tour agency for example, and did both a desert safari and a city tour – I'll be talking about those options in an upcoming post.
I'd also suggest it's a great option for families. I don't have any personal experience in that regard, but those folks who were there with kids seemed to be having a good time, particularly in the pool area, and on Fridays where a special kids area is set up by the Liwan restaurant.
If you're already in Dubai, then I can recommend taking advantage of the restaurants, too. The hotel regularly gives away coupons via their Facebook Page where you can save up to 50% on the cost of meal at the all you can eat Liwan buffet, making for some very affordable eating. They also run offers for spa attendance, and other giveaways. It's a Facebook Page that is very much worth a like if you can take advantage of those offers!
A chance to Win A Flight to Dubai with Air France KLM and Rotana!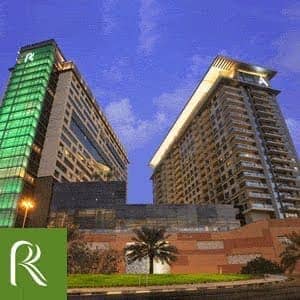 So that was the hotel. It's entirely possible you've skipped down here because FREE FLIGHTS. I can understand that.
I have two pieces of good news for you.
First, the Rotana are offering a special package exclusively to readers of this site.
If you book that package, you'll automatically be entered to win a free return flight to Dubai from Air France KLM hubs in Europe.
That package includes:
Buffet breakfast in Liwan restaurant
15% Discount at Shayan
Unlimited Internet access in guest rooms
60 minute massage or facial from Zen the spa
Cool right? Well, that's not all.
There's also a competition to win a flight to Dubai from Europe with Air France KLM. This is open tor readers of this site and GoSeeWrite, a fellow travel blogger.
It's pretty easy – you just have to head to this competition page, and answer the two simple questions within. Easy! Why not head on over, and do that now?
This post was brought to you in partnership with the Al Ghurair Arjaan & Al Ghurair Rayhaan by Rotana, who hosted my trip to Dubai in return for my photography services and telling you guys about my stay, as well as giving you the chance to win a flight to Dubai. The content of this post was produced independently by me, as always.