A bit of geography for you. Arguably Thailand's most famous coastline is the Andaman. It's the bit that you see in the postcards – impossibly pristine waters, beautiful long-tail boats, and those lumps of limestone that rise out of the sea like giant teeth.
It's home to islands, beaches, and people. Islands with names like Koh Lanta and Phuket, beaches like Railay, towns called Krabi. These are names that even I was familiar with before I visited, and I knew that they were likely to be both stunningly beautiful, and slightly on the busy side. Beauty has a habit of drawing in the crowds.
The thing is, the Andaman coast is a fairly long stretch of coastline, and not that many people seem to want to make the effort to explore its more southern reaches. Which is kind of splendid if you aren't of the party bent, and are looking for that hitherto impossible dream – a largely undeveloped and unspoilt part of Thailand.
The province of Trang, way down at the southern end of Thailand's world famous Andaman coast, offered us this dream. Incredibly beautiful, and yet mysteriously lacking in visitors. Certainly not in the quantities that you'll find further up the coast.
I'm talking miles of empty beaches, quaint little thatched bungalows, waterfalls cascading down mountains that rivalled any we'd seen elsewhere in Thailand, culture, history and food that was quite unique to the region and of course, those incredible limestone karsts in the sea that make this bit of coast so famous.
Sure, there are tourists here – of both the Thai and Western variety, particularly if you head to some of the islands off the coast. But stay onshore, and you're going to have those amazing beaches pretty much to yourself. Head inland, and you're likely to only find incredibly friendly Thais giving you a curious glance. They might even ask for a photo. Which, I promise you, is a rarity in much of the rest of the country.
Today I'm going to be sharing some thoughts on our time in the surrounds of Trang town, which is a little inland. Future posts will tackle the coastline and islands. Let's dive in!
What to see in Trang
Rubber
Since the early 20th century, rubber has been a main product of the Trang region, with plantations everywhere. Trang was in fact the first place in Thailand to start commercial production of this substance, and the industry is certainly still going strong today.
If you get a chance to watch the process in action as we did, then it's well worth doing.
You'll see how the trees are tapped for their latex, and then marvel as the liquid goo solidifies into a product that can be rolled into the mats that you'll see hanging all over the place, ready to be turned into all those rubber products that enrich our lives.
Dragons Cave – Tham Le Khao Kop
One of the most popular activities in the Trang region, particularly with Thai visitors, is a trip to Tham Le Khao Kop, an inland cave which can only be accessed by underwater canal.
There are plenty of row boats, which cost around 300 Baht (7-8 Euros) to hire, which includes a couple of crew to do the actual hard work. They'll steer you down the canal and into the cave, and then give you a guided tour of the actual cave. This is a pretty impressive place, stuffed full of all those things you'd expect to see in a cave.
The real highlight of this trip though, is the journey out, which the locals refer to as passing through the belly of the dragon, and is definitely not for the claustrophobic. The cave roof is incredibly low, and you have to lie totally flat in the boat for around fifteen minutes, as solid rock brushes past your noise. The Thai believe that this is a very auspicious activity. Vera, who isn't the best with claustrophobia, only just about made it through – and she's going to have a full post on this coming soon. It's worth doing, but not for the claustrophobic!
Governor's House
The reason for all the rubber in Trang was a chap called Phraya Ratsadanupradit Mahison Phakdi, who brought the first rubber tree into Thailand in 1899. You can still visit that very tree, the oldest in the region.
You can also visit the residence where this Chinese born chap lived during his time as governor of Trang, and learn a bit about the history of the region. The big, airy, wooden house feels wonderfully colonial, and you can almost imagine yourself taking high tea with the governor, whilst discussing the state of the rubber crop.
Waterfalls
If all this history and materialism is too much for you, don't worry, Trang still has plenty to offer. Two waterfalls particularly stand out as being worth the visit – Namtok Ton Tok and Namtok Ton Te waterfalls. Both of these are excellent for swimming, with Ton Te being the more spectacular of the two.
It cascades down a huge exposed section of granite, down a total drop of 320 metres, to a large pool at the bottom, which when we visited was full of with locals having the time of their lives in the beautifully clear and warm water.
Trang Night Market
If you're at all hungry in Trang, then the evening night market, located not too far from the clock tower, is a must-visit. Here you'll find all kind of treats on offer, from delightfully fragrant curries through to the inevitable fried chicken and of course a whole variety of seafood.
You're going to have to master eating from a plastic bag, which seems to be the Thai way of serving any street food that comes with a sauce, but it's a worthwhile skill to have.
On weekends there's often a second night market in the region of the train station. We weren't there at a weekend, so I can't comment on that one. If you go, let us know what you thought!
Chinese Temples
With so much Chinese influence, Trang manages to pack in a fair number of Chinese temples around the town, which are easy to walk to. These differ quite a bit from the Thai wats, largely due to the many dragons that adorn them. And I do like a good dragon or two. They're certainly worth a visit.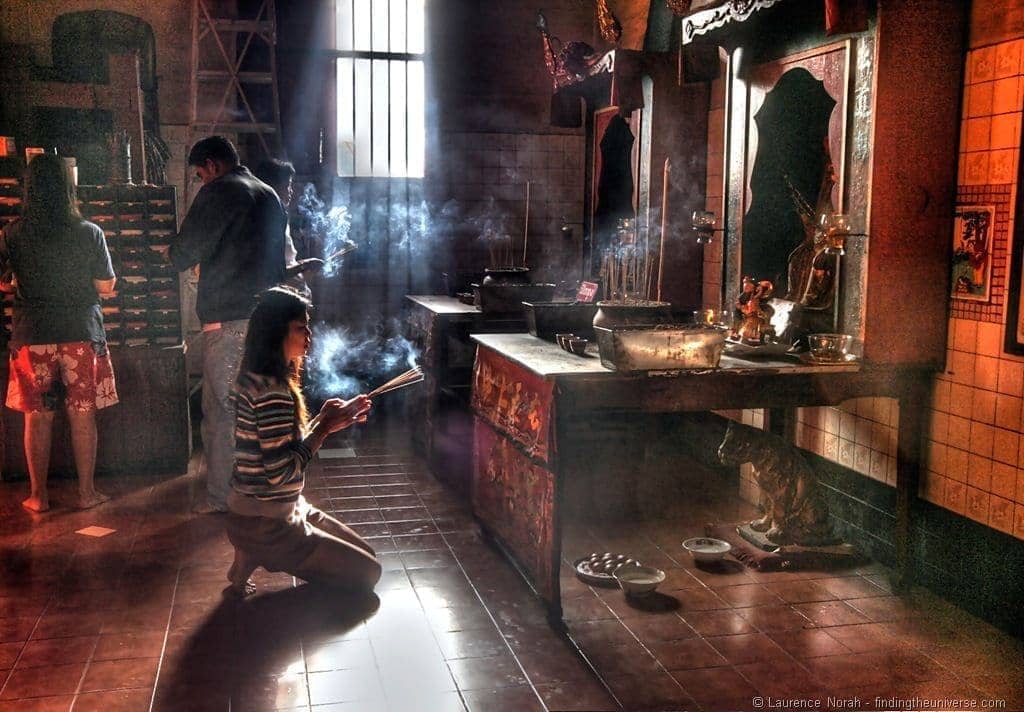 The Botanical Garden Skywalk
Just outside the city, and by the airport, is the Trang botanical garden, where you can find countless types of tree, and in particular palm trees, that you might not find anywhere else. Of course, the real highlight is the skywalk, where you can climb up above the jungle canopy to get the sort of aerial view that is usually reserved for monkeys or people going zip lining. It's not quite as action packed as zip-lining, but you do get a bit more time to look around, and it's free. Which is tough to argue with!
What to eat
Breakfast is a big deal in the Trang region, as we discovered when we were taken on a tour of two different breakfast establishments. The main reason for this is that folk who work on the rubber plantations at night get hungry, and so breakfast is really dinner. Or something like that anyway.
The first place we visited was a bakery, where they created a local pastry item consisting of a hard boiled egg yolk wrapped in taro paste and pastry and then deep fried. A variety of different flavours exist, all of which are wonderfully tasty and entirely unhealthy.
The second place we visited was very popular with families and late night workers, and offered up an exciting choice of dim sum and other classic Chinese dishes, which are a real Trang breakfast speciality. The entire menu was put in front of us to sample – we did our best to work through it in the name of research!
You'll also find that the Muslim influence means that Roti places are all over, and of course the aforementioned night market is a must for cheap and tasty evening eats. In short – you're not going to go hungry in Trang!
How to get here
Trang has a train station, with a couple of sleeper trains running daily all the way from Bangkok. Otherwise it's the standard bus / minivan option – being a regional capital means it's fairly easy to get to from neighbouring towns and provinces. There's also an airport, if you're pressed for time, and if you book in advance, flights can be very reasonable.
How to get around
Central Trang is easily walk able, but to see any of the main sights outside of the city you're gong to want transport. You could hire a motorbike or car for the day, or of course hire a tuk tuk or van with driver to take you around. Prices naturally vary depending on the options, so ask around before committing.
Getting from Trang to the coast and then on to the islands is also very easy – minivans run regularly (it takes around an hour), and you can usually get a ticket which includes both your bus and ferry if you're going straight to the islands.
Where to stay
There are a host of accommodation options in Trang, ranging from budget and upwards. There are some good deals to be had around the train station, with rooms going in the region of 300-500 Baht (8-12 Euros) without air conditioning.
For an overview of what's on offer, just pop into one of the local tour offices near the train station. We got a full run down of all the places available to stay, a map, and detailed instructions to the nearest laundry place. All very helpful, and all very free. If, however, you would prefer to sort out your accommodation in advance, then we can recommend the following resources:
Our go-to choice for finding the best deals is usually Booking.com. We generally find them to offer the best value of all the search engines, plus many properties offer a no-fee last minute cancellation policy. Check out their Trang listings here.
With these options, you should find the best prices for your trip, as well as a good selection of reviews and feedback to help you make an informed decision.
Further reading
i can recommend the online WikiVoyage site as a good resource for up to date information. However as this is crowd sourced, it's only as good as the content people add to it, so this will improve over time.
We picked up a dog eared copy of the Lonely Planet's Thailand's Islands & Beaches on our travels (available on Amazon), which had some information on the Trang region, and particularly the islands, although as is fairly obvious from the name, didn't go into great detail on visiting the interior.
The best option is just to ask around when you arrive into Trang, or get in touch with the Tourism Authority of Thailand, who should be able to give you more ideas on things to do, where to stay, and how to get in and out.
Disclaimer – part of our trip around Thailand was undertaken in conjunction with the Tourism Authority of Thailand, who were rather keen that we spend some time in Trang, for reasons that became very apparent as we toured – it's stunning here! They helped us out with some transport and accommodation logistics, and we're thankful for that – naturally all opinions remain our own.