When we visited Mauritius, one of the aspects of our trip I was most excited about was the food. Having grown up in the Seychelles, another island group in the Indian Ocean, I was particularly interested to see how the food in Mauritius compared to the food in the Seychelles.
Both nations offer a rich Creole menu that includes a lot spice and of course, being in the Indian Ocean, a focus on fresh seafood.
However, there are obviously big cultural and historical differences between the two countries, and as Mauritius is a much larger nation, there's a wider range of local produce that can be drawn upon to create flavours.
In addition, the strong Indian heritage of Mauritius has resulted in a range of Indian inspired dishes. This combines with Chinese, European, and African influences to create a truly unique cuisine.
I was, I have to say, hugely impressed by the food in Mauritius. Many of my favourite dishes that I know and love from the Seychelles were also found here, but there were also many dishes that were new to me! So this was a wonderful eating adventure.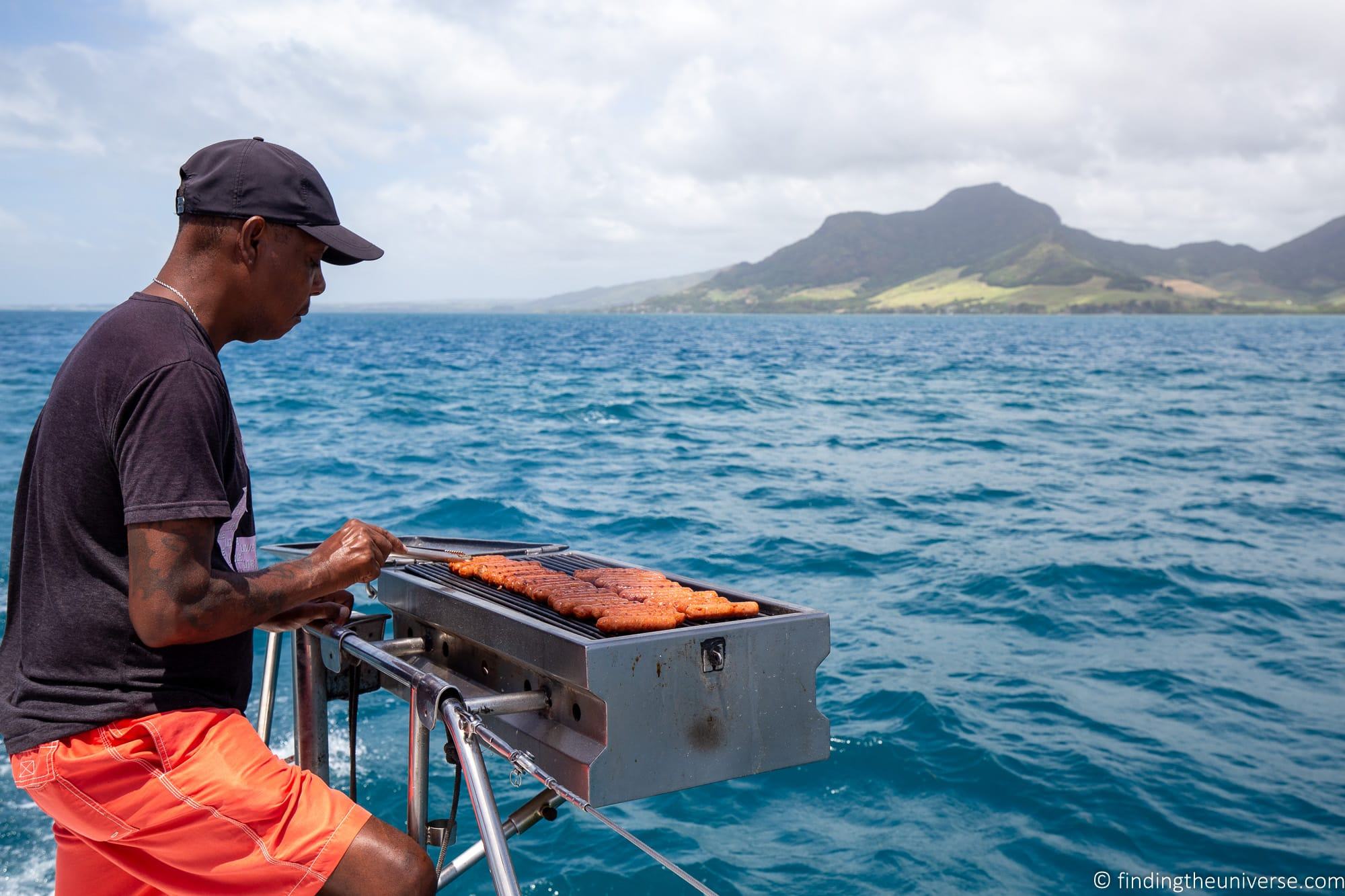 We spent a great deal of time seeking out and eating as many traditional Mauritian dishes as possible, chatting with locals about their favourites, and trying to visit locally recommended restaurants to sample the best Mauritian cuisine.
Let's start this post with our guide to some of the best Mauritian dishes you have to try when you visit. These include main meals, snack foods, as well as Mauritian desserts and popular drinks.
Following the food and drink sections of the guide, I've also included a few restaurant recommendations you might want to check out to try some of these dishes.
Food in Mauritius
Based on our experiences, I've put together this guide to some of the best food to try in Mauritius. This includes main dishes, side dishes, snacks, and desserts. Following the food, I then have a section on some drinks you mustn't miss in Mauritius.

Grilled Fish
One of my favourite meals when visiting any nation that has an abundance of seafood is grilled fish. I think this is one the best ways to experience the flavours of the fish. A properly grilled fish should be wonderfully juicy and filled with flavour, and won't need additional sauce (except perhaps some chilli or lime).
Obviously there's a wide range of different types of fish that you can eat grilled, and you can either have a whole grilled fish if it's a smaller fish, or a part of a fish if it's a larger fish. If you prefer your fish to be without bones, then you'll want to opt for the latter.
I had some of the best grilled fish I've ever had at the restaurant in the Constance Prince Maurice hotel, where we stayed for four nights. The food here was consistently excellent, but the grilled loin of fish I had here was particularly memorable.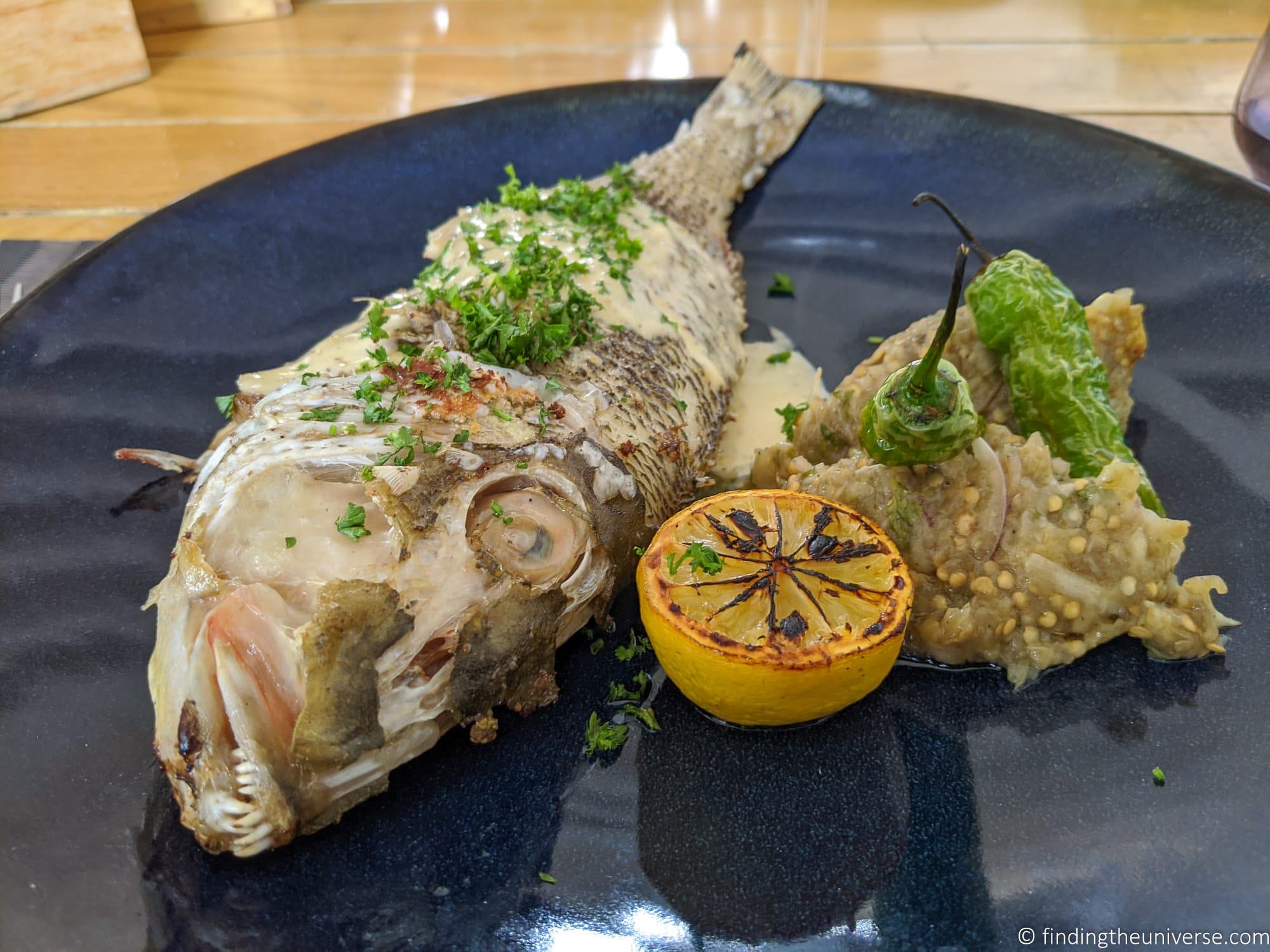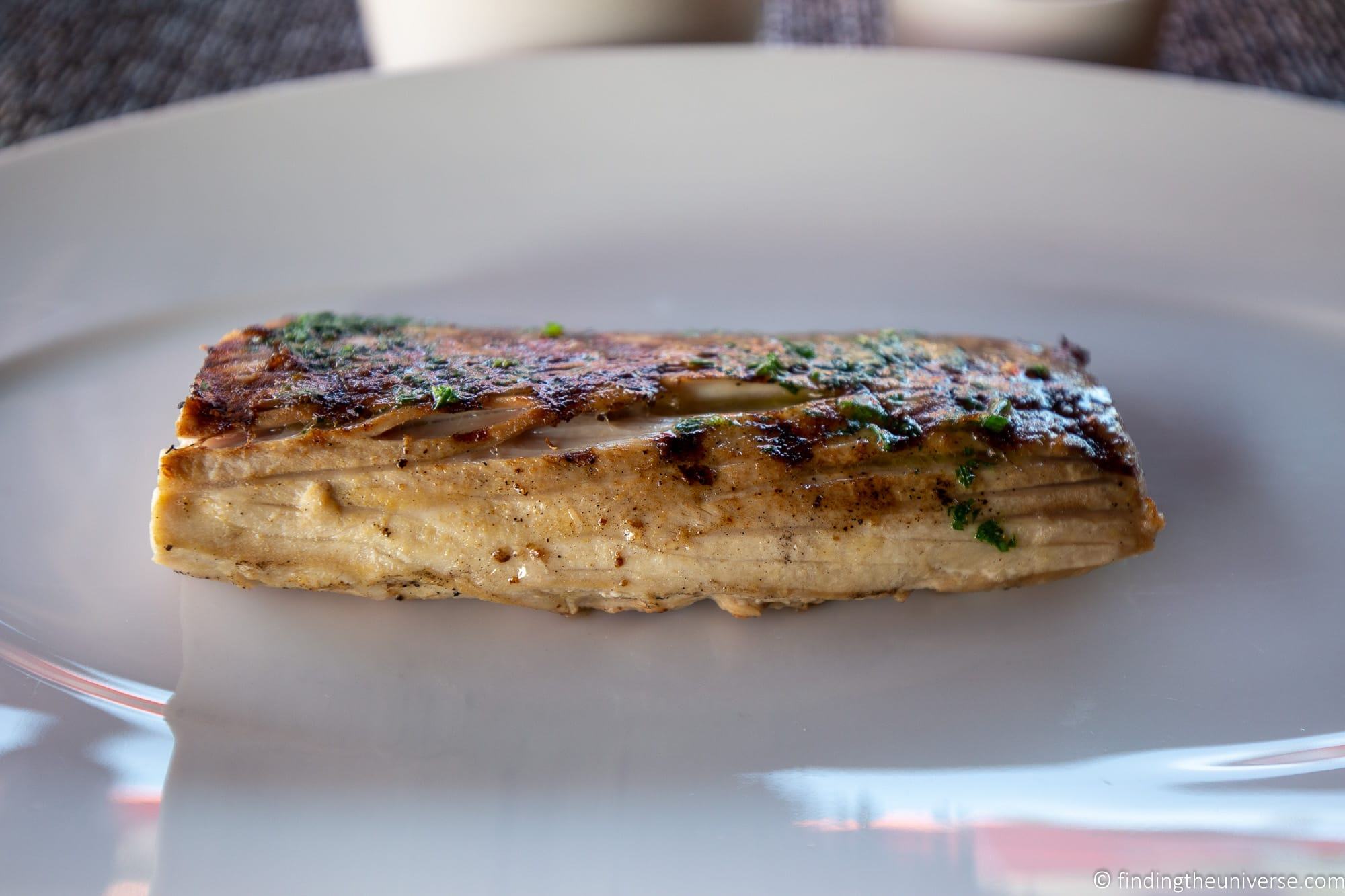 Octopus Salad / Salad Ourite
As you might imagine when visiting an island nation in the Indian Ocean, there is no shortage of seafood to choose from beyond the aforementioned grilled fish option.
Obviously, you can also get fish in a variety of other forms, including smoked, fried, and even raw.
There's also a range of other seafoods on offer, including prawns and octopus. I wanted to mention Octopus Salad as this is a popular dish in Mauritius. Served cold, it's basically a salad with added octopus.
Generally, I'd say that if you love seafood, you will definitely enjoy the food options in Mauritius!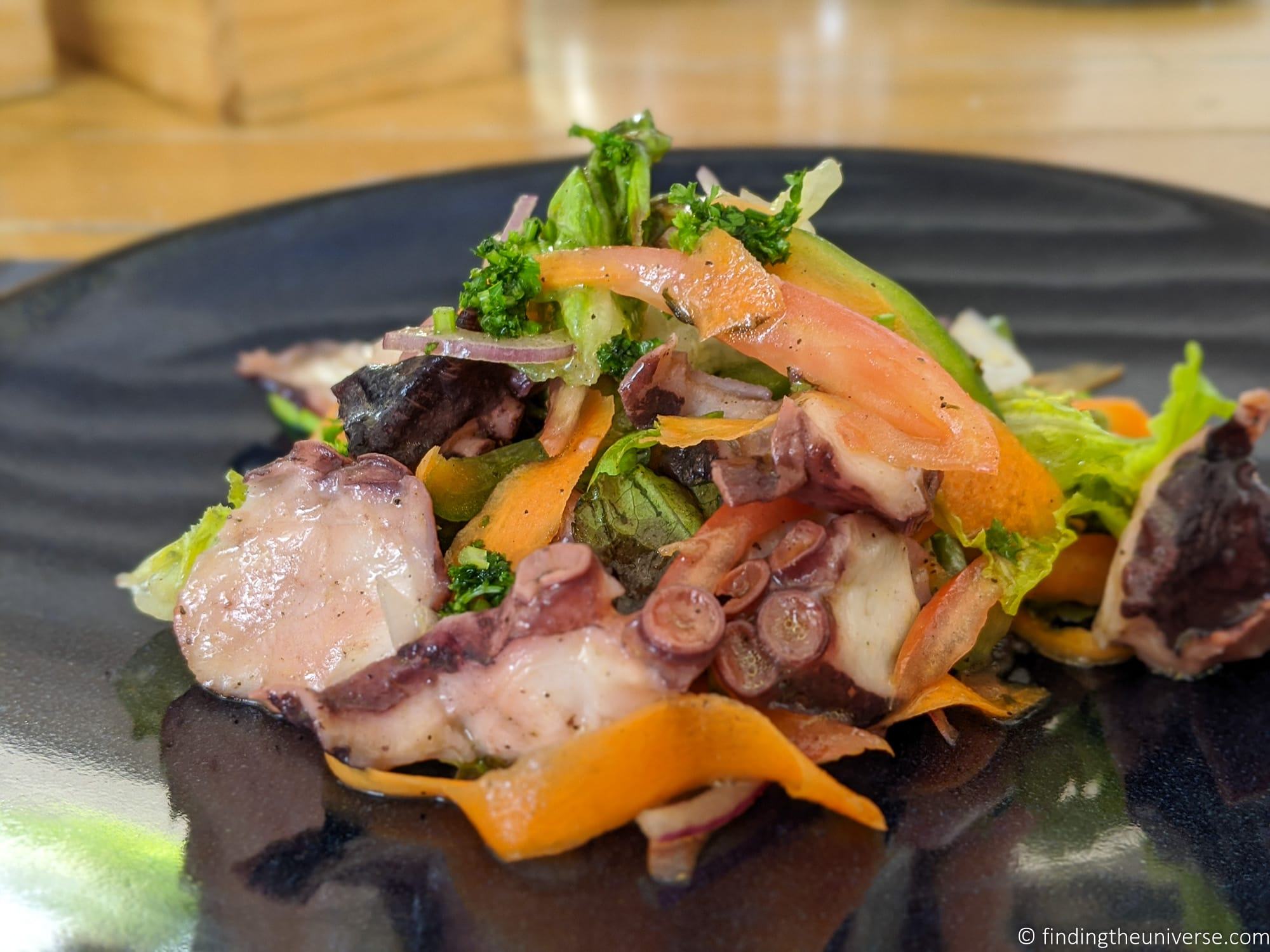 Curry
Around two thirds of the population of Mauritius are of Indian descent, largely thanks to the massive influx of Indian immigrants to Mauritius in the 19th century. They came following the abolition of slavery to work as indentured laborers, and you can learn all about this by visiting the UNESCO listed Aapravasi Ghat in Port-Louis.
I digress.
If you think of Indian food in general, curry is likely to be the first thing to pop into your mind. Of course, curry is obviously not just one dish, but instead a huge range of dishes that feature a range of spices and flavours.
In Mauritian cuisine, the most common curry is a Masala. This features a blend of spices and ingredients including curry leaves, coriander, fennel, fenugreek, cumin, cardamom, cinnamon and turmeric. The result is a fairly yellow curry sauce.
If you order a "curry" in Mauritius, this Mauritian curry is most likely what you will be served. It's commonly served with chicken, fish, or vegetables. It can also be served with other seafood, including octopus and prawns. Bean curry, usually made with butter beans, is another popular type of curry.
You might also see deer, or venison curry on the menu. Mauritius actually has a population of deer, which were introduced to the island by Dutch settlers in the 17th century. As a result, deer will sometimes appear on a menu, usually as a curry but often in other forms as well.
There are of course other types of curry available, as well as a number of other dishes in this post that trace their routes back to India, which I'll also be talking about.
When you order a curry, expect it to come with a side dish of lentils and then something like rice, dholl puri, or roti. More on these accompaniments further on in the post.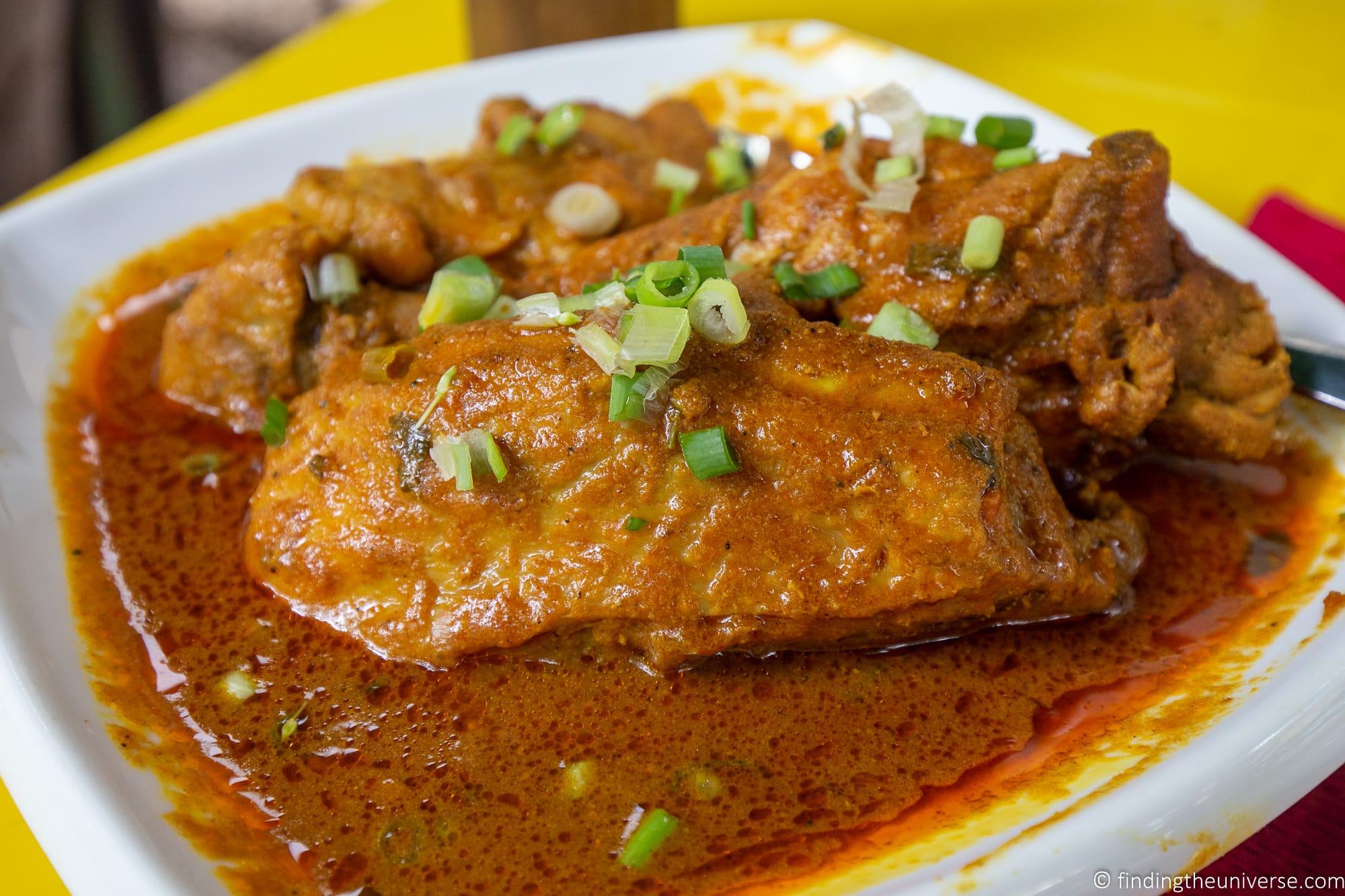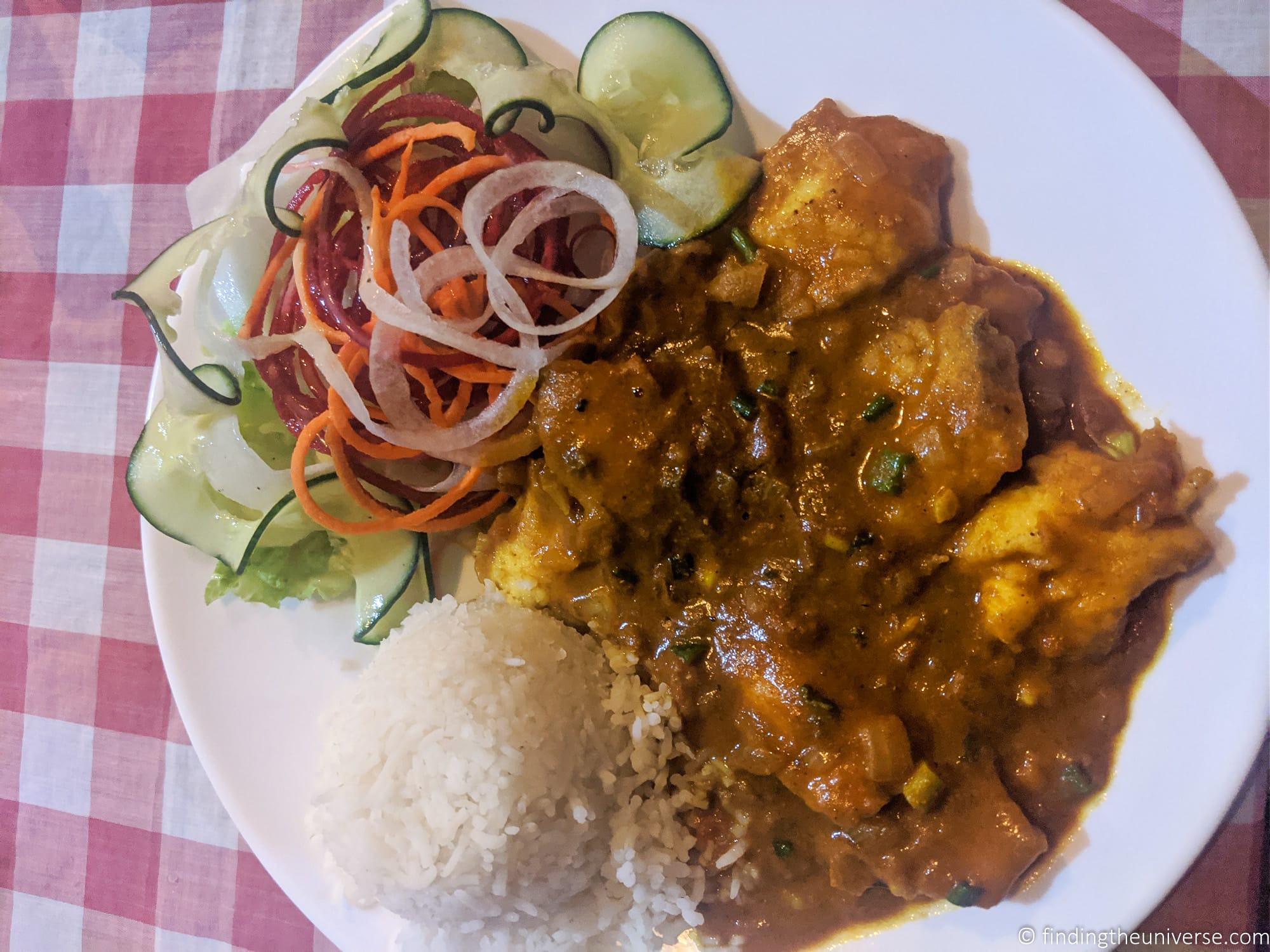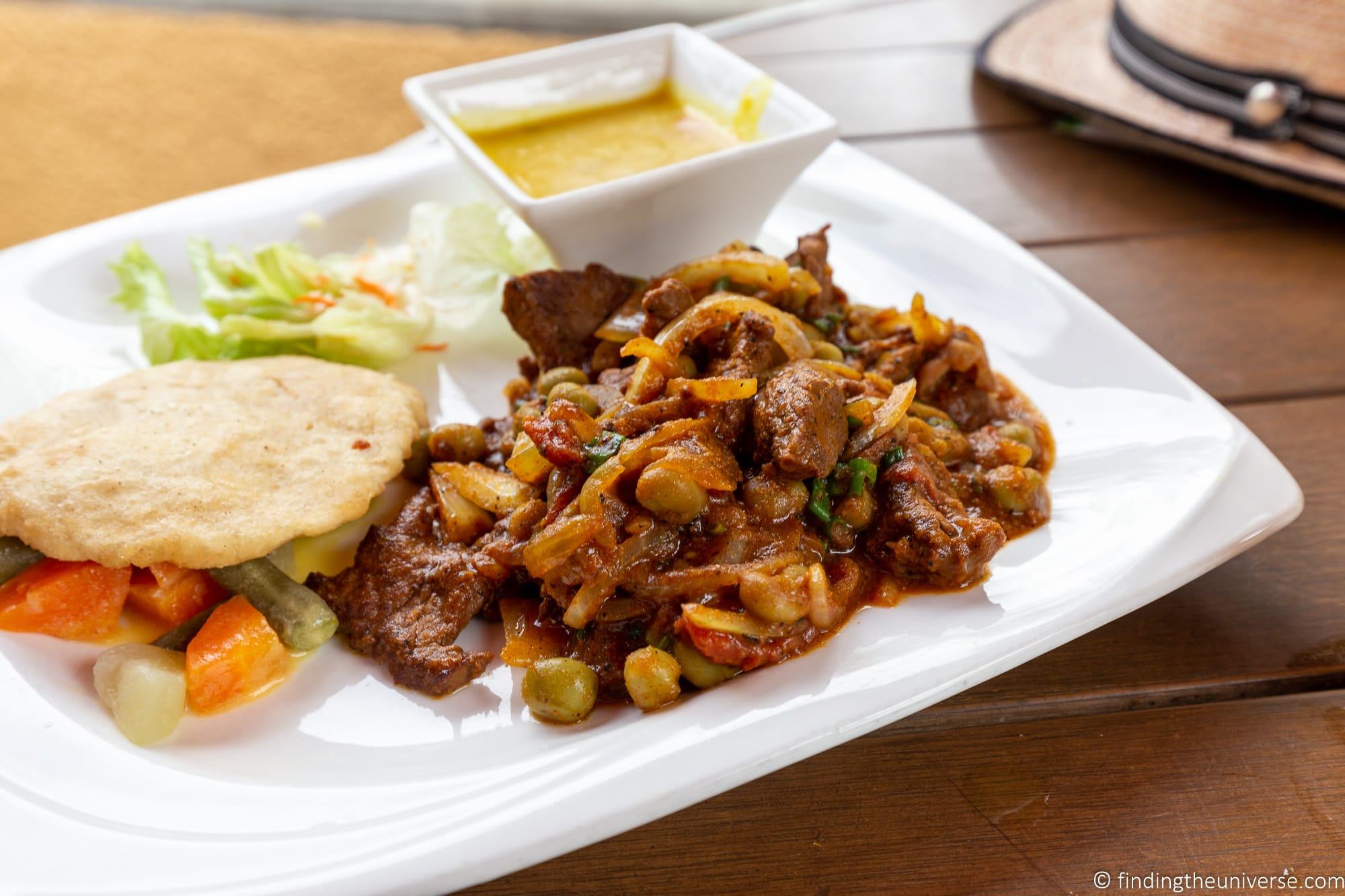 Salted Fish / Poisson Sale
As you can see, some of the foods in this list are whole dishes, whilst others are specific ingredients.
I have to confess, when I learnt that Mauritian cuisine features salted fish, I was rather excited. Salted fish is one of my favourite Seychelles dishes, but it's popularity in those islands is in decline, meaning unless you know someone who knows how to make and source it, you are unlikely to be able to get it.
This is not the case in Mauritius, where I had salt fish served in all kinds of ways, including on pizza, in a traditional rougaille (see more on this below), and from street food stands. However, you are much more likely to find this dish in someone's home than at a restaurant.
I should add that poisson sale is definitely not a flavour for everyone. It is very fishy and very salty. If you like salted anchovies, you will most likely enjoy it. If you don't, well, don't be surprised if the flavour of poisson sale overwhelms you!
My favourite way to have salted fish is in a rougaille, but it turned out it was also great on pizza.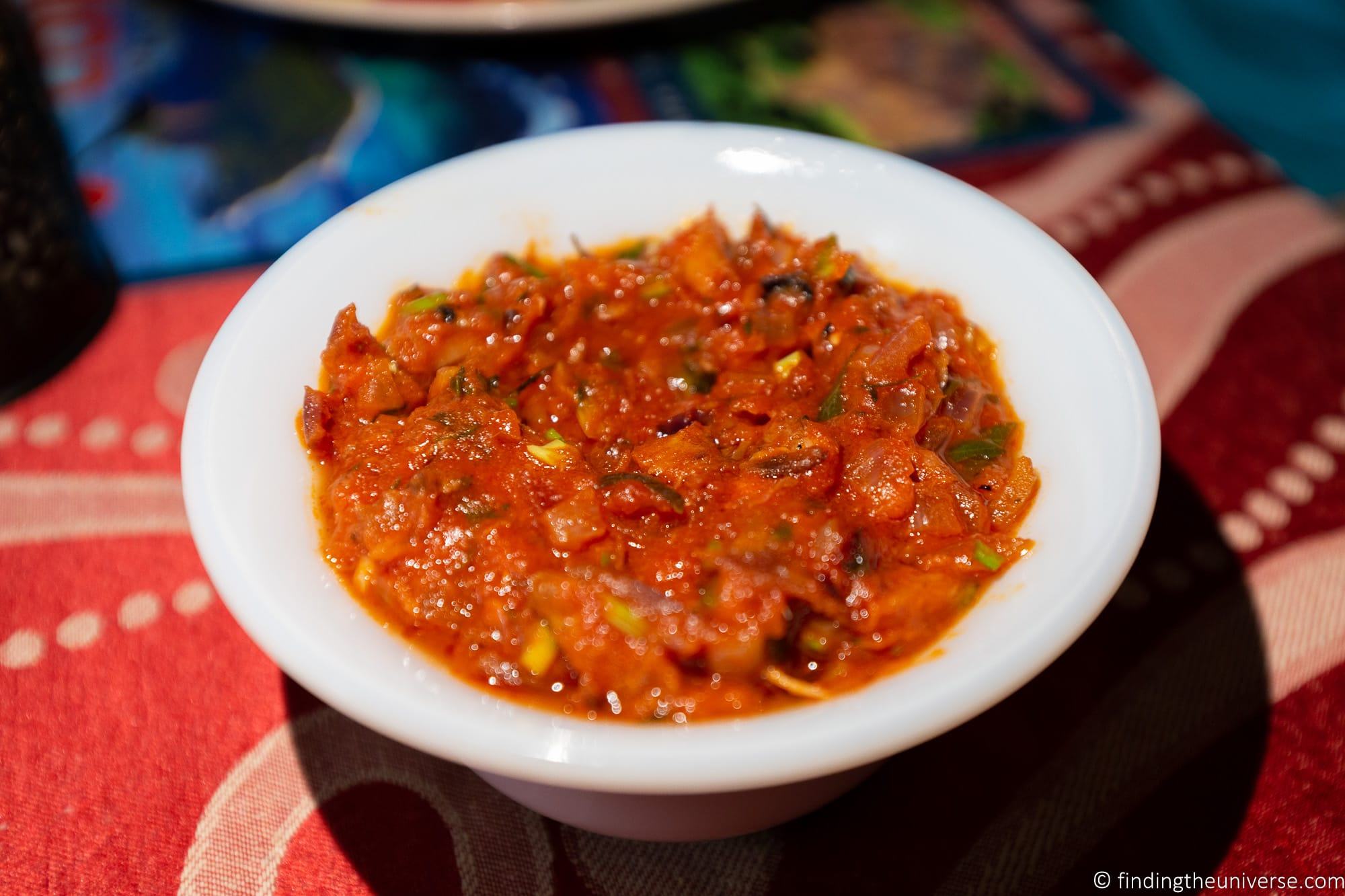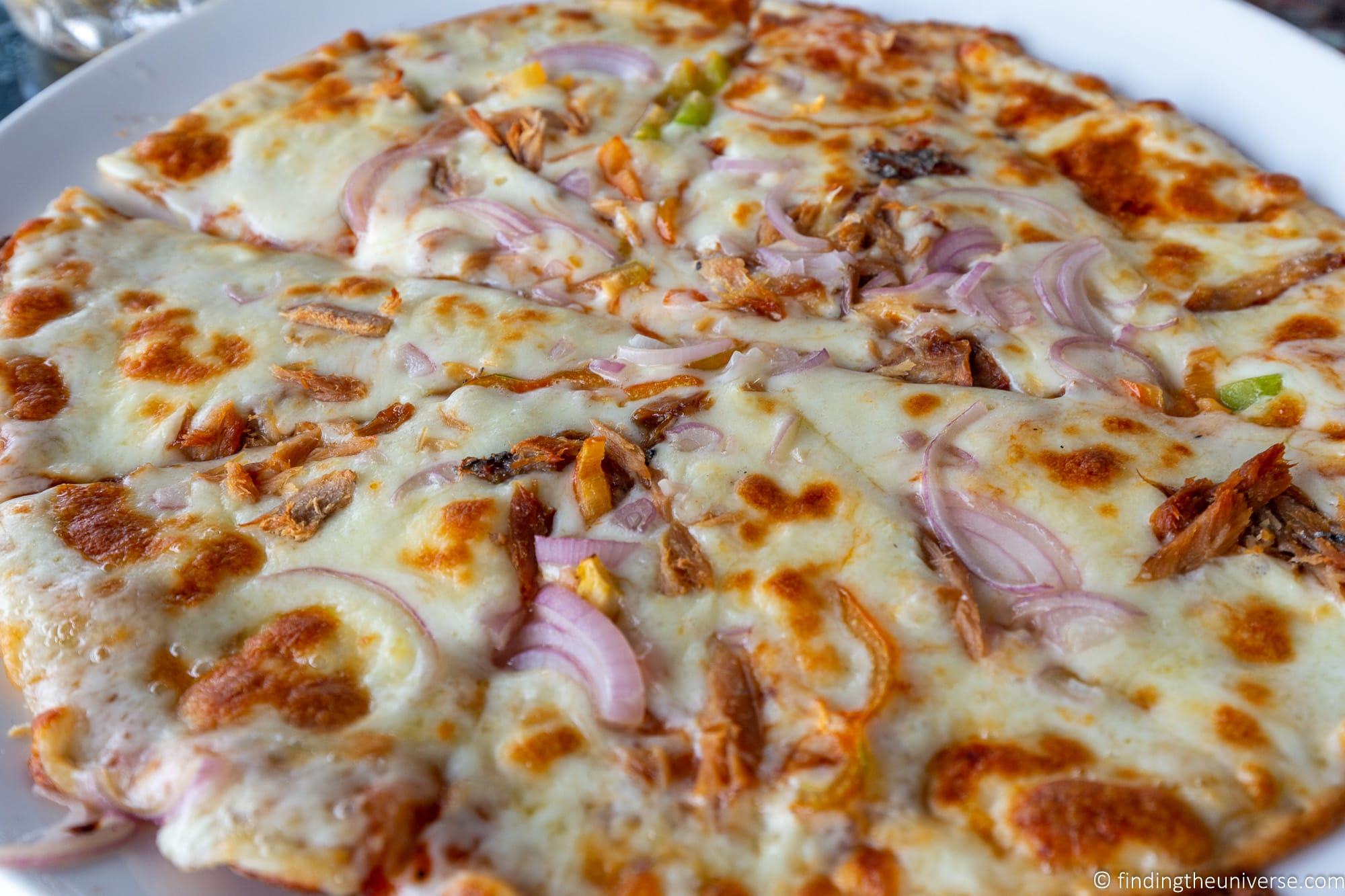 Rougaille
A rougaille, or rougay, is a really classic Creole dish that is a firm favourite in Mauritian cuisine. It is a dish which is largely based around a tomato and onion sauce, to which various flavours are added. These will vary depending on the exact recipe, but ingredients are likely to include garlic, ginger, thyme, curry leaves, and chilli.
The sauce is usually mixed with some type of meat or fish. The most typical rougailles are made with either sausage or the aforementioned salted fish, but it can also be made with baked eggs, beef, pork – pretty much anything really!
A rougaille is very much a comfort food and you can find it all across the island, either in restaurants, or served from street food stands where it might be wrapped in a farata. More on this traditional bread shortly.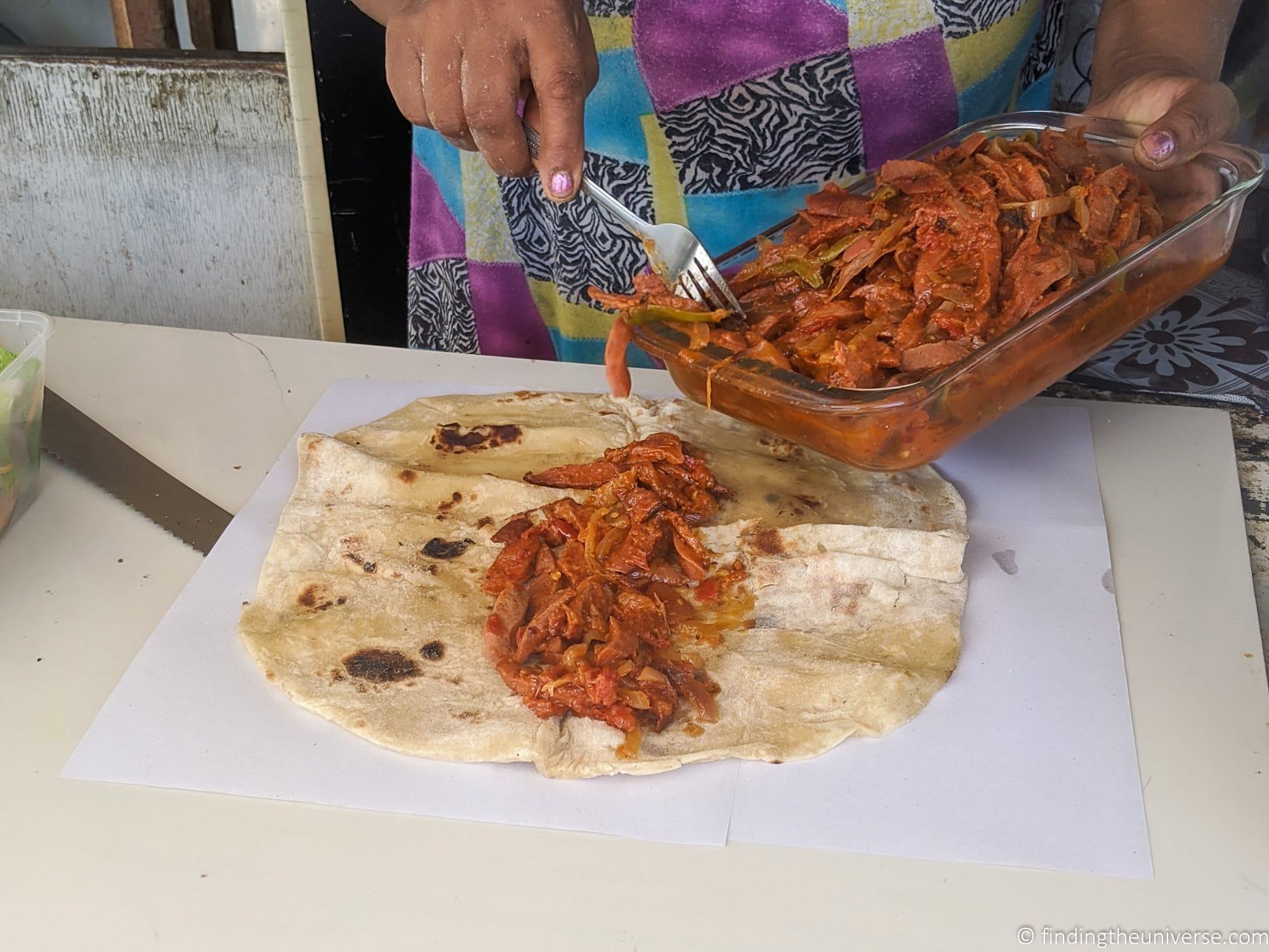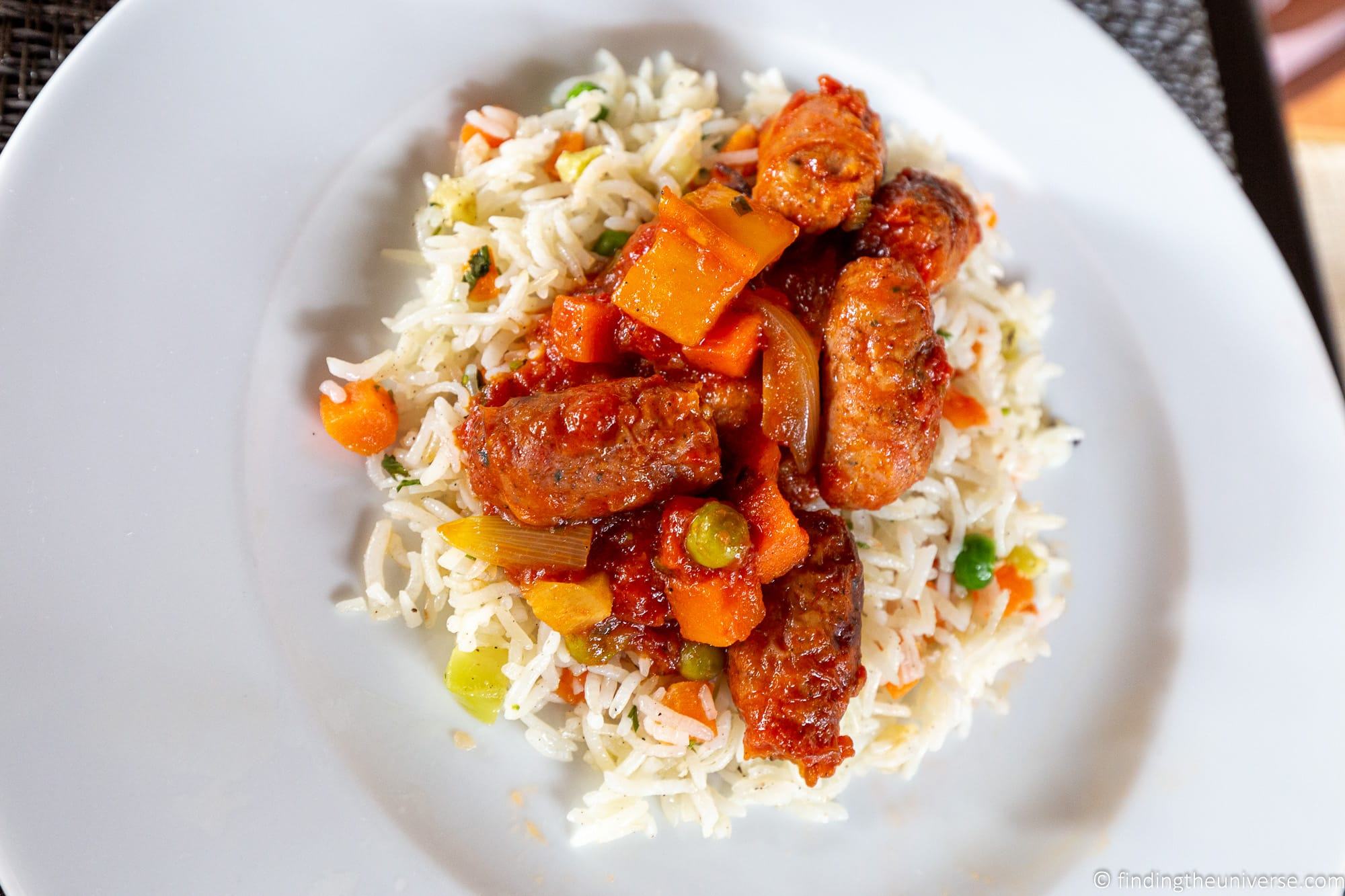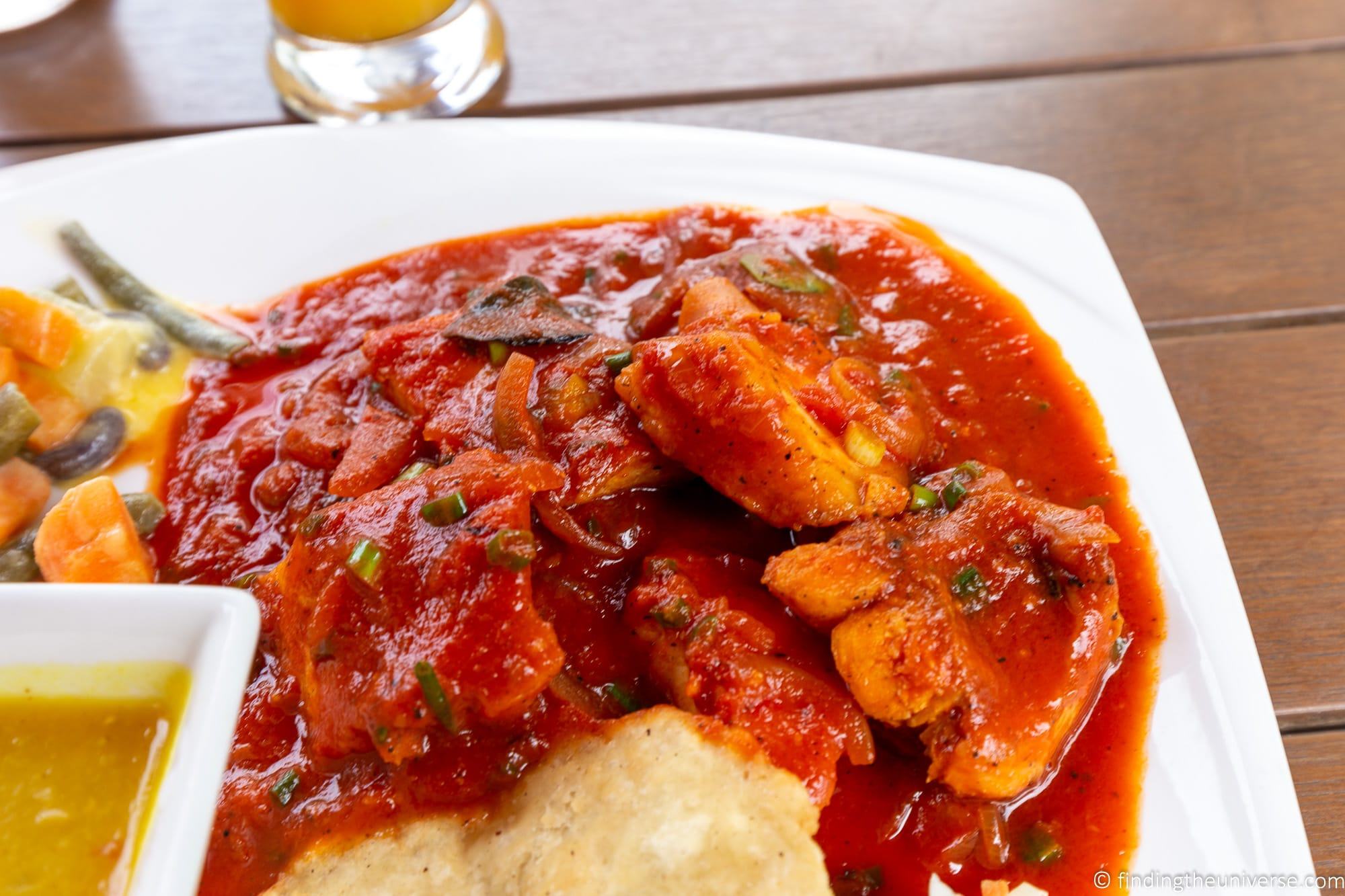 Vindaye
Another favourite Mauritian dish is a vindaye. This is a specific type of curry which also has its origins in Indian cuisine.
Vindaye definitely has a unique flavour, quite unlike other curries you will experience in Mauritius. This is due to the primary ingredients being mustard and vinegar, accompanied by turmeric. The vinegar in particular gives it quite a pickled flavour, which can be quite strong.
Usually vindaye is made with fish, but chicken is another popular ingredient. I would say of all the food we tried in Mauritius that this was probably the most unique flavour we experienced, and it is a taste that might not be for everyone. However, we can definitely recommend you at least try it if you have the chance.
Note that you may see this labeled in English as "Mauritian mustard chicken" or "Mauritian mustard fish", but it's the same dish.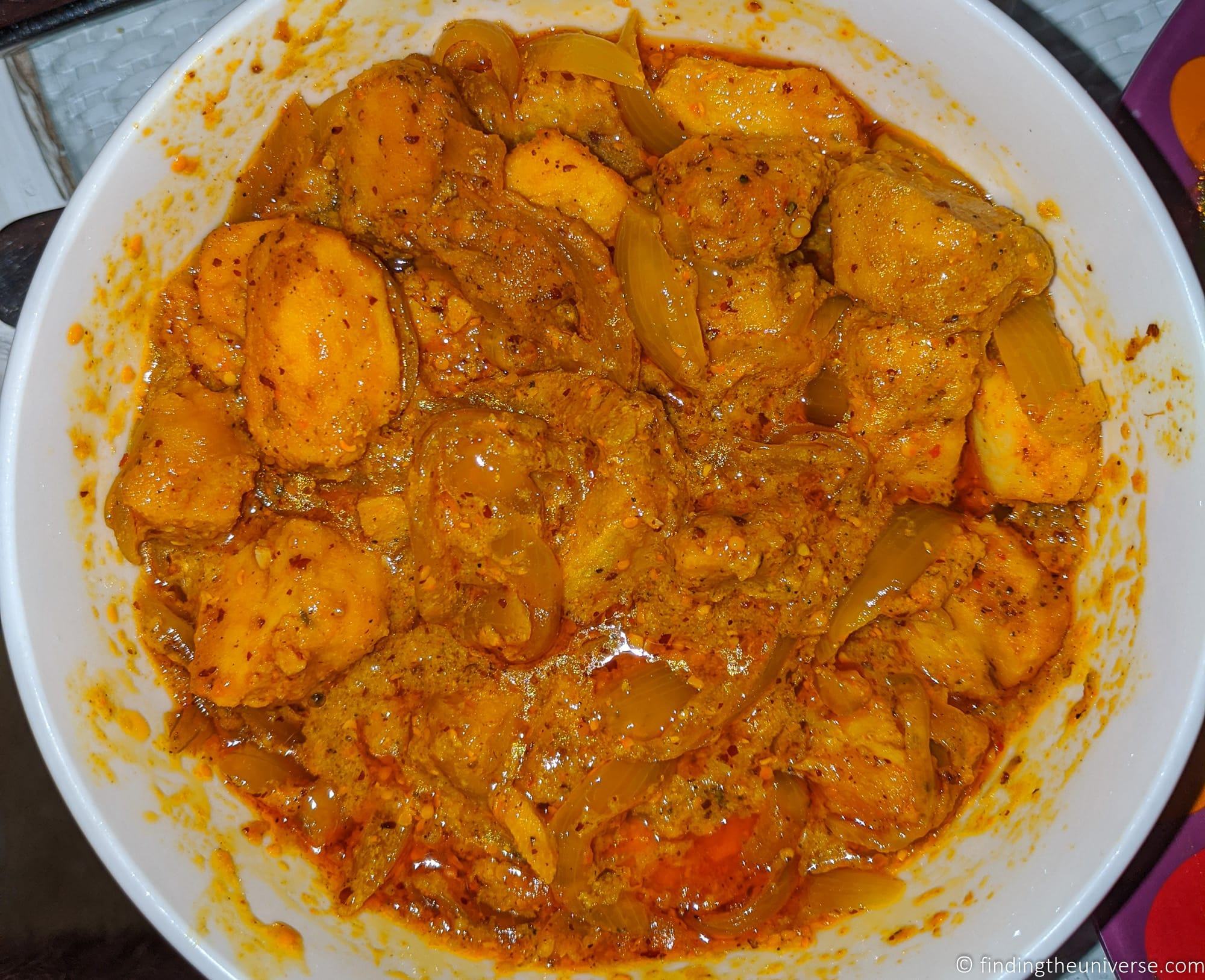 Biryani
A Biryani is a well known Indian dish, which combines rice with a number of spices and other ingredients to create a flavourful all-in-one dish. It's a popular dish that is commonly served at events like weddings or other get togethers, but of course can be eaten as a standalone meal.
As with any dish, there are of course multiple variations of Biryani. The Mauritian Biryani usually has potatoes added. Whilst this isn't unique to Mauritius, it is definitely not a common biryani ingredient.
Other than that, you can expect to find a range of other spices and flavours in a Biryani. As well as the rice and potato, there will usually be Cardamoms, cloves, cumin seeds, ginger, garlic, onions, coriander leaves and turmeric or saffron.
Biryani will also usually have either a meat, fish or selection of vegetables added.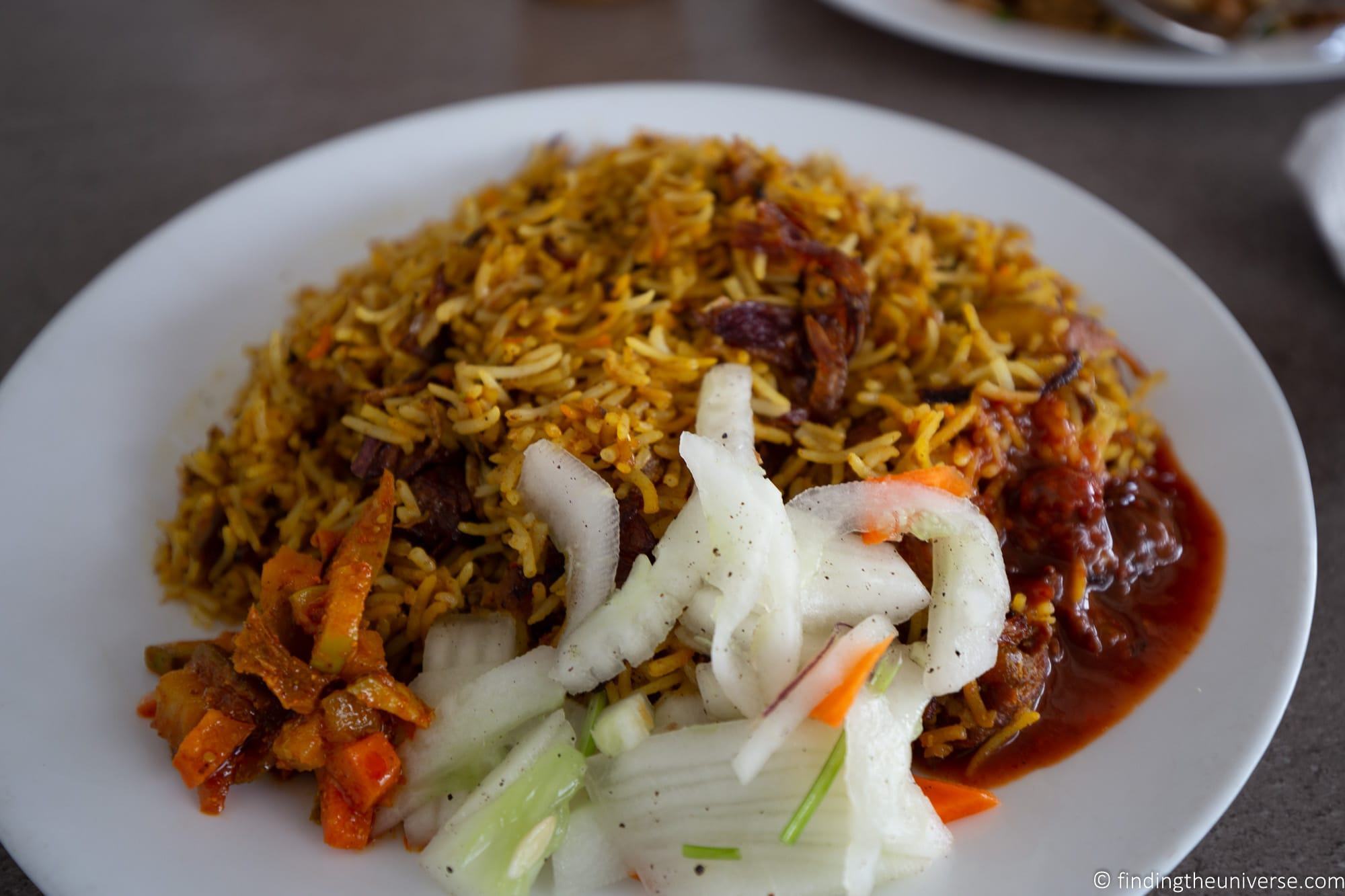 Dholl Puri
When I spoke to Mauritians about the foods I had to try when I was exploring the food of Mauritius, one dish that consistently appeared near the top of every list of recommendations was dholl puri.
A dholl puri is basically a pancake which is made from ground yellow split peas. This is usually seasoned with turmeric and cumin and then is griddled on a large round flat pan.
The ground yellow split peas give it a really unique texture and flavour, which goes well with a number of other Mauritian dishes. In sit-down restaurants, you'll usually find a small plate of these served with Mauritian dishes and curries. The idea is you fill the dholl with what you are served, or just use it as an implement to eat the food with.
As street food, they will usually come filled and are a common street food snack.
Normally dholl puri is served with some kind of filling. Popular fillings include butter bean curry and sausage rougaille, but you will find many variants including other curries. Whichever filling you choose, this is an inexpensive and filling dining option that also happens to be delicious!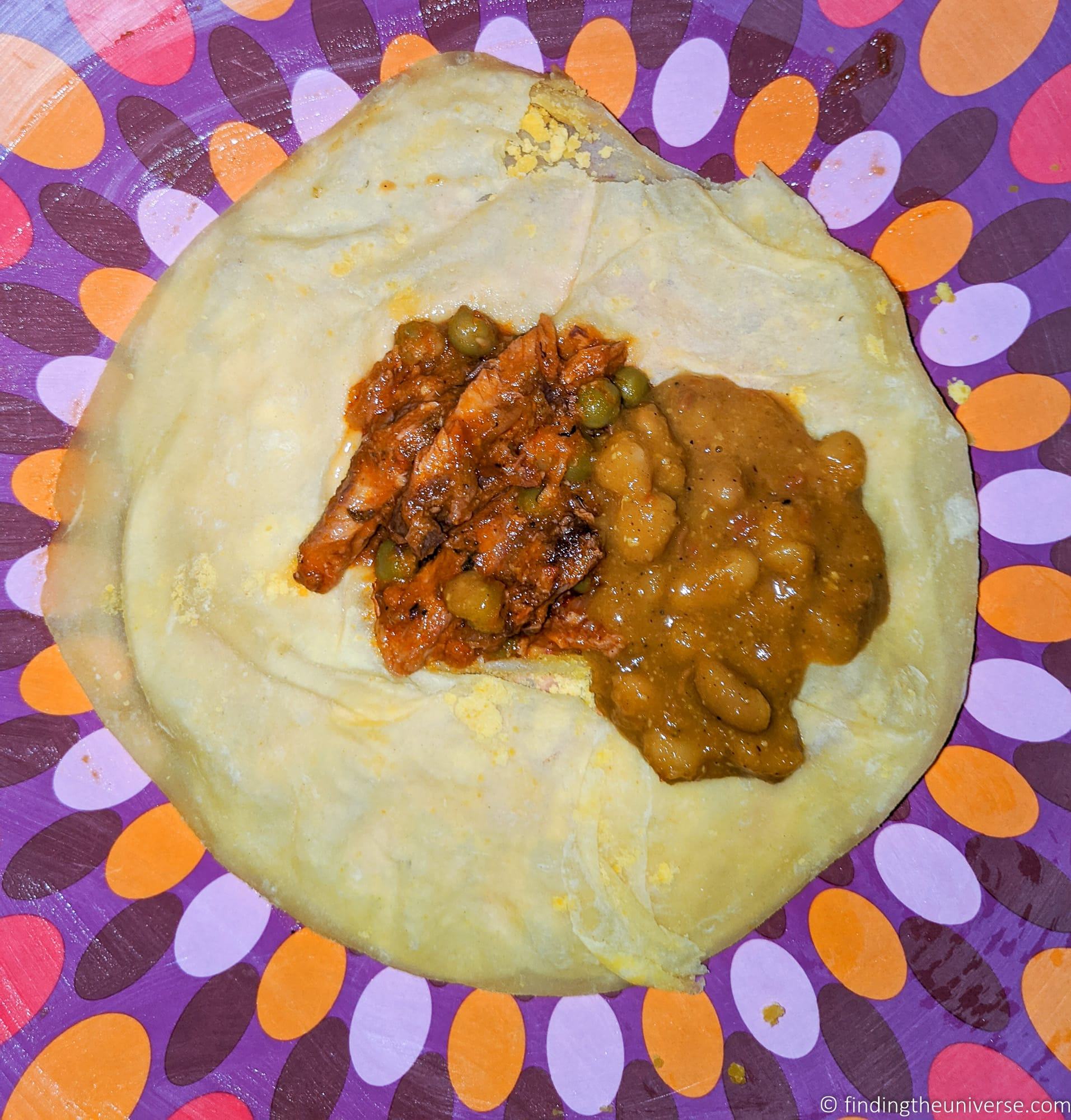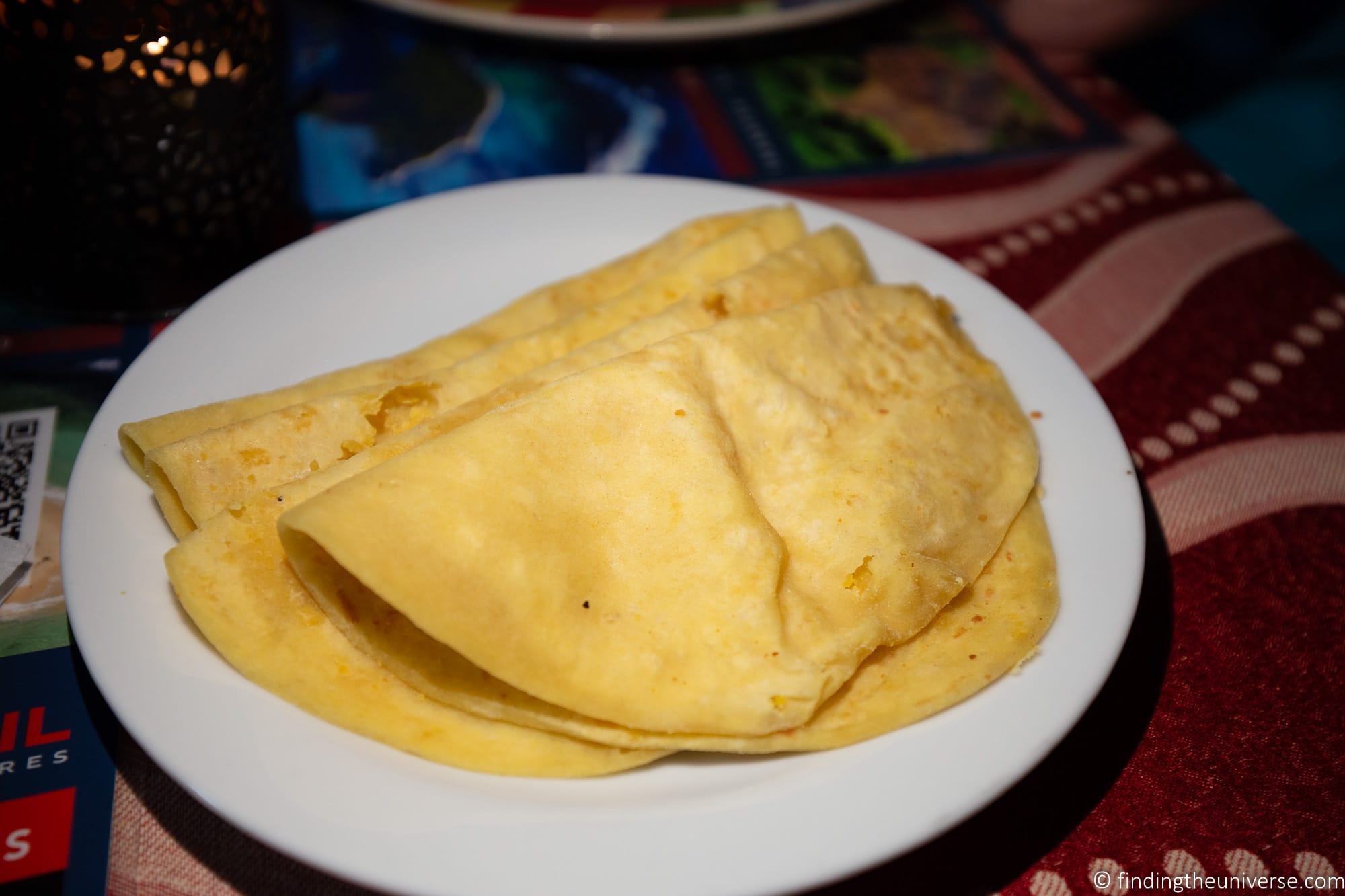 Farata
Farata, also known as paratha or roti, is another street food classic in Mauritius. Whilst it might seem similar to a dholl puri, in that's it's a wrap into which you add various filling, a farata is made from wheat flour and water, meaning it's basically a flat bread.
A farata is made by combining water and flour into a dough, adding some form of oil, and then briefly frying the rolled out dough in a large pan.
The finished product is a round flat bread, into which you can add a variety of fillings. Like the dholl puri, these will usually include rougaille or curry.
When you order a meal in a Mauritian restaurant, particularly a curry, you might expect to have Farata and dholl puri served as a side, often instead of rice. Farata is also a popular street food, available from vendors across the country. At lunch time in St. Louis, we saw a great many Mauritians lining up for these at street food stalls across the city!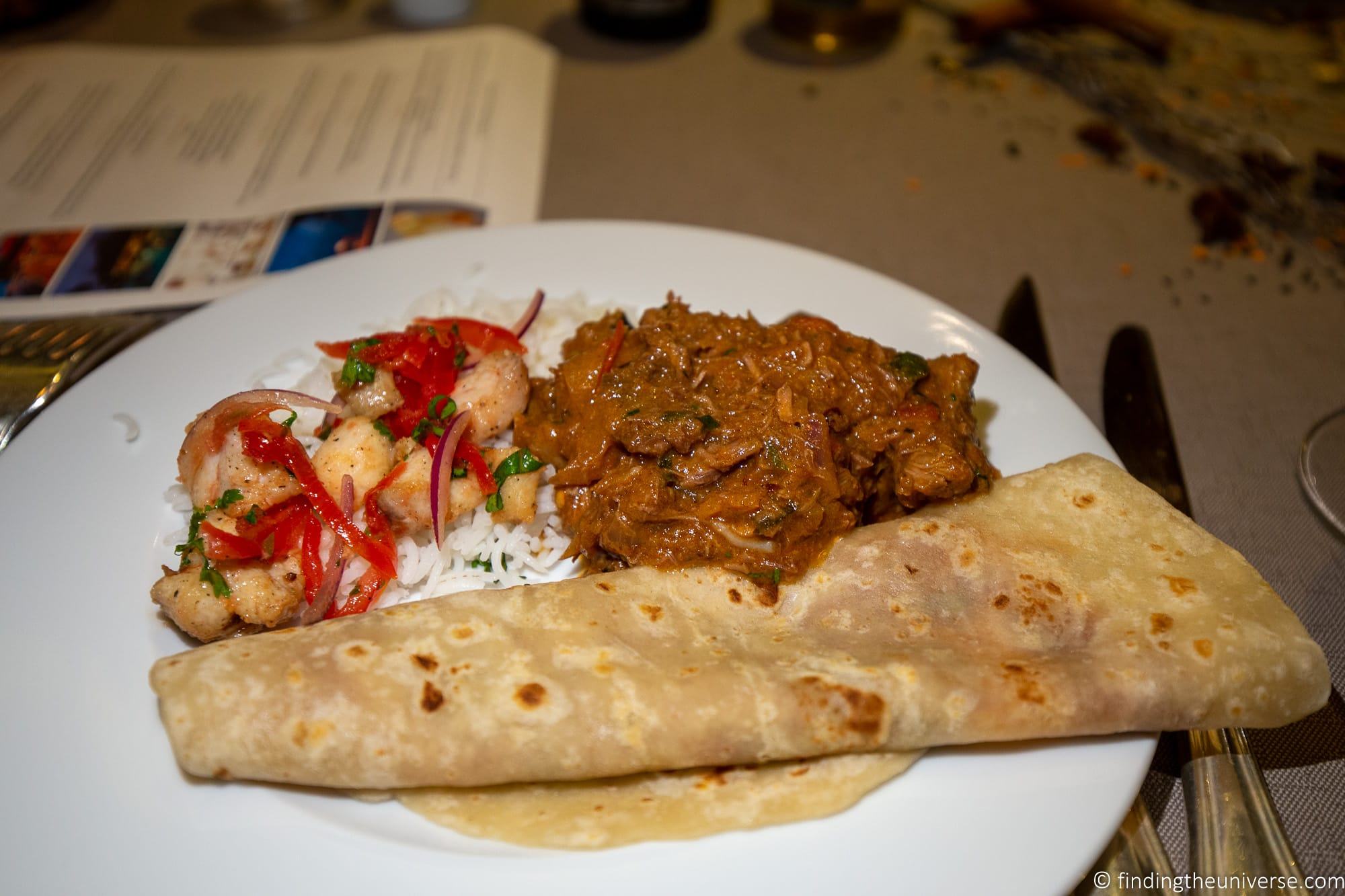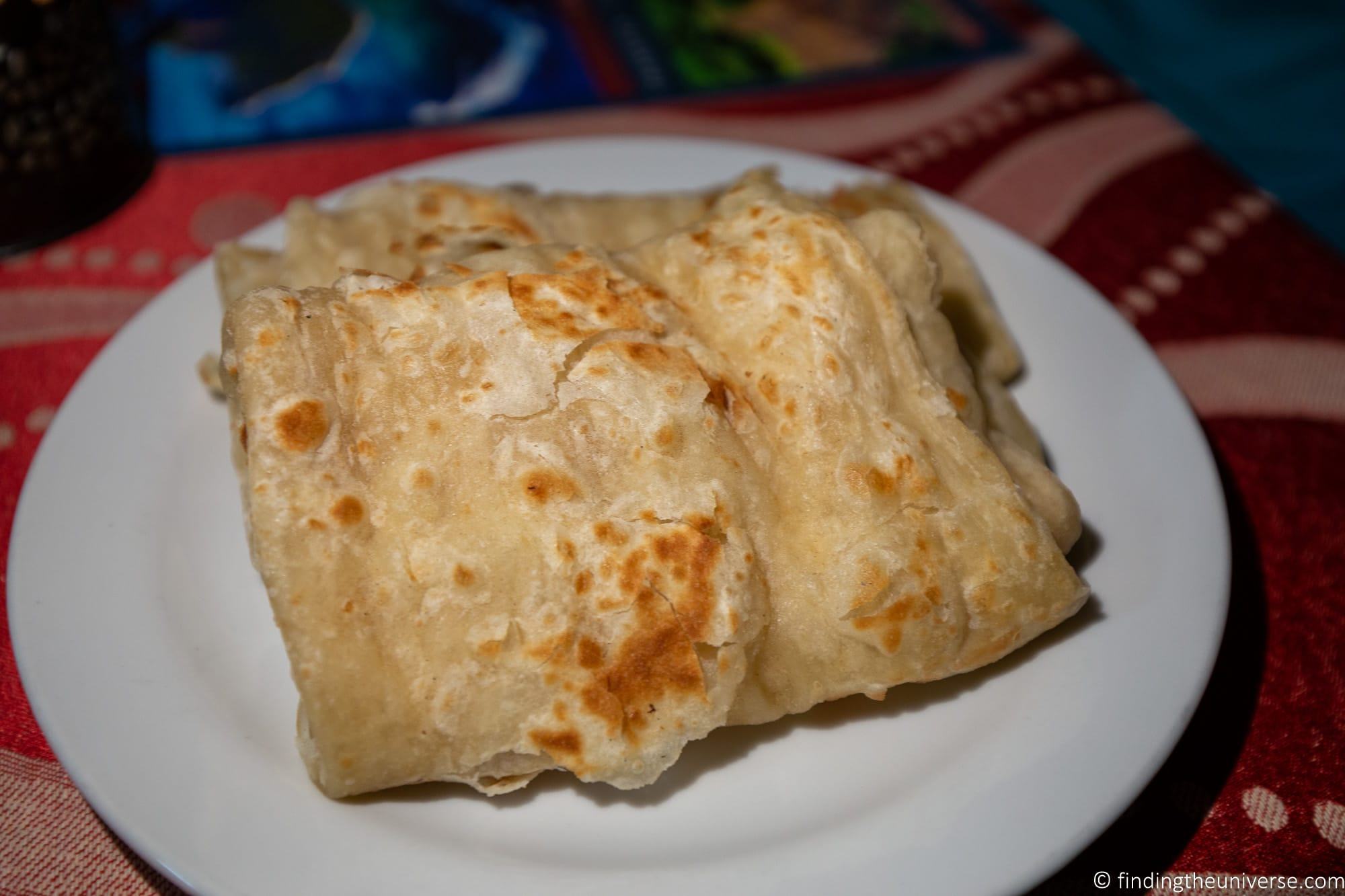 Fried Rice / Riz Frite
Ok, now it's time for the Chinese influence on Mauritian cuisine to make itself heard! Sino-Mauritians make up around 3% of the Mauritian population, and there's a Chinatown area in the capital city of Port Louis, founded by the first Chinese immigrants to Mauritius.
These immigrants started to arrive in Mauritius in the late 18th century, where they primarily found work as skilled labourers, filling roles as blacksmiths, cobblers and tailors, amongst others.
As with the Indian immigrants, the Chinese also brought a number of dishes with them, which have become staples of Mauritian cuisine.
First on our list is a classic Chinese dish, found around the world, fried rice. Fried rice in Mauritius is fairly similar to other variants around the world, consisting of rice, a variety of finely chopped vegetables, egg, fish sauce, and soy sauce. There will usually be a choice of meat or fish ingredients, or it can be served as a vegetarian option.
When you order fried rice in a restaurant, expect to be presented with a bottle of liquid with white bits in (if it's not already on the table). If you're like me and have no idea what this is, I will enlighten you. It's garlic sauce, which is essentially slices of garlic in water with a small amount of vinegar and salt.
It is delicious and goes very well with fried rice, but don't expect your companions to love you after eating it!
Fried rice is a filling and usually great value meal. In our experience, we also usually ended up with massive portions, and in many cases one order will easily feed two people!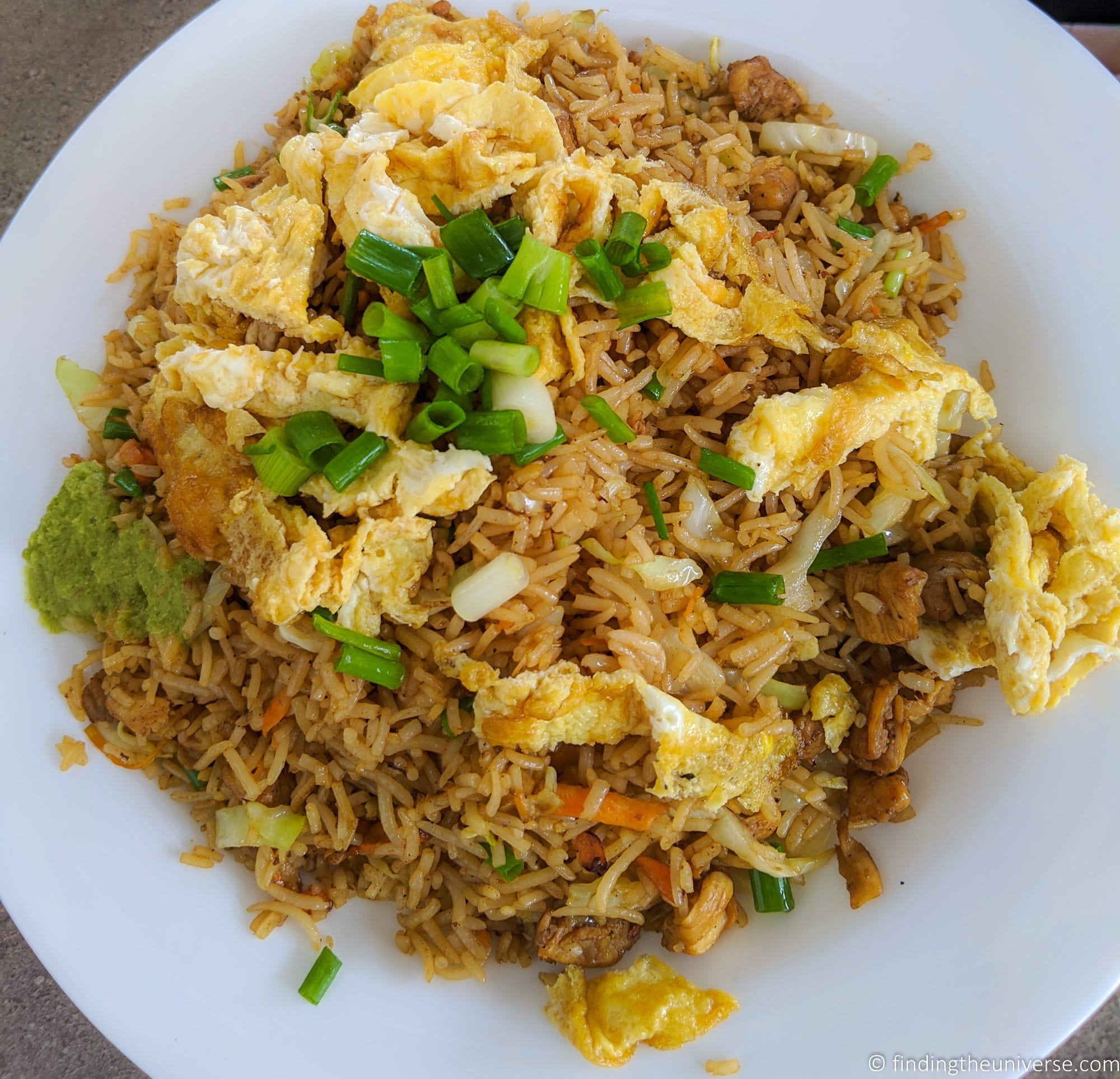 Fried Noodles / Mine Frit
When you visit a Chinese restaurant in Mauritius, the two most popular dishes are likely to be the fried rice and the fried noodles.
Fried noodles are pretty similar to fried rice, except obviously you replace the rice with noodles. Which you prefer is up to you. Expect this to be offered in a variety of flavours as with the fried rice, including seafood, chicken, beef etc. Usually this is all mixed together but not always.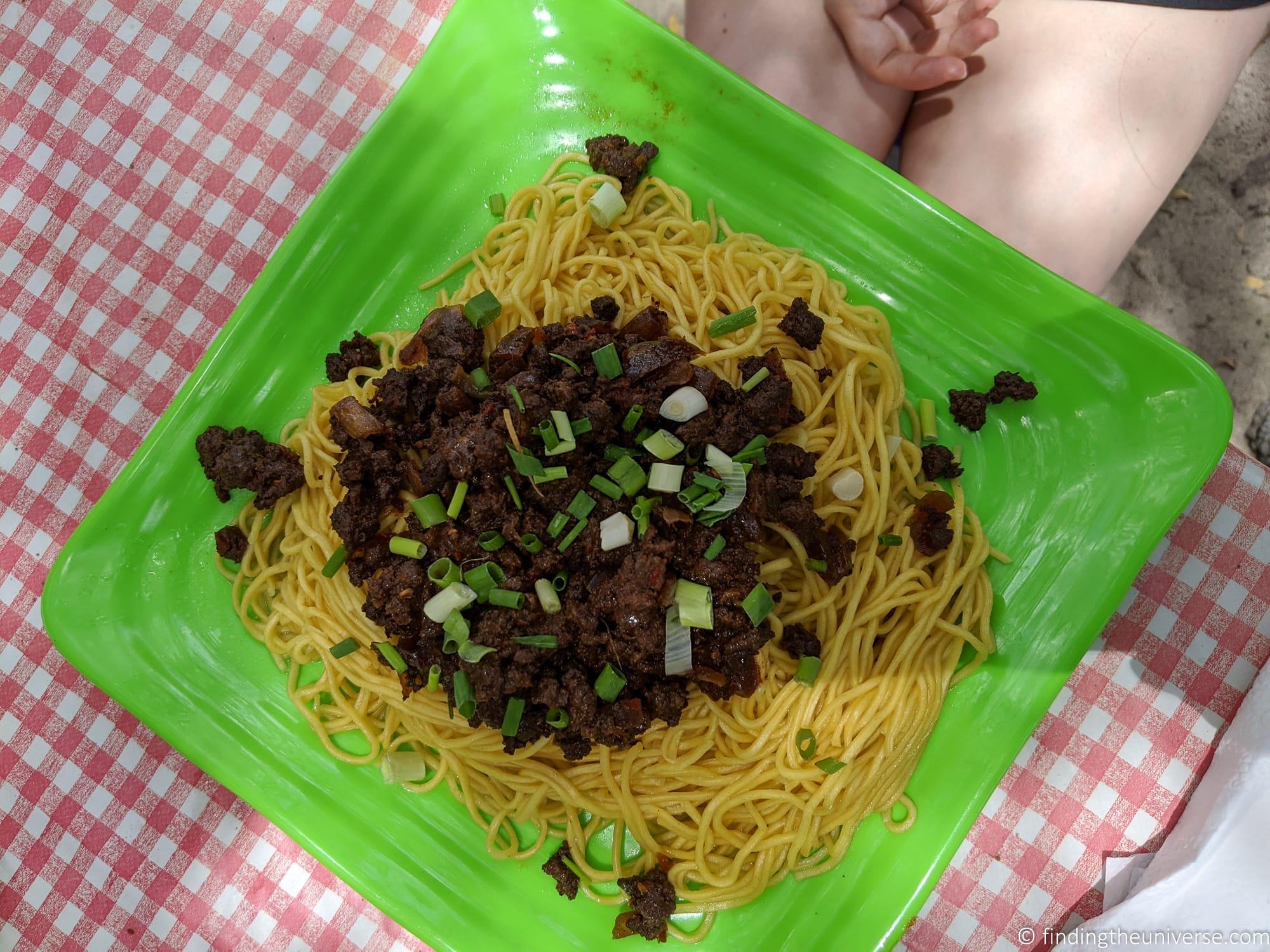 Bol Renverse
Bol Renverse is a really classic Sino-Mauritian dish which is part deliciousness and part artwork. Ok, so maybe artwork is a stretch, but it is certainly a fun dish to order!
The name literally translates as "upside-down bowl", which should be a clue as to what to expect. Essentially, this is a dish of layers. It comes with rice at the bottom, followed by a stir fry which usually consists of vegetables and some kind of fish or meat with a Chinese style stir fry sauce.
Atop this creation is a fried egg.
The trick however, is that this it not all just piled together haphazardly and presented. No – the dish is created in reverse in a bowl, which is placed onto your plate, and then revealed just before you tuck in. Which may be why it's also called a "magic bowl".
Expect flavours of sesame oil, fish, oyster and soy sauce, as well as garlic, ginger and onion. Best enjoyed with the egg yolk trickling down over the whole thing!
Boulet
Continuing with the Sino-Mauritian theme, boulet or boulettes are the Mauritian version of dim sum, or dumplings.
These are usually served in either a broth or as part of a salad, and there are a few variations. These include Niouk-Yen (filled with Chouchou/Chayote, a type of squash), Sao-Mai (usually vegetarian or pork, but can also be chicken, shrimp or other meat) and wontons.
Boulet are usually served with a dipping sauce like soy sauce or chilli sauce, and the best place to find them is from street food vendors in Chinatown, Port Louis.
Gato Piments
If you're looking for something spicy to snack on, look no further than Gato Piments, or chilli cakes.
These are deep fried balls of chick pea flour (similar to a falafel), but with the bonus ingredient of red and green chilli peppers. As you might imagine, this makes them quite spicy, so if you're not used to spicy food, you might want to approach these with caution, and perhaps try just one before committing to a whole plate load.
These are a really popular street food option and are easy to find at street food stalls across the country. They are also popular as a pre-meal snack, washed down with a nice cold drink.
Palm Heart Salad
Palm Heart Salad, also known as millionaire's salad, is a salad made from the heart of a coconut palm tree. This has a unique crunchy fresh taste, which honestly doesn't taste anything like coconut.
The reason it's called millionaire's salad dates from a time when palm trees where a major source of revenue. To make palm heart salad requires the cutting down of a palm tree, and to do so was a great demonstration of wealth, as you were essentially sacrificing a source of income that can take years to mature, in order to make a salad.
These days palm heart salad is widely available, and you should be able to find this at most hotels and restaurants across the island.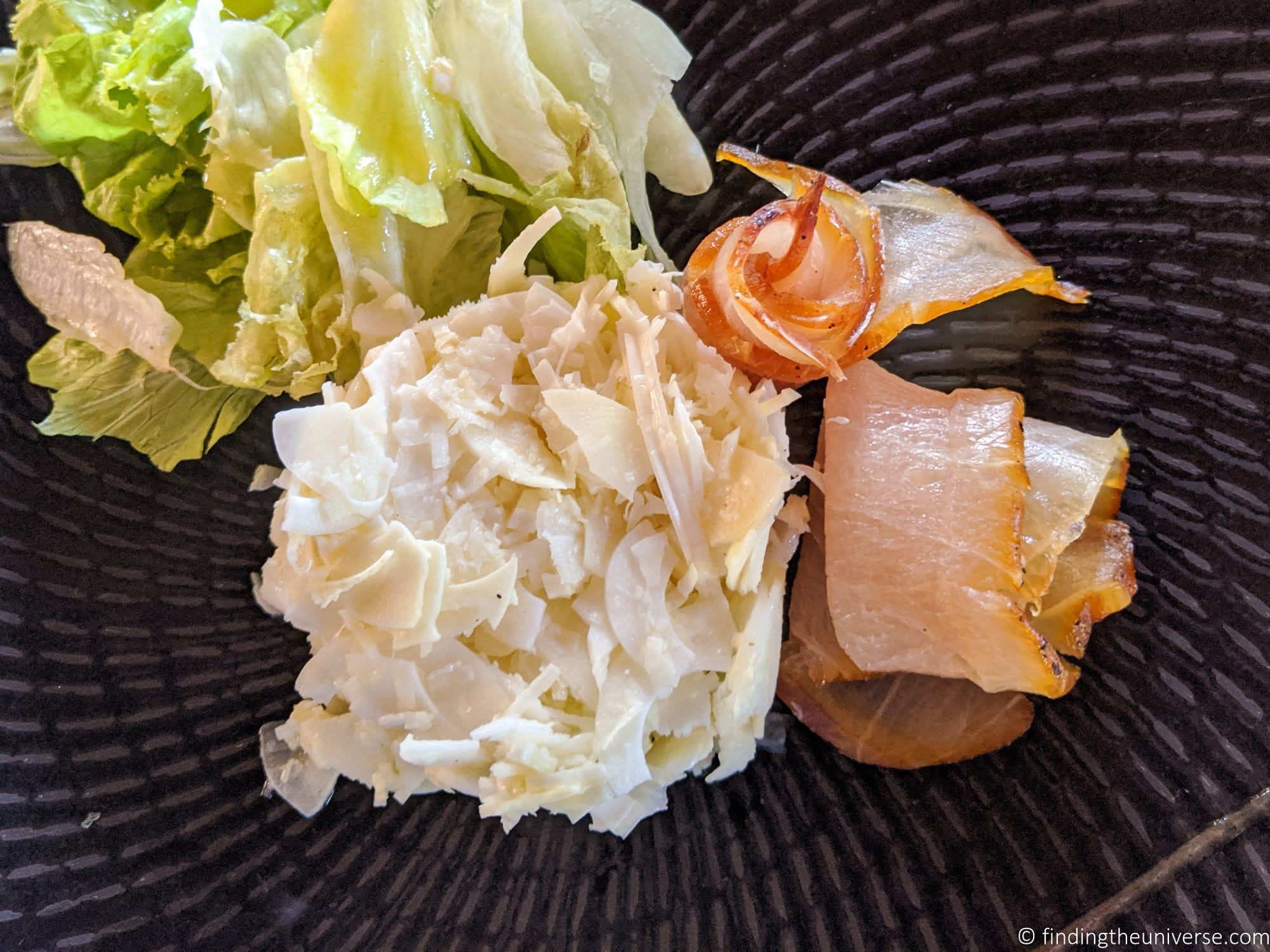 Achard
When you order a curry in Mauritius, it will likely come with a number of side dishes, one of which is liked to be achard. This is a cold pickled vegetable dish which usually has a number of crunchy vegetables mixed in a pickle dressing that will have vinegar and mustard seeds in.
Sometimes this can be quite spicy, depending on how much chilli is added, so do try a little first before taking a big mouthful – it's not a salad!
Traditional Desserts in Mauritius
Ok, now let's cover some traditional Mauritian desserts! If you've got a sweet tooth, you are going to love these.
Napolitaine
First up, Napolitaine. No, this is not an ice cream – you're thinking of Neapolitaine. Napolitaine consists of two shortbread biscuits, stuck together with jam and then covered with an icing like glaze. They are as delicious as they sound!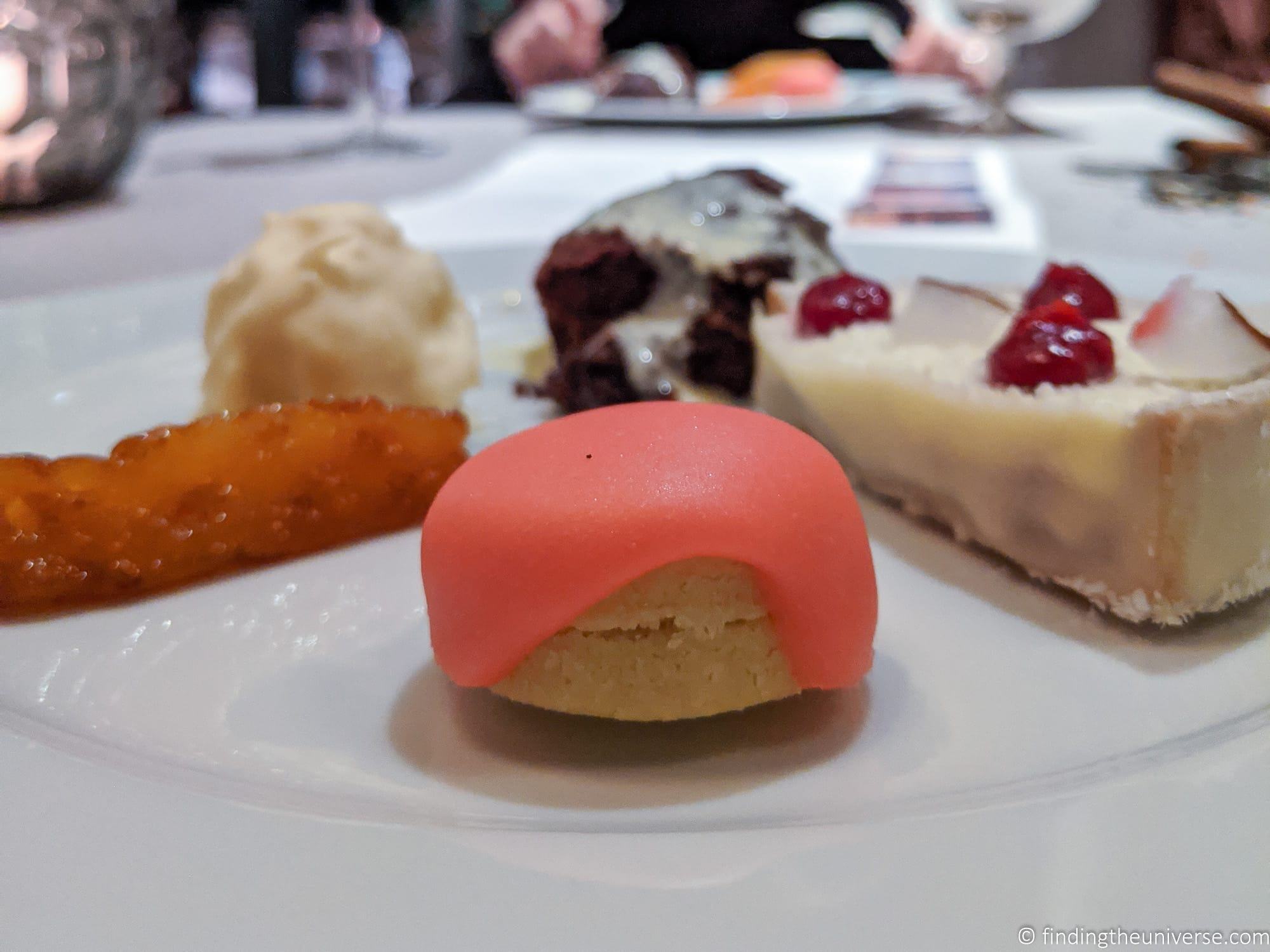 Gato Coco
Gato coco are small ball shaped treats that are shaped similarly to gato piments. However, unlike that spicy treat, these are a mixture of grated coconut, milk and sugar. They are very sweet, and come in a variety of colours.
Corn Pudding
Corn pudding is sort of like a cake, but made with corn meal (maize flour) instead of wheat flour. This is mixed with sugar, milk and vanilla essence, cooked, and allowed to set. Sometimes raisins and coconuts are also added.
Flan
Flan is essentially the Mauritian version of creme caramel. It's essentially an egg-custard dessert which is usually accompanied by a caramel sauce. Variations exist, including coconut flan, which as you would imagine, includes grated coconut.
Vermicelli
In Mauritius, much like in parts of India, Vermicelli noodles are commonly used to make a sweet dessert which includes milk, raisins, almonds and sugar, as well as cardamom ponds. These are cooked together and then cooled to create a dessert which is similar to a rice pudding, except with Vermicelli!
Banana Fritters / Gateau Banane
Another popular Mauritian dessert are banana fritters. These are a mixture of mashed banana, flour and sugar, which are mixed together into a batter and then fried into large balls.
They can be served as is, or with ice cream or syrup.
Fresh Local Fruit
No round up of dessert options in Mauritius would be complete without mention of the delicious local fruit you can have on the island.
There's a huge range of fruits that you can eat, although bear in mind that most of these are seasonal so may not be available year round. When we were in Mauritius my favourite fruit, mango, was just coming into season, which I was thrilled about. The trees were also filled with litchi, with vendors selling it by the side of the road and in markets across the country.
Expect to find pineapple, banana, coconut, mango, litchi and papaya. Another popular fruit you might not be familiar with is the Longan, which is similar to litchi but yellow in color.
Drinks in Mauritius
Ok, now for some drinks to finish off our round up of some of the best Mauritian cuisine!
Alouda
First on the list is alouda. This is a traditional Mauritian drink made from milk, to which is added vanilla, basil seeds, and agar jelly. It is similar to the Indian drink falooda.
Alouda is served cold, and vanilla ice cream is often available as well. A really popular place to get Alouda is in the Port Louis central market, where there are a variety of stalls that specialise in alouda.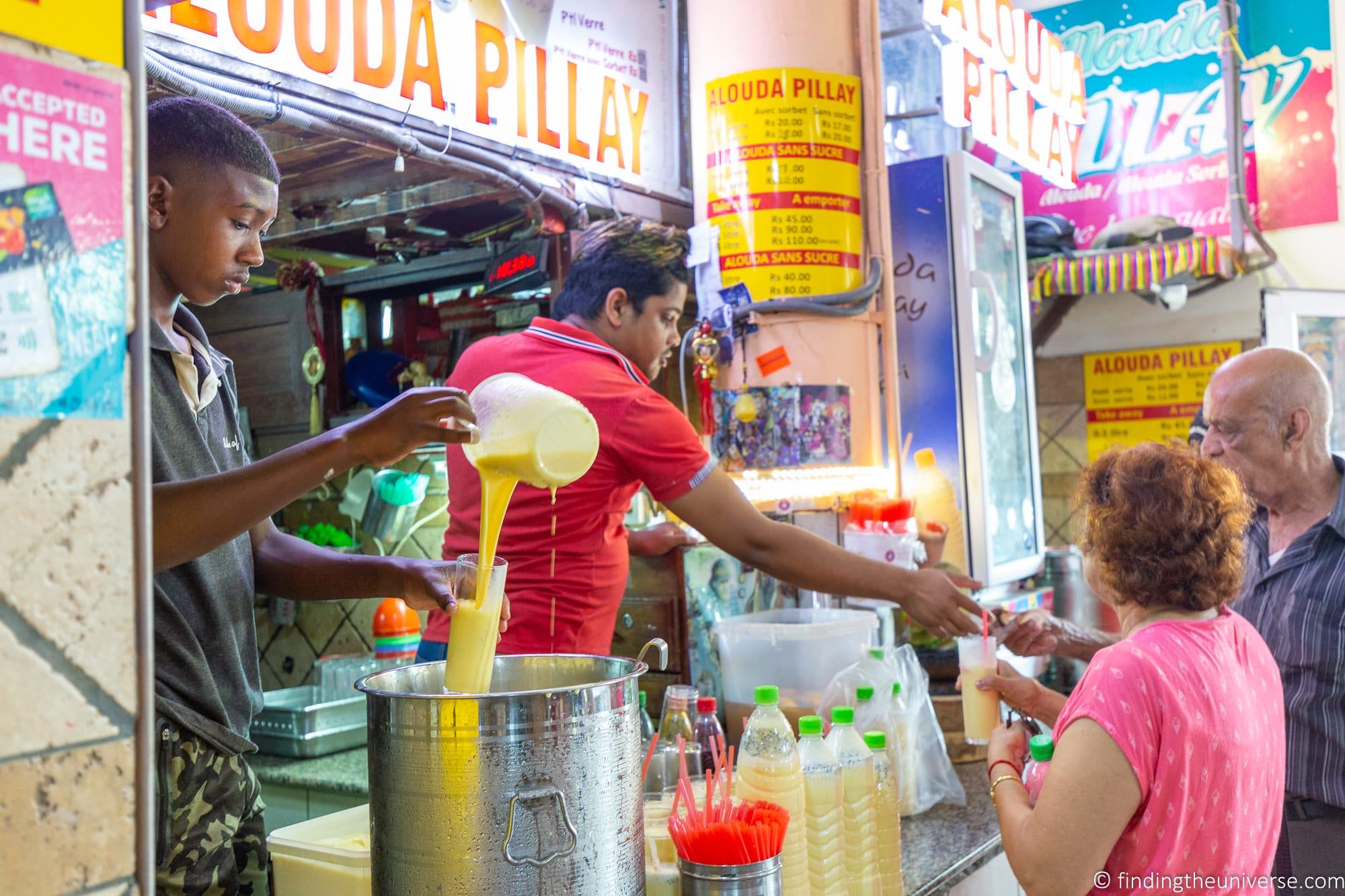 Rum
I couldn't do a guide to Mauritian food and drink without mentioning one of the islands most famous drinks – Rum!
Sugarcane has been a major crop in Mauritius for centuries, and of course, sugarcane is the primary ingredient for rum. So it is to be expected that there are a range of rum distilleries on the island!
We visited a few different rum distilleries, all of which include tastings as part of their tour. If you do want to do this, we can advise taking a tour like this from your accommodation, as in our experience the distilleries are very generous with their sample sizes!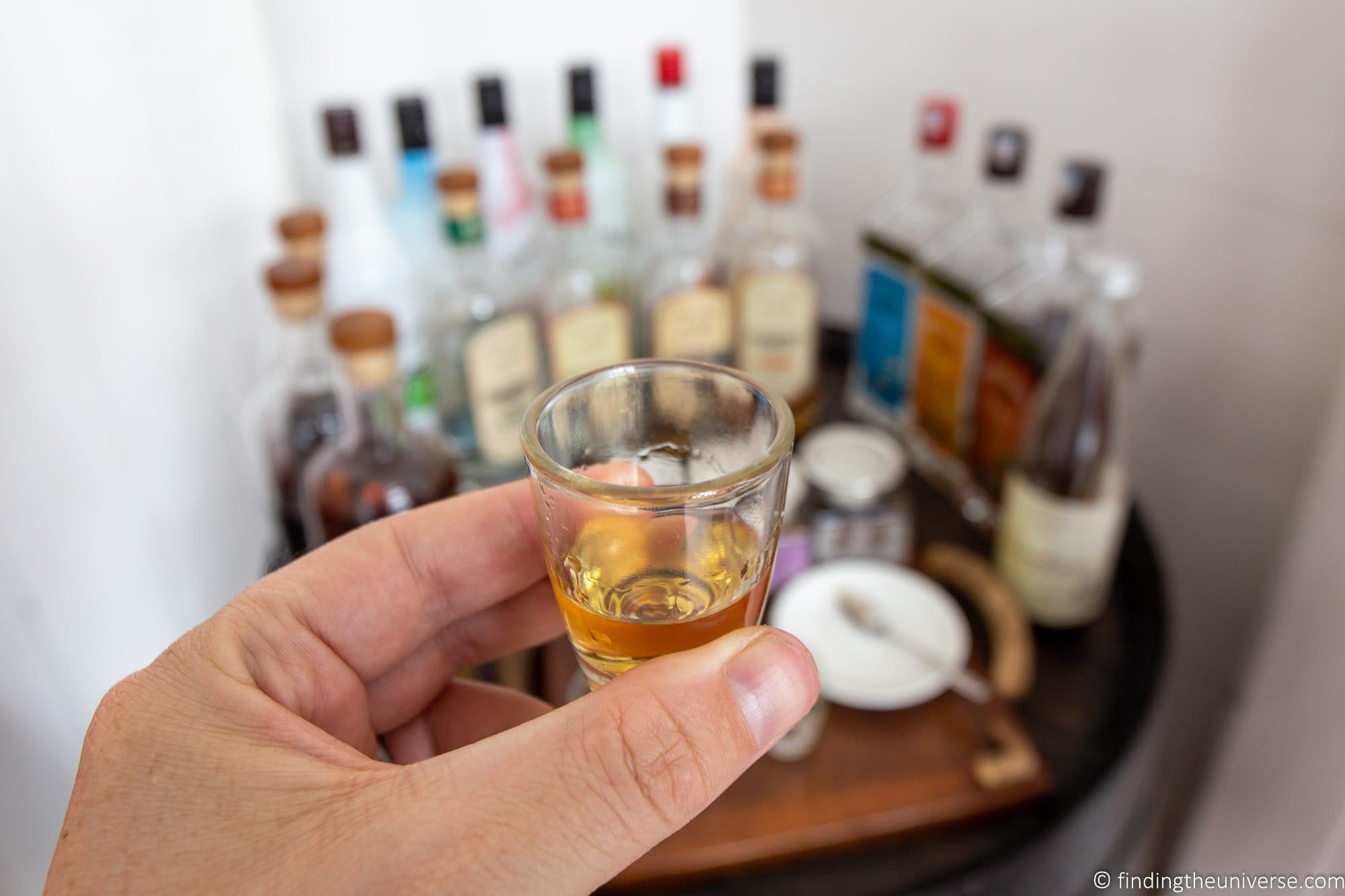 Ti Punch
As you would imagine on an island where rum is made in large quantities, there's no shortage of rum cocktails to choose from.
One of the most popular of these is known as a Ti Punch, which you should find at most local restaurants and bars. This is, in our experience at least, a pretty strong drink, which largely consists of neat white rum mixed with a bit of sugar and then either lemon or lime juice.
It is tasty, but if you find the taste of neat rum off putting you might prefer a longer cocktail instead!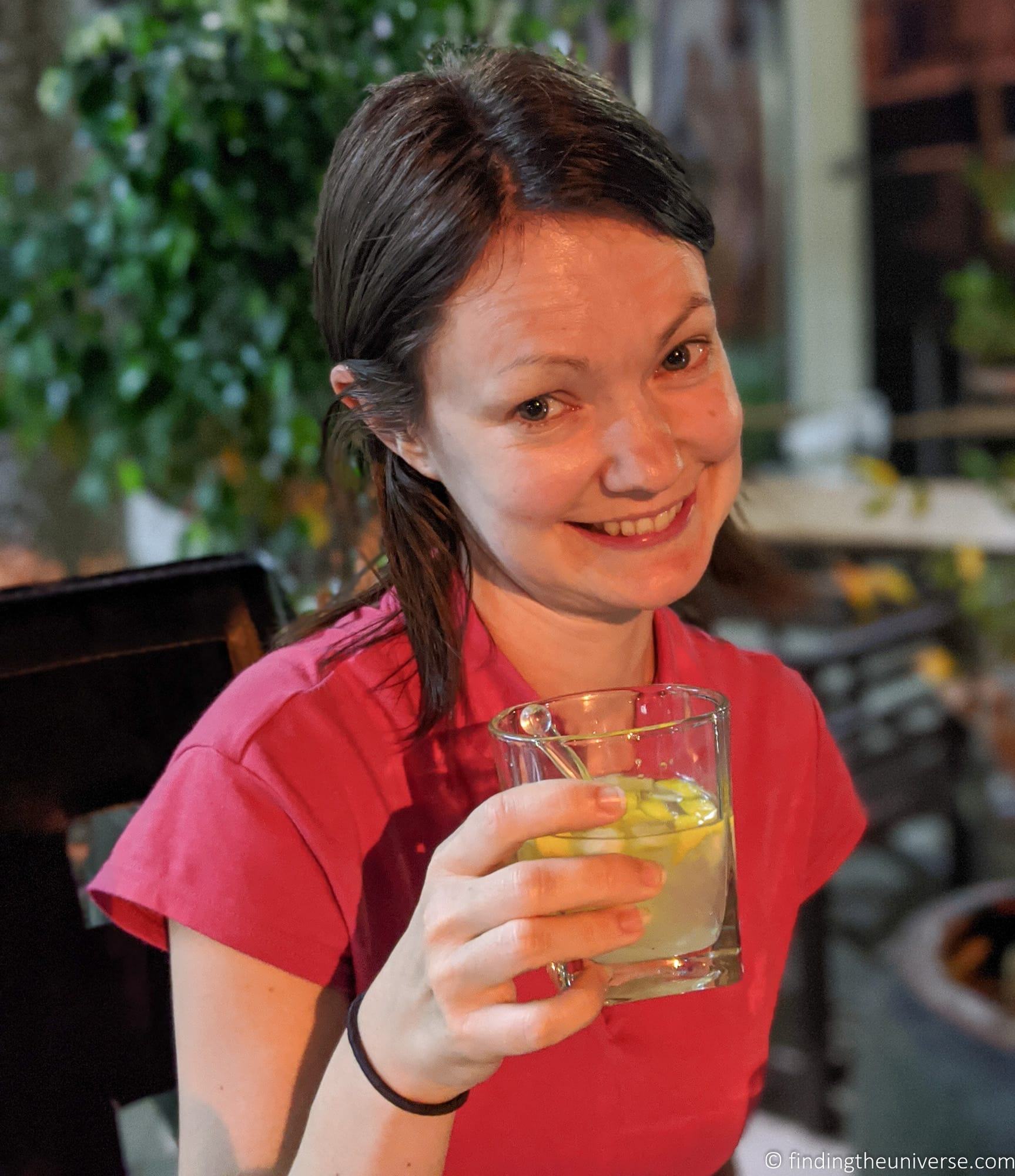 Local Beer
When you are somewhere hot, there is perhaps nothing quite so refreshing as a nice cold beer. The most popular beer on the island is Phoenix, which is the main beery you will find everywhere. In production since 1963, the main Phoenix brand is a fairly light lager which goes down very well in a chilled glass.
Of late, there has been an increase in the number of craft beers being brewed in Mauritius. We enjoyed beers produced by Thirsty Fox (established in 2018) as well as Flying Dodo (established in 2012). If you prefer a hoppy beer, then Flying Dodo would be your best choice we think.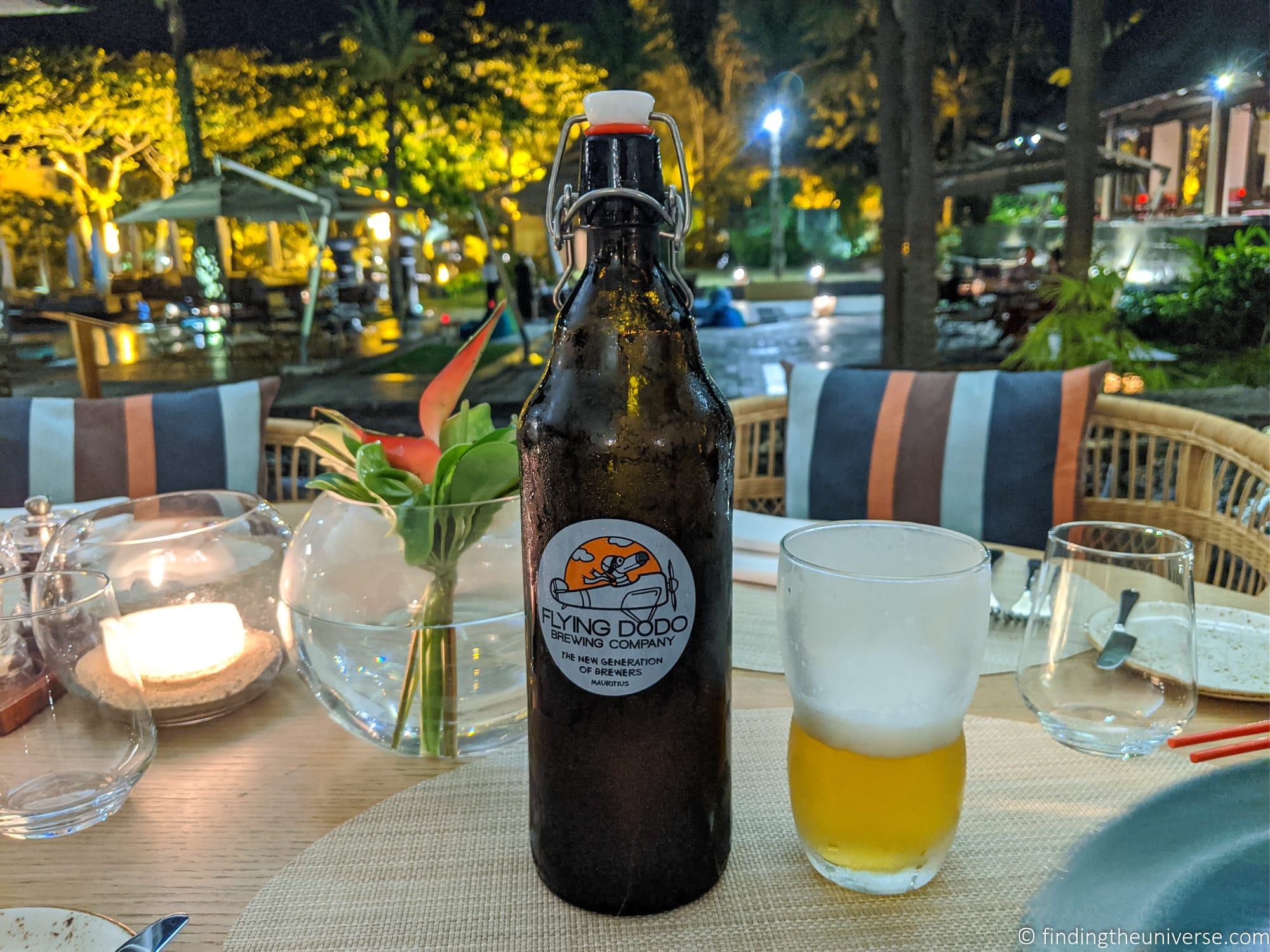 Local Wine
When we heard that Mauritius produces its own wine we were a little bit surprised as we weren't expecting their to be grape growing vineyards in the tropics.
It turns out that we were correct. However, a lack of grapes has not stopped a local wine being produced. However, instead of making a grape based wine, the Takamaka Boutique Winery makes it from litchis, and abundant local crop.
They do a number of white wines, as well as a rose wine, and we thought they were delicious. Definitely something to try when you visit the island.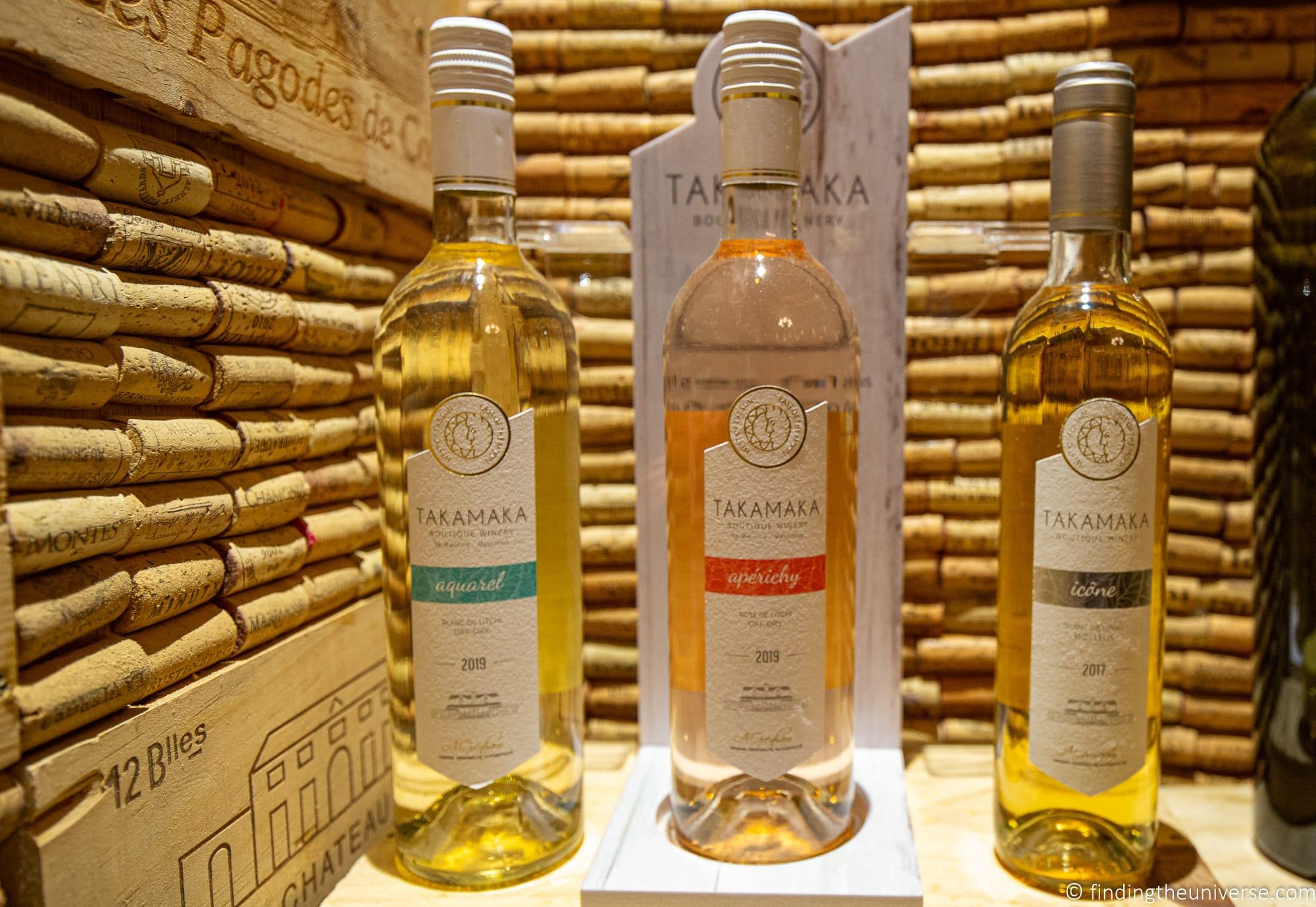 Tea
Finally, Mauritius is also a tea producer! If you love tea, then you will likely want to visit Bois Cherie. This tea plantation offers tours of their factory and on-site museum, and you can also do a tea tasting at the Bois Cherie restaurant.
You can turn this into a whole day out by following the tea route tour. This includes a tour of the colonial mansion Domaine des Aubineaux, a visit at Bois Cheries, and finally a tour of the Saint Aubin Colonial House and distillery. Tickets for this three stop tour are available at any of the three stops, and you can drive the route yourself quite easily. You can also add in a lunch, which costs a bit extra but we thought it was worth it.
We did this route for one of our days in Mauritius and it was a really fun way to see a number of different attractions as well as try lots of delicious tea!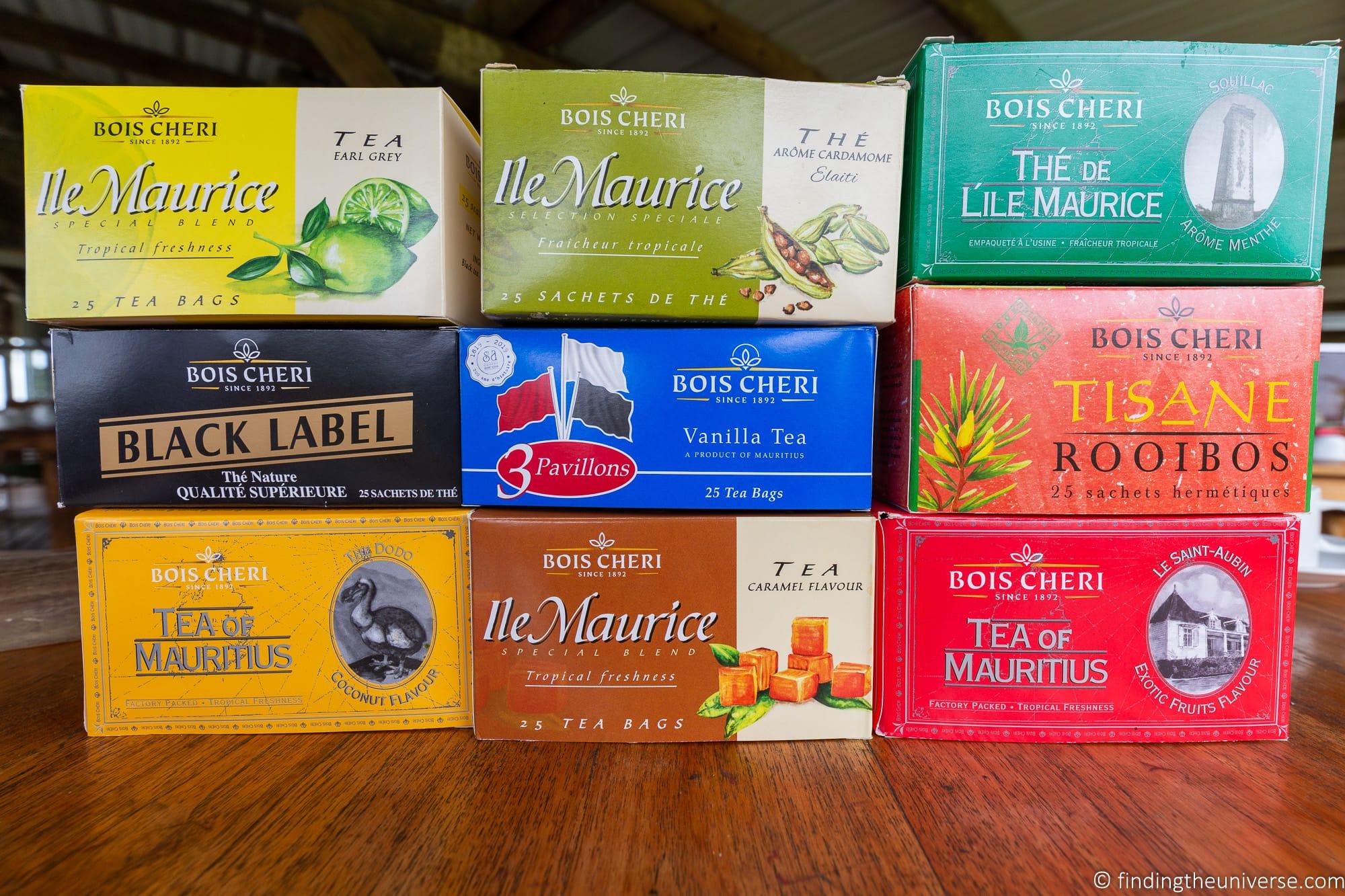 Where to Find Mauritian Food
We ate at a lot of great restaurants during our travels in Mauritius. I just wanted to highlight a few of these where we ate some really amazing meals, as well as the other options you have for finding Mauritian food as you travel in the island.
First, as highlighted a number of times in this post, a great place to find traditional Mauritian food is at street food stalls. These usually focus on dishes that are easier to make quickly, including things like boulet, farata and dholl puri. Prices are also usually very good at these stalls. You can find food stalls in all the larger towns and cities, during markets, and next to many popular beaches.
We also recommend ask that you ask local people for recommendations. Ask at your hotel, driver, at shops, etc. for recommendations for places they recommend and you can ask the best place to find a certain dish or type of cuisine.
There were also a few restaurants that I have to mention, even though these barely scratch the surface of what is available on the island.
First, we stayed at the Constance Prince Maurice hotel for part of our time in Mauritius. This is a really wonderful hotel, and the staff in particular were really helpful (especially when it came to talking about food!).
They have a number of on-site restaurants. We ate at a number of these, and the food was excellent across the board. However, a particularly memorable meal was had at the Barachois. This is a floating restaurants with a focus on seafood, and we had a really spectacular meal here which included a number of Mauritian specialities.
Most of the larger luxury hotel and resorts often have a number of restaurants and they usually have one dedicated to Mauritian style food. Or they may have a regular buffet which features Mauritian food and these are great places to try a lot of dishes without commiting to a large portion of any one dish.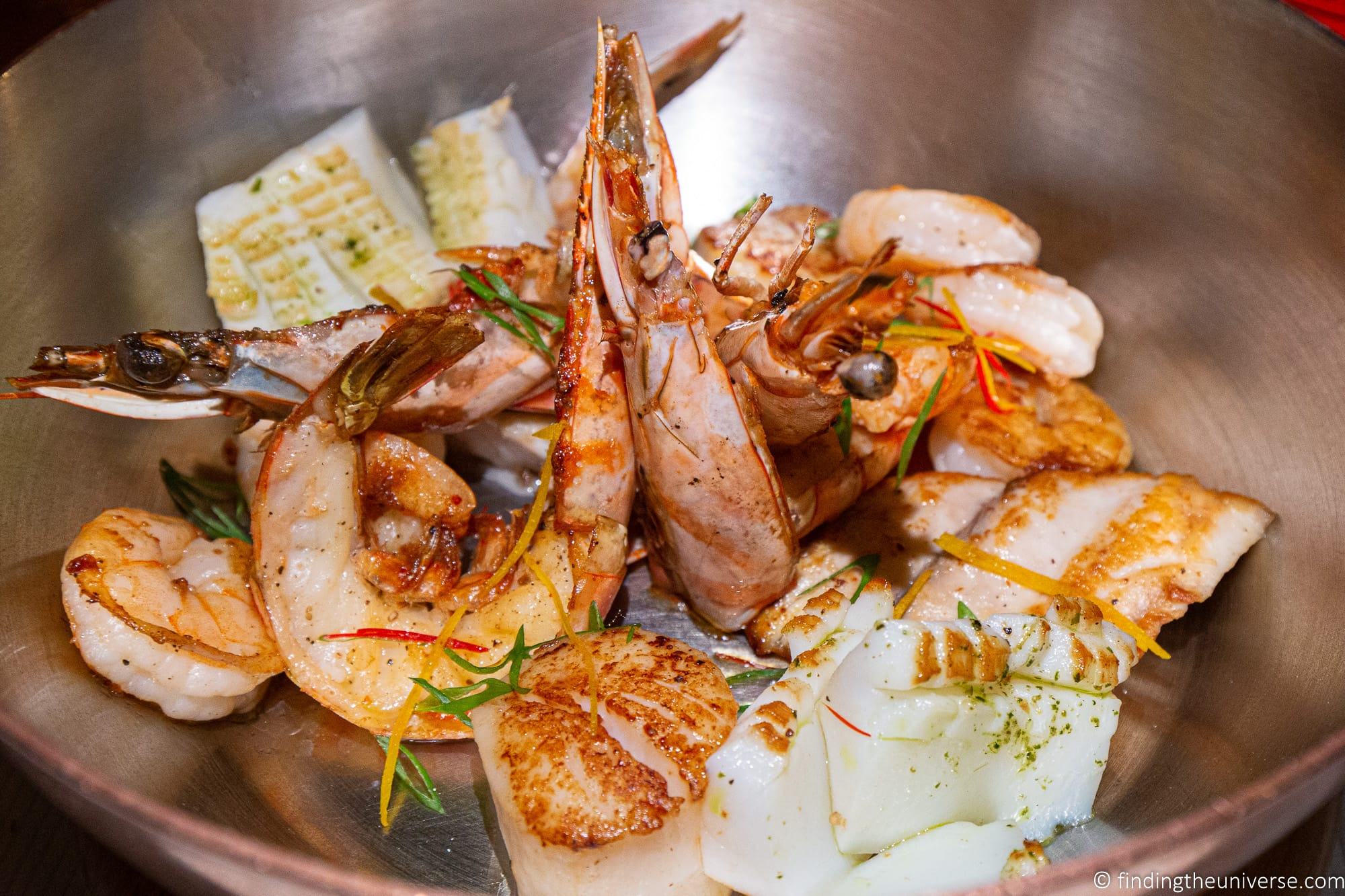 While we were staying at the Prince Maurice, we did want to visit a local restaurant, and we asked staff for their recommendations. We specifically were looking for Creole style Mauritian food similar to the Seychelles. They suggested we try the Seabell restaurant in Poste Lafayette where one of the hotel staff's mothers works as a cook.
Here we had probably the most memorable Mauritian feast of our trip. The chef went all out in creating a menu focusing on Mauritian specialties, so we had everything from salad to salted fish rougaille to dholl puri to bean curry.
I can really recommend this place, although if there is a specialty you want to try, you might want to call or drop in in advance to see what is available. The Seabell is good value restaurant with simple decor and friendly staff.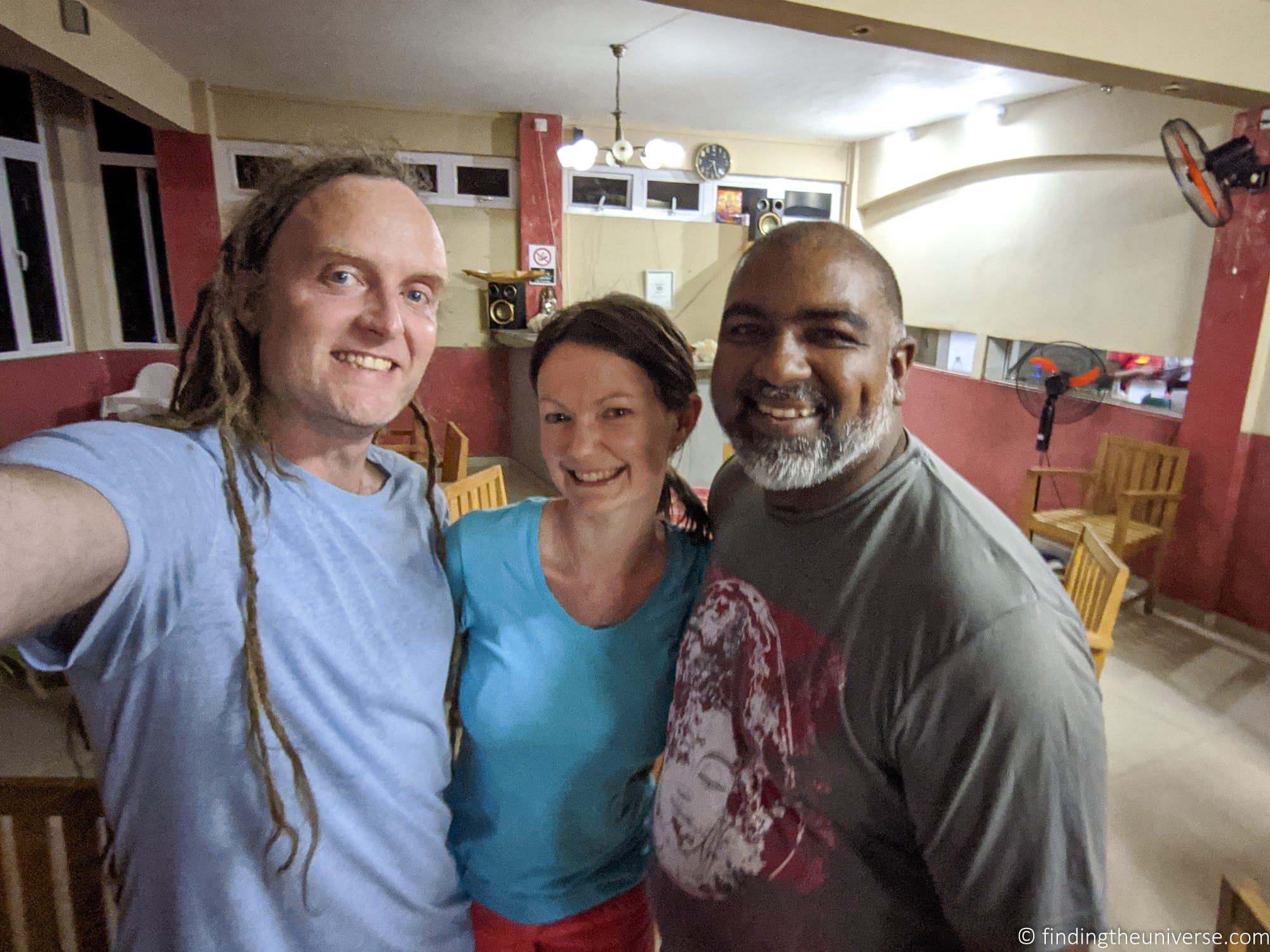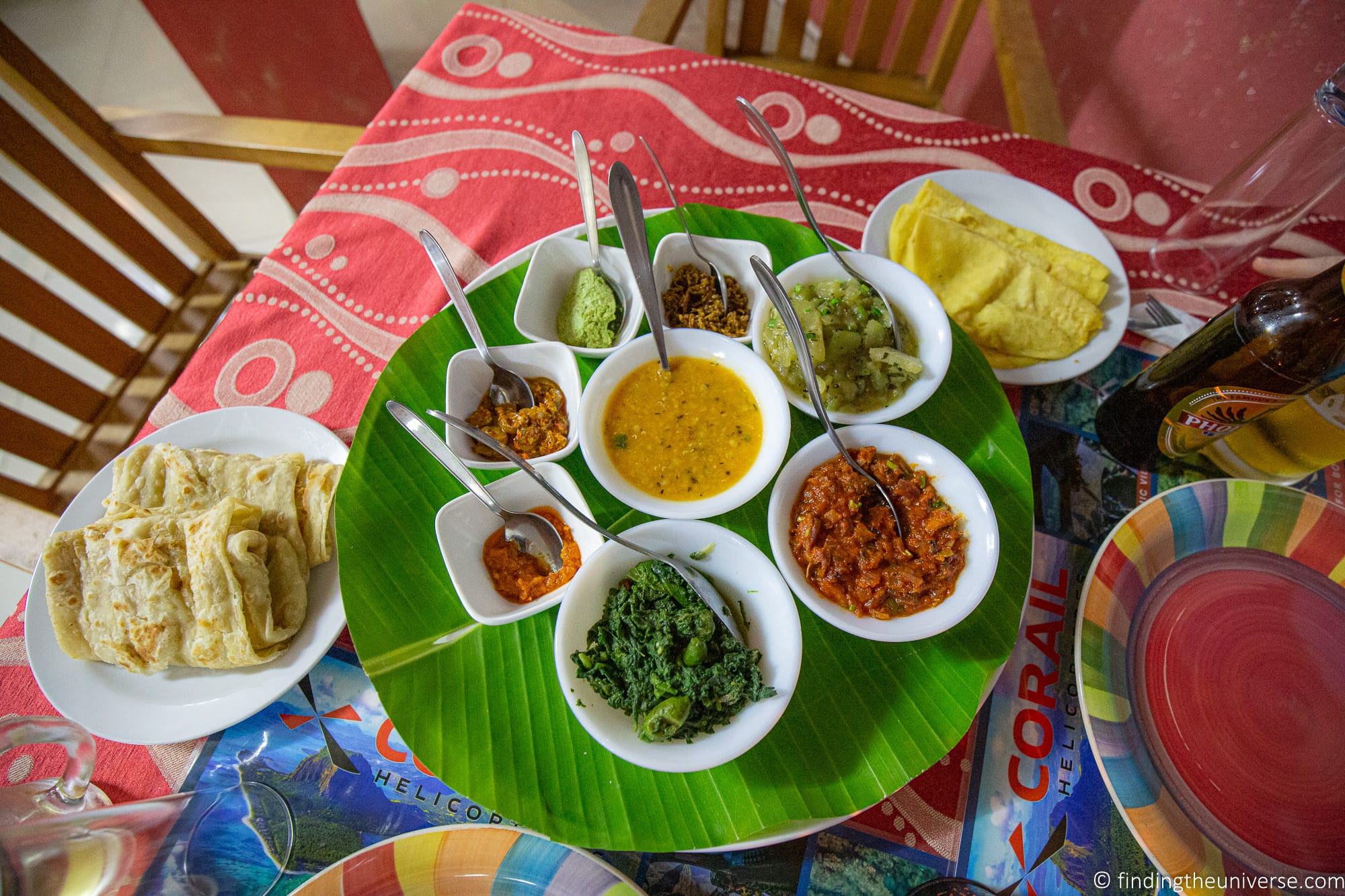 We also ate at Chez Rosy on the south coast, which was recommended to us by a number of folks who had dined here. This has a focus on traditional Creole cooking, and we enjoyed the curries we had here. There are also some nice walks in the nearby area.
Another restaurant that we can recommend is Canne a Sucre – Chez May in Flic en Flac. They do an excellent set menu that features many of the most popular typical Mauritian foods. It is a little more pricey than other local style restaurants, but it is a good way to get a wide range of dishes.
Finally, a tip for trying a variety of different Mauritian foods if you can't decide, is to eat at a Mauritian buffet. In our experience, many of the larger hotels on the island offer a buffet option for evening meals. These are a great way to try a variety of dishes, and not have to worry about getting a whole plate of something you might not like.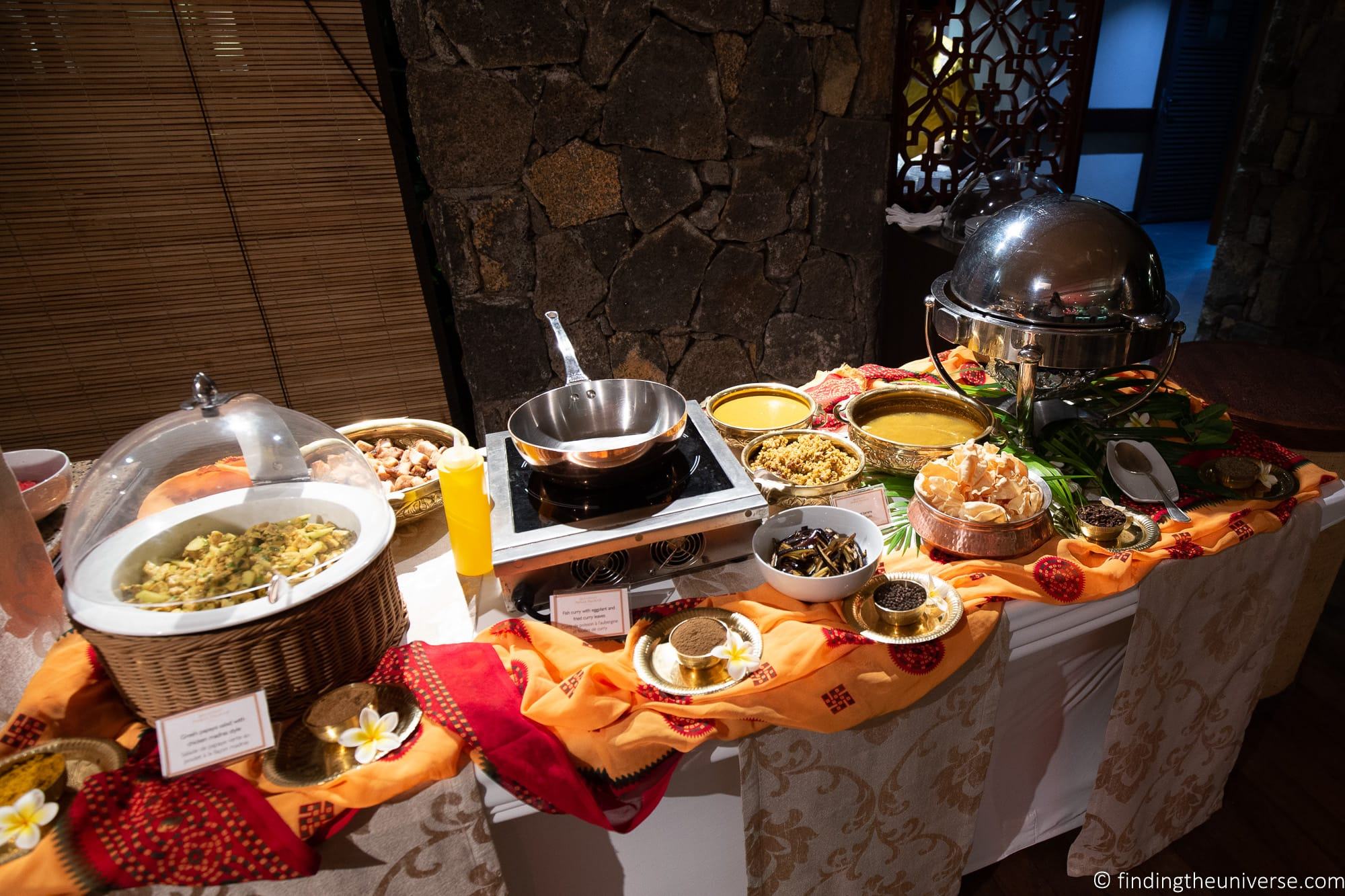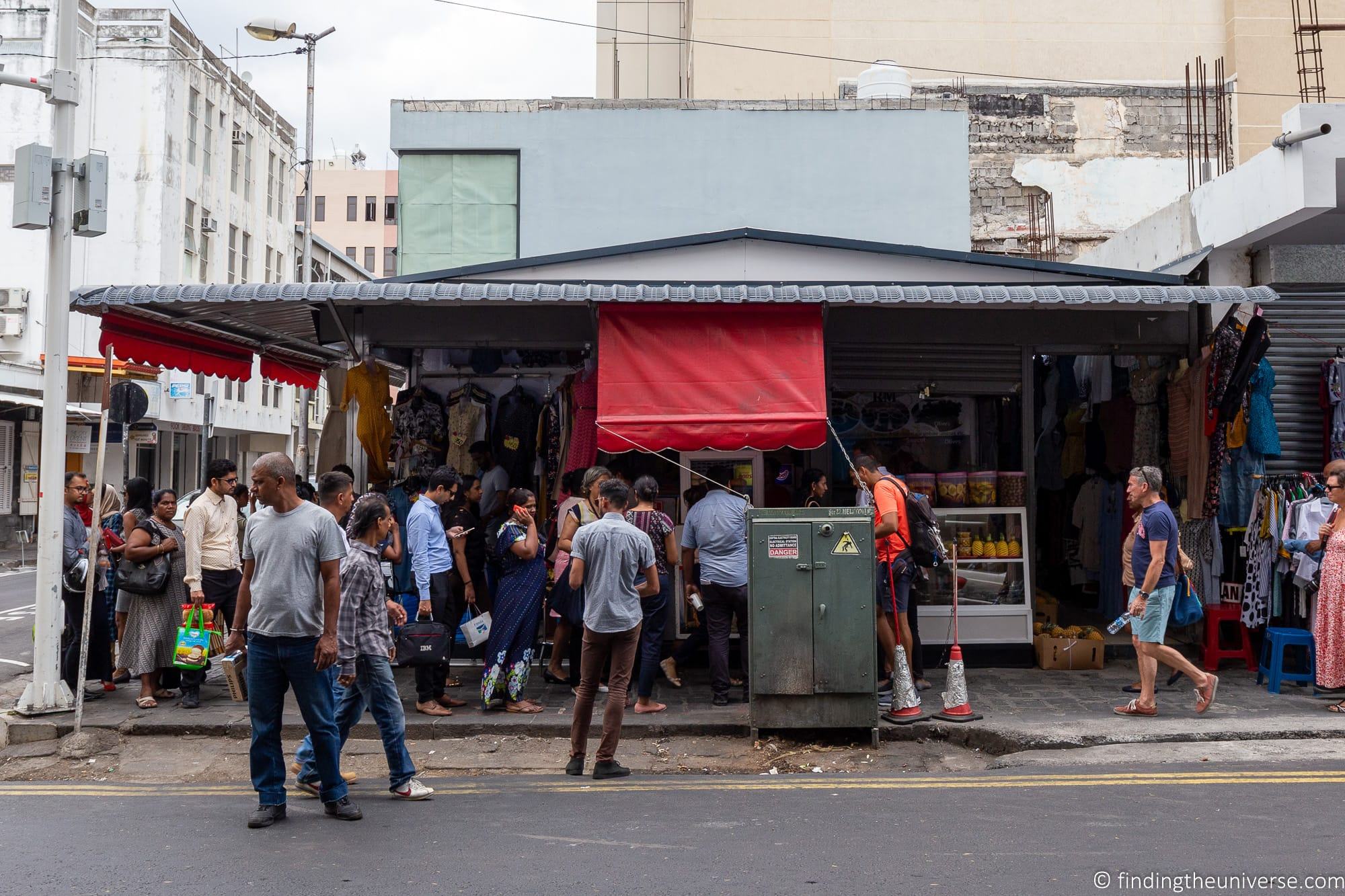 Food Tours and Cooking Classes in Mauritius
If you want to sample a lot of delicious Mauritian cuisine from some of the best food stalls in Mauritius, then we can recommend this street food tour of Port Louis.
This three hour tour has you trying around 8 different foods from some of the best street food stalls in the city, and will save you trying to track down the locals favourites yourself.
There are some other food tours and cooking classes that you might also consider, depending on your interests, which we outline below.
Hopefully between them one of these tours will work for you!
That's it for our guide to our favourite Mauritian foods. We'd love to hear from you – if we've missed one of your favourites, or you have any thoughts on the post at all, please let us know by leaving a comment below.