Think of a major holiday destination in Ecuador, and I'm fairly sure that Guayaquil probably doesn't pop up anywhere in the list. Except maybe as somewhere to fly into and then leave from.
Certainly, everything I read about the place before arriving wasn't exactly glowing with enthusiasm. And, talking with fellow travellers didn't entirely fill me with excitement either. A place best to be avoided I was told, where theft runs rampant and safety isn't exactly a feature.
Still, the choice of places to fly into was Guayaquil or Quito, and coming from Europe, the only flight into Quito landed at midnight. And as arriving into new places at midnight is generally not my favourite thing to do, Guayaquil it was, with a brief stop-over in Miami on the way.
I've never been to Miami and can't really comment as to how I would like it from the stop-over, what with it being an hour and a half of rushing through the airport, being fingerprinted and categorised. As you are, in American airports. Miami, we'll see you next time. We had a date with Ecuador.
And so we arrived into Guayaquil.
Generally I don't like to rush around too quickly after a large time change, so we figured we'd have three days in the city. Time to get our bearings, sort out stuff like money and SIM cards, and generally get a handle on both a new country and a new continent. How bad could it be?
It started out fine. Disclosure, for the sake of not keeping you hanging, it finished fine too. We don't want you dying of suspense here. We're only three days into our trip by this point.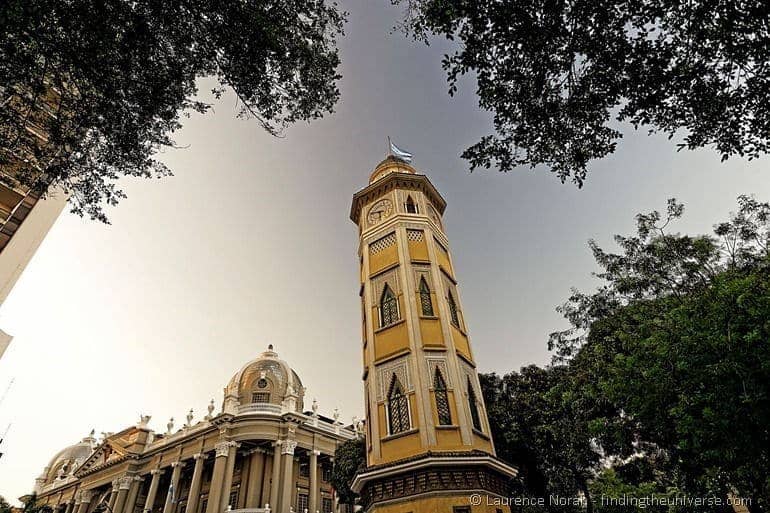 We got a taxi from the airport to our hotel, the Casa de Romero, in downtown Guayaquil. This was very nice, and included breakfast as well as a room with a balcony overlooking part of the city, and as far as we could tell, we weren't going to be killed in our sleep. There are lots of places to stay in Guayaquil, but I'm sure you could do worse than this place – the staff in particular were super helpful.
Despite being on the equator, Ecuador in November isn't blisteringly hot, even at sea level. It was a refreshing change from the mind boggling arrival heat of Bangkok a year previous.
We pondered what to do in Guayaquil for our three days, a place where as far as we had been told, death lay around every corner.
We figured a walk was a good idea, leaving everything of value in the hostel, to gauge the situation.
The people on the street seemed fairly people-like. Families crossing the road. Businessmen going to work. People wandering selling water, and other things. Shops. Banks. Countless police.
We walked along the Malecon 2000, the fenced-in sea front, which was fairly nice, and looked to terminate in an interesting colourful village. We didn't quite make it that far.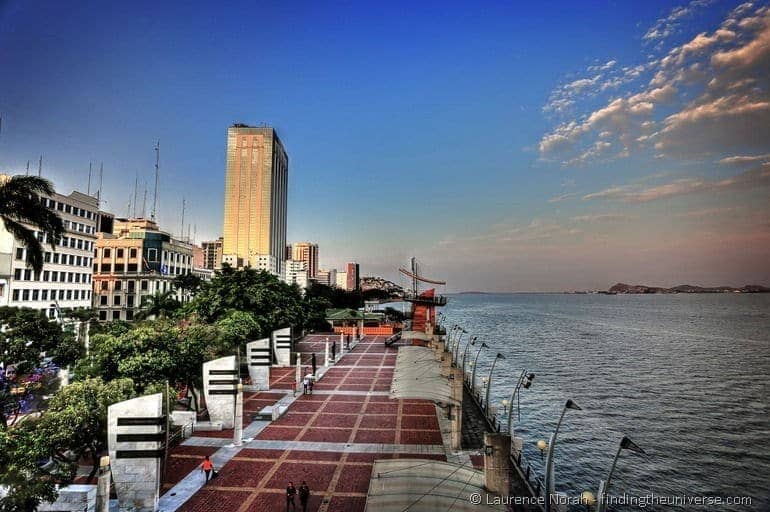 We headed up and down various streets. There were some very nice looking buildings. No-one seemed to be gawping at them apart from me, and certainly no-one was taking pictures. As far as I could tell, tourists were in small supply, and those that were there weren't wandering around being touristy. I mean, we clearly stuck out like sore thumbs, but no one seemed to be doing the things tourists normally did.
We accomplished various tasks. Conquering the ATM machine was one, not an easy challenge for some reason, even though it was in English, requiring the card to be inserted and then removed at just the right speed, and then randomly failing to get to the end of the process anyway. One ATM crashed entirely, leaving us with a blank white screen. Not exactly reassuring stuff.
We also managed to get a SIM card, which was easy to get hold of, as it came out of an ATM like machine (but one that seemed to work fairly well), in a process that was simpler than I've ever encountered.
Of course, we then learnt that to activate said SIM card we needed to provide an Ecuadorean ID number to the automated activation system, which wasn't simple. We found a nice friendly Ecuadorean person (not in short supply) who helped us out.
We also spent a lot of time in the hostel, enjoying the view, and catching up on content and sleep. Not how we normally arrive somewhere, but it seemed somehow appropriate.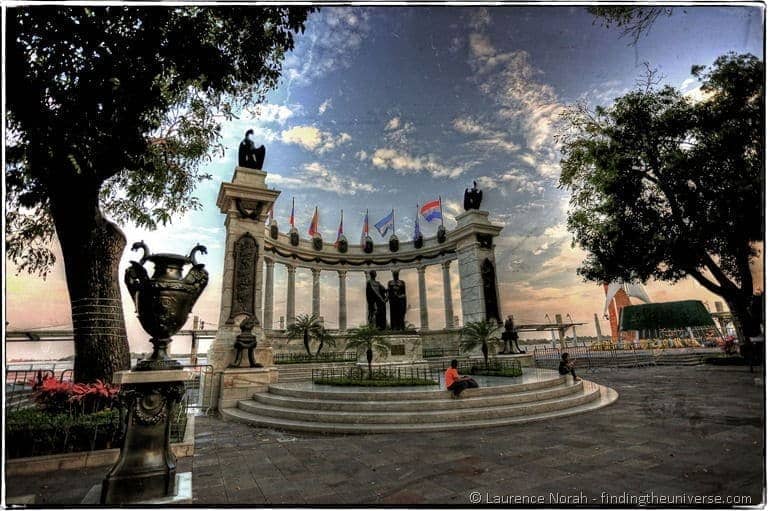 The thing is, my three days in Guayaquil really taught me very little about the city. I couldn't figure out if it was safe or not, and we erred somewhat on the side of caution. Perhaps too much? I don't know.
We're flying out of Guayaquil at the end of our holiday. Maybe we'll spend some more time there, having got a feel for this new country, and maybe I'll have more photos then. I have no idea.
Have you visited Guayaquil? Are the risks as high as we'd heard, or is it perfectly safe these days? Chime in with your thoughts in the comments below – and maybe on our way out we can follow your suggestions…