If there is one place you must visit when in Australia's Northern Territory, it is the Kakadu National Park.
Here you will find stunning outback scenery, gigantic waterfalls, 5,000 year old aboriginal rock art and all manner of wildlife, in a park spanning an area the size of Slovenia.
Given that Kakadu is so big, and not everyone has huge amounts of time on their hands, here I have highlighted some of my favourite parts of this incredible, world heritage listed, park.
Jim Jim Falls
Waterfalls are a popular attraction and I freely admit that I am a huge waterfall fan. The thing that differentiates Jim Jim from most of the falls I have visited however is the lack of water. Unless you have a helicopter, it is only possible to visit the falls during the dry season – at which time there isn't any water going over it. Which is a bit of shame, because this 200 metre high waterfall is presumed to be seriously impressive when in full flow.
Still, visiting it in the dry season isn't a waste of time. Massive walls rise up all around you, topping out at over 200 metres in sheer height, over which you can imagine water cascading in volume. The pool at the bottom is safe for swimming in, if a little chilly, which given the temperatures in this part of the world, is no terrible thing.
Once you're at Jim Jim falls, you are only a few kilometres away from the Twin Falls, over which water cascades all year round. Getting to the Twin Falls involves a short boat ride up a potentially croc infested river, which costs a bit of money, followed by a short scramble up the rocky path. Swimming isn't allowed at these falls, but the views make up for that.
Both of these falls require a four wheel drive to visit – there is deep sand to drive over as well as rivers to cross. Unless you have your own vehicle, a tour is probably the easiest way to do this – many hire companies specifically prohibit you from driving down the Jim Jim falls road in their vehicles – even the 4×4 ones.
Ubirr
Ubirr is one of Australia's best and most accessible aboriginal rock art sites. Here the rock art, some of it thought to be over 5,000 years old, depicts all sorts of things, from the Rainbow Serpent (creator of the landscape), to lists of local delicacies. Much rock art was, after all, essentially a run down of the local food items you could expect to find, from fish to roos.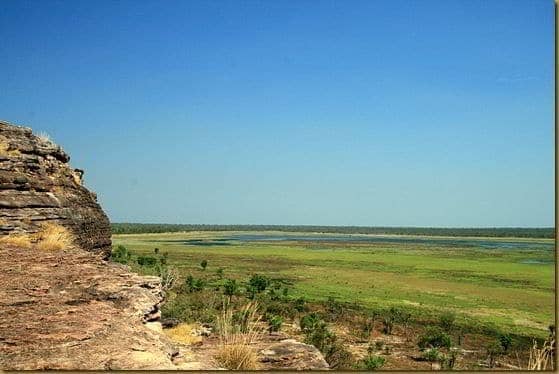 As well as the rock art, there is a magnificent rock outcrop that you can climb atop, from where a flood plain of African proportions comes into view. Birds, water buffalo and huge saltwater crocs will vie for your attention, as will swarms of mozzies. Bring lots of repellent – they're ferocious little blighters.
A popular activity at Ubirr is watching the sun set or rise, and the moon set or rise. If you time it right, and arrive around the time of the full moon, you will be greeted by the sight of a swollen reddish purple moon arising from the ground just as the sun heads earthwards. Moving stuff.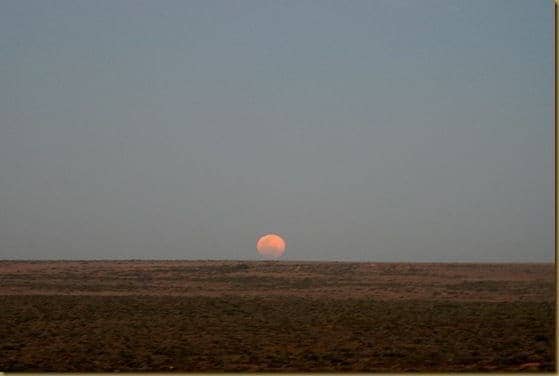 Gunlom
Gunlom is another magical waterfall that still manages to pull off spectacular even in the dry, when there is hardly any water going over it. The billabong at the base is safe for swimming in, but the real highlight is taking the kilometre long track up to the top, from where you can stand on the edge and enjoy the amazing view across the southern half of the park.
You can also, rather splendidly, swim in the pools at the top, and given that the temperatures in this part of the world are rarely anything below 30 degrees C, this option is pretty much a must after the hike up.
Finally, as a quick film fact, key scenes from Crocodile Dundee were filmed here, and in fact, much of the rest of the park was the backdrop for this quintessentially Australian movie.
Maguk
Maguk was one of the highlights of my entire Australia trip, which is saying something. Found in the southern part of Kakadu, at the end of a 4WD only road, Maguk (also known as Barramundi Gorge), is a waterfall that flows year round. The special part of it, however, is the incredible swimming it offers.
There are two options for swimming at Maguk. The first is the big pool at the base of the waterfall. Whilst this is deemed crocodile safe, and many people do swim in it, I wasn't entirely convinced.
The other, far more appealing option, is at the top of the waterfall, reached via a not entirely clearly marked track. Here there are a stunning series of mini waterfalls, underwater tunnels and deep pools to wallow and bathe in. I managed to spend three whole days doing very little here, observing tour groups come and go, lying in the sun, and generally enjoying life. If you only visit one rock hole in your entire Australia trip – this should be it.
Warradjan cultural centre
Ah, culture. That important stuff we feel we are supposed to somehow inhale as part of our travels, without which we are perhaps missing out on something vital. I'm generally not a big fan of culture for cultures sake, but there is something about a 40,000 year old civilisation that does require at least a modicum of respect.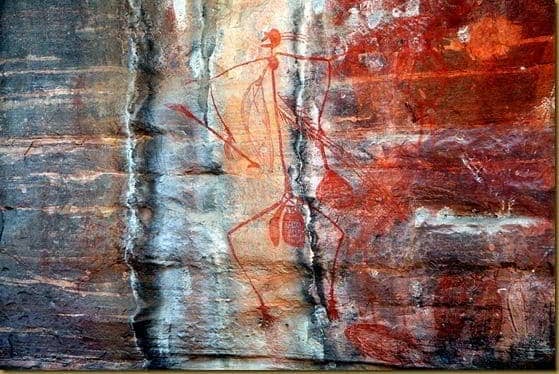 The Warradjan cultural centre is, therefore, on my list of places to visit in Kakadu. It has all sorts of fascinating knowledge on the history of the local people, including rock art, and examples of tools and so on.
If you're passing through the area, and given that there is only one road going round Kakadu, this is largely inevitable, do drop in. You won't regret visiting this particular cultural experience.
Hints for your visit
Kakadu is a big old place. If you are self driving, which would be my recommended option for visiting, allow at least a week.
You should visit in the Dry season (April – October usually). Whilst the waterfalls are certainly going to be more spectacular in the Wet, nearly all the roads will be closed due to water levels, so you'll need a helicopter to get around.
If you hire an offroad capable vehicle, check the small print allows you to actually go offroad – and particularly through water – as some of the attractions do involve river crossings
If you don't have any offroad driving experience, you may want to check out my offroad driving tips article.
If the thought of steering yourself through crocodile filled rivers and traversing deep sandy tracks in a hire car fills you with terror, there are a multitude of operators who will take you on a guided tour. Pick one that lasts for a good few days though, as otherwise you'll spend all your time getting acquainted with your bus seat.
Unless a water hole is specifically deemed to be safe to swim in, or it's handily at the top of a water fall, don't swim in it. Despite being up to five metres long, saltwater crocodiles are incredibly good at hiding themselves, and you'll only know they are there when it is too late. Don't camp near unsafe water either. Seriously – these things are deadly and people do get killed.
There are multiple other activities and sights in Kakadu – you could easily spend upwards of a month exploring this immense park. From boat rides on the yellow water billabong to outback bush walking around Nourlangie, to just lazing in endless rock pools, you really won't run out of things to do!