I want you to conjure up an image of a hostel in your mind. It's probably best for the purposes of this exercise if you're the sort of person who wouldn't normally stay in a hostel, filled as they are with unwashed backpacker types. Got that image in your mind? Rows of slightly unsafe looking bunk beds, a lazily turning fan, and a couple of people engaging in the age old traveller vs. tourist debate? Excellent.
Of course, if you've stayed in a hostel recently, or have been keeping up with my recent posts (you have been keeping up with my recent posts, haven't you?), you'll realise that this quaint image of the slightly seedy backpacker hostel is rapidly becoming an endangered beast.
Ok, sure, there are always going to be dodgy hostels, in the same way that there are always going to be seedy motels and even gloriously faded hotels, living on their past reputations rather than any present reality.
But the rise of the internet, of peer reviews, of the concept of web 2.0 community driven travel, has in part led to a slow revolution in the quality and availability of accommodation on offer to your average traveller. Or at least, the ability to find said accommodation.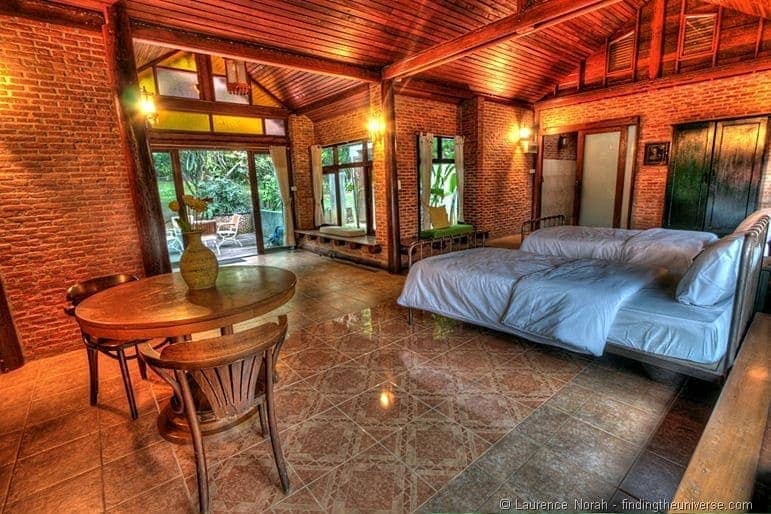 And of course, there have always been amazing gems of hostels tucked away, just waiting to blow your mind with what's out there. Something I first noticed during my travels in New Zealand, home to some of the nicest hostels I've had the pleasure of staying in, run by people who know what travellers want. And tourists.
But Laurence, you chime in at this point, plaintively, I thought you guys were all about apartments when travelling? Isn't that what we're supposed to be doing now?
Like everything in life, it's all about what works for you and what you want from your travelling experience. I love me a good apartment – the flexibility and, dare I say it, anonymity of an apartment is just fantastic as a base for exploration.
But sometimes you want something a bit different. A more social experience. A staff on hand who know about the local area, the activities available, and the quirky little things to do that you might not have found out about. And naturally, people to meet and share beers with. Maybe a common room, a kitchen, or even a bar. And that's where hostels come in – usually offering a cheaper alternative to hotels with a more homely touch.
Travel is just wondrous in how many options there are to experience the world around us, one of the many aspects about it I love. You can travel in pure luxury, or you can travel on a shoestring, and you can strike a happy medium anywhere in between. All you need to do is be able to find the property to suit your taste and budget.
Enter HostelBookers, who asked us recently if we were interested in a partnership with them as part of our trip around Thailand, giving us the opportunity to take a look at some of the accommodation options that are available to book via their site. Naturally we said yes. Hence the fireworks photo which, incidentally, was my first ever attempt at fireworks photography. I hope you like it.
Having spoken to you at length about hostels now, and successfully, in around five hundred words, changed your whole outlook on this accommodation option (or reaffirmed what you already knew), I can reveal to you that HostelBookers, despite the name, don't just do hostels.
These guys have got all kinds of things going on on their site, from apartments through to your more classy hotel option. Although the majority of their properties are of course hostels (otherwise a name change would probably be on the cards?).
Take the first property we're staying in for example, in Chiang Mai. This is listed as a homestay, featuring individual bungalows and a yogic retreat. I don't know about you, but that's a far cry from my idea of a hostel. Then again, the hostel in Bangkok which I recently reviewed, came with clean towels every day and a maid service. Preconceptions, busted!
All of our thoughts on the Chiang Mai stay will be coming to this site very soon, naturally filled up with pretty pictures, as well as some thoughts on how the HostelBookers site works.
And going forward, starting with this Thailand trip, we're going to be staying with HostelBookers from time to time, finding fun, funky, and hopefully slightly unusual properties to stay in, and telling you all about them and how HostelBookers works. Together we're going to take on the wide and varied world of travellers accommodation, and emerge at the far end like wise butterflies emerging from their little butterfly pods. What a beautiful image.
In the meantime, take a look at this image that HostelBookers sent through to me, all about the brain of a backpacker. Brain of a backpacker or not (and on this trip I'm actually on rolling luggage, get me), I can totally identify with a number of these, although those of you familiar with the brain of a travel blogger (or, mine at least!) would probably enlarge the free wi-fi section a little bit more!
Have you used HostelBookers before? Got an experience to share? Is your wi-fi seeking brain nodule enlarged like mine? Do fire away in the comments below!