Oh New Zealand. How you tempt me. After leaving the west coast and the Queenstown region I thought that was going to be it for mighty mountains. I thought a road trip up the somewhat flat south east coast was going to be the future.
But no. You tease me with glorious weather, and force me to turn my nose inwards again, back inland to your incredible alps, reaching down your middle centre like a gnarly spinal column.
Anyway. It turns out that the south east coast, whilst being home to some nice bits like the Catlins, and the Banks peninsula (more on that to come), does have some rather long stretches of flat road which could perhaps best be described as being left out of the guide books.
Luckily, New Zealand is not a massive place, so if one part of it isn't totally rocking your socks off, you can divert from it, and head to another part almost on a whim.
And so it was, that the weather was fine, and after spying the weirdly globular Moeraki boulders near Oamaru and the weirdly quaint limestone vintageness of Oamaru, that we turned to the west, and the mountains of the Southern Alps.
Not just any part of these mountains though. Our destination was the Mount Cook village, situated a mere stones throw from the mountain of the same name, which, at not far off 4000m, towers over it's brethren mightily, and is New Zealand's highest peak.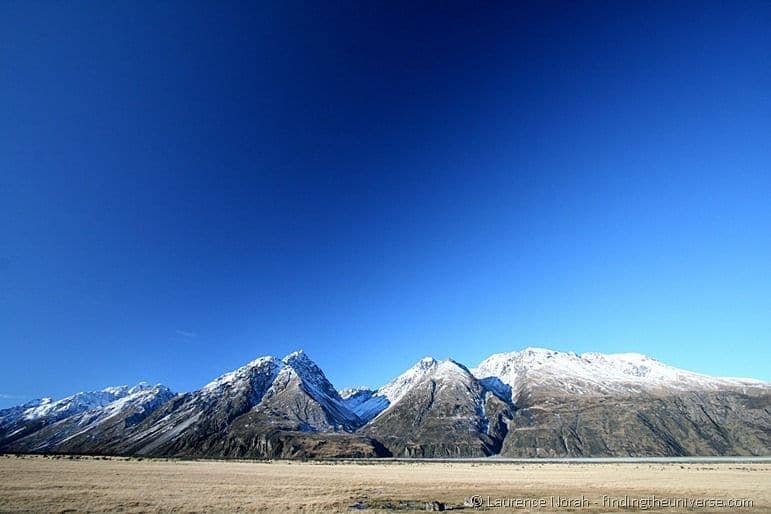 The weather, I feel I should reiterate, was rather splendid, but as this was Winter, splendid also meant cold. Cold meaning snow, and ice, and temperatures where sleeping in a van became more of an endurance test than a jolly outing.
Waking up to ice on the inside walls and our water bottles frozen solid was the order of the day, with snow underfoot in the campground we stayed at, and snow and ice covering every surface of the paths we took.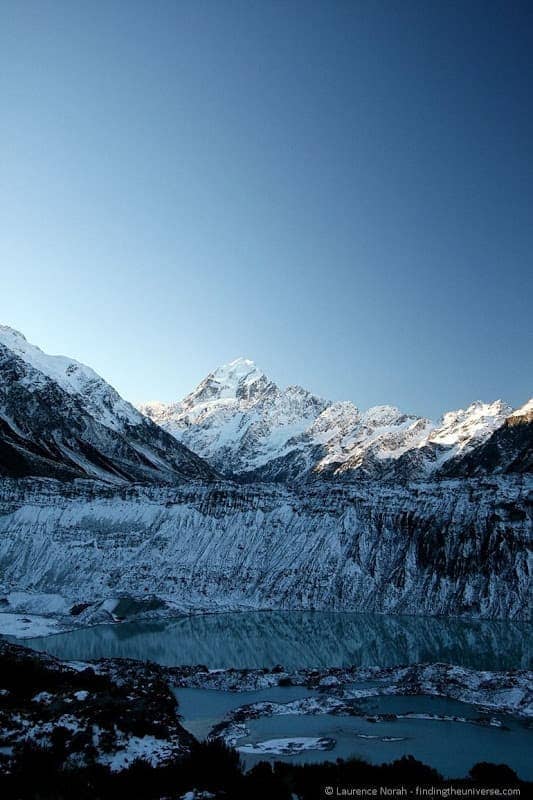 But it was so incredibly worth it. So much so in fact, that we endured two freezing nights to see everything we wanted to see. The sky was epically blue. The snow was gleaming white. We walked to a glacial lake near Mount Cook, where we gazed upon small ice bergs and the incredible blue that is so common to the lakes of this area. We watched the suns rays leave Mount Cook in a breathtaking sunset display.
We also took the time to drive up to the Tasman Glacier, New Zealand's longest glacier, where we stood as close to a glacier as I have ever been, and boggled at the giant ice bergs floating in the lake, calving off the glacier at the lakes far end, before driving back.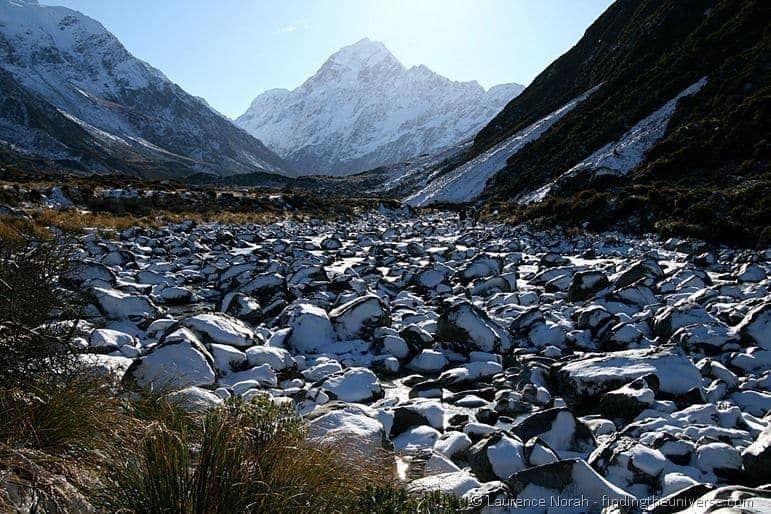 I can confirm that driving a five metre long rear wheel drive vehicle in icy conditions is a thrilling experience, made all the more exciting by the gung-ho attitude towards building roads on the edge of cliffs that seems so prevalent in New Zealand.
As with so much of this scenery, the images describe what we experienced in a manner so much better than my words could ever do. So without much more rambling, here are a few more images from our time in the area.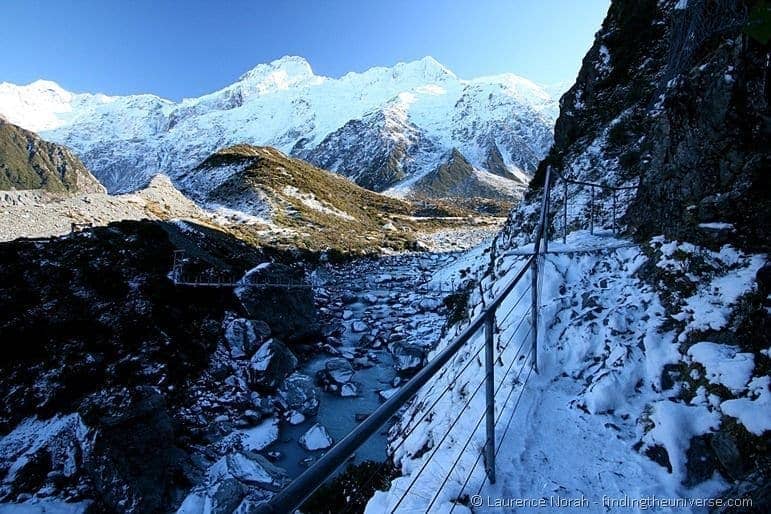 The path was somewhat snow bound and slippery, but so worth it.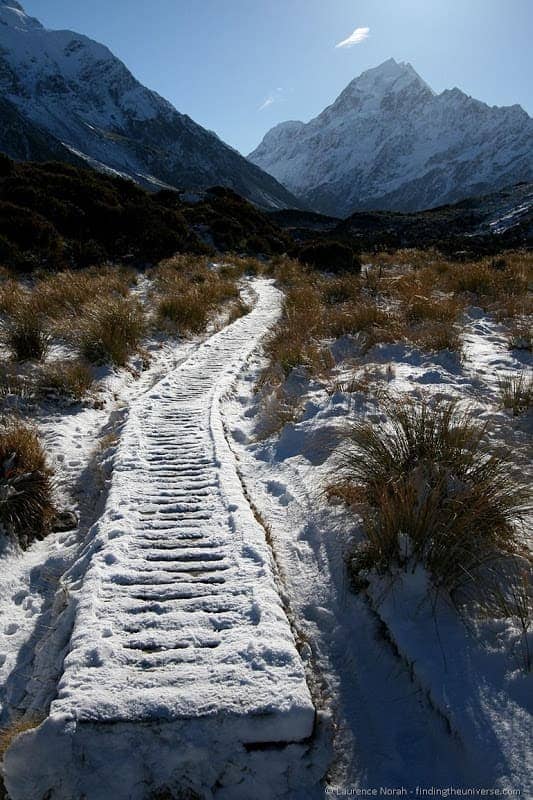 Mount Cook towers over its sibling mountains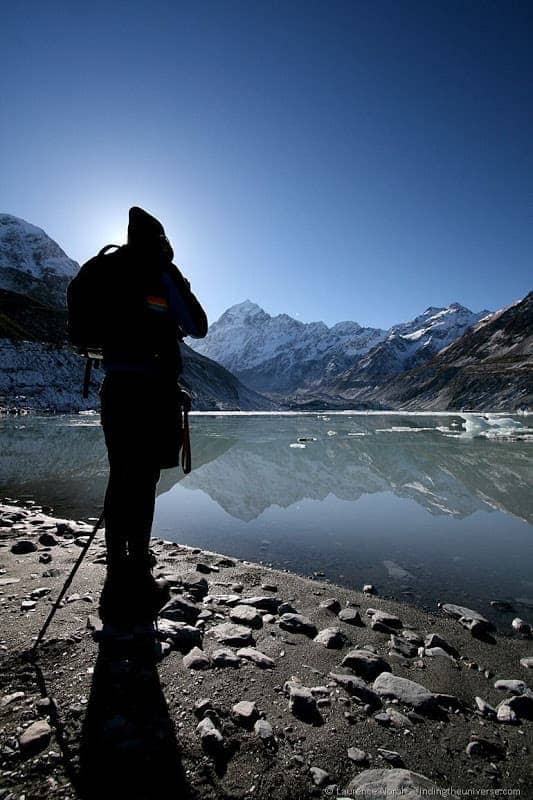 This is about as close as you can get to the Hooker glacier, at the far end of the lake. Ice calves off it and floats down the lake, which is pretty cool.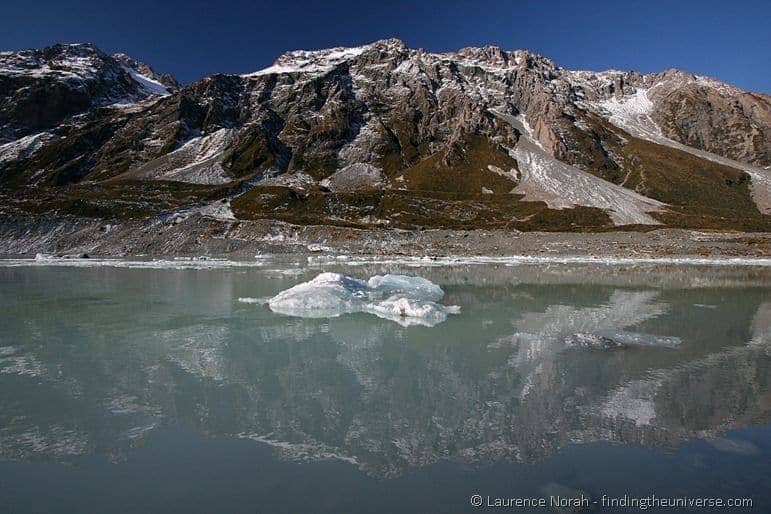 An example of said ice bergs, floating in Hooker Lake.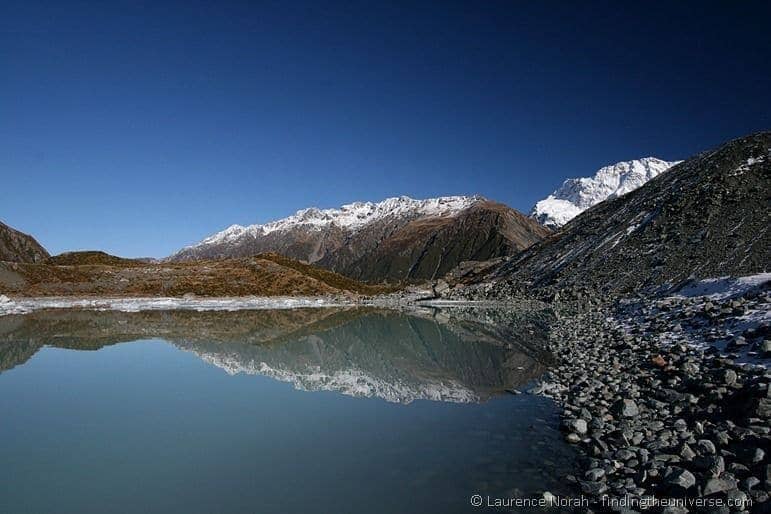 I love reflections, and these were world class.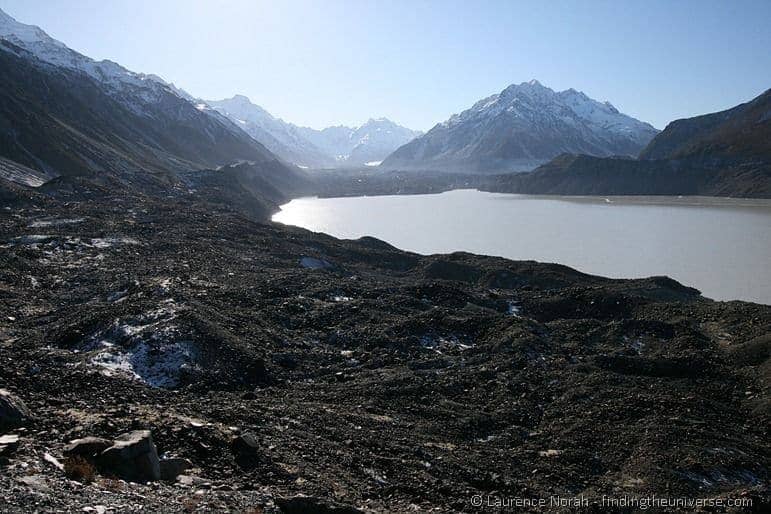 The Tasman Glacier and Tasman lake. Pretty much everything you can see around the lake (that dirty grey stuff) is actually part of the glacier too, and is ice between 200 and 600 metres thick.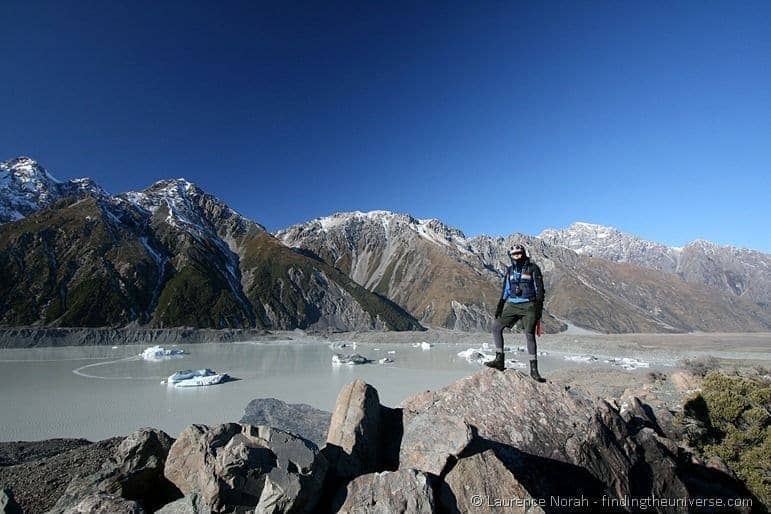 Vera posing in front of Lake Tasmans icebergs. As you can see the lake is partially frozen and the icebergs are actually pretty big. Icebergs at 1000 metres elevation. Pretty cool in my book!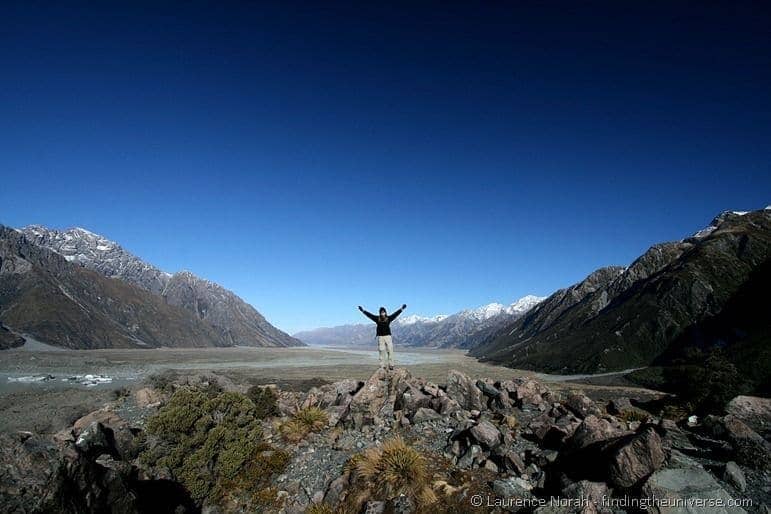 And finally, a picture of me at the end of the Tasman Glacier, with the glacially formed valley behind me.
If you are passing through New Zealand, and the weather is even close to what we had, then you absolutely have to make the time in your trip to visit the Mount Cook National Park. It is truly mind blowing stuff. Just check in at the, frankly awesome, DOC centre when you arrive for the full run down on the weather and track conditions, and ideas for your stay.
We did the four hour hooker valley walk, as well as the Tasman lake walk. Both recommended!
As always, thanks for reading. If you liked these photos, don't forget to check out the facebook page, where I post even more photos from my travels for your enjoyment 🙂 And if you're planning a trip to New Zealand, why not take a look at my New Zealand Guides section of this very site, to get all the ideas you need for your trip of a lifetime!