When we went to a travel blogging conference in Dublin last year, we met some folks of an interesting new company, who built a website that lets you find and book homestays all over the world via the internet. But they are not just a search engine – their unique approach is that all the hosts they work with have been certified through them, either by a local partner, or internally. As we are always keen on adding another form of accommodation to our list, we asked them if they would let us try it out, and they said yes!
Since we were headed to a three-month trip around Ecuador, we decided we would stay with a woman called 'Cecilia' in the city of Quito, Ecuador's capital. Big cities can feel disorientating and overwhelming, and Quito in particular has a bit of a reputation with tourists, so staying with someone who you can trust and who knows the city well and can give you advice sounded like an excellent idea.
The brilliant Homestay.com website had already given us lots of information about our host and our stay – Cecilia's place was in a safe and quiet area of the city, we would stay in a twin room, breakfast was included, other meals could be arranged. Cecilia had pets, had listed her hobbies, had uploaded many pictures and even stated the house rules which were mostly about not leaving the tap running and not to get drunk in the house. We had already suspected that wild and crazy parties might not be on the plate when seeking a stay with a local family.
We arrived in Quito at the bus station and took a taxi to Cecilia's house. She came down from her apartment on the third floor, opened the door and welcomed us warmly. We all went upstairs and she showed us around. It was then that we realised that Cecilia only spoke Spanish.
Oh.
I mean, we had already travelled in Ecuador for a month by that point and accepted that the information I had found on the Internet prior to our journey, being that you could get by with English in Ecuador, was not exactly accurate.
Some people speak English, and of these people a lot speak it very well, but most people don't. Which is not exactly outrageous – really, we should learn Spanish, anyway, but as it is, we rely mostly on pop culture with any linguistic abilities when it comes to Spanish ("Hasta la vista, baby!", anyone?).
Cecilia didn't blink an eye. She showed us the bathroom, reminded us of the tap, explained that the bathroom door had to be closed always, introduced the dog to us (Camila!) and then let us unpack in our room. And that was the beginning of the Spanish miracle. Because during our stay with her we ended up talking about all kinds of things, from our families to politics and sight-seeing. After each conversation, we went back to our room, slightly confused as to what had just happened – how had we managed to share all that stuff?!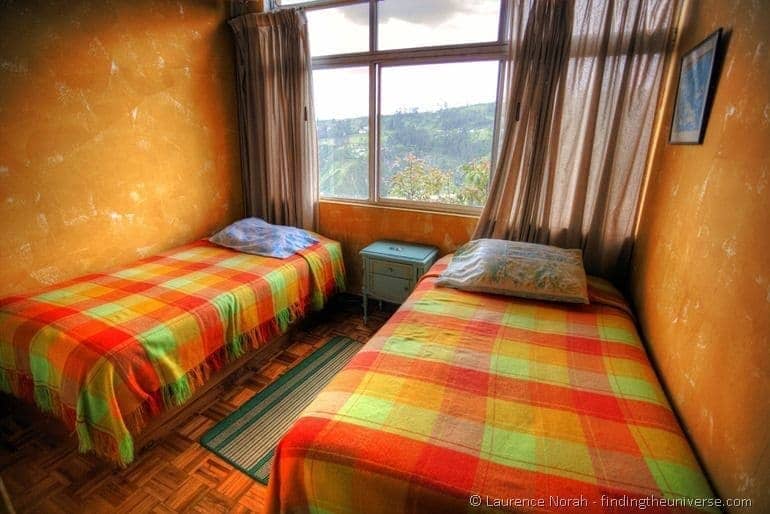 I guess us knowing French did help a lot, both Spanish and French being Roman languages and therefore slightly similar. And I'm not saying that we conversed very elegantly, but it was an amazing experience. Cecilia has also been a host for about twenty years. When I got curious about a German Christmas-card on her drawer, she told us it was from a German guy from Berlin, who had stayed with her for two years while studying and working at Quito university!
There is also a Spanish school nearby, and I think, many people come to her to be able to learn or improve their Spanish while staying in a Spanish-speaking household, so she is a pro with mumbling stumbling foreigners.
She would sit with us during breakfast and converse a bit, and the times we opted to have dinner at her house, we had it together and also talked about all kinds of things. She has two daughters and a son – one daughter is a biologist and lives with her (she speaks excellent English); the other kids are out of the house. Her son Osvaldo is a painter, and Cecilia's apartment is like a little gallery, full of his pictures.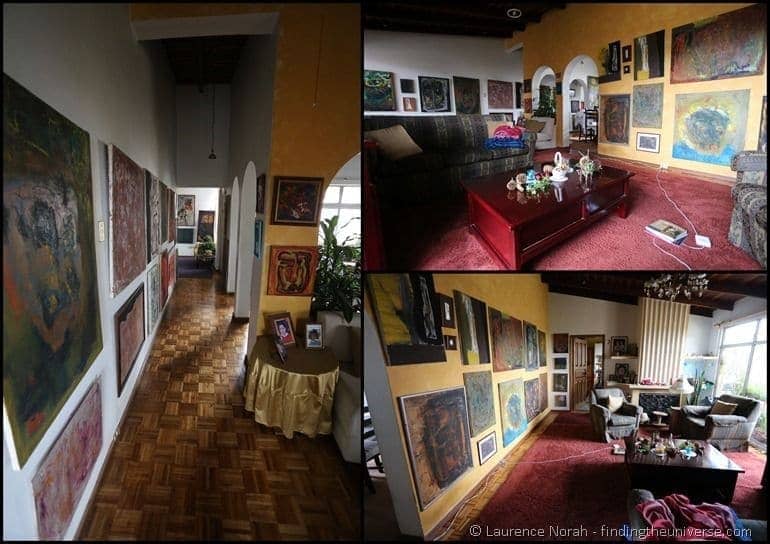 Homestay.com had treated us to four nights, but we ended up staying for another night, and, when we returned to Quito some weeks later, we came back again.
Cecilia helped us with lots of things, did our laundry, gave us advice regarding the city, lent a self-sown bag (with Snoopy on it!) to Loz so he could carry his camera around incognito during our explorations, and also introduced us to her friend Edwin, a driver, with whom we ended up taking a day-trip to the nearby equator line.
I generally have no preference for a specific type of accommodation, but I had never really considered a homestay before; maybe because I thought it to be something for students or younger people, and also more of a longer-term thing. Now that I have experienced it, I get why it is becoming so popular.
The difference between Homestay.com and other accommodation services we have already used, like Wimdu, Roomarana or AirBnB, which also let you stay in peoples' homes, is that Homestay.com focuses on the role of the host. It's not so much about having a place to stay at, it's more about the people you are going to meet.
Which means you get a much more personal and social experience on your travels, a chance to work on your language skills, live the local life, maybe to even become friends with your hosts. Cecilia has asked us to keep in touch (well, there is Google Translate until I'm totally fluent in Spanish!) and that's something very nice to take away from a holiday, isn't it?
Of course a homestay is not for everyone. You are in someone's house, and therefore more of a guest than just a client. There might be house rules, or in general some things to respect, but funnily enough it's these rules which will make you feel at home more, because following them means you're part of the household. And I'm just talking about obvious things here, like making sure the water tap is closed, and keeping the noise down when you come back late.
A homestay is also not necessarily a four-star hotel. Cecilia's bathroom for example is a bit older, and the water takes a while to heat up when you're showering, but everything is clean and nothing is missing.
I am really glad we got to experience this sort of stay, and I have actually already started looking for other places with homestays (I admit I like looking at other peoples' homes, anyway…). If this is something that could be interesting to you, too, then I encourage you to visit Homestay's website, which reflects the spirit of their product really well and offers lots of information, including testimonials and blog posts – maybe you find it's something you have always wanted to be part of your travels, and now it's finally there! In that regard: may your travels be good, however they are made up – take care and until next time!
Our first four nights of accommodation with Cecilia were covered by Homestay.com – we covered our own costs for the subsequent five nights. If that's not a glowing recommendation – I don't know what is!