When I went abroad to English-speaking countries as a teenager from Germany, I always had to snicker when I read "Drugstore" on the pharmacy signs. In Germany, the word 'drug' refers solely to the illegal stuff. If you mean the pills, powders and liquids your doctor prescribes and treats you with, you say 'medicaments'. Two different words to describe two completely different purposes, while the original substance used might actually be the same.
Throughout the history of mankind, there has always been the itch for a little buzz. Before the 18th century the potential of substances was manageable, at least in Europe, with alcohol being the most common drug of choice. Not to say alcoholism wouldn't have been a problem, but the effects were relatively obvious and the downfall happened gradually.
The first 'hard drug' was really Opium, although even that made it through thousands of years as a reasonably applied medicine and also as a recreational drug, eaten or drunk. The trouble started when people began smoking it. I remember reading Oscar Wilde's "The picture of Dorian Gray" where he makes references to London's opium dens, and being amazed at how people would enter somewhere and never be able to leave again, doomed to quite literally rot away, all because of a substance. Makes you wonder, doesn't it.
Or when I listened to friends who are strictly anti-drugs, but got a weird expression in their face when talking about a hospital stint that was serious enough that they were given morphine: "I started shouting at the nurses when they wouldn't give me any anymore!" – say what??
Or the break-ins in my parents' veterinary practice every couple of years. The thieves' goal was to steal narcotics like Ketamine – worth a lot on the black market, and apparently worth the risk of breaking in, even though the robbers must have known that the chance of finding anything was tiny, since veterinarians are by law obliged to lock away narcotics in a safe. On top of that the usage of every single millilitre has to be documented on lists which have to be kept for 10 years and can be controlled by officials anytime. Mind you, it's still not unheard of that doctors themselves fall victim to abusing these substances.
And somehow it all seems to be both silly and incredible – how can anything be so powerful that it just takes over and eventually destroy peoples' lives like that?
When we got to Thailand's Golden Triangle and had the opportunity to visit the "Hall of Opium ", we thought that it might shed a light on some of our questions.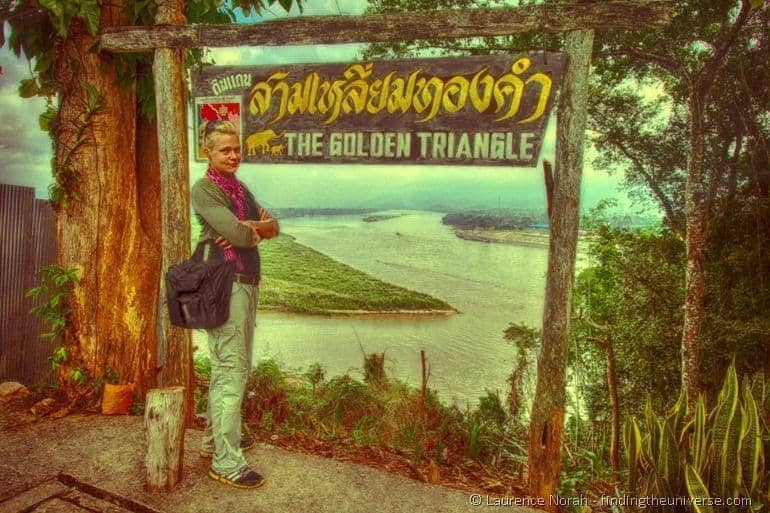 The Golden Triangle, nowadays a tourist destination, got its name in the 1970s. It stands for a vast mountainous area overlapping four countries (Thailand, Myanmar, Laos and Vietnam) that used to provide the majority of opium on the worldwide market. Geologically it's really just the place where the Ruak river enters the Mekong river. From here, you can see Myanmar or even take a boat over to Laos for an hour or two. And no worries, there are definitely no shady people around, although you wonder how very different it might have been not too long ago.
You see, the surrounding mountains are perfect for poppy cultivation, and the hill-tribes have traditionally grown the plant for generations. The fact that they live in areas that are secluded and not at all well accessible, was all the more convenient for drug production and trafficking. During the last century the drug business took off and became really big. There's a lot of money in drugs, and so South East Asia ended up with the title of being the the greatest opium source in the world.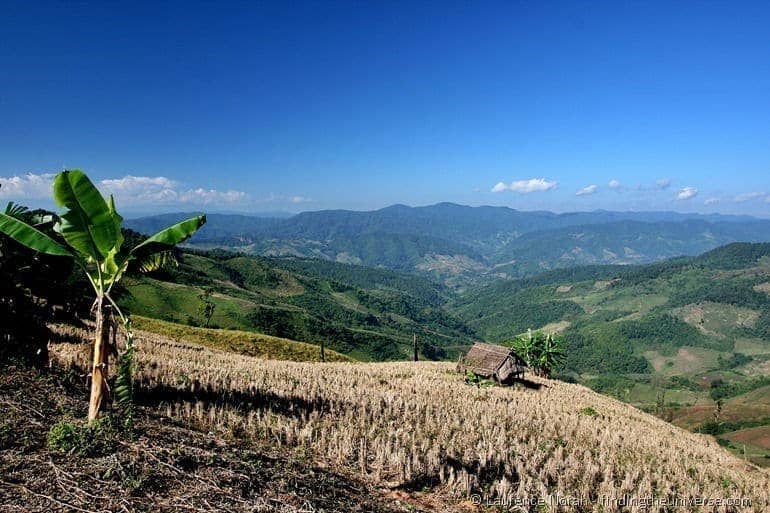 Thailand's King was somehow less than impressed with Thailand being part of the whole scenario. Opium had been declared illegal in Thailand in 1959, yet the north of Chiang Rai, the northernmost region of the land of smiles, was an unsafe place to be due to the drug trafficking. People living there were poor and had no access to basic infrastructure. The land also suffered, due to the slash-and-burn cultivation.
In order to get an overview of the situation, he visited the hill-tribes and talked to the people, and learned about their lives and the reasons they cut the forest down. Determined to provide an alternative to the tribes' dependence on the opium cultivation, he then started the Royal Development Project in 1969.
It was meant to support people to make the switch to earn their living through agriculture, growing for example coffee, tea and nuts. Because people didn't necessarily work the opium fields by choice. They just didn't have any other options to make a living for them and their families to survive. Many people were addicted themselves. They didn't need punishment and condemnation, they needed help and support.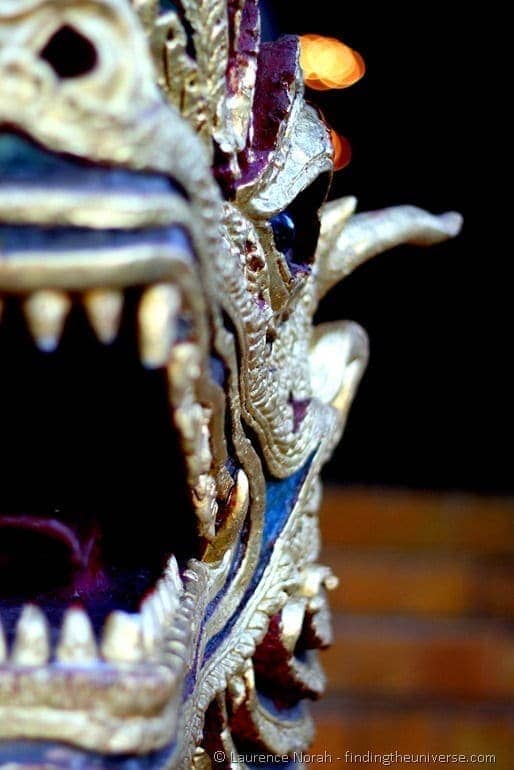 In 1987, the King's Mother, who used to travel to Switzerland on a regular basis for the cooler climate, decided that she wanted to live full-time in Thailand and began looking for a place to build a getaway from the heat. Doi Tung is a region that belongs to the Chiang Rai province, and turned out to be the perfect spot for this venture.
But she couldn't believe her eyes when she flew over the area and saw that all the greenery that used to be there had fallen victim to the poppy-growing. You have to know, that lady was a first degree plant lover and I think she took this quite personally. Which was good, because she vowed to reforest Doi Tung and inaugurated the Doi Tung Development Project.
This project was set up to run over a time period of thirty years, starting in 1988, and focuses on sustainable development. People are enabled to get involved in different business units (food, handicrafts, horticulture and tourism) while preserving the natural environment.
Sounds rather dry, but it means a lot to the people involved. They basically went from struggling to survive to having a decent life with a future. I felt it was very empowering that the project is so holistic and goes beyond the usual drug fighting methods by getting the people involved in something that is simply better than what they have. Which means they now have access to basic life necessities, they can learn a trade; if they have a drug-problem, there are facilities where they can detox. They have options, they have a future, they have a sense of self-worth.
This is documented in the Hall of Opium museum, which is part of the project, but it makes only a fragment of the many different exhibitions. You will also learn about the opium trade throughout history and the wars it caused. You will see how opium is made, how it is consumed and what it does to people.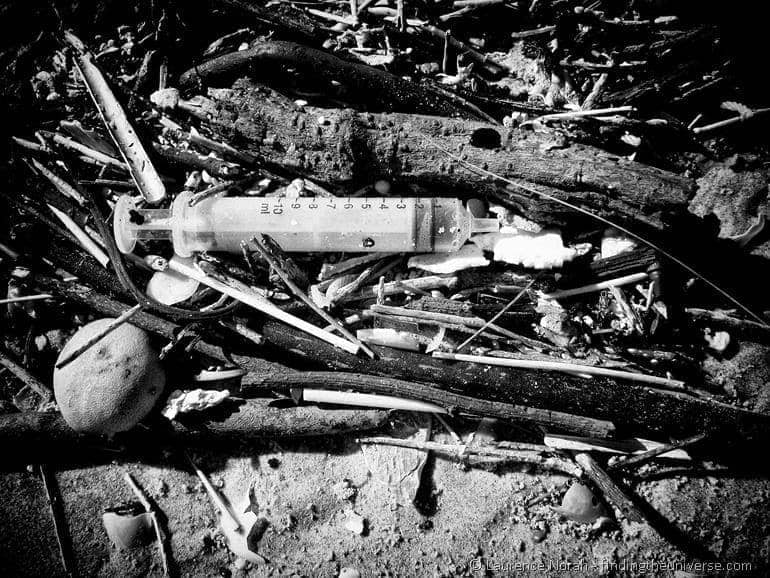 You will watch little movies, peek into re-built opium dens, look at the various utensils used during consumption.
You will learn about the illegal side of drug abuse and trafficking in the varying countries, and their different approaches to drug policies and crime fighting. You will find out how people try to smuggle drugs based on exhibits and examples. You will see posters from countries all over the world creating drug awareness.
You will see advertisements from way-back-when coca-cola was recommended as a cough medicine for babies. You will get an insight as to how the great break-through in medicine that came with the production of pain-relievers also caused abuse and addiction, and how heroin was originally thought to be the non-addictive replacement for morphine which had proven to do more harm than good in the big picture.
It's a visit that gives you a whole range of interesting, disturbing, educational, sad and strange information, without being judgmental, but by providing knowledge, facts and documents.
The world is not black and white. Drug addiction can happen to anyone. It certainly doesn't bring out the best in people, but it doesn't mean anyone affected is a bad person. We all initially just want to be happy.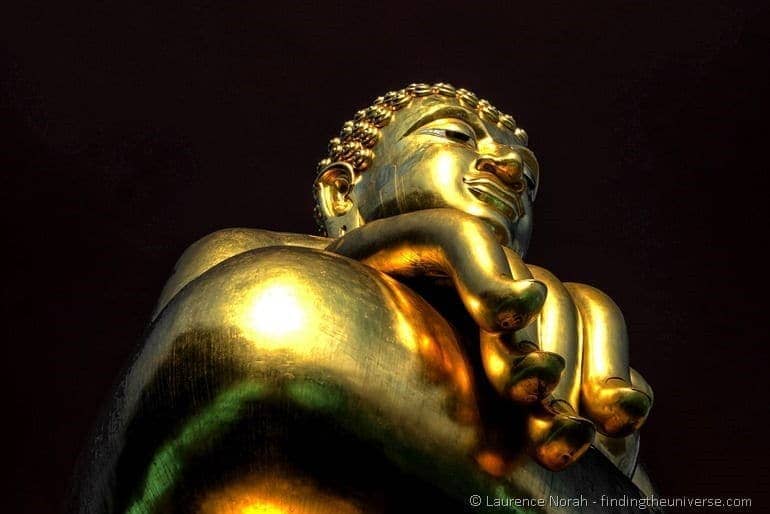 Producing drugs on the other hand always struck me as not exactly saintly, to put it mildly. I would have judged anyone participating in the process, as I thought you always have a choice, but this visit changed my mind. These people at the very bottom of the chain, doing all the labour, having no access to education – they don't have an alternative. They do not want to work in the drug trade because they know what drugs do. But they need to survive. And they already sold their daughters to prostitution. They already lost all their hope. They already feel like their life doesn't mean anything to anyone. And they are not the ones who make the money.
The Opium museum documents all of this. It is a by-product of the King Mother's efforts to improve her people's situation by providing them with a choice. If you thought growing flowers has nothing to do with the fight against drugs, her legacy will make you think again.
I very much like this approach that makes people the solution and enforces change positively by addressing the good in them. All in all, visiting the Opium museum impressed me and I would very much like to recommend it to you, if you happen to be in the region!
Location
The Hall of Opium is located in the Golden triangle park outside Sop Ruak village, opposite the Anantara Hotel, which is about 12 km from the town of Chiang Saen.
Opening hours
Daily from 8:30am-4pm, except for Mondays
Admission fee
Thai people: 200 Baht
Foreigners: 300 Baht