Picton is the first place you come to on New Zealand's south island, having been wowed by the rather awesome ferry crossing from Wellington.
More on that ferry crossing, including some photos of our mill pond like crossing, can be found as part of a guest blog I did for Denise over at NZ Escapes, which can be found here.
Once off the ferry however, the amazement does not end. From Picton there is a choice (much like in those old text based adventure games) where one can GO SOUTH or one can GO WEST. We opted to go West, following in the footsteps of the Pet Shop Boys, and explore the winding and scenic route that is the Queen Charlottle Drive.
This area is, we quickly learnt, full of Sounds – the New Zealand equivalent of a fjord, or basically, a sea inlet. Mountains rise up out of these in swooping fashion, and I have to admit to feeling rather lucky that the weather was being so kind to us, what with clear blue skies nuzzling the sea mist out of the valleys.
As well as the Queen Charlotte Drive, we took the opportunity to drive up Kenepuru road, a road which runs parallel to the Queen Charlotte Track – one of New Zealands epic great walks. As with the others, this is a multi day hike which involves carrying all your gear. Since Bernie does such a great job of carrying all our gear as it is, we decided that the road version was probably going to be scenic enough.
And, obviously, it was. I lost count after about the tenth lookout as to quite how many times we stopped to take photos, but hopefully those featured here will give you an idea of the kind of epic scenery we were lucky enough to encounter.
We spent one of our two nights camping at a DOC site along the way – these are generally the cheap options which consist of a scenic location, a stunning view, and a pit toilet. Well, you can't have it all. And at the price, you can't really complain. Our second night was at the Cable Bay holiday park, home to New Zealand's first undersea cable terminus which linked 19th century New Zealand to Australia, and also a rather splendid place to catch a sunset.
At the end of the drive we wound our way into Nelson, a sunny town on the beach, home of a fairly impressive church, and also the first place in New Zealand to have ever hosted a rugby game.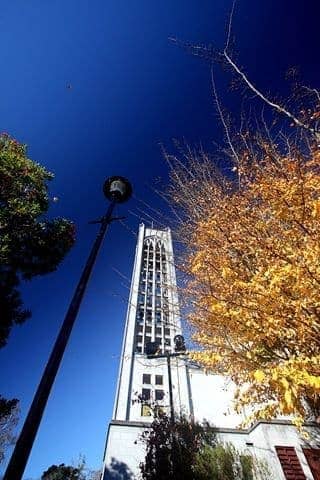 We spent an afternoon wandering the town, found a coffee shop where they roasted the coffee beans in front of us, and then camped out for the evening in a campsite with one of the best views from a campsite thus far, where I captured the below time lapse photo of the stars wheeling over Nelson (see if you can spot the planes).
From Nelson it is on up the coast to the golden beaches and native bush of the Abel Tasman National Park, which will be the subject of my next post.