If you have been following our latest adventures, you will know that we have temporarily turned into the Joneses… Indiana Joneses, that is – as we became hunters for good customer service! Not the worst job in the world, is it? We were given it by American Express, who initiated a study which found that good customer service makes people happy.
I guess you could therefore say they sent us out to find happiness, which would probably fit well/neatly in everyone's itinerary! Bringing us to Rio de Janeiro for this quest definitely put us in the right mood, and I can conclude that I think we were quite successful.
So here are our last stories about endorphin-inducing customer service in Rio de Janeiro – enjoy!
Our last day was a hot one. To make sure we would not be prematurely knocked out by a preventable dehydration, we went into a pharmacy to get some dehydration salts. The friendly pharmacist helped us to quickly locate the desired, then doubtfully looked at the camera I had hanging around my neck, and, like a worried uncle, advised me to put it away, as it might attract thieves.
I kind of was aware of that, but I sometimes feel since my camera looks rather unspectacular compared to Loz's (who gets his only out to take pictures) that I'll be fine, depending on the area we're in. It was the first time that someone warned me about this in Rio, and the pharmacist was the least likely person to do it, but he cared, and so he did.
Thus I put my camera away, and there is no way of guessing what would have been the outcome if I hadn't done it, but what I do know is that it's still with me. Better safe than sorry – and I'd rather not jinx these things, anyway… Thanks, Mr. Pharmacist, for keeping an eye out!
Later we went to Ipanema Beach for the sunset. Loz set up his tripod and camera for a time-lapse, and then we just sat down and waited for the sun to go down and the magic to happen. Now you might think sitting on a beach doesn't get you a lot of good customer service, but on this one we did!
I was quite thirsty, but too lazy to walk back to the promenade – cue the ice-tea vendor, who came walking by, carrying the refreshing brew on his back, and who happily filled up two big cups for Loz and me.
We watched people swimming, surfing, laughing, kids playing… and we saw guys coming around, picking up garbage. Only then it dawned to me that it must be quite an effort to keep the beaches in the impeccable state they're in. Often I'm not even aware of all the work that is done in the background to assure people can enjoy themselves.
Which we all did! It's a great and relaxed atmosphere on Ipanema beach at sunset, and really fun to be part of. When the sun finally disappeared into the sea, people got up and… started clapping! If rewarded with applause and standing ovations, does a beautiful sunset thus fall under good customer service? I'm not quite sure, but I thought the gesture was really nice.
So with all the good feelings in our tummy, we headed back to our hotel, dropped our stuff, and went out to have dinner. We felt off-duty now, after a full day out, and just wanted a decent meal and then to call it quits. But that did not happen, because we ran straight into one of the best customer service demonstrations we have ever encountered! Bugger.
We had gone to the same place as the night before. We usually like to mix it up, but the staff had been so nice (even though no one spoke English) and the food so good that we didn't want to run the risk of ending up somewhere less pleasant on our last night.
It was an outdoor restaurant, with 90 % of the tables outside on the cobbled street, which was lit by chains of coloured lights; the music coming from the place next door, where someone was singing and playing the guitar.
A waiter came up to us, armed with the menu. The place was relatively busy, so we didn't expect more attention than necessary, but we were in for a surprise. He quickly found that we didn't speak Portuguese, so he switched to English.
After he had introduced himself to us – his name was Francesco –, he recommended his favourite beer to Loz, and helped us choose a dish from the Portuguese menu by translating and explaining the various options. Then he brought us a generous amount of various pots and pans, from which he filled our plates for us. He was just so endlessly polite and attentive, and took very good care of us.
I felt he really enjoyed his job. He liked chatting to people, he liked helping them, treating them well and making sure they had a good time. He liked the restaurant he was working for; he was passionate about their food; he was passionate about the role he played.
We left a good tip with the bill – just a good one, really, not an overwhelming one. Walking away, I turned around to see that Francesco had gone to collect the bill, routinely checking if the amount was right. For a moment he seemed confused, before his face lit up all over, and he looked for us, still surprised, and thanked us, smiling. I mean, there he was, giving us a five-star-treatment, and didn't even expect much of an acknowledgement for it. What an amazing guy!
Needless to say, we went back to our hotel very happy, if slightly overfed, and slept well. The next morning we took a taxi to the airport and checked our luggage in. Since we would have a stop-over in Sao Paulo, from where we would fly on with a different airline, the lady at the check-in reminded us to get our luggage after the first flight, and check it in again with the other airline for the next flight. Aye, aye.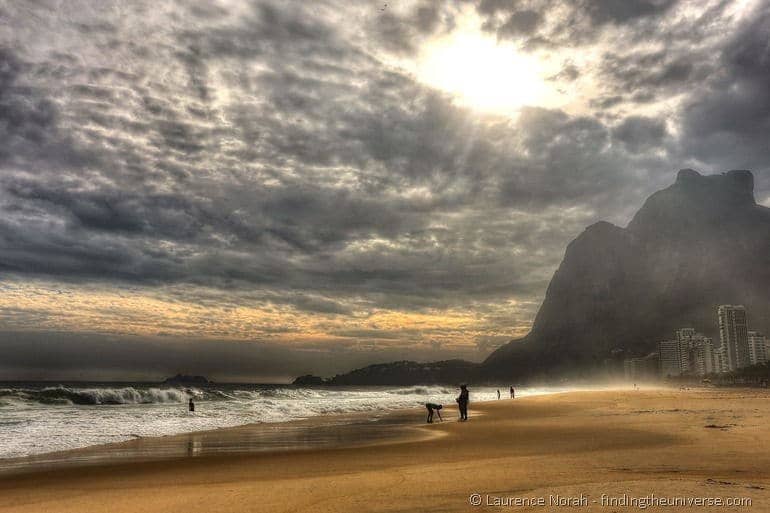 Only that it turned out impossible to collect our bags, as they never appeared on the luggage carousel. Loz went over to the "Lost baggage" counter in the same hall, where they had a look on the bag tag he had received and pointed out that it was labelled not to go to Sao Paulo, but directly to our final destination. We found that weird, but what do you do. So we went to find the other airline to check in with them.
We arrived at the airline counter, and there wasn't even a queue, either! Bliss. "Look", Loz whispered at me, "it's the guy again who you wrote the post about!". I glanced at the man behind the counter. "No, I don't think that's him", I said. "But I'm sure!", insisted Loz. "Of course you're sure. Because you remember faces so amazingly well, right? …Please, that's definitely not him!". We went up to the counter. "Oh hi!", said the young guy, "nice seeing you again!".
So we had run into him again, what are the odds? It's quite a big airport and this counter was in a whole different part of it than from our previous encounter! And how many people does this man deal with every day? How on earth did he remember us?? (Loz claims we're very memorable. Hm.)
Anyway, he was sorry he couldn't check us in, but pointed us towards the right area. And it was there that we found out that our baggage had been lost! It should never have been labelled as going all the way to our final destination, which was especially weird since the lady who checked it in had emphasized to us to pick it up in Sao Paulo.
We took it positively. This was a good chance to take our quest to the next level. Because: finding good customer service is one thing, but what about finding good customer service when things have gone wrong? We accepted our challenge.
The challenge turned out to not be very exciting, as it mainly consisted of waiting, while our new check-in lady made lots of phone calls and smiled apologetically. But then we were taken into another part of the airport, to file a report for our bags. It turned out that one bag had been found! I assured Loz I'd be fine sharing my underwear with him if necessary. He didn't think that was very funny. Men, eh.
After having filled out the form, we finally checked in, and went through customs. At this point we were admittedly less enthusiastic about everything, because what would one of us do without his bag? After all, we were in the middle of a bigger journey. Losing a bag is never pleasant, for no one. The worst part about it, right in this situation, was feeling helpless, because we have no insight into the science of baggage delivery.
We don't know the system at all, therefore it's much harder to console yourself that everything will be alright. But we were about to encounter another example of great customer service, and honestly, it was so reassuring that it fixed our low right away.
Because when we took a seat at our gate, waiting for the boarding to begin, our check-in lady appeared, with a tall, important-looking man in a very smart suit in tow. They both came straight up to us, and the man, oozing of authority, introduced himself as the ground manager from the airline.
He inquired as to what had been done so far, nodded approvingly, took a look at the copy of the lost baggage report and asked if he could take a picture of it. He talked to us for a bit, asked where we were going and what our plans were, and we loosened up a little.
It was a nice gesture, showing us that this matter was important enough for him to personally come over and make sure everything was being taken care of. And then he said: "Don't worry about it; I will take care of it. I will personally make sure that you will get your bags!". Hearing somebody who maybe actually had the power to achieve something in that matter say these words really made the biggest difference.
I felt so much better. And it wasn't because I believed him, oddly. I just wanted someone to say that it was taken care of and that it would be alright, even if they were just saying it. I think the power of consoling words is greatly underestimated – I could almost physically feel how a heavy burden was lifted of me.
At our final destination, it ended up being my bag which was reunited with its owner (happy-happy, joy-joy). Loz is still waiting for his. We have contemplated the possibility that his bag has seized the opportunity to break free and start its own travel-blog. We therefore ask you to keep an eye open, and if you come across anything like www.bag on the run.com, or www. free like a bag.com, drop us a line. Thanks.
And that was our Rio de Janeiro Adventure with American Express! It has been a lot of fun and also an eye-opener as to how much good customer service we are actually exposed to, and how it's often just little things that can make a significant difference. We hope you too meet lots of the likes of Francesco and Co and have guys in suits tell you the right things at the right time! Take care and be happy – see you soon!