I may have mentioned in the odd post recently that Vera and I have been down in Spain, attending a travel blogger conference and then being whisked around the incredible Catalan region with the folks from Visit Costa Brava.
The travel blogging conference itself was pretty epic, with two long days of workshops and networking events, as well as three evening parties. Fun, and exhausting. (If you want some thoughts on the actual conference, check out Laurel's post on the subject over at Monkeys and Mountains. Just don't freak out about the voodoo cat thing).
Of course, the conference was only the tip of the iceberg for us. We also spent a day exploring the Nuria valley. We did a photo walking tour of Girona with Gary Arndt of Everything Everywhere. And then we spent three amazing days exploring Catalonia by bicycle, being stuffed silly with gorgeous food, and even going ballooning.
All incredible stuff, and all of which I'm going to be sharing with you in the coming weeks. Seriously, if Costa Brava wasn't on your list before, I can recommend pencilling it in.
The takeaway of all the above though, other than how much of a great time we had, is that Vera and I were, well, fairly knackered after all the above rolled to a conclusion, not to mention that all this contact with travellers meant we both came down with something flu-like. Yay.
It was a bit of a relief therefore that the wonderful people of Naturaki had conspired to sort us out with an entire villa on the Costa Brava coast, all to ourselves, for four nights of pure relaxation, following the above. And what a place this was. Let me share some facts about it with you:
It had an indoor lit LED pool with sound system. I could basically stop there, but I'm going to go on, because the villa did.
It had two hammocks outside, and one of those hammock swing chairs on the veranda in case the whole horizontal thing was a bit scary
It had its own mini golf course.
We had three bedrooms to choose from, and two bathrooms, one of which housed a truly mighty bath.
There was a ping pong table, and an outdoor barbecue!
The enormous open plan dining / living / kitchen area (which led on to the indoor pool, which I may have mentioned already), was vast, and yet somehow cosy even for the two of us. No idea how they did that. Clever candles I suspect.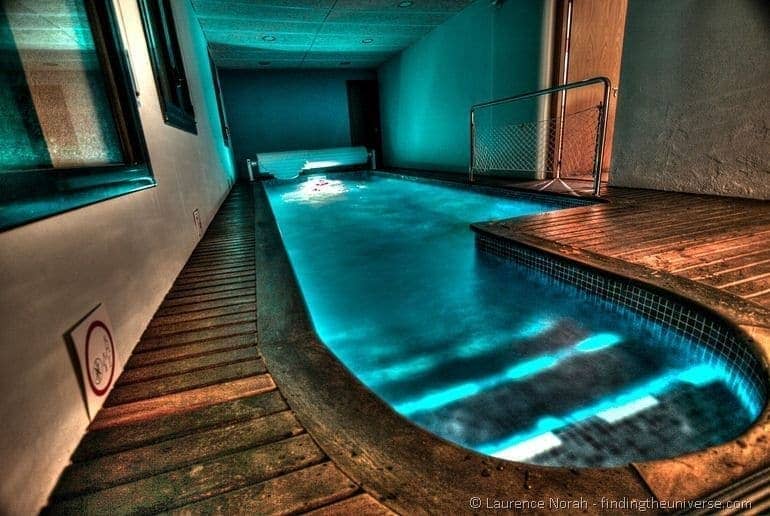 Plenty of benefits then, as you can see. It also, of course, came fully stocked for surviving the apocalypse, which in travel blogger terms means it came with free wireless, plus every kind of cooking utensil you could imagine. Suffice to say, we were impressed.
We were met at the villa by Lluis, who was the owner. He showed us around the place in a fascinating combination of English, French and Catalan, and ensured we knew which buttons did what. I admit to slightly losing concentration after the secret of the LED pool lightning was revealed. Then, with a big smile, he left us to our own devices.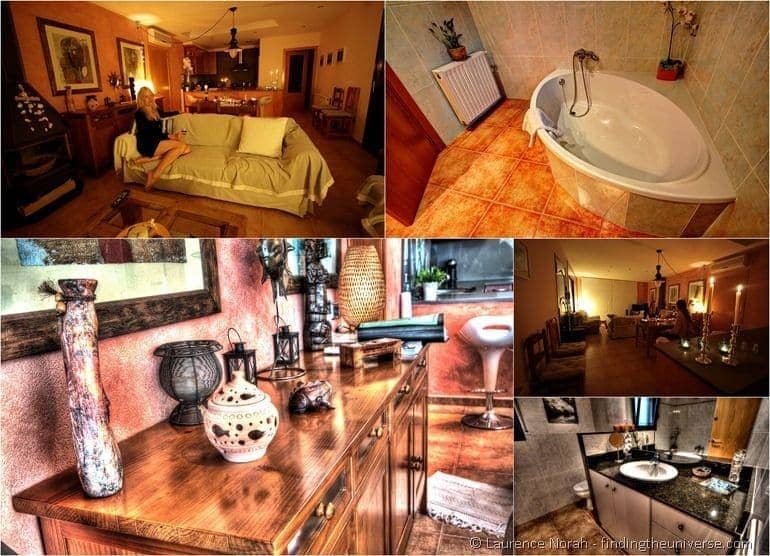 Of course, a villa is all very well, but if you are of the exploring kind, then you need more than just a building, even if you could probably live in this building very happily for the rest of forever. Luckily, Lluis and Naturaki had us sorted on that front too, having equipped the villa with a host of documentation about the surrounding area, which happened to be the rather stunning Cap Creus national park.
This meant that we were liberally surrounded by epic coastline, towering cliffs, crumbly old monasteries, snug little ports and some of the region's oldest vineyards. Dali's birthplace was just over the next headland. One of Europe's "GR" walking routes, which span the continent, even went past the front door. Clearly, the spot for this villa had been chosen carefully.
Obviously, with so much adventure right on our doorstep, we got down to doing as little as we could for the first day. The villa (and her pool) needed some "us time".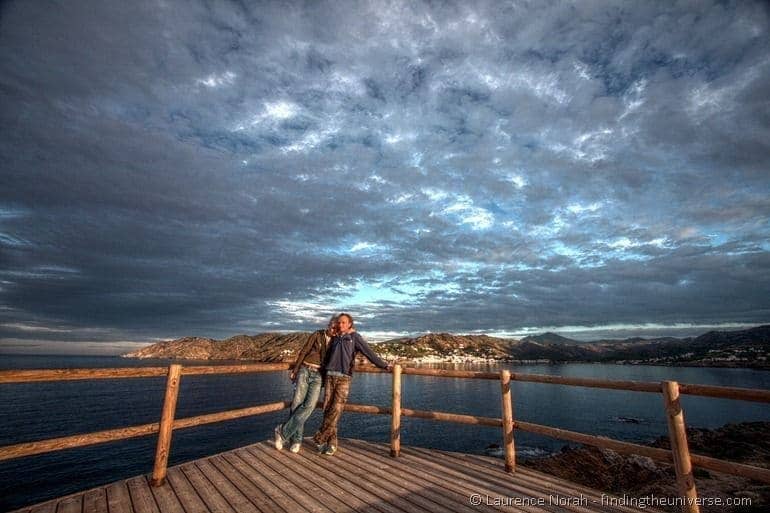 A day of "us time" seemed to be enough to start with, so we spent the next day exploring the region a bit more, with a tour of a local vineyard, lunch at a nearby restaurant, and then a trip up to a monastery at the top of the world, which offered amazing views of the Pyrenees, as well as the coastline. Not a bad way to spend a day – and huge thanks to Carme of Naturaki for putting it all together for us and taking us round.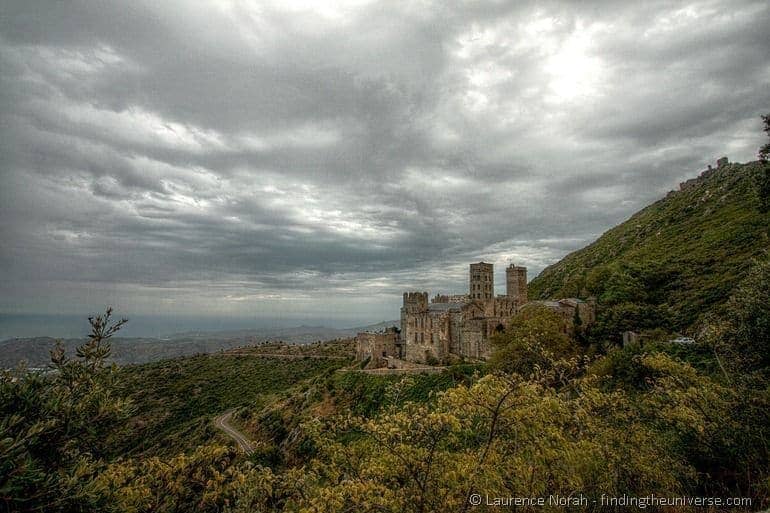 Our last day, where we had all kinds of exciting adventures planned, conspired against us in terms of the weather, and meant that we had to stay indoors again with the pool. We did get to see some amazing sunsets as a result of the weather though, so all was absolutely not lost.
If you're planning a trip down to the Costa Brava region, and feel like spoiling yourself silly in a luxurious villa, then I cannot recommend the friendly family-run Naturaki service enough. At the time of writing Carme and her brother have 18 properties available for rent, ranging from a cosy loft with jacuzzi for two to four people, through to a twenty person mansion of awe.
Something, basically, to suit any group make up, from families, to friends, to just a quiet getaway with the one you love. As we found, in our own personal four day heavenly retreat at Caseta del Mar.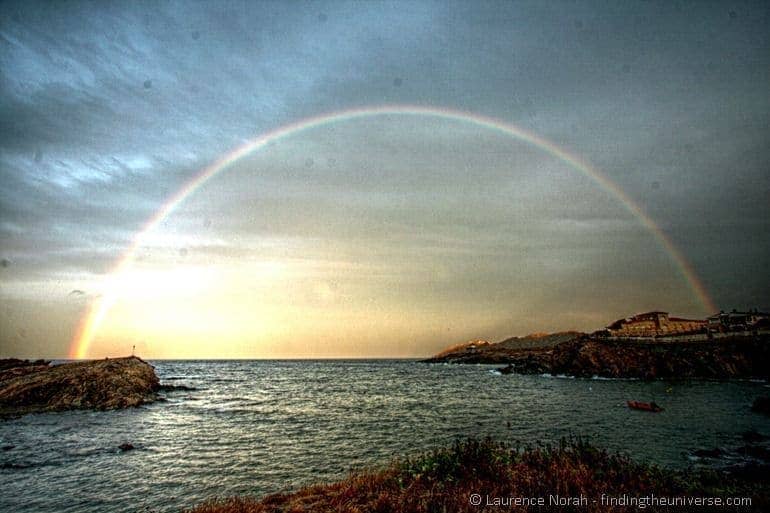 Disclaimer – we were hosted for our stay at Caseta del Mar by the team at Naturaki. Even though my mind is easily blown by such things as an LED lit pool, I assure you that my opinions are still entirely my own. Have you ever found your slice of relaxation heaven while travelling? Share it with me in the comments below!