Most of the time I have been travelling, I never worried about luggage. Which doesn't mean that I didn't bring anything. It means I brought everything. My understanding of the concept of packing was that the 80 litres that fit into my backpack weren't a guide-line. They were the obligation, if not a challenge. It didn't occur to me that less could be more. I really was oblivious to the fact that you don't have to bring everything 'that is necessary'. If I could bring it, I would bring it, case closed.
So yeah, for the longest time I was a luggage bad-ass, a packing rebel – and proud of it, even though walking around with what felt like a bag of stones on my back wasn't half as much fun as you might think. And packing the darn thing every time you moved on, trying to get everything in… Well, practise makes perfect, right?
Yet I always felt I had packed right for my journeys. I was happy to have the things that I brought, even though I didn't use them. I was more impressed by how much stuff I could take with me on my travels than I was annoyed that it was maybe too much. I felt physically strong due to being able to carry that much weight. I felt safe, because I felt prepared. And anchored. Very well anchored. No surprise.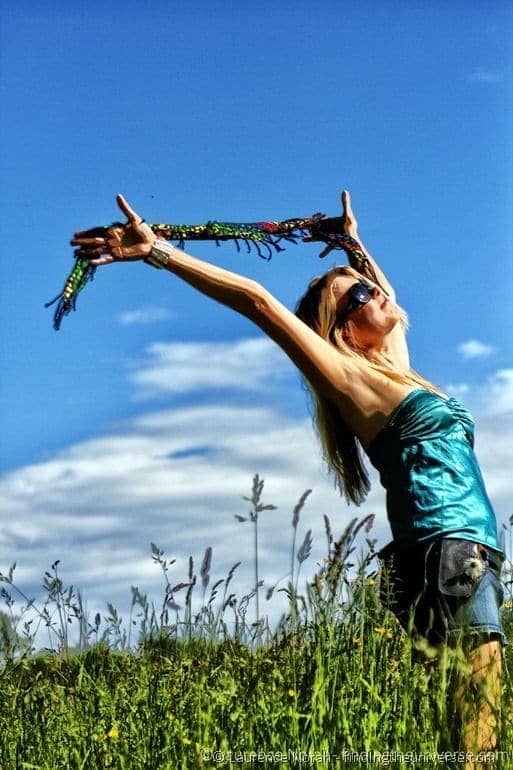 I didn't trust people who approached packing logically. I'm serious. There was something that scared me about highly organised and minimalistic travellers. Something that seemed to suck the life out of everything.
Until I met HER. She appeared one day in the dorm-room I had declared home for the past and the next few weeks. Travelling by herself during summer break in Canada, she had rather spontaneously come to Australia after a month or so in Asia, maybe for a week, just to check it out. I didn't notice it at first, but at one point I realised something that seemed unbelievable and incredible: she had no luggage.
We have all heard of mystical creatures that travel very light, but I would imagine that only few of us have actually encountered them. Well, I did. There she was, a pretty, stylish, cheerful young woman – and all that she carried with her on her journey of several months was a bag one third of the size of my hand-bag. It had not crossed my mind that a regular traveller could and would do this.
Since then I have been thinking more about travelling with less, and have also been practising this skill. And while I have managed to fill my back-pack more reasonably, I'm left with one dilemma: my hand-bag scenario.
First of all, what I call a hand-bag is probably not what you would call a hand-bag. It's more of a shoulder-bag, and it ain't a small one. I could theoretically go grocery shopping with it, to give you an idea.
The thing is: I have no idea why I need such a big bag, but when I'm finished putting all the, er, bare necessities in it, it's always full. It's so full it hurts, literally.
The muscles around my shoulders are basically always more or less cramped.
I'd rather wear a back-pack, but I don't like to have my valuables out of my sight and grip.
I've thought about bum bags, but only reluctantly, as they make me shudder.
They'd be perfect, but most of them look hideous. There are exceptions, I've learnt, which you mostly see at festivals, and they are more like hip bags, anyway. A utility belt for the fashion-conscious folk, who feel too free to get entangled with a bag in general, but still need a place to put their… well: valuables!
So I started looking for one like that, but either I'm way too picky (it's quite possible) or just unlucky or searching the wrong haystack – in any case, I fancied none of the ones I found. I became so desperate, I even attempted a DIY-version (we won't talk about how that went).
How hard can it be to find a decent hip bag? All I want is one that
manages to hold my valuables (eg. wallet, passport, phone, mp3-player, point-and-shoot-camera)
looks unobtrusive, yet stylish, and can thus be multi-used for various circumstances, be it a city tour, a hike, a party or bird-watching and time-travel
is comfortable to wear, which for me means that it is flexible enough to snuggle up nicely and doesn't have any angles or edges that are of an incisive nature
is of good quality, so it doesn't fall apart just after I haven fallen in love with it
ideally doesn't cost a fortune and didn't involve any dubious methods/resources in its making.
…and then I found it.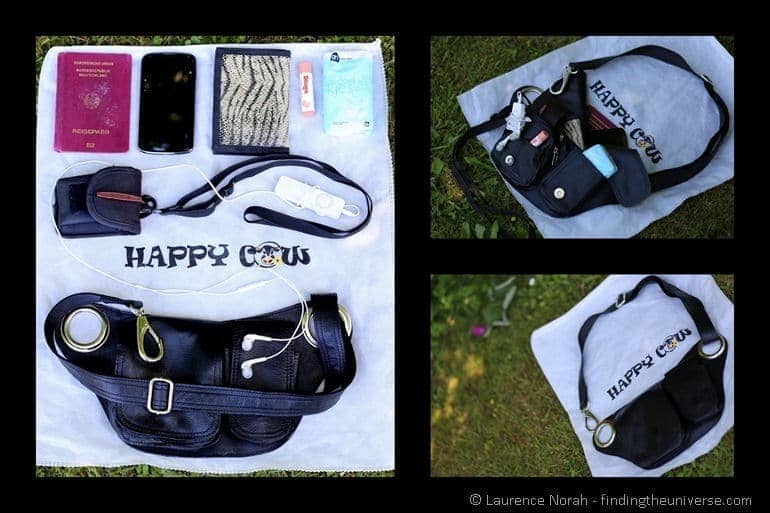 Well, that's a blatant lie. I didn't find anything. It found me. Because the universe provides, my friends. Mostly right after you have cursed it and given up, admittedly, but we won't mention that, will we. No.
So here it is: the leather pouch bag from Happycow.
The cow is happy because all the leather used for their products stem from leftover pieces of a furniture manufacturer, which means they don't contribute to the demand of leather themselves, but recycle scrap pieces of high quality leather that are too small to use for furniture.
The company tries to keep it as green as possible. Founder Justin Snyder, a world traveller himself, says:
"Whenever I hear people discussing whether global warming is real or not I often add: 'What if global warming is a hoax and we make the world a better place for nothing?' The point is that we are the intelligent beings on this planet and we are aware of how incredibly complex and beautiful the world around us is. Any logical human being will realise it is our responsibility to do whatever we can to keep our world looking beautiful."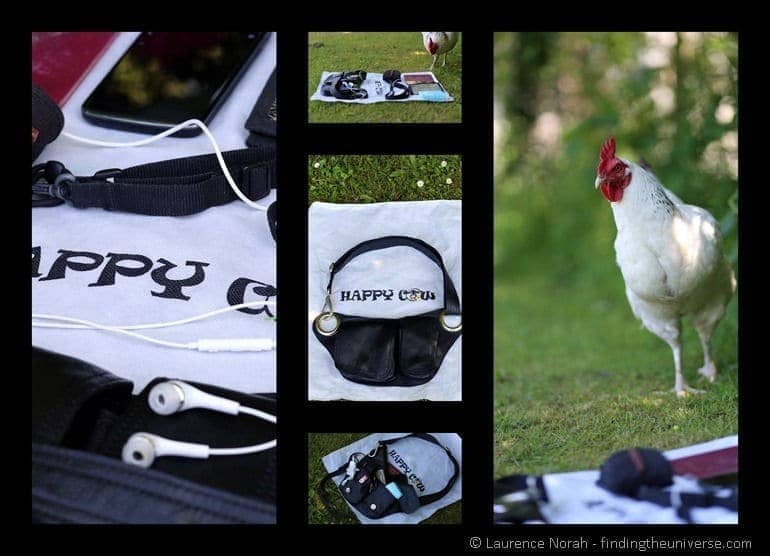 And the bag? It meets all my demands from above, with a few extras as a bonus:
it can be worn over the shoulder as well, which doesn't involve any frantic fumbling thanks to the single-sided metal clip
it comes with four pockets, of which three are zippable (plus two little slip pockets). One is at the back, three at the front, covered by two leather flaps that close over them with magnetic clasps
In short: I'm very happy! I love the design with the big hoops and the metal clip; I'm particularly fond about the carry-it-over-your-shoulder option; I'm amazed at how it adapts to my figure and never feels like a foreign object; and it's so soft I might as well use it as a cushion.
I was a bit worried that the adjustable strap would not stay in place, but it does. I've had it for a few weeks now, and keep looking at it from all possible angles only to find that it was built to last, which I like a lot. What do they call that again? Oh yes: quality!