Somehow, in all my wanders, I'd not made it to Canada. This was a particularly nagging omission in my mind, largely because I'm a passionate landscape photographer, and, well, Canada has some pretty epic landscapes.
Thankfully, the nice folks at Explore Edmonton & Tourism Jasper thought to invite Jess and I over to have a little explore. We spent eight days in Canada in total, partly in the city of Edmonton, and then in Jasper National Park for the Dark Sky Festival. The Dark Sky Festival I'll be covering in an upcoming post.
In this post, I'm going to share our Edmonton experiences, in the form of a series of suggestions to inform your visit, starting with the answer to a question you might have.
Where's Edmonton?
Edmonton is the capital of Alberta, one of Canada's provinces. Alberta is the second province along from the west, bordering British Columbia to the west and Saskatchewan to the east. South, you'll find the US states of Washington and Montana.
Edmonton is relatively central in Alberta, with Jasper / Banff national parks around a four hour drive away. Alberta's other major city, Calgary, is about three hours drive directly south.
So that's the geography sorted. Edmonton itself is a city sitting on a beautiful river valley, with the city on both sides of the river. With a population of over 800,000 it's a fairly sizeable city, meaning there's a lot to do, whatever time of the year you visit. So, without further ado, let's look at:
What To Do In Edmonton
See an Oilers Game
This is the first thing I've got on the list because this was literally the first thing we did in Edmonton after landing and checking in to our hotel. We walked to Rogers Place, and watched the Oilers defeat the Carolina Hurricanes.
If none of that means anything to you, don't worry, I'm not exactly a huge sports follower. The Oilers are the Edmonton Ice Hockey team (I learnt to just call it Hockey in Canada or people looked at me oddly), and they have just had a brand new stadium built in the middle of downtown, called Rogers Place. This is part of a larger development project in downtown Edmonton, which is going to be bringing also sorts of new properties to the city, from hotels to shops. Definitely a case of watch this space.
Rogers Place is a very awesome place to watch sports (as well as music events and so on), and they have an absolutely gigantic TV screen. Hockey is a fast, fun and physical game to watch, and it's hard not to get caught up in the excitement when watching the home team winning. I'd definitely suggest learning a few of the rules before you go if you're not familiar with it, but otherwise, grab yourself a couple of beers, some food, and enjoy!
Take in the Art and Cakes on 124th Street
Edmonton has a thriving art scene. It also has a wonderful culinary scene. If you want to combine the two, with a particular focus on baked good, head to 124th street. Here you'll find two things – a series of excellent art galleries, and the Duchess Bake Shop.
We started our wander with some strength building pastries at the Duchess Bake Shop, who have an extensive selection of baked goods, as well as macaroons, tea and coffee.
Then, we visited a series of art galleries, including the must-visit Bear Claw Gallery and the Peter Robertson Gallery.
The former hosts a wide range of First Nations art, including Native and Inuit art pieces. I particularly loved the giant carved whalebone piece.
The Peter Robertson Gallery hosts a number of different artists. When we were there they had an incredible installation by leading Canadian artist Steve Driscoll. This involved actually flooding the gallery to create gorgeous reflections of the art pieces. To get up close and personal, we were issued with rubber boots. We really enjoyed this exhibition, although the owner of the gallery did say it was quite a lot of work to install!
There are plenty of other galleries and shops to explore along 124th Street.
Go on a Segway Tour
Time for something a little active. But only a little. A Segway tour through the beautiful river valley area of Edmonton with River Valley Adventure Co!
If you've never tried a Segway before, it's a lot of fun, and easy to pick up. Plus, the River Valley folks are very safety conscious, and do a full training session before you head into the real world, to be sure you're fully equipped for action.
Situated in the largest urban park in Canada, there's no shortage of trails for you to explore by Segway, and our trip took us along the beautiful Saskatchewan River, with gorgeous views of the city skyline. The tour lasted just over an hour, although a good part of that was dedicated to the training.
Jess and I had both ridden Segway's before, so we got through the training quite quickly, but usually it's around half an hour of training.
The good news is that once you've done the training, you get a "Segway driver's license", which means you can book additional tours with River Valley Adventure Co that don't include the training portion, meaning more exploring time! We didn't have time for one of those, but we did learn that River Valley also operate tours of Edmonton's downtown area, which sounded like fun.
Peruse Old Strathcona
Remember when I said that Edmonton has a river running through it? Well, south of the river is the historic district of Old Strathcona. This was once a separate city to Edmonton, but the two merged in 1912. It's now a designated Provincial Heritage Area, a status that reflects the many historic buildings that can be found here.
The focus of Old Strathcona is 82nd Street, also known as Whyte Avenue, running from 99th to 109th streets, and a few blocks surrounding. Here, you'll find buildings that are over a hundred years old, as well as plenty of quirky shops and excellent eateries. More on eating in Edmonton towards the end of the post.
Some of the shops that we most enjoyed visitng were the Wee Book Inn, a lovely used bookstore that had pretty much every genre of book you can imagine at very reasonable prices, BlackByrd Music, where we perused vinyl records even though we have no way to play them, David's Tea, because, frankly, Jess is obsessed with tea, and the Old Strathcona Antiques Mall, which has pretty much everything you can imagine, from vintage star wars collectibles to gaming consoles, and everything in between.
This was just scratching the surface of what's on offer – you could easily spend a day in Old Strathcona, eating, shopping and peering at the wall murals. More on those shortly. First though you'll want to…
Take in the Mall
When you're in Edmonton, it's kind of inevitable that people will ask you if you've visited "the Mall". And what they'll be referring to is the West Edmonton Mall. This is the largest shopping mall in North America, and until 2004, held the title of the world's largest mall. Somehow, since then, 9 bigger malls have been built around the world. Progress eh.
Anyway, a visit to the West Edmonton Mall is essentially a must for a trip to Edmonton, even if, like me, you're not a huge fan of shopping. That's because there's way more to do here than just shop (although if you want to shop, there are over 800 stores to choose from).
There's Galaxyland, the world's second largest indoor amusement park, which features 24 rides. We went on a number of these, including the Mindbender, which is the world's largest indoor triple loop roller coaster, which was a heck of a ride. There are rides to suit all kinds, including of course, Jess's favourite, the carousel.
Then there's World Waterpark, the world's second largest indoor waterpark. which features both the worlds largest indoor wave pool, and a 15 slides ranging from beginner to extreme. We tried a variety of these, and I can confirm that the extreme rides definitely are that! Definitely a fun way to spend an afternoon.
There's also a sea life exhibit (with sea lions!), a replica of the Santa Maria, an ice rink and a UV dragon themed mini-golf park. We played the latter which was a lot of fun. Jess won.
The mall itself is a few miles west of Edmonton city centre, but there is a hotel on site (the Fantasyland hotel), which you can stay at if you're keen on enjoying all the facilities on offer. We imagine this would be particularly good for families wanting to take advantage of all the mall has to offer.
Check out the Street Art
Back into Edmonton, and something we noticed when wandering the streets was the high quality of street art on offer. This can be found in locations all over the city – just keep your eyes open for examples like this: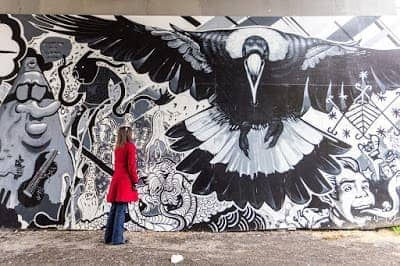 or this:
Visit the Muttart Conservatory
Slightly oddly, just across the river from downtown Edmonton are four large glass pyramids, surrounded by the greenery of the North Saskatchewan river valley. These are the home of the Muttart Conservatory, a botanical garden which hosts four different biomes (hence the four pyramids), featuring plant species from around the world.
Three of the biomes are permanent displays, featuring a temperate zone, an arid zone and a tropical zone. We loved the warmth and lushness of the tropical zone, as well as the cacti on display in the arid zone! The fourth pyramid features a rotating display – when we visited it was a Tuscany themed exhibit, but this changes often.
There's also a decent cafe on site at the Muttart Conservatory, where we enjoyed coffee and some food. Definitely worth adding to your Edmonton adventure!
Take a tour of the Alberta Legislature Building
Edmonton is the capital of Alberta, which means that it has the main buildings of government. The most impressive of these buildings, and the seat of political power in Alberta, is the 1913 Alberta Legislative Building, an impressive Beaux Arts style construction which was popular in Northern America at the time.
The building, which features granite, sandstone, and interiors of marble, mahogany and oak, is both impressive to behold and to visit. More impressively, you can take an entirely free tour and learn all about both the history of the building, the political processes in Alberta, and the people who work here.
It's an interesting tour that lasts around forty-five minutes, and you get to visit all the key parts of the property, learning as you go. Check the official website for tour hours and information. You'll find the nearest public parking on 107th street.
Watch the Sunset
If you've been reading this blog for any period of time you'll probably be aware that my main focus is photography, and I'm a sucker for a good sunset. So obviously I wanted to try and catch a great sunset whilst in town!
I asked a local friend for a good location, and she suggested I visit Ada Boulevard, to the east of the city centre, from where we'd be able to get a great view of the city skyline from a vantage point over the river.
She wasn't wrong. As you can see from the photos, I think this location worked out pretty well! Unfortunately, the weather didn't really work in our favour, so we weren't able to try out any other recommended spots.
Visit the Art Gallery
Even if you're not an art buff, it's worth swinging by the Art Gallery of Alberta anyway to take in the building itself, which was redesigned in 2010, and now looks rather funky.
Of course, you should pop inside too, to take in some of the 6,000 works on display that cover historical and contemporary arts pieces from both Canadian and international artists. We particularly enjoyed the David Altmejd piece titled The Vessel, and the Touch Lab, where you can actually touch and interact with the art.
Jess especially enjoyed the "Beauty's Awakening" exhibit, which featured drawings by pre-Raphaelite, and the opportunity to try out our own hand at portrait drawing. I think we'll stick to photography though.
Visit the Schools Museum
A bit of a oddball for us, in that we just noticed it as we were walking by and decided to pop in, the Edmonton Public Schools Archives and Museum is definitely worth a few minutes of your time. This free museum has a fascinating exhibit on the history of the public schools system in Edmonton from it's early beginning up to the more present day, covering things like curriculums, classroom designs, and how world events like wars and disease impacted daily school life.
It's housed in the oldest brick school in Alberta, so has a serious air of authenticity, and the mock-up classrooms are particularly interesting.
Visit Elk Island
If you have a vehicle during your time in Edmonton, then we very much recommend taking the time to take a trip out to Elk Island National Park. This large expanse of wilderness, around an hour east of the city, is Canada's largest fully enclosed national park, and is one of the best places near Edmonton to see a whole range of wildlife, including bison.
The park offers a number of driving routes and walking trails. We visited on a grey, misty day, and did not have high hopes for seeing much of anything. We drove the "Bison Loop", and only saw mist, which further dampened our optimism.
But then, we spotted a herd of bison in the distance, and after a little more driving, came across a whole clump of them chilling out by the road, almost close enough to touch. Then we saw a coyote, which was also very cool. Finally, we hopped out of the car and took a short walk at some of the lakes, although, I'll be honest, the weather defeated us somewhat!
Still, we were thrilled with our wildlife spotting, and would definitely recommend heading out to Elk Island National Park if you get the chance. There are also various activities in the park available – just check in advance on the official website for scheduling and booking information.
Eat All The Food
Last but not least – you definitely need to check out the food scene in Edmonton. We had so many suggestions for amazing places to try that we were pretty overwhelmed, but we can definitely recommend that you visit the following locations at the very least:
MEAT – Found in Old Strathcona, as the name suggests, this restaurant has a heavy focus on meat. Specifically, BBQ'd meat, which you can order by the pound or half pound and then just ravenously consume. Or, you can cheat like we did, and order it in pre-made sandwich form. They smoke all their own meat, and they create their own BBQ sauces, and the results are pretty epic. Oh, the garlic fries here were some of the best potato based things I've ever eaten. Don't skip them.
Next Act Pub – Right next door to MEAT (we did explore further afield, I promise), the Next Act Pub is a seriously popular venue, serving up a wide selection of great beers as well as some classic pub grub – think wings and burgers. They also feature some of the offerings from the MEAT smokery next door, so if you want to get your meaty fix in a more pub like environment, this is the spot to come.
Mercer Tavern – Directly over the road from Rogers Place, the Mercer Tavern is famous for its chicken, but serves up a wide variety of pub style food, along of course with lots of beer options. It's a great spot to fill up before catching the game, with a nice atmosphere.
Woodwork Edmonton – Of course, Edmonton isn't just pubs and meat. Although, I'd be fine with that. There are plenty of more formal restaurant options, one of our favourites being Woodwork, which offers both hand crafted cocktails and a more formal dining choice. It's still a fairly relaxed location, but if you want something more restaurant and less pub, then this is a good option.
Where to Stay in Edmonton
There's a lot of choice when it comes to Edmonton accommodation, from hostels and motels to mid-range chains and luxury options!
We stayed in two different hotels in Edmonton, one in the downtown area, and one old Old Strathcona. Both were good choices, allowing us to explore different parts of the city.
Our first hotel was the Chateau Lacombe. This is a large circular tower, which happens to also be home to Edmonton's only revolving restaurant (we didn't eat here on this visit, but it's on the list for next time!).
We had a lovely suite with gorgeous views across the city skyline, and really appreciated how easy it was to walk to the downtown highlights, from Roger's Place to the River Valley park.
You can check prices and book online here.
The second hotel was stayed at was the Meterra Hotel. This was located on Whyte Avenue in the heard of Old Strathcona, and was the perfect location for exploring the south side of the city. Check prices and book online here.
We had a standard double room here, and very much appreciated both the included breakfast, as well as the afternoon complimentary cheese and wine tasting – something all hotels should have, we concluded.
When To Visit Edmonton
Edmonton has a fairly varied climate. To someone like me, coming from the UK, the extremes of temperature between summer and winter were quite a surprise. There's no "bad" time to visit Edmonton, although of course it depends what you're looking for.
In summer, days are long and often hot, and there are lots of festivals to keep you entertained. In Winter, you can ski in the city centre. The main thing is to figure out what the climate is likely to be doing when you visit, and pack your clothes accordingly!
Getting Around Edmonton
Edmonton is a fairly easy city to get around, with an extensive public transit network that includes buses and trains. You can also take Taxis, and the city is of course covered with Uber as well.
We had a hire car during our stay, which made getting around a lot easier – but just be aware that parking in the city centre generally isn't free, and most city centre hotels charge in the region of $18 CAD per night for parking.
If you want somewhere to head to after Edmonton, we can highly recommend visiting Jasper. Check out this guide to getting from Edmonton to Jasper for some tips on how to do that, and what to see on the way.
And that pretty much sums up our time in Edmonton! Have you visited Edmonton, or are you from Edmonton? Anything you'd add to our to-do list? Let us know in the comments below!
Disclosure: We were hosted on our eight day trip to Canada by Explore Edmonton and Tourism Jasper who covered our accommodation, flights, car rental and activities, as well as covering additional expenses. Our ability to eat and explore and share our opinions remain our own – check out our code of ethics here for how we choose who to work with.