So, you've come to Rio de Janeiro and, amongst other things, you've got two of the must-do sights on your itinerary: Pao de Acucar: the sugar loaf mountain, and the Christ the Redeemer statue.
On our trip to Rio, we definitely didn't want to miss out on these two. As a result of our efforts, we ended up with a lot of useful information which will help you to plan your visit, including how to actually get to Christ the Redeemer and Sugar Loaf mountain, as well as how to get tickets for them both.
First though, our main tip for visiting: be spontaneous if you can. The best experience is to visit these locations on a clear and sunny day, so if you wake up in the morning and see blue sky, that's the day to head up!
We think the best way to make use of a clear and sunny day is to go to the sugar loaf mountain in the morning and Christ the Redeemer in the afternoon, with the aim of catching sunset from the latter. We chose this order as well, so we'll start this guide with the sugar loaf mountain. If you're just looking for advice on getting to and getting tickets for Christ the Redeemer, just scroll down.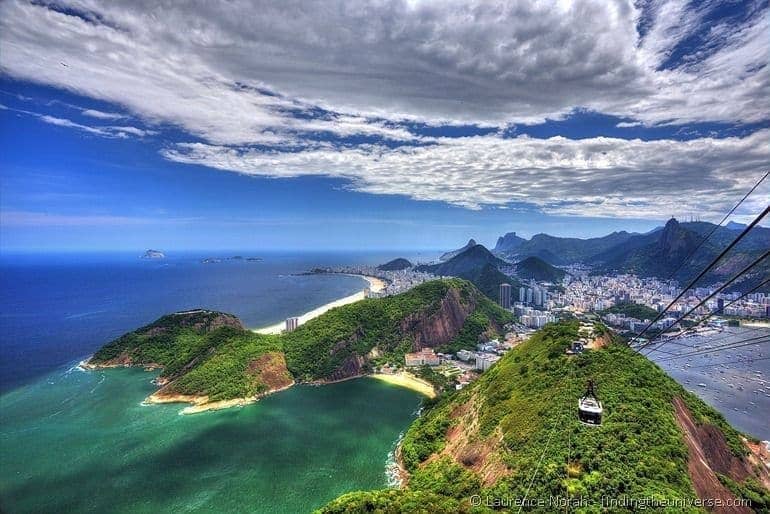 Getting to Sugar Loaf Mountain
Rio de Janeiro is not what we would call a walkable city – it's huge! The sugar loaf mountain is situated in Urca, and chances are that your accommodation isn't anywhere near that, so what are your options?
By cab: the easiest way. Although English is not commonly spoken throughout Rio, Cab drivers should know what you're talking about (or you can try pronouncing the Portuguese expression, Pao de Acucar – however you manage to massacre it, it should work, too!). The fool-proof method is to have a little map handy (your hostel/hotel should have one for you) and point it out to your driver.
By public transport: the cheapest way. There are at least two bus lines that go to the base of sugar hill mountain; the 511 to "Ataulfo de Paiva" and the 512 to "Bartholomeu Mitre". Have small bills and change ready to pay for your fare, and note that you won't receive a ticket.
Going up Sugar Loaf Mountain
There are two different ways to get up the sugar loaf mountain, which also means two different prices. You can either use the cable car from the base to get to the first hill (Morro da Urca) and also the second one, then your ticket will cost 53 R$ (~17 Euros), or you can walk up, and then buy your ticket for the cable car from the first to the second hill (Pao de Acucar) there for 22 R$ (~7 Euros).
We did not do the walk, but found that it is not clearly sign-posted, so we suggest you ask a local as to where it starts.
What to expect on Sugar Loaf Mountain
A pretty amazing experience! Views from both hills are stunning, and you will probably spend more time than you thought you would. The cable cars are operated very regularly, and even though we visited on a day when it was not overly crowded, it was clear that they are very capable of dealing with big crowds.
On both hills combined there are a number of restaurants, snack bars, cafés, souvenir shops, and rest rooms, of course. There is also a little interactive museum, the former two cable car generations on display, forest walks… oh, and you could charter a helicopter from here; flights starting at 240 R$ (~75 Euros)!
Verdict: A really great sight you shouldn't miss out on. There is a lot of space up there, so it can accommodate a lot of people, without being cramped. You can still lean at the railing and feel a sense of peace and awe overlooking Rio de Janeiro. All our four thumbs up!
Additional tip: back at the base, don't be too quick to rush off and back to the city again! Walk on over to the small beach (Praia Vermelha), situated in a picturesque bay. There is also and very unexpectedly a statue of the Polish composer Chopin! And if you want to see one of the world's smallest monkeys in the wild, you can take a stroll along the hill on a coastal walk; that's where they live and grace you with their presence if they feel like it!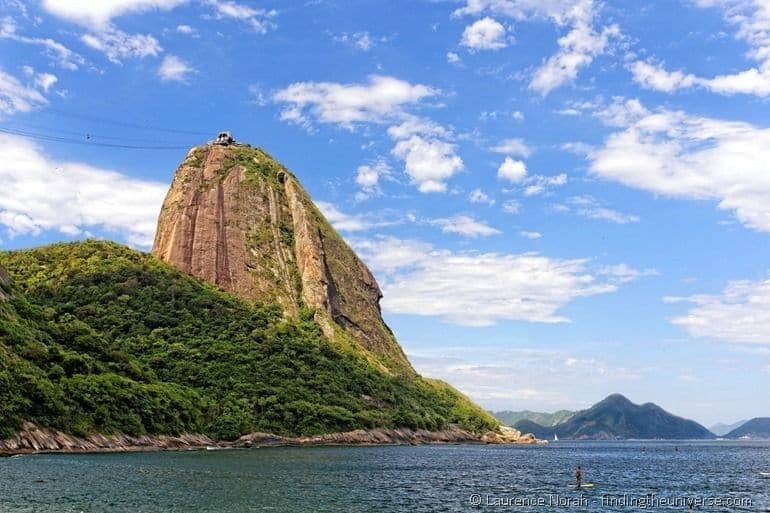 Getting To Christ the Redeemer
There are various ways of getting to the top of Christ the Redeemer, but you have to be aware that tickets are only sold at specific locations. The way you get to the top dictates where you get your ticket.
Don't worry if this sounds confusing. We were a bit confused too, and decided we would seek help with the professionals: the people at the tourist office! There are five of these offices in the city.
We went to the one at the Avenida Princesa Isabel, 183, in Copacabana, where we not only received extensive information, but also a map, a little flyer with twelve popular sights, and a whole Rio-de-Janeiro guide – all for free. A recommended stop.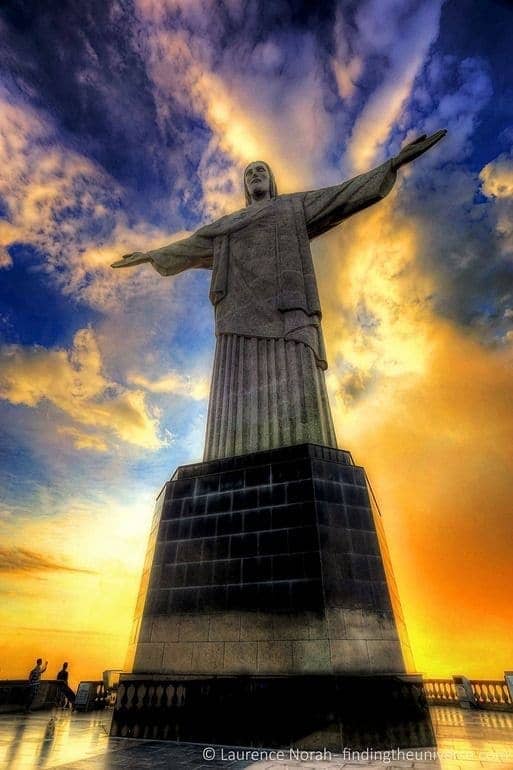 Getting your ticket for Christ the Redeemer
So now, to answer your question, where can you get your ticket for Christ the Redeemer? Well, as we said, it depends on how you want to get up to the peak of Corcovado mountain. We were advised as to the various options for getting to the top by the nice people in the tourist information. These were:
Option 1: by tram
The traditional way to go up is by tram through the scenic Tijuca National Park.
For this you can either just rock up at the Corcovado tram station on Rua Cosme Velho and buy your ticket there, then take the tram up.
Or you can get the ticket for the tram at a ticket counter in downtown (centro) Rio, at Candelaria Street no. 6, then head over to the tram station and go straight up, skipping the line.
If you want to plan ahead and get a ticket for the next day, so you don't need to wait in line, you can buy it in the shopping centre "Rio Sul" in north Copacabana, Lauro Müller Street 116; but note: payment by credit card only, no cash!
We chose the tram ride, and went to buy a ticket for the next day at the shopping centre, because we weren't quite sure whether it would be too late to go, as it was already 4pm. But the young woman at the ticket counter laughed our worries away and sent us on our way, assuring us it wouldn't be busy and we would have plenty of time to enjoy the train ride and the view from the top. So we went.
And she was right: there was no queue at all, and another young woman immediately came up to assist us, accompanied us to the ticket counter and, before we bought the tickets, dutifully informed us that there were going to be clouds at the top and unfortunately they would not be able to refund our tickets were we to be troubled by that.
We spontaneously decided that clouds would most likely not give us any troubles, and she smiled broadly, handed us our tickets and three minutes later, we were on our way. Too easy.
Price: 46 R$ (~14,50 Euro) for the Round trip
Option 2: by van
You will get your ticket at the ticket counter at Largo do Machado, which is also the departure location for the vans. The official vehicles have a sign saying "Parque Nacional da Tijuca".
Note: it is possible to drive up with a taxi or your own vehicle, but only part of the way. You will still have to board an official van for the last bit, and you will have to buy the right ticket before that!
Price: the prices vary between low and high season, but expect something between 35-45 R$ (~11-14 Euro)
Option 3: book a tour
Our hotel offered one, for example, and I think that's quite common, so if it is something you would like to do, ask the staff at your hotel reception for information – even if the place you're staying at doesn't offer one, they will know a company they can recommend.
Option 4: hike up
If you don't feel challenged enough by getting up a mountain by tram or van, there is also the option to hike your way to the top, right through Tijuca National Park!
Just be aware that the hike is quite steep, and it will take you two and a half to three hours. The track starts in the Botanical Garden, and you can either walk up on your own, or, again, as part of a tour.
I have read online that hikers can purchase tickets at the top, but I have not been able to confirm that information, so I would advise you to make sure you either have a ticket or have it from an official source that you can buy it at the top before you go.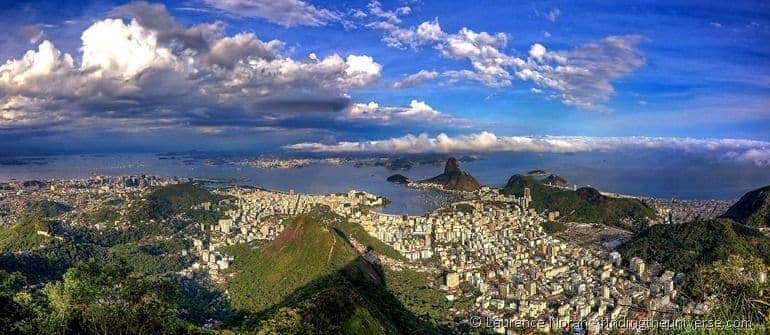 Right. That was quite a bit of information, wasn't it? But once you know which of the options you prefer, you just go for it, and when you find yourself at the top, overlooking Rio de Janeiro, at the feet of the largest Art Deco statue in the world and Rio's most renowned landmark, nothing really matters anymore – except for how to get the perfect shot of yourself in front of the statue, of course!
What to expect at Christ the Redeemer
I'm really at a loss for words here; it was a truly special experience. I can't say if we were particularly lucky, or if it was due to the low season, but it was not anywhere as crowded as I expected, and we also met a very nice guy who works for the Rio Tourism Board as a guide, and who ended up pointing out different bits of the city for me.
Clouds kept coming through, the sun began to set, people laughed, moved, posed, leaned on the wall and gazed over the city – until a man came around and informed us that the last tram back to the bottom was about to leave, which was the only good reason we could think of that could tear us away from the views and everything else.
So, I hope these two sights made it on your list if they weren't already on it! And I also hope I can encourage you to seek customer service; be it that you get advice from the place you're staying at, or the tourist office, or whoever you happen to run into who speaks English, because in the end it is the local people who can answer your questions best and who will help you make the most of your stay.
In fact, even if they didn't speak English, the people of Rio conversed with us: I just remember the taxi driver who took us home from Christ the Redeemer, playing a CD with waltzes, humming along; who, after a little while into the drive, gently pointed out the moon to us, rising next to the gigantic landmark we had just left, and how he smiled to himself when he saw our excitement.
We were happy to find everyone we turned to to be really helpful and encouraging – and right with the advice they gave us! We wish you equally great experiences, whether it's in Rio or anywhere else in the world – take care and enjoy yourselves!
Further Reading and Resources for Visiting Rio, Christ the Redeemer and Sugar Loaf Mountain
Rio is much more than just these two sights, so here's some further reading and resources to help you plan your trip!