Today's post was written for us by Jay, and it tackles the subject of travelling Australia's Gold Coast on a budget.
I spent a year in Australia on a 60,000km road trip in '09, and watched as the price of the currency I was buying rose steadily against my poor weakening pound, so the advice in here is good news for anyone looking to squeeze the last drops out of their currency. For more advice on Australia, check out our series of Australia Guides!
Australia is one of the most stunning countries you could ever visit, with the Gold Coast being one of the most popular areas for tourists to head to. There are many Gold Coast wedding destinations to consider if you're thinking of getting married.
The sprawling coastal city is home to a huge amount of attractions for the whole family, giving some of the most built up areas of this usually crowd-free country a feel similar to Las Vegas.
The amusement parks include Dreamworld, Sea World, Wet 'n' Wild, WhiteWater World and the Warner Bros. Movie World. You'll also be able to interact with many of nature's creatures at the Currumbin Wildlife Sanctuary.
There is so much to do here, each day of your trip can be packed full of action and adventure, which can all start to make a big dent in your budget. But the good news is that it doesn't have to. It is possible to visit Australia's Gold Coast on a budget.
One of the best ways to save on your long haul vacation is to compare currency exchange rates for the Australian Dollar to make sure you get a great rate. Then, when booking your flight, keep monitoring the prices online and check with a variety of different airlines. The flight is one of the biggest costs when heading to anywhere in Australia, but as the Gold Coast is such a popular destination it is relatively easy to find cheap deals from a variety of US airports.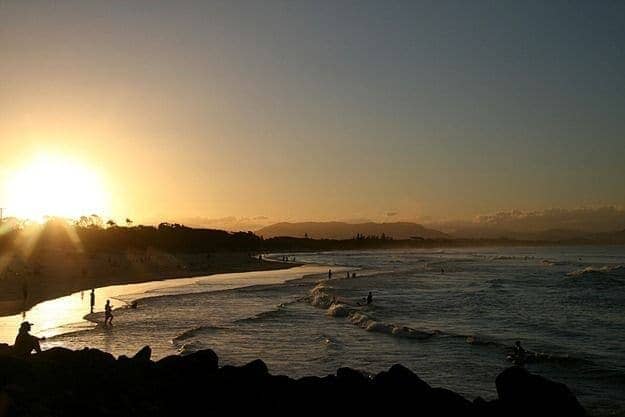 Getting the best deal on a flight may involve a stopover for a few days somewhere along the way, or at least a few hours while you change planes somewhere. Being a little creative with your flights and not being fussy about a couple of changes can actually get you a good deal. If you're not confident on finding flights yourself, try going through a tour operator who'll be able to book your entire trip for you including your flights and accommodation.
If you haven't already got your accommodation sorted out, consider staying in hostels or backpacker accommodation while you're on the Gold Coast. Throughout Australia there are thousands of hostels offering private rooms as well as shared dorms. There are mainstream chains and independents all over the Gold Coast offering great deals on nightly rates. If you're feeling a little more adventurous why not hire a campervan?
Whichever way you want your holiday to go, there are great ways to see and do everything while sticking to your budget.
Thanks to Jay for providing today's post! Got any more tips for travelling Australia on a budget? Do share them in the comments!