When I saw our planned schedule for visiting parts of northern Thailand included visits to various hill tribes, I have to admit to feeling a little uncomfortable.
You see, I'm not really a big fan of seeing people as a tourist attraction. It often feels artificial, or contrived, or like we're trying to preserve some aspect of life that would no longer be true had we not created a bizarre human zoo.
Being proud of your cultural heritage is one thing, but being forced to live out some tourists fantasy of what your life should be like just grates with me. After all, no-one visits the UK and expects to see folks walking around in Elisabeathan dress, fpeaking like fhakefeare. Do they?
Add to this the recent post I'd seen from Diana of dtravelsround on her experience visiting a hill tribe in Thailand, and, well, you could say my expectations weren't exactly high.
So it was a rather nice surprise to find ourselves having quite the most magnificent of days visiting some Karen people in their village in the Doi Inthanon national park, just to the south of Chiang Mai in northern Thailand.
To start with, we were welcomed into the village with a coffee. Not just any old coffee mind you. Coffee turned out to be one of the villages principle chief products, and the coffee beans we were drinking had likely grown on the trees that we could actually see.
The coffee we drank first had to be ground from the recently roasted beans, and Vera got particularly excited about hand grinding the beans whilst the water heated in the wood fired kettle. These two were then mixed, in the Thai style, to create a fairly sublime brew.
With the experience off on the right foot, we were off to explore the village, just Vera and I, with the instruction to treat it like our home. I loved the style of the wooden buildings, up on stilts, with chickens and pigs providing the animal entertainment. Kids played, and largely ignored us, and we greeted everyone we saw with the Thai greeting of Sawasdee. I took a whole bunch of photos of the buildings and animals, but being largely uncomfortable with the idea of taking pictures of strangers, I failed on that front.
Wander over, we met up with our guide who was going to take us on a hike to see a series of waterfalls on the local river, which tumbled down the mountain behind the village and provided the water for the rice paddies. The best part of the hike being that we drove to the top, and hiked down, thus enjoying the view with less of the exertion.
Our guide, Ken, was a local himself, although not from this village. He was in fact standing in to help out some friends, and was just travelling around. His history was pretty interesting, having had stints as a monk, a security guard, and now being part of a business involved in the creation and export of dried flowers.
From Ken we learnt a lot. He told us how his people, the Karen, had left Mongolia during the time of Genghis Knan, largely because they weren't into the whole empire building military thing. Over time they had spread across Asia, with different parts of the tribe taking different routes, some into Nepal, others into India, and other into Burma. This, he said, explained why the different people, although all Karen, looked different, due to the mixing of the bloodlines as they slowly migrated.
He also talked to us about the more recent history of the Karen. For a long time they had farmed opium, this being the most profitable of crops to grow in this area. With direct influence from the Thai King though, and the setting up of various Royal Projects, these days the principle products are rice, flowers and coffee.
The coffee was of much interest to me, being an avid drinker. I learnt that the trees were originally brought in to Thailand by various missionaries, who didn't do so well in converting the local population to their religions, but did a wonderful job of opening their eyes to the world of coffee. Take the coffee, leave the religion was the overall result. Probably not the one the missionaries were hoping for.
For over thirty years now coffee has been a major crop of the village, with every stage of the production – from growing through to roasting – handled on site. And some seriously tasty stuff it was too – with as much free coffee as you wanted available to drink.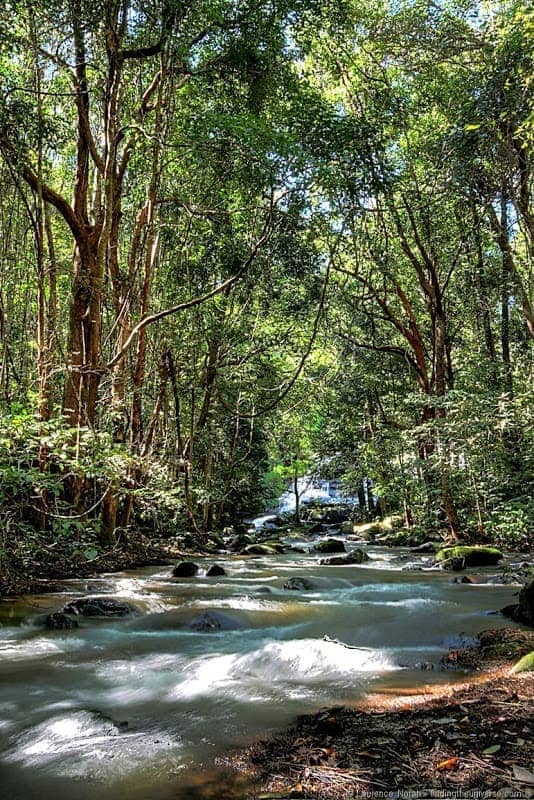 The waterfall walk we took was also beautiful, meandering along the side of the river, which occasionally tumbled off the edge of a cliff to produce a mighty spray and a beautiful view. There was even the option of swimming on the way, but we hadn't come entirely prepared so gave that a miss.
As we walked, we also learnt about the various plants and roots that had different medicinal value, even trying out some berries that were good for the throat. Vera, who had been suffering from a sore throat, swore they helped. I found them rather on the bitter side.
Tourism is of course a contributing factor to the ongoing success of the village, but as a part of the whole rather than the sole income. This, I think, is what made the visit feel less contrived. These were not a people sitting around in dress that went out of fashion two hundred years ago, pretending to live a life that didn't reflect a present reality.
These were a people, proud of their heritage, keen to share their lives with a passing world. If you wanted to know more, you could ask. Vera sure did, learning everything from the history of the drug trade to how to behave in the presence of a monk. It was really fascinating stuff, chatting over coffee and as we walked through stunning scenery.
Plus, there was no hard sell of anything. We bought some coffee beans as a gift, and the walk was a fixed price of 200 Baht for the guide, with whom we spent around three hours. This money, we found out, went directly to the village, to help fund schooling and other community projects. For those people who wanted even more of a local experience, there were home stays available.
If you want to visit Doi Inthanon, I can really recommend taking the time to visit a hill tribe and learn more about the people here. This is probably best done in as small a group as possible so you can really get to know the people more personally.
The guide we took, Ken, is still (as of 2019) available for tours, both of the Inthanon region, and also of Chiang Mai and northern Thailand. Since writing the post, he has also opened a small campsite in the area. We can highly recommend him. Ken can be contacted by phone at +66828984894 (0828984894 if calling locally) and his email address is secleecoffee@gmail.com. He also has the Facebook pages: Seclee Coffee / Seclee Cozy Home.
Our visit to Doi Inthanon was done in partnership with the Thailand Tourism board, who helped out with all kinds of logistics.
We launched our trip to Doi Inthanon from Chiang Mai, from where you can arrange tours like this.