Heat. Waves of the stuff. It was a prevailing theme on our bus trip up to Chiang Mai. Sure, the bus had air conditioning, but this particular bus had more pressing concerns to worry about than keeping its passengers cool. For example: getting its passengers to their destination.
The bus we had chosen for the trip was perhaps not the most robust of creatures. An hour into the journey, it had a bit of a moment, perhaps existential in nature, and released a great deal of oil onto the road. It then plainly refused to start, thinking perhaps that life as an immobile trendy coffee shop was going to be a better future.
Our keen bus staff were not so sure of this decision, and spent a fair amount of time with the assistance of many peering passengers, rummaging around in the engine bay and poking at various complex looking mechanical contrivances. Then a scooter turned up bearing precious oil, which seemed to convince our bus, after the odd false start or ten, that she was ready to tackle the remainder of our journey.
Sitting in the sun during this whole episode did however mean that the interior temperature had soared somewhat, a temperature that the air conditioning system feebly attempted and entirely failed to overcome.
Luckily for me I was sitting underneath this air conditioning unit, which meant that every now and then it would show cooling enthusiasm by depositing quantities of refreshing water over me whenever the bus took on a particularly violent bend.
Seven or so hours of this later, and we arrived into Chiang Mai slightly warm and damp to the touch, where I consulted my hastily written note regarding the hostel we were staying at, after which we hopped into a taxi, and were deposited at the door of the Viva Chiang Mai.
Despite the fact that my clothes were stuck to my body, and the probably slightly desperate look in my eyes, we were welcomed very warmly and I have to admit, the place looked frankly incredible. Little thatched villas were arranged in a calm garden, with a serene looking pool to match. Heavenly.
The staff, though, seemed a little confused by our arrival. as there was no record of our booking on their system. After some to'ing and fro'ing, it turned out that my hastily scribbled note had failed to take into account the fact that there were two Viva locations in Chiang Mai, and I'd taken us to the wrong one. On the entirely opposite side of town.
The test of a good accommodations provider though, is how they react to these little upsets, even when caused by the blithering idiot of a customer standing in front of them, quietly perspiring, and the staff in this case were exceptional.
First we were offered the use of a villa to take a shower in (clearly in need by this point), and then we were to be shuttled across town to the real location, at no additional expense. That's customer service, and the shower was possibly the best I've ever had.
Finally, therefore, and a little bit later than I had estimated, we arrived at the Viva Chiang Mai homestay, in the south east corner of Chiang Mai, around five kilometres from the city centre, which is the actual substance of today's post.
Here we were welcomed by the owner Mǔu and shown to our room, where my preconceptions of a homestay were exploded. Six individual and natural looking chalets, all en suite (one of which is even a tree house!) were arranged around a large central garden.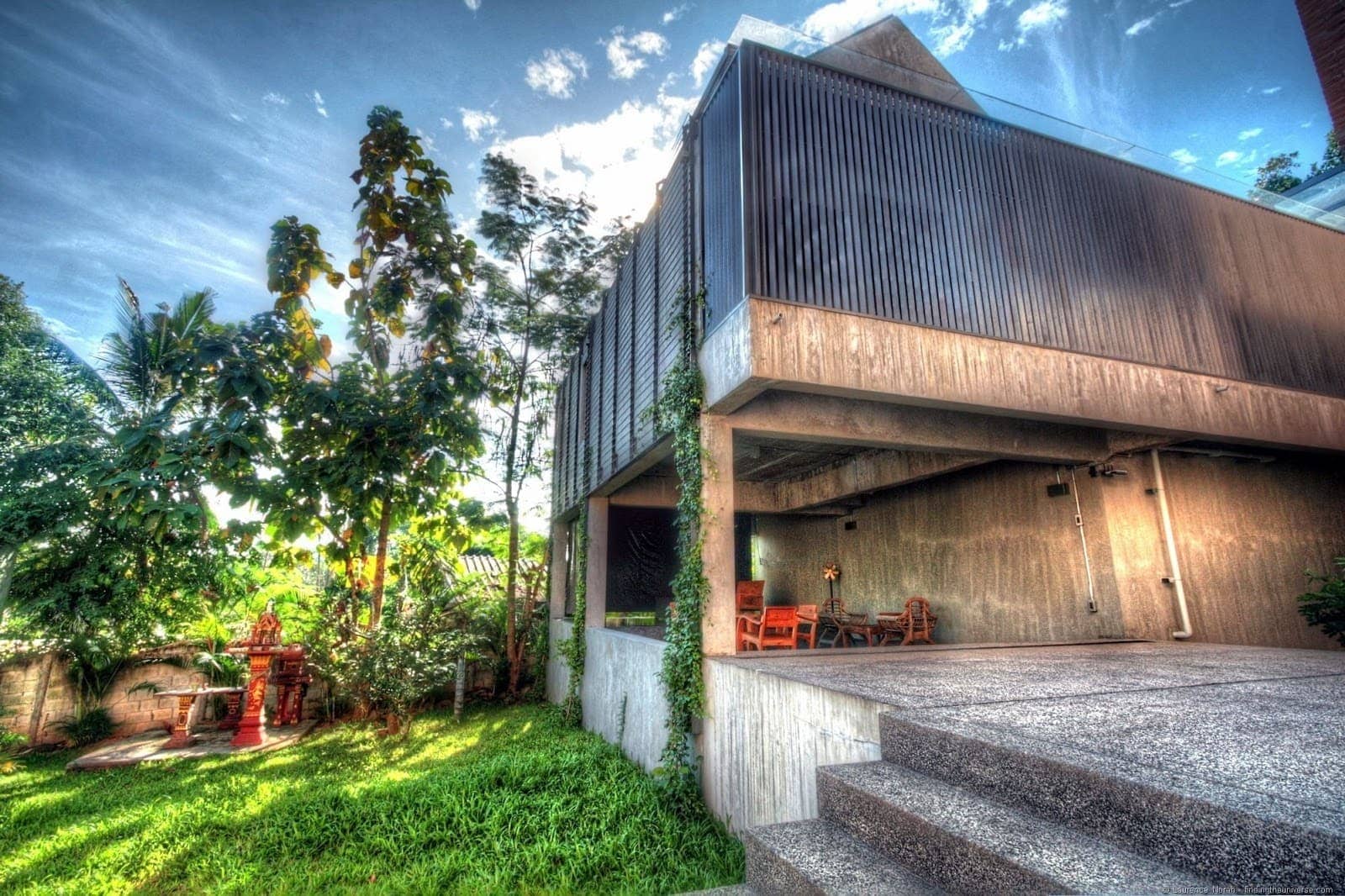 In contrast to these, a minimalist themed central building featured an open to the elements TV room, a gym, and a dining area. There were also dedicated spaces for yoga and meditation, carefully placed to offer quiet places to relax and find one's inner zen.
We chatted with Mǔu, who turned out to be an exceptionally well travelled lady (over 77 countries visited to date, hence the large collection of guide books in one of the shots!), about the concept she had come up with. The idea, she said, was that people should feel like they were staying in her home. She just happened to have a larger home than most.
Relaxation and retreat were the key themes – married with all the conveniences of a modern world. There was even a kitchen, a first for us on our travels in Thailand, where your own food could be made if you were so inclined.
Other services on offer included free wi-fi, bicycle hire, breakfast, and a massage studio, as well as local information and advice on how best to fill your time.
We filled our time taking maximum advantage of the relaxation on offer, writing out some posts, editing some photos, and all the other things that come with taking your office on your travels. We also managed to squeeze in some laundry, a trip to the Chiang Mai immigration office, and a zip lining day trip. So not all hard work.
Overall, we found the Viva Chiang Mai to be the perfect place to get away from it all, with the option to head into Chiang Mai there if we wanted it. We found it took just over an hour to tackle the journey by foot, twenty or so minutes on a bike, or about ten minutes by car.
Being situated in a little village of it's own meant there were plenty of choices for eating out (including an incredible seafood restaurant about ten minutes away), or for a bit of neighbourhood wandering, where we made friends with the neighbours chickens.
If you are looking for a bit of an escape from the bustle of Chiang Mai, somewhere to recharge the batteries and experience some local culture, then the Viva Chiang Mai homestay in Chiang Mai is likely going to be somewhere you'll enjoy staying.
If you're looking for a central party hostel, then this is definitively not it – but there are no shortage of those to be found, and a change, as they say, is as good as a rest.
Note – we were hosted for our stay in Chiang Mai at the Viva Chiang Mai homestay by HostelBookers, in return for writing up our thoughts on the location. The type of thoughts were not specified – we'll always write what we think!