A good friend of mine recently spent a few days in Marrakech, and asked if she could blog about it here on Finding the Universe. I was happy to say yes! So read on to find out more about what Monica and her Mum found to do in Marrrakech, and when you're done, check out Monica's awesome food blog, smarterfitter.com.
My mother recently came to visit me in the UK from the USA and whenever she comes to stay, we always try to take a side-trip to another country. Before she arrived, we chatted on the phone and I brought up that we hadn't made any such plans yet.
Fifteen minutes later (and one declaration from my mom that "I love everything Moroccan!"), we had flights booked to Marrakech. Our other travel plans meant we'd only have three days and two nights in the city, but three days is better than zero and we were fuelled by the buzz of spontaneity and the promise of a new experience, vowing to make the most of those three days – and we did.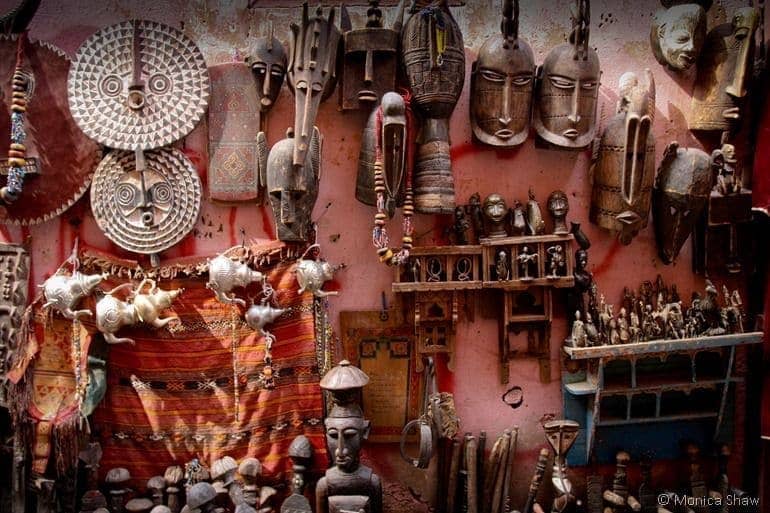 The trip proved that even a short visit to Marrakech is worth the effort to experience this incredibly vibrant and diverse city (I'm reminded of a souk seller who said to me, "Smile! You're in Marrakech!"). Here's a few things that made our trip all the better, plus a few lessons in what we'll do differently next time.
Tips for Visiting Marrakech
Stay in a centrally located riad.
One of the best things we did in Marrakech was to stay somewhere central to the main sites. We found our base at Riad Tizwa in the central Medina, walking distance from the historical main square of Jemma El Fna and the souks.
A "riad" is a large traditional house built around a central courtyard; in Marrakech many of these riads operate as guest houses and provide a much more intimate experience of the city than a traditional hotel. Such was the case with Riad Tizwa, a beautiful palatial home scented with local perfume and full of light, greenery, fruit trees and flowers.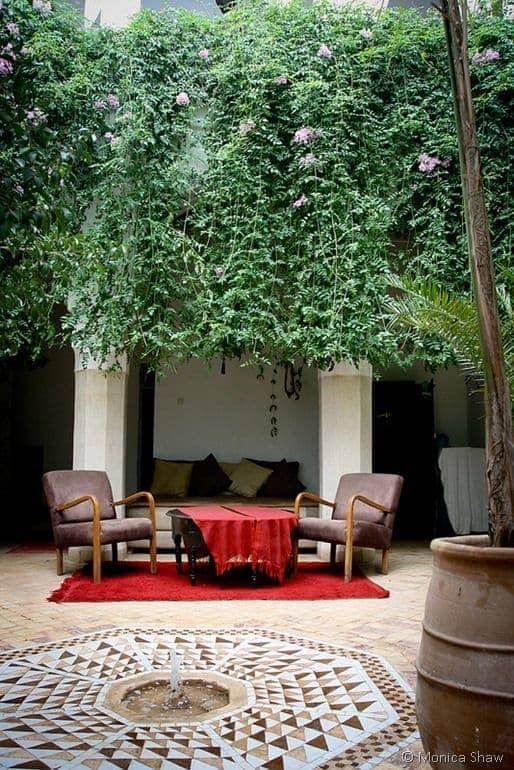 Our room on the ground floor had a beautiful free-standing bathtub equipped with luxurious handmade soaps and – important but rare in sweltering Morocco – air conditioning! However our favourite part of the stay wasn't the room but the breakfast on the rooftop terrace.
The terrace itself was its own hidden oasis, overlooking the city and a great place to relax over coffee and breakfast, which was in every way perfect: fresh mint tea, fruit, yogurt, pastry, jam and fresh juice. I loved that they put avocado in their fruit salad.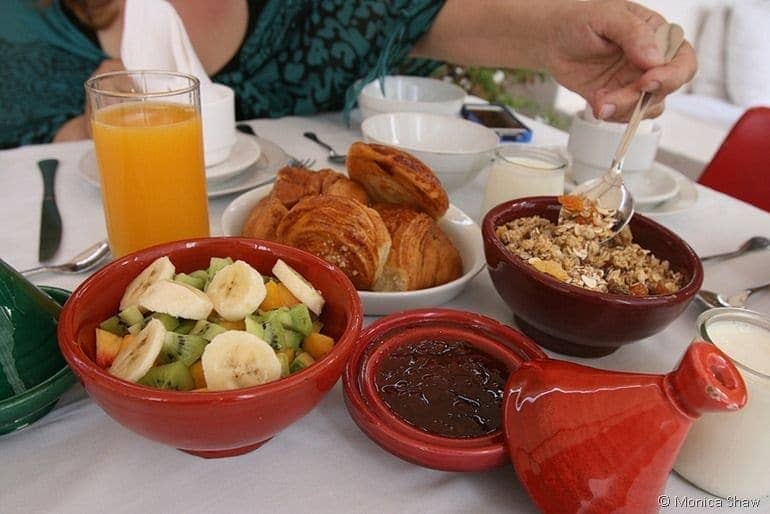 Everything was so fresh and the staff so friendly; the breakfasts made us smile and gave us much-needed energy for the day's adventures beyond the riad.
There are plenty more accommodation options in Marrakech of course – see a full selection of listings here to find one that is right for your tastes and budget.
Eat a traditional Moroccan feast
When we first arrived in Marrakech, it was evening and we were hungry but totally clueless about where to go for dinner. Fortunately, Riad Tizwa came to our rescue and booked us in at a nearby restaurant, Ksar Essaoussan. We had no idea what an epic feast awaited us.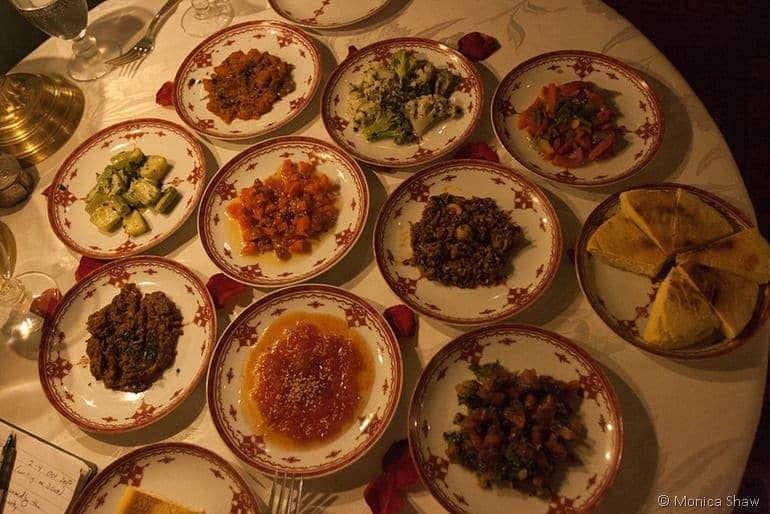 To our collective vegetarian delight, meals started with a selection of cooked and raw salads, but not salads as I'm used too. These were more like little tasting plates of vegetables in various chopped, grated or pureed form. As a result, you didn't quite know what you were eating until you tried it, making each dish an exciting surprise.
Memorable salads include a celery and tomato diced salad with herbs which reminded us of tabbouleh without bulgar. We also had some amazing cooked peppers and tomato seasoned with paprika, cumin and garlic. Spices. Spices were used across the dishes in all kinds of crazy unexpected ways (tomato and cinnamon, for example, and it works).
Main courses were less of a surprise, but I think this is largely due to the vegetarian thing. Everywhere we went we got couscous and tagine, all delicious and wonderful, but with surprisingly very little variation. Carrot and parsnip were par for the tagine course, with the occasional cauliflower or green pepper. Only once did we get chickpeas in our tagine.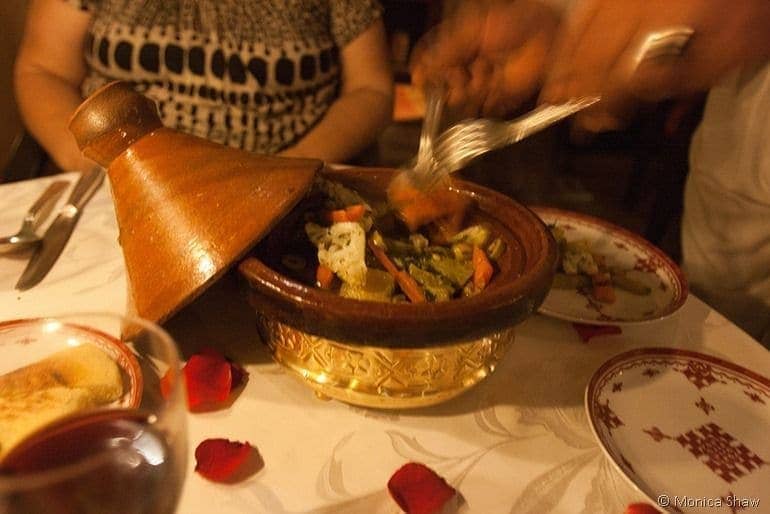 We kept talking about how good the tagines were, but how much we wished they had more of this or that, particularly cauliflower (my mother and I both are cauliflower fiends). But a glance at the city's food markets made it pretty clear that these people were working with a pretty limited selection of ingredients, purely dictated by what was in season at the time. But isn't that the way it should be? In a way, this makes the tagine the ultimate seasonal stew.
Don't only eat traditional Moroccan feasts
Being in Marrakech, we felt compelled to eat as much Moroccan food as possible, and had another amazing epic dinner at Le Tobsil on our second night. However, in hindsight, mom and I both agreed that we would have rather left our feasting to one meal, and perhaps think outside the box for our other meals.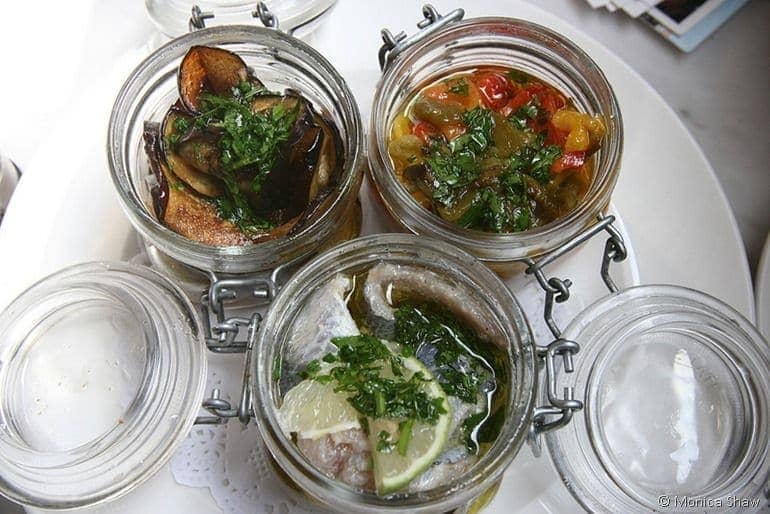 Marrakech is brimming with amazing food, not only traditional Moroccan; you'll also find French and Asian influences aplenty throughout the city.
One of our favourite meals was at Cafe de la Poste, where we enjoyed an amazing trio of antipasti with delicious bread, followed by salad with fresh burrata and a cheese and herb omelette that mom decreed the best omelette she's ever had: "That omelette blew me away…. unreal creamy texture, yet browned parts. Incredible… it will be my quest to make an omelette as good as this!"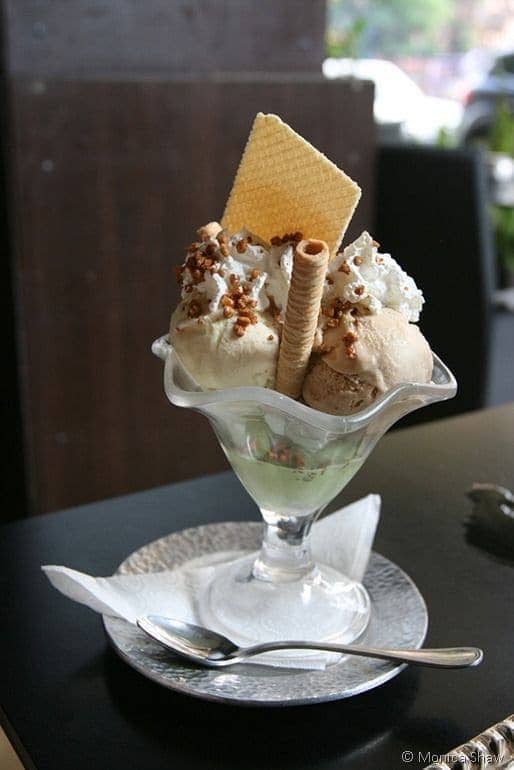 Later, just before our flight back the UK, we found the ultimate "snack" at Cafe Elite: a stupendous avocado, date and almond smoothie. This on its own would have been far too healthy, so we got one of their ice cream sundaes to share on the side.
Haggle at the souks
It wasn't all food and feasting in Marrakech – after all, we had to work off the calories somehow. We did much of this in Marrakech's famous souks, a literal maze of shop vendors selling, well, a lot of everything: spices, bags, scarves, baskets, carpets, shoes, lamps, perfumes, clothes, socks, fruit, beads.
There must be hundreds of these sellers in the souk, and it's all incredibly overwhelming and chaotic, but an essential rite of passage in going to Marrakech. Haggling is expected, and it's worth having a go at it just for the experience and sheer spectacle of the place. Expect to get lost. Be prepared to say no. And take lots of water breaks (drink only the bottled stuff!).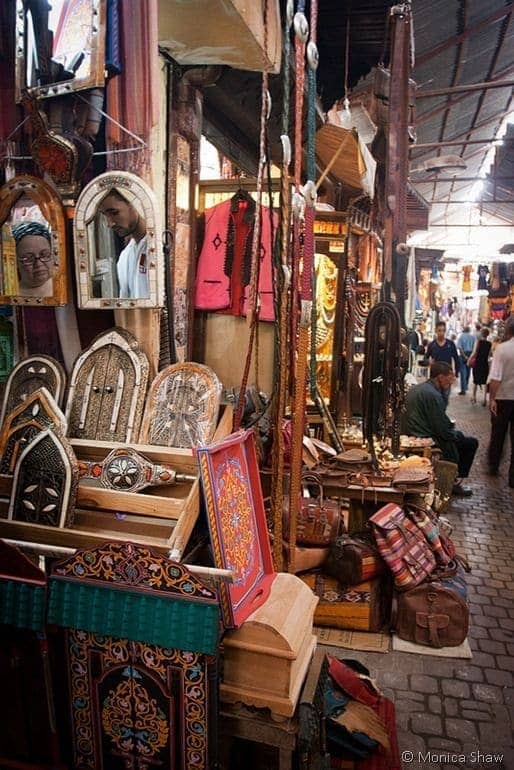 You can also hire a guide to take you around and keep you from caving to one of the many people who will vie for your attention (sometimes grabbing your arm or chasing you down the passageways if you're not careful!). Mom and I agree we will definitely be hiring a guide for next time.
Use taxis
There's no way we would have found Riad Tizwa were it not for the taxi driver we organised through the riad. The place was hidden down the maze of the Medina's side streets and located behind an unmarked door.
Word to the wise: if your riad or hotel offers airport pickup, take them up on it! It's also worth taking taxis around town to save time and to help you find other hard to find places like restaurants and shops.
Get out of the city centre
It's worth getting out of the central Medina and into other parts of Marrakech, where it will feel a bit like you've entered a different city. Mom and I spent our last day in the Gueliz quarter, the modern area of Marrakech where we found a refreshingly more relaxed atmosphere for shopping and dining. Gueliz has a good number of high-end shops where you can buy quality Moroccan wares without ever needing to haggle. Who would ever have thought that a price tag could be so reassuring?
Gueliz is also home to the aforementioned Cafe de La Poste and Cafe Elite, both of which I highly recommend.
As a testament to the lure of this great city, mom and I are already brainstorming our next trip back to Marrakech. A weekend alone was only a taster (albeit a very generous taster!). Still, there are more neighbourhoods to see, restaurants to try and poufs to buy, not to mention a world outside of Marrakech to explore.
Further Reading on Marrakech
Thanks to Monica for providing such an informative post! If you're looking for more reading on Morocco check out the following:
And that's it! Have feedback or thoughts on the above? Let us know in the comments below!