We've visited Aberdeen a number of times, and have always been really impressed by the variety and quality of restaurants on offer. So impressed in fact, that we decided to put together a whole guide to our favourite places to eat in Aberdeen.
Of course, this only scratches the surface of Aberdeen restaurants, but if you're visiting Aberdeen, this should start you off on the right foot at least.
We've done our best to include a wide range of Aberdeen restaurant options, including vegan, seafood and steak restaurant options in the city. So hopefully you should find something you love!
15 Best Aberdeen Restaurants
This is our list of our favourite places to eat in Aberdeen. For each entry, we've given you an idea of what to expect, as well as information such as website, contact details and address.
We endeavour to keep this information up to date, but do always check the restaurant's official website or call ahead before turning up as details can change.
If you know of a change to the info below, please let us know in the comments section below and we'll be sure to update our info!
Books and Beans
If you like books (who doesn't like books?), you need to make a beeline for Books and Beans. This cafe is the perfect breakfast location that offers everything from pancake to porridge. They also have a comprehensive all day menu of toasted paninis, sandwiches, and salads.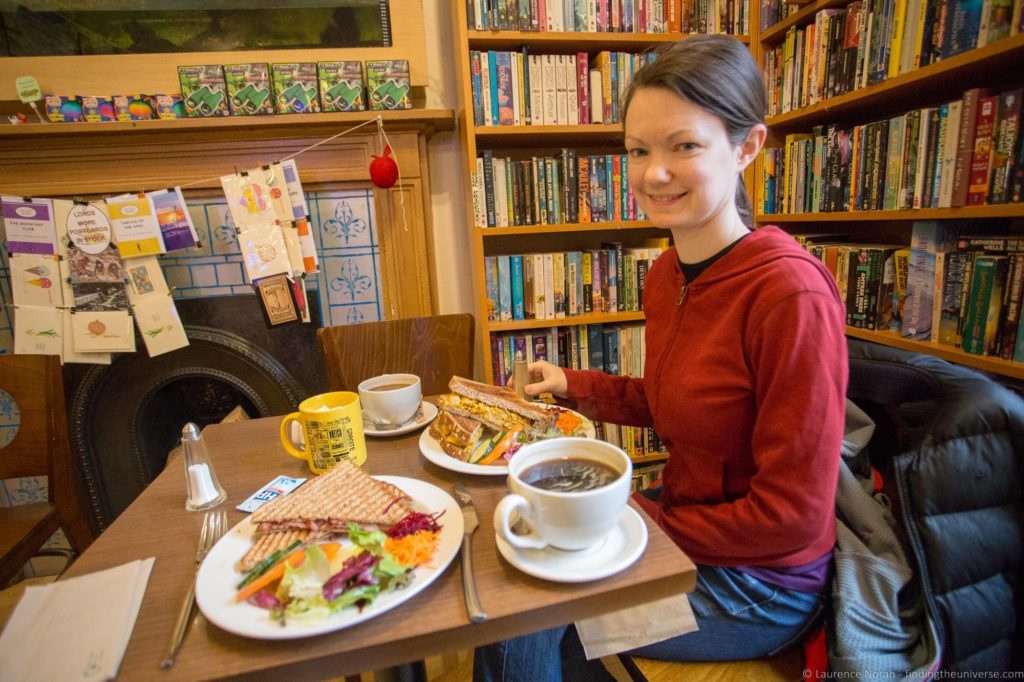 The real draw though is the fun setting, because Books and Beans is also a local book store, with the walls of the upstairs cafe seating areas absolutely jam-packed with thousands upon thousands of new and secondhand books. This makes for a wonderful environment for enjoying a coffee or breakfast, and is a great way to start your day exploring Aberdeen.
Address: 22 Belmont St, Aberdeen AB10 1JH
Telephone: 01224646438
Website: http://www.booksandbeans.co.uk/
Bonobo Café
If you're after a 100% Vegan experience, then you need to head to Bonobo Café . Whilst Jess and I are omnivorous, we really enjoyed our breakfast here – I had a full Scottish vegan breakfast and Jess had avocado toasts. Both were absolutely delicious.
This was the first 100% Vegan cafe in Aberdeen, and it's a workers co-operative too. They serve great breakfast and lunch options, and as well as the tasty breakfast I mentioned, they also do wraps, sandwiches, loads of cake options. Most items are organic, and they also have raw and gluten-free options.
Address: 73-75 Skene St. Aberdeen AB10 1QD, UK
Telephone: 01224 636777
Website: https://www.bonobotribe.co.uk/
Sand Dollar Café
Located right on Aberdeen's pretty beach front, the Sand Dollar Café is a café and bistro that serves food all day, ranging from breakfast options through to lunchtime cafe classics like soups and baked potatoes, as well as larger main dishes like fish and chips.
On weekends (Friday and Saturday nights), the cafe becomes a bistro, which offers fixed price two and three course menus which are excellent value.
Address: 2 Beach Esplanade, Aberdeen, AB24 5NS
Telephone: 01224 572288
Website: http://www.sanddollarcafe.com
Foodstory
Foodstory is a vegetarian / vegan restaurant that offers excellent value dining with a focus on healthy dining options. They also cater to a wide variety of dietary requirements, so if are looking for gluten-free or sugar-free options, you definitely want to check them out.
And if that's not you, you should still check them out, because the space is fun, the food is excellent, and the prices are great! Plus, they're open all day serving wraps, salads and coffee, and they also have a full evening menu as well as hot and cold drinks.
Address: 13-15 Thistle Street, Aberdeen
Telephone: N/A, see contact page for contact options
Website: http://foodstorycafe.co.uk/
Moonfish Café
Despite being called a Café, Moonfish is more of an upscale bistro dining experience, with a focus on fish dishes and modern British cuisine. They serve lunch and dinner, with lunch following an a la carte option (special deals are available for lunchtime dining from Tuesday – Friday).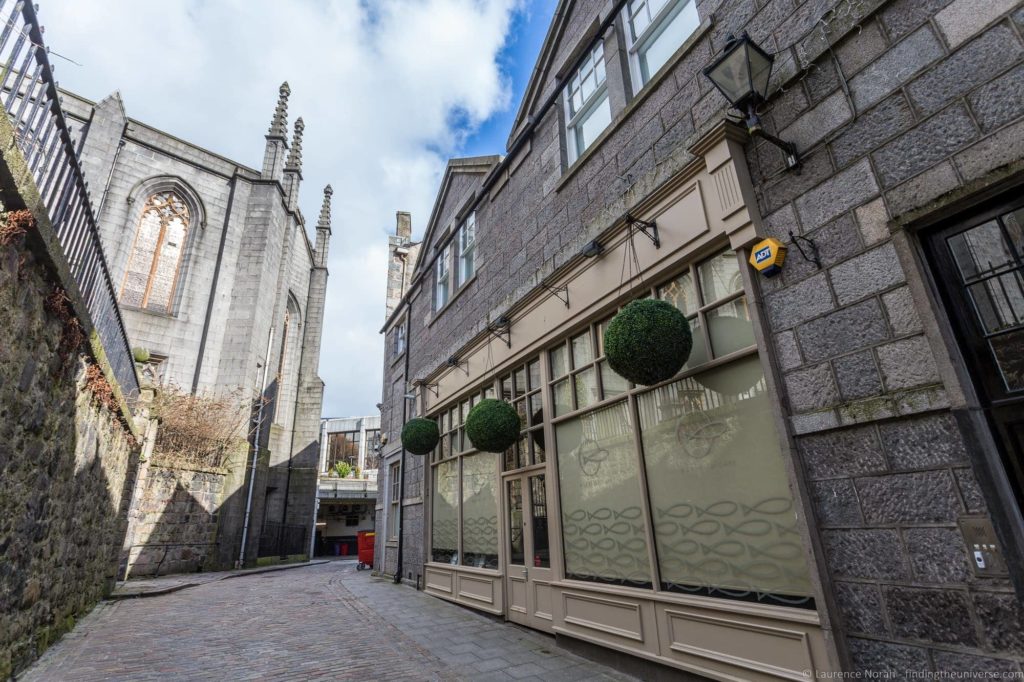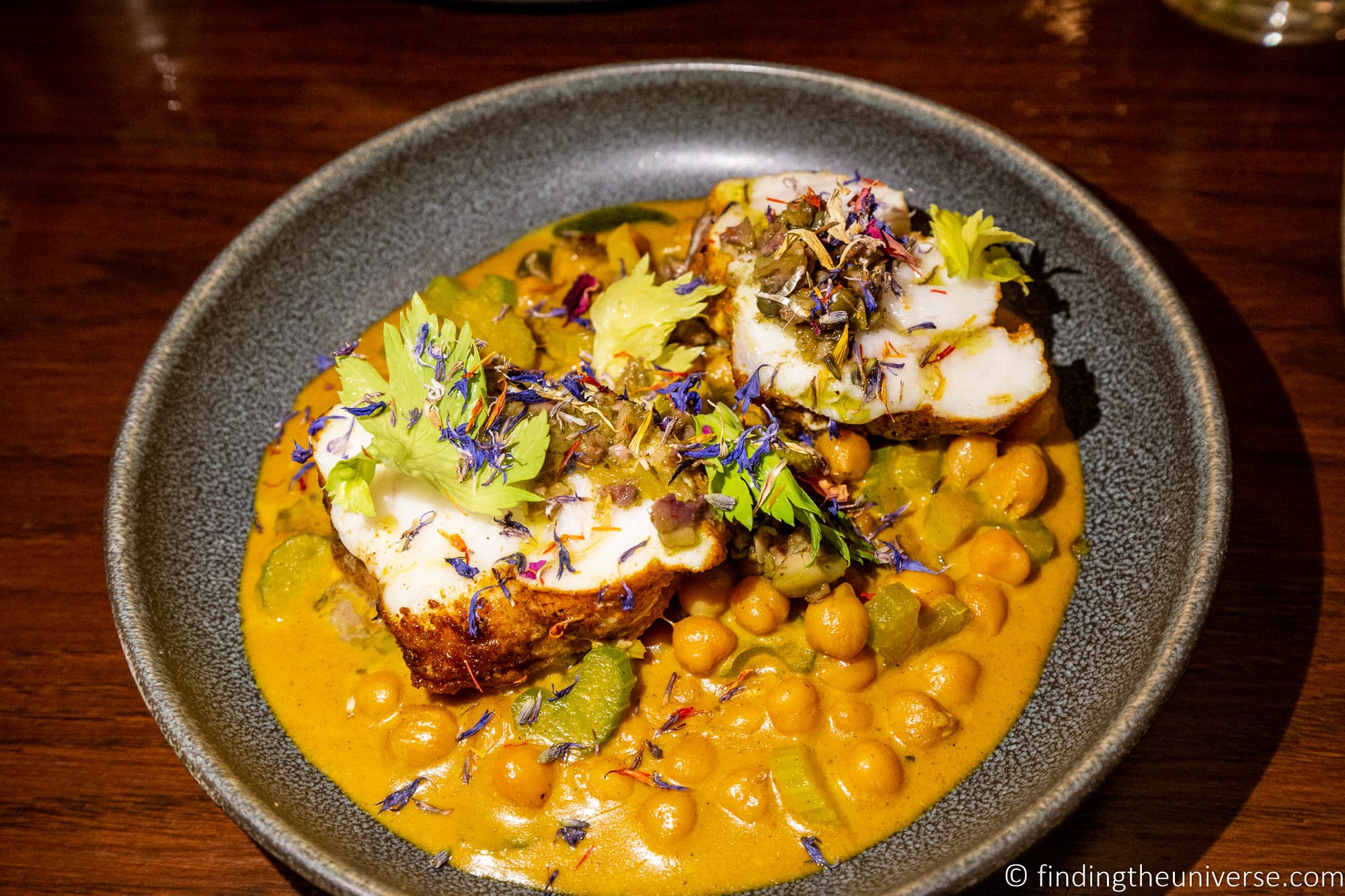 Evening meals are priced for a menu, with prices varying on how many courses you have. The location is also excellent, right in the heart of medieval Aberdeen, plus they pride themselves on an extensive gin list.
We enjoyed our meal here – the food was creative and flavourful. If we had to make a criticism, it was that service was a little slow, so don't come if you are in a rush.
Address: 9 Correction Wynd, Aberdeen, AB10 1HP
Telephone: 01224 644166
Website: http://www.moonfishcafe.co.uk/
Café Bohème
If you're after French fine-dining, look no further than Café Bohème. This is an intimate venue offering lunch and dinner menus, with a cosy, candelit atmosphere and a French focused menu – think pork cheeks, snails and duck confit.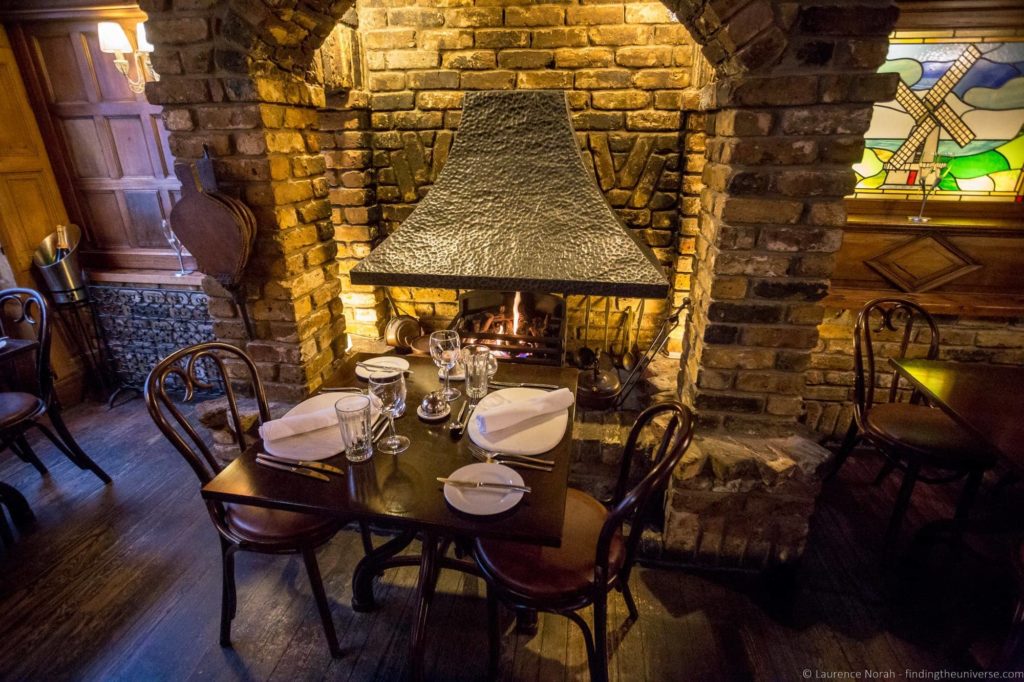 There are some great value offers to be had here too. The lunchtime menu, served Tuesday-Saturday from 12-2, offers two courses for only £10, whilst the early evening table d'hote menu offers great value with three courses for £20 (available from 17.30-18.45). We took advantage of the early evening dinner option and really enjoyed our meal. It's a popular option though, so booking in advance is recommended.
Address: 21-23 Windmill Brae, Aberdeen
Telephone: 01224 210677
Website: https://www.cafebohemerestaurant.co.uk/
Cognito on the Corner
Cognito on the Corner was the first restaurant we ate at in Aberdeen, and it certainly set the bar (and our expectations) very high in terms of dining experiences in the city. Cognito in the Corner is one of four "Cognito" restaurants and cafes in Aberdeen.
They are open seven days a week, with breakfast, daytime and main menus available, depending on what time you visit. Breakfast includes everything from toasted brioche through to Eggs benedict and filled rolls. From lunch onwards they offer two menus – a daytime menu that includes things like baked potatoes through to tasty burgers to soups and wraps.
As mentioned, we went for dinner, which meant we dined off their main menu, which is served from midday onwards. This focuses on fairly classic Scottish cuisine, with steaks, fish dishes, and salads. There's also a full bar with an extensive gin menu!
Address: 1 Mid Stocket Road, Aberdeen, AB15 5NE
Telephone: 01224 977896
Website: http://www.cognitoonthecorner.co.uk/
The Silver Darling
Found in the village of Footdee at the south end of Aberdeen's Esplanade, the Silver Darling offers excellent views of the seafront, and just as excellent Scottish based fine dining for lunch and dinner.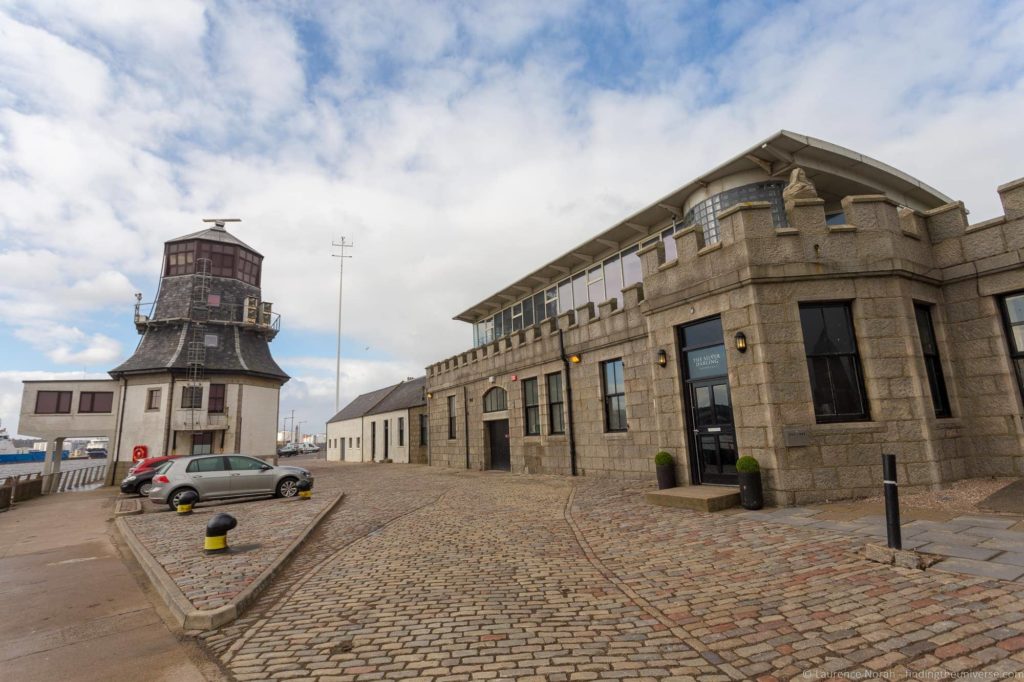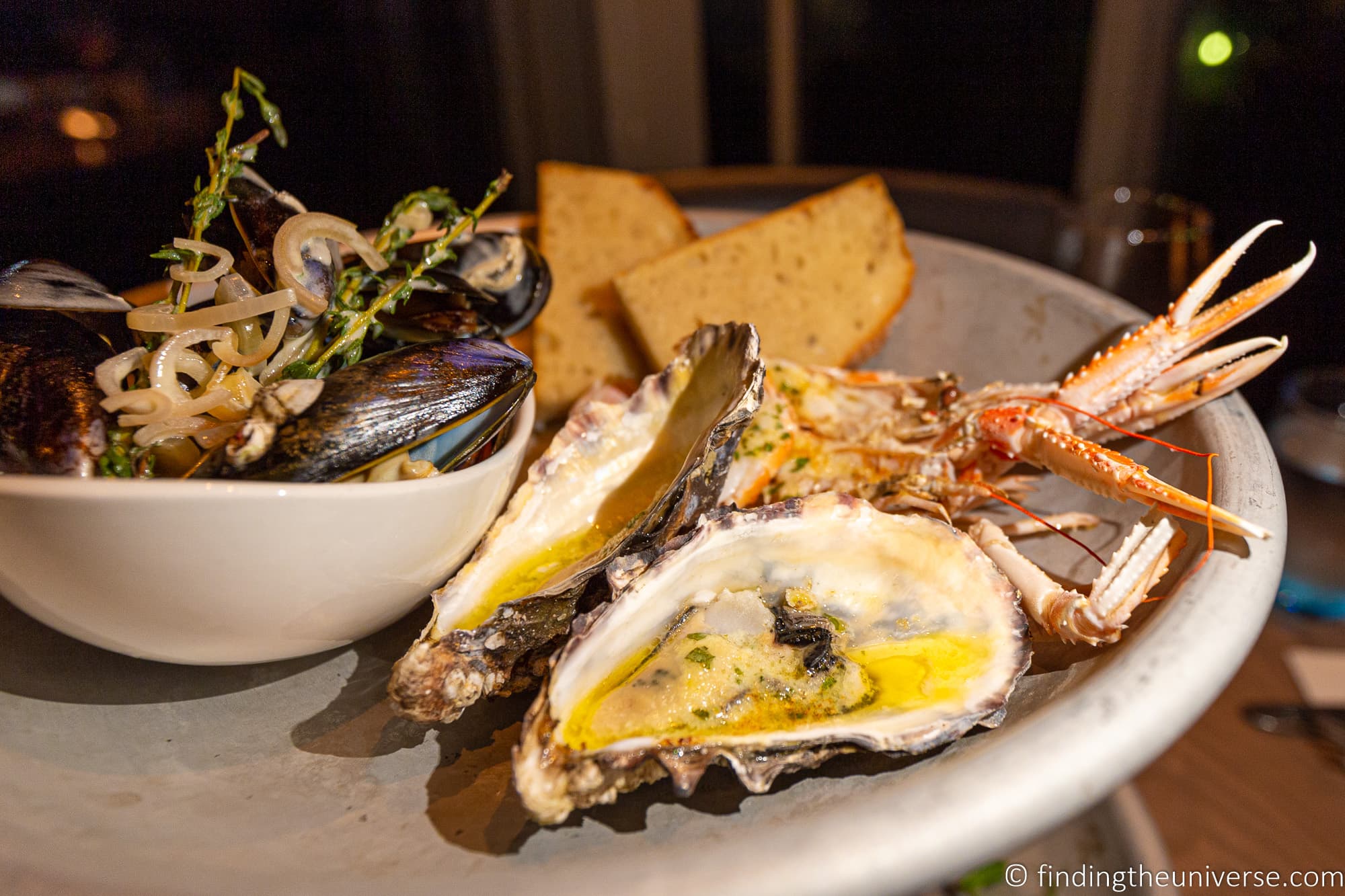 The menu focuses on local produce, and being so close to the sea, naturally there is a strong seafood selection to choose from – although there are plenty of land based options as well. We had the seafood platter which is an excellent way to try a variety of lovely seafood options.
Address: Porca Quay, Aberdeen, AB11 5DQ
Telephone: 01224 576229
Website: https://www.thesilverdarling.co.uk/
The Marcliffe
A short way out of Aberdeen's immediate city centre is the Marcliffe – a luxury hotel which offers a full fine dining restaurant. They are particularly well known for their afternoon teas and Sunday lunches, as well as their King Crab and Lobster dining meals.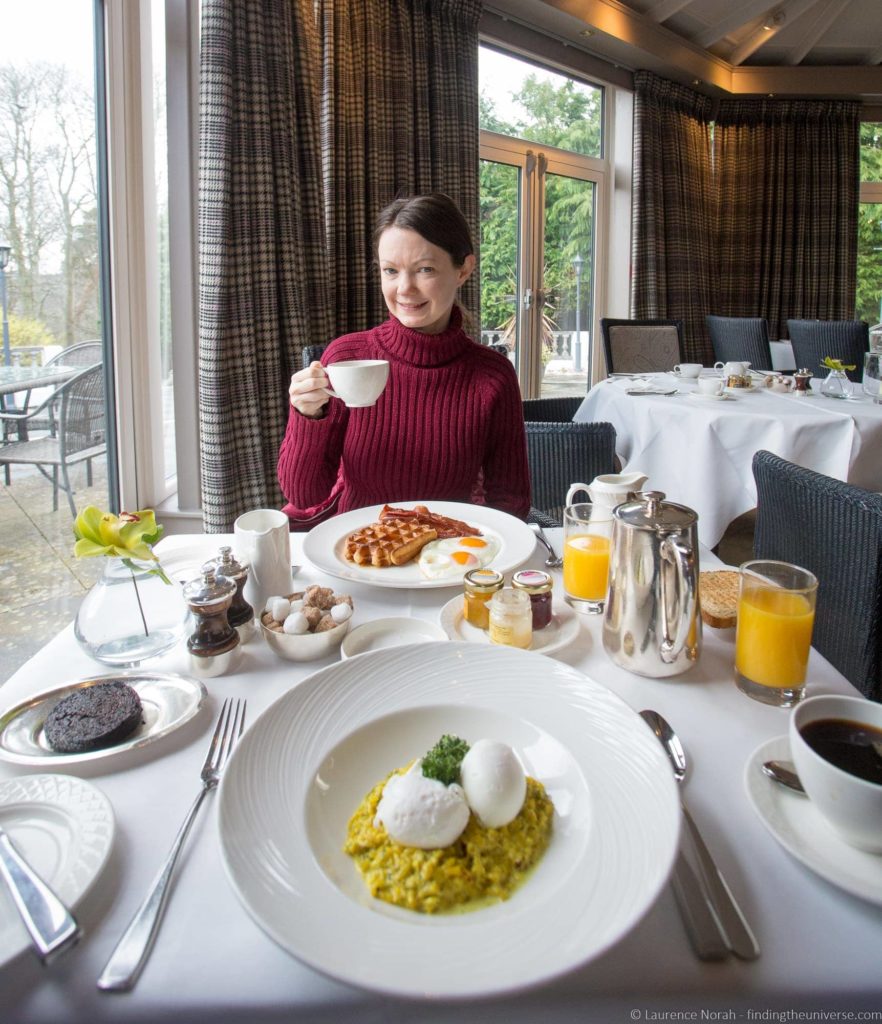 If you're looking to celebrate a particularly special occasion, this is a good place to do just that. They also have good deals on rooms with include menus – check out the special offers section of their website for full details. As you can see, we stopped in for breakfast!
Address: The Marcliffe Hotel and Spa, North Deeside Road, Pitfodels, Aberdeen, AB15 9YA,
Telephone: 01224 861000
Website: http://marcliffe.com/index.html
Fusion Bar + Bistro
If you're looking for something a little bit different from your dining experience in Aberdeen, we can highly recommend the Fusion Bar + Bistro. In a modern setting, meals are, as the name suggests, a mixture of classic European and Asian dining.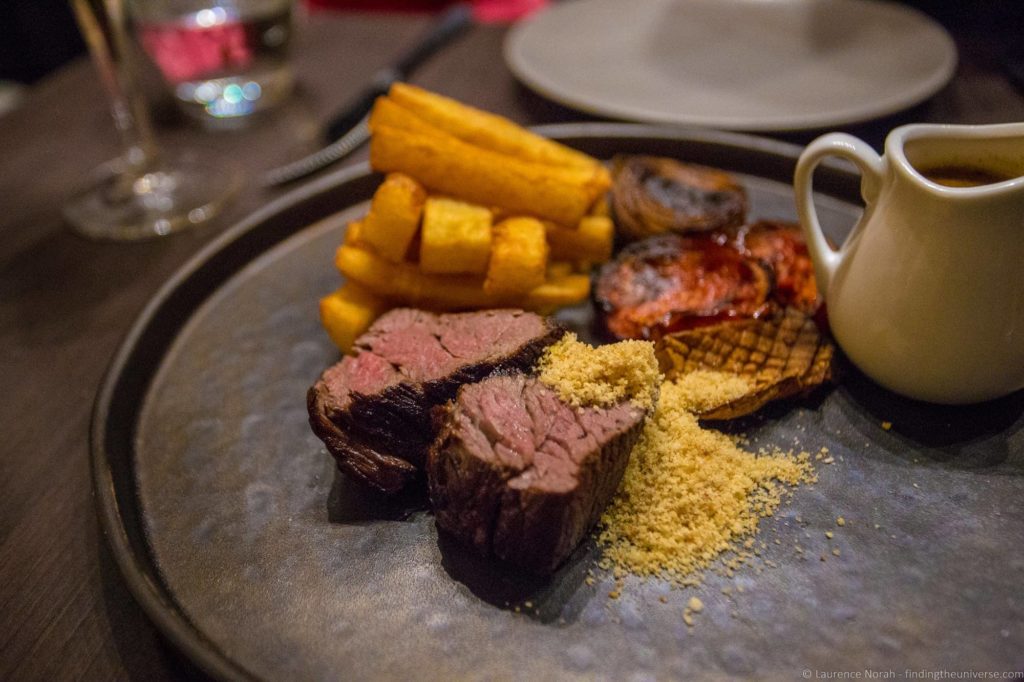 A variety of menus are on offer, including a good value tasting menu, and they serve both lunch and dinner. A bit pricier than many other restaurants, but the Fusion Bar+Bistro was definitely one of our favourite evening dining spots in Aberdeen. This is a place to to go for many locals for a nice evening out or to celebrate a birthday or anniversary.
Address: 10 North Silver St, Aberdeen, AB10 1RL
Telephone: 01224 652959
Website: http://www.fusionbarbistro.com/index.php
Carmelite Hotel
A boutique hotel and event space right in the heart of Aberdeen, the Carmelite has an on-site restaurant which offers a variety of dining choices – including two afternoon tea menus and a brunch option. This is definitely a great centrally located choice if you're into afternoon tea or brunch.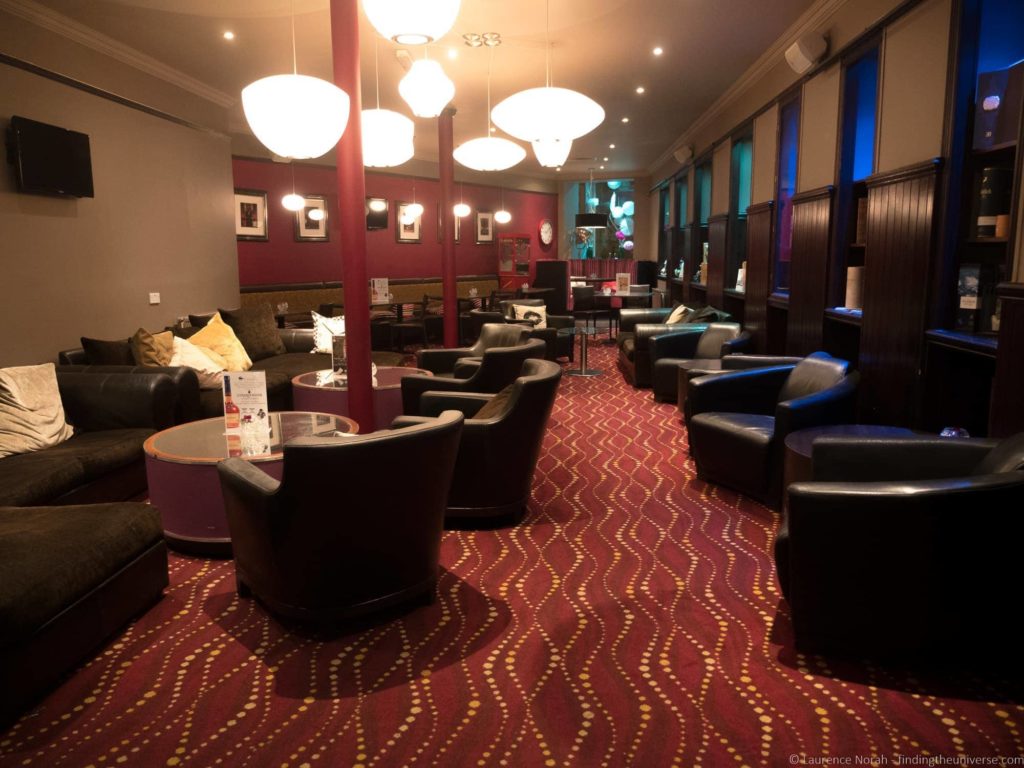 They also offer meals through the day in their Bar&Grill, including full breakfast, lunch and dinner menus. Prices are good, and food is of a traditional British theme – think grilled & roasted meats, burgers, scampi and pies. Evening meals are a little more expensive, but still a good value.
Address: Stirling St, Aberdeen AB11 6JU
Telephone: 01224 589101
Website: http://www.carmelitehotels.com/
BrewDog
BrewDog is a Scottish Craft Beer company that was founded in Aberdeenshire in 2007, and has seen explosive growth. As well as a range of beers, they also have a number of bars across Scotland, the wider UK and the USA.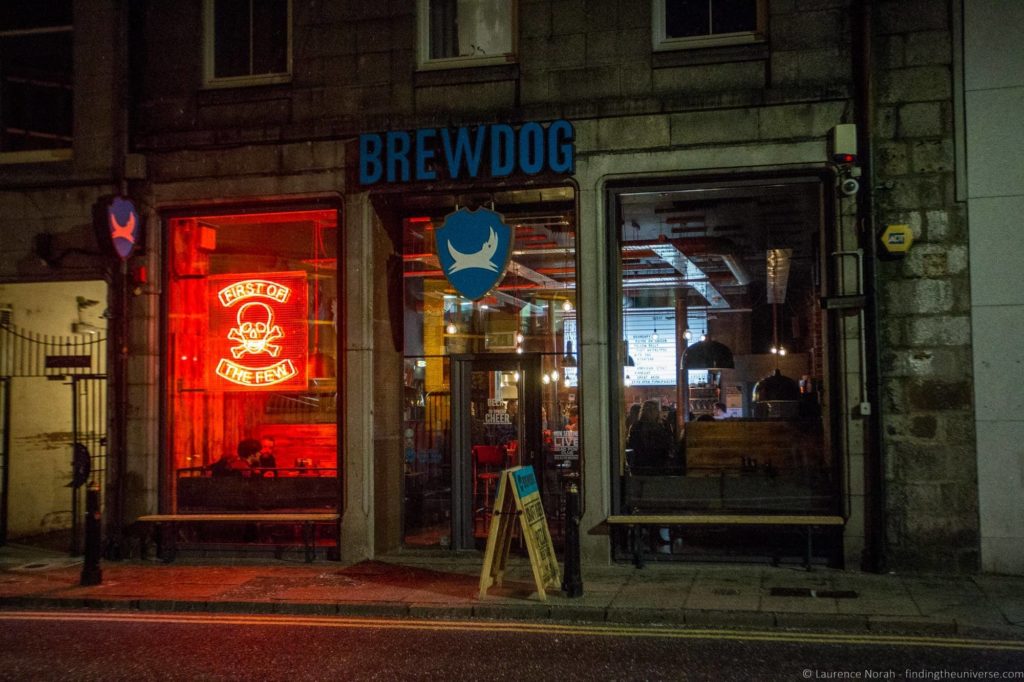 Their first bar though, was in Aberdeen, and it was launched in 2010. Now they have two central locations – BrewDog Aberdeen, which was the original, and Brewdog CastleGate, just across from the Tollbooth Museum.
Both offer a wide range of craft beers as well as a full food menu, with pub favourites including burgers, sharing plates and hot dogs, as well as a selection of vegetarian options. If you're after more of a lively pub dining experience, these are a great option.
Address: 5-9 Union St, Aberdeen AB11 5BU
Telephone: 01224 586650
Website: https://www.brewdog.com/bars/uk/castlegate
Ninety-Nine Bar & Kitchen
If you prefer to accompany your meal with a cocktail, you're going to want to head to Ninety-Nine Bar & Kitchen. This bar serves up all the bar food classics you would expect, along with a variety of cocktails. Plus, if what you want isn't on the cocktail menu, the bar staff will happily put it together for you.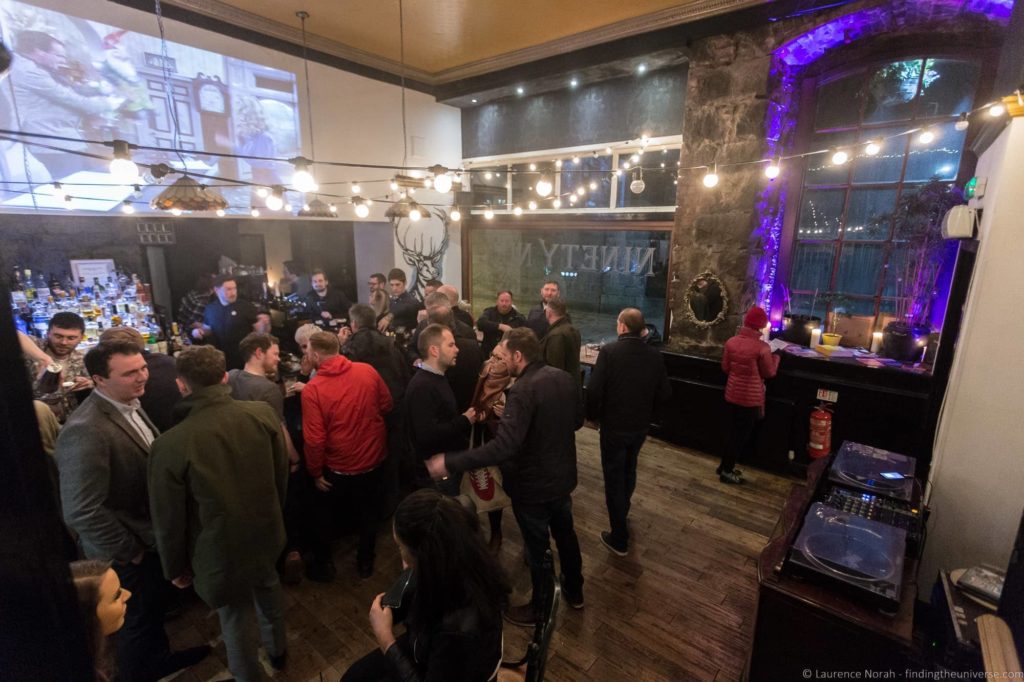 Just note that this is a popular spot, especially on Friday and Saturday evenings, and they regularly host live music events, so come early if you want to get a spot to sit and a bite to eat on those days.
Address: 1 Back Wynd, Aberdeen AB10 1JN
Telephone: 01224 631640
Website: http://99aberdeen.com/
Tippling House
Another option for cocktail lovers, the Tippling House is a cellar bar that features booth seating, a wood panelled ceiling and, given that this is a list of places to eat in Aberdeen, an extensive food menu. The full menu is served until 11pm, after which bar snacks and platters are available until an hour before closing.
So if a late night food craving strikes in Aberdeen, this is a great place to come. Food is definitely a twist on what you might expect for a late night bar, with everything from poutine to marmite scallops on offer. There's also a pre-theatre menu available.
Address: 4 Belmont Street, Aberdeen AB10 1JE
Telephone: N/A, see contact page for details
Website: http://www.thetipplinghouse.com/
Vovem
If it's steak you're after, Vovem is an excellent option. This Argentinian inspired steakhouse opened in 2019, so is a relatively new addition to the Aberdeen restaurant scene.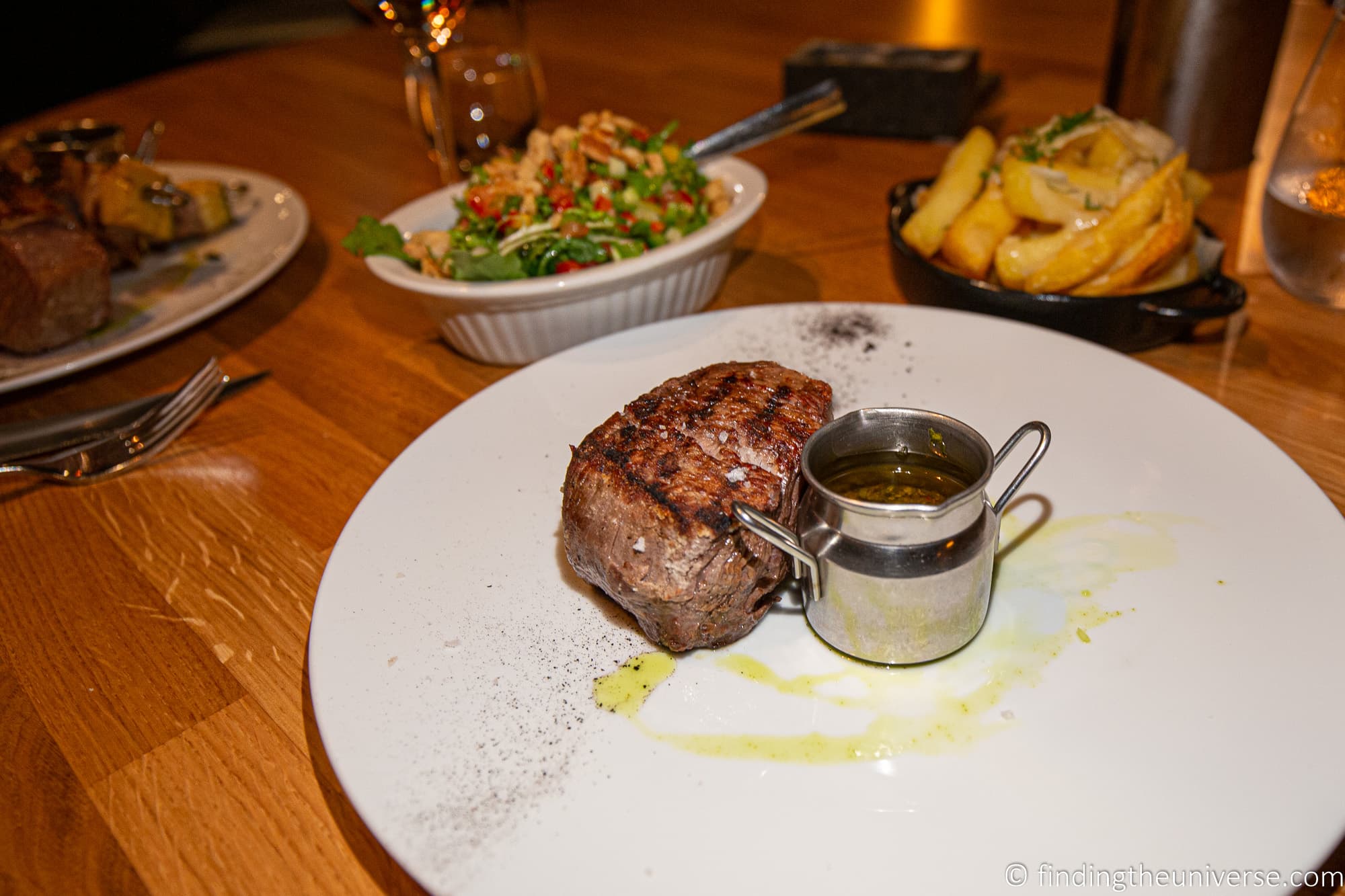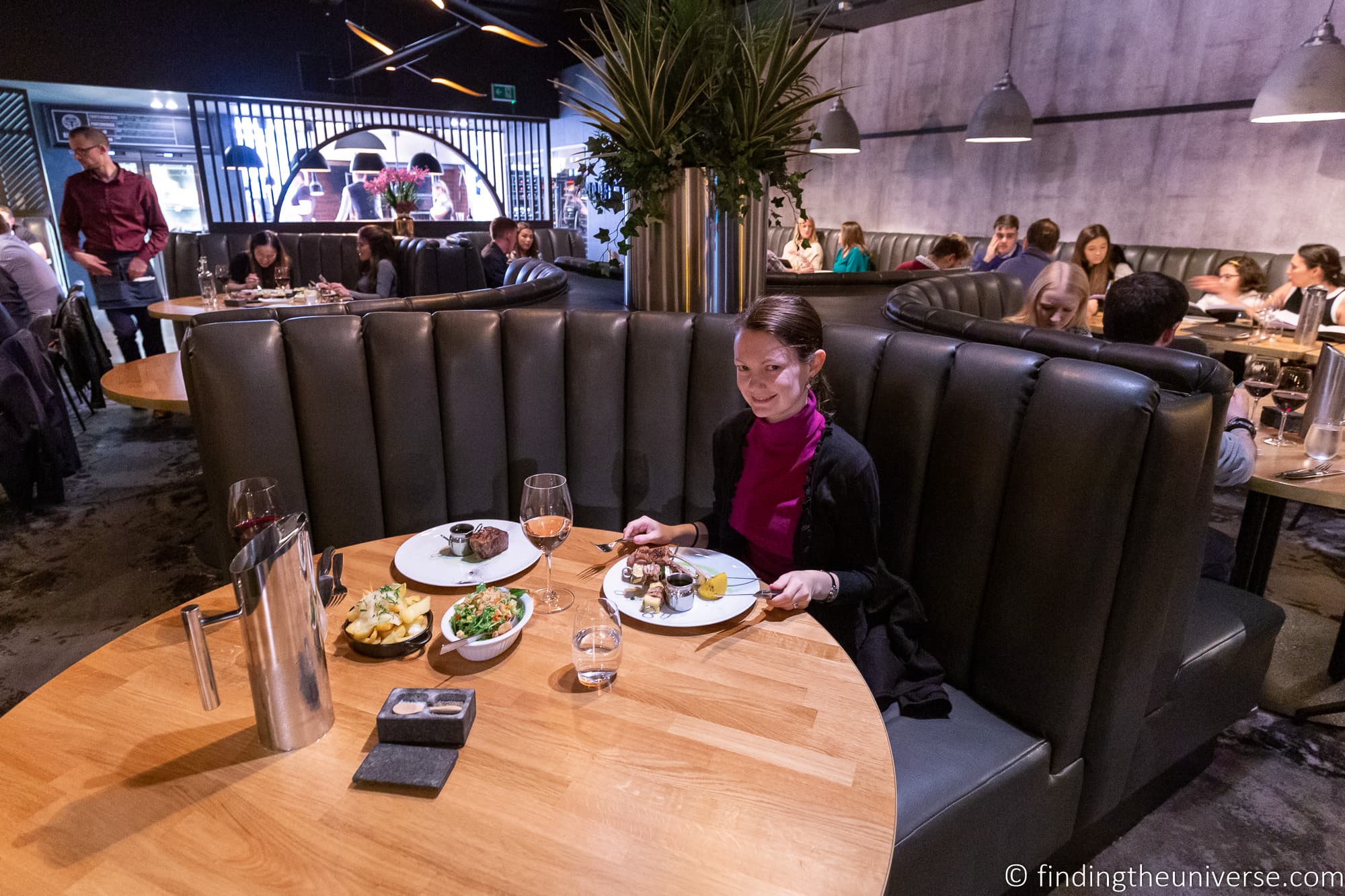 We really enjoyed our meal here – I had a steak and Jess had a lamb chop. Both were wonderfully seasoned and cooked to perfection, and the flavours were delicious. Prices were also reasonable, for the quality on offer. Meats are sourced locally.
If you're not after food, the restaurant also has two bars, one which is open to the general public, and one which is invitation only.
Address: 250 Union St, Aberdeen AB10 1TN
Telephone: 01224 566566
Website: https://www.vovem.co.uk/
Map of Aberdeen restaurants we recommend
To help you plan where you're going to eat in Aberdeen we've put together this handy map. You can also see this on Google Maps here for easy navigation when in the city, so don't forget to bookmark this page for quick reference.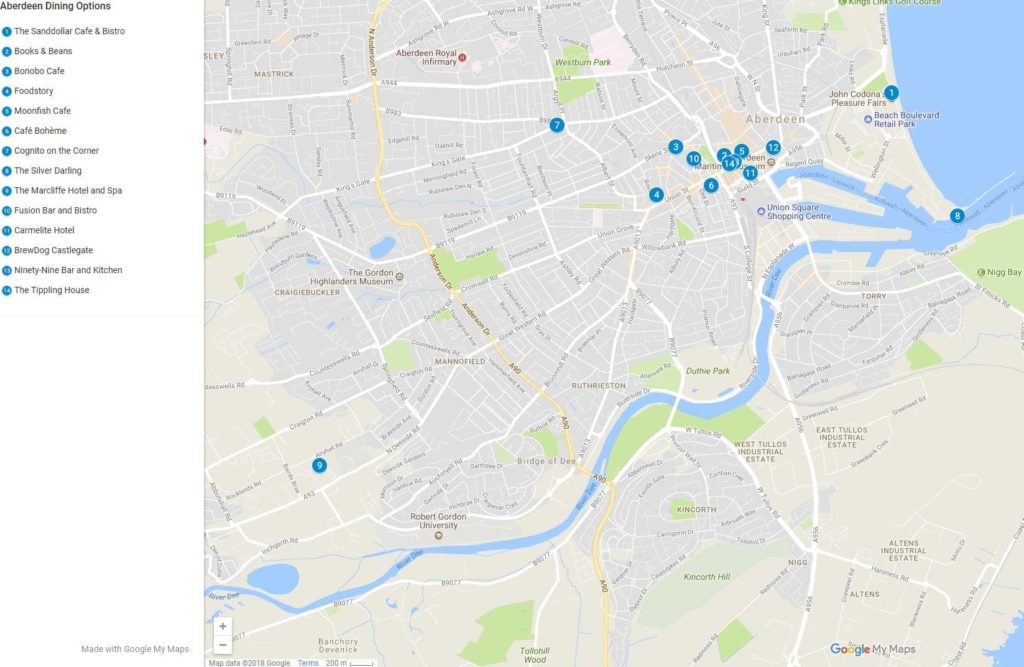 Where to Stay in Aberdeen
If you're visiting Aberdeen from out of town, you'll need somewhere to stay, and we'd suggest a city centre location so you can get to the majority of these restaurants easily.
When we visited Aberdeen, we stayed at the Skene House Rosemount Apartment Hotel, which was a serviced apartment complex which handily came with parking, as we drove to Aberdeen.
Of course, there are lots more options in Aberdeen, from hostels to apartments to hotels. Take a look at the options on booking.com for Aberdeen to start planning your accommodation.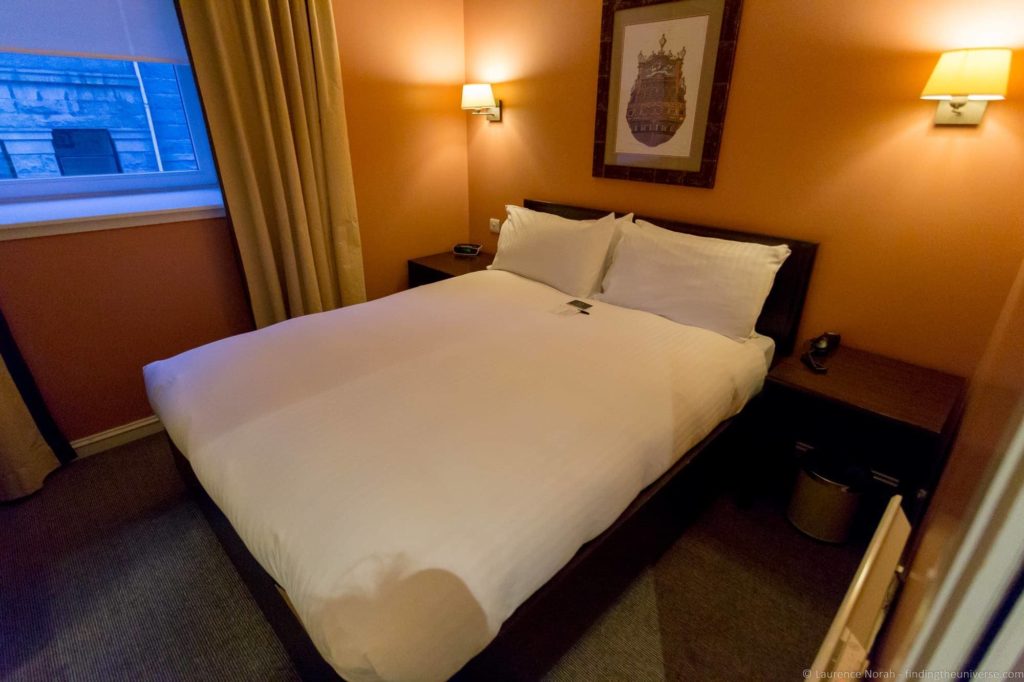 Further Reading
We've explored Scotland and the wider UK in depth, and have a lot of resources to help you plan the perfect trip. Here are some of those, as well as related third party resources.
And that's it for our guide to some of our favourite and suggested places to eat to Aberdeen! Have you visited Aberdeen? Where would you add to the list? As always, if you have feedback or questions, let us know in the comments below.