As regular readers will be aware, we spent a rather chilly few weeks in March 2013 travelling around Europe, visiting some destinations neither of us had been to and having a lot of fun in the process. One of our missions on the trip (well, ok, so it's a mission on every trip) was to capture some great photos of our journey for our transport partner, Eurail. Ostensibly pictures relating to travel of the train based variety.
With this in mind Vera decided that in the name of art she would forgo any kind of sensible baggage choice, opting instead to bring a suitcase from the 1960s that would look lovely in photos. Which, admittedly, it did, hence it features no less than three times in our Instagram round up of our European trip.
Unfortunately, fashion and practicality do not always go hand in hand, and after about five minutes of travel with the suitcase it became apparent that the durability of key components such as the wheels and the latches may not have been the key focus of the design team. Indeed the entire structural integrity wasn't something that had been given much thought .
The lovely pink interior made up for this a little bit, although it was hard for Vera to reconcile this with the various train stations and city centres she had to lug it across.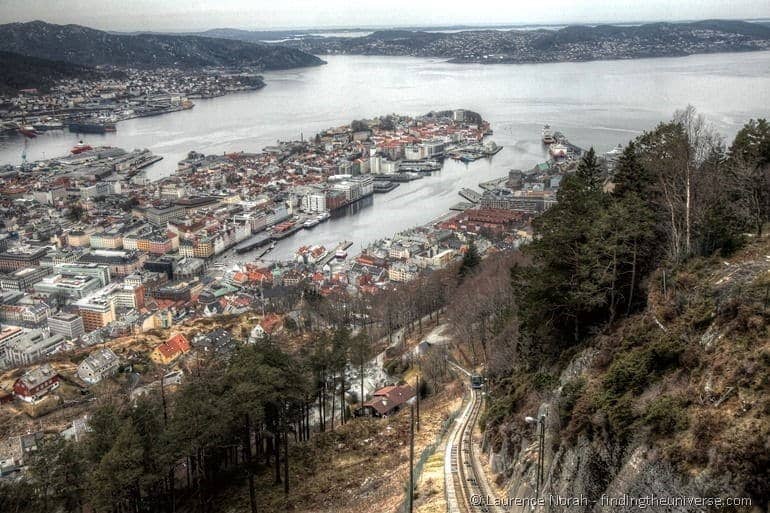 And what does any of this have to do with Bergen, you ask? Well, Bergen is where the suitcase and Vera parted ways, as it was starting to fail the basic requirements of suitcasery, that being the requirement to keep ones belongings within, and the outside without.
There is a happy ending to this suitcase tale though, which you can find at the end of the post. In the meantime, now that we, and the suitcase are in Bergen, let's run through some of the places we visited that might inspire you to do the same someday. Without further ado, I present our ideas for how to spend:
1 Day in Bergen
1. Climb every mountain
Bergen is a city tucked in a fjord and surrounded by towering hills. Naturally, climbing these hills on a clear day gives you rather breath-taking views across the city and surrounding area.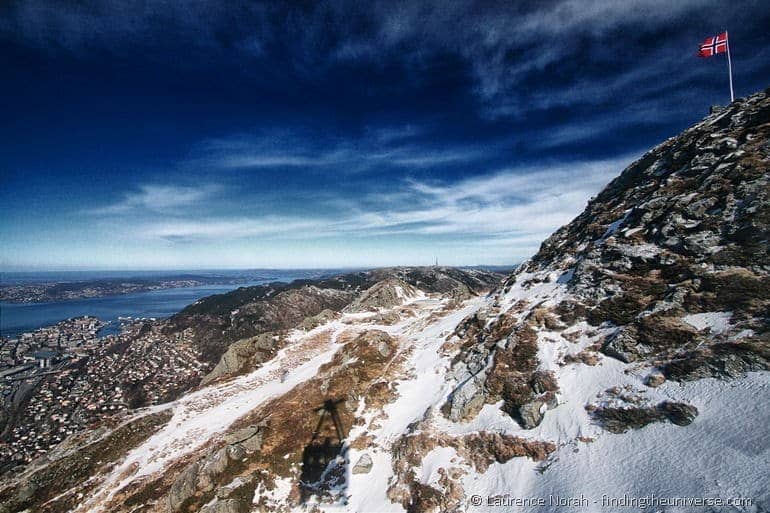 Two hills that you should consider getting yourself up are Mt Ulriken (photo above) and Fløyen. The first is accessible by a cable car (Ulriksbanen). On a clear day this offers the best view of the surroundings, plus there is a restaurant at the top where you can prolong your viewing pleasure over a bite to eat. The entrance to Ulriksbanen is a little way south of the city centre, and is best reached by bus.
The other hill, Fløyen, is found at the top of the Fløibanen, a funicular which will whisk you up the side of the mountain in a few minutes. The entrance to the Fløibanen is just behind Bryggen in the city centre, which makes it easier to get to as part of your explorations. You can also walk up to the top if you are feeling like a bit of exercise, or you could take the funicular up and walk down. Whatever works for you!
2. Visit the house that Grieg built
One of Norway's more famous composers, Edvard Grieg, happened to live just outside of Bergen. His house, Troldhaugen, has been preserved in the same condition since his death, plus you can visit his grave which is also on site. It's a very beautiful location, set above a lake, and there is a museum on site where you can brush up on your Grieg knowledge.
This one is a bit of a trip outside town, and if you don't have your own transport then you'll need to take either a tram or bus and then wander across unlikely looking housing estates for half an hour or so, like us. We were lucky enough to get a lift back which shortened the whole trip, but otherwise count on at least three hours for this one from the city centre.
3. Investigate the flammable city centre of Bryggen
The UNESCO world heritage listed city centre called Bryggen is entirely constructed from wood. This means two things – it is quick and easy to build and quick and easy to burn. The history of Bryggen, and indeed Bergen, is a charred one. The most recent fire was in 1955, but this place has a history of fires dating right back to the 14th century, when it came into being.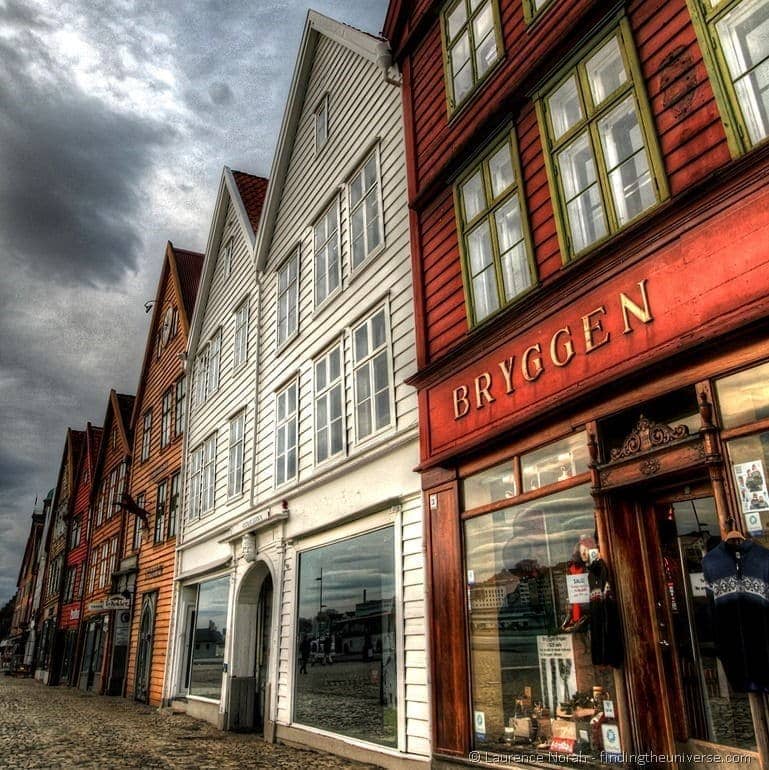 The good news is that every time it's burnt down, it has been recreated in the same style, so you can get a slice of 600 year old history even if the buildings aren't quite that old. Just don't turn up with marshmallows and a toasting fork. That won't go down well.
One notable building to visit is the Hanseatic League, where a group of male only German merchants carried out their trade for four hundred years. Now a museum, you can pop in and see what sort of lives they led. My conclusion was that they led fairly cold lives – fires weren't allowed in their property, for fairly obvious reasons.
4. Pop into the fortress
Bergenhus fortress, a little way past Bryggen, is one of the oldest fortresses in Norway dating to around the 12th century. It was cold, windy and cloudy when we visited, which added to the atmosphere. I hear that in summer it is a popular place for picnics, but we were only accompanied by seagulls in our wanderings. There is a cafeteria and you can take a tour if you're particularly interested – these run daily between May and August, and on Sundays for the rest of the year if you book.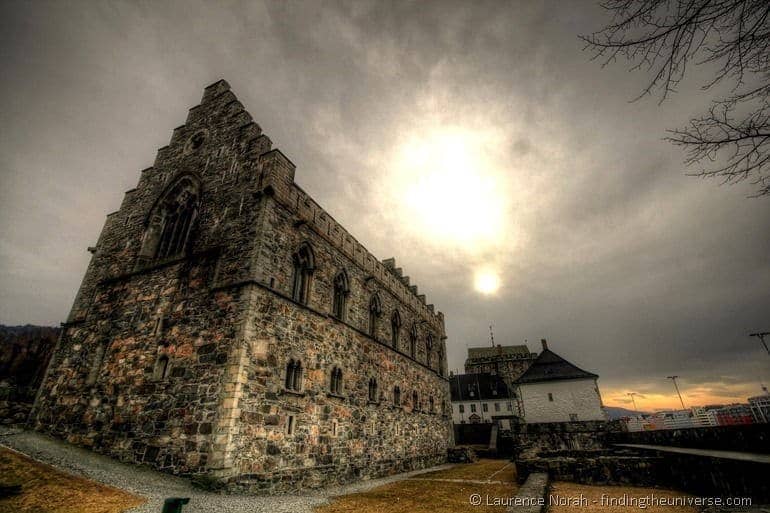 How to get to Bergen
There are a variety of ways to get to and from Bergen, and we experimented with two of these – rail and plane. From Oslo it is either just under an hours flight to Bergen, or a seven hour train ride.
That might sound like a lot, but it does happen to be one of the most spectacular train rides in the world – certainly one of the most beautiful I've ever done. It crosses the Hardangervidda, Europe's highest mountainous plateau, and the line reaches the dizzying heights of 1,222 metres above sea level. Naturally the views are spectacular!
On the way, you have the option of hopping off at Myrdal, and taking the Flåm railway down to the village of Flåm, which is one of the world's steepest railways. From Flåm you can do a fjord cruise and then re-join the train and continue your journey to Bergen. We did this also, and will be writing up our thoughts on that one soon. In a nutshell though – very much worth doing!
The flight is as you would imagine a flight to be – over gorgeous scenery and much briefer. There are a multitude of airlines which fly in and out of Bergen, and if you go via Oslo you can reach most of Europe quite easily.
Finally, Bergen is also accessible by car (via the world's longest road tunnel!) and by long distance bus, the latter of which is likely to be the cheapest, if not the fastest, way of getting around Norway.
Where to stay in Bergen
And now I can finally get to telling you about that suitcase! Like much of Norway, Bergen isn't what you might refer to as a cheap destination. We had the privilege of being hosted by HostelBookers on our trip around Europe, and they sorted us out with an actual youth hostel, up on the hill overlooking Bergen.
The Montana Youth and Family hostel had pretty much everything we wanted as a base – an expansive and very Norwegian themed buffet breakfast to get us ready for the day (included with all room types), free wi-fi and most importantly, a quite epic view. But don't take my word for it, check out this picture, taken by one of our hosts after we left: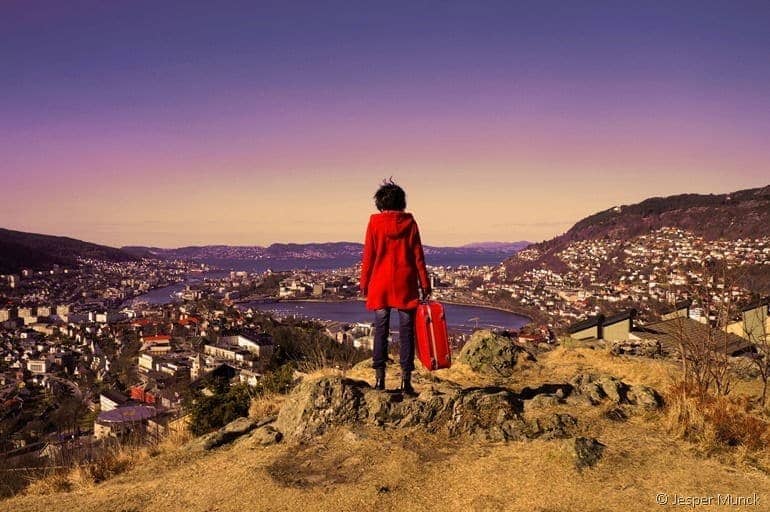 Because, yes, this was where the red suitcase and Vera parted ways, although I think you'll agree, it has clearly gone on to good hands, as the staff at the hostel seem to have adopted it. And yes, this is the view from the hostel looking across Bergen. It's also within a five minute walk of the Ulriksbanen for easy access to the top of Mt Ulriken, and a 15 minute bus ride from the centre of town.
If you're looking for cheap (by Norwegian standards!), clean and basic accommodation, with an unrivalled view for your stay in Bergen, then this hostel is certainly an option to add to your shortlist. And if you go… do ask Jesper how the suitcase is doing!
More Accommodation Options
Since finding the best deal on your accommodation is one of the most important parts of trip planning, we want to share with you a couple of options that work for us, helping you to get the most from your budget, as well as find the property that is right for you in Bergen.
Our go-to choice for finding the best deals is usually Booking.com. We generally find them to offer the best value of all the search engines, plus many properties offer a no-fee last minute cancellation policy. Check out their Bergen listings here.
We also have a number of tools we regularly use for our travels, including a number of hotel booking sites. You can see all those on our travel resources page.
With these options, you should find the best prices for your trip, as well as a good selection of reviews and feedback to help you make an informed decision.