So you've got yourself a drone, or maybe you're thinking of buying one. Cool! It's about to open up a whole new world of photography and video options that you just didn't have before.
It's also about to open up a world of drone accessories that you didn't know existed, but many of which are absolutely essential to getting the most from your new flying camera.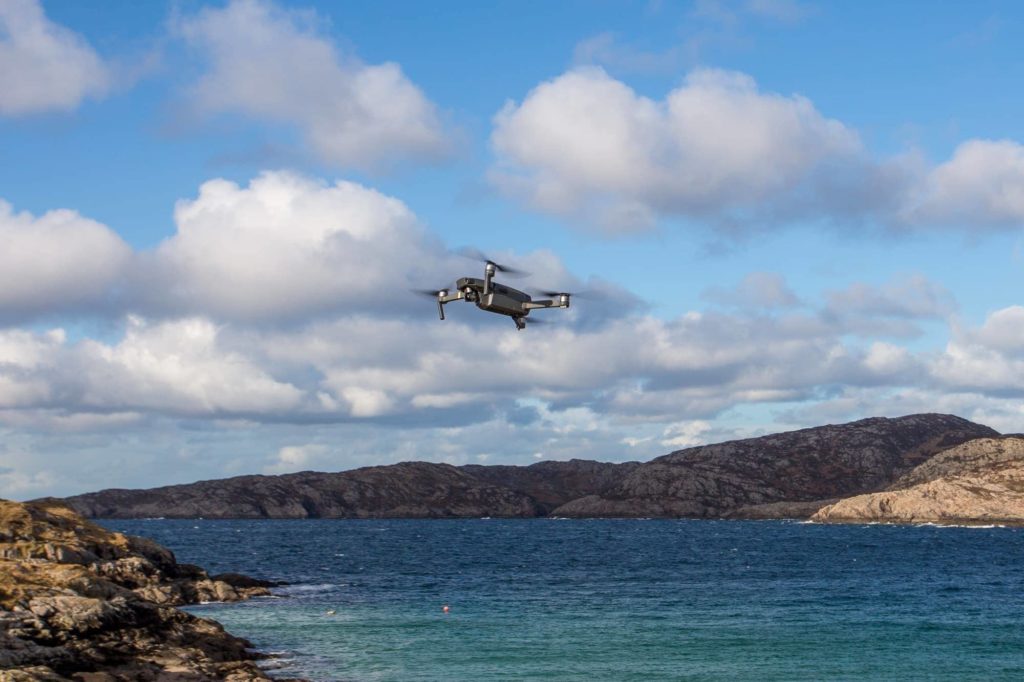 We currently have and travel with a DJI Mavic drone, and after purchasing it, we spent a lot of time figuring out which accessories were essential for our needs. We think this list covers all the drone accessories you should consider investing in, and we'll explain why for each one.
Whilst this was written from the perspective of owning a DJI Mavic Pro, and the links are to Mavic Pro accessories, if you have a different model like a Mavic Air, or a drone from another manufacturer, you should still find it relevant as the accessories for the most part are available for most drone models on the market.
Let's get started.
Must-Have Drone Accessories
1. Spare Battery
Absolutely the first thing you need to buy when you buy your drone is a spare battery. Drone flight times are measured in minutes, and even the best consumer drones available on the market can only manage half an hour of flight.
Whilst that is enough to get some video and photos, if you want to shoot for longer, perhaps over a day, then you're definitely going to need to pack a spare battery or two. For the Mavic Pro, that's the Mavic Pro Intelligent Flight Battery.
We'd suggest you pick up at least one spare battery for your drone, and two if you think you'll be flying a lot each day.
2. Carrying Case
The Mavic Pro and Mavic Air are relatively small, but they don't by default come with any kind of protective carrying environment. So whilst they are pretty tough, you're unlikely going to want to just shove them in your bag for hiking or travel.
My suggestion would be to invest in a purpose built carry case for your drone. For under $15 you can get a nice hardshell case that will protect both your drone and your remote controller, without adding significantly to your baggage weight.
If you want something more serious, Pelican, who are experts in rugged cases for delicate equipment, make a tough, waterproof case in both a large and smaller version, which will definitely keep your drone safe, particularly if you have to check it for any reason.
3. High Capacity Memory Card
Most drones come with some form of memory card, although usually the capacity is only around 8GB – 16GB. Given how much space 4K video files take up, it's likely you're going to want to invest in a larger memory card so you don't run out of space mid shoot.
Consumer drones like the Mavic Pro primarily use MicroSD cards, which come in a dizzying array of formats and sizes. The most important thing is to get a card that is high capacity (at least 32GB but ideally 64GB), and conforms to UHS-1 (ultra high speed) standards or higher, also known as class 10.
You can identify these cards as they will have a "U" with the number 1 or higher written within the "U", or with "Class 10" written on them.
The Mavic Pro writes to the memory card at a maximum speed of 7.5MB/s when shooting 4K video, and the UHS-1 specification has a minimum write speed of 10MB/s. For the Mavic Pro, the recommended minimum card specification from the DJI manual is UHS-1 or Class 10, and a maximum of 64GB capacity. If you have a different drone, check your manual for specifications.
Many drone pilots find the higher speed UHS-3 cards offer better performance, and for the small price difference, these are the cards we would recommend you purchase.
There are lots of brands of memory card on the market, with Sandisk often recommended. We suggest this model, the Sandisk Extreme 64GB microSDXC UHS-3 card. There's also a pro version at a slightly higher price point.
4. Neutral Density Filters
If you are planning on doing video with your drone, then you absolutely need a set of neutral density filters. I explain what Neutral Density filters are from a photography perspective here, but in summary, a neutral density filter cuts the amount of light coming in to the camera.
Why is this important for video? Well, in an ideal world, for truly cinematic video, the rule of thumb is that you shoot your video at around twice the shutter speed as your framerate. So if you are shooting your 4K video at twenty five frames per second (25fps), then you would want your shutter speed to be fixed at 1/50th of a second.
Given that most drones have a fixed aperture which is usually set wide open, achieving shutter speeds this slow in the day-time is practically impossible unless you restrict the light coming into the camera. The solution? Neutral density filters.
These filters reduce the light coming into the camera, and let you set shutter slower speeds for your videos. The strength of the filters will vary depending on the time of day and lighting conditions, so you should think about buying a set. I'd suggest the set should contain at least an ND16, ND32, and ND64 filter.
DJI sell an official Neutral density filter set which is guaranteed to work, however there are also lots of other options on the market. I have had good results with these filters for example. The main thing is to check the reviews and be sure that they are designed to pass the gimbal test so you can put them on the camera before powering the drone up.
5. Spare Propellers
When you buy a drone, even the basic model, it will come with spare propellers. This is basically a huge clue that propellers are the parts of your drone most likely to get damaged.
My experience is that this is definitely the case. I've had friends crash drones into walls, I've crashed into a tree, and other friends have had their dog think the drone is an awesome giant flying chew toy. Drones are fairly good at surviving these incidents, but the propellers, which are basically bits of plastic flying around at high speed, tend to take most of the damage.
Since flying a drone with chipped or damaged propellers is a really bad idea (it can cause vibrations in the drone motors and body, leading to much more serious problems), having a spare set of props is never a bad idea.
They are also really good value, usually no more than $10 for a set of two. My advice would be to buy the official propellers for your drone – there are lots of third party options out there, but to be honest, the cost saving is pretty low for the thing that keeps your drone stable and in flight!
If you have a Mavic Pro, you can also upgrade your propellors to the platinum version, which will give you a little extra flight time, plus they are slightly quieter.
6. Propeller Guard
If you are learning to fly your drone, or if you plan on flying indoor regularly, then you might want to invest in a propeller guard. This basically a protective cage that go around the propellers, and can help protect them from damage if you happen to bump into things.
You should be aware that adding the guards to your drone will slightly impact flight performance – it's more weight after all. This can be further exacerbated in windier conditions. So that is something to keep in mind – if you don't need them, leave them off to squeeze a bit more battery life out of them.
7. Car Charger
Even when you've bought some extra batteries, you might find that you want to top up your batteries as the day goes on so you can keep shooting. DJI sells an official car charger, but my advice is to invest in a car power inverter instead.
These will convert your car DC power supply to AC (the same that comes out of you wall at home), and means you can just plug your normal DJI charger into it. Plus, you can use it to charge other devices, like laptops or phones, and the included USB charger ports are handy as well.
I use this model from Bestek, which gives me a number of USB and standard AC outlets, and just plug my drone adaptor into it directly. It's also about half the price of the official charger.
8. Landing Gear
We're moving a bit more into nice to have drone accessories, but personally I find it's the little things that add up to making flying the drone more pleasurable. Landing gear is basically what it sounds like – little extensions that fit under the drone to increase it's ground clearance.
The newer, smaller drones in particular sit very close to the ground when they land, which means that dirt, grass or snow can easily get onto the body or camera. Landing gear raises the drone off the ground a bit, and can help mitigate this problem.
Again, as with prop guards, they can affect flight performance marginally. In my case, I bought an accessory pack which came with a case, landing gear and a joystick guard, as well as a lens hood. I haven't used the latter yet, but I have it, just in case!
9. Landing Pad
Drones sit pretty close to the ground, which means that when you land them and take them off, a lot of dust and dirt can be thrown up, which isn't ideal.
To solve this problem, you may want to invest in a drone landing pad, a portable mat which will give you a nice clean dust and dirt free environment from which to launch.
10. Joystick Guard
Even with a case, the joysticks on your remote controller are susceptible to damage, especially when in transit. To help prevent damage, you can either remove them every time, or spend a few bucks on a joystick guard, which performs the dual function of protecting the screen and stopping the sticks from moving.
As I mentioned before, my joystick guard came as a set with my landing gear and case, which is usually a good way to get a few drone accessories at a better price.
11. Propeller Strap
Another one for keeping your drone safe when travelling, and also a low cost investment. Propeller straps keep your drones props secure when you travel, so they can't move around and damage themselves.
Again, these can be purchased individually, or you can pick them up as part of an accessory bundle. Usually buying bundles of drone accessories is the cheapest way to go, so just figure out which accessories you want, and find a bundle that is as close to that as you can.
12. GPS Tracker
A number of folks in the comments suggested I add a GPS tracker to my list of essential drone accessories, so here it is. Whilst most drones report their GPS position via the bundled app, a GPS tracker gives added piece of mind in the case of your drone flying away and not reporting back.

The majority of these devices attach directly to the drone, and report back using cellular networks and GPS, meaning that wherever your drone goes, even if it's far out of range of your remote control, you'll still be able to find your drone. These come at various price points, from $20 to $200+ depending on functionality and features.
13. Drone Insurance
Last on my list of useful drone accessories is insurance for your drone. This is going to be especially useful if you are new to flying your drone, as it will give you some peace of mind as you go through the learning process, which is likely to have the odd hiccup along the way.
If you have a DJI drone, I can highly recommend the DJI Care Refresh program. This is valid for a year from date of purchase, and covers your drone for pretty much every eventuality. For a small fee, DJI will either repair or entirely replace your drone for up to two units a year.
The only requirement is that you recover the drone to return it to them – so if you lose the drone in water for example, and can't recover it, you're out of luck.
I used this when my first drone crashed, which broke one of the legs (it was a hard crash!) and the service was excellent, I sent my drone in bits to DJI, and I had a replacement drone in my hands a few days later. So that was very much worth the investment in my mind.
There are other options for drone insurance, including adding it to your home insurance, or searching for dedicated insurance plans for drones. These will vary depending on the country you are in.
Where to Buy Drone Accessories?
There are a number of retail outlets from where you can purchase drone accessories. In the post above I've linked to Amazon, which has a wide range of drone accessories. It's also worth checking eBay.
If you have a DJI drone, you can also purchase some drone accessories directly from the DJI store.
Further Reading
Hopefully this post covers all the essential drone accessories you will need to improve your drone flying experience. Before I leave you, here are some further resources you might find useful:
And that's it! We hope you have fun flying your drone. Don't forget we're here to help if you have any questions or feedback. Got a drone accessory you love but don't see in the list? Just shout in the comments below!