Heading to New York City? As you might be aware, there are several boroughs in this city, which is home to millions of people!
We teamed up with Expedia.com to help you navigate the large metropolis. Start off by checking out the many NYC hotel options on Expedia.com to decide where you want to put your feet up at night. Once you've figured out where you want to stay in New York, you're going to need to know how to get around New York to all the sights you've come to the city to see.
Well, with our definitive guide, you're going to learn all the different options you have for getting around New York. This will include all the major New York transport options, as well as tips for using each one.
Once you've read this, check out our guide to spending 2 days in New York, which has a detailed itinerary and lots of tips on what to see in the city. Now, let's get started with our guide to getting around NYC.
How to Get around New York City
As you'll see from this list you have a lot of options when it comes to getting around New York City. This is to be expected, after all, New York is the most populated city in the United States.
With over twenty million residents in the New York metropolitan area, which is spread across five main boroughs, it's easy to see why there are so many ways to help them get around!
Here are some of the best ways to get around the city when you visit.
1. Taxi
The iconic yellow taxi is certainly a popular way to get around the city with residents and visitors alike. The yellow taxi is easy to recognise, being bright yellow, and having a yellow light on the roof. These yellow taxis are the only vehicles that are allowed to pick passengers up in response to a street hail across the entire city.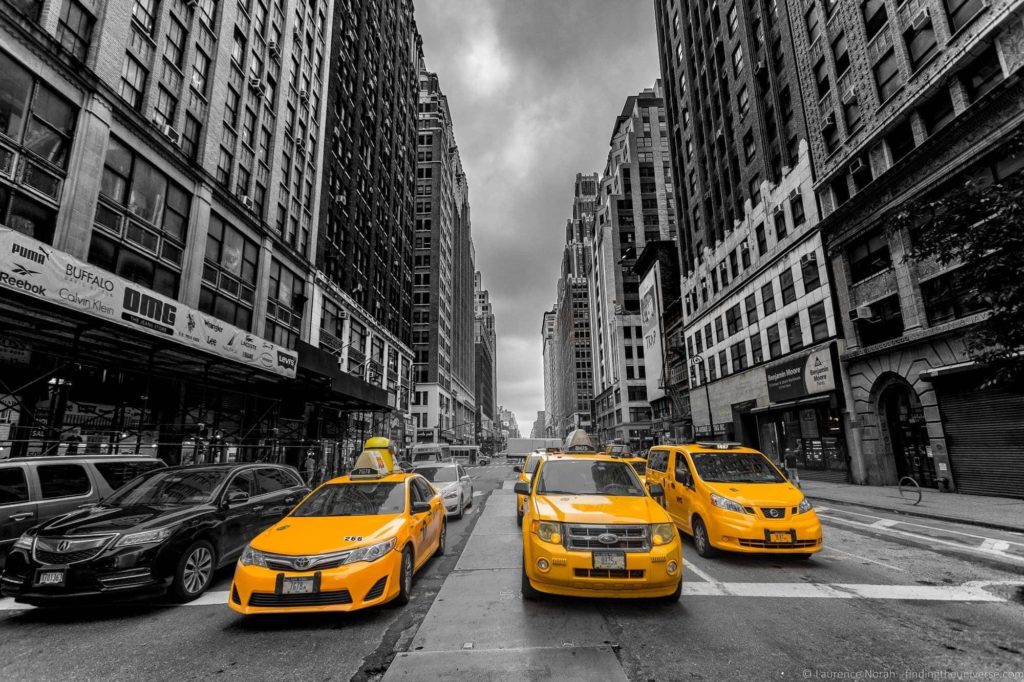 A taxi shows it's availability by illuminating the yellow light. An illuminated light means the taxi is available for hire. To hail a taxi, you just need to attract the drivers attention, usually by waving from the street corner.
Once the taxi sees you, they will stop somewhere safe to pick you up. Let the driver know your destination address. Taxis are metered, with fares starting at $3, and then increasing as time and distance pass – you can see the fares here. Note that tolls will also be added to your taxi fare. New York taxi Fares can be paid in cash, or with a credit or debit card.
It's definitely worth taking a taxi in New York just for the experience. It's not a big expense, particularly for shorter rides.
There are of course alternatives to the yellow taxi, including ride-sharing services such as Uber and Lyft. These need to be booked in advance using their apps, and do generally work out cheaper than a yellow cab.
2. Bus
The New York Metropolitan Transport Authority (MTA) operates a fleet of almost 6,000 buses in New York, which cover over 322 routes. Suffice to say, you should be able to find a bus route to meet your needs!
Buses in New York are generally classified as local or express. Express routes have reduced stops and focus on serving commuter routes from some of the busier areas of Manhattan to the outer boroughs.
Buses only stop at marked stops, which are normally located two to three blocks apart. Bus stops are clearly marked with blue signs and sometimes with shelters. The bus stop will indicate which bus routes service the route.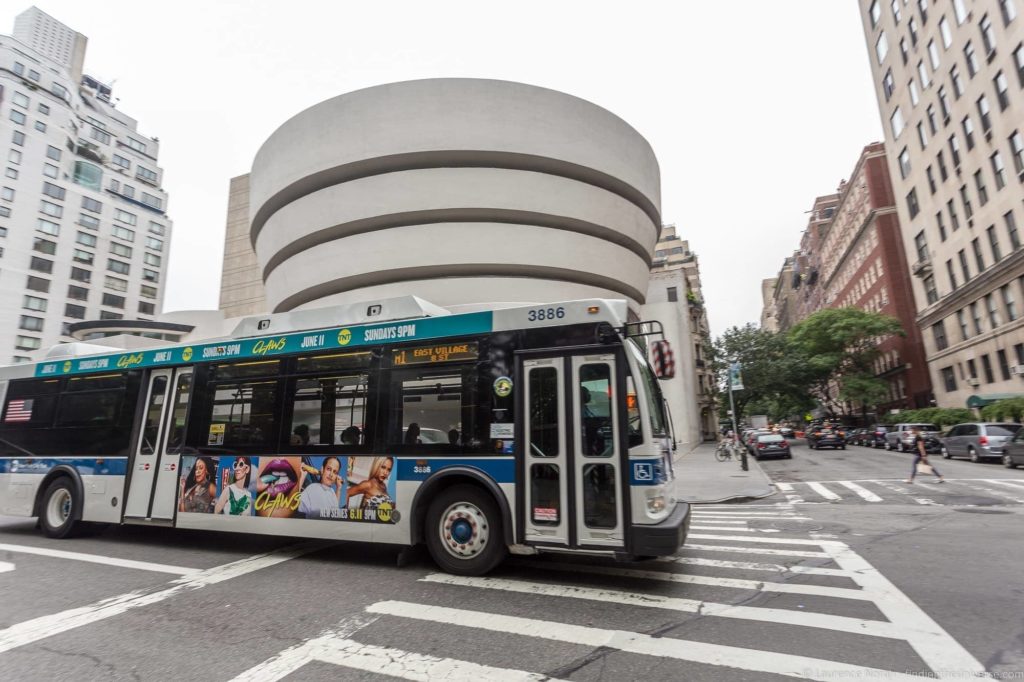 To use the public bus in New York, just stand at the stop, and as your bus approaches, just signal with your hand that you want the bus to stop. Fares are $2.75 for standard buses, and $6.75 for express buses. Fares can be paid in cash, by MetroCard or using contactless via the OMNY system. If paying in cash, you need to give exact change, and be aware that only coins are accepted as fare – no bills.
If you have a contactless payment card or smartphone device, the OMNY system is going to be the easiest way to pay for your fare. Just swipe your card or device on the reader and the fare will be deducted. OMNY also has the advantage that you only pay for the first 12 fares in a week (starting on a Monday). Rides after that are free.
The MetroCard is a alternative if you don't have contactless. It covers a number of different transport options in the city, and you can recharge it. If paying by MetroCard, just swipe it when you board the bus.
MetroCards can be purchased at MetroCard vending machines, subway station booths, and local stores. They cost $1 to purchase, but can then be refilled.
One main advantage of paying by OMNY or MetroCard is that you can transfer for free to other bus or subway services within two hours of your first fare.
When you want to get off the bus, locate a "stop" button on the bus, which you should press to indicate to the driver that you want to stop at the next stop. You don't need to swipe your Metrocard or contactless payment card to disembark.
3. Subway
One of the most popular ways to get around New York is the New York Subway. This is a great way to get around the city as you avoid any traffic.
With 472 subway stations, the New York City subway is the largest subway system in the world as measured by total number of stations. It's also one of the oldest subway systems in the world, as well as one of the busiest. It's operates twenty four hours a day across 36 lines, and serves four out of five of New York's boroughs.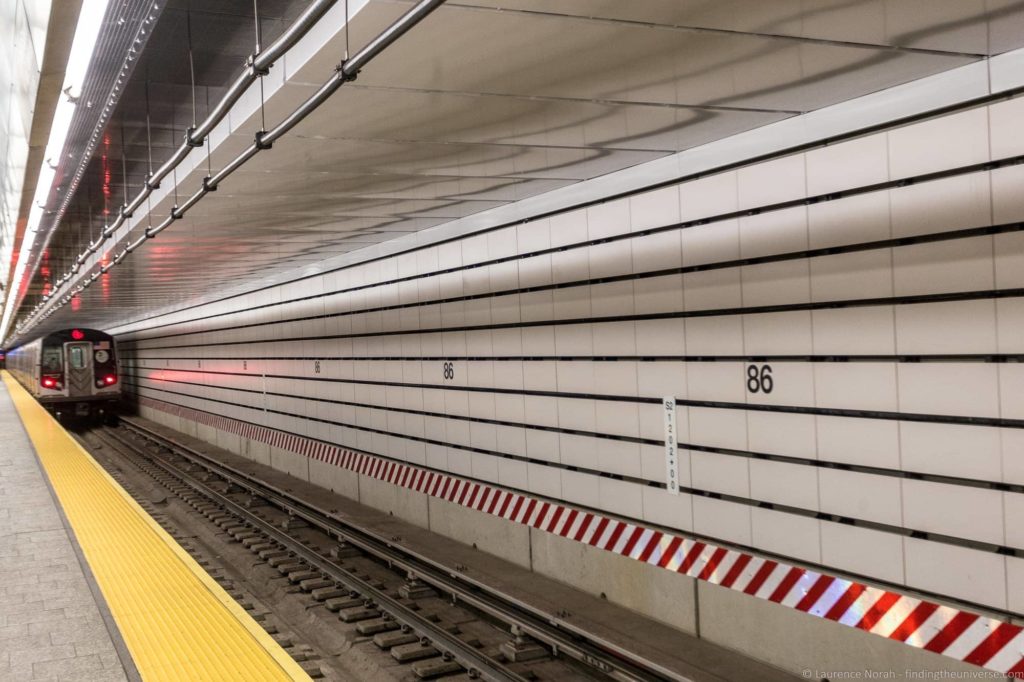 Suffice to say, as a visitor to New York City, the subway is likely to be able to get you pretty much anywhere you want to go!
Riding the subway is easy. First, you need to find a nearby subway station, which will be well signposted with an entry sign. This sign will also indicate which routes are served at the subway stations, with routes denoted either by numbers or letters. The majority of subway stations will have a map of the network to help you plan your route.
As with the bus system, you can pay for your fare either with a contactless payment device using OMNY, a MetroCard, or you can purchase a single ticket.
OMNY and Metrocard fares are $2.75, whilst single tickets are $3. Fares are not distance dependent and unlike many other subway systems, there is no zone system. So you can go as far as you want on your single ticket.
Tickets and MetroCards can be bought at the vending machines at the stations, or if available, at ticket desks. The machines accept coins, bills and credit/debit cards. We definitely recommend buying a MetroCard for your New York City visit.
To access the subway, you need to scan your ticket, contactless payment device/card, or MetroCard at the turnstile, which will activate the barrier with a green "GO" sign. You will exit through similar turnstiles or doors, but the majority of these do not require you to scan a ticket – you just walk through them. Trains stop at every station, you do not need to request the stop.
4. Rail
As well as the subway, there are a number of passenger railway lines operating around New York city. The majority of these are commuter focused lines designed to bring people into the city from the more distant boroughs, and they include the NYC suburban train, Staten Island Railway, New Jersey Transit, Port Authority Trans-Hudson, Long Island Railroad and Metro North Railroad.
Unless you are planning on visiting one of the more distant part of the city, or have booked a hotel a long way from the main sights in New York, it's unlikely you're going to need to use one of these rail services.
If you do, you will most likely have to buy a ticket for the individual journey at the train station. There is also an eticketing app called eTix, available for both Android and iPhone devices, which lets you buy tickets on your phone for the Metro-North Railroad or Long Island Rail Road. Fares will vary depending on the route you take.
5. Ferry
There's a lot of water in New York, and as a result, there are a variety of options for using boats to get around the city, including the NYC Ferry service and Staten Island Ferry.
The NYC Ferry is a relatively recent addition to New York's public transport system. Launched in 2017, at time of writing this offers six lines, with additional lines planned to open in the coming years. There are 21 terminals and 28 boats in operation, connecting Manhattan with Brooklyn and Queens.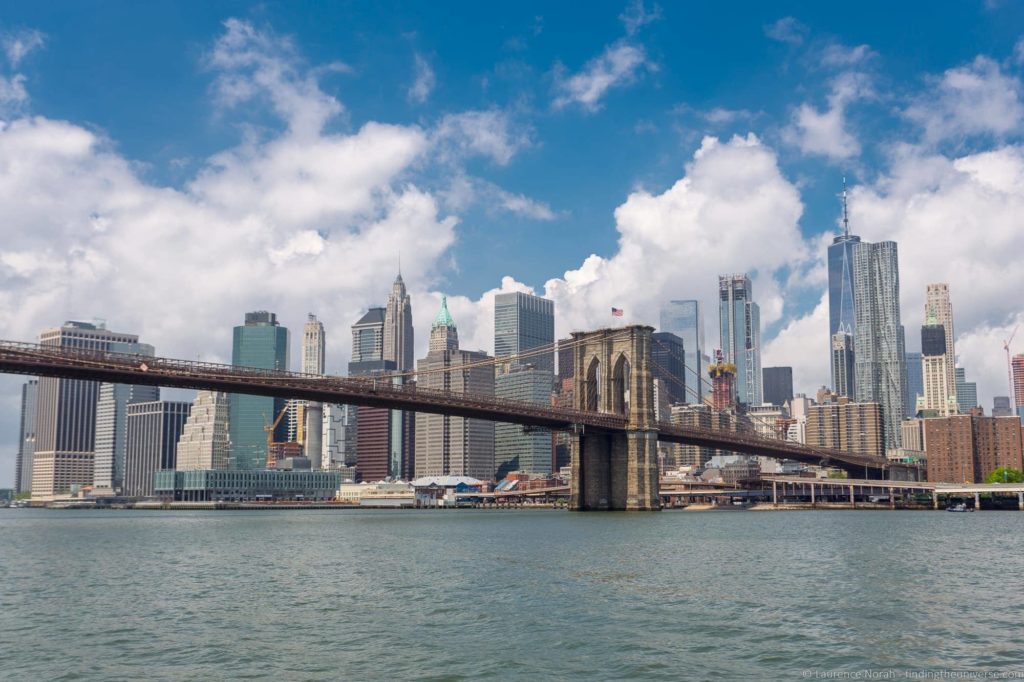 We rode this service a number of times when we visited New York in the summer of 2017. We were staying in Brooklyn, and found the ferry to be one of the best options for getting to parts of Manhattan. Services are regular and good value – it costs $2.75 for a single trip, which is the same as the subway or bus system.
NYC Ferry tickets are not a part of the MetroCard system, and must be purchased separately. All the ferry stations have ticket vending machines, which accept cash or credit cards. Tickets can also be bought on board, using the NYC Ferry app, or on the NYC Ferry website. Just show your ticket when you board.
We really liked the NYC Ferry system – it's a good value way to get around, and the views of the Manhattan skyline and various bridges on the trip to various Brooklyn ports is really nice – it's worth paying to ride the ferry just for this alone!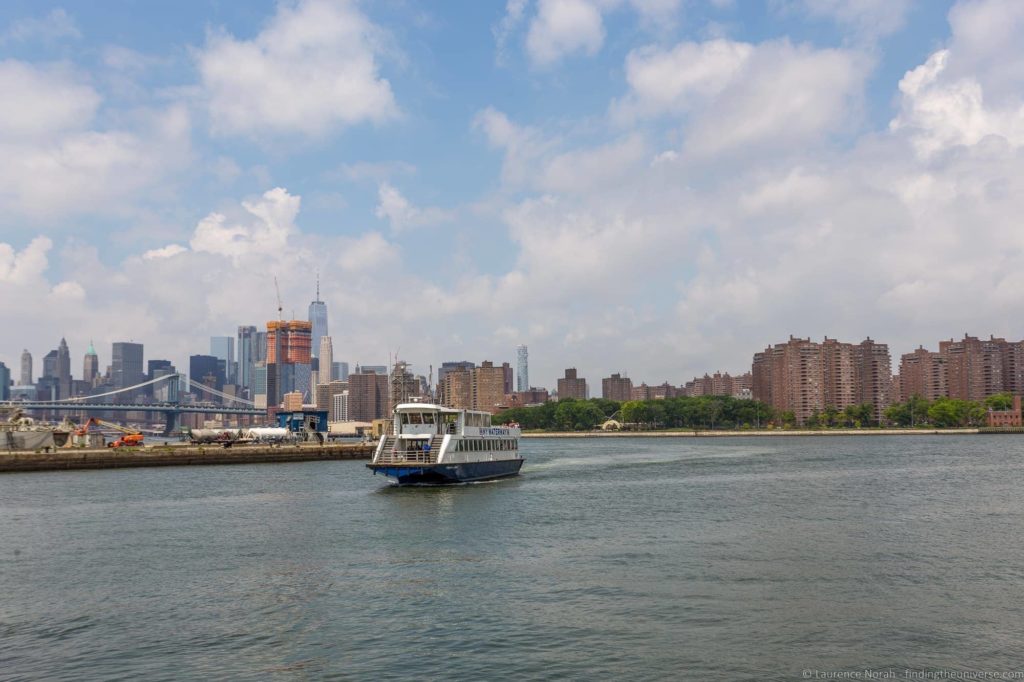 There are a number of other passenger water services in New York City, including the NY Waterway, the well known Staten Island Ferry and the New York Water Taxi.
The Staten Island Ferry, as the name suggests, operates between Manhattan and Staten Island. It's totally free to use, and is a great way to get a relatively close view of the Statue of Liberty without taking a paid tour.
The NY Waterway and New York Water Taxi services service additional routes, and also need their own tickets, so depending on the routes you are taking you might find them useful as well.
6. Walking
New York is a big place, but don't discount walking as an option for getting around! Just be aware that distances might be further than you imagine when looking at a map. Still, exploring different parts of the city on foot, which is for the most part fairly flat, is certainly a possibility.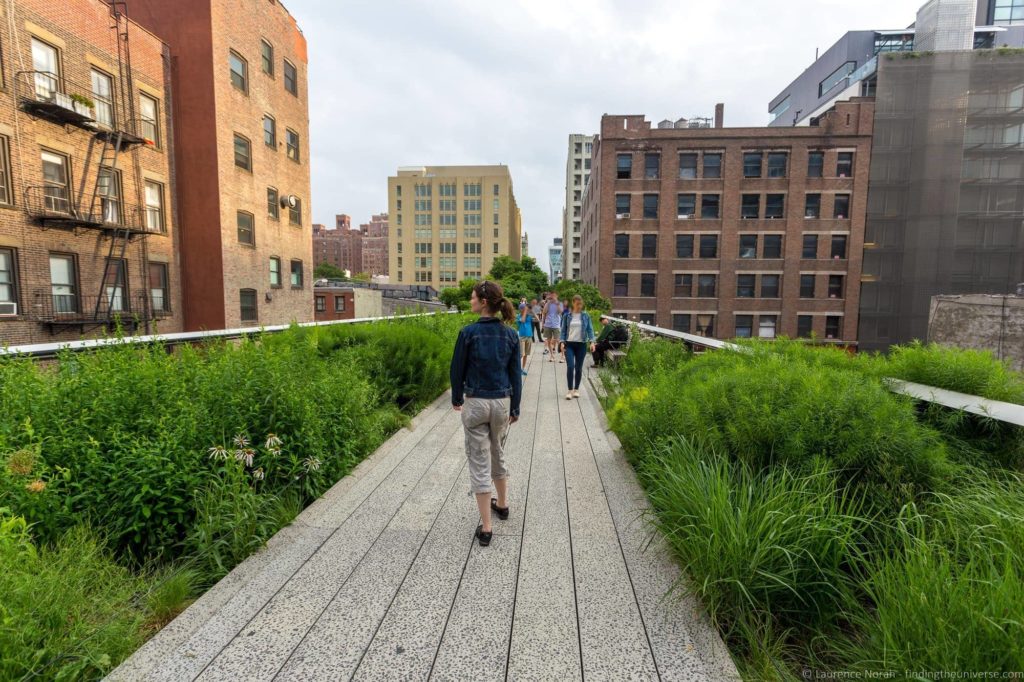 Just be aware that the locals will also be walking around, and they tend to move quickly, and can get irritated by slow moving tourists with limited situational awareness. So just be aware of your surroundings, and don't just stop in the middle of busy sidewalks to grab a selfie or consult your map!
7. Bicycle / Pedicab
Like many cities around the world, New York has a bike hire program whereby you can get access to a large network of bikes located around the city, which you can drop off and pick off at various points.
The Citi Bike program is open to both locals and visitors. At time of writing, it's $12 for a day pass, and $24 for a 3 day pass. These passes can be bought through the Citi Bike Mobile App, or in person at a station kiosk (see kiosks here). Annual memberships are also available, which are more suited to residents or those staying longer term in the city, and you can sign up for those on the official website.
Passes can be bought with either a debit or credit card – cash is not accepted.
Once you have your 1 or 3 day pass you use the bike for up to 30 minutes at a time. After thirty minutes, there's an extra fee, so if you want to ride longer, it's best to drop off the bike and pick up another one. Annual memberships let you ride for 45 minutes without incurring additional fees.
Note that the Citi Bikes program does require you to be 16 years or older to rent and use them.
There are also other options for bike rental as well. See this service which offers bike rental for varying durations.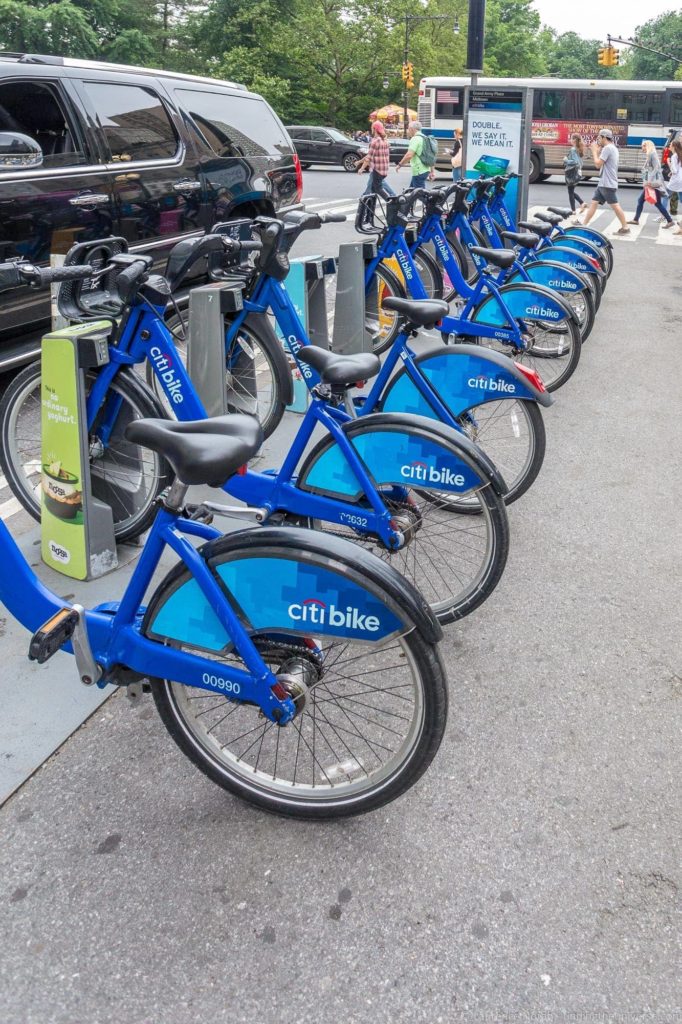 If the idea of cycling yourself seems like a lot of effort, there are also pedicabs for hire in the city. These are three wheeled cycles with a driver that can either take you from one point to another, or can be booked for tours.
Pedicab operators must have a Pedicab Drivers License, and their pedicabs have to pass an inspection. Fares are time based, and must be clearly displayed on the Pedicab in a relatively large font.
Fares range from $3 – $7 per minute, and the Pedicab will be fitted with a compliant timer that all passengers can see. Drivers are not allowed to levy any other fee – you can see all the applicable laws here so you know your rights before taking a Pedicab.
8. Helicopter
Ok, so this is not exactly a budget option. But if you want to quickly get from downtown Manhattan to a wide range of destinations around New York, including the airport, then a quick ride on a helicopter is your best bet. There's a heliport located in downtown Manhattan, which is the most popular as it is so close to Wall St. There's also a heliport at East 34th Street.
The majority of heliport activities are around servicing busy executives, but you can also book sight-seeing helicopter tours like this one, which is a unique way to see the city, and perfect for a special occasion.
9. Aerial Tram
New York definitely has no shortage of transport options. The Roosevelt Island Tramway is an aerial tram which links Roosevelt Island with the Upper East Side of Manhattan. It's been in operation since 1976, and was the first aerial tram of its kind in the USA.
It was primarily built as a commuter tram to link Roosevelt Island with Manhattan, but is also popular with visitors looking for a unique view of the skyline. Whilst not operated by the MTA, you do need a MetroCard to ride the tram. Prices are the same as a subway or bus ride, at $2.75 for a single.
In addition, because it is linked to the MetroCard system, you can transfer from the tram to a bus or subway service without paying any more.
10. Hop-on Hop-Off Bus
If you're looking for a way around New York that focuses on the attractions and also provides information, then you'll likely want to take a Hop-On Hop-Off bus tour of New York. These open-top buses follow routes around the city that stop at all the major attractions you'll want to visit, and you can get on and off as often as you want for the duration of your ticket.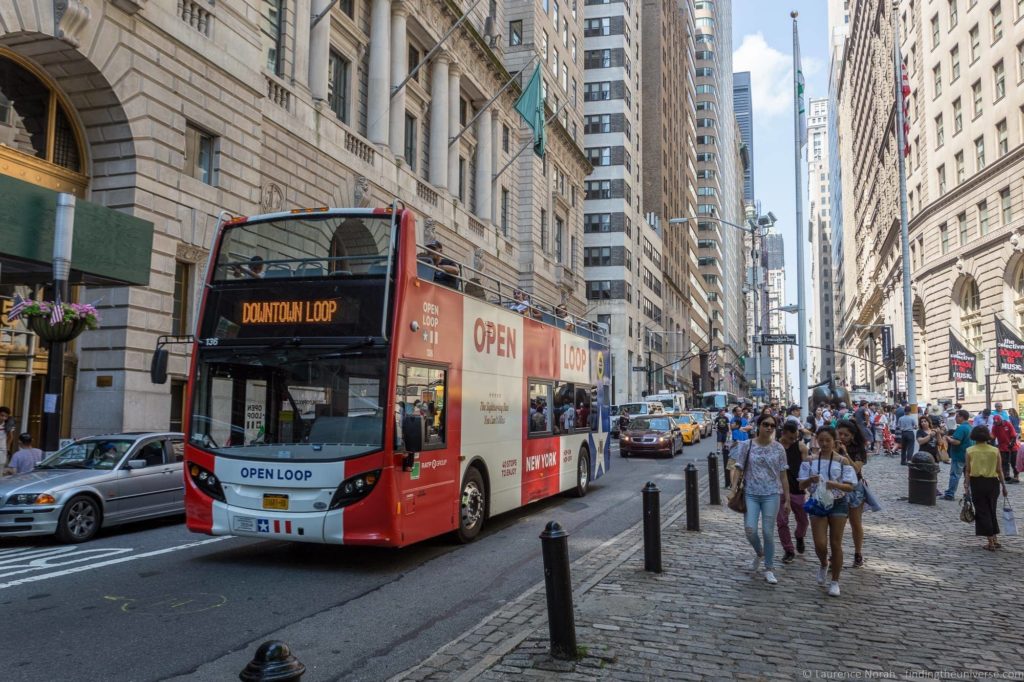 We find that HOHO buses are a great way to see a lot of a city in a short amount of time without trying to figure out the public transport system, plus they come with commentary which will give you lots of information about the city you are visiting, and the New York HOHO buses are no different.
You can buy HOHO bus tickets in advance here, or they are also included on many of the New York city attraction passes, such as the New York Pass, New York Explorer Pass & New York Sightseeing Pass.
You can see our review of the top New York City attraction passes here to see if they are a good option for your visit.
What is the Best Way to Get Around New York?
We think the best way to get around New York is a combination of the subway, bus system and walking. If you're situated over in Brooklyn, we would add the NYC Ferry to that list.
If you are new to the city and want to get a feel for the layout and the sights, then we can also recommend a Hop on Hop off bus tour. These are especially worth doing if you have invested in a sightseeing pass as they are normally included.
As you can see from our list, there are lots of options to get you around the city. The best option for you is going to depend on where you are staying, where you need to go, and your needs.
Further Reading
Hopefully this post answered all your questions about public transport in New York City! Before you go, we wanted to share with you some more articles and resources to help you plan your trip to New York.
And that's it for our guide to public transport in New York! As always, if you've got feedback or questions, let us know in the comments below!