Jess and I have visited New York City many times, and it's definitely a city we never tire of exploring. There's just so much to see and do!
In this post, we wanted to share an itinerary for spending 3 days in New York. This will give you enough time to see many of the city's highlights, from world class museums through to famous sights and spectacular viewpoints.
This itinerary is ideal for a first-time visit to New York for someone who wants to see a lot. As well as the day-by-day itinerary, we're also including lots of helpful information to help you plan your time in the city, from how to get around through to where to stay and how to save money.
Itinerary for 3 Days in New York City
Below is our detailed day by day itinerary for exploring New York over three days. The city has a lot to offer and it's quite big, so we've grouped attractions together where possible to minimise travel time.
As with many of our itineraries, this is quite packed. New York City is a great place to visit if you like to use all your available time as many sights and attractions are open late into the night.
Of course, if you prefer a slower pace, or perhaps you are visiting New York with kids, then you will want to tweak the itinerary slightly to meet your own needs.
Let's get started!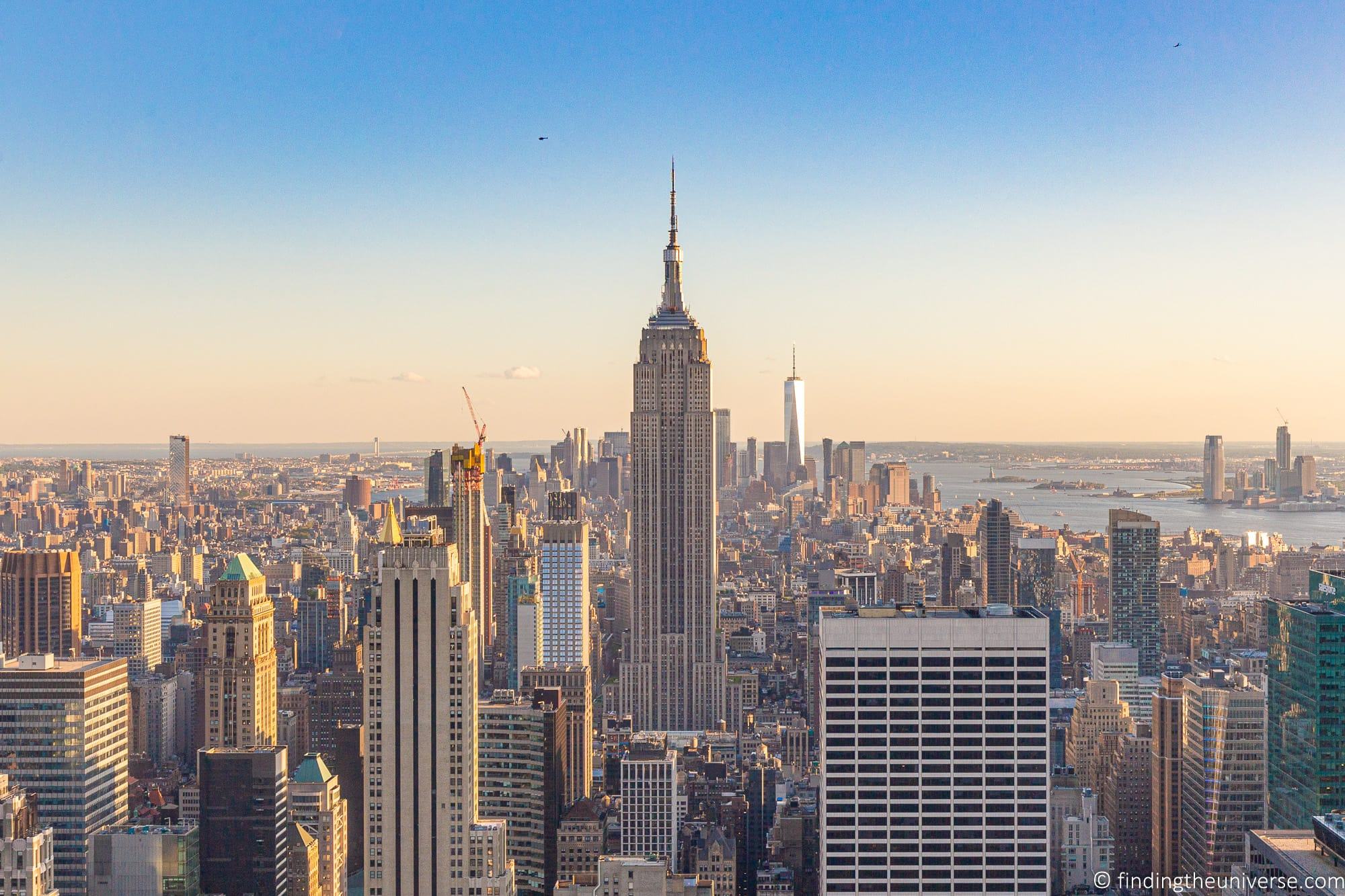 New York Itinerary Day 1
Your first day in New York has you visiting some of the city's most popular museums, its most famous park and getting a spectacular view of the skyline.
Central Park
Even if you've never visited New York, Central Park is likely going to feel familiar to you. It's the most filmed location in the world, with numerous well-known movies and TV shows having scenes shot here.
Central Park is also the most visited urban park in the USA, as well as the largest park in Manhattan.
As you would imagine, there is plenty to see and do here. We're putting Central Park first on our list because it has long opening hours. If you're an early riser and are keen to start your sight-seeing, then you can hit Central Park before the other attractions in our itinerary like museums open up. Normally, Central Park is open from 6am until 1am, although check the official website for any updates to that.
At over 800 acres, you could spend a lot of time in Central Park. We'd suggest picking some highlights to visit, and enjoying the walking trails in between them. Popular spots are the Bethesda Fountain and Terrace, Bow Bridge, Alice in Wonderland statue, Belvedere Castle and Conservatory Garden.
If you are visiting New York with kids, or just like zoos, Central Park is also home to a zoo which might be a good option. For getting around, Central Park is very walkable. Bike rental is another option, you can do that here. Carriage rides like this are another popular option.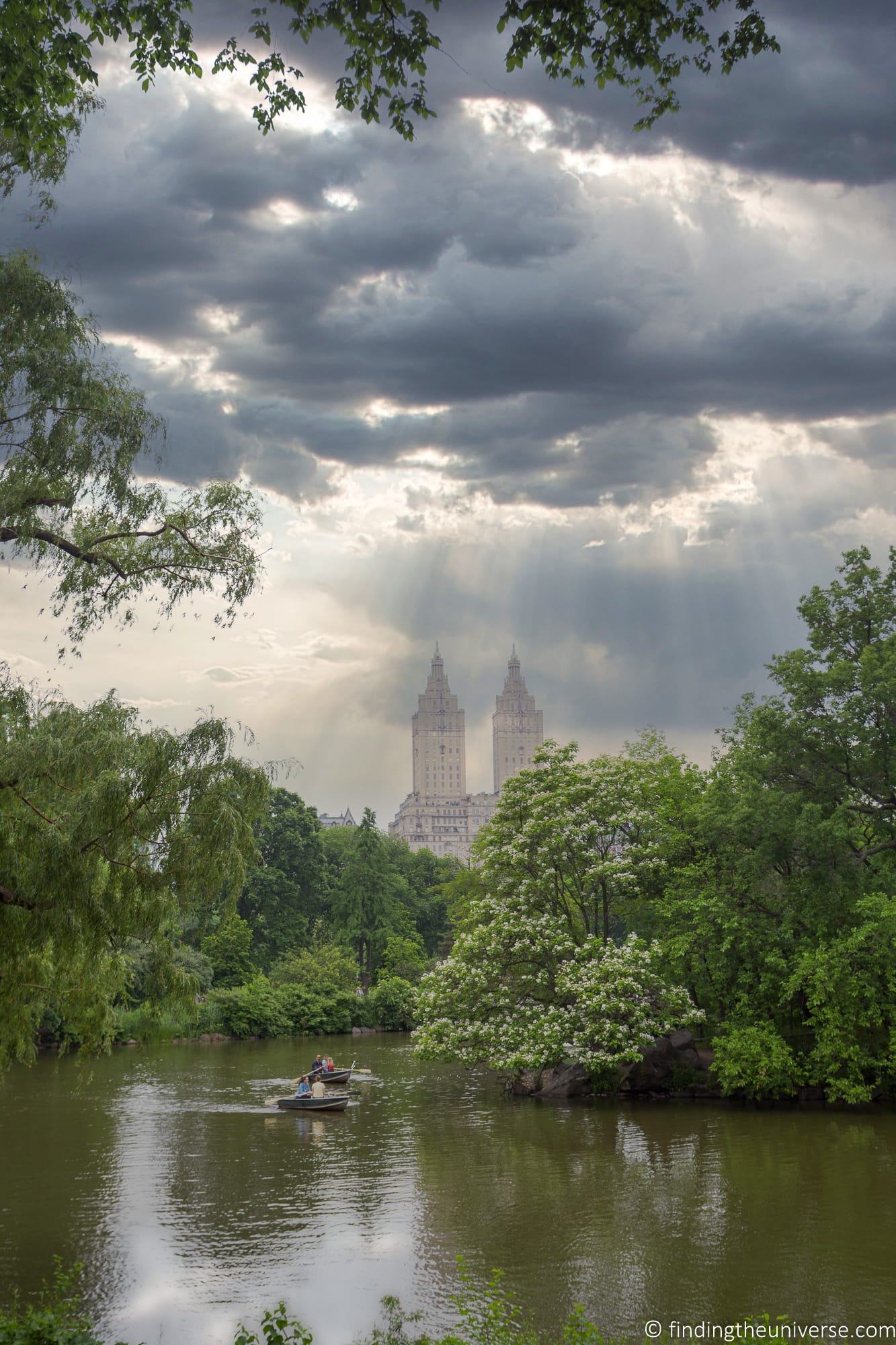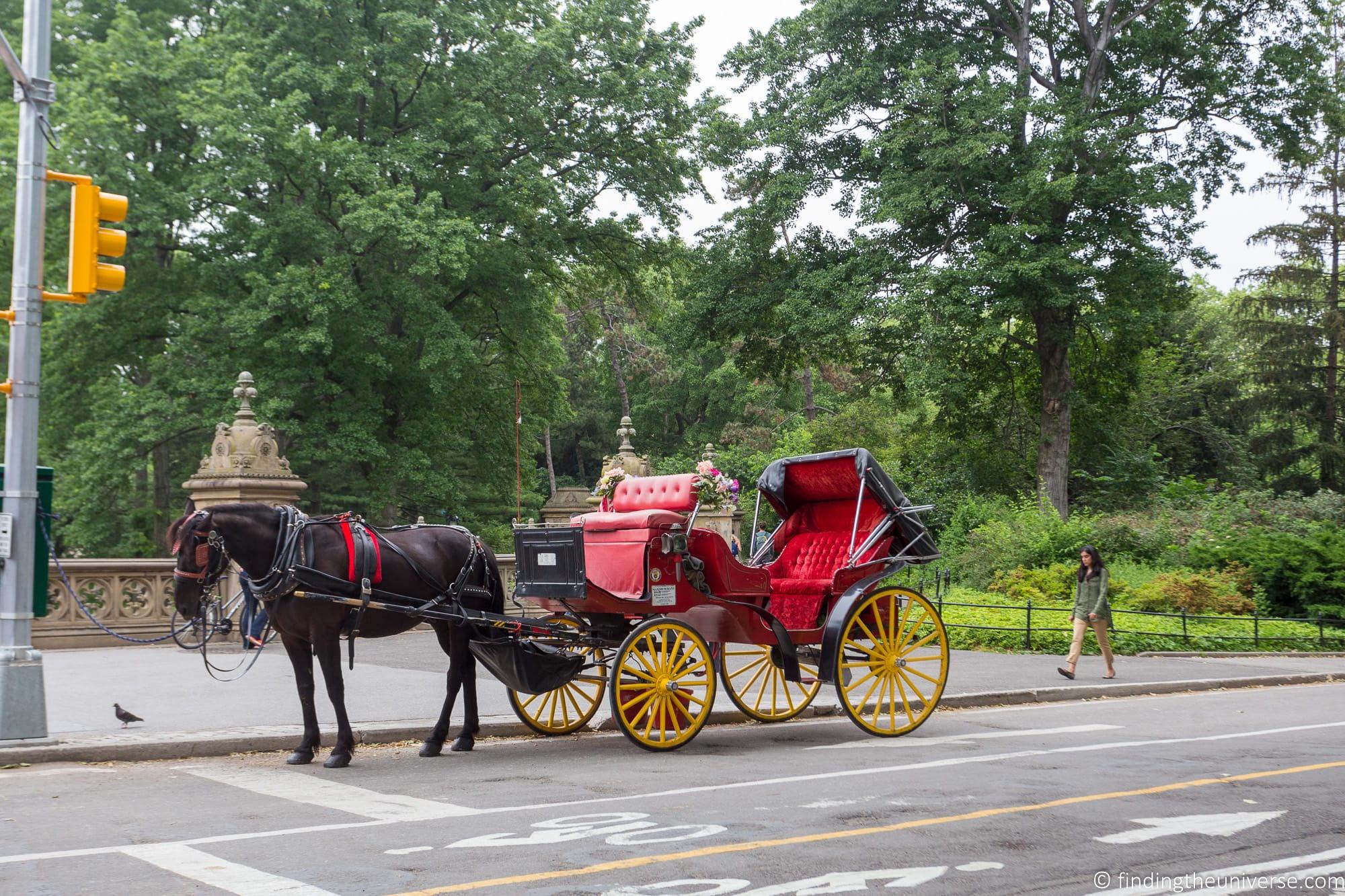 American Museum of Natural History
Having spent some time exploring Central Park, you now have your choice of museums where you can do everything from experience art, brush up on the history of the city or learn about the world.
We've included some of these museums in this itinerary, but the area has many more to choose from so feel free to vary this itinerary based on your particular interests.
First, we recommend you start your museum adventure with a visit to the world's largest natural history museum, the American Museum of Natural History. Found on the western edge of Central Park and spanning four city blocks, this vast museum is a favourite with families visiting New York. However, anyone with an interest in the natural world will find something to enjoy here.
Highlights include the dioramas featuring animals and scenes from around the world, the halls depicting the origins of people and of course, the fossil halls featuring massive dinosaur skeletons. There's also a planetarium, a hall full of meteorites and displays on gems and minerals, to name but a few of the attractions on offer.
You could spend a whole day here, but we'd suggest a highlights tour of around two hours to give you time for the rest of your visit.
There's an entry fee to visit, with entry included in a number of New York attraction passes including our favorite, the New York Pass. You can also buy an individual ticket here. More information on pricing and opening hours on the website here.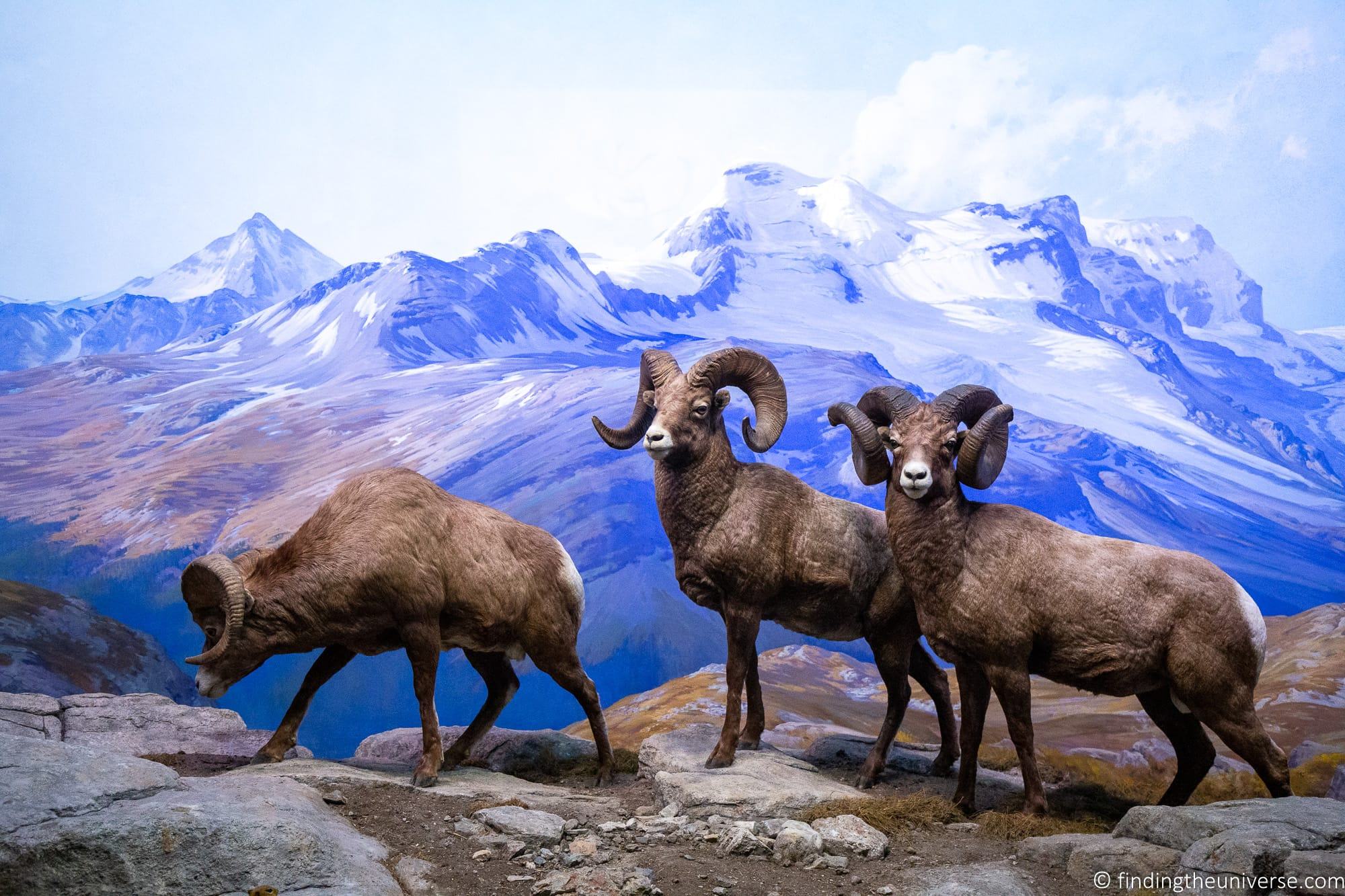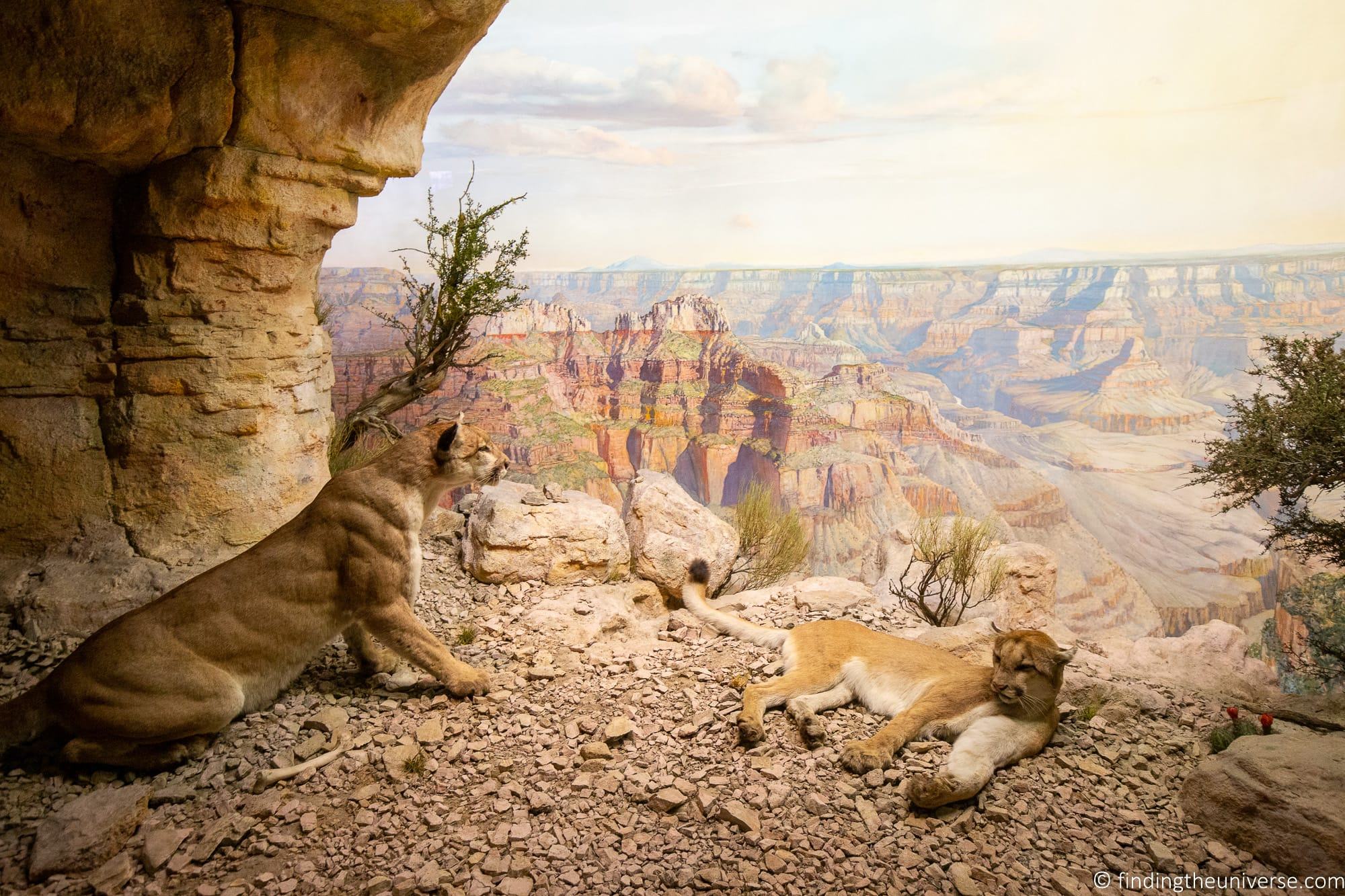 Metropolitan Museum of Art
On the opposite side of Central Park to the American Museum of Natural History, around 20 minutes' walk, is the Metropolitan Museum of Art.
Often referred to as "The Met", this is the largest art museum in the United States, with over two million works in its collection. If you're interested in art and want to visit an art museum during your time in New York, this is the one we'd recommend!
As you might expect with such a vast collection to draw on, there is a lot to see here. The collection spans 5,000 years of creative pursuits, from Ancient Egyptian art through to modern day works.
If you live in New York State, entry is free. For other visitors, there's an entry fee. You can buy your ticket online in advance here, and skip the ticket lines.
If you'd prefer to take a guided tour of the museum to gain more insights into what you are seeing, we highly recommend this guided walking tour of the Met with one of our favourite walking tour companies.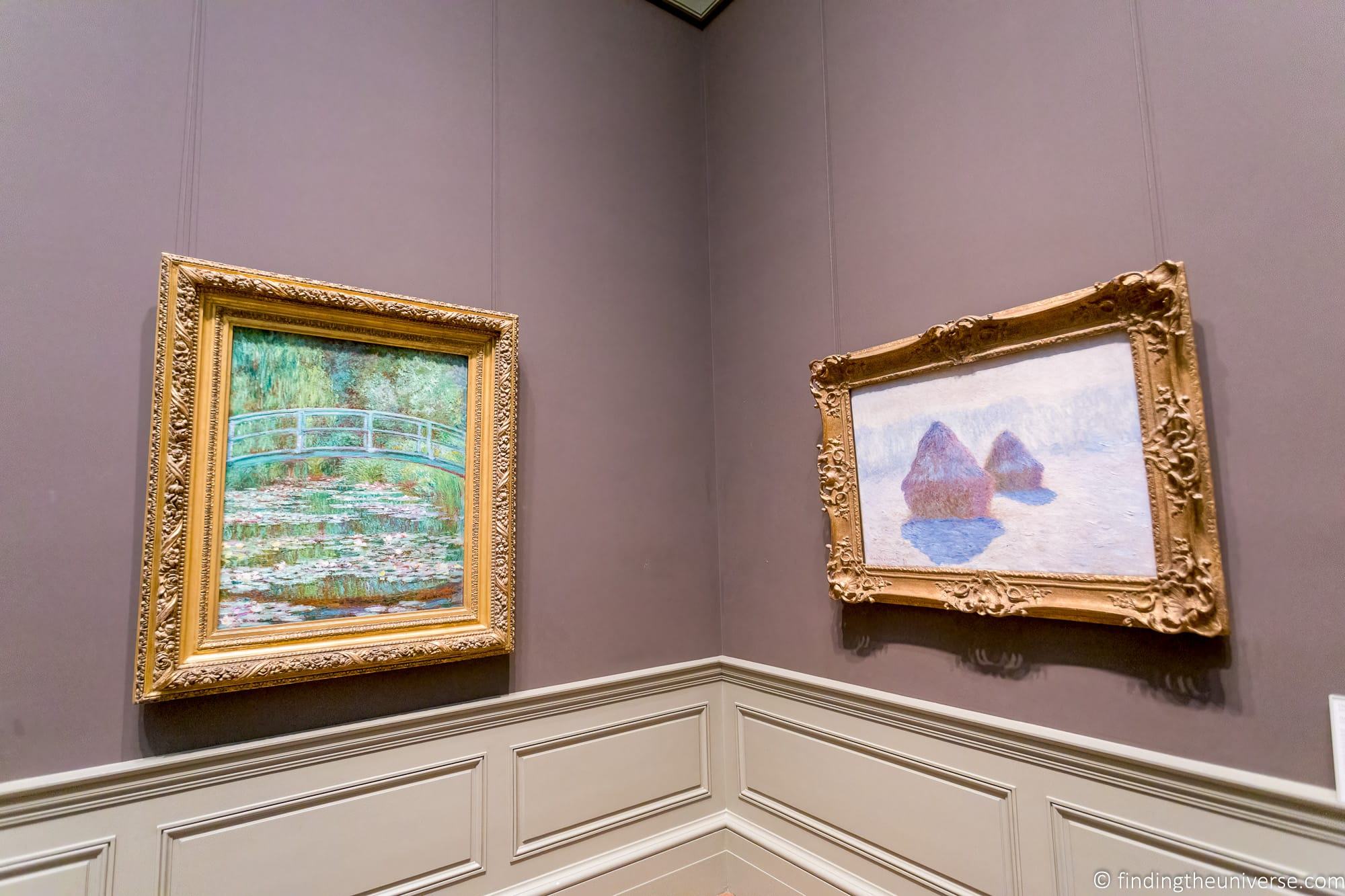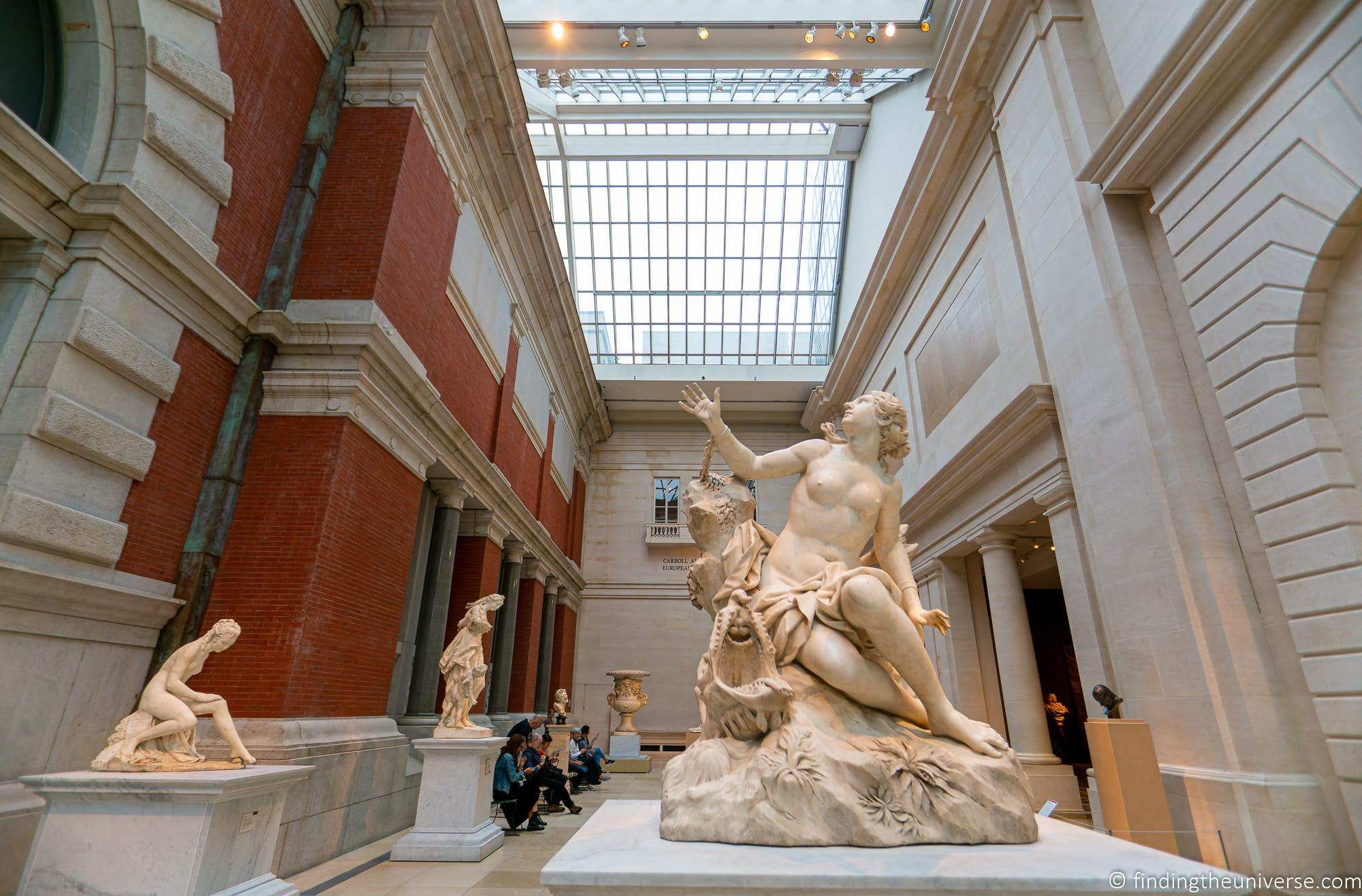 Museum of the City of New York
One museum we really love visiting in New York is the Museum of the City of New York. That's because this is the museum which will teach you the most about the history of the city itself, and especially the people who have made New York home over the centuries.
The museum has been telling this story since it opened in 1923, and today it has over 1.5 million objects related to the city in its collection. There are photographs, videos and artifacts as well as a number of interactive displays, where you can learn all about the story of the city and its people.
It's open every day and there's an entry fee. You can buy your tickets online in advance here. It's also included for holders of the New York Pass.
Alternatively (or additionally, if you're feeling motivated!), you could also visit other museums in this area, including the Guggenheim Museum, the Museum of Arts and Design, the American Folk Art Museum and the Frick Collection, to name but a few of the options you have!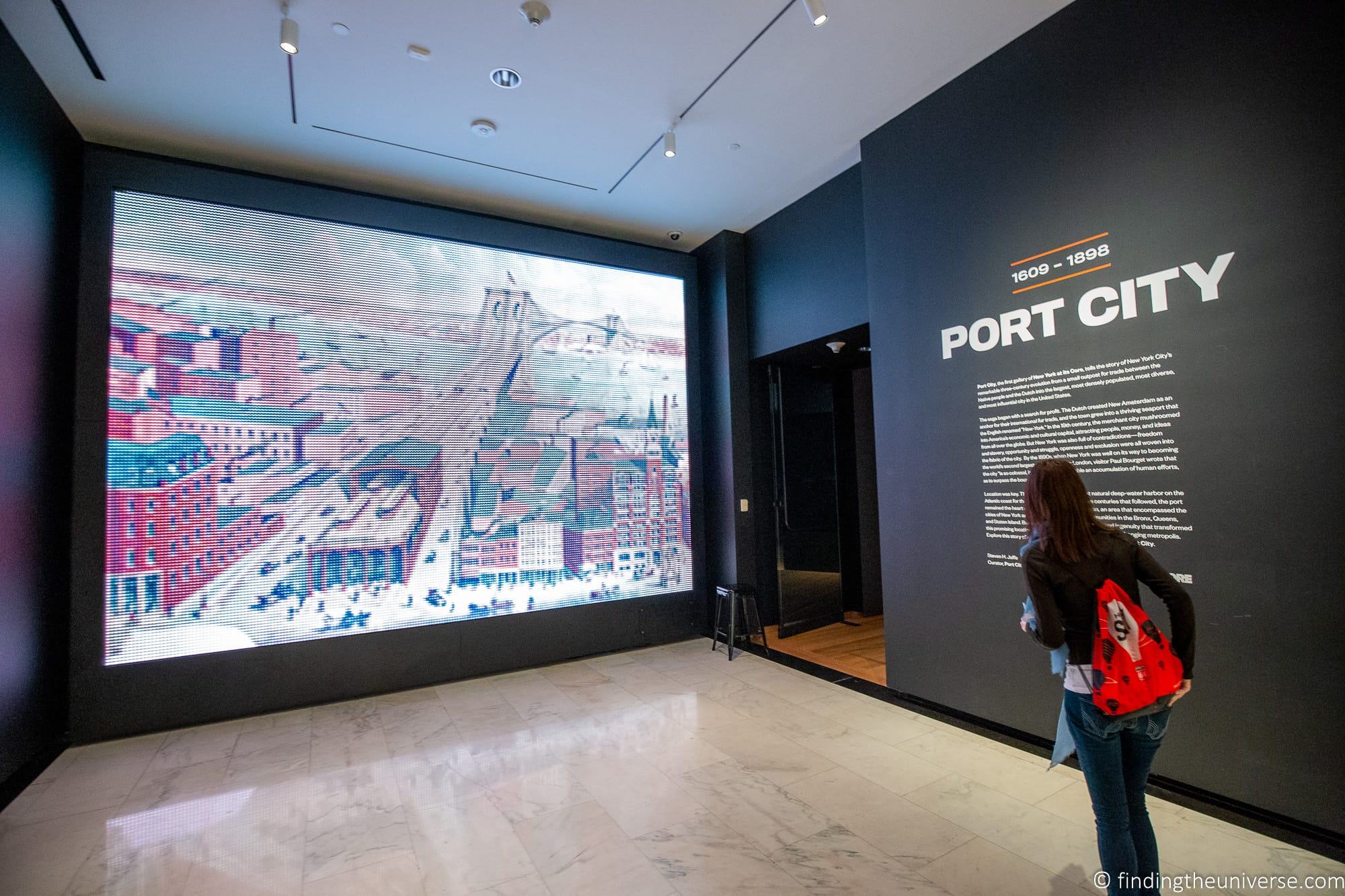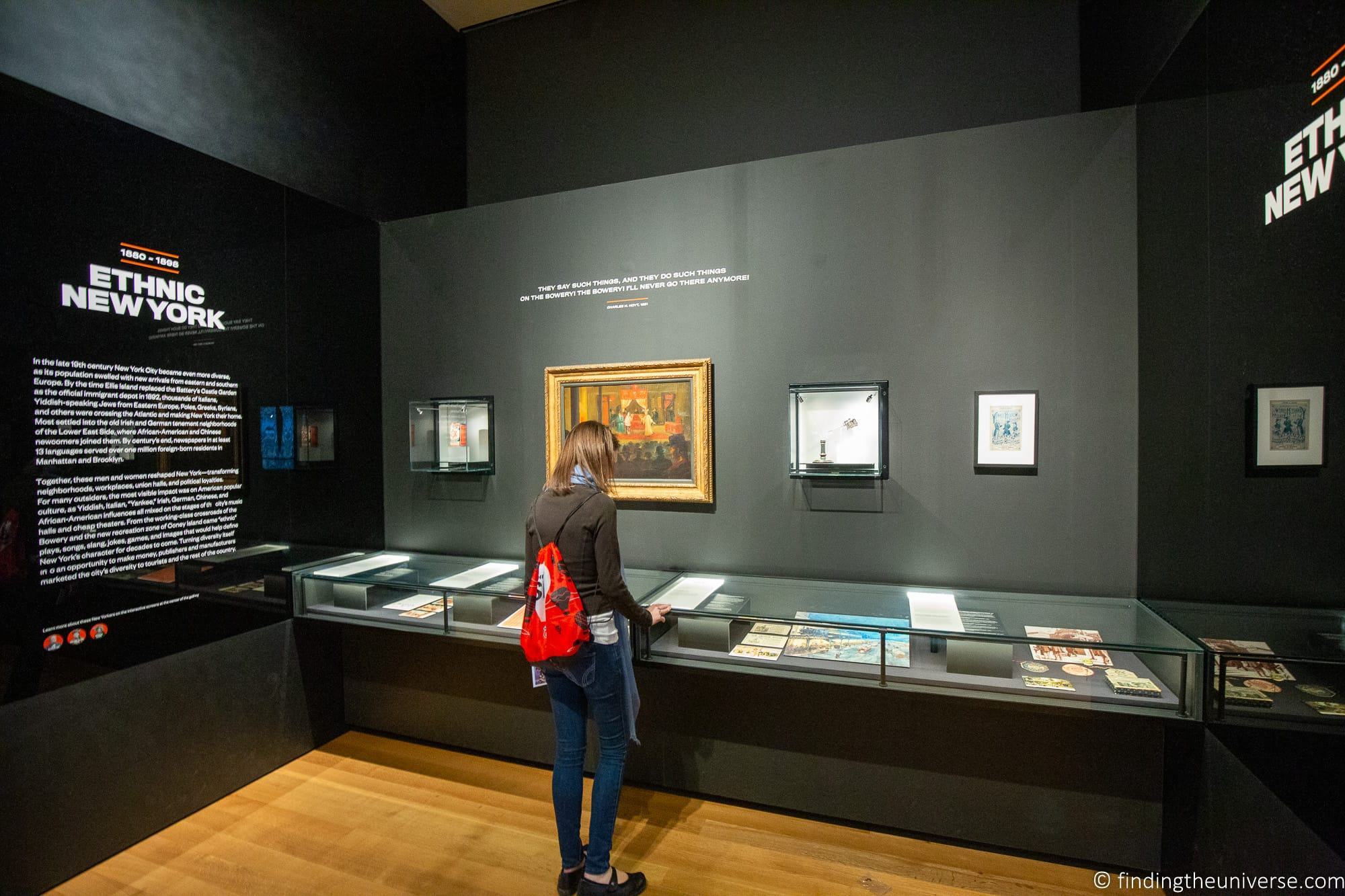 Fifth Avenue Shopping
The east side of central park is bordered by Fifth Avenue, and as you head south on this famous New York Street you'll leave museums behind and arrive at one of the world's most famous shopping areas.
South of 59th St, Fifth Avenue is home to some of the world's most well-known luxury brands, as well as some slightly more affordable shopping options. Even if you don't intend on actually shopping, it's an impressive stroll to take to see the opulence on display.
Brands you'll pass as you walk down Fifth Avenue include Gucci, Armani, Prada, Louis Vuitton, Tiffany & Co, and Dolce & Gabbana. There are also high-end department stores like Saks and flagship stores for brands like Apple.
Basically, if you want to do some retail therapy whilst you are in New York, you should find something on Fifth Avenue that works for you.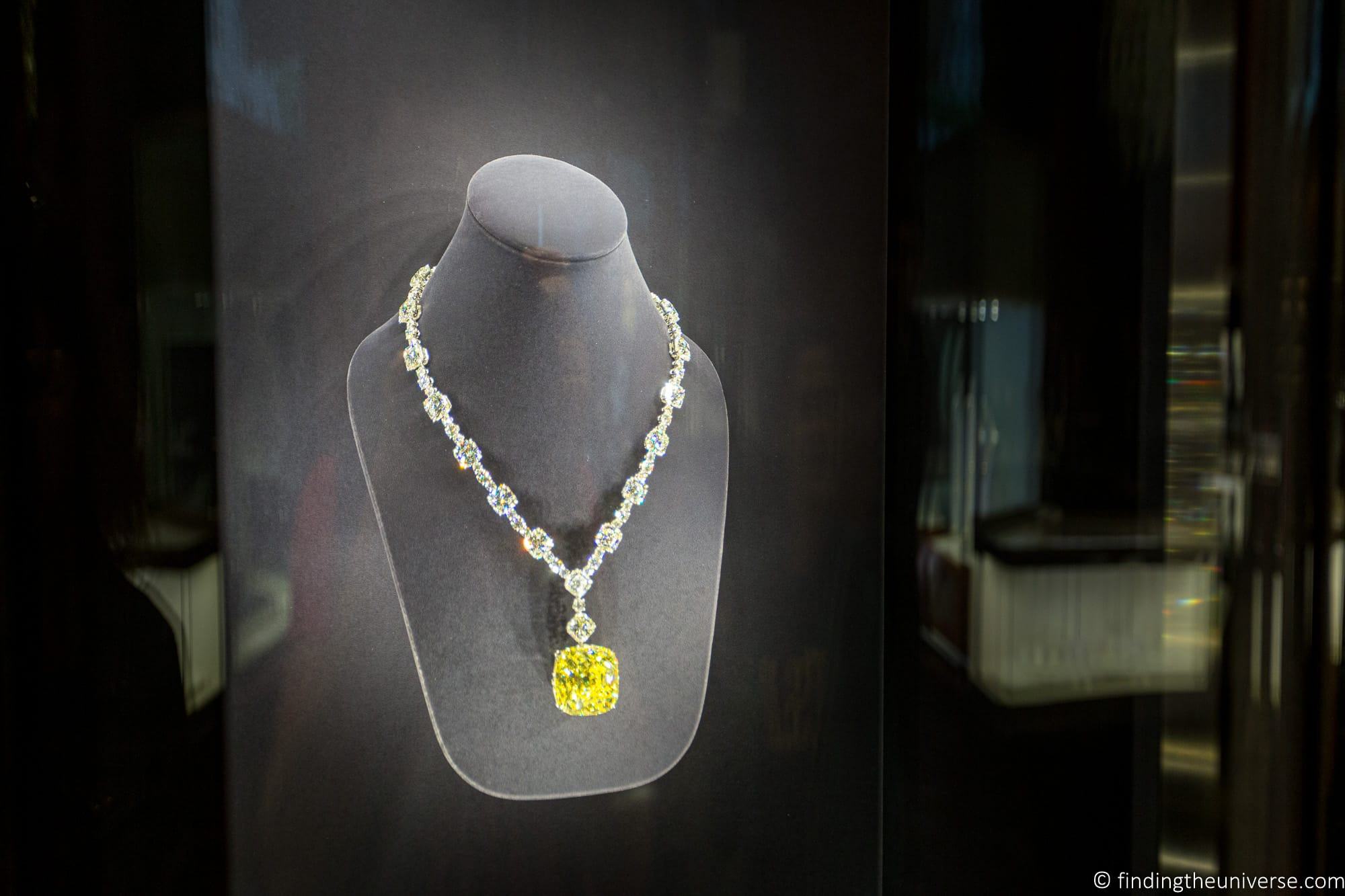 Top of the Rock
You're coming to the end of your first day exploring New York City, and we think it's time to get a great view of the city.
New York has a number of viewing platforms found at dizzying heights above the city, but one of our favourites is the view from the Top of the Rock. This is found in the Rockefeller Centre in Midtown Manhattan.
We like the Top of the Rock because it offers a great view which includes arguably New York's most famous skyscraper, the Empire State Building, which is just under a mile away.
It's also an open top observatory which offers spectacular views all around Midtown, including of Central Park and all the areas you explored on your first day in the city.
Access to the Top of the Rock is included on a number of the New York city attraction passes, including the New York Pass. Alternatively, you can buy tickets in advance of your visit online here.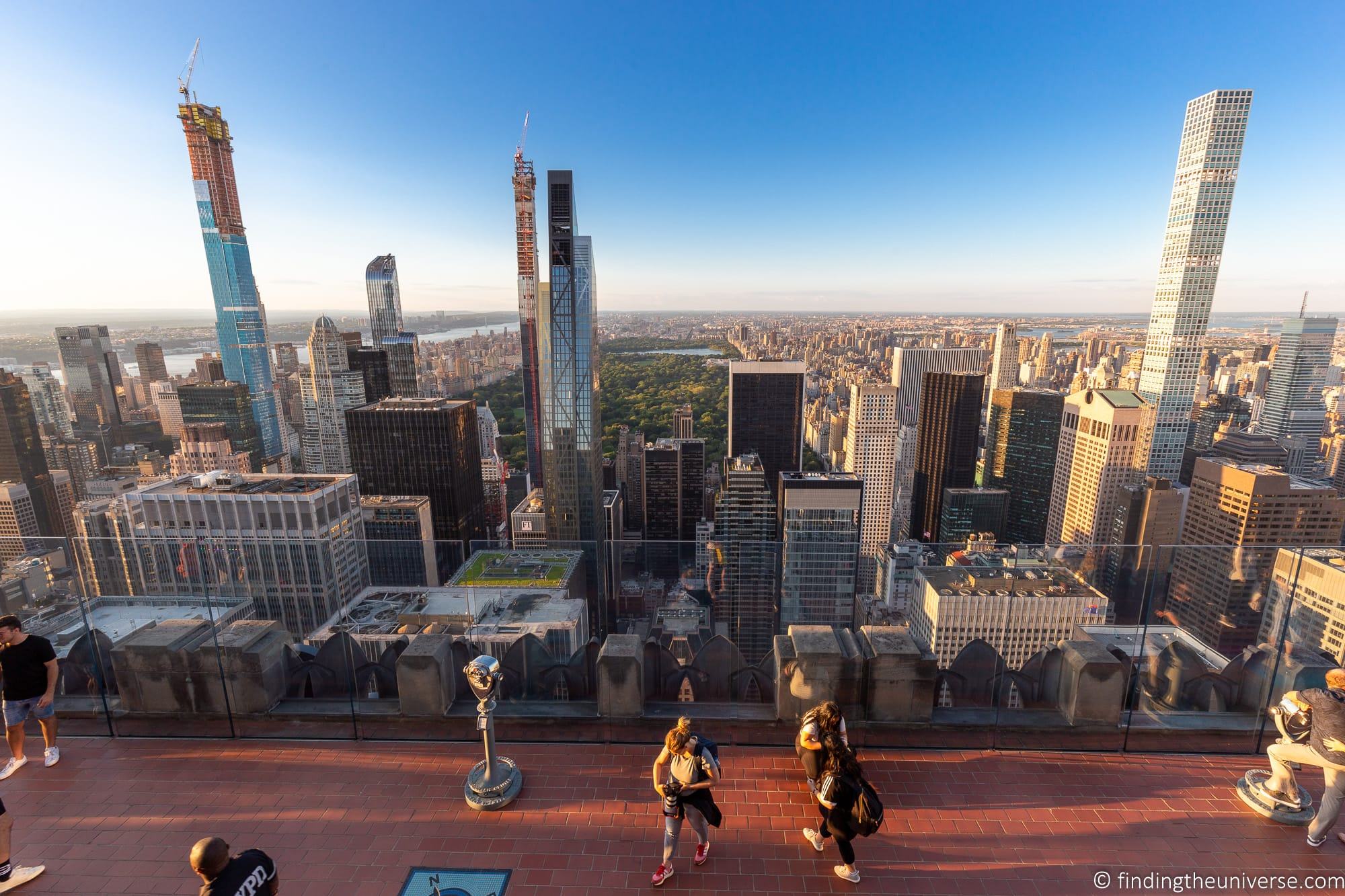 Broadway or Other Show
Finally, if you still have the stamina and want to round out your first day in New York in style, why not take in a Broadway show or other live performance.
From the Rockefeller centre you are just a few minutes' walk from a range of shows and experience, including the Radio City Music Hall and multiple Broadway and off-Broadway shows.
The only thing we'd say if that if you want to visit a particularly popular show to be sure to book well in advance, as tickets can sell out quickly. However, you can save money by booking less popular or off-Broadway shows instead.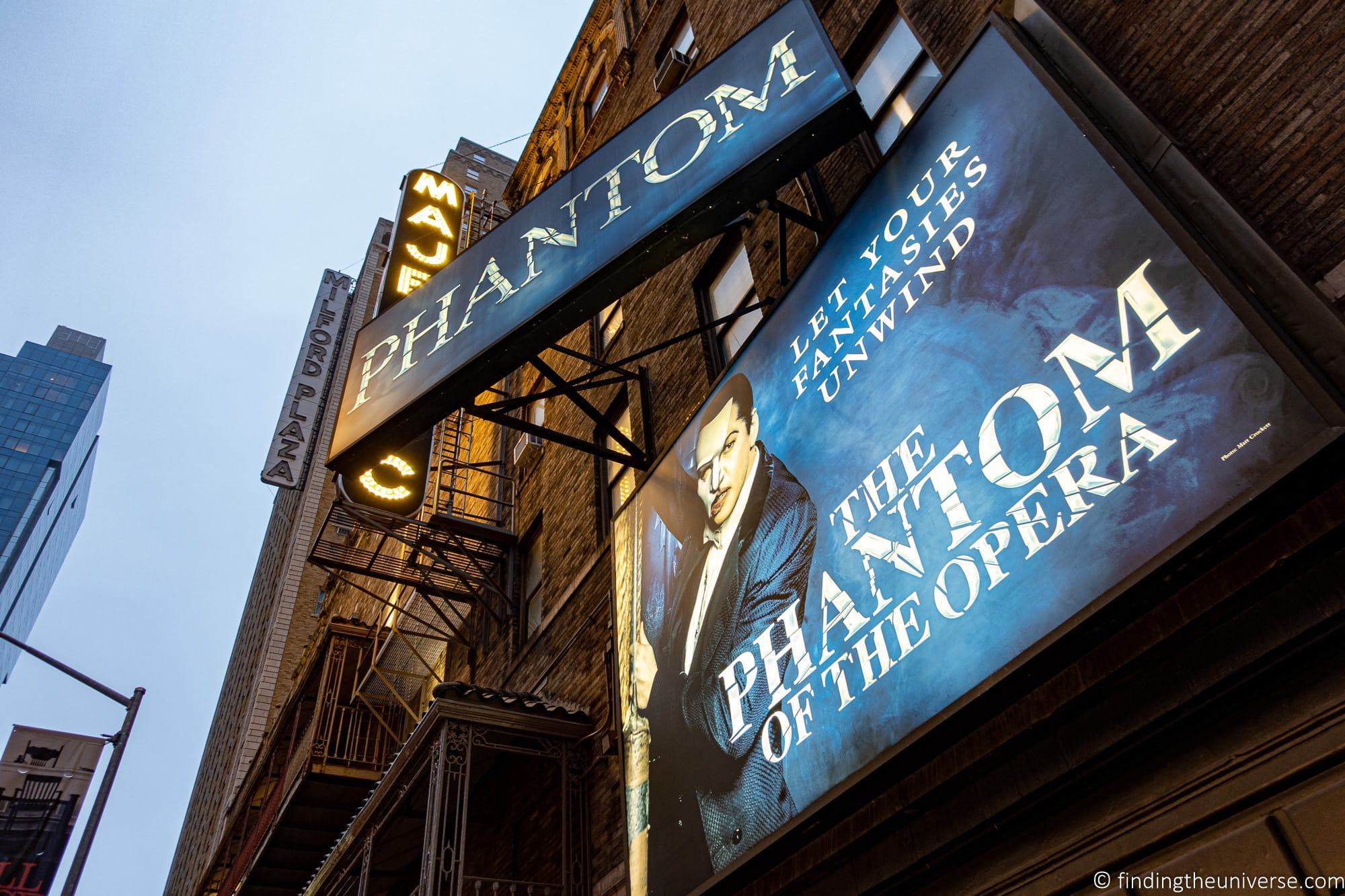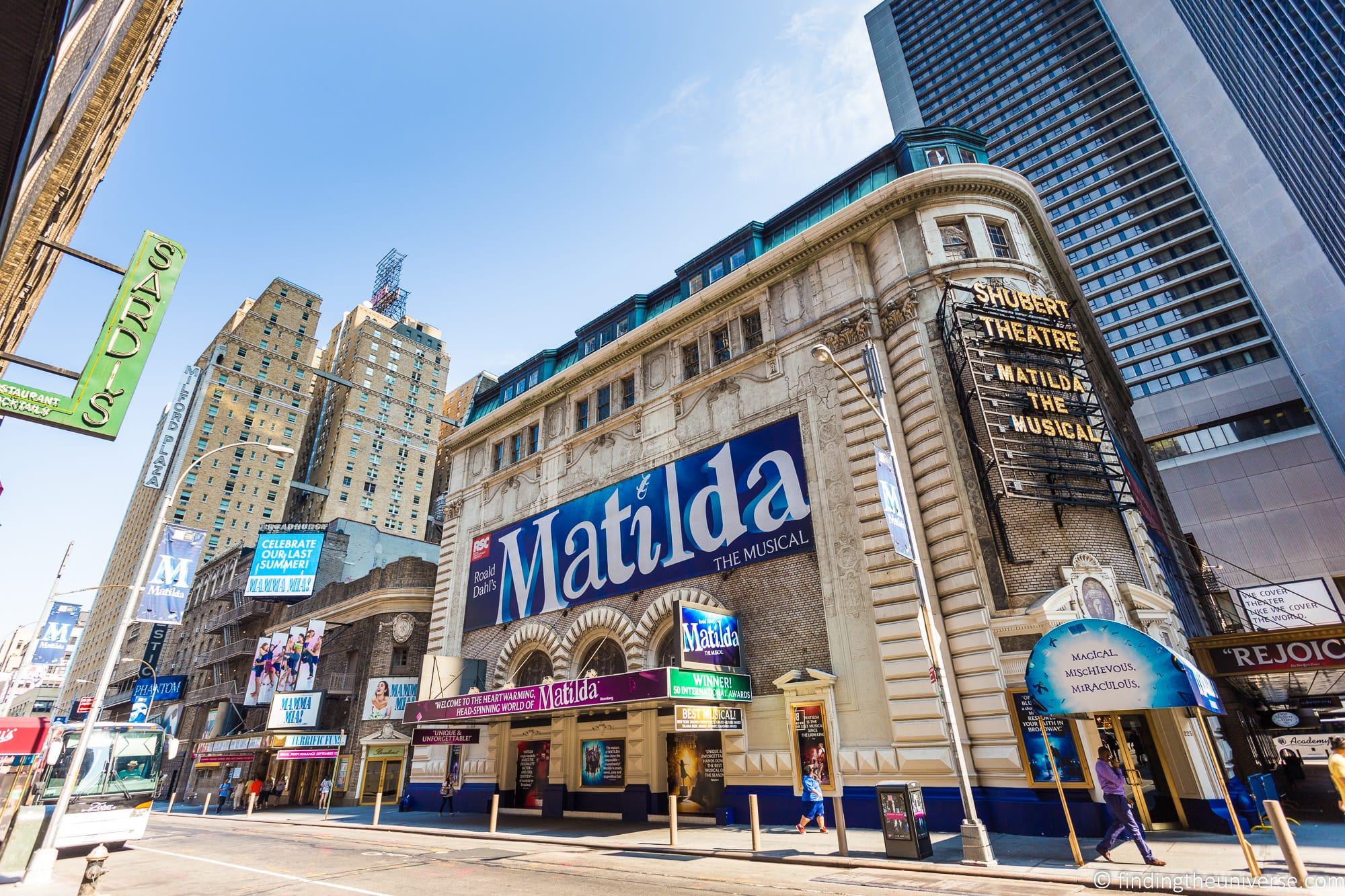 New York Itinerary Day 2
Your second day in New York City is going to have you visiting one of the most iconic landmarks in the United States as well as other attractions around the south of Manhattan. You're also going to pop into Brooklyn!
Statue of Liberty and Ellis Island
You're going to start day 2 of this three-day New York itinerary with a visit to the world-famous Statue of Liberty, found on Liberty Island, as well as the historical immigration centre on nearby Ellis Island.
The Statue of Liberty was a gift from the people of France to the people of the United States, and it was dedicated in 1886. Since then, it has grown to be a symbol of the USA and one of the most recognisable statues in the world. It's also a popular visitor attraction in New York, with millions of people visiting each year.
To visit the Statue of Liberty you need to take a ferry, as it's on an island. You specifically need to take a ferry which is operated by Statue Cruises, which is authorized by the National Parks Service, who operate the island.
On Liberty Island you can visit the Statue of Liberty Museum and learn about the history of the statue. It's also possible to visit the pedestal and crown of the statue, although this requires an extra ticket.
Another option we've done and can recommend is to take a walking tour which includes the cruise to the Statue of Liberty, pedestal access and a tour of Ellis Island. We've done and can recommend this 3.5-hour Early Access Statue of Liberty Tour with Ellis Island with Take Walks.
A tour is an excellent way to really learn about the history of what you are seeing, and Take Walks in our experience offer some of the best guides out there.
From Liberty Island, the ferry will then take you to Ellis Island, where you can visit the historical immigration museum. This was where millions of immigrants entered the USA for the first time to begin a new life, and a great many families in the country can trace their lineage to this building.
Note there are lots of other boat tours to the Statue of Liberty and Ellis Island, but these only circumnavigate the island. If you want to land and visit the Statue, you need to get the ticket for Statue Cruises, which you can do here, or book a tour like the one we mentioned above with Take Walks. The ticket with landing is also included as part of the New York Pass.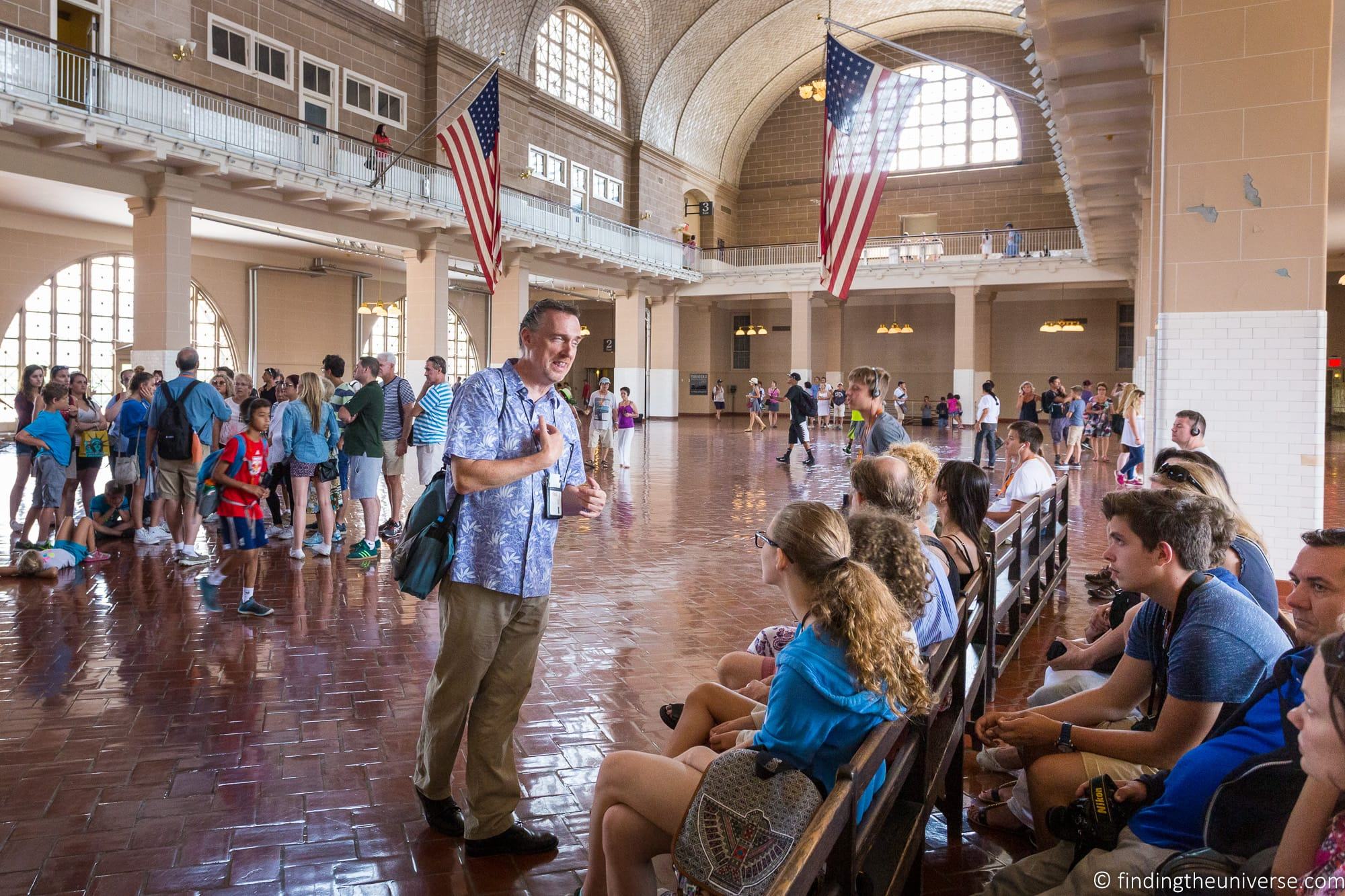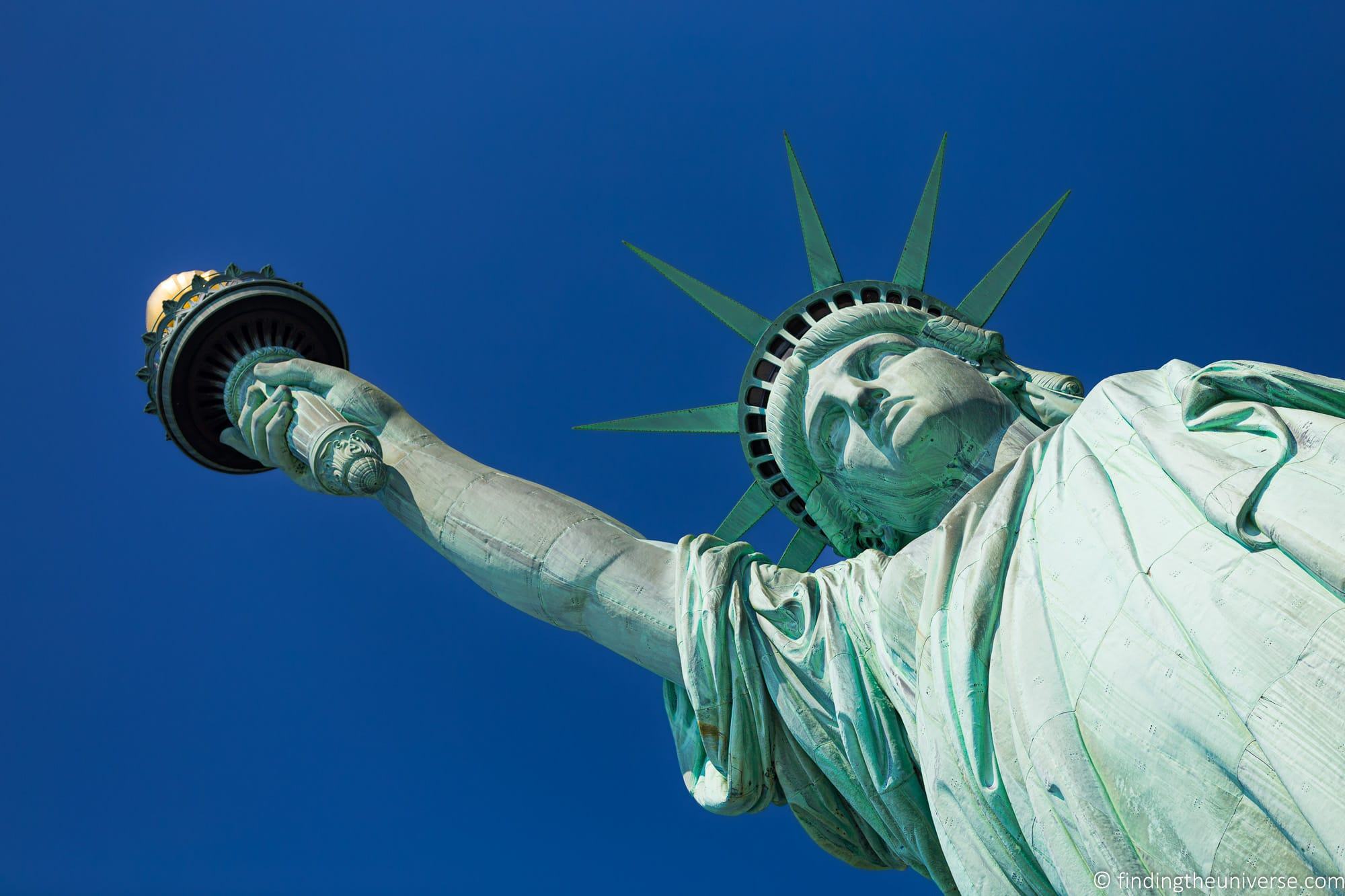 Skyscraper Museum
You will likely be aware that New York City is home to a lot of skyscrapers, a definition usually given to a building which is over 150 metres (492ft) in height. The invention of the elevator in the 19th century was key to making these buildings commercially viable, as no-one wants to walk up multiple flights of stairs.
New York city was famous for its skyscrapers from the late 19th century. Limited real estate meant the only way to go was up, and by the end of the 19th century the race to build the tallest skyscraper was on. Chicago and New York battled over the title of the city with the tallest building, with the Empire State Building holding the crown for 40 years after its completion in 1931.
If you are interested in learning more about skyscrapers, then a visit to the Skyscraper Museum should be on your to-do list. It's just a few minutes' walk from the Statue Cruises embarkation point, and it's also very reasonably priced. The museum is small but we enjoyed our visit. There's a small entry fee, with entry included as part of the New York Pass.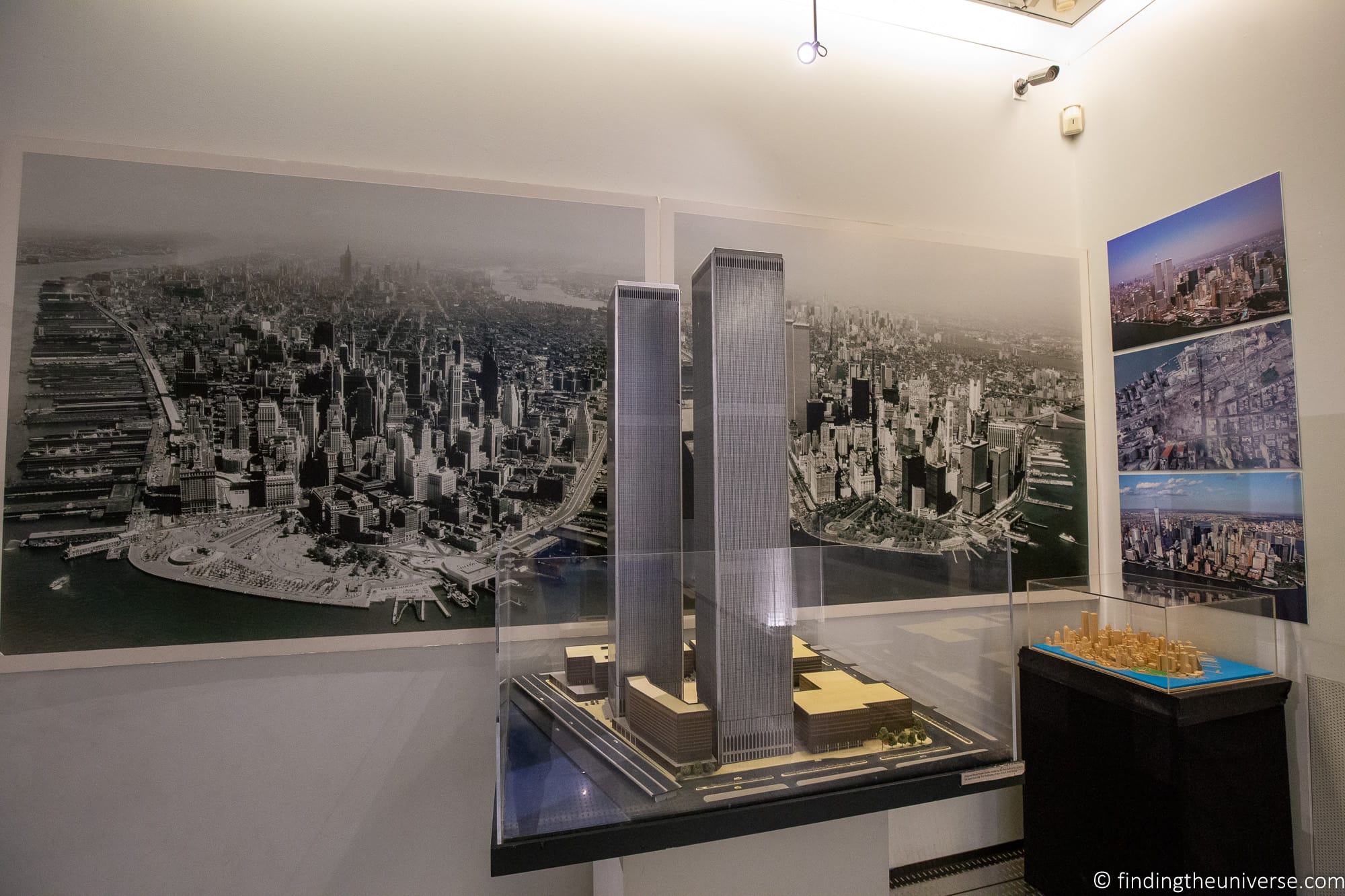 Wall Street
From the Skyscraper Museum it's around a 10-minute walk to the next stop on our itinerary, Wall Street.
New York's Wall Street is the centre of the US financial world, home to both the New York Stock Exchange and the NASDAQ. It's here where fortunes are made and lost, and where some of the great financial stories have taken place.
Admittedly, unless you're actually a trader, there isn't a whole lot to do on Wall Street. However, it's fun to visit and take a picture. A highlight for many is the flag draped NYSE building. Don't miss the statue of the bull which is another popular photo stop. This symbolises the bulls in the market, who drive stocks up.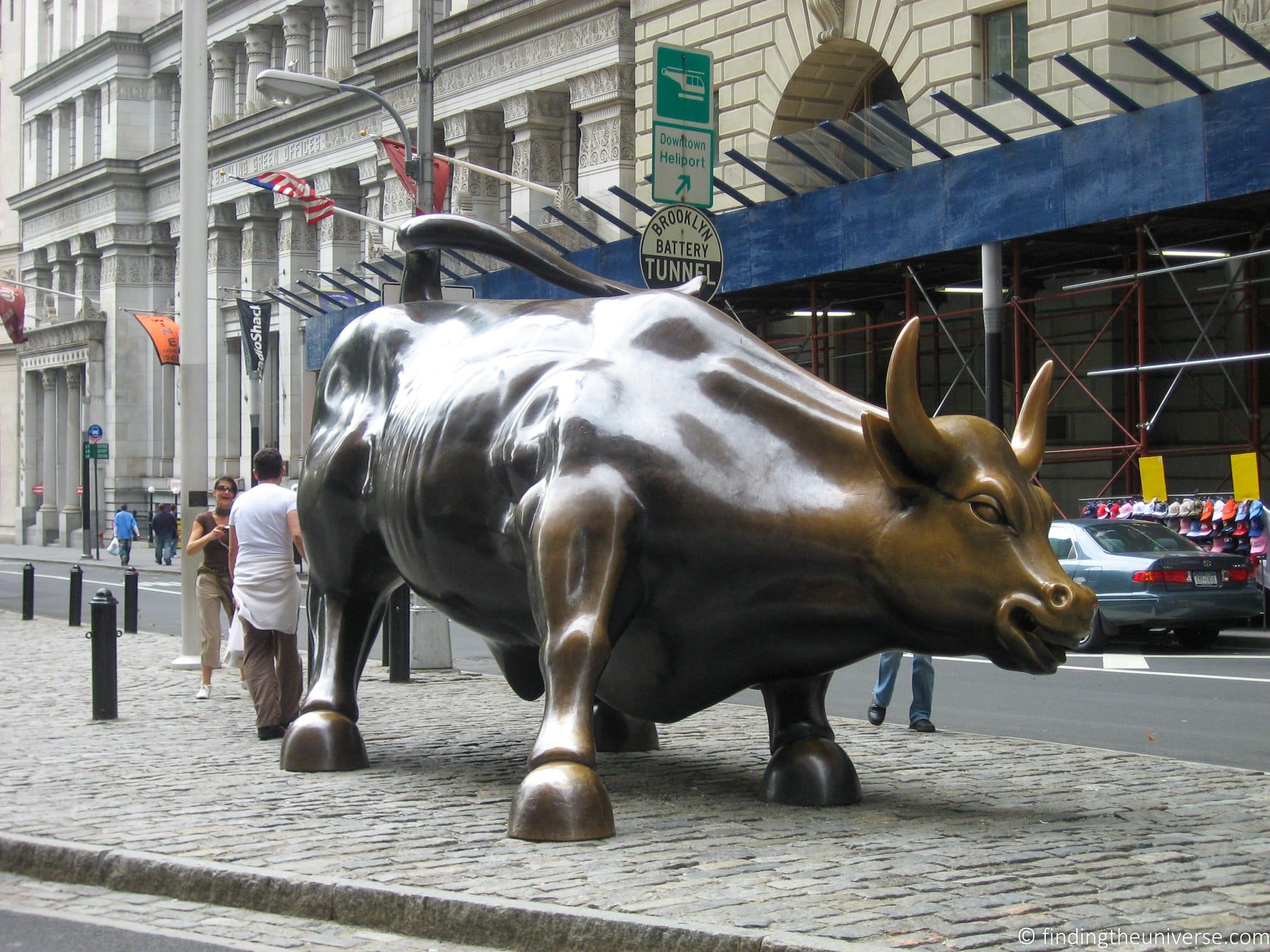 9/11 Memorial Museum
From Wall Street another 10-minute walk will bring you to the 9/11 Memorial and Museum. This location has two parts.
First, there's a huge above ground memorial those who lost their lives in the September 11 2001 World Trade Centre attacks, as well as the 1993 World Trade Centre bombing.
This memorial includes two massive man-made waterfalls which sit in the footprint taken up by the original "Twin Towers" of the World Trade Centre. The waterfalls tumble into two huge pools, with the names of the victims printed around the walls of the pools.
The memorial is free to visit.
The second part of the location is a museum, which is found underground below the pools. This is where you can learn all about 9/11, from the events leading up to the day, to the day itself, followed by the aftermath.
This is definitely a moving place to visit, with stories of loss and tragedy mixed with stories of individual heroism and unimaginable bravery.
The 9/11 Memorial Museum has an entry fee, and you can buy an advance ticket online here. The 9/11 Memorial Museum is also included on the New York Pass, as well as other New York sightseeing passes.
If you would prefer to take a walking tour of some of the key 9/11 sights, then we recommend this excellent 9/11 tour which also includes 9/11 Memorial Museum tickets. We did this tour and can highly recommend it for those wanting to learn more about the 9/11 attacks and subsequent events from a local guide.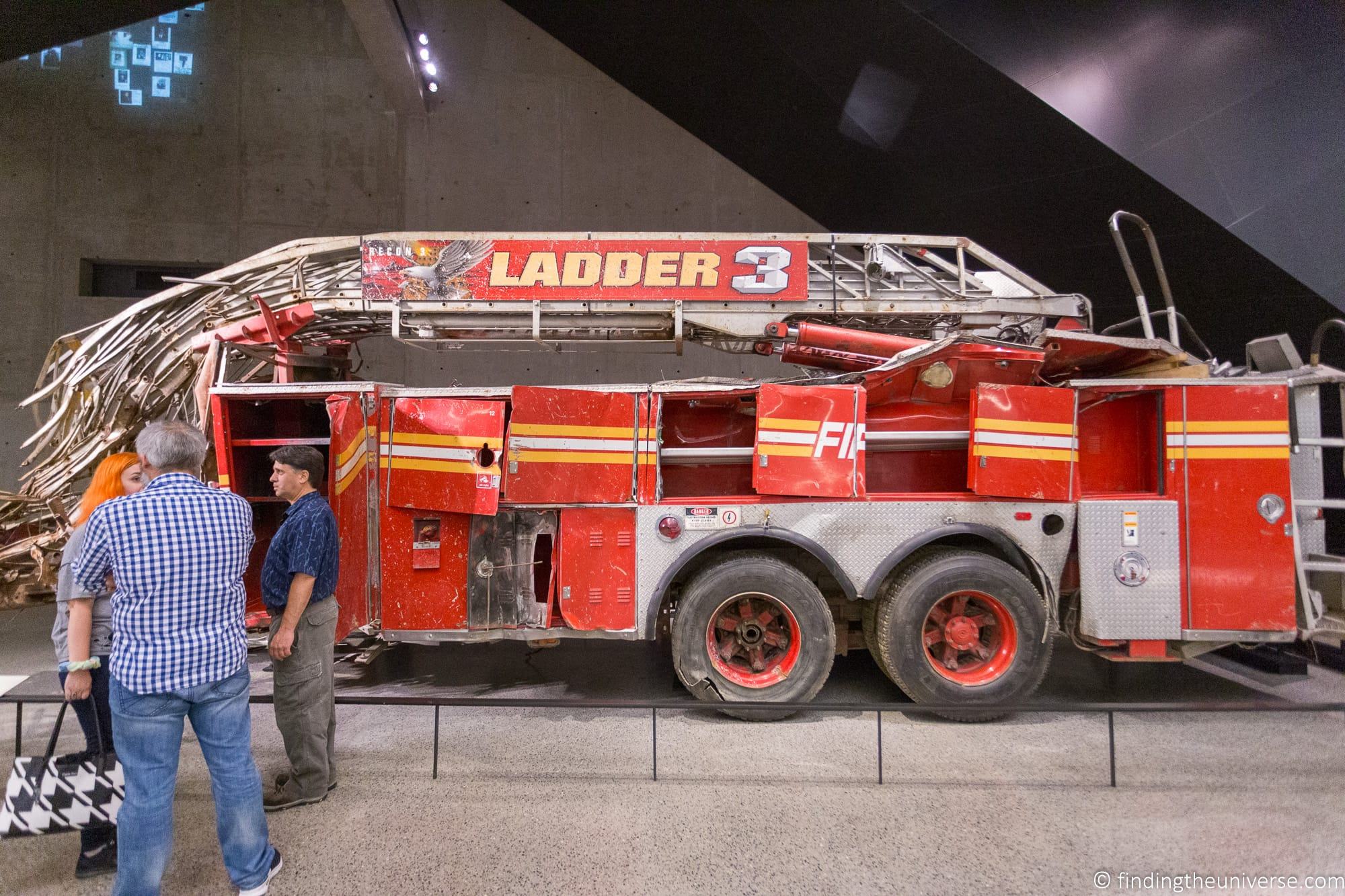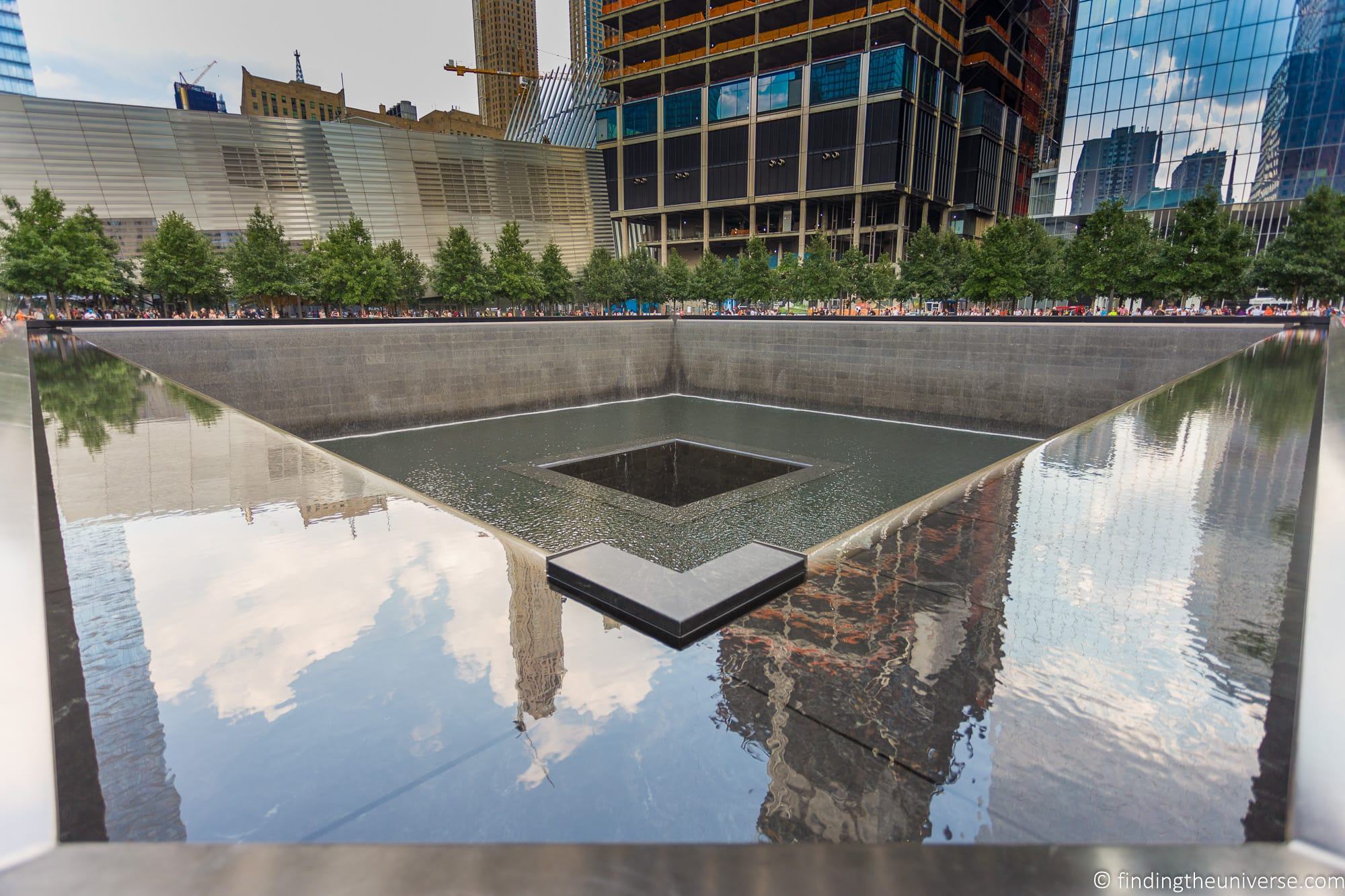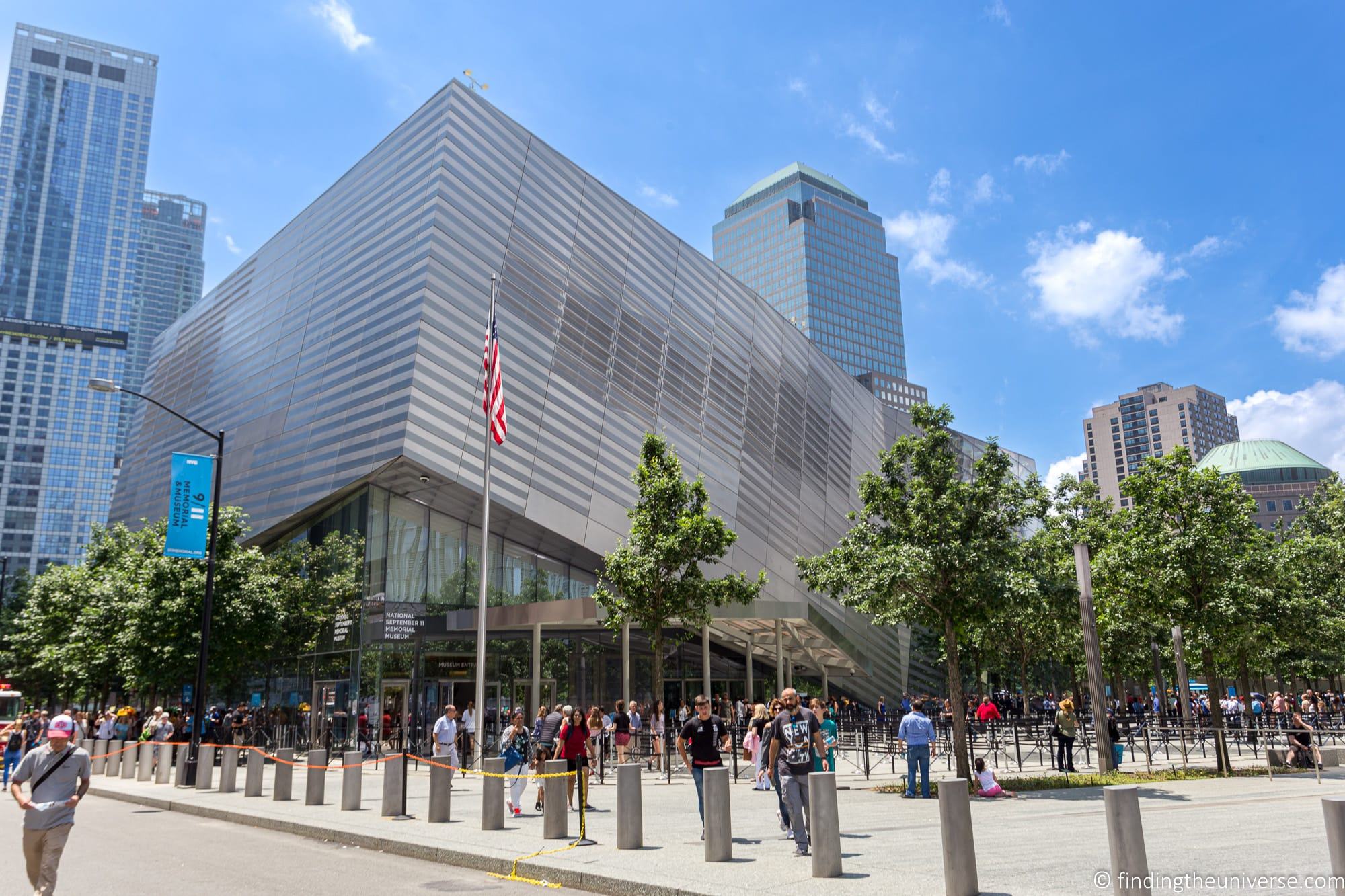 Brookyln Bridge
New York City has many iconic buildings and structures, including the bridges which link Manhattan Island to the other boroughs of the city.
One of the most well-known bridges is the 19th century Brooklyn Bridge, which links Manhattan with the borough of Brooklyn. It has appeared in numerous movies and TV shows, and walking or cycling across the bridge is a popular activity in the city.
From the 9/11 Memorial Museum it's around a 10-minute walk to the start of the bridge, and then it's around a 20 – 30-minute walk across. Of course, it will likely take you a bit longer than this if you stop to take photos!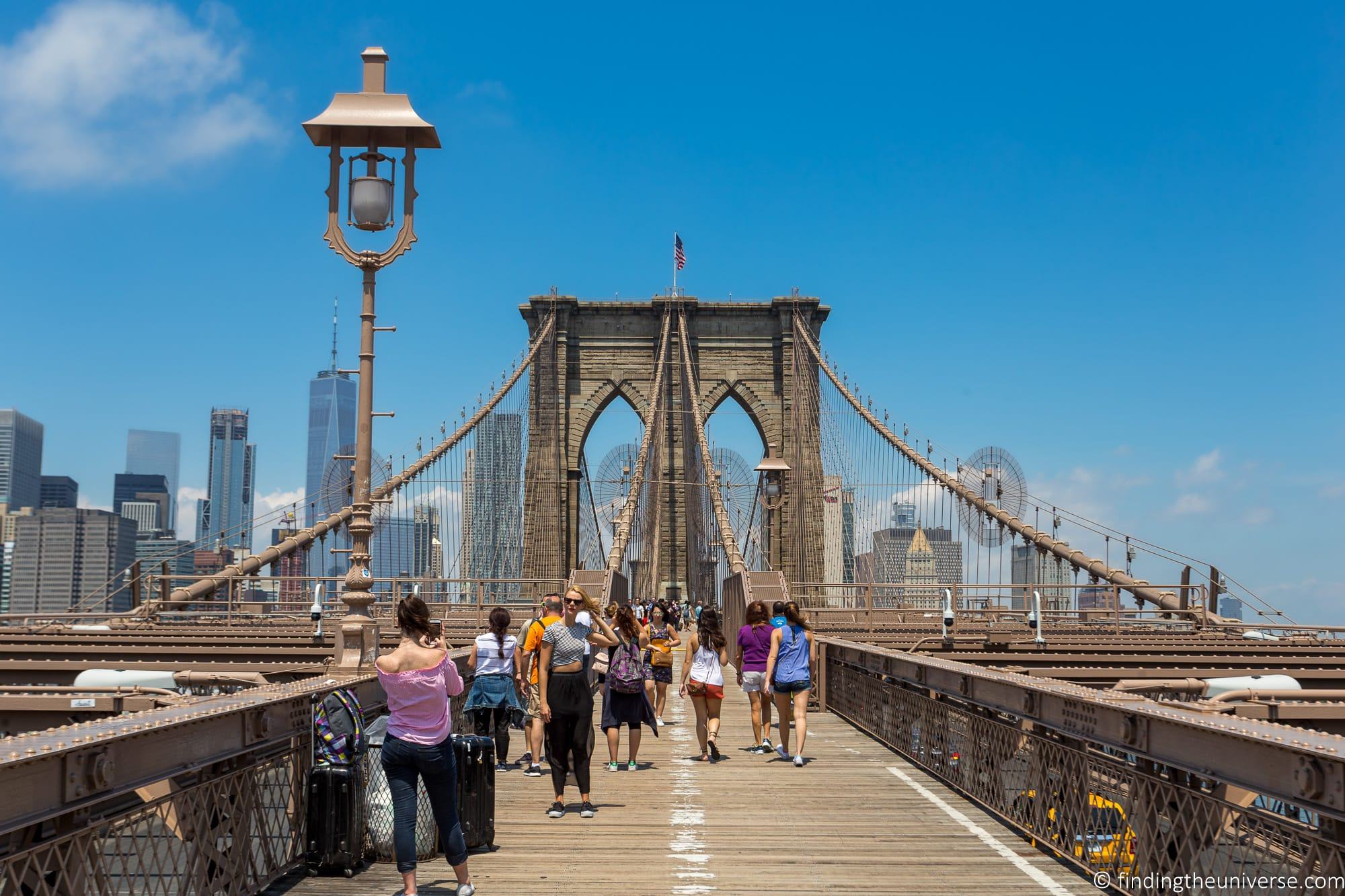 New York Transit Museum
Depending on how quickly you take in attractions, you might still have time on your second day in New York to take in another sight. If so, we'd recommend a visit to the New York Transit Museum. This is a 20-minute walk from the end of Brooklyn Bridge, which you can take through tree-filled Cadman Plaza Park.
As the name of the museum suggests, this is where you come if you want to learn all about the history of public transport in the city, including the subway, bus and commuter rail system. Appropriately the museum is found in a decommissioned subway station, so it's all underground and very much on theme.
Exhibits include various preserved public transit vehicles as well as signage, dioramas and other artefacts and memorabilia. We very much enjoyed our visit and can definitely recommend it! You can buy tickets online here.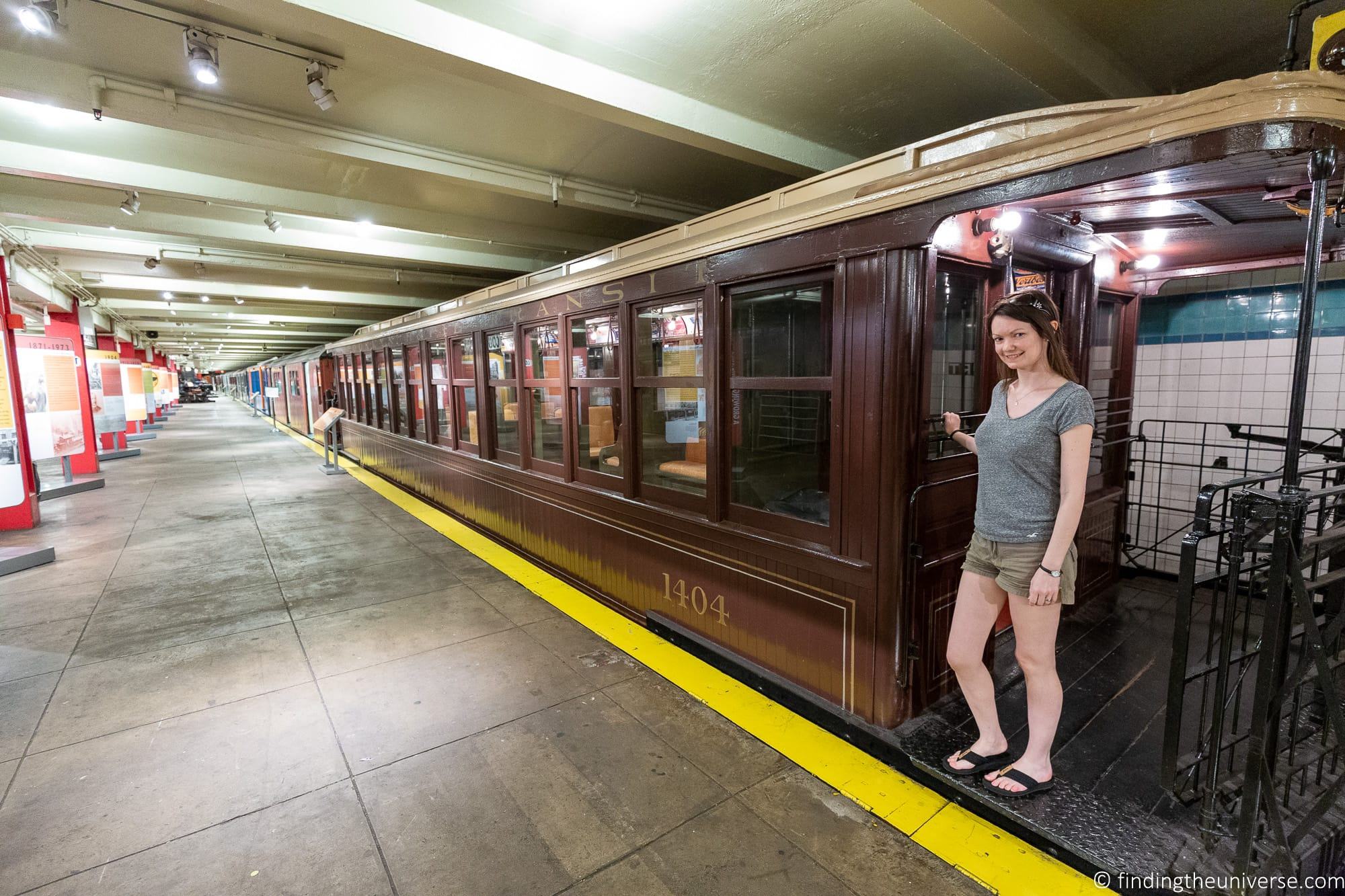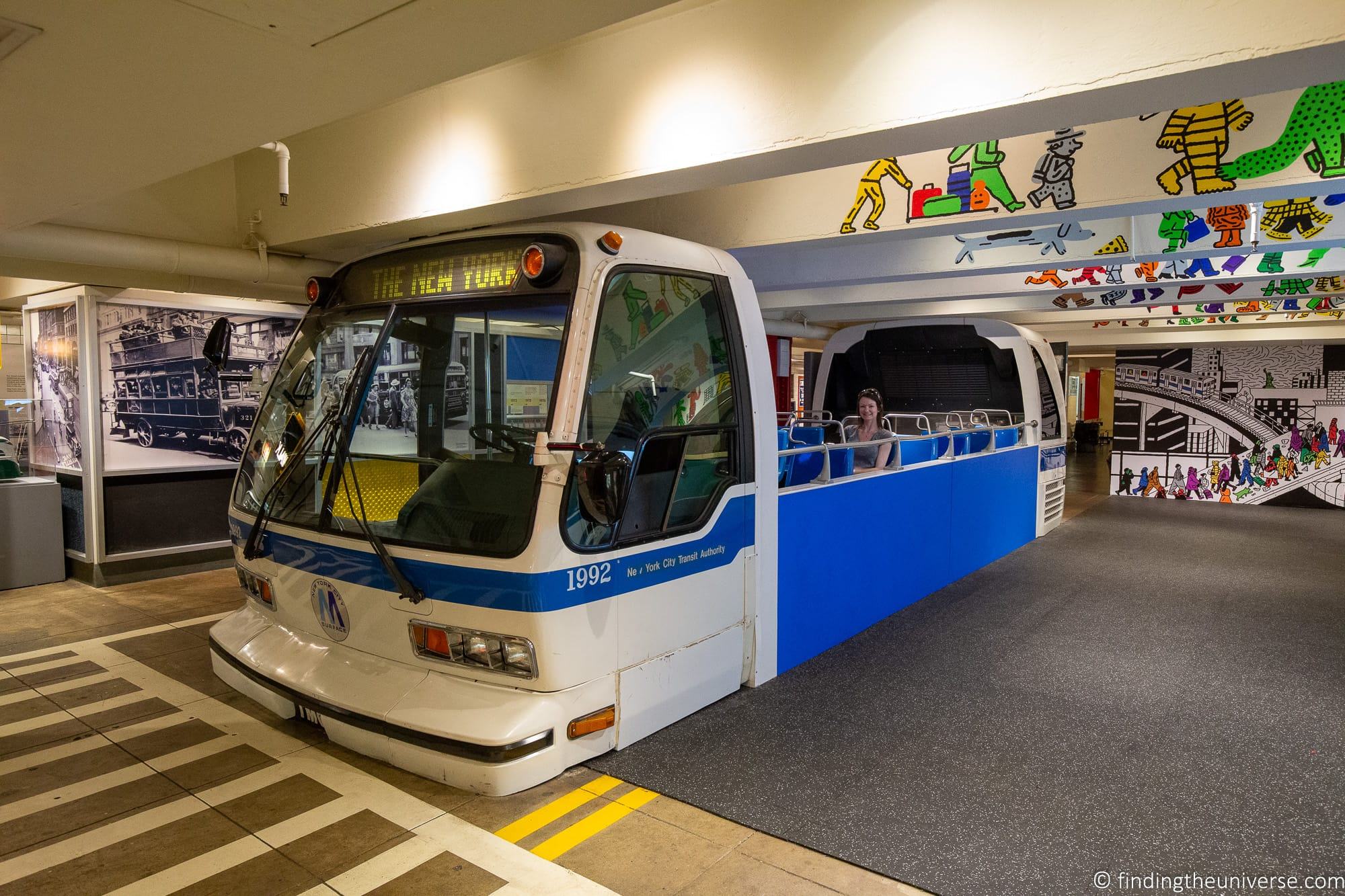 Sunset across Manhattan
You're coming to the end of your second day in New York, and what better way to end than with a lovely sunset view. Depending on the time of year you're visiting the city (and the weather!), you might be lucky enough to catch the sun setting behind the skyscrapers of Lower Manhattan.
My favourite place to watch the sunset is from the Brooklyn Bridge Park, and specifically from Old Pier 1. Here, old wooden pilings sit in the water, making for a nice juxtaposition against the modern skyscrapers of Manhattan. It's a lovely place for a sunset, and a wonderful way to end your second day in the city.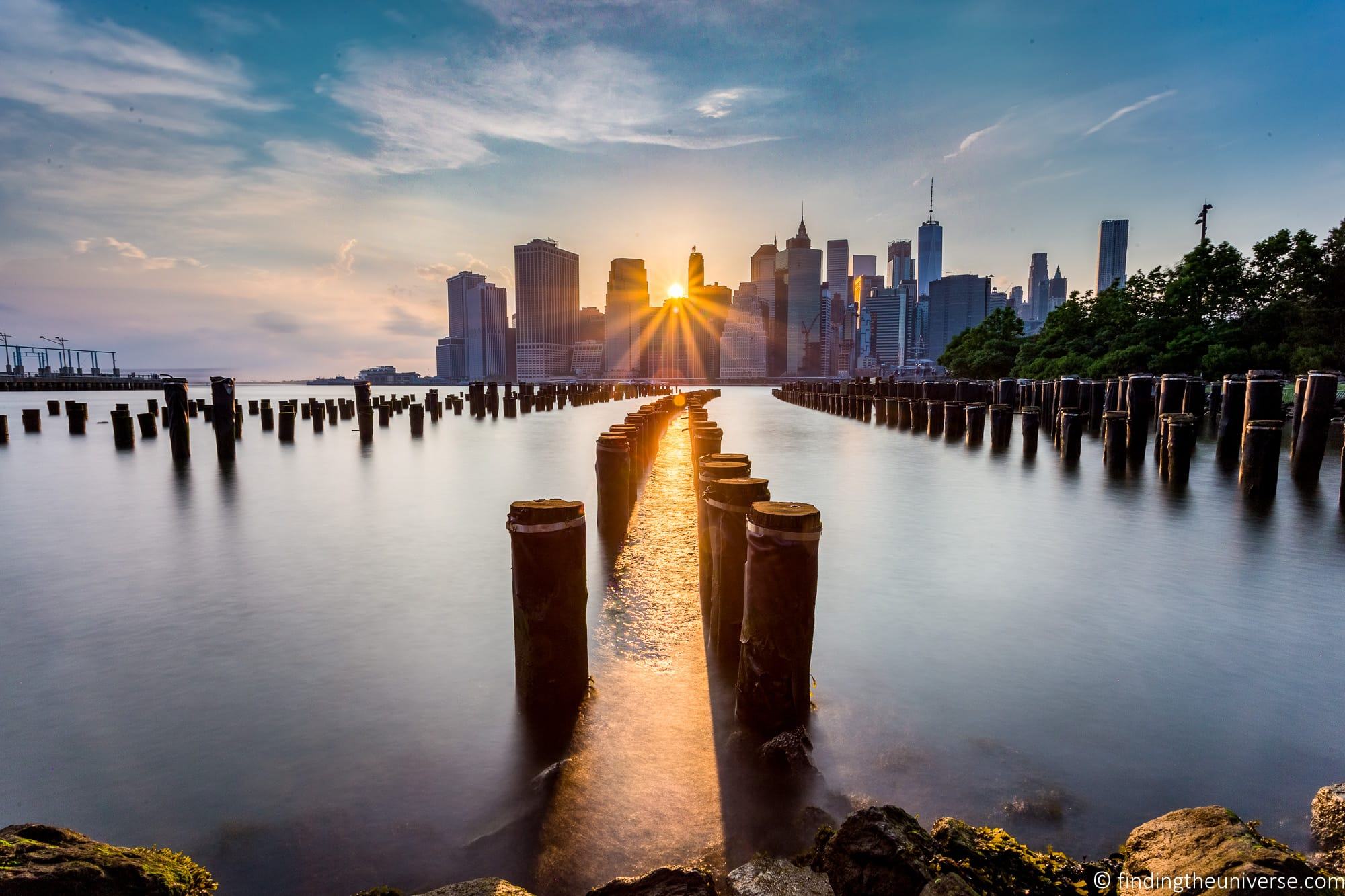 New York Itinerary Day 3
It's time for your last day exploring New York City! Today we're going to take in some more iconic sites and go up one of the most famous buildings in the world.
High Line
You're going to start your day with a walk along the High Line, a relatively new addition to the city. This former railway line is found 30 feet above the city streets, and has been turned into a lovely park. It runs from Hudson Yards at the north end down to the Whitney Museum of American Art, a total distance of around a mile.
It's a lovely place for a stroll, which also offers nice views of the city as you pass over the streets below.
You also have the option, should you choose, to visit some of the attractions in the area. As well as the aforementioned Whitney Museum of American Art (buy tickets here), there's also the futuristic Artechouse NYC, as well as a huge number of art galleries. These might be an option if you'd prefer to switch out one of our other attractions today.
If you have a New York Pass, there are quite a few other attractions in this area which are included, and you can see those by switching to the map view on the attractions page here. The Vessel is a popular option you might consider including for example, which is on the pass.
The north end of the High Line is next to the Edge skyscraper, home to one of New York's newer high level viewing platforms. This itinerary has you visiting another skyscraper today, but if you'd prefer to visit the Edge (which is included on the New York Pass), that's an option today as well!
The High Line is free to visit, and usually open from 7am – 7pm.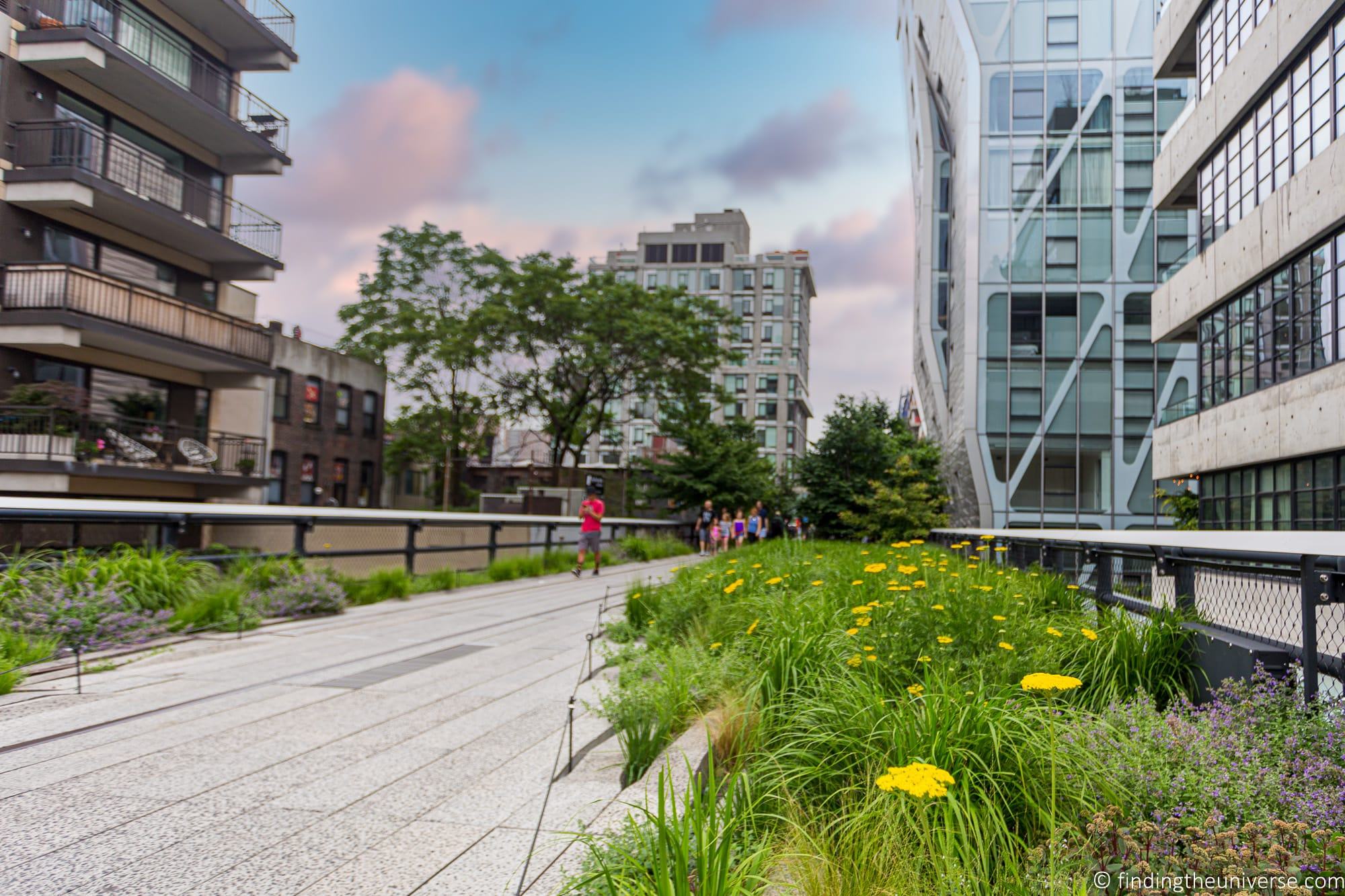 Madame Tussauds
An always popular option, Madame Tussauds have been attracting visitors to their wax museums around the world since the early 19th century. The New York version is on 42nd Street, either a 10-minute bus ride of 20-minute walk from the northern end of the High Line.
The museum features wax models of notable icons from around the world, although as this is the New York location, there's more of a slant towards US celebrities including actors and actresses like Jennifer Aniston, Leonardo DiCaprio and Angelina Jolie. You'll also find world leaders, musicians and actors, as well as famous characters like King Kong, Spider-Man and E.T.
The fun thing about Madame Tussauds is that they have firmly embraced the selfie generation. Many of their installations are designed specifically so you can get a photo with a star in an interesting scenario, making this a very entertaining and interactive experience.
You can buy tickets for Madame Tussauds online in advance of your visit here. It's also included on the New York Pass.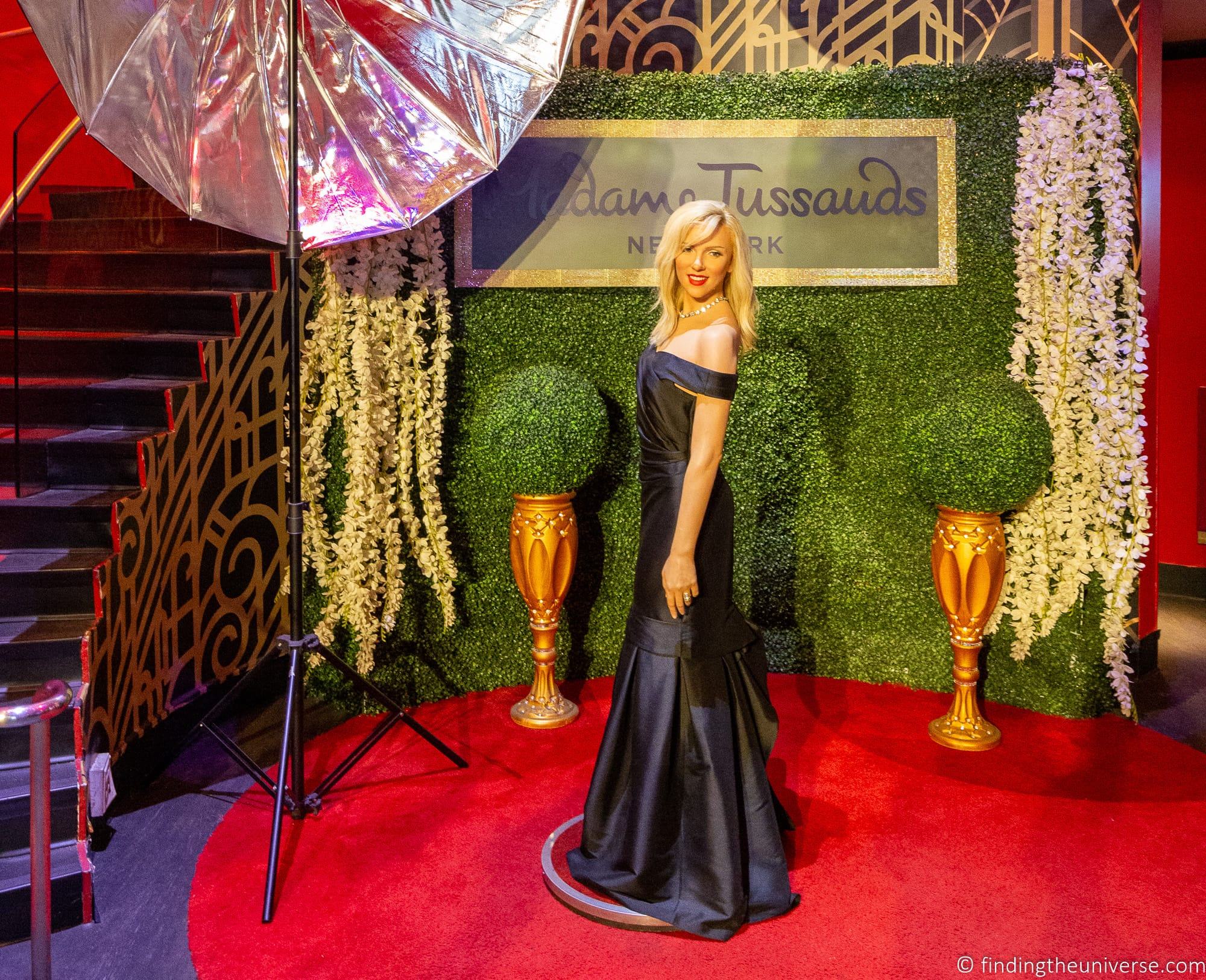 Times Square
At the heart of Midtown Manhattan is Times Square, one of the busiest and most recognisable pedestrian areas in the world. Times Square is found at the intersection of Broadway and Seventh Avenue, and spans from West 42nd to West 47th Streets. It is named after The New York Times newspaper which moved its headquarters here in 1904.
Today, Times Square is known for its huge electronic advertising billboards and street performers. It's one of world's most visited tourist attractions, and is essentially New York City's town square. It's also where the annual New Year's Eve ball drop takes place, hosting around a million people who come to see in the New Year.
Time Square is free to visit, and just a couple of minutes' walk from Madame Tussauds.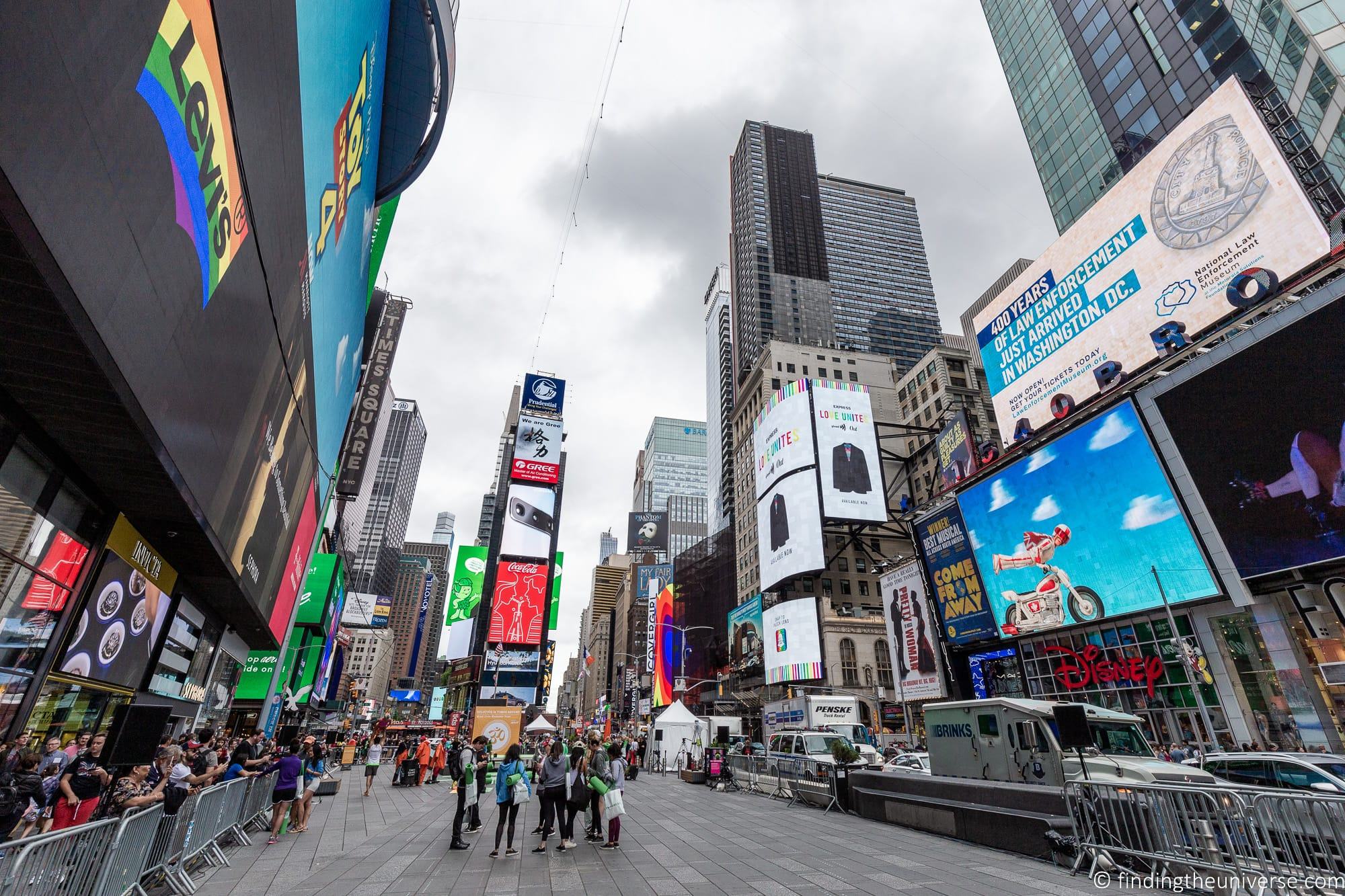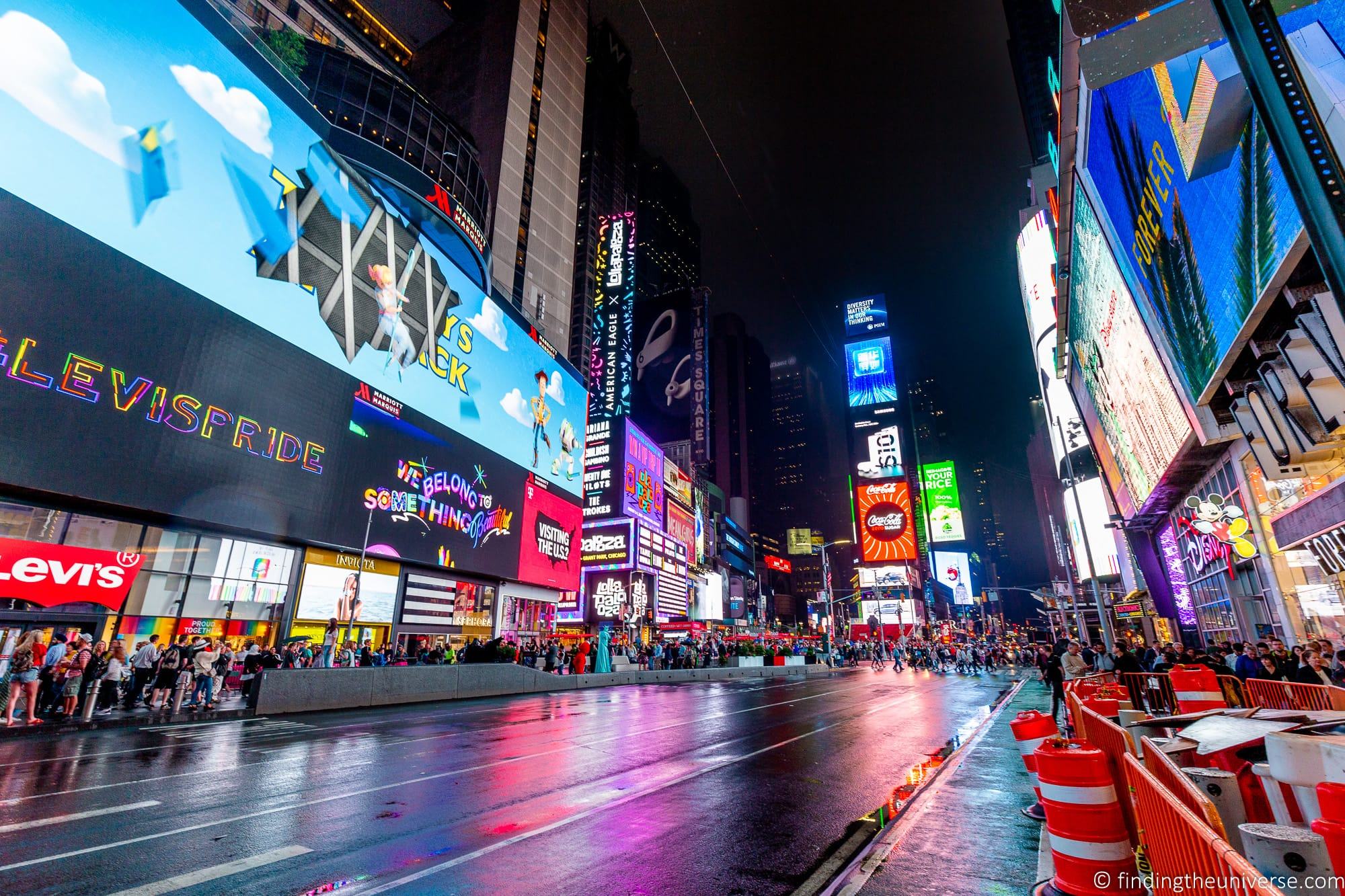 St. Patrick's Cathedral
From Times Square it's a couple of blocks, or ten minutes' walk to St. Patrick's Cathedral, our next stop today.
This is the seat of the Archbishop of New York, and it occupies an entire city block, making it the largest Gothic Revival Catholic cathedral in North America.
Completed in 1878, the two massive spired towers at the front will immediately grab your attention. These reach to 100 metres (329ft) in height, and stand out against the more modern skyscrapers surrounding them. Inside there is plenty to see.
St. Patrick's Cathedral is free to visit, although you can take a self-guided audio tour.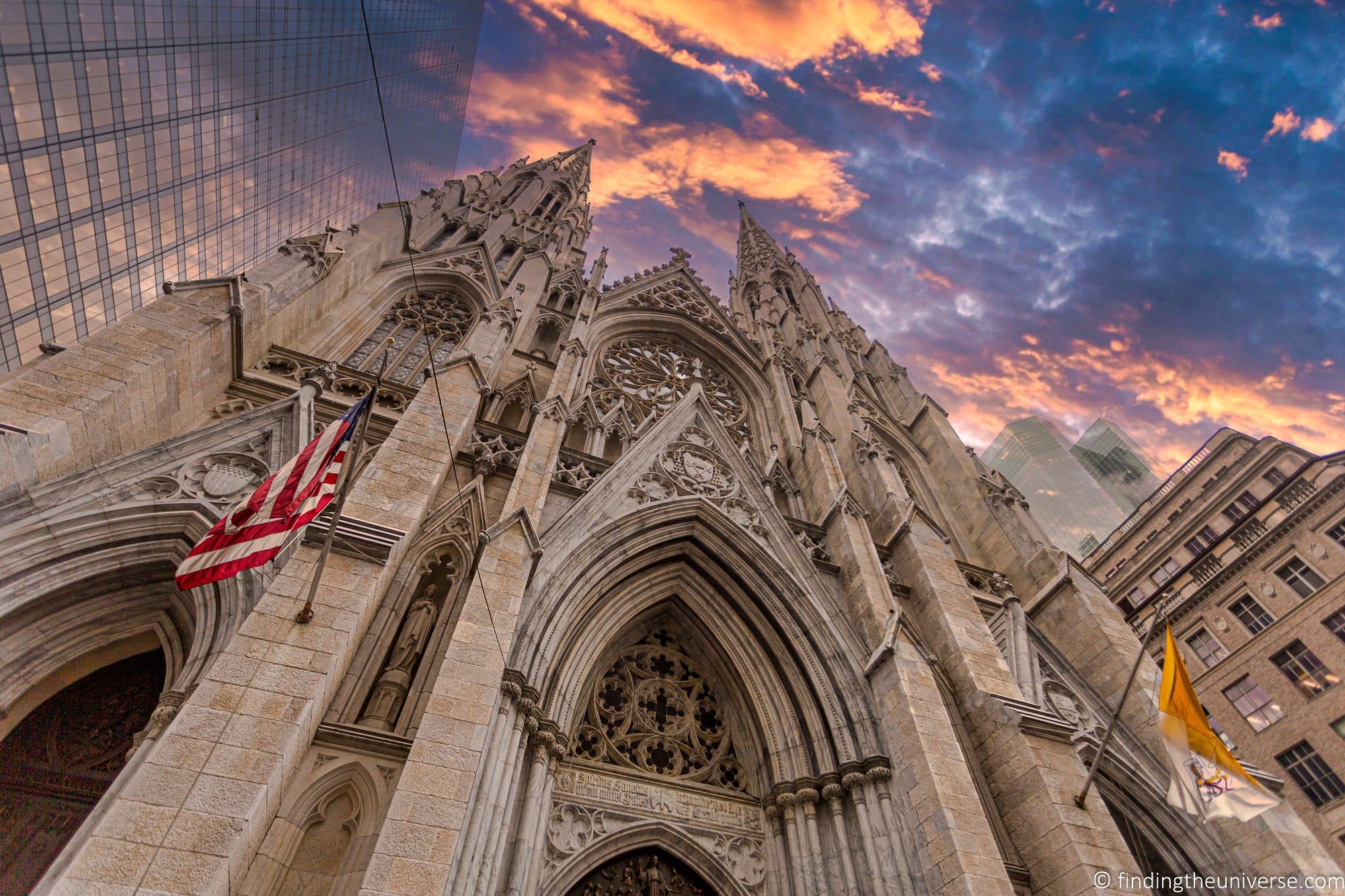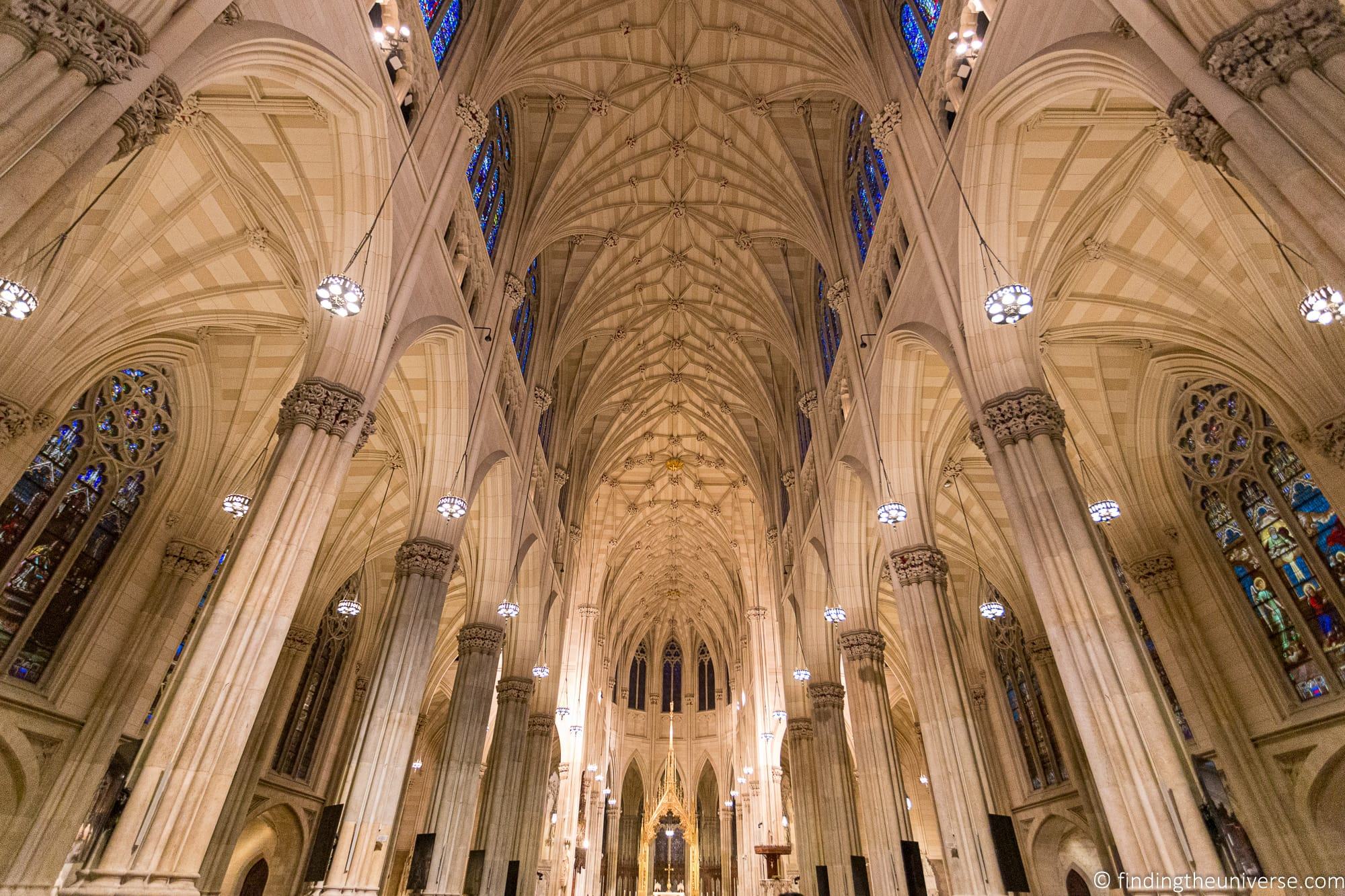 Grand Central Terminal
I appreciate that including a train station on an itinerary may seem a little odd, but honestly, Grand Central Terminal in New York is really worth the visit. Opened in 1913, this building is one of New York City's great architectural achievements, and the massive main concourse (complete with famous clock) has to be seen to be believed.
As well as enjoying the concourse, there is plenty to do here. The terminal has regular events, and there's a huge range of shops and places to eat as well. Definitely worth popping in, and it's free too. It's an 8-minute walk from St. Patrick's Cathedral to Grand Central Terminal.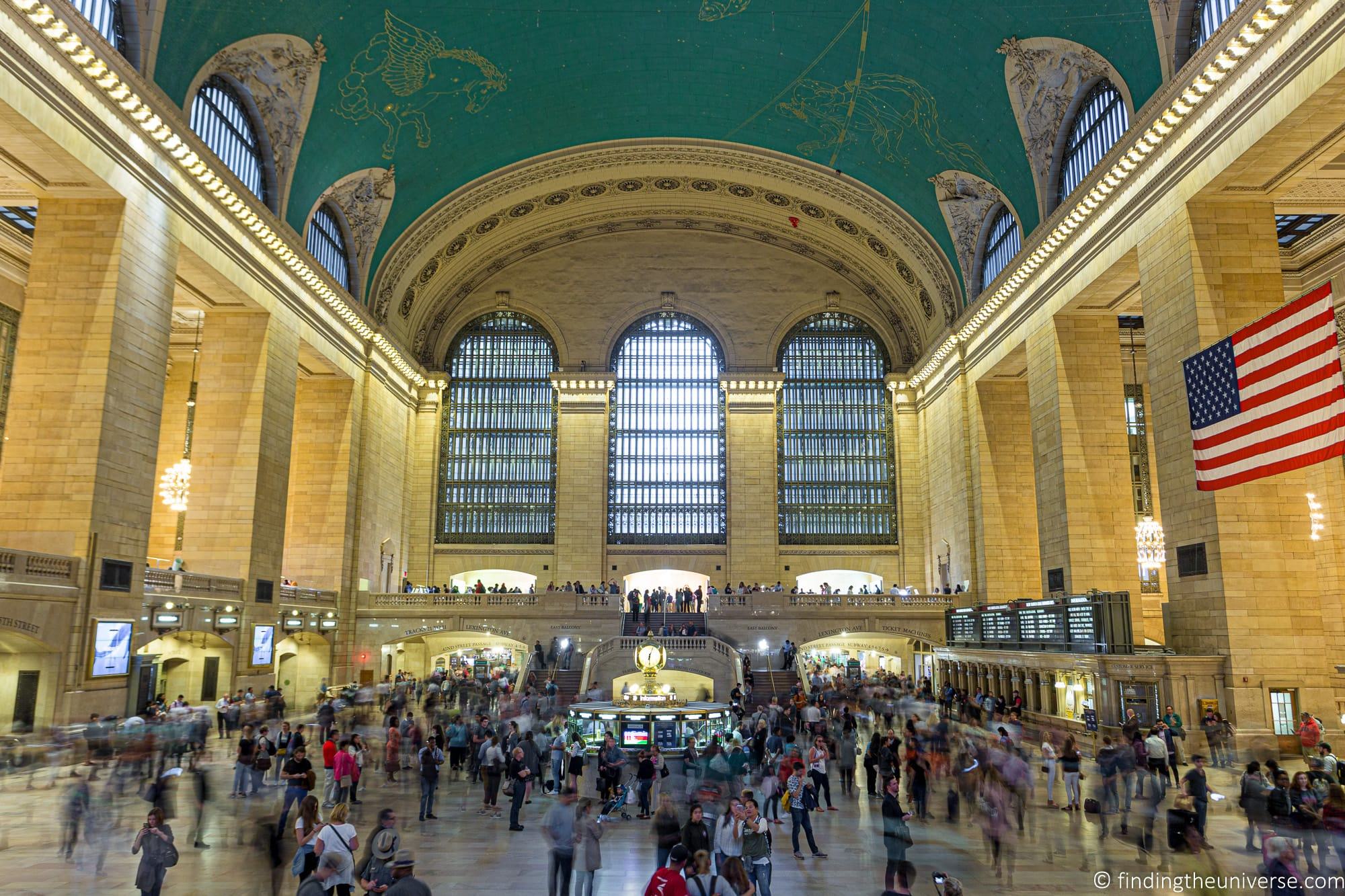 New York Public Library – Stephen A. Schwarzman Building
From a train station to a public library, New York City really does have some gorgeous public buildings. Found just five minutes' walk from Grand Central Terminal, the New York Public Library sits adjacent to Bryant Park, a nice green space which often plays host to live music and events.
This National Historic Landmark was opened as a library in 1911 and today it is home to over 2.5 million volumes. The ornate main facade and steps are a popular meeting location, and the library has appeared in multiple movies and TV shows over the years.
The majority of the library is open to the public, with the massive main reading room being particularly beautiful. If you visit, obviously be aware that this is a public library, so it's important to respect the quiet and not to disturb other visitors.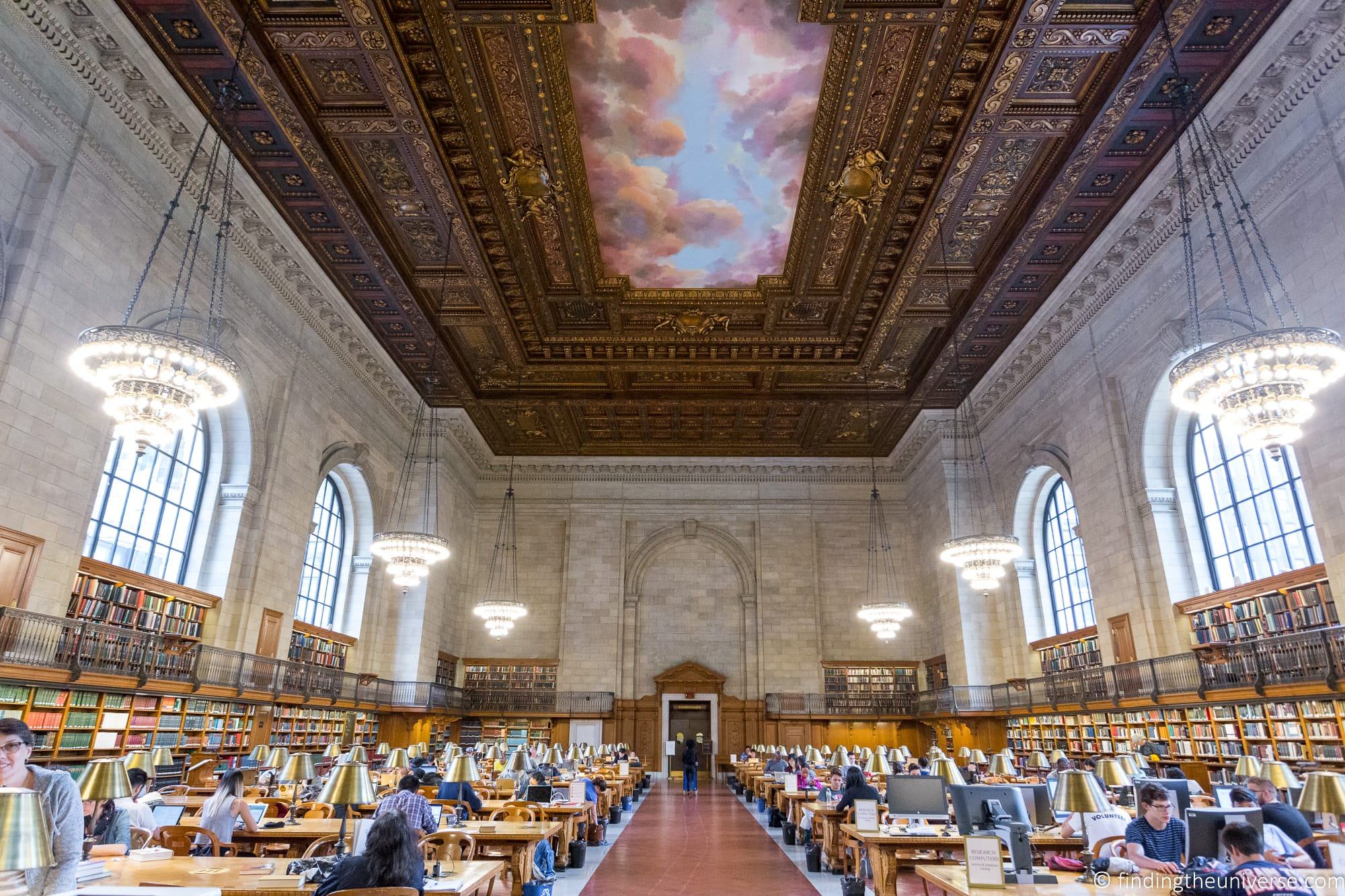 Empire State Building
It's time for the final attraction on our 3-day New York itinerary, and you're going to wrap up your time in the city with a visit to the beautiful and iconic Empire State Building.
Towering 1,454 ft (443.2 metres) above the city, when it was completed in the 1930s this was the tallest building in the world. It held on to that title for almost forty years, until the World Trade Centre tower superseded it.
Whilst it's no longer the tallest building in the world, it still remains one of the most famous and well-known skyscrapers. It's a popular visitor attraction, with a number of viewing platforms as well as a series of information exhibits for visitors to enjoy.
We have a complete guide to visiting the Empire State building which we recommend you read. In summary though, it's well worth the admission fee and the views are spectacular. It's also open late, so you can visit and see New York City at night if you wish.
There's a fee to visit, and it's included for holders of the New York Pass. You can also buy tickets (with optional skip the line) in advance here.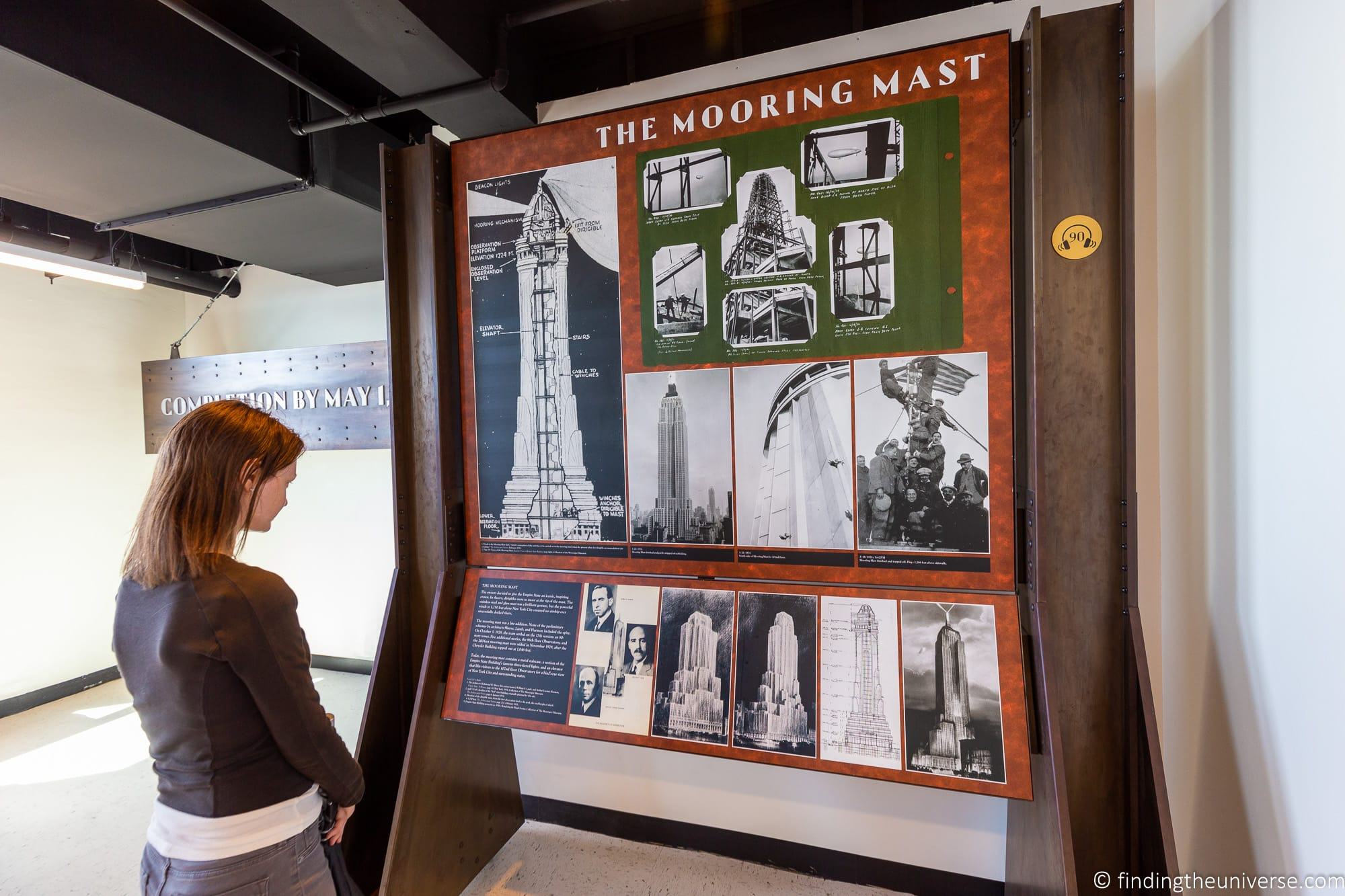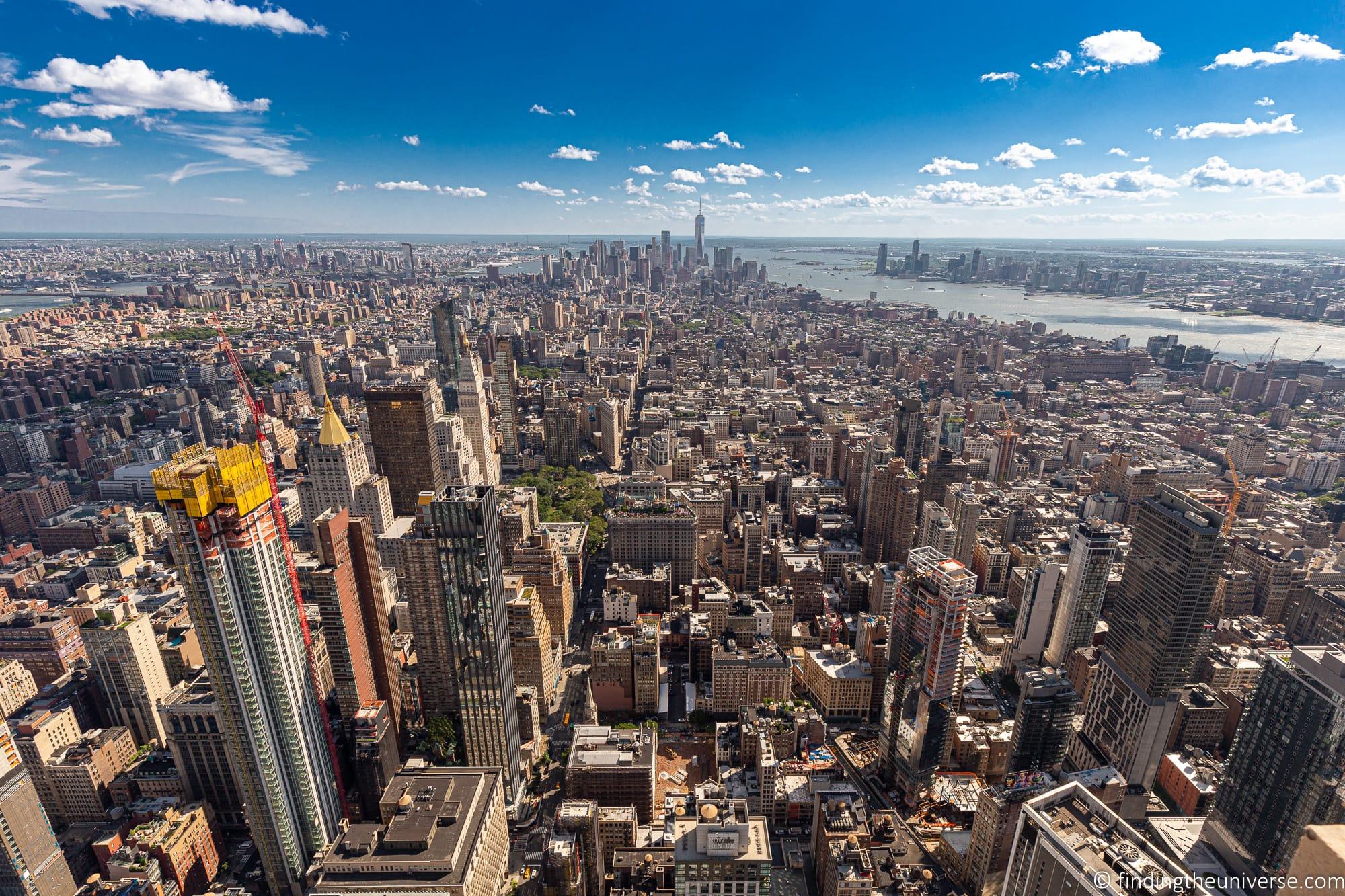 3 Day New York Itinerary Summary
Here's a day-by-day summary of our three-day New York itinerary for quick reference.
Day 1 – Central Park, American Museum of Natural History, Metropolitan Museum of Art, Museum of the City of New York, Fifth Avenue Shopping, Top of the Rock, Broadway or Other Show
Day 2 – Statue of Liberty and Ellis Island, Skyscraper Museum, Wall Street, 9/11 Memorial Museum, Brookyln Bridge, New York Transit Museum, Sunset across Manhattan
Day 3 – High Line and the Vessel, Madame Tussauds, Times Square, St. Patrick's Cathedral, Grand Central Terminal, New York Public Library – Stephen A. Schwarzman Building, Empire State Building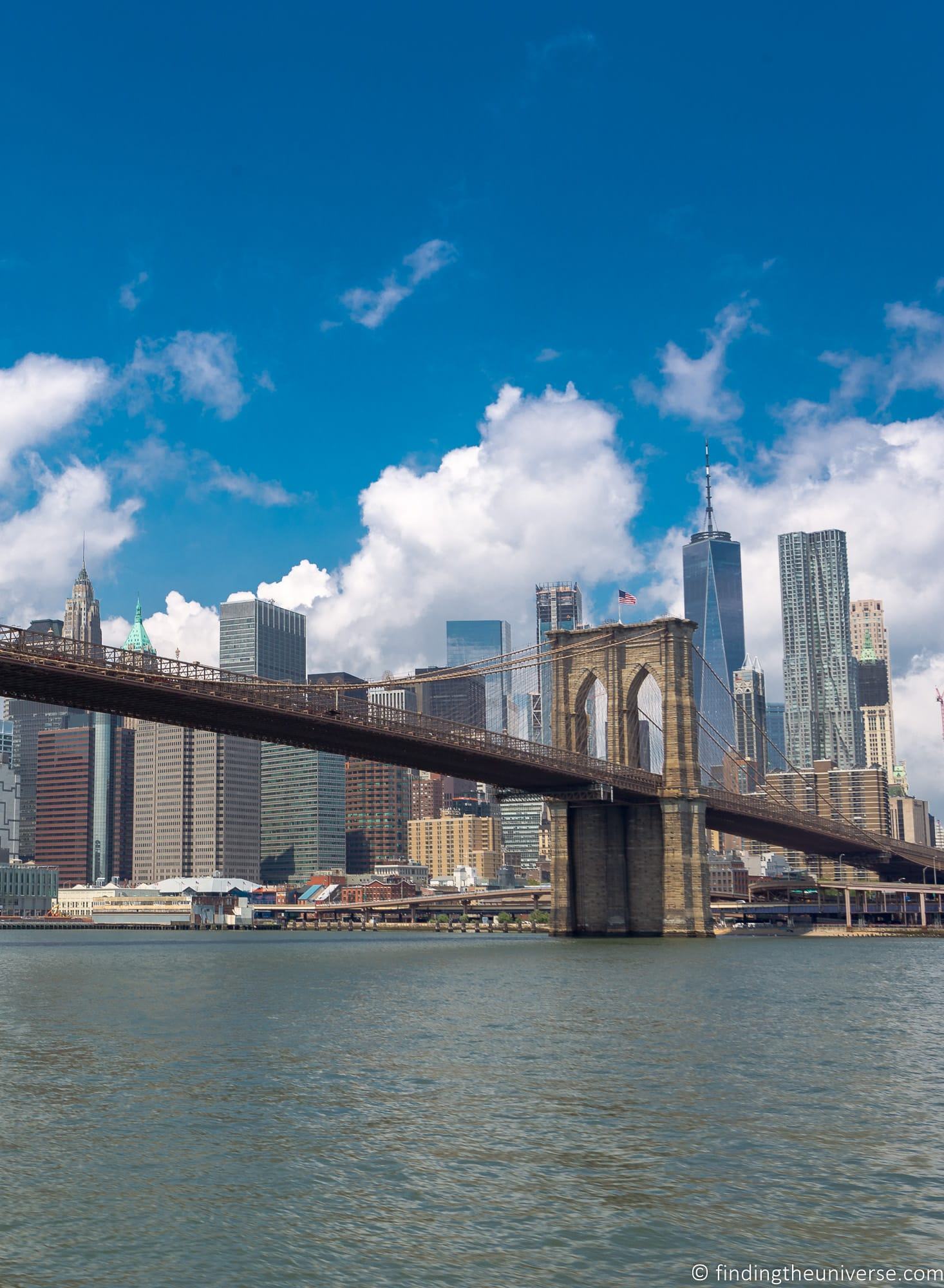 Map for 3 Day New York Itinerary
To help you visualise our 3-day New York itinerary we've put together this map. You can also see this on Google Maps here.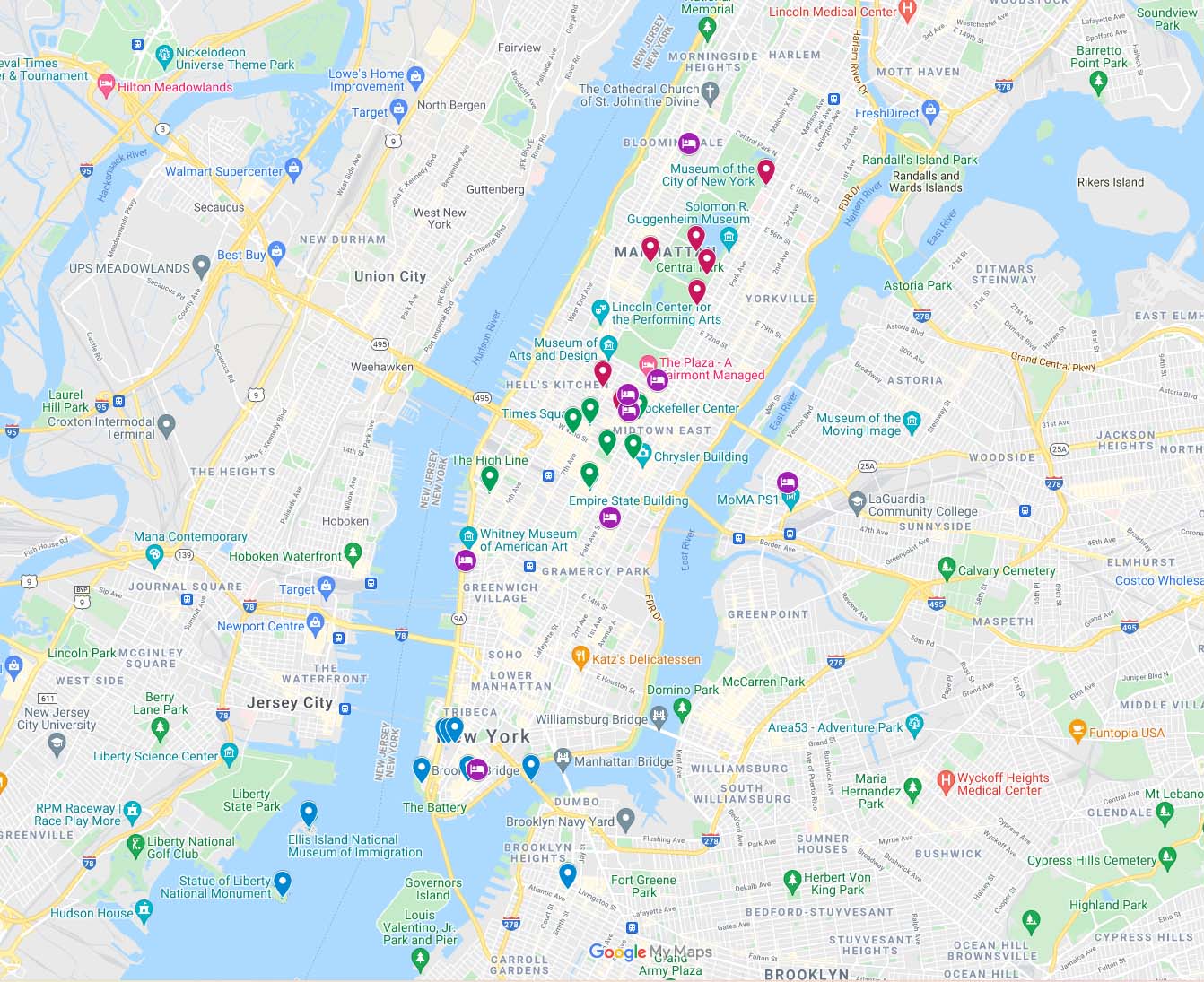 How To Get Around New York City
New York City is very large. This itinerary only has you visiting two of the five boroughs (Manhattan and Brookyln), but even with that in mind you will still have quite a bit of ground to cover. For example, from Midtown (where Times Square is) to Downtown, where you'll find Wall St, you're looking at about a four-mile distance.
Whilst we have laid out this three-day itinerary in a way that has you visiting attractions that are closer to each other, you are likely not going to want to walk everywhere.
The good news is that New York City has a variety of options for helping you get around. I'll quickly cover the ones we suggest for this itinerary. We also have a detailed guide to getting around New York City, which you might find helpful in planning.
Subway / MTA
One of the best value ways to get around New York City is by subway. There are over 450 subway stations across the city, making this one of the largest subway systems in the world.
When we visit New York City, we usually find the subway is the fastest and easiest way to get around. It's particularly good for getting you from downtown to midtown, and the prices are very reasonable.
You can buy individual fares at stations, or you can purchase a Metrocard which works on a number of transit options in the city.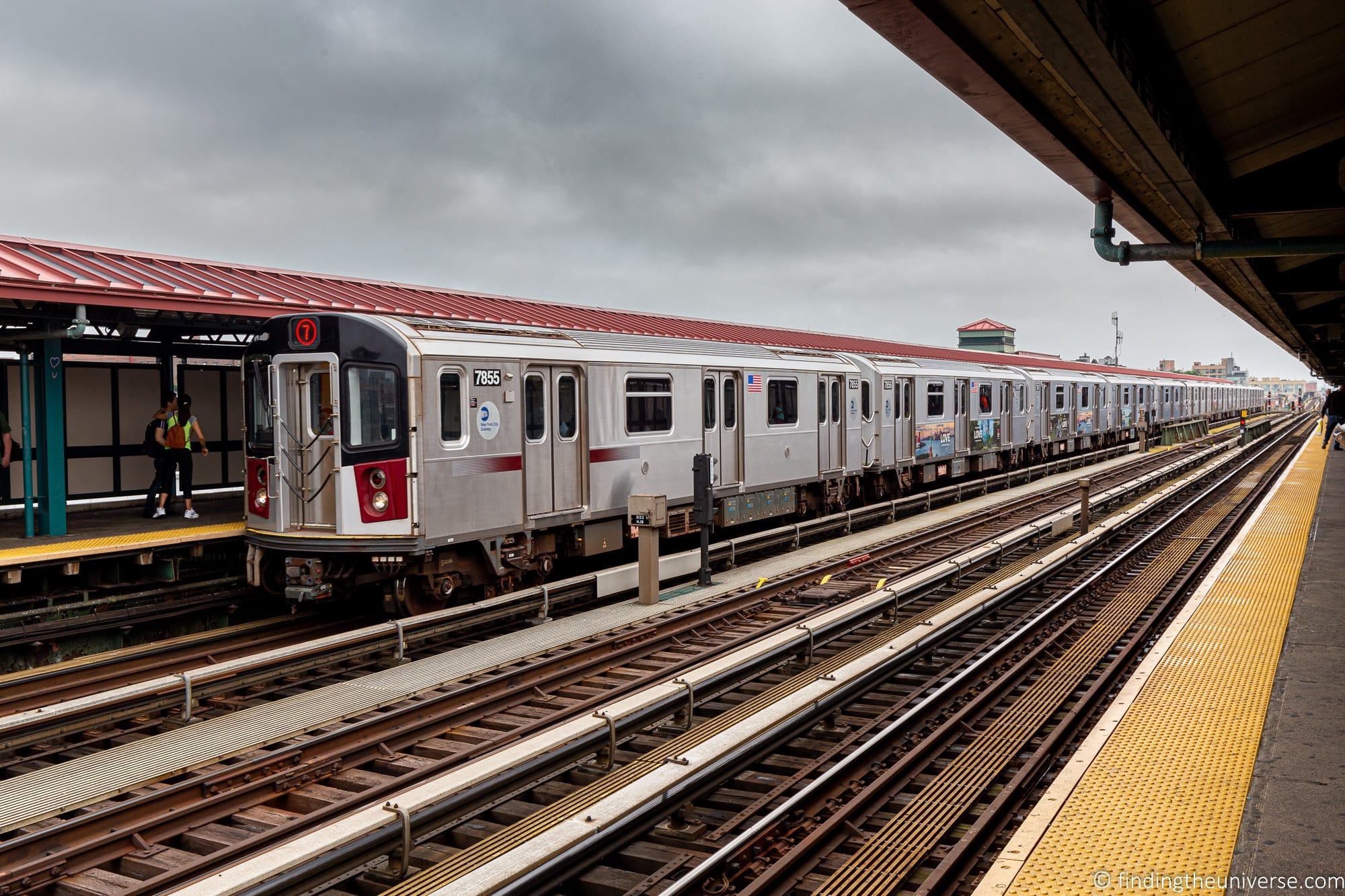 Bus
Another good option for getting around New York is to take the public bus. There are hundreds of routes serving the city, and prices are reasonable. You can pay using either cash (exact change, coins only), or you can use a Metrocard.
Just be aware that any transport option which relies on the road network in the city is liable to take longer than something like the subway, just because of the high volume of traffic on the roads.
Taxi
New York's well-known yellow taxis can be found across the city and they fairly well priced. They'll get you pretty much everywhere you need to go, although as already mentioned you should be aware that traffic across New York can make for slow going.
There are also alternatives to the traditional yellow taxi, including ride-sharing services such as Uber and Lyft. These need to be booked in advance using their apps, and can work out cheaper than a yellow cab.
Ferry
Launched in 2017, the NYC Ferry service is one of the newest options for getting around the city. We really loved using this service when we stayed in Brooklyn – it offers excellent views, and rides cost the same as the subway.
You need to buy tickets from tickets machines near the ferry port, or you can use the NYC Ferry app.
Hop on Hop off Bus
Finally, the other way we enjoy getting around New York, particularly when sightseeing, is to take the Hop on Hop off bus, such as the Big Bus New York. You can buy tickets for this in advance here.
When we travel in New York with the New York Pass, this comes with free access to one of the HOHO lines. We enjoyed the live commentary on the bus we took, and learning about different areas of the city that we might not have heard of.
Of course, this isn't the cheapest way to get around the city, but we think if you invest in something like the New York Pass, then it's definitely worth taking advantage of.
There are of course lots of other ways for getting around New York, including the train, bicycles, and even an aerial tram!
For our itinerary though, we think the above options are likely to be the most common options. Again, you can see all the options for navigating the city in our detailed guide to how to get around New York.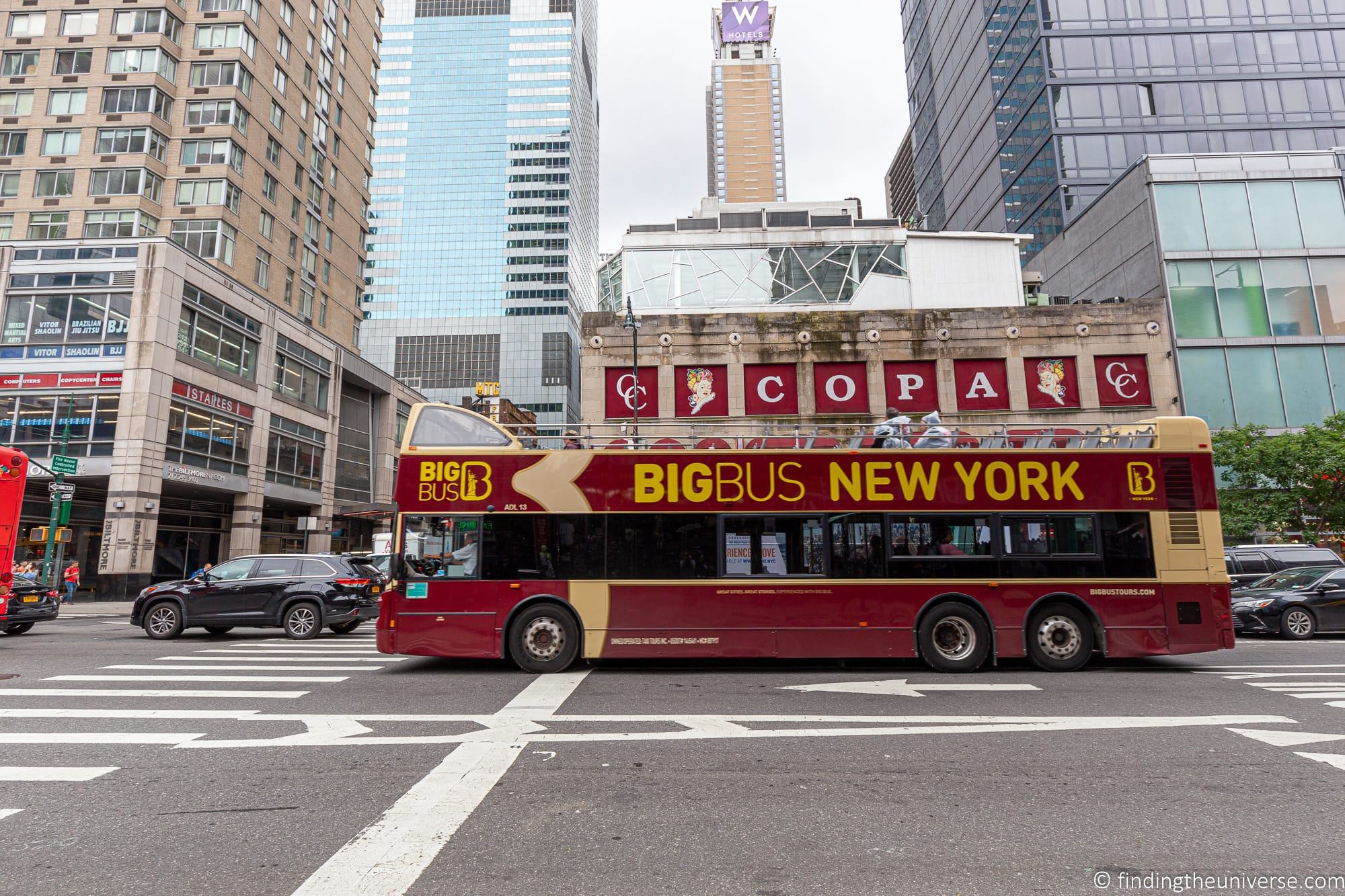 Where to Stay in New York
We have visited New York many times and stayed in a variety of accommodation options, including a number of different hotels as well as in apartment rentals.
One thing we have learnt on our trips is that whilst there is a huge amount of choice in the city, it primarily falls into the mid-range and high-end categories. Budget accommodation is harder to find, and can sell out well in advance. Our tip is that if you find a good deal, book it early!
Based on our experiences visiting and staying in New York City, we wanted to share some recommendations for where to stay for this itinerary. For easy access to all the sights, our recommendation would be to stay in Manhattan itself, although Brooklyn, Williamsburg, and Long Island City can also be a good option if you find a spot near a subway station.
It's also worth being aware that different parts of Manhattan will vary in price depending on what time of the week you visit. In our experience for example, downtown Manhattan around Wall Street tends to be less expensive over the weekends as there are fewer business people using the hotels. So definitely shop around and try different dates if you are flexible with your trip.
Here are some options, ordered from less expensive through to more expensive.
Of course, there are lots more options to choose from across the city, but we think that should start you off well.
We've also used apartment rental sites for visits to New York. Booking.com do apartments as well, but we also recommend Plum Guide for apartments for your New York City trip.
Plum Guide carefully curate their listings so their options tend to be of a very high quality whilst still being available at a range of price points. See their listings for New York City here.
If you can't find what you want on the Plum Guide, or you want some new options to try out, we wrote a whole post on the best alternatives to AirBnB which you should check out!
We also have a page full of travel resources, which includes our tips for getting the best deals on accommodation, which you can find here.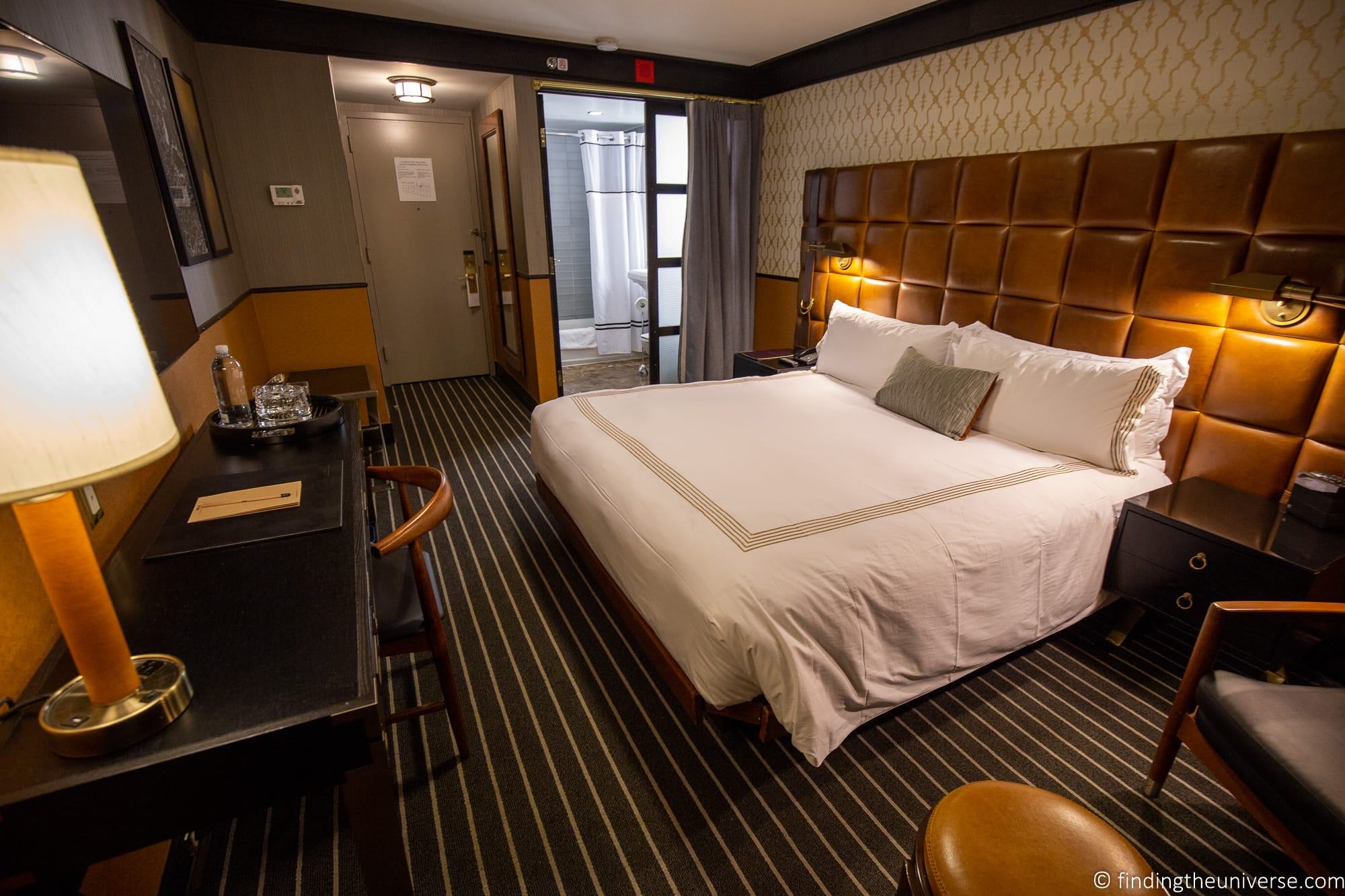 Walking Tours of New York City
When we visit a new city, we love to take a walking tour with a guide to get acquainted with it. A good walking tour will pair you up with a knowledgeable city expert, and it is a really good way to get an introduction to a city.
We've taken a number of walking tours in New York, all of which we did with Take Walks, our favourite walking tour company. We've taken walks with them in cities all around the world, and have always had a good time.
Take Walks offer a wide range of walking tours in New York. Here are some options to consider, plus you can see all their New York tours here.
Naturally there are lots of other walking tour companies and options. If you invest in a New York Pass for example, this includes a number of walking tour options. There are also a wide range of walking tours available here on Viator and here on GetYourGuide.
Saving Money On New York Attractions
New York can definitely be an expensive place to visit. There are of course many free attractions, some of which we've included on our itinerary, but many of the most popular attractions do charge an entry fee. These fees can be high, and sightseeing fees in general are a major contributor to the cost of travel in the USA.
There is a way you can save money on these higher priced attractions though, and that is to invest in one of the city attraction passes available in New York City.
When we visit a city and plan to do a lot of sightseeing, we always check to see if there's an attraction pass which covers the sights we really want to see, as it usually works out saving us money.
For New York City, there's an excellent choice of passes, and we are sure that one of them will save you money if you plan on visiting at least a few of the paid attractions. We have a detailed guide to all the various New York attraction passes here, which we suggest checking out in advance of your visit. The main passes we recommend are:
For this itinerary, we recommend the New York Pass. The majority of attractions on our itinerary are included on this pass, and at time of writing, the New York Pass offers free entry to over 100 attractions across the city.
These include a lot of high value and popular items like the Empire State Building, Top of the Rock, Hop on Hop Off Bus, Statue of Liberty, 9/11 Memorial Museum and many more.
If you were to visit all the paid attractions in our list, including taking the Hop on Hop Off bus tour, you would be looking at around $400 in attraction entry costs. So straight away the New York Pass should save at least $50 per person!
What we really love about the New York Pass is just how much it includes. We find that this means we often end up doing things we might not have done, just because they are included, so why not?
So, we don't need to think twice about adding a museum or two to our tour, or taking a walking tour, or hiring a bike.
It also includes skip-the-line access at a wide range of attractions so in addition to saving you money, the pass can also save you time. Overall, if you are going to follow our itinerary and plan on visiting many of New York's top attractions, we can highly recommend the New York Pass to save money.
Check prices, and buy yours in advance of your trip here. Passes can be activated up to 24 months from purchase.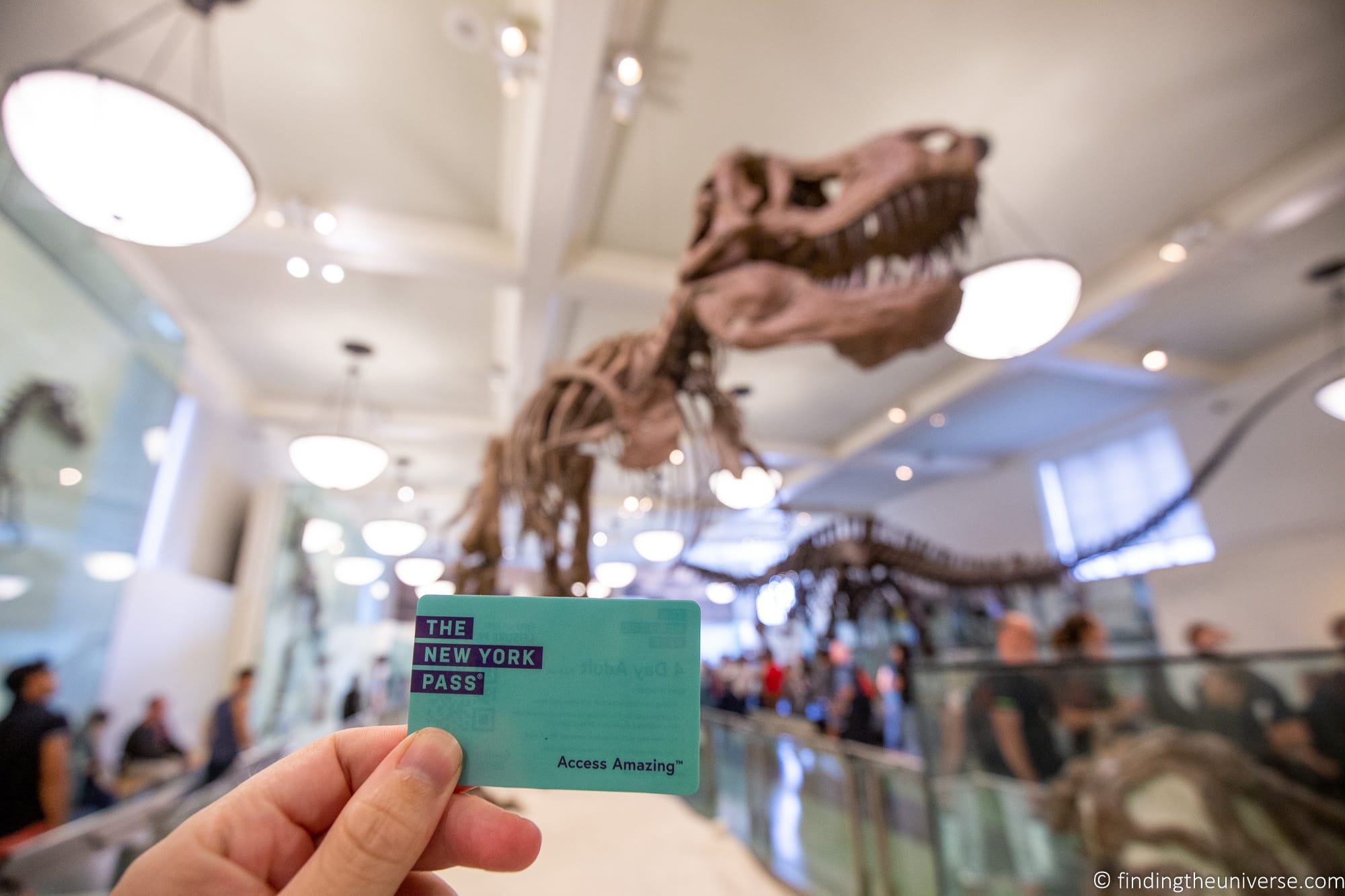 Practicalities for Visiting New York
To help you plan your trip to New York, we wanted to share some information on some of the practicalities you should be aware of. Hopefully this knowledge will help you prepare for your time in the city.
Electrical outlets in New York City
Like the rest of the USA, New York uses a 110v-120v system. There are two types of plugs, formally known as types A and B. Plug type A has two flat parallel pins, and plug type B has the same plus a round grounding pin.
If you are travelling from anywhere outside North America, you will likely need some kind of travel adaptor like this. You should also be aware if you are coming from Europe, Asia, Africa or Australasia that the voltage is different. So you will need to check your devices to be sure they support the 110-120v system. Otherwise you will need a power convertor like this.
In our experience, most lower powered electrical devices like laptops, camera chargers, phone chargers etc. work across voltages from 110 – 240v. However, higher powered devices like hair straighteners, curling irons, hair dryers, and kettles do not.
You can read more about travel adapters in our guide to the best travel adapters on the market, which includes voltage convertors as well.
Currency in New York City
The United States is the home of the United States Dollar, so obviously this is the currency you'll be using in New York City. Dollars come in note form, from $1 bills up to $100 bills. There are also a range of coins, ranging from 1 cent to 1 dollar.
Credit cards are widely accepted across the city for everything from dining to attractions. However, you will want to keep currency to hand, as tipping is very common in the USA. Having a good collection of dollar bills on hand will always be useful.
In addition, single fares on buses can only be bought using coins, although Metrocards can be bought and topped up using a credit or debit card.
We would suggest using a credit card for your purchases where practical, as this will save you carrying large amounts of cash around with you. Just make sure you have a credit card which doesn't charge you for foreign transactions if you are visiting from outside the USA.
Safety in New York City
These days, New York is a relatively safe city to visit- a far cry from the seventies and eighties when crime was rife.
However, as with any major city in the world petty crime is an issue, and you should take precautions with your valuables so as to minimize opportunities for theft and pickpocketing.
Simple things like keeping purse and wallets out of sight in a zippable pocket, and not leaving valuables like phones lying out in plain sight will go a long way to ensuring a safe trip.
Internet Access in New York City
As a major metropolitan city, New York is obviously well connected, and it's easy to find free WiFi as you wander the city. Coffee shops, hotels, restaurants and attractions are all good places where WiFi should be fast and free to access.
If you want to get online with your phone using data, you have a few options, which I outline in my guide to getting online when travelling. The USA is not overall a cheap destination for data in my experience, but it is possible to pick up a SIM card for an unlocked phone if you wish.
One thing to be aware of, depending on your carrier and device, is that all the huge skyscrapers in New York do impact the passage of mobile signals, creating a sort of canyon effect. Combine this with the sheer number of people in the city, and you can expect network access to be a little sporadic and slow at times.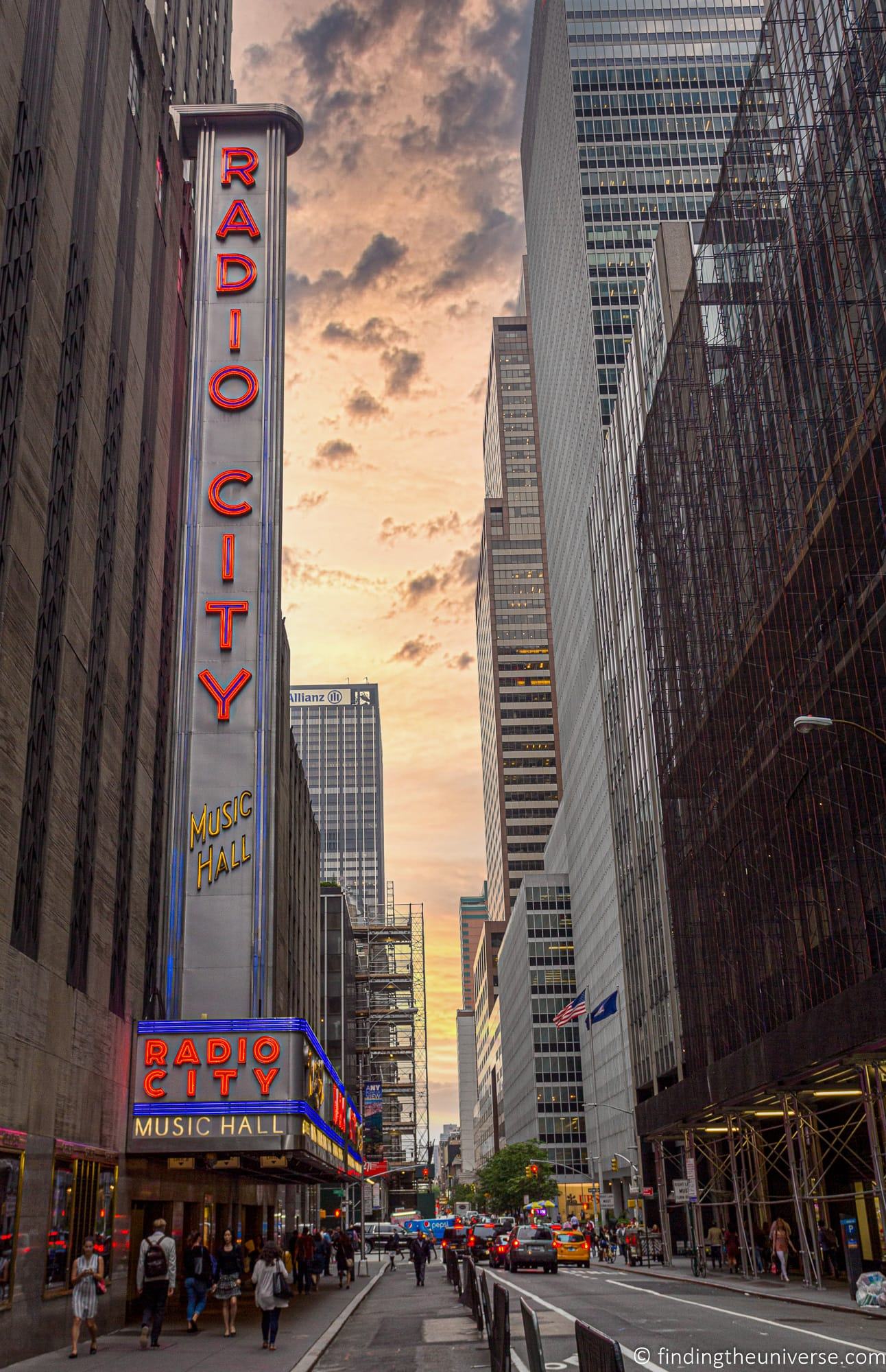 Further Reading
That's it for our guide to what to do when visiting New York City for three days! Hopefully you've found it useful, and it's answered any questions you had about your trip.
We also wanted to share some more content we've written on New York and travelling in the USA in general, to ensure you have all the information you might need. We've also got a few third-party resources to recommend that we think you might find helpful for your trip.
And that's it for this guide! As always, if you have any feedback, comments or questions, just pop them in the comments section below and we'll get back to you as soon as we can. Safe travels!