A drive across Australia's red centre is an absolutely classic road trip. Spanning around 3000km along the Stuart Highway, from Adelaide to Darwin, it is a trip where driving times are measured in days rather than hours.
If you've got some time to spare, and really want to get to grips with a feel for quite how vast and wild this country really is, then a trip through the red centre is something you really can't miss out on.
Here are some of my highlights from the drive, ordered from Adelaide to Darwin.
Coober Pedy and surrounds
Coober Pedy is a very odd little town, reminding me somewhat of Tattooine, only without the scum and villainy. Located in South Australia, the town's residents have chosen to live their lives largely underground, so as to avoid the extremes of temperature that the arid surrounds provide.
As the main focus of the town is opal mining, there are no shortages of holes in which to build houses. You can find pubs, churches and even campgrounds underground. The town is well worth an explore just for this weirdness, plus if you are into your science fiction films, many of the props from the cult classic Pitch Black can be found here, including most of a a spaceship. Which seems strangely appropriate.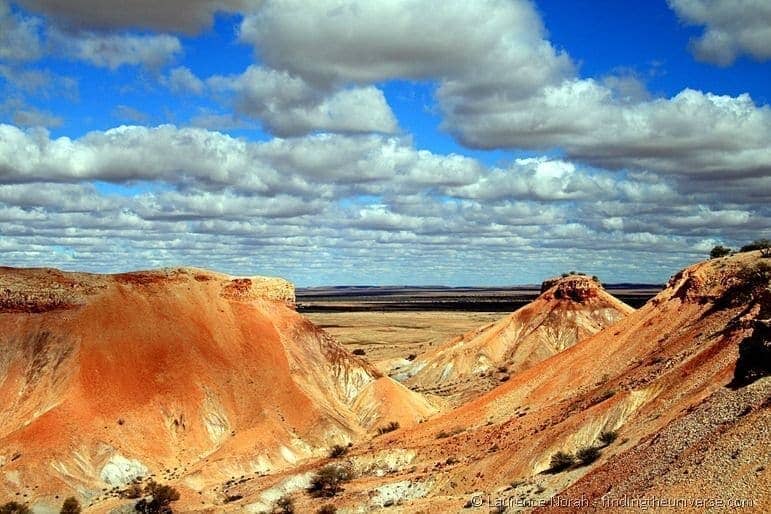 As well as the town itself, the surroundings are pretty stunning. A short drive from town is the Moon Plain, which resembles, you've guessed it, the surface of the moon. Plant life is not a feature of this rocky landscape. A little further again, and you come to the incredibly surreal painted desert, a series of hills displaying colours that wouldn't be out of place in the Wizard of Oz.
The Devil's Marbles
A short hop across the Northern Territory border, and you come to a large selection of giant boulders, which seem a little out of place given the rest of the landscape. No doubt this gave rise to the name, as they do seem to have other worldly origin. There is a small basic campground / car park here, and it's worth staying the night as the light across the boulders at sunset and sunrise really has to be seen to be believed.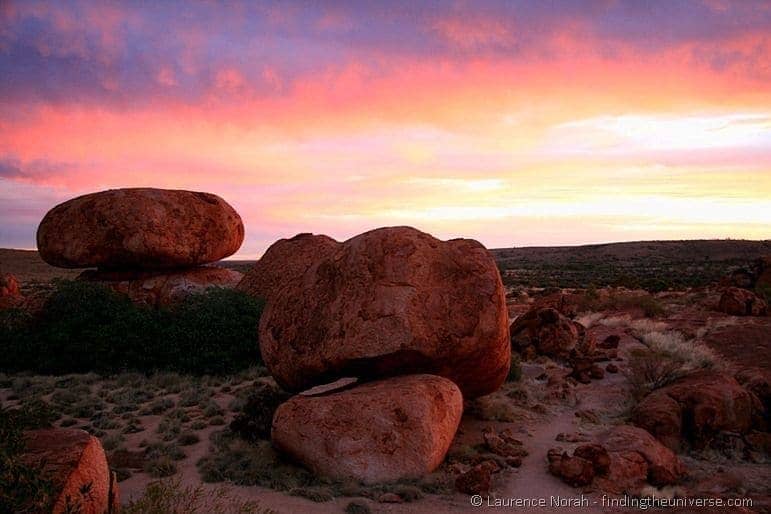 Uluru
It wouldn't be a trip through the centre of Australia without a trip to this most famous of rocks. Some would scratch their heads in wonder as to the sanity of doing a 3000km road trip to stare at a giant bit of rock (you can fly here too), but the allure still seems a powerful draw. It is certainly a very strange experience, after driving for days and barely seeing another person, you suddenly find yourself at one of Australia's most touristy spots.
It's essential to watch the sunset over the rock and be amazed at the way the rock seems to actually change colour – just don't expect to be alone when you're doing so. Other activities include climbing up the rock, which the aboriginal owners would prefer you didn't do, and walking around the rock, which is a less strenuous and more culturally acceptable activity. I personally did climb it, and the view from the top was spectacular.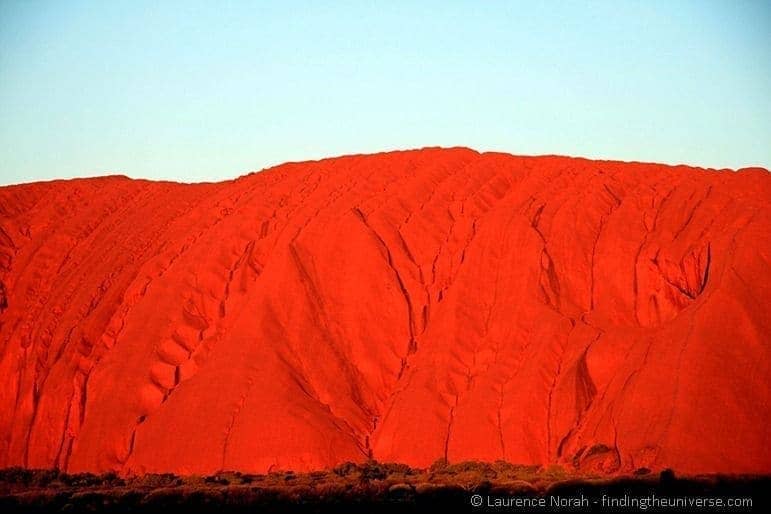 While you are in the Uluru area, and have paid your entry fee, you should also take the time to visit the Olgas, another massive rock formation a very short drive away from Uluru. This is a far less busy alternative to the main attraction and may let you get your "rock vibe" on in peace.
Kings Canyon
When you meet people on the road, travelling to and from Uluru, the chance are that if they have been to the Kings Canyon, they will urge you to go there also. After you have been, you will find yourself urging other people to do the same.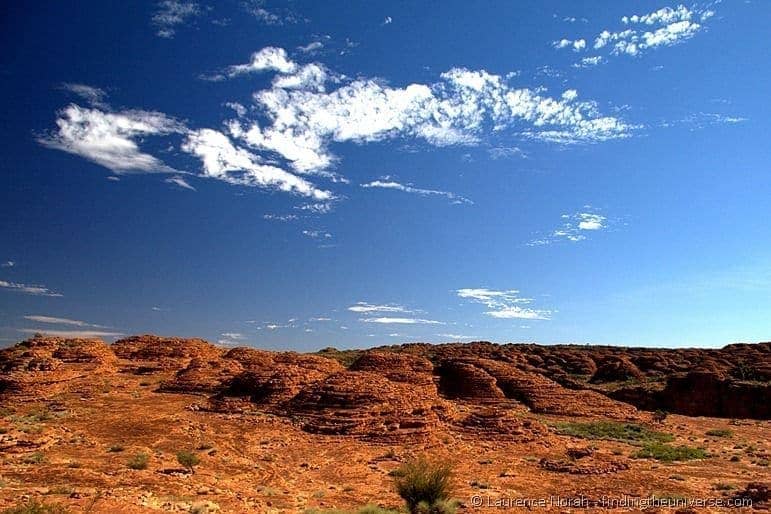 This is because it is a quite awesome spot. Giant walls rise up from a river bed, at least a hundred metres high, atop which sit the beehive formations for which this area is famous. Actual bees did not create these weird domes, which is a good thing because these would be some seriously large insects.
Instead, they are sandstone, the remains of an ancient desert which has been frozen into what remains today, with erosion doing the rest. These fossilised dunes are quite remarkable to walk around, with the sand ripple patterns still clearly visible all this time on. Worth the detour. See more photos from the area in my photo essay on Kings Canyon.
Daly Waters Pub
It wouldn't be a trip through the centre of Australia without mention of at least one pub, and the one at Daly Waters is certainly worth the visit. Pubs, known as roadhouses in this part of the road, are often the only points of civilisation on these long stretches of highway, and offer hearty plates of food, accommodation and fuel, not to mention a wide variety of interesting characters to chat to.
The pub at Daly Waters holds fast to this tradition, with plentiful beer, shady camping, and a boast that they have the most remote traffic light in the world. A pub has been here in some form or another for a very long time, so long in fact that some weird traditions have sprung up around it.
It used to be, for example, that drovers coming through with their cattle on their way to market would stop off for a beer, and so as to be certain that they would have sufficient funds on the route back, would pin a note to the bar wall. This has now expanded somewhat, to the point that nearly anything you can think of is pinned to the walls of the pub, from driving licenses to underwear, from flags to ironmongery. It could be seen as kitsch, but there is just so much of it that it makes for a rather delightful drinking environment. That, and the evening entertainment often consists of a gentleman singing with a bald eagle chick on his head. This is, after all, the outback. I would have some photos of this, but I was too busy focusing on the beer and the strange eagle sight…
Mataranka
The tiny town of Mataranka would go by largely unnoticed, were it not for the spectacular thermal springs that feed a number of the rivers in this area. This results in a delightful bathing experience that is not to be missed, particularly after many hot hours on the road.
My favourite of the bathing options was the bitter springs, a limestone thermal spring which bubbles along at a pleasantly warm temperature, and is a startlingly blue colour. This is an actual river, so you can float along with the current, sharing the space with terrapins and fish, before hopping out at the end of the 400 metre allocated swimming area, walking back, and doing it all again.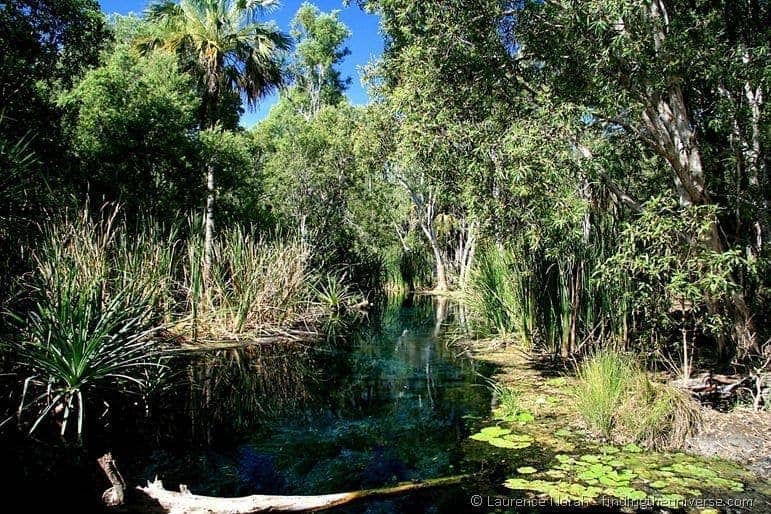 Tips for the road trip
This is a very long drive through remote country. Here are some things to be aware of:
Road trains: Road trains are enormous trucks, up to three trailers and 57 metres in length. They barrel along at some speed, and you need to be aware that they have very long stopping distances. Overtaking them is possible, but you may need over a kilometre of highway to do so.
Fauna: Outback animals, including stray cattle, roos and camels are liable to wander into the road, particularly in the evening and night time when car lights will confuse them. Unless you are in a tank, it is unlikely that your vehicle or the animal will come off well from a collision, so where possible, minimise your night time driving.
Distance: The distance, as I've mentioned, is long. Don't expect radio stations to work all the way, so take plenty of music along with you to keep you entertained. Car games will only keep you amused for so long.
Breakdowns: If you are unlucky enough to break down, stay with your vehicle. You should carry enough food and water to last for a few days. That said, this is a fairly well travelled route, so you shouldn't have too much difficulty flagging someone down and getting help.
Those were some of my favourite stopping points on the Adelaide to Darwin road. Out of necessity I've had to leave some of the places off, including the stunning Katherine Gorge, Edith Falls and the outback offroad adventure that is the Oodnadatta track. Don't be fooled by the seemingly endless nothing, there is lots to see and do along this route, so be prepared to take your time and pencil in a few more sights than just "the rock". Have a safe trip!
Further reading
If you found this post helpful, you might like to check out my Australia Tips section of the site, where I offer all kinds of advice, from things to consider, through to awesome day hikes, as well as practicalities such as how to safely go offroad.
If you'd like some more resources to further plan your trip, then the following should help:
Free options and other online resources
If you prefer your guides less physical and a bit more free, then the following are good resources: