The Tongariro National Park, which I am living beside, is largely famous (and a dual World Heritage site) because of the three rather awesome giant mountains that sit within it. But an 80,000 hectare park is always going to have more to offer than "just" three towering mountains. And so we went for a walk from the confusingly pronounced Whakapapa (faka-papa) village, to the Taranaki Falls, a gentle jaunt of 6km. Nothing too strenuous.
Whakapapa village is located at the foot of the largest mountain in the area, Ruapehu, which loomed, snow covered, 1000 metres above us. Off to the left were Ngauruhoe and Tongariro – you really need to go quite a long way away before these three mountains become less obvious. In this case however the walk plunged us straight into moss filled alpine forest, and so we lost sight of them almost immediately, as we wandered through a green wonderland. Ferns sprouted out of the ground, lichen covered trees hung wearily over the path.
The trail led us to a river, always a good sign when hunting for a waterfall, and then led us gently uphill along it's banks. The water was clear with hints of glacier like grey-green. Along the way we passed a strange spot filled with miniature rock piles – it was like something out of the Blair Witch Project. A dire film. I digress.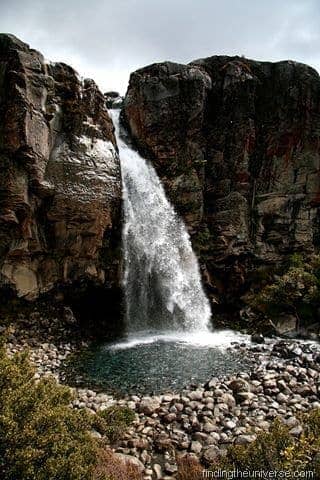 Further gentle meandering along the river banks brought us out of the alpine valley and onto the large expanse of scrub like land that surrounds the base of the three mountains. Cloud was ominously building above their tops – Ngauruhoe was lost in the mists. Wargs appearing over the hillside would not have been entirely unexpected. Wargs, of course, did not appear, instead, the sight of a 20 metre waterfall cascading delightfully over the rocks ahead of us came into view.
A dark pool, with water foaming into it, was the highlight of the walk, with the three snow and cloud bound mountains surrounding us. Really, a quite impressive location for a pause and reflection. Below, the river flowed downhill, onto the plains, and we could see much of the west of the North Island spread out below us. Quite stunning.
The return section of the walk took us above the alpine forest, along an old lava flow, and afforded us tremendous view of the surrounding scenery. Which was, as you can imagine, absolutely staggering.
It's still hard to take it in sometimes, quite how incredibly scenic this location is, and how much it has to offer. There are, I am pleased to say, plenty more walks in the area to take in, and I expect to take more of them in in our spare time. Until then.. keep smiling 🙂