Home, so the saying goes, is where the heart is. Which, given that my heart is located somewhere inside my chest cavity, would suggest that home is wherever I am.
Currently however, and for at least the foreseeable future, home is at the Tongariro Holiday Park, so I figured I would tell you a bit about that. Well, actually, I was informed by those folks who brought me into the world and provided me with food, shelter, life.. and well, all the rest of the stuff one gets from one's parents that I needed to share more of my current locale with the world (and, I suspect, they want to know quite what it is I am doing with that life they gave me). So here it is.
The Tongariro Holiday Park is, as the name would suggest, a holiday park situated right on the edge of the Tongariro National Park. It isn't particularly close to anything else, being roughly a 25km drive in either direction to anywhere one would label as civilisation (shops, petrol stations and so on). As you can imagine, folks don't come here to experience wild and crazy nightlife (unless watching the moon rise counts), they come here to experience wilderness. There is plentiful hiking in the area, including the previously mentioned Tongariro Alpine Crossing, which is but a drop in the ocean of what is available around here, from short walks of only a few kilometres, to multi-day hikes circumnavigating the mountains in the area. It's impressive stuff, and a must-visit locale if you're into hiking.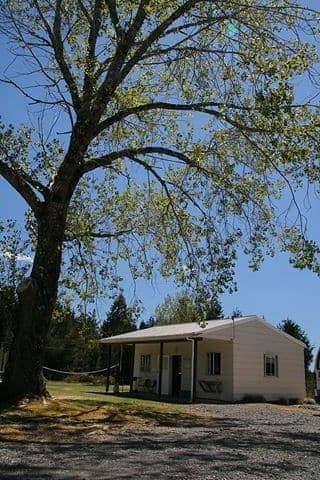 As well as hiking, this area is reputed to have some of the finest trout fishing in the world, as well as white water rafting, kayaking, quad biking and mountain biking trails (the nearby 42 traverse is billed as one of New Zealand's best one day mountain biking adventures). There are also cave systems to explore, mud baths to wallow in, beaches to lie on (by the lake, not the sea) and in Winter, more ski field than you can shake a stick at on the slopes of Mount Ruahepu. So a holiday park in this location makes sense, as you can imagine.
The holiday park itself is particularly cunningly located, right between the start and end points of the one day Tongariro Alpine Crossing – naturally therefore the park is a popular spot to spend a couple of nights when doing the actual walk. A shuttle bus, operated by the lovely folks at Tongariro Expeditions, picks folks up from the park at varying times in the morning, ranging from 6 – 9am depending on weather conditions and demand, shuttles them off to the walk start point, and then brings them back in the afternoon once they are done from the walk end point – this is a one way hike. Quite often the remainder of people's afternoon is then spent relaxing in the sun over a cold beer, and sometimes, some time in the spa pool. Yes, there is a spa. I know, what more could one want after a trek over a mountain? A massage? That service is available too.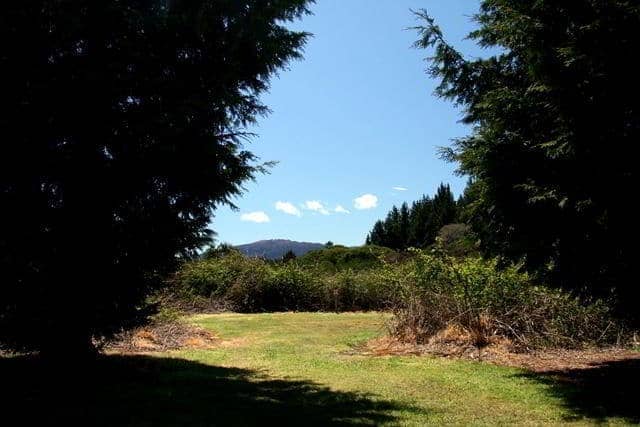 So the park caters to folk who are largely interested in the outdoors, and less interested in wild and crazy nightlife. It has a mix of accommodation, ranging from some rather lovely camp sites located in the bush which offer decent seclusion from other campers, through to powered sites for folks who are travelling in those giant Winnebago things with every comfort known to man, through to basic cabins, as well as some en-suite rooms and then at the upper end of the scale, two self contained cabins which have everything including the kitchen sink, kitchenette, TV… you get the idea.
Being a family park, there is also a kids play area and somewhat unexpectedly, a giant trampoline. Trampolining is tiring work, I can report, unless you are aged six and have limitless energy. Which I am not.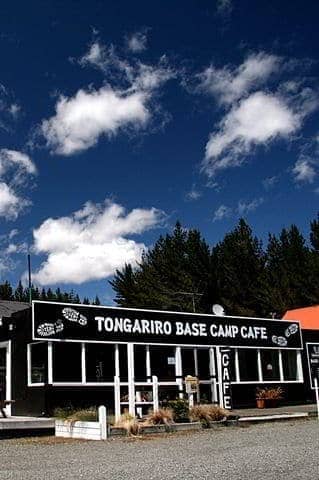 There is also a games/TV room, where one can flick through some fascinating celebrity magazines or take in a game of pool. Beyond this there are all the usual facilities that one would expect from a park – a large well equipped kitchen for cooking, showers, toilets.. well, you probably know the thing I'm talking about. I stayed at a wide range of parks on my trip around Australia, usually at the budget end of the range, and this park certainly sits up there as one of the nicer places you could come to pitch a tent.
Obviously there are a few disadvantages to living somewhere like this. Shopping, for example, is a bit of a trek. The nearest large shops are way over in Taupo, a 160km round trip. Cellphone coverage is, well, practically non-existent, and the internet comes via satellite so is remarkably expensive.
Still, we have access to freezers, fridges and microwaves, which is a happy luxury. And I think I mentioned a spa. And of course, the plethora of natural beauty on hand more than makes up for anything we could be missing, with countless trails on hand to explore, and scenery that keeps the photographer in me more than occupied.
The work itself is not too stressful, and is nicely varied. We operate the cafe in the morning to provide coffee for folks taking the shuttle up to the start of the walk, which is a weather dependant activity. Some cleaning duties occur mid morning, which vary depending on how busy the park has been. Then there's general helping out around the place, which includes reception work, and general, well, stuff. It's varied and keeps us interested, plus we have spare time and lots and lots of amazing landscape to explore. All in all, pretty ideal.
That, therefore, is home at the moment, and hopefully will be for some time to come, all being well. Now, parents satisfied, I can get back to telling you about lakes, waterfalls, mountains and rivers, plus any other lord of the rings trivia I can squeeze into the posts. Keep smiling!
Note: This post wasn't sponsored by the Tongariro Holiday Park. They do happen to pay my wage at the moment, and it was written and put up with the owners permission however. Take from that what you will. If you were wondering…