If you're planning a trip to Turkey, then we highly recommend spending some time in Istanbul. This is the largest city in the country, and is generally regarded as the most important city in terms of cultural and historical interest. Istanbul is home to numerous wonderful sights, and we've always enjoyed our visits here.
How long you visit will of course depend on your schedule, but we think 2 days in Istanbul will give you enough time to see the main highlights. You could do this either as a weekend in Istanbul, or as the start of a longer trip, such as that outlined in our 2 week Turkey itinerary.
In this guide, we're going to share with you a detailed itinerary for spending two days in Istanbul. We'll tell you all the things you should see, share a map to help you visualise your trip, give you tips on where to stay, and share some practical advice for your visit.
By the time you've finished reading, we hope you'll be ready for your trip to Istanbul. Let's get started with the itinerary!
2 Days in Istanbul – An Itinerary
This itinerary is aimed at the first time visitor and covers what we think are the main highlights of the city that most visitors will want to see. It's arranged as logically as possible so you can do as much sightseeing as possible.
As with all our itineraries, we recommend you use this as a base for your own planning, and adjust it to fit your own interests. You'll also want to check opening times and days for each attraction for your visit so to be sure everything is open on the day you plan to visit.
We've tried to indicate which days attractions are likely to be closed, but it is always a good idea to check before you visit to avoid disappointment, especially if you are visiting during a public holiday when attractions are more likely to be closed.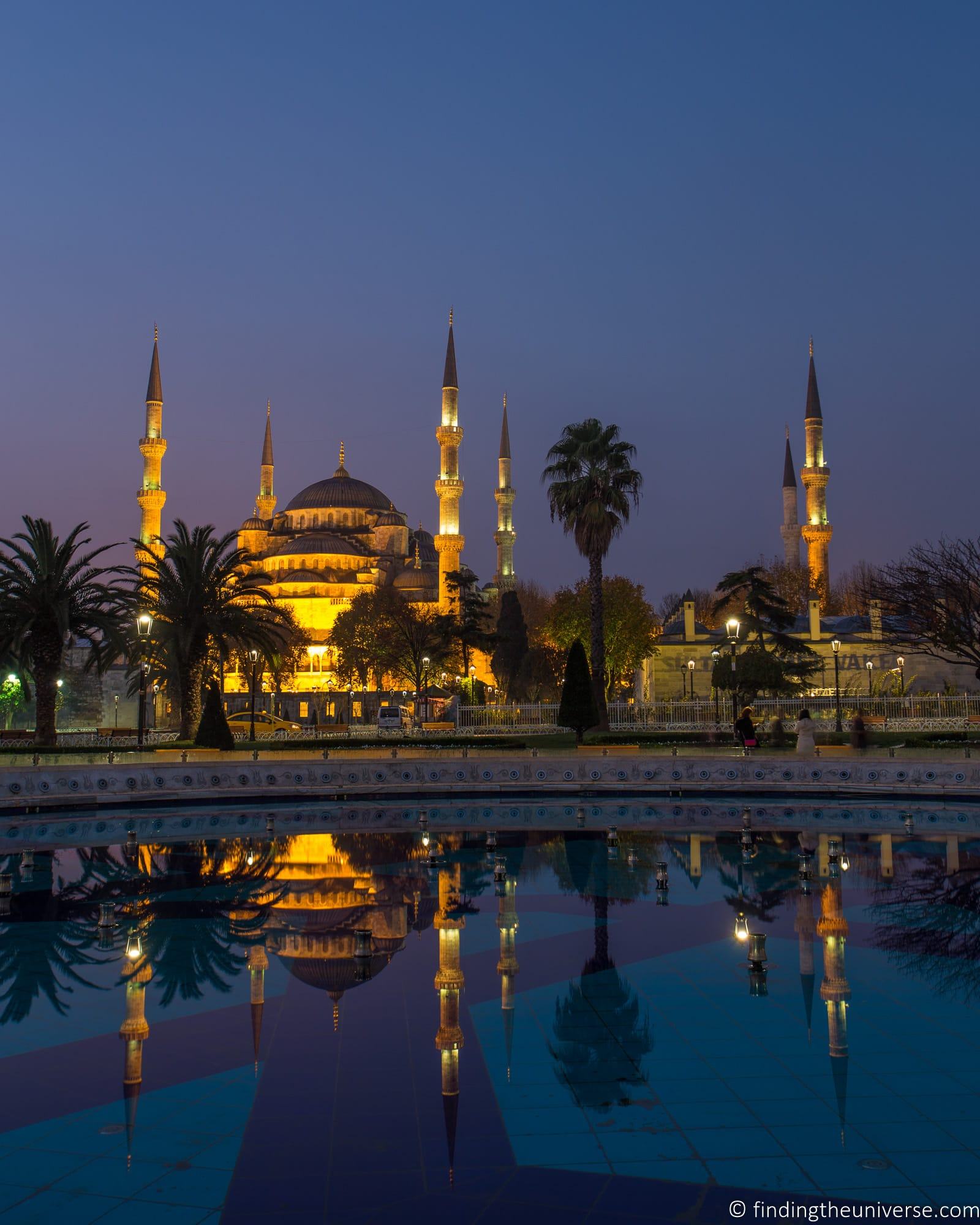 Istanbul Itinerary Day 1
Your first day in Istanbul has you exploring one of the oldest parts of the city, and taking in some of the cities most famous sites. These include ancient places of worship, underground water storage facilities, and some of the oldest relics in the city.
All of these attractions can be visited by yourself as a self-guided visit, or you can opt to take a walking tour like this or this which will take in the majority of these sites as well as give you lots of historical context and information about what you are seeing.
Taking a walking tour will also mean you won't have to worry about getting tickets, and you'll be able to save time and skip the often long ticket lines as well.
We've visited these attractions both by ourselves and also on a walking tour. We found a walking tour to be a great way to skip the lines and really learn about what we were seeing. Of course it's your trip, so it's up to you which you prefer!
Sultan Ahmed Mosque (The Blue Mosque)
First for the day is the Sultan Ahmed Mosque, which is also known as the Blue Mosque. This is one of the most well known mosques in the city, and is a popular attraction for visitors whilst still being an active place of worship.
The Blue Mosque was built in the early 17th century during the rule of Sultan Ahmed I, who is buried within. Its interior walls are covered with over 20,000 hand-painted blue tiles, which is where the name Blue Mosque comes from. The upper levels are also painted blue, and at night, the Mosque is lit with blue lights.
The Blue Mosque is a functioning mosque visited by thousands of worshippers every day, so there are a few things to bear in mind when you visit. First, you need to wear appropriate attire. Men must cover their legs and shoulders, whilst women must cover their hair, shoulders, arms and legs. Head coverings are available if you do not have your own. You must also remove your shoes, which you can carry with you in a provided plastic bag.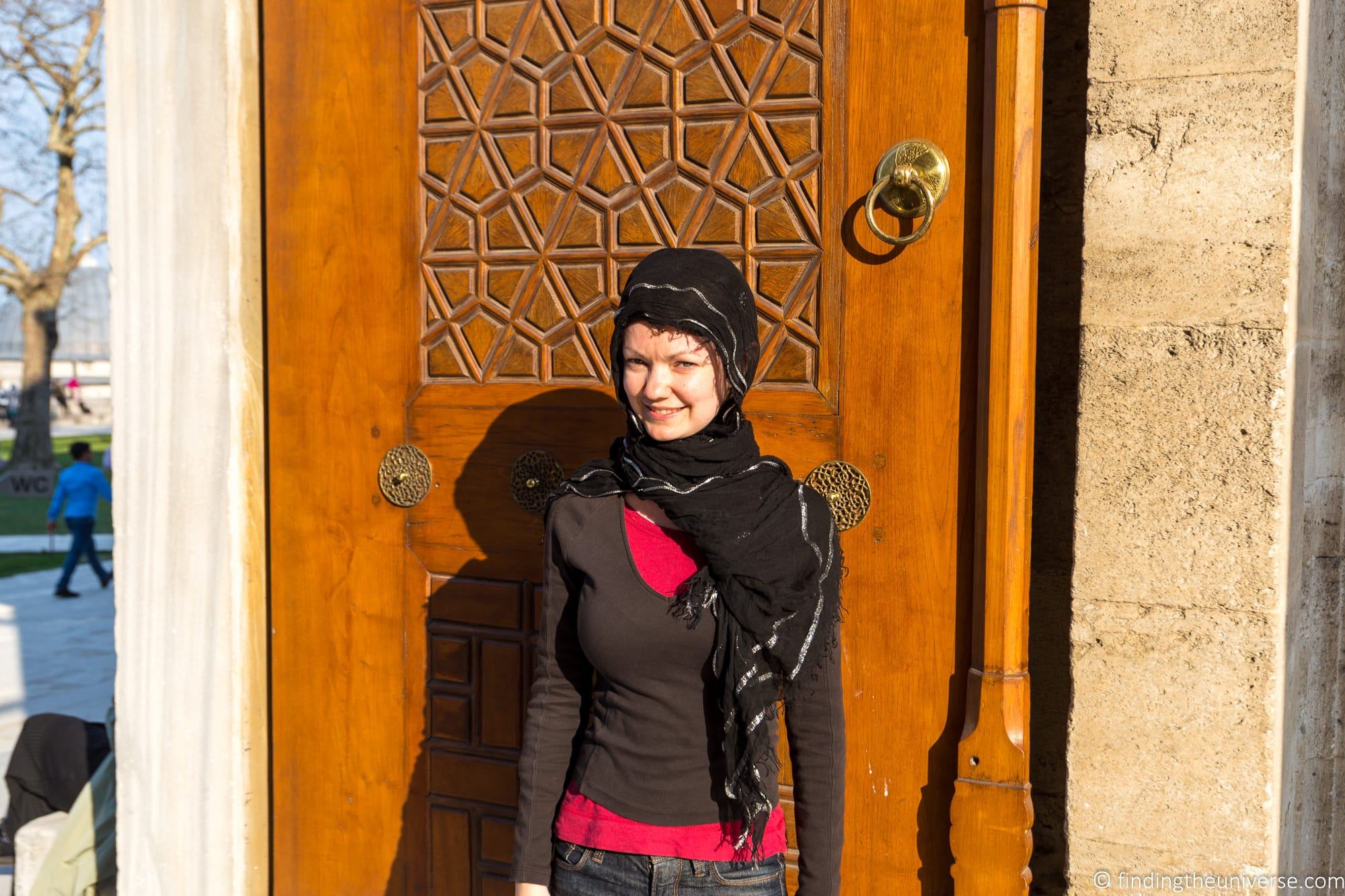 Flash photography is not permitted (see our guide to disabling your camera flash here), and photographing those who are praying is not advisable.
In addition, the mosque closes for 90 minutes at a time for prayer, with five prayer times throughout the day between sunrise and sunset. In general, the mosque is open from 8.30 – 11.30, 13.00 – 14.30, and 15.30 – 16:45. On Fridays the lunch prayer if from 13.30 – 15.30.
This is why we advise visiting the Blue Mosque first in the morning, so you don't have to rush to see it before the 11.30 call to prayer. Entry to the Blue Mosque is free.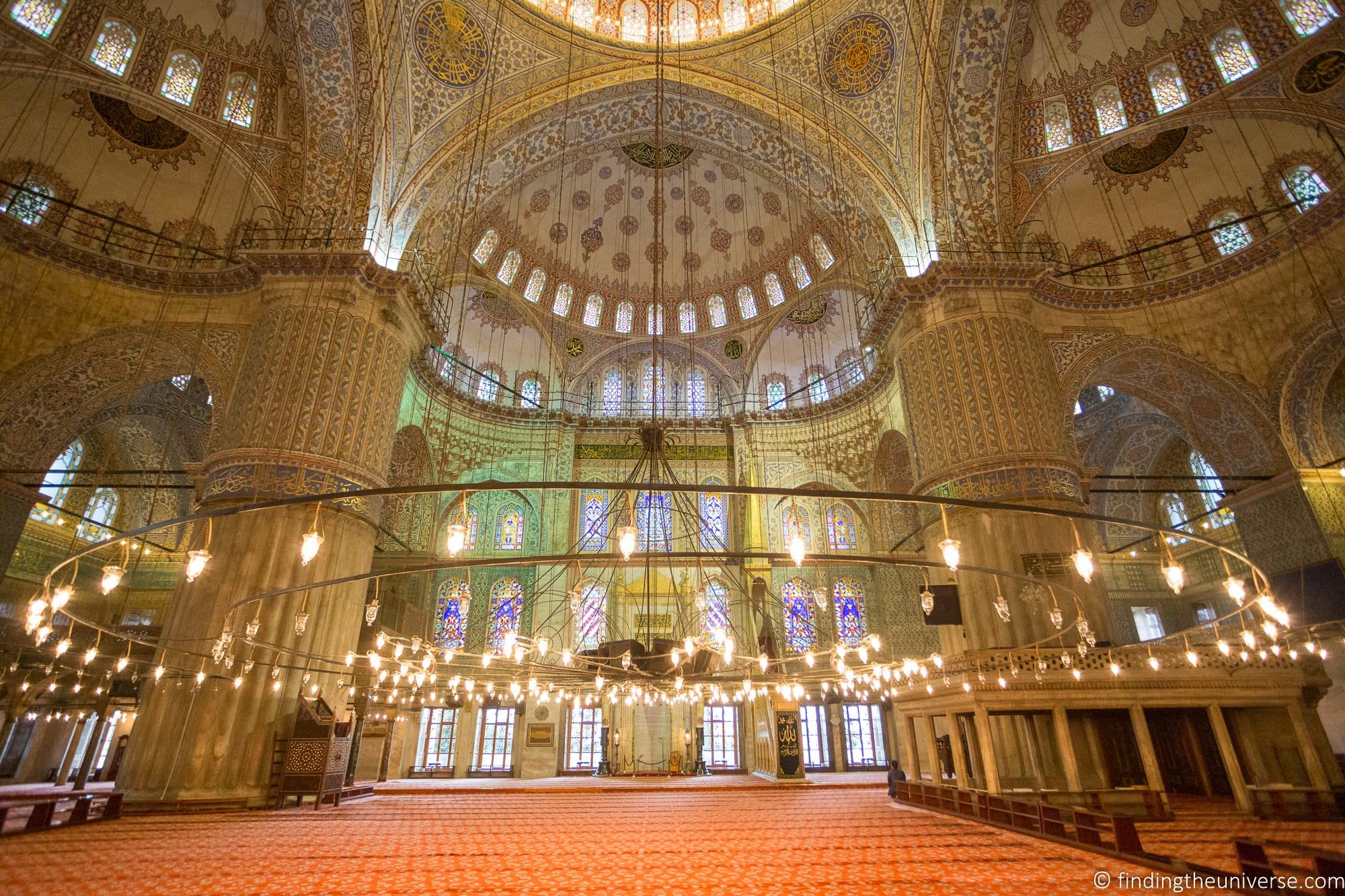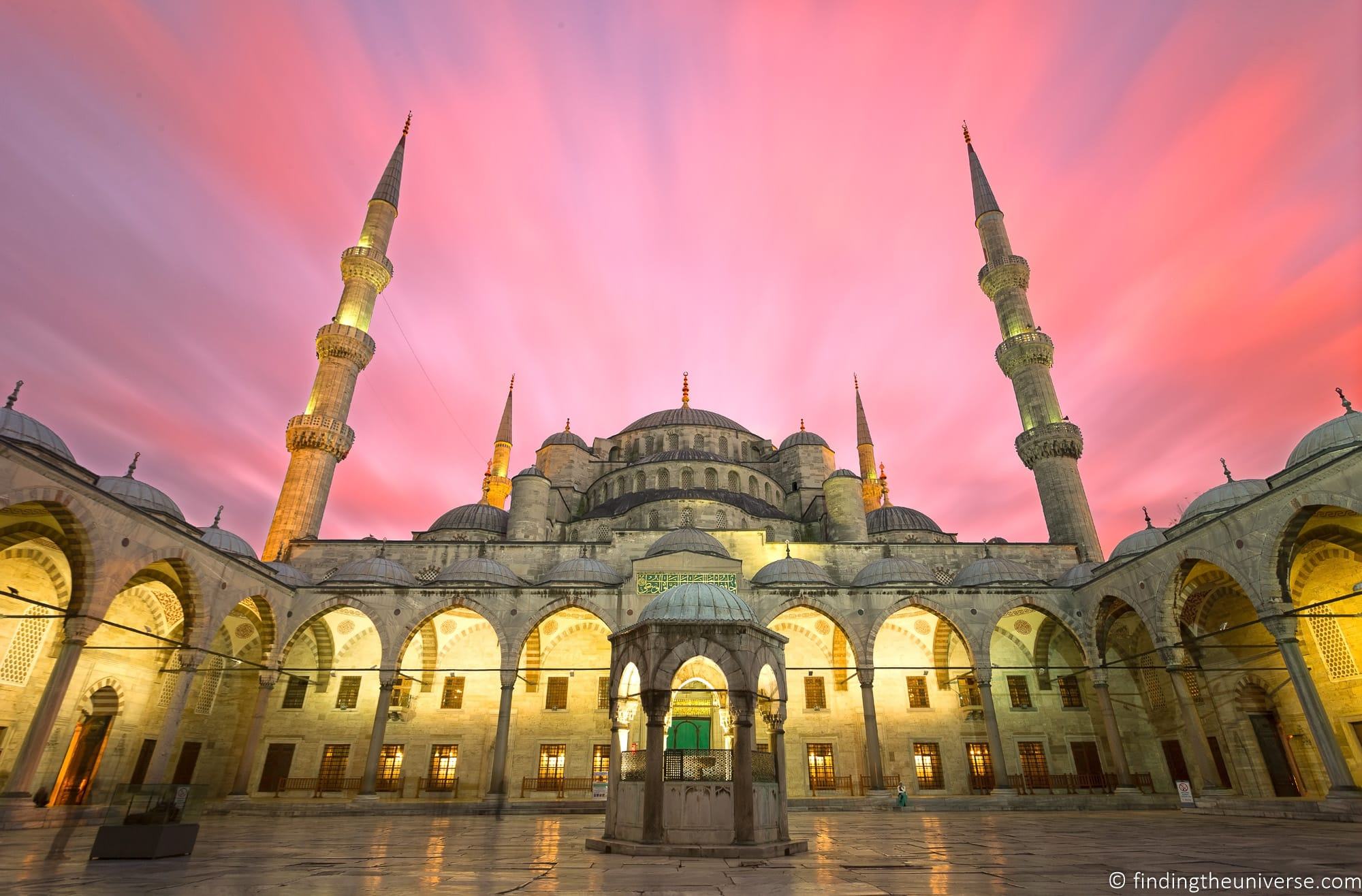 Hippodrome of Constantinople
Just outside the Blue Mosque is the site of the former Hippodrome of Constantinople. This originally dates from the time of the Roman Empire, when the area was a Hippodrome, or a large arena for social and sporting entertainments, including chariot races.
There are a few notable sights that you can still see today in this area, which today is a large pedestrian square also named for Sultan Ahmet. This will not take a great deal of your time, and they are all free to see as they stand outside in the square.
The most obvious monument is the Obelisk of Thutmose III. This Egyptian obelisk is almost 3,500 years old, and originally stood at the temple of Karnak in Luxor. It's been sitting in its current location since it was brought here in 390 AD.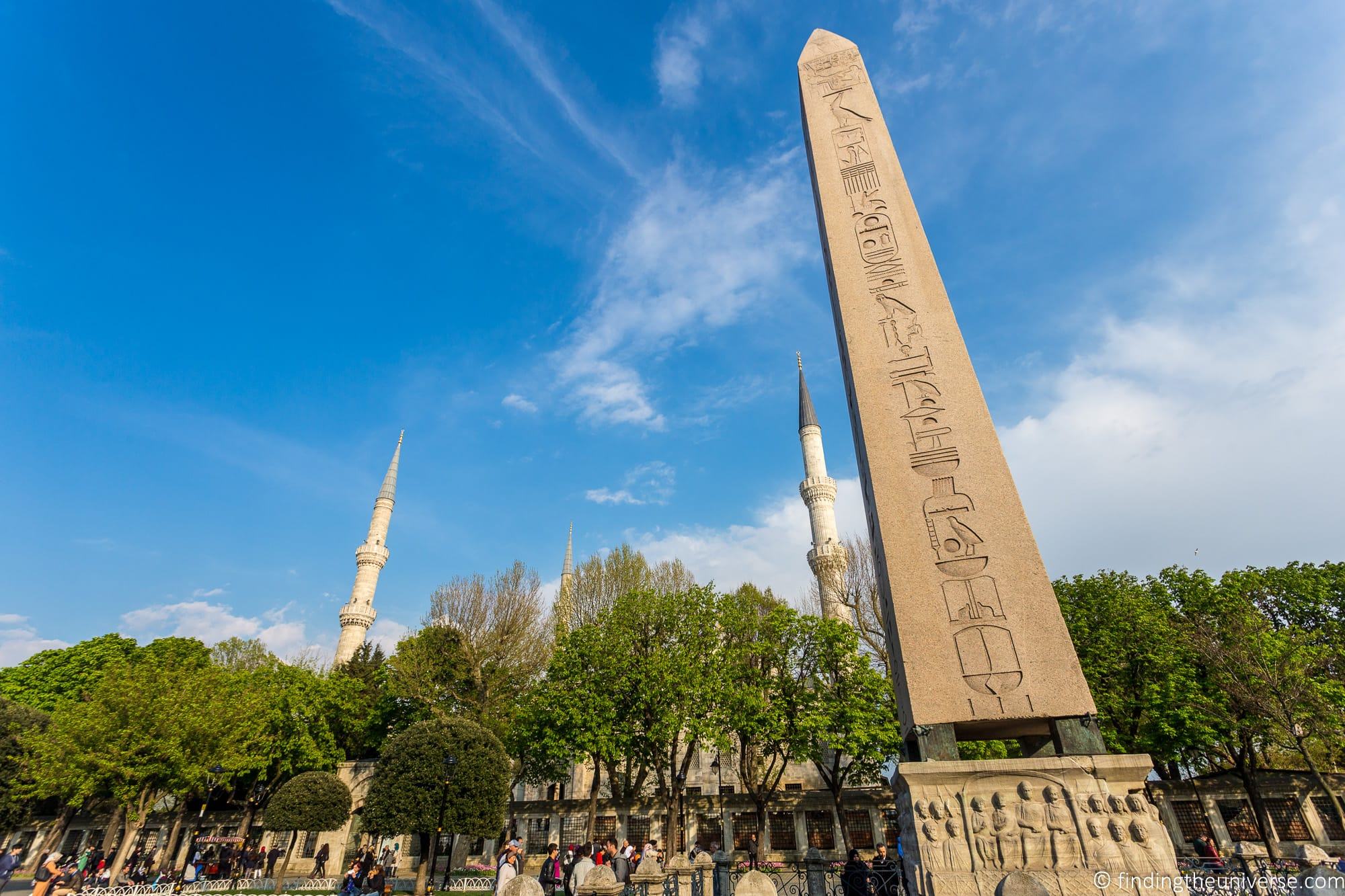 Another obelisk stands to the south west of the Obelisk of Thutmose – the Walled Obelisk. This is much more recent addition, having been installed in the 10th century AD. It was originally covered in bronze plaques, however these were looted during the Crusades. As a result only the central column of stone remains – giving this obelisk a much more weathered and ancient look.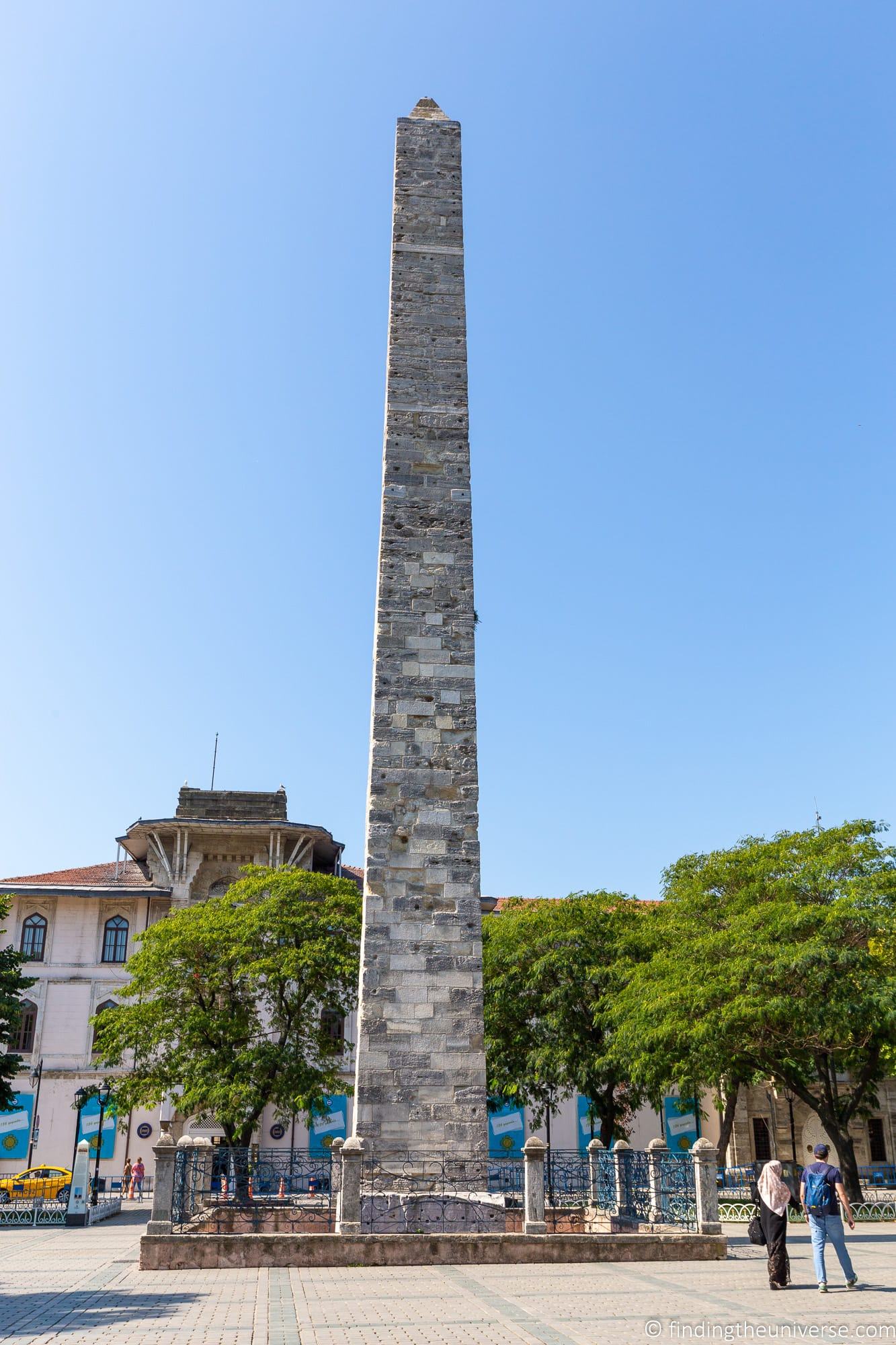 Between these two obelisks stands the somewhat underwhelming Serpent Column. I say underwhelming, because not much is left of the original column. To be fair, it is over 2,500 years old. It came to its current location in 324 AD when Emperor Constantine was looking for decorations for his new capital city – Constantinople.
At the time it was an impressive eight metre high column featuring three intertwined serpents. Unfortunately, time has not been kind to this ancient monument, and only the lower part of the column remains today.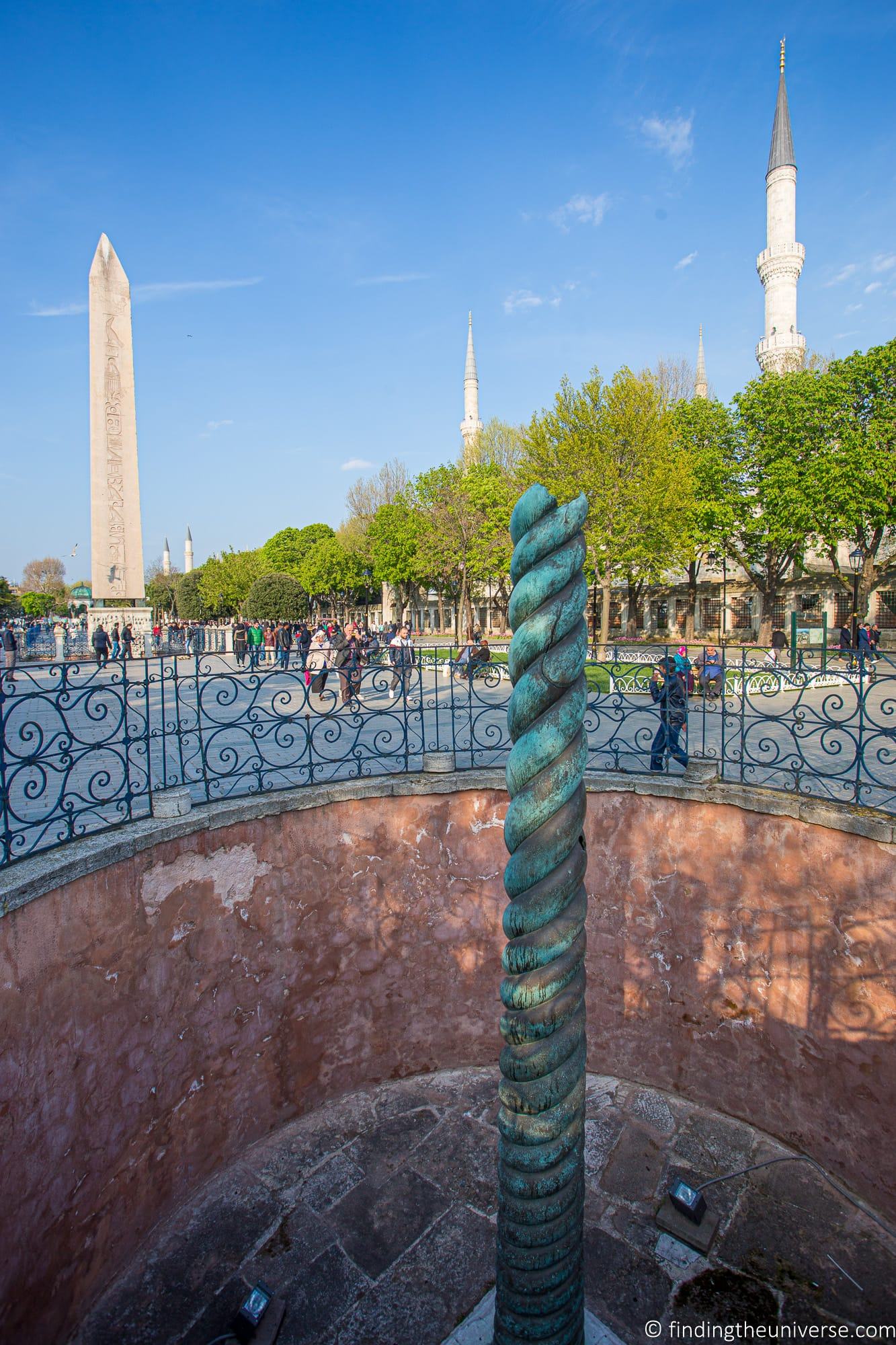 All the above are just a few moments walk from each other and the entrance to the Sultan Ahmed Mosque, plus they are all free to visit, and are definitely worth a few moments of your time. They offer a wonderful view into just how long Istanbul has been around!
Basilica Cistern
You're going to start heading towards another famous religious building in Istanbul now, but first we recommend you stop in at the Basilica Cistern. This is one of my personal favourite spots in Istanbul, although I appreciate that many might find what is essentially an underground water tank to be a bit of an odd attraction.
Well, this is quite a special underground water tank. Dating from 542 AD, the Basilica Cistern is a massive (almost 10,000 square meters) underground water storage system. Built by the Romans to provide filtered water to the area, it consists of 336 nine metre high marble columns which hold the roof up. It's capable of containing 80,000 cubic metres of water!
It is a truly impressive sight to behold, made even more so by the fact that the still water causes lovely reflections of the columns and ceiling. Popular culture fans will also be interested to hear that the cistern has appeared in a number of films, including the James Bond movie From Russia with Love, as well as the more recent Inferno movie based on the Dan Brown novel.
The Cistern is open every day, and there's an entry fee to visit.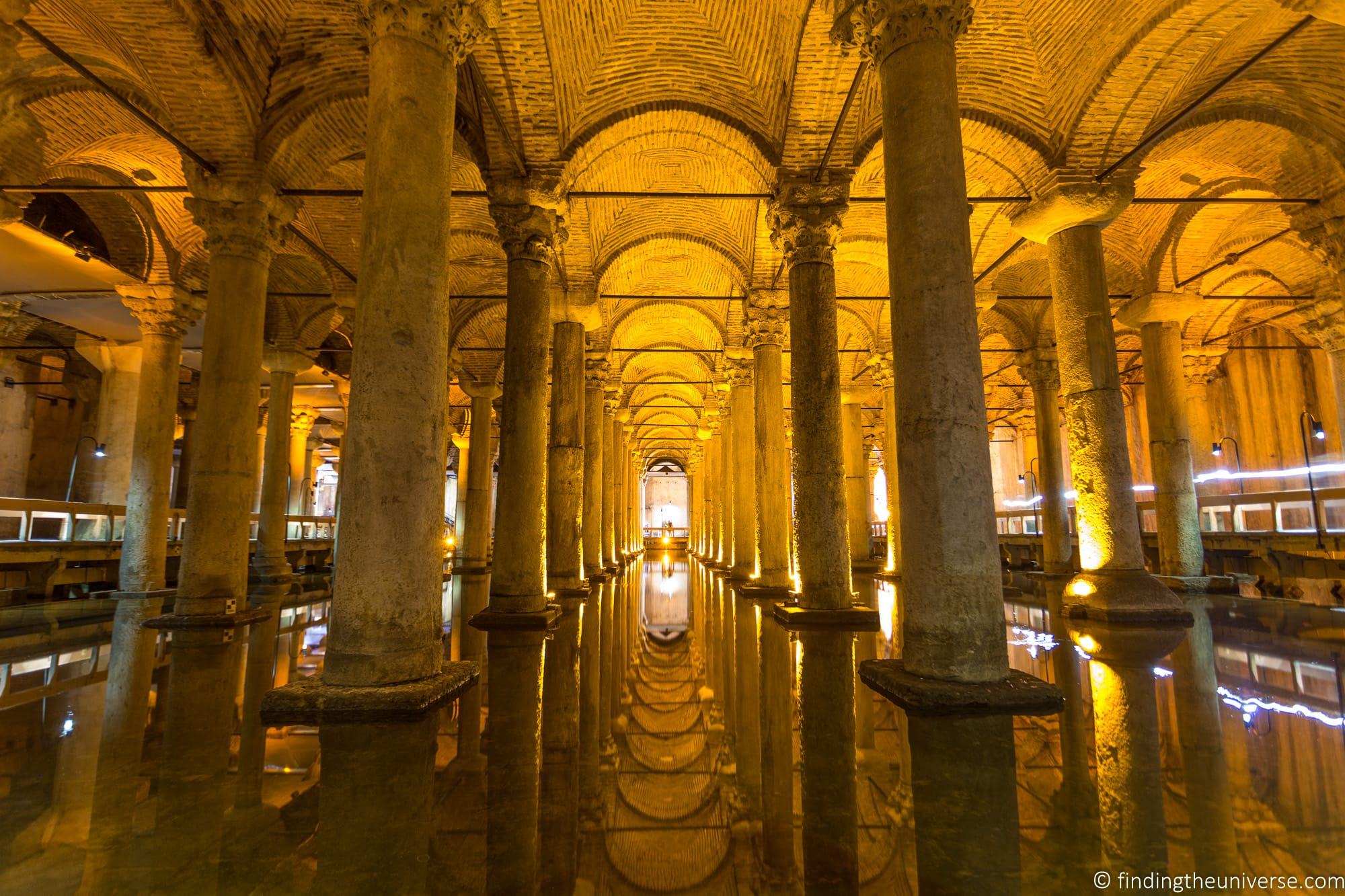 Hagia Sophia
Just near the Basilica Cistern is the Hagia Sophia, which was originally built as an Orthodox Cathedral and later turned into a Mosque, before becoming a museum and then reverting to a mosque in 2020.
The Hagia Sophia dates from AD 537, and when it was built it was the world's largest building. At the time it was regarded as quite the engineering marvel, and even by today's standards the construction is very impressive. It's regarded as one of the great examples of Byzantine architecture, and also served as the inspiration for many of the other mosques in the city.
There is a lot to see at the Hagia Sophia, which stood as a place of worship for almost 1,500 years. Its dual history as both a Muslim and Christian place of worship means it has a number of unique features and decorations.
When the Hagia Sofia was a museum there was an entry fee. Now it has reverted to a mosque there is no longer a fee. The Hagia Sophia is open every day, but closes for prayers. You can see prayer times here.
You can also take a guided tour like this, or an audio guide like this. We'd recommend that a tour or audio guide is very much worth it for helping you to understand what you are seeing here.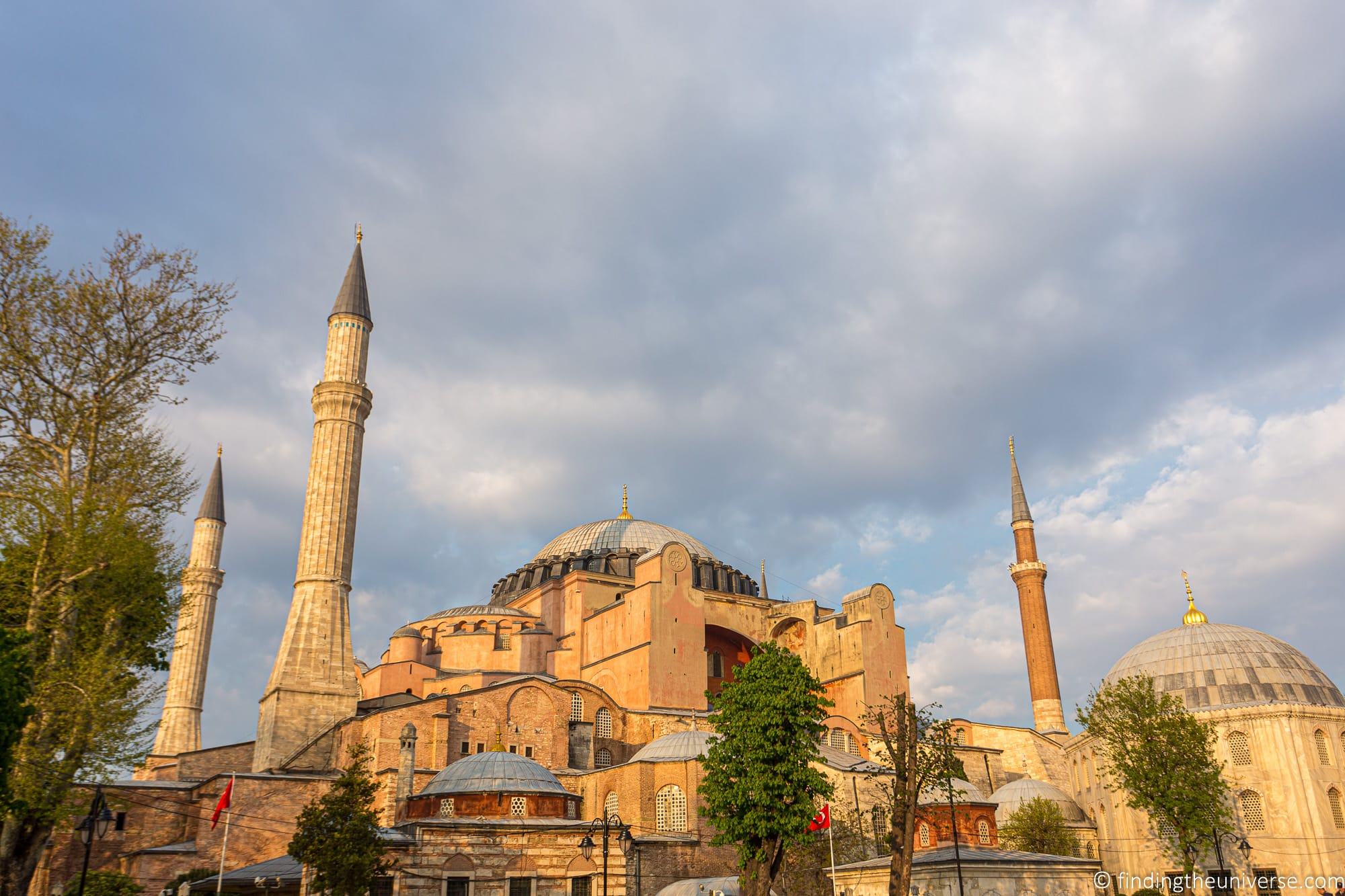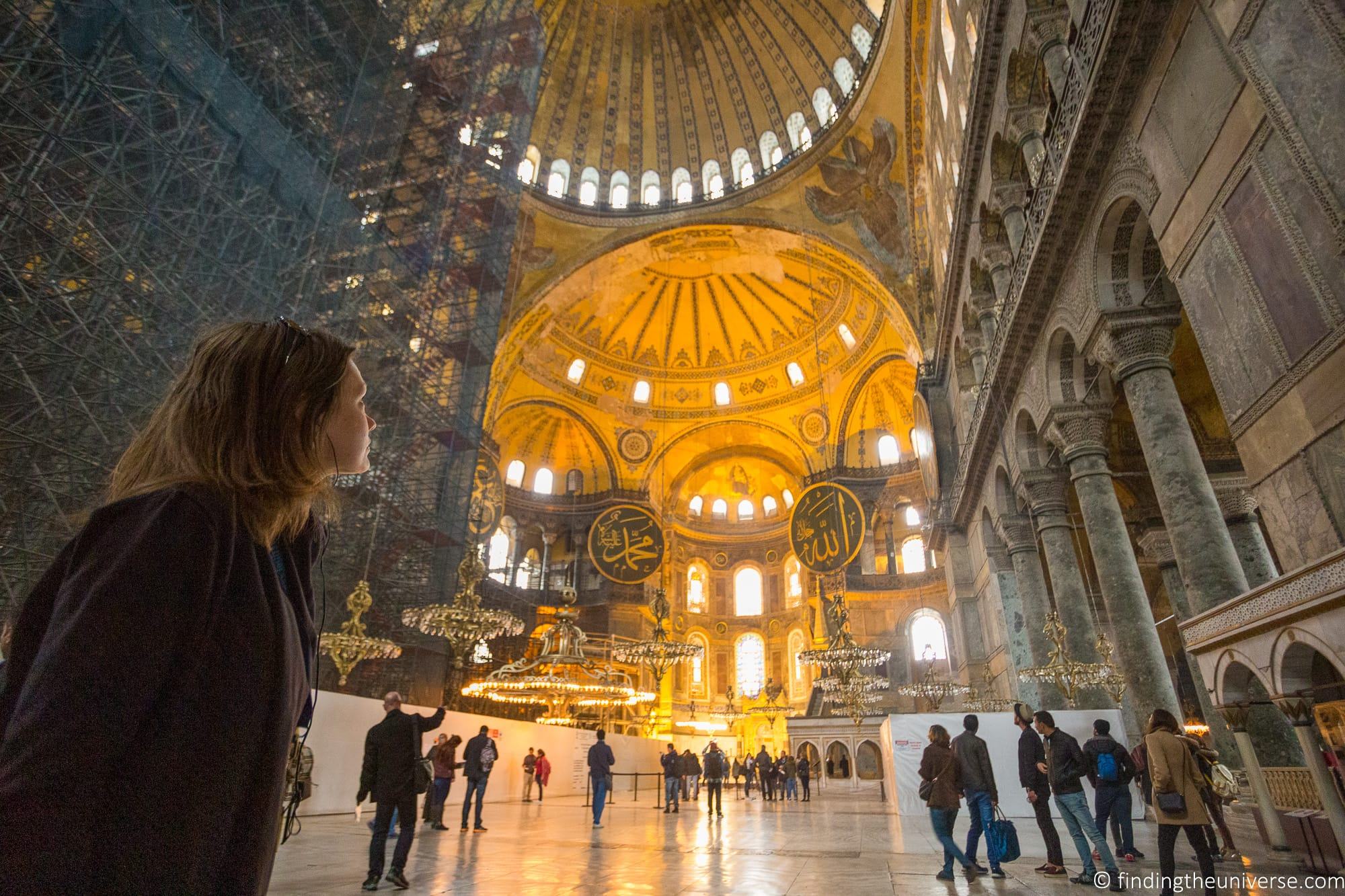 Note that when we visited the Hagia Sophia was a museum, and head coverings for women were not required. Now that it is a mosque, head coverings are required for women, as is appropriate clothing for everyone.
Topkapi Palace
Your last major stop after a full day of journeying through the history of Istanbul is Topkapi Palace, around a five minute walk from the Hagia Sophia. Now a museum, this sprawling complex was the primary residence of the Ottoman Sultans from the 15th – 19th century.
The palace sits atop Seraglio Point, and offers spectacular views across the Golden Horn (where the Bosphorus Strait and Marmara Sea meet). Like the majority of sites on today's list, Topkapi Palace is a part of the Historic Areas of Istanbul UNESCO world heritage site.
There is a lot to see here, and you could easily spend two to three hours on site exploring Topkapi Palace as this is a very large site. As an idea of its size – the walls which surround the palace run for 5km.
The main thing to bear in mind is that there is not one large building. Instead, there are a series of buildings and successive courtyards, meaning you can explore gardens and interiors at your leisure. At its height, you would have found over 4,000 people living and working in the palace grounds. This should give you an idea of the scale.
There is a lot to see, from rooms decorated out in beautiful ornate tiles such as the circumcision room, to rooms which reveal some of the more intimate details of palace life such as the palace harem. The gardens are also beautiful, and just lovely to wander through.
Topkapi Palace is open every day except Tuesday. Opening times vary depending on the time of year, from 9am – 4.45pm in winter and 9am – 6.45pm in summer. There is an entry fee for visitors. Note that if you wish to visit the Hagia Irene Church or the Harem, this requires additional separate tickets.
Again, as this is a popular attraction you may wish to take advantage of a skip the line ticket. These are slightly more expensive than standing in line, but can save you a lot of time. Using our link gets you a discount on the normal price of these tickets from tiqets.
There are also a variety of other tickets available, including options with an audioguide or guided tour.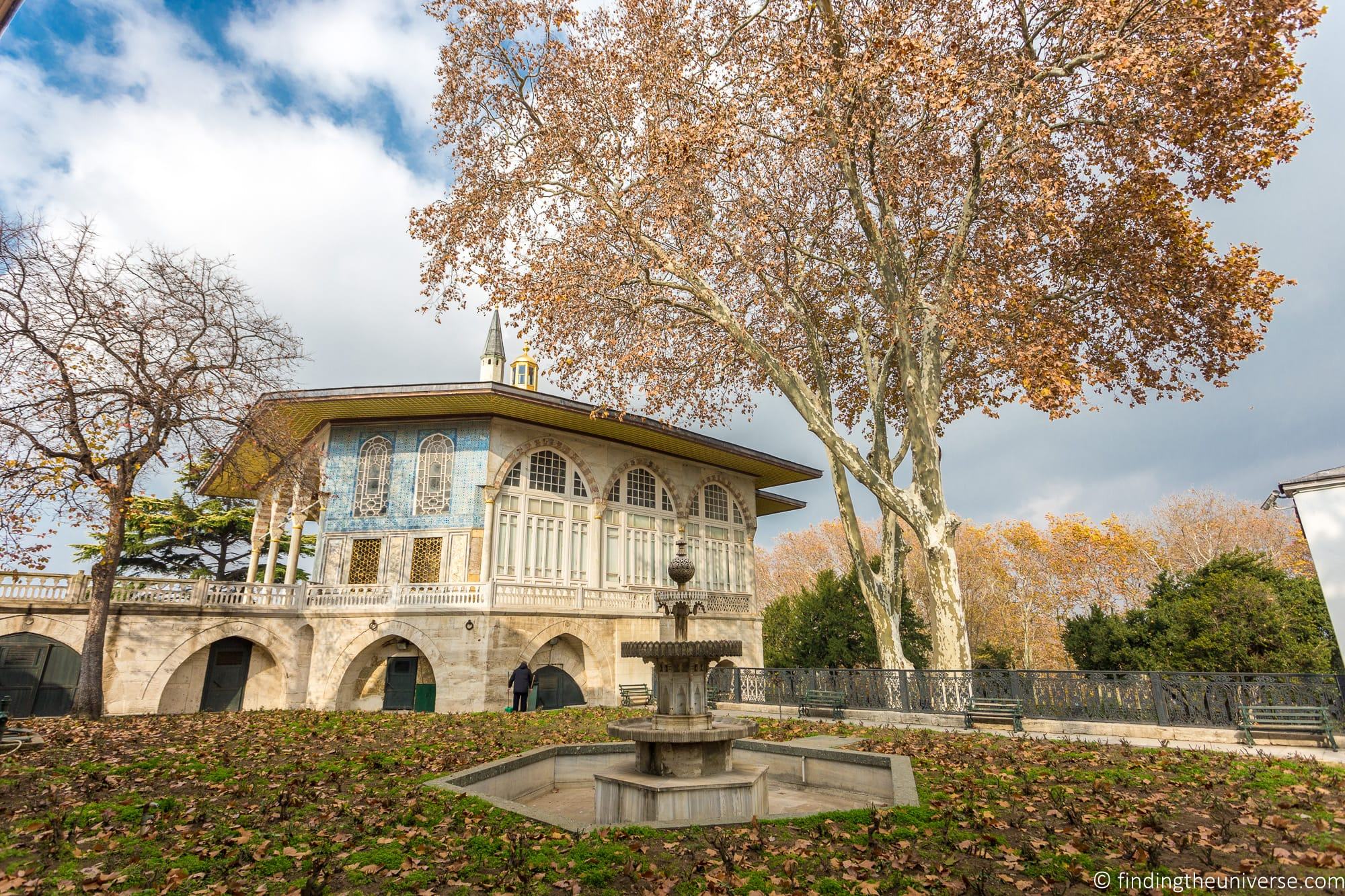 Sunset Cruise
It's been a full day of exploring, so by now you might be ready for a bit of relaxation. One of our favourite ways to spend an evening in Istanbul, particularly if the weather is nice, is to take a cruise on the Bosphorus Strait. This waterway divides the continents of Europe and Asia, so you can enjoy watching the sunset as you float on the continental divide.
There are lots of cruise options, some of which include dinner and entertainment, such as this cruise and this one.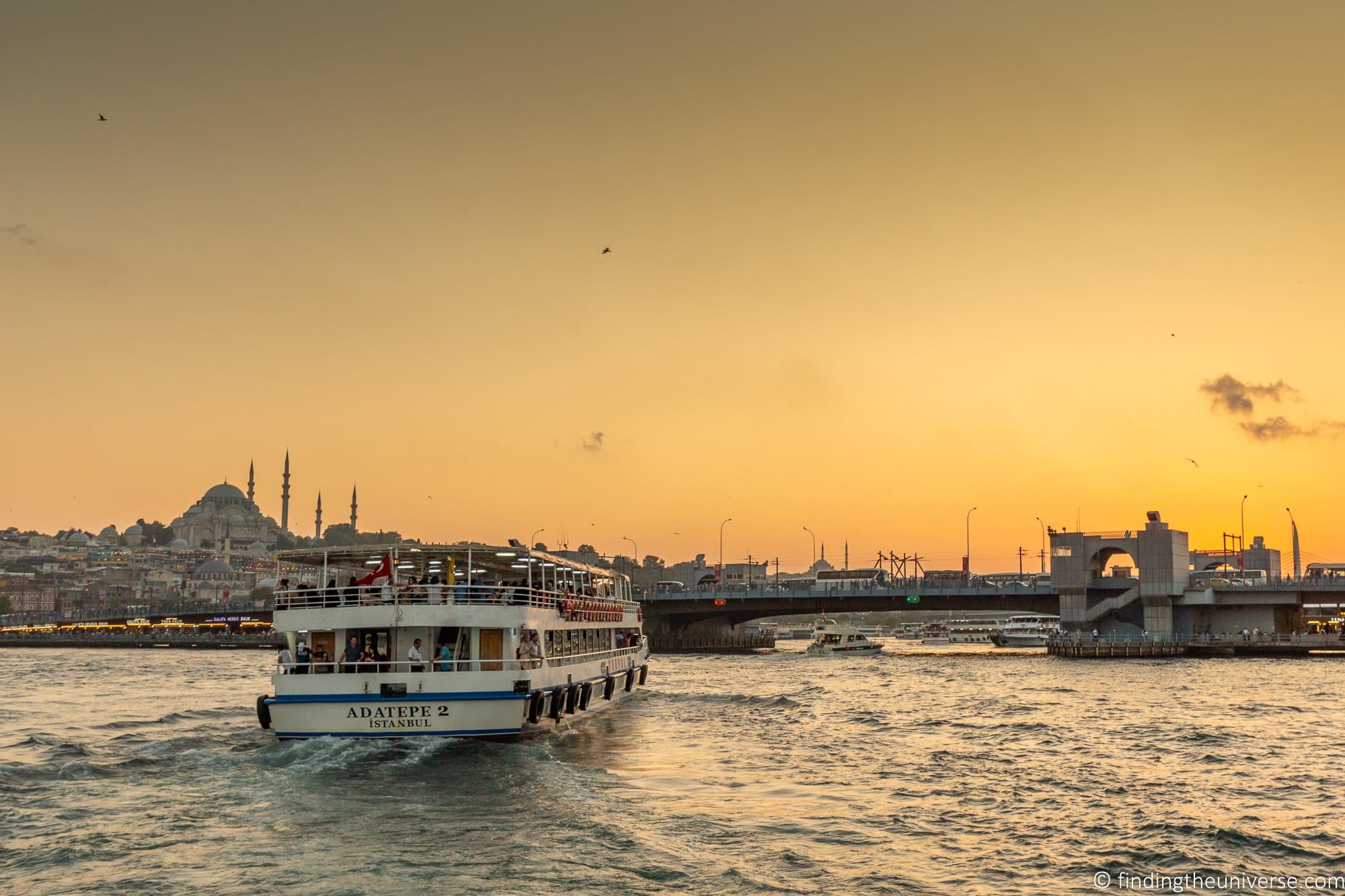 Istanbul Itinerary Day 2
For your second day in Istanbul, you're going to visit a historic and vast indoor market, as well as explore a different part of the city and take in many more wonderful sights!
Grand Bazaar
Your first stop on Day 2 is going to be at Istanbul's Grand Bazaar. This is one of the world's largest and most historic covered markets. Within the walls of the Grand Bazaar are over 4,000 shops across 61 streets, with vendors selling everything from rugs to clothes to lamps and much, much more.
Suffice to say, if you want a souvenir of your time in Istanbul, you should be able to find something at the Grand Bazaar!
The Grand Bazaar dates from the mid 15th century, during the early phases of the Ottoman Empire. In the 16th and 17th century, the Grand Bazaar became the central hub of trade in the Mediterranean, with the Ottoman Empire essentially controlling all trade traffic between Europe and Asia. It kept its status as perhaps the preeminent market in the world for goods until the 19th century.
Whilst perhaps not that important on the world trading stage today, the Grand Bazaar is still a thriving marketplace. Over 20,000 people work within the walls, and it's one of the most visited locations on the planet. Wandering the streets, inspecting what's on sale, and getting pleasantly lost is an experience not to be missed when you visit Istanbul.
The Grand Bazaar is open from Monday to Saturday from 9am to 7pm. It's closed on Sundays and public holidays.
The Grand Bazaar is actually quite close to the sights you saw on your first day. If you don't mind being a bit rushed, you could see it on your first day. Alternatively, you could switch it for one of those sites as well, which would make sense if you are visiting on a day when one of them is closed. Entry to the Grand Bazaar is free.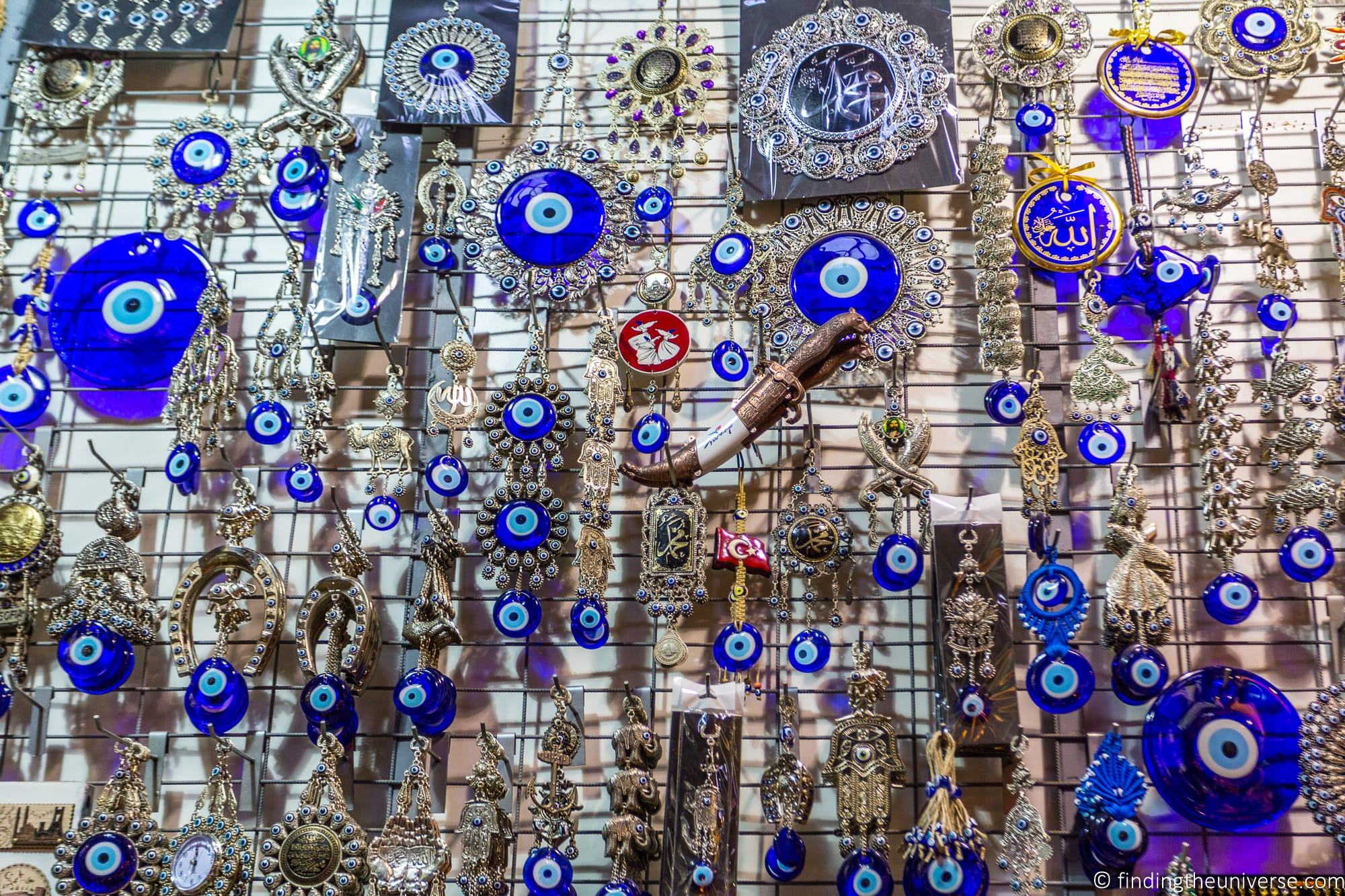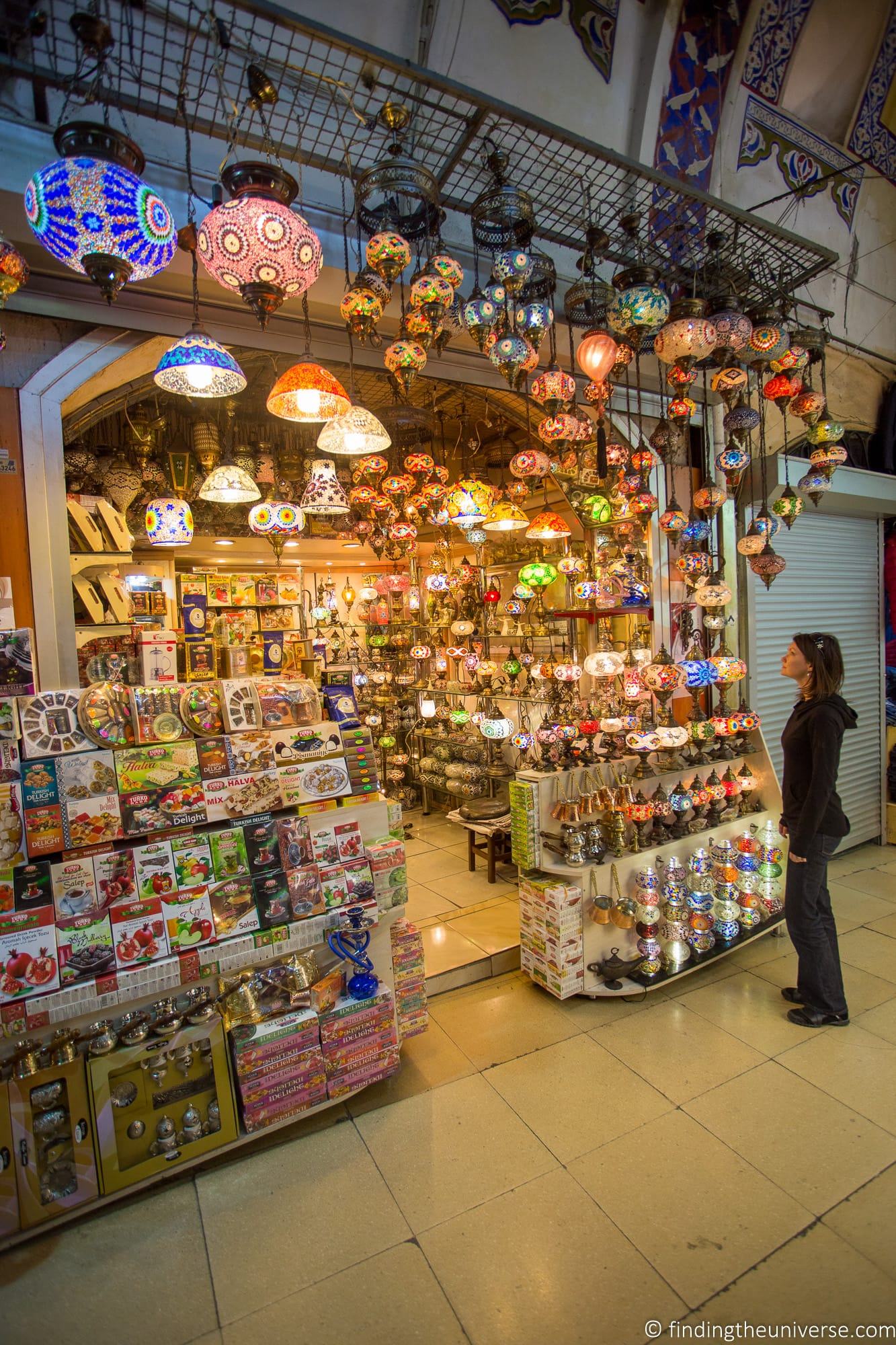 Süleymaniye Mosque
Built in the mid 16th century, Süleymaniye Mosque is another Ottoman Imperial Mosque like the Blue Mosque. However, as it is a little away from the cluster of attractions around the Blue Mosque area, it tends to be a little less crowded.
Found atop the Third Hill of Istanbul, which is the highest hill in the city, the mosque offers spectacular views across the city. We think it is well worth visiting, as the reduced crowds will allow you to appreciate the building a little more.
This is also an active place of worship, so as with the Blue Mosque, appropriate attire must be worn. It's open every day from 9am – 6pm, but closed during prayer times. Entry is free.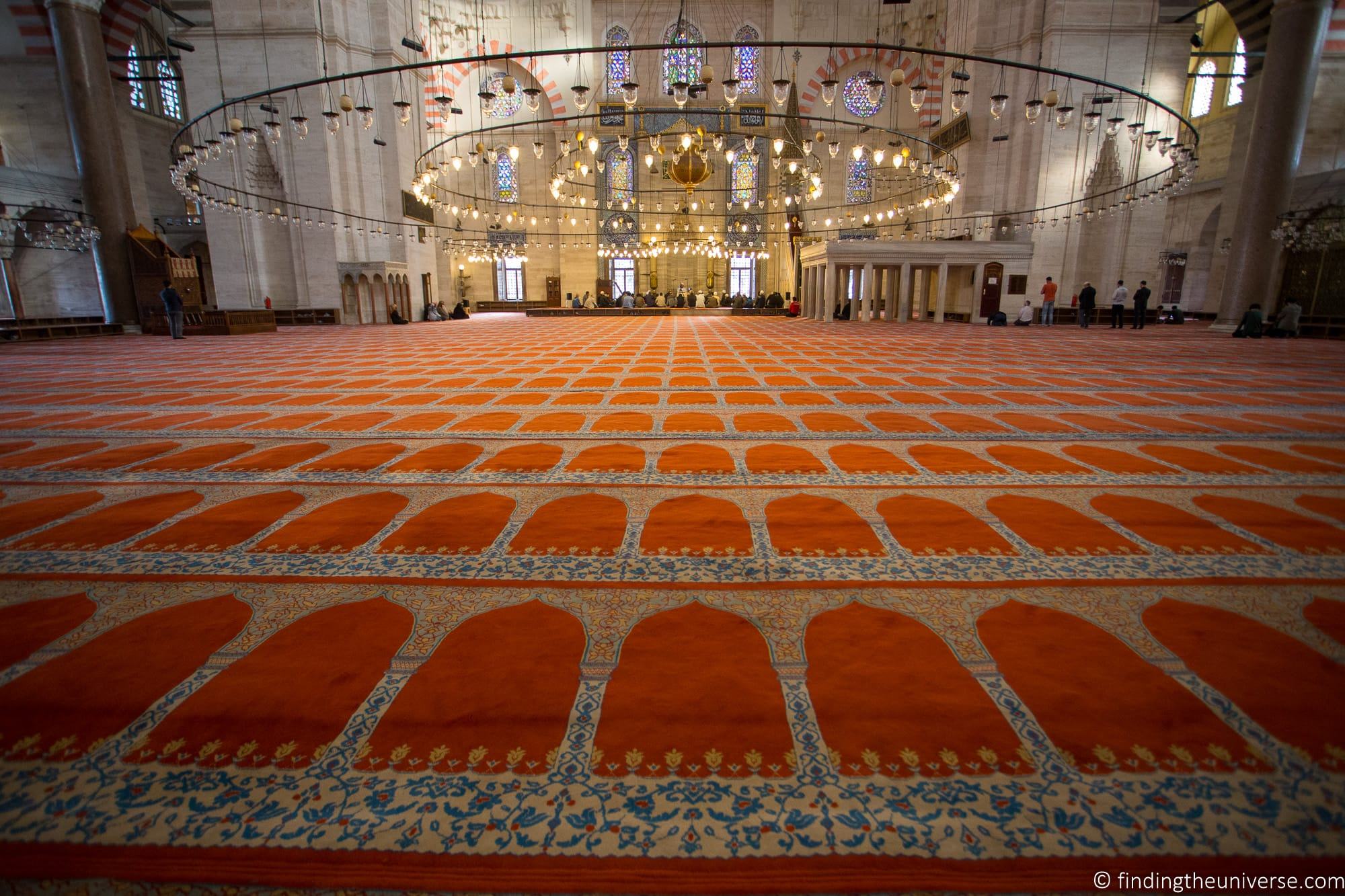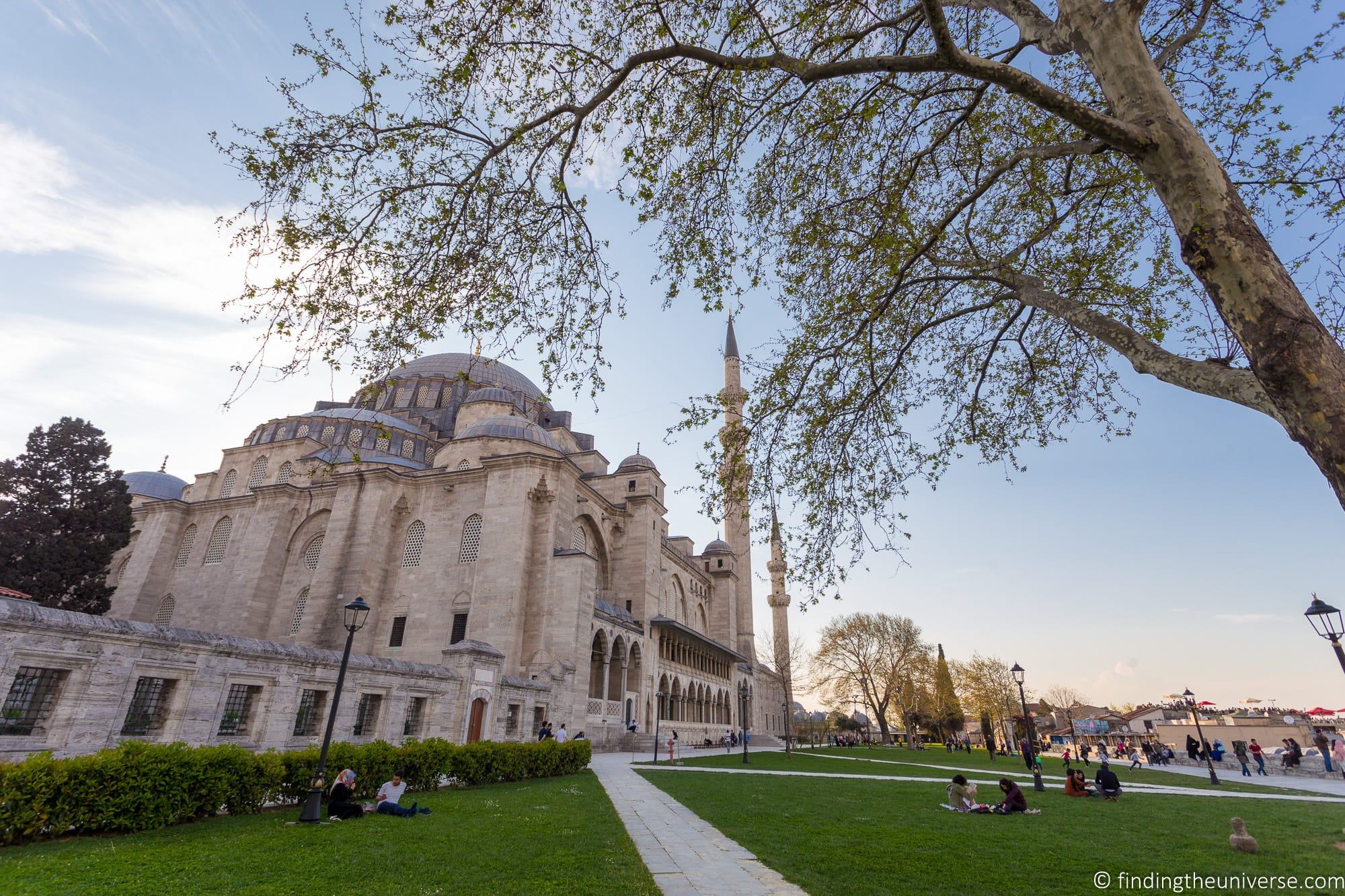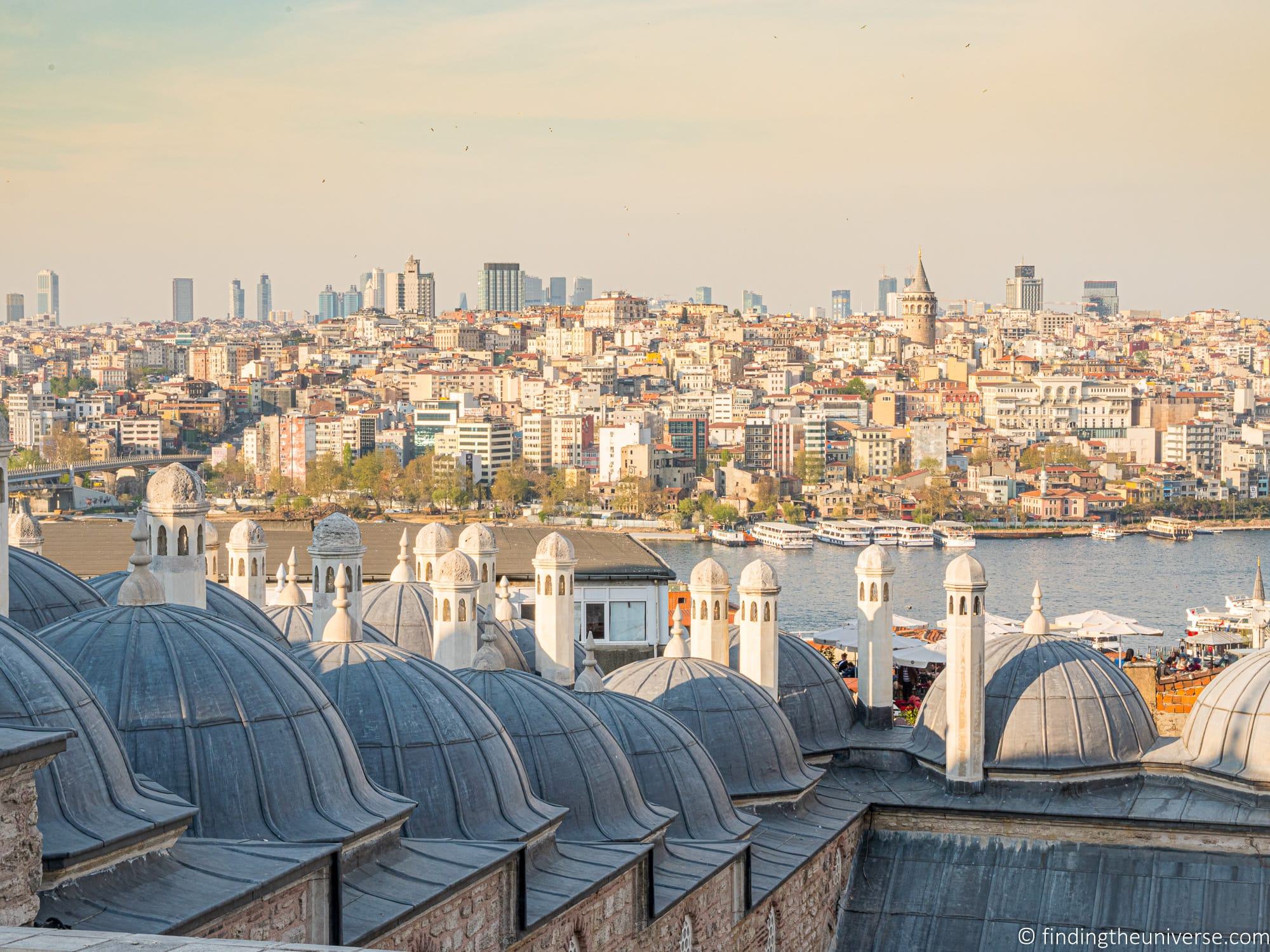 Spice Bazaar (Mısır Çarşısı)
If you prefer your markets to be filled with colorful spices and heady aromas, then you will definitely enjoy a visit to the Spice Bazaar. This is also known as the Egyptian Bazaar, because it was built with revenues the Ottoman Empire made in Egypt during the 17th century.
The Spice Bazaar is the second largest covered market in Istanbul, after the Grand Bazaar. Within its walls you will find over eighty shops selling all manner of things, with a primary focus on spices, dried fruits and sweet foods as well as souvenirs and jewellery.
The Spice Bazaar is open every day except Sundays and public holidays, from 9am until 7pm. Entry is free.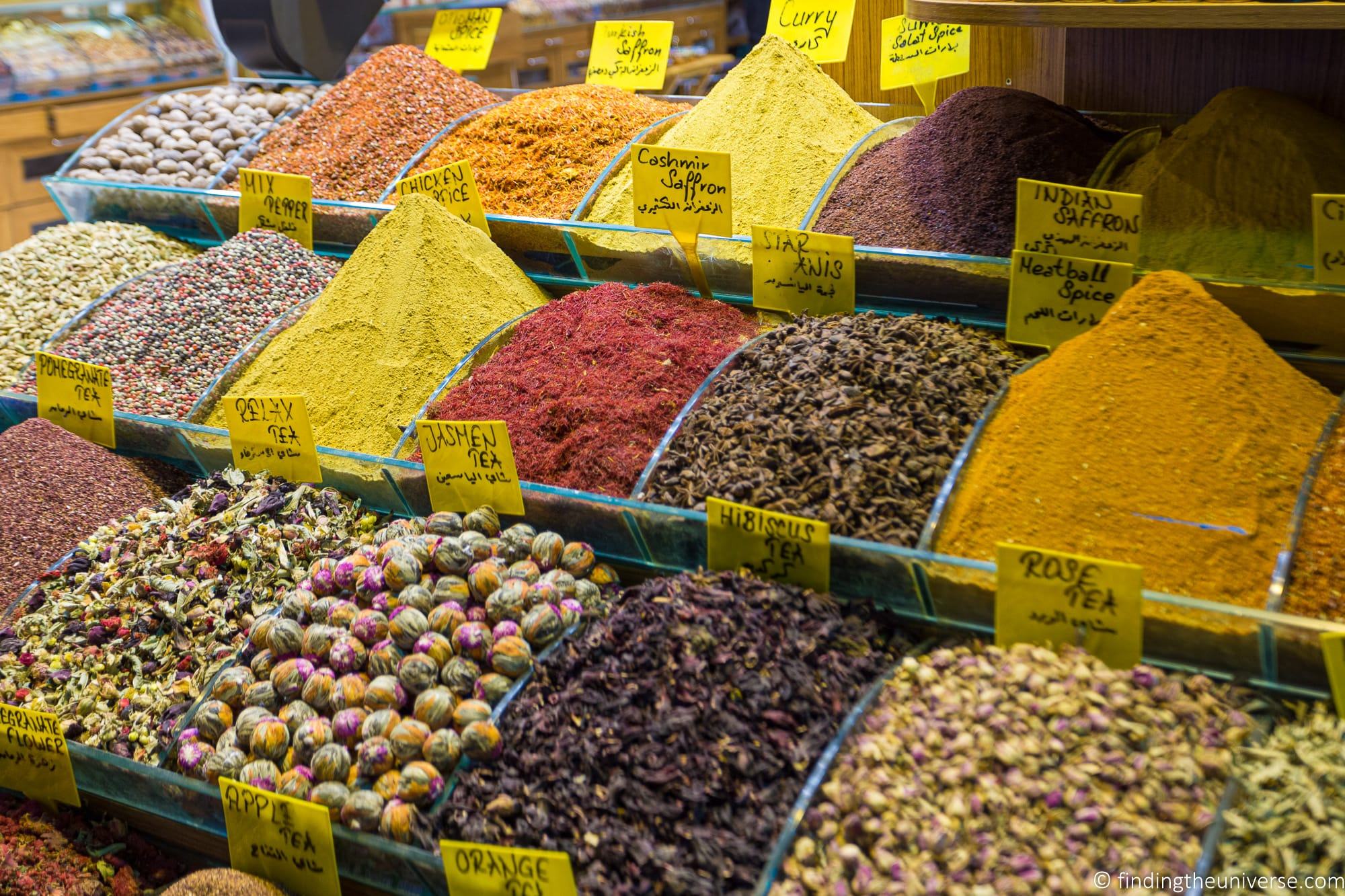 Galata Tower
It's now time to cross the Galata Bridge over the Golden Horn and to enter the Galata quarter of Istanbul. As you reach the northern side of the bridge, you'll come across the famous balık ekmekçi vendors. This is a fish sandwich which is a street food staple in Istanbul. If you are hungry, this would make for a good lunch option.
After dining, head onwards and upwards to the Galata Tower. This is quite a steep climb, but you can save your legs if you wish by taking the Tünel funicular. This is also a historic experience, as it's one of the oldest subway stations in the world. Note you will have to walk around five minutes from the subway stop back to the Galata Tower.
However you reach the Galata Tower, your next task is to reach the top of it! This 14th century medieval tower has an observation deck (and a restaurant level) at the top, which offers incredible views of the city, and in particular the historic peninsula which you explored on your first day.
The Galata Tower is open daily from 9am to 7pm. It is a ticketed attraction and it's quite popular, so queues often form, and tend to get longer as the day progresses. There is a lift, but you do have to ascend the final three floors to the observation level yourself.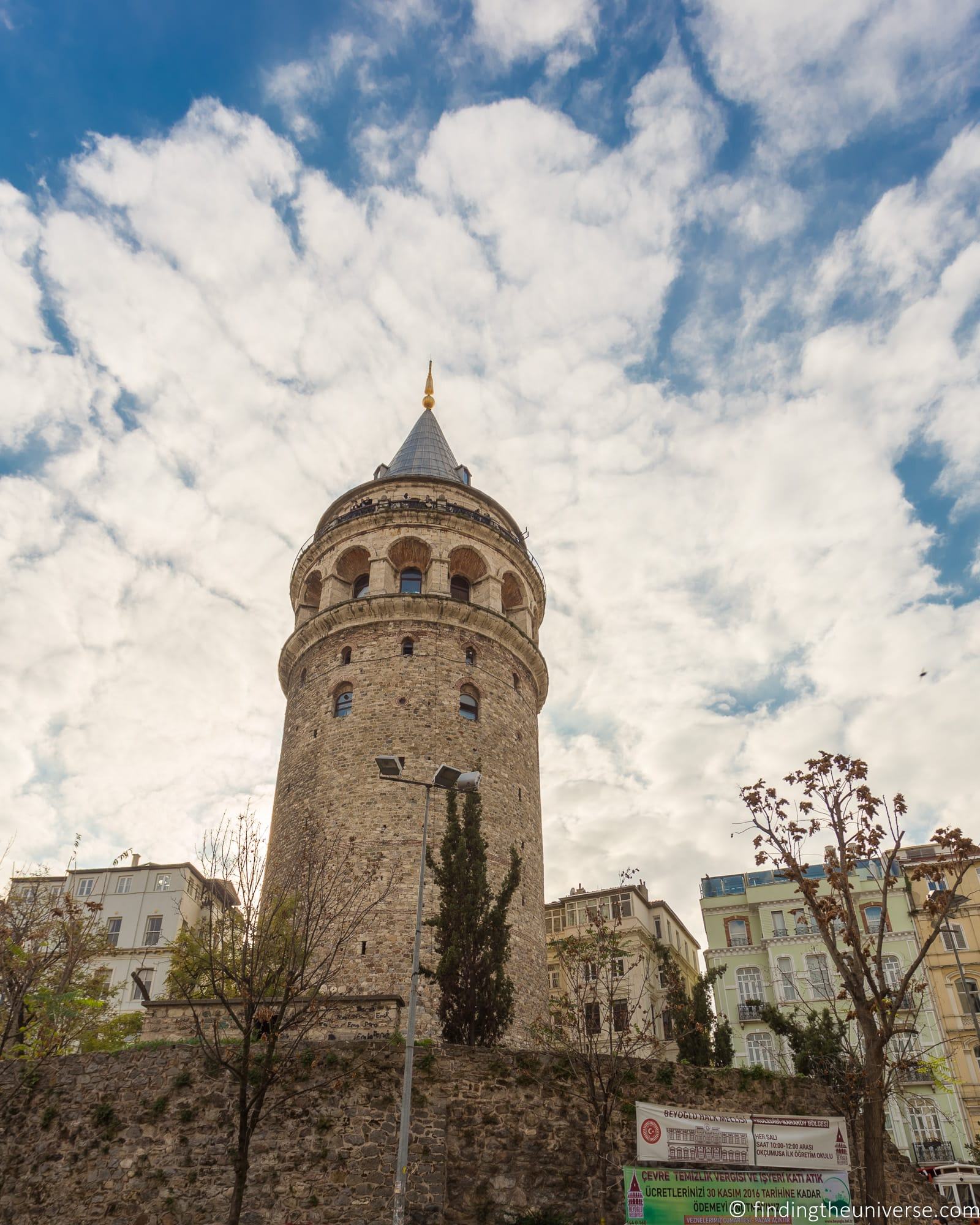 Visit a Museum
If you are interested in visiting a museum, this would be a logical point in the itinerary to do just that. However, do keep the time in mind, particularly if you want to visit Dolmabahçe Palace later on in the day. Dolmabahçe Palace is also a museum, and the last tickets are sold at 4pm.
If you do want to visit a museum, there are a range of museums in the area around the Galata Tower and the area around the next stop on this itinerary, Taksim Square.
Some museums to consider visiting in Istanbul, depending on your preferences and interests, include the following:
There are of course plenty of other museums in Istanbul, but this should give you an idea of the options you have.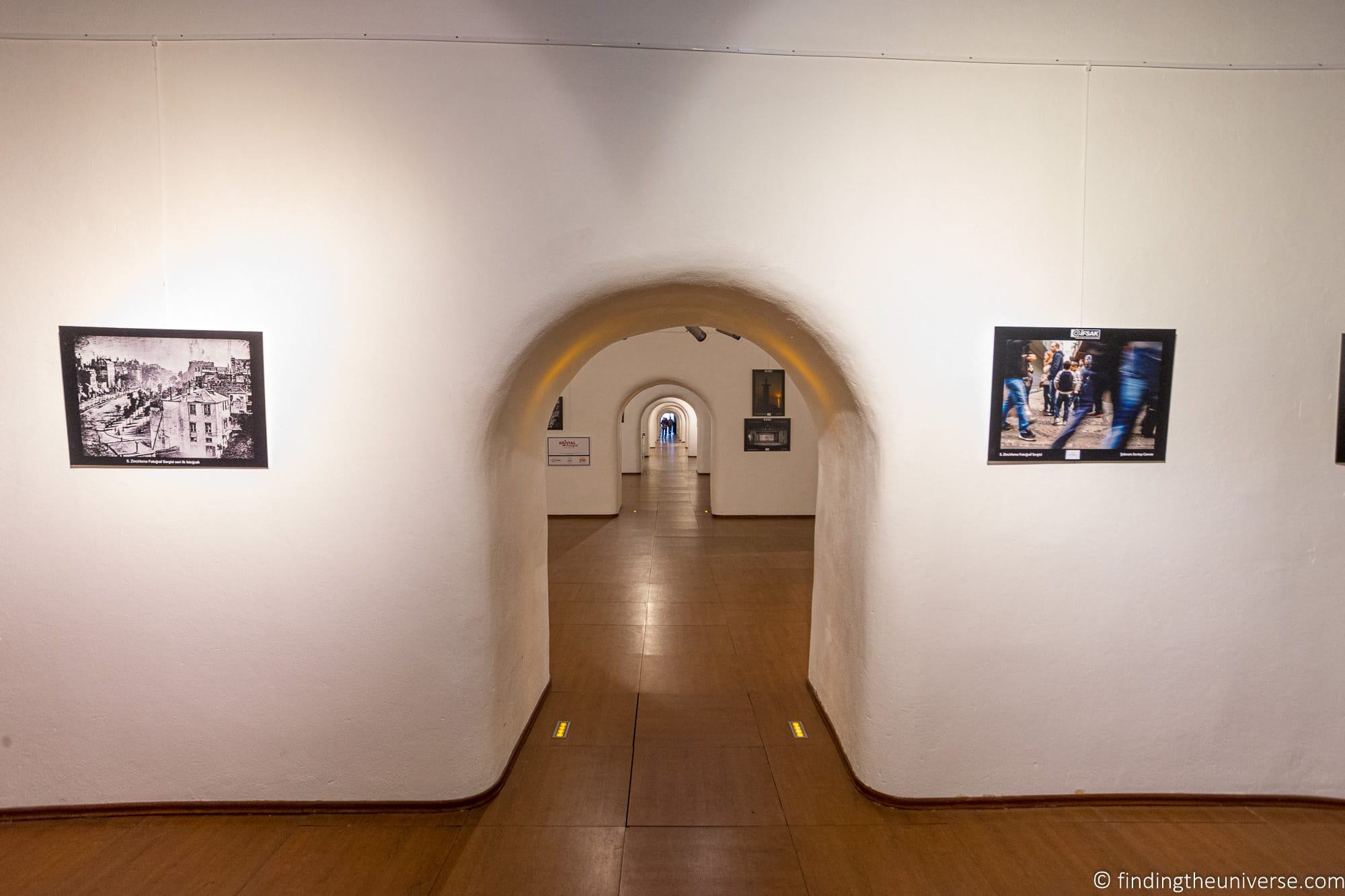 Taksim Square
Generally considered to be the centre of modern day Istanbul, Taksim Square is well known for its wide range of shops, hotels and restaurants, as well as plentiful nightlife venues. It's also here where you'll find the Republic Monument, which commemorates the formation of the Turkish Republic in 1923.
Taksim Square has seen its fair share of history, and has long been associated with political protests and activism.
Essentially, if you want to get a feel for the pulse of the city, Taksim Square is a good place to come. We'd suggest making your way here down Istiklal Avenue, a mile long pedestrian street famed for its shops, Ottoman era buildings, and historic trams.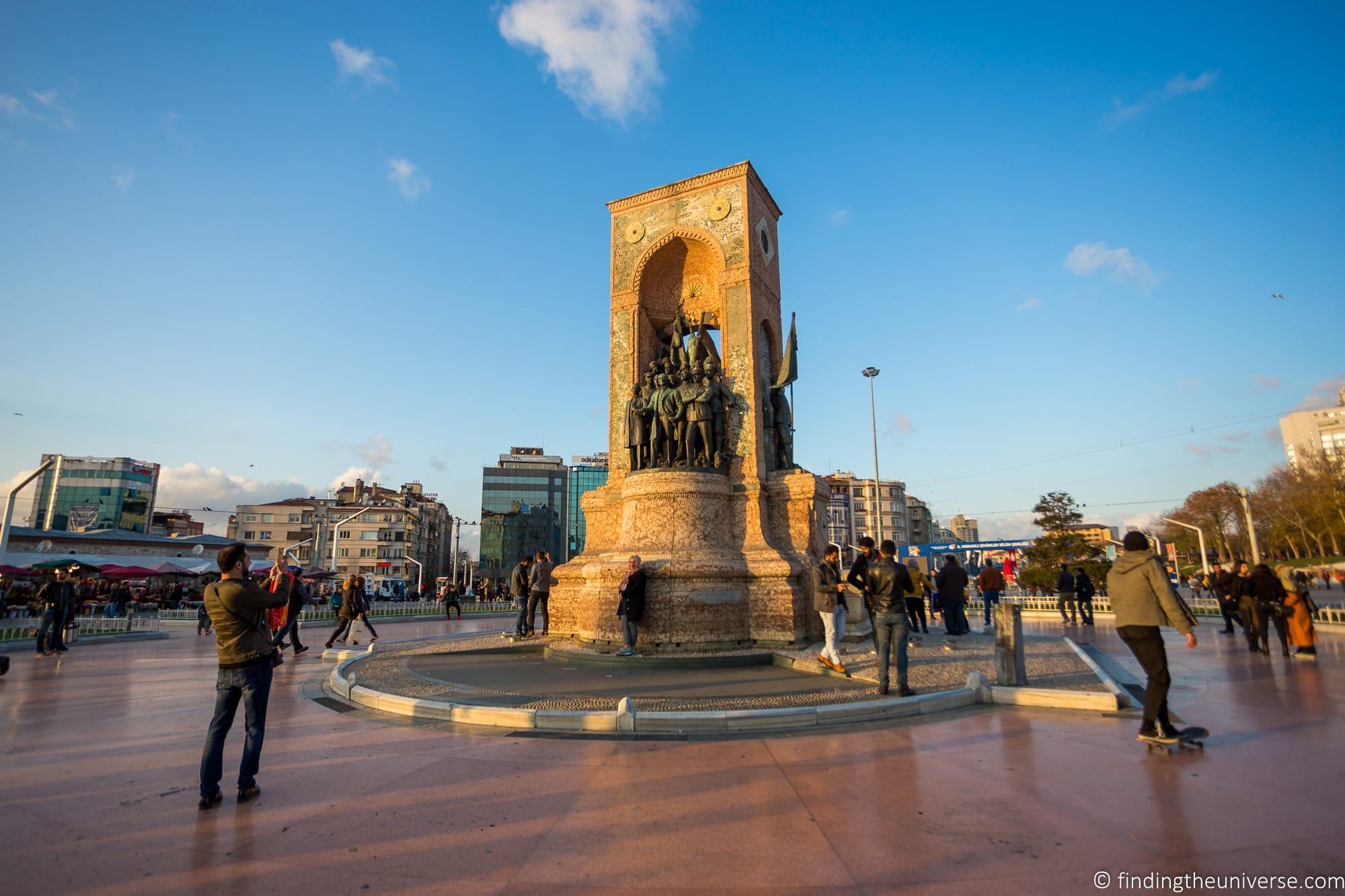 Dolmabahçe Palace
The last stop on our itinerary today is Dolmabahçe Palace. Now a museum, this was the home of the Ottoman Sultans during the latter days of the Empire.
Previously, the Ottoman sultans lived in Topkapi Palace, which you visited on your first day in Istanbul. However, this medieval palace was starting to show its age, and despite its lovely location and spacious grounds, the 31st Sultan wanted something a bit more in keeping with modern day comforts and luxuries.
The result was the spectacular Dolmabahçe Palace. It was built on the waterfront in a combination of designs which blended Ottoman style with elements of other leading European styles of the day including Baroque and Neoclassical. The goal was to create a palace suited to the leader of a vast empire, and no expense was spared. The palace ended up costing 35 tonnes of gold, equivalent to over 1.5 billion US dollars today.
The cost was so great it practically bankrupted the empire, and was a major contributing factor to its eventual financial ruin.
You might be wondering if all this was worth it. In a word, yes. Dolmabahçe Palace is the largest and most spectacular palace in Turkey. It covers 11.1 acres, and is home to almost 300 rooms, exquisitely decorated in gold and crystal. It has some of the world's largest crystal chandeliers, as well as a crystal staircase. All the latest modern conveniences of the time were installed, including toilets and gas lighting (the latter later upgrade to electrical lighting).
I would say that a visit is well worth your time to understand the level of opulence available to the leader of an Empire at the time. There is an entry fee, and the palace is open daily. It can only be visited by guided tour, with tickets available on site. You can also book palace tours online in advance here.
As mentioned earlier, if you do wish to include Dolmabahçe Palace on your itinerary, you will need to plan accordingly. It's around a 15 – 20 minute walk from Taksim Square, and it closes relatively early, with the last tickets sold at 4pm. Ideally you'd want to arrive earlier so as to have plenty of time.
So you may need to skip earlier attractions. Another option is to do the whole of day 2 in reverse, and start with the palace, as the Grand Bazaar is open until later.
Note that when we visited photography was not permitted inside.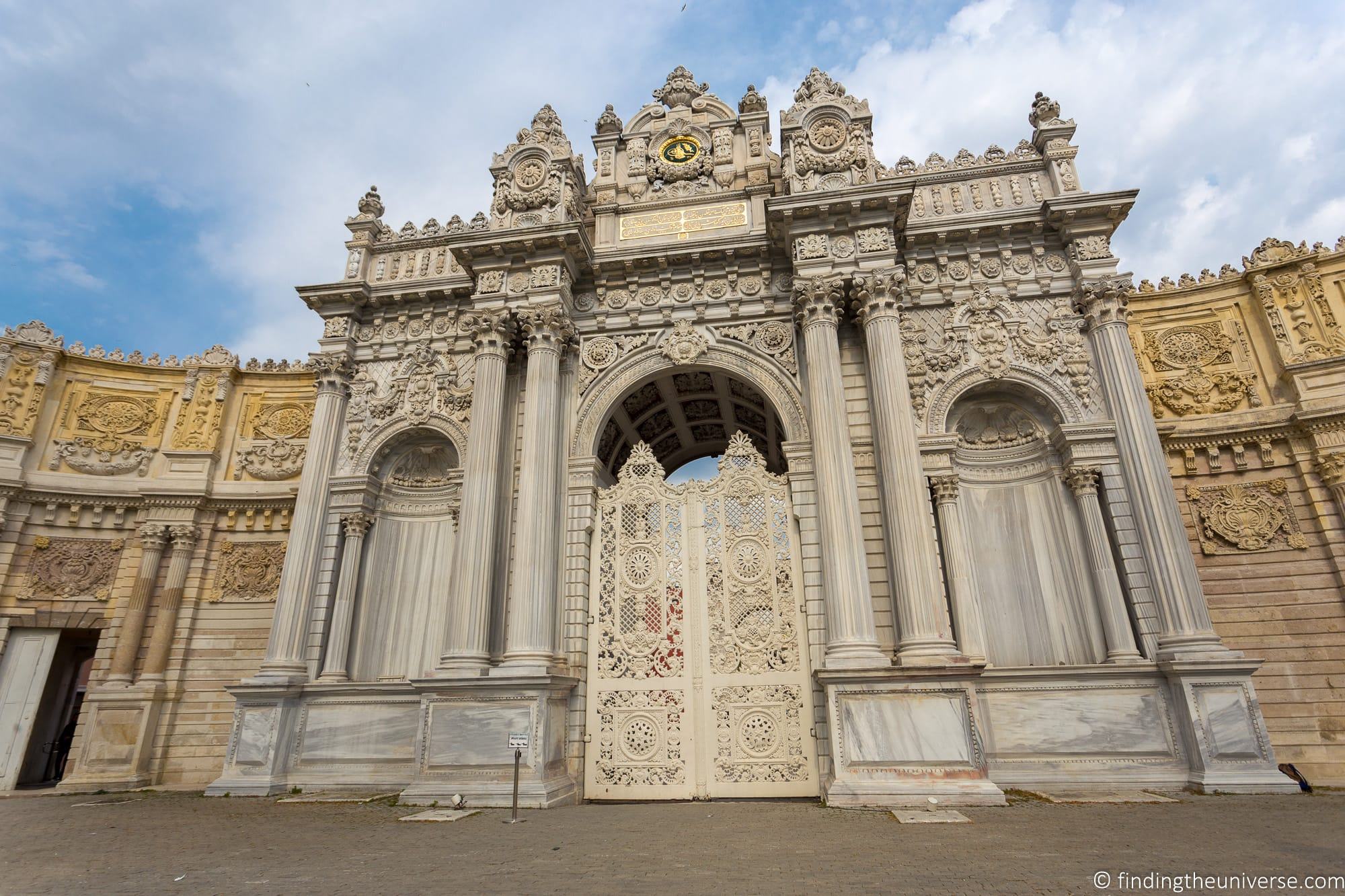 Evening Food Tour or Other Entertainment
After a full day of exploring, you might be tired and looking for a relaxing evening. In which case, we'd recommend dinner at a restaurant with a nice rooftop terrace overlooking the city.
However, for those of you looking for a more lively evening, or perhaps who wishes to sample some of the culinary delights of the city, we have some recommendations for you. Istanbul is famous for its nightlife, so if you enjoy a drink, meeting new people and staying out, then there are some great options for you, such as:
This 7 hour Istanbul pub crawl will let you extend your adventure in Istanbul into the early hours, and includes entrance to party spots in the city as well as some free drinks.
If you would prefer to sample the food of the city, take a look at this evening food tour, which will give you a sample of some of Istanbul's cuisine.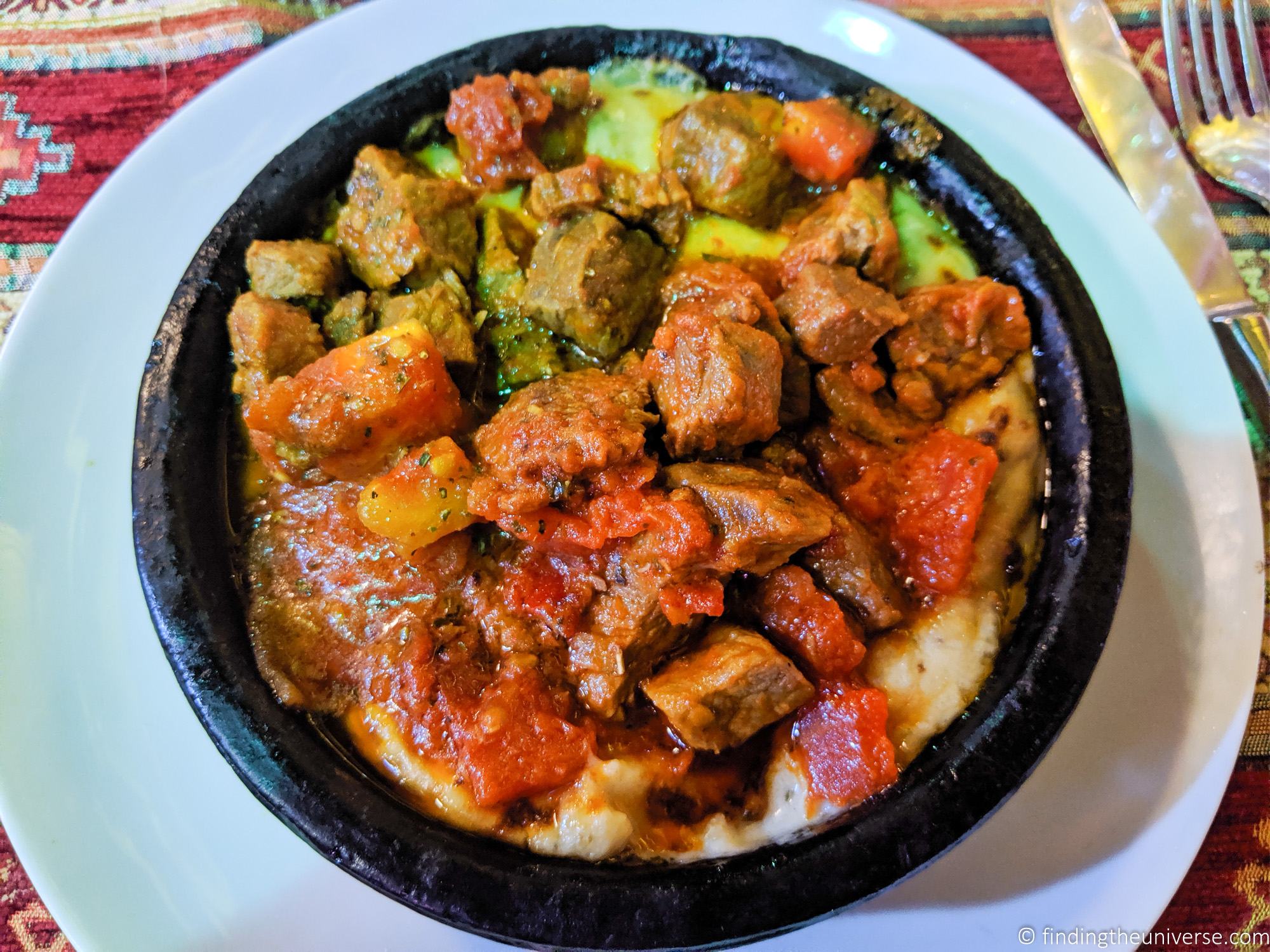 And with that, we've finished our suggested itinerary for your 2 days in Istanbul! Now, we'll go through some practical information for your visit so you're fully prepared.
2 Day Istanbul Itinerary Map
To help you visualise your 2 day itinerary for Istanbul, we've put together this map of all the sights, which you can also see on Google Maps here.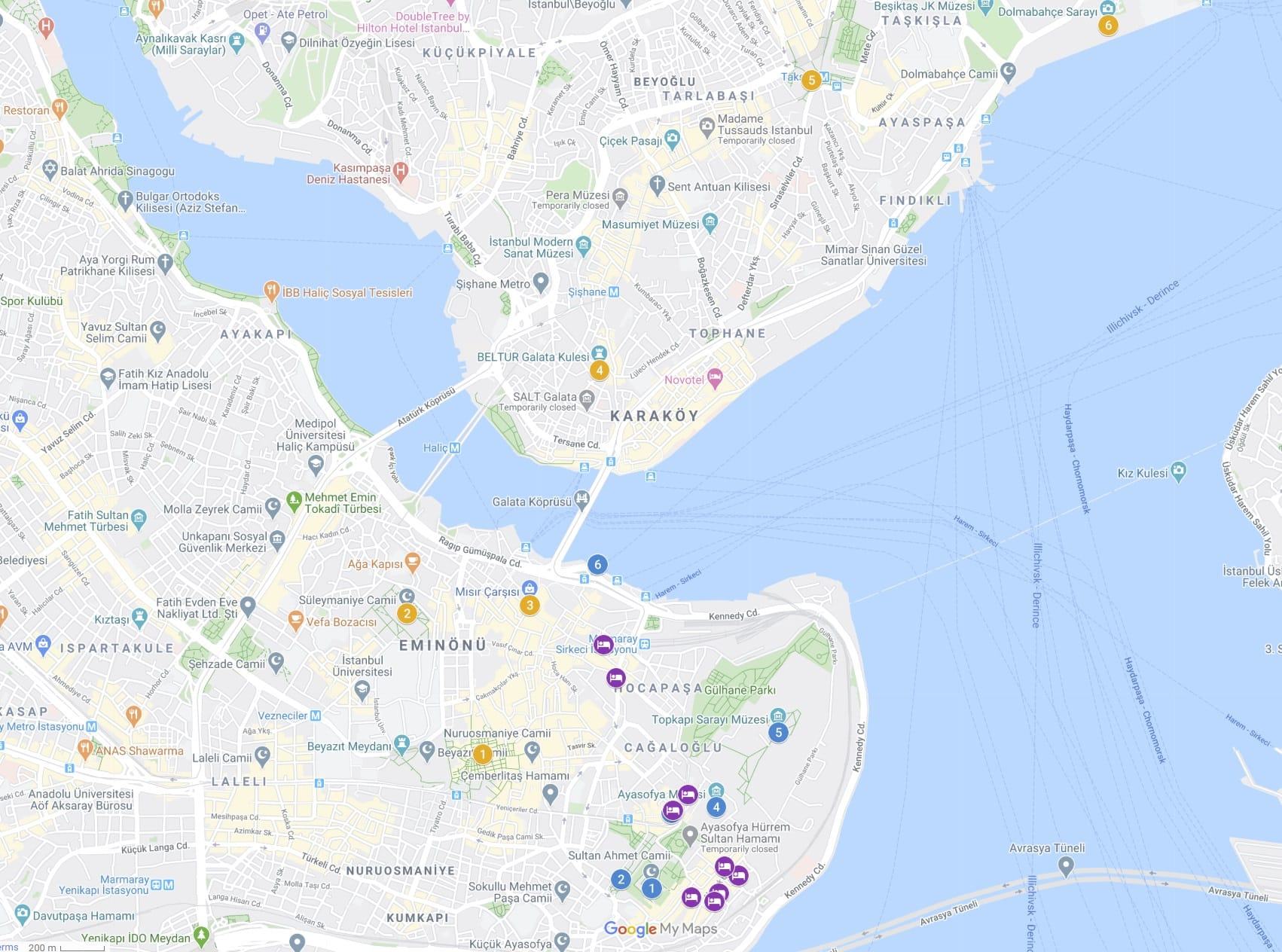 Summary of 2 Day Istanbul Itinerary
Day 1: Sultan Ahmed Mosque, Hippodrome of Constantinople, Basilica Cistern, Hagia Sophia, Topkapi Palace, Sunset Cruise
Day 2: Grand Bazaar, Süleymaniye Mosque, Spice Bazaar, Galata Tower, Museum, Taksim Square, Dolmabahçe Palace, Evening Food Tour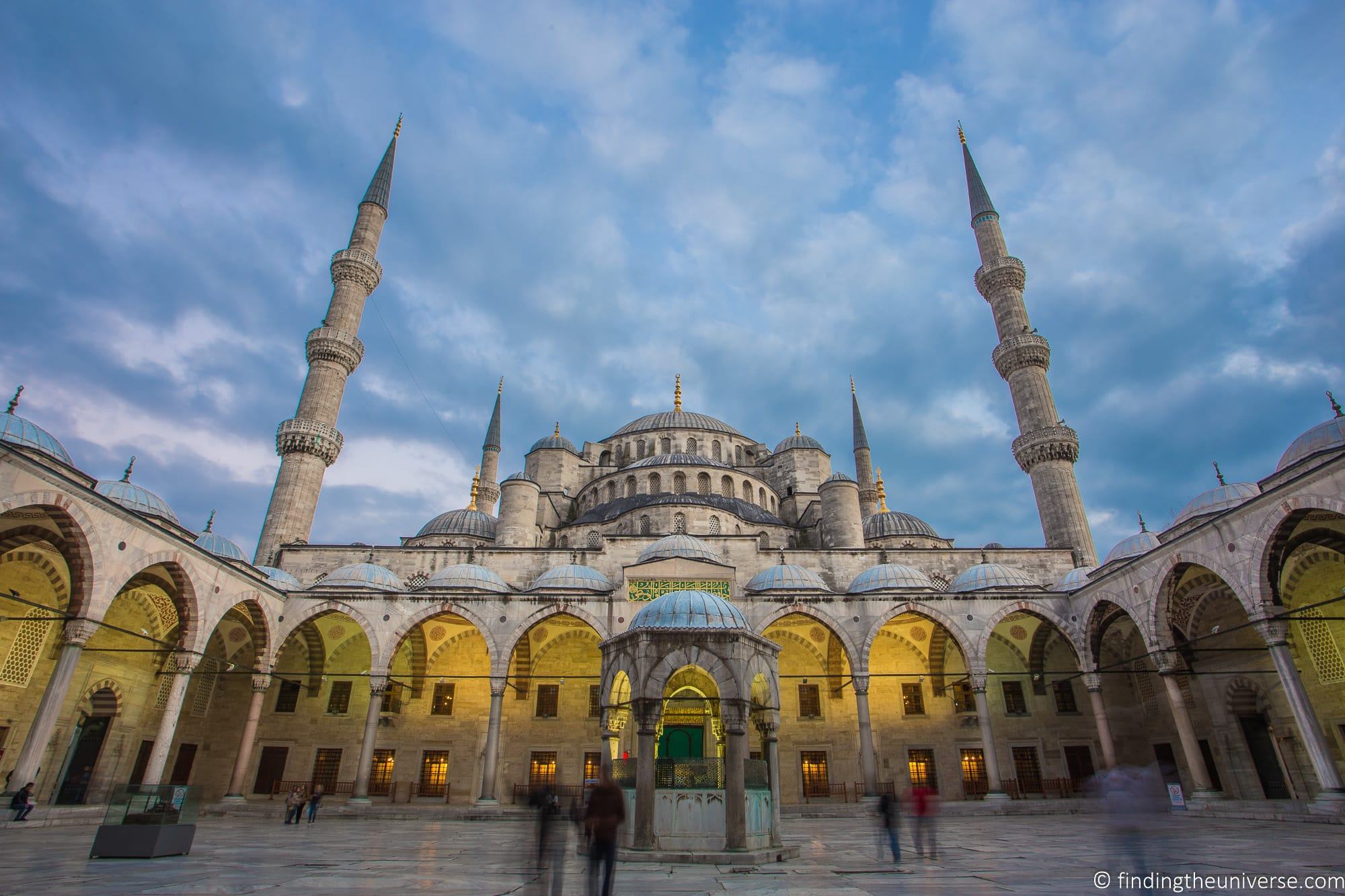 How to Get Around Istanbul
The itinerary that we have put together is designed to be easily walkable. On the first day in particular, all the attractions are a few moments walk from each other. The second day of the itinerary will require you to cover a little bit more distance, but it should still be manageable on foot.
Public transport is also readily available in Istanbul. The trams are going to be your easiest option, and these run services all around the European side of the city. Note that tickets must be purchased in advance, either using a prepaid transit card (İstanbulkart), or by purchasing individual tickets.
Another option is to take a sightseeing bus. Like many cities around the world, Istanbul offers a Hop on Hop off bus service which will take you to the highlights of the city whilst also providing audio commentary on what you are seeing. If this is of interest, you can purchase tickets in advance here.
Taxis are also widely available in the city, as are ride sharing services like Uber. If you want to take a taxi, our advice is to take one from an official stand or have your accommodation provider call one for you. Rogue taxi drivers with rigged meters are known for targeting tourists and running up hefty fares.
Finally, you can skip the worry of all the above by just joining a guided tour which includes your transport. See our section on suggested guided tours for your time in Istanbul.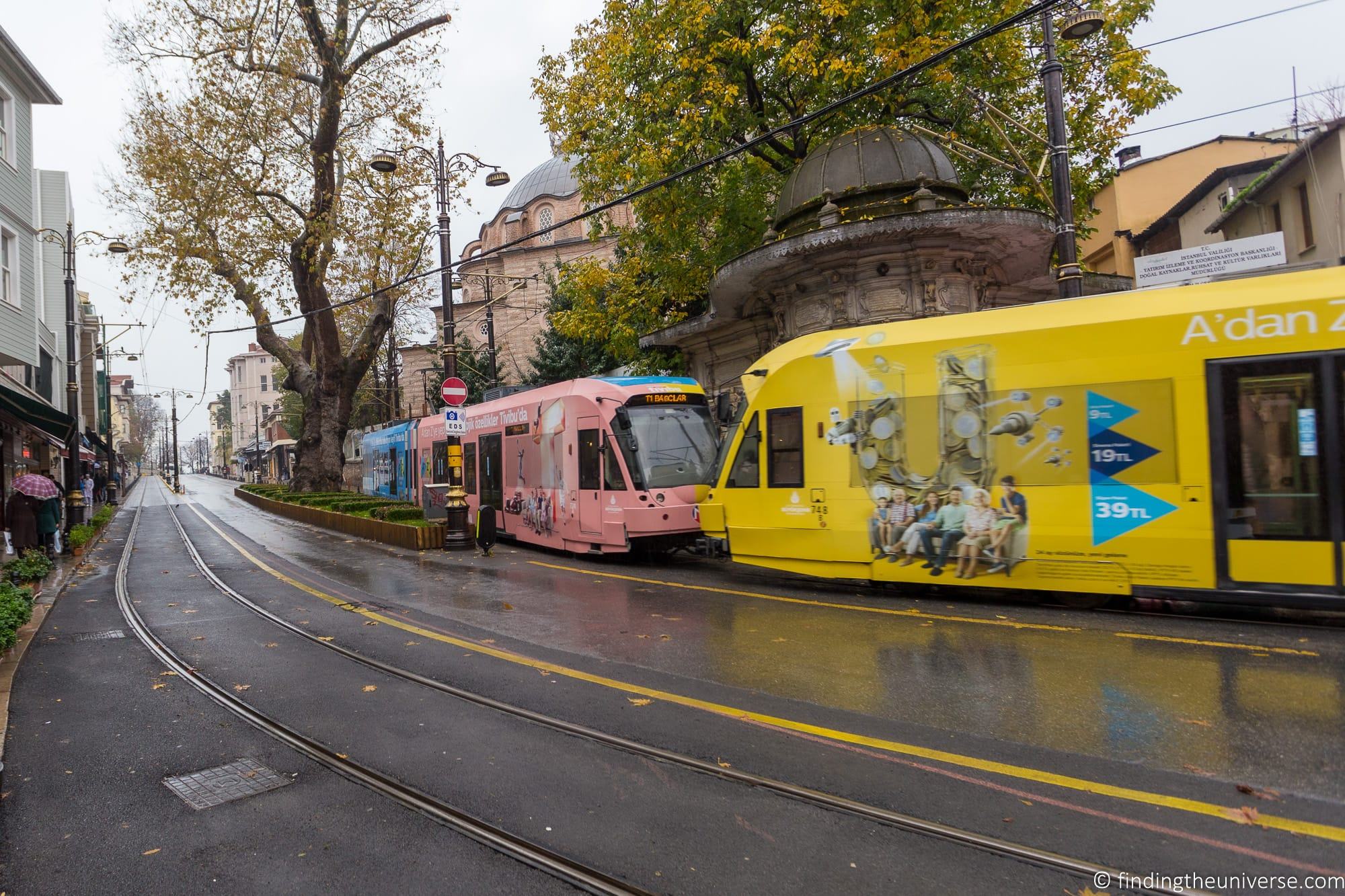 Walking Tours in Istanbul
As mentioned in the itinerary, a great way to see Istanbul is to take a walking tour. The old part of the city that we cover on day 1 of this itinerary is a great candidate for a walking tour in our opinion. This region spans a great deal history, and taking a tour will help you understand exactly what you are seeing.
In our experience, most of the sights in Istanbul have limited signs or explanations, especially in English, so having a guide can really help make a place come alive. We have visited most places in Istanbul with a guide the first time and then returned for a second time on our own. Having a guide really helps!
A walking tour also has the added benefit that you won't have to think about buying tickets or worry about standing in ticket lines, as the guide should handle all this for you in advance.
There are a lot of walking tour companies in Istanbul. We recommend picking a tour with lots of positive reviews and that features a smaller group size so you'll be able to hear your guide easily. Here are some recommended options:
Hopefully this gives you an idea of some of the options available. There are lots more tours to choose from, see the listings for Istanbul here on GetYourGuide, and here on Viator.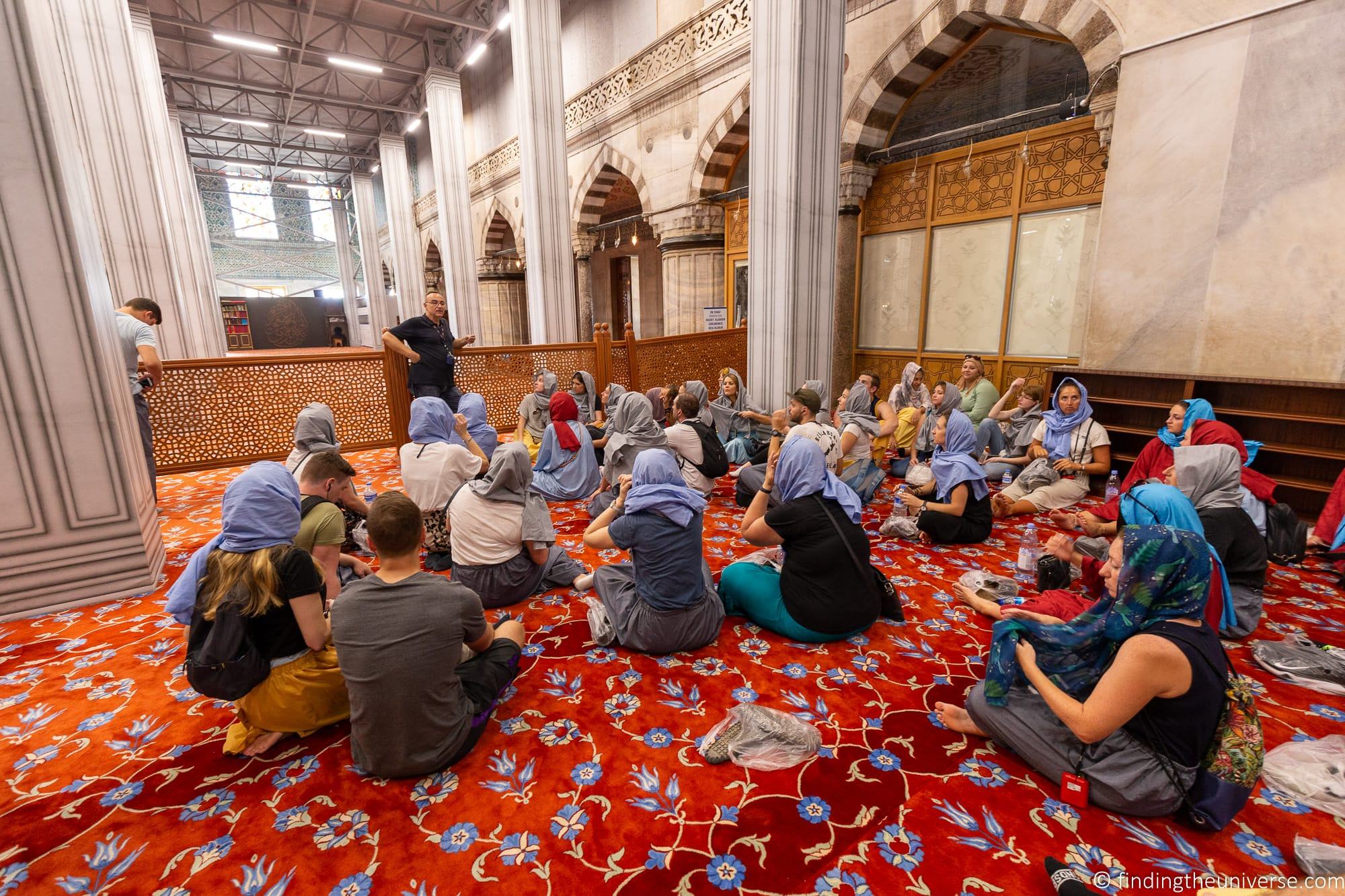 Istanbul City Passes
Many cities around the world offer some sort of city pass option, which we usually find to be a good way to save money on sight seeing if we visit enough sites.
There are two passes we suggest you look into for your visit to Istanbul.
First, the Istanbul Tourist Pass. This is available in 2, 3 5 and 7 day versions.
For the two day itinerary, we'd obviously recommend the 2 day Istanbul Tourist Pass. This includes guided tours of the Hagia Sophia Museum, Topkapi Palace, Basilica Cistern, Dolmabahçe Palace, Grand Bazaar and Blue Mosque, as well as an airport transfer and Bosphorus Dinner Cruise.
The only thing to be aware of is that you have to take the guided tour of each attraction, as the pass does not include standalone ticket access. So you will have to be a bit clever with the timings of the tours when you plan your trip to make the most of the card.
In this regard, whilst the pass can save you money, you might find that a walking tour offers better value for money and is less hassle to arrange.
Next, you might consider the Museum Pass Istanbul. This is issued by the Turkish Ministry of Culture and Tourism, and grants access to 13 museums in the city, with a validity of 5 days. It includes all the major museums and sights in Istanbul, and if you plan on visiting many of these sites, will definitely pay for itself. Just be aware that this is an access pass only, and doesn't include any form of guided tour.
Finally, check out the Istanbul Pass. This includes skip-the-ticket-line admission to the Hagia Sophia, Topkapı Palace, and the Basilica Cistern, as well as an audioguide app which covers these attractions. You also get 24 hour access to the Istanbul Hop on Hop off bus and a 2 hour Bosphorus Cruise.
Where to Stay in Istanbul
For your trip to Istanbul, our recommendation is to stay within, or close to, the older part of the city so you can with easy walking distance of the sights we highlight in this itinerary. Specifically, we recommend staying in the Sultanahmet neighborhood of the Fatih district
Istanbul has a huge number of accommodation options, and prices are very reasonable, even for higher end properties. Here are some options to consider for your trip, the majority of which except the Vogue Hotel include breakfast.
As you can see, there is no shortage of choice for where to stay in Istanbul!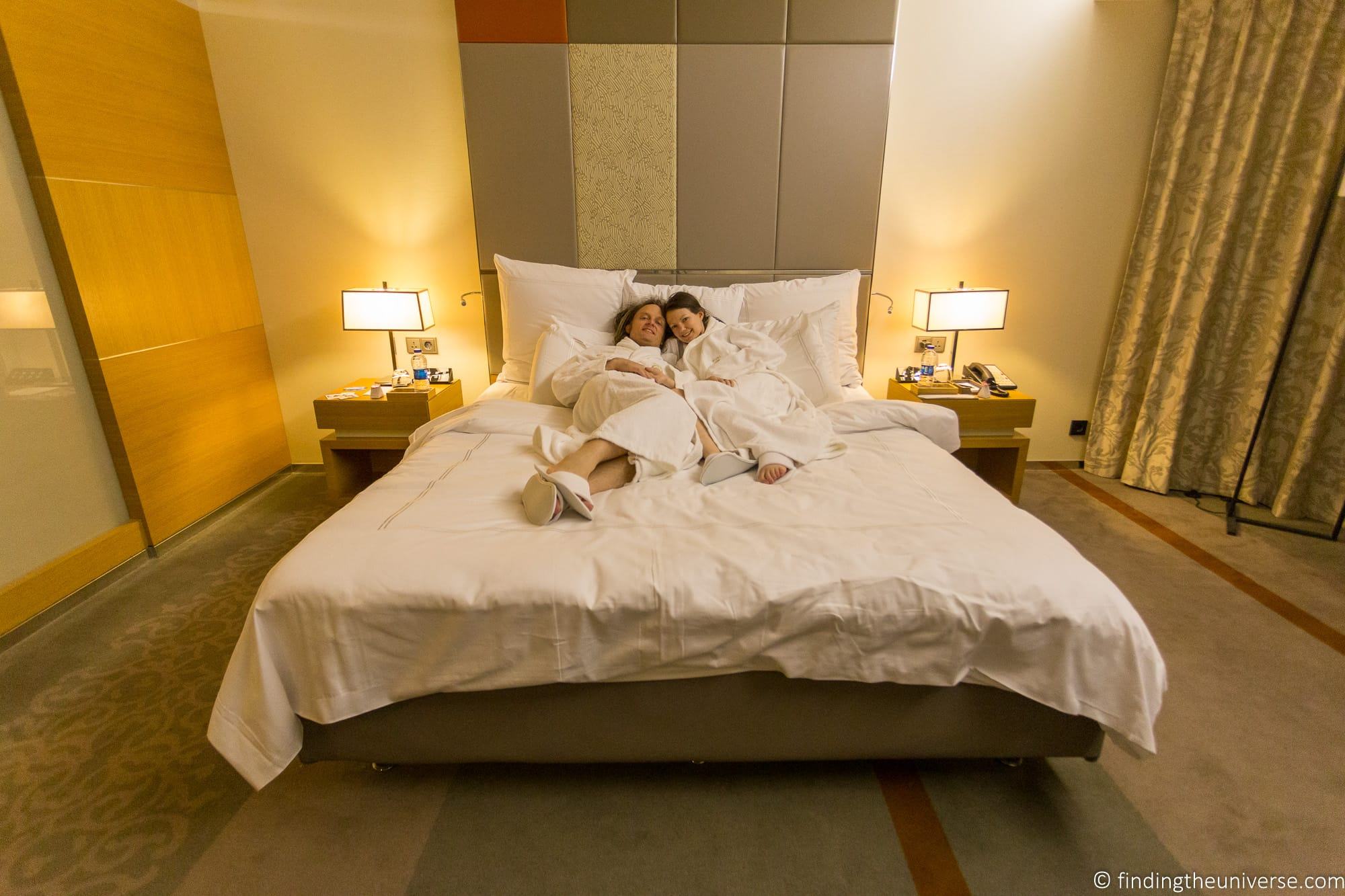 When to Visit Istanbul
Based on our experiences and general weather in the area, we would suggest the best times to visit Istanbul are March through May and September through November.
These months offer good weather for sightseeing whilst not being too hot, good prices at accommodation options in the city, as well as attractions that are not overwhelmed by summer crowds. We particularly love spring, as the city fills with flowers, and in particular is famous for the beautiful tulips.
The summer months, like many cities in the northern hemisphere, see much hotter temperatures and larger crowds, a less pleasant combination.
Winter is also a reasonable time to visit, just be aware that it can get quite cold in the city and you will want to wrap up warmly. Rain is also quite frequent in the winter months
Further Reading
I hope you found this guide to spending 2 days in Istanbul useful. We've written some more content on the area we think you will find helpful, as well as some general travel tips to help you prepare.
And that's it for our Istanbul itinerary! As always, we're happy to answer your questions and hear feedback. Just use the comments section below and we'll get back to you as soon as we can.