Today in my ongoing series of travel blogging articles I am interviewing Matt Kepnes – better known as Nomadic Matt – author of the hugely popular travel blog nomadicmatt.com.
Matt has achieved the goal towards which many travel bloggers aspire – that of turning his travel blogging from a hobby into a full time profession.
Today I ask Matt his thoughts on what defines a successful travel blog, the issue of site design, and what key advice he gives to up and coming travel bloggers. Let's see what he has to say.
Tell us a little bit about yourself, and your site: Nomadic Matt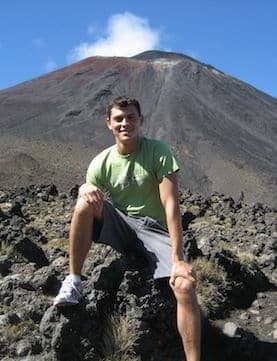 I'm a twenty-something vagabond who has been on the road regularly since 2005. I'm a native of Boston, Massachusetts but, now, everywhere has been my home. After a trip to Thailand in 2005, I decided to leave the rat race and explore the world so I finished my MBA, quit my cubicle job, and, in July 2006, I set out on an adventure around the world.
My website is not only a chronicle of my travels but also a way for people to find inspiration, travel tips, destination advice, travel news, and beautiful photos. People always say to me how much they would love to do what I do, even if it just for a little while. I'm here to tell you you can.
What drove you to start writing a travel blog?
I wanted to write guidebooks for Lonely Planet and being internet savvy, I figured having a website where they could see my writing would be good. The website just took off from there.
How do you define success in terms of your travel blog?
For me success is ever growing traffic, a liveable income, and emails from other travellers saying that my information helped them travel better and cheaper.
Which, if any, metrics do you follow in terms of traffic analysis / site ranking, and how important do you think these are?
I look at my Google Analytics for traffic stats. In terms of other metrics and lists, I don't really care about other measures. They are fun to look at but at the end of the day all I care about is that my traffic goes up.
How important do you think technical know-how and issues such as site design are for a travel blog?
Site design is very important. If your site is ugly, too busy, or hard to navigate, you will lose traffic. If you are really serious about blogging, you need to have a good design. You don't need to be very technical though. WordPress does everything for you. Knowing the basics is enough.
If there was one thing you wish you could have known before you started writing your blog, what would it have been?
Don't put blogs up the day you write them. Write in advance, re-read, edit, re-write. Your articles will be better.
How important is social media to your blog, and what approach do you take to this?
I think social media is important to every blog and if you want to be successful you have to have a big social presence. Period.
And finally, what key advice would you give to people running, or
thinking about setting up, their own travel blog?
Be different and unique. Just because you travelled the world doesn't mean anything. It doesn't mean your advice is unique, your story is different, or you even are a good writer. If you really want to start a blog and make it, think of it as a business. If all you want to do is keep in touch with friends, then do whatever you want. Otherwise, find an angle no one is doing and do that angle. Be an expert.
A big thank you to Matt for taking the time to answer my questions. If you want to know more about Matt and his travels, head on over to his site at Nomadic Matt. Matt can also be found on Facebook and Twitter.
For more travel blogging tips from the experts, why not check out the rest of the series, where I continue to interview some of the key names in the travel blogging world.
If you have an opinion on this article, please do comment below. If you're a travel blogger keen to get involved in the series, head on over to the contact page and drop me a line. Happy travels!