One of the most popular scenic routes in Iceland is the Golden Circle. This is a fantastic introduction to the country, and it lets you see many of the natural wonders that Iceland has to offer.
These include waterfalls, geothermal activity, spas, volcano craters and even a UNESCO world heritage site!
Even better, Iceland's Golden Circle is an easy day trip from Reykjavik, making it accessible even if you're on a short trip to Iceland.
In this post, we're going to share with everything you need to know about Iceland's Golden Circle, based on our time travelling in the country in both summer and winter.
This post includes what to see on the Golden Circle, the best ways to travel around the Golden Circle, other nearby attractions and lots more besides! Let's get straight into it.
What is the Golden Circle in Iceland?
The Golden Circle is a circular route in southern Iceland that stretches for around 300 km / 186 miles and starts and ends in Reykjavik.
The route is popular, either as a day trip from the city, or as a precursor to exploring Iceland's south coast. Often, instead of returning to the city, travellers continue along the south coast and then on around Iceland's Ring Road.
The popularity is largely down to the easy accessibility of the route from the capital, and the fact that many of Iceland's top attractions can be found along the route. We definitely recommend the Golden Circle to anyone visiting Iceland.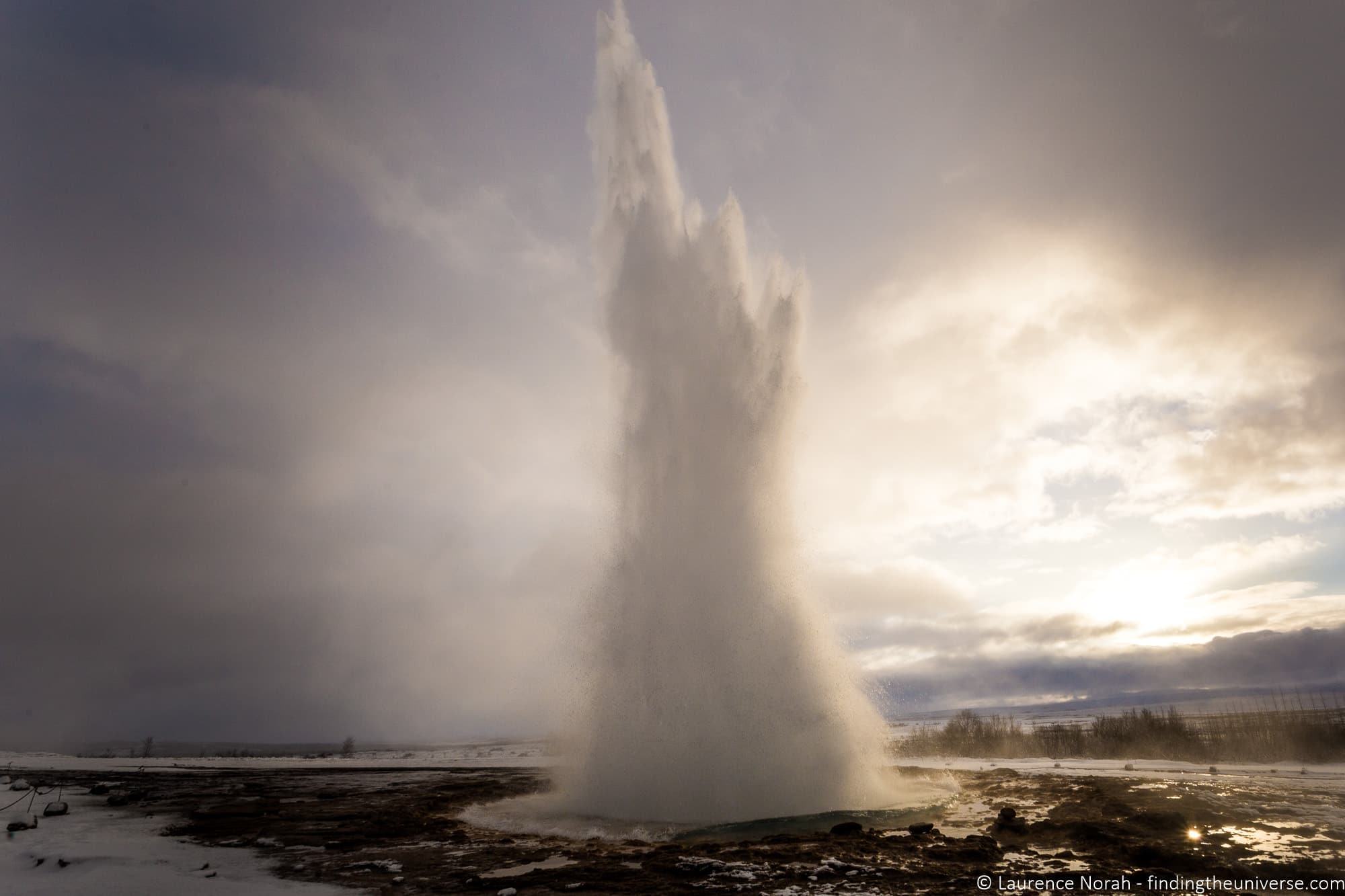 Why is it called the Golden Circle?
The Golden Circle gets its name from Gullfoss, one of the major waterfalls on the route. Gullfoss means Golden Falls in Icelandic. The circle part of the name is simply down to the route that you follow being roughly circular.
The name is also a clever bit of marketing as it sounds pretty cool. In the north of Iceland you can also find the Diamond Circle, another circular driving route which visits a number of popular attractions.
How Long Does it Take to Drive the Golden Circle?
The total driving time for the Golden Circle is just under four hours if you start and end in Reykjavik. Of course, this doesn't include any stopping time or sightseeing.
For most visitors to Iceland, the Golden Circle is done either as a full day trip or a half day trip from Reykjavik, and we suggest allocating between 6 and 10 hours to the circuit.
Can I do the Golden Circle as a Day Tour from Reykjavik?
The Golden Circle is one of the most popular day tours from Reykjavik, so yes, you absolutely can.
We recommend some more tours at the end of the post, but here are a few quick examples to give you an idea of what's available.
As you can see, there's no shortage of choice, whether you want a private tour or a group tour.
When to Visit Iceland's Golden Circle?
The Golden Circle can be visited year round. Most of the attractions here are open year-round and the roads are open and well-maintained in both summer and winter.
It's also one of the most popular day trips from Reykjavik, meaning it can get quite busy.
Most of the tours from Reykjavik depart in the morning between 8am and 10am. Some half-day tours also depart in the afternoon, between midday and 2pm. The majority of all the tours are back in Reykjavik in the early evening.
The three most popular stops for tours are of course the highlights, which are Thingvellir, Geysir, and Gullfoss. Expect these locations to be busy from 10am until 6pm. In winter, due to the reduced hours of daylight, these locations will likely be busy from 10am until around 4pm.
If you want to avoid the crowds on the Golden Circle, the best option is to drive yourself, and to visit outside of the busy times. If you are visiting Iceland in summer, you will have almost unlimited hours of daylight at your disposal, so if you toured the highlights before 9am or after 6pm, you are likely to be visiting with fewer people.
However, we would say that you shouldn't let the possibility of crowds put you off. The attractions are all fairly large with plenty of space, and are all worth seeing even if they are a bit busy when you visit.
Highlights of the Golden Circle in Iceland
The Golden Circle has three major highlights that you should visit, as well as a number of other attractions. We're going to go through the three major highlights in the order you might visit them, and then share an example itinerary for visiting the Golden Circle.
Almost all Golden Circle day tours will include all three of these sites.
Þingvellir National Park
The first attraction you will come to on the Golden Circle, assuming you are driving it in a clockwise direction, is Þingvellir National Park (Thingvellir in English).
This is a UNESCO world heritage site, and was Iceland's first national park. It's important from both a cultural point of view, and also from a geological point of view.
Suffice to say, you won't want to skip it!
Thingvellir was the location for Iceland's first parliament, known as the Althing, which first met on this site in 930 AD. This was around fifty years after Iceland was first settled. Thingvellir continued to be used as the parliament's meeting location until 1798.
Thingvellir was chosen as the location for the parliament as it was deemed to be relatively easy to reach from all the different regions of Iceland. Parliamentary meetings were held over the warmer summer months, and it was a major focal point for the Icelandic people.
Laws were passed, judicial hearings took place, and the basis for Iceland's present day cultural roots and heritage were essentially formed.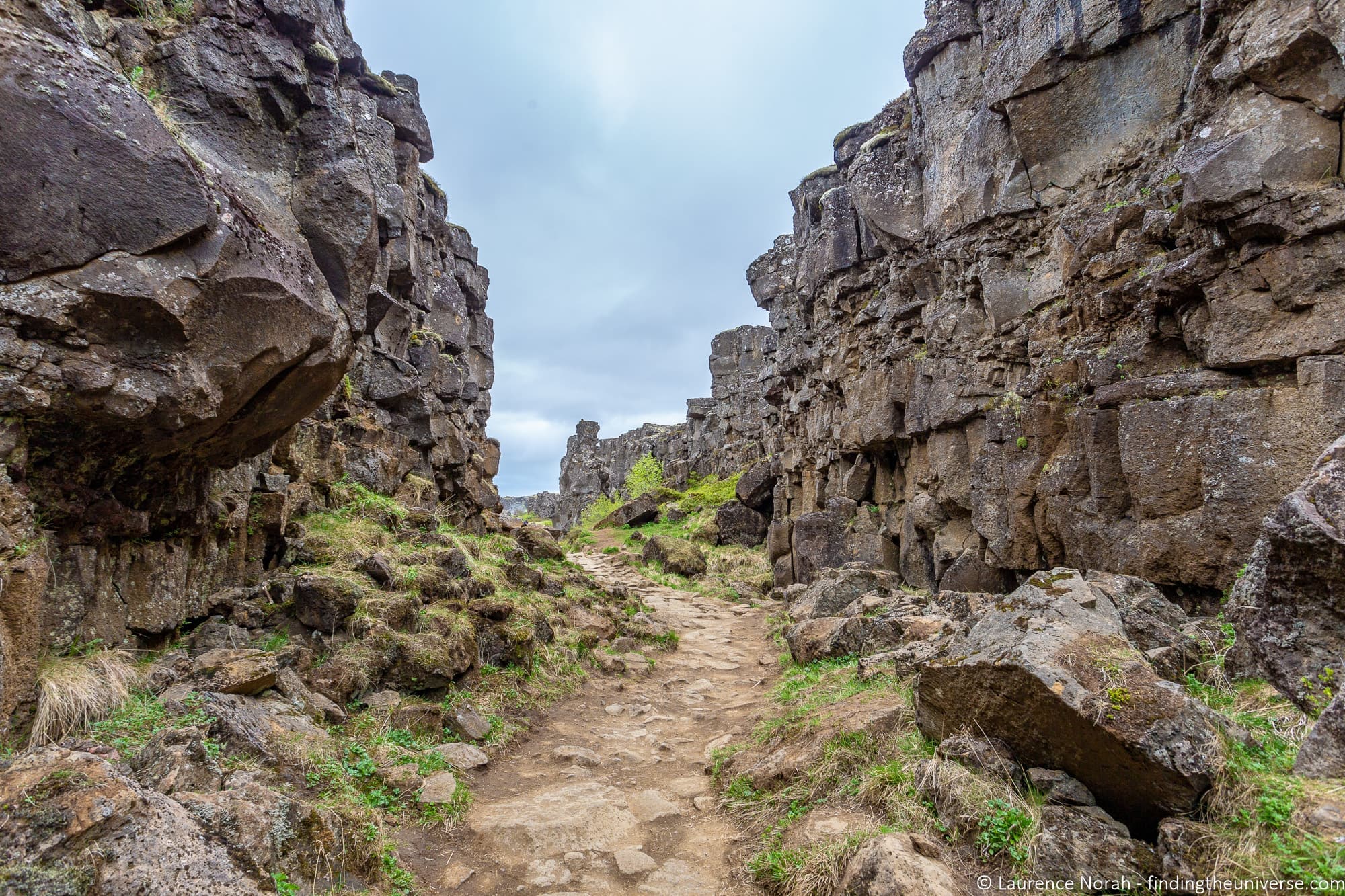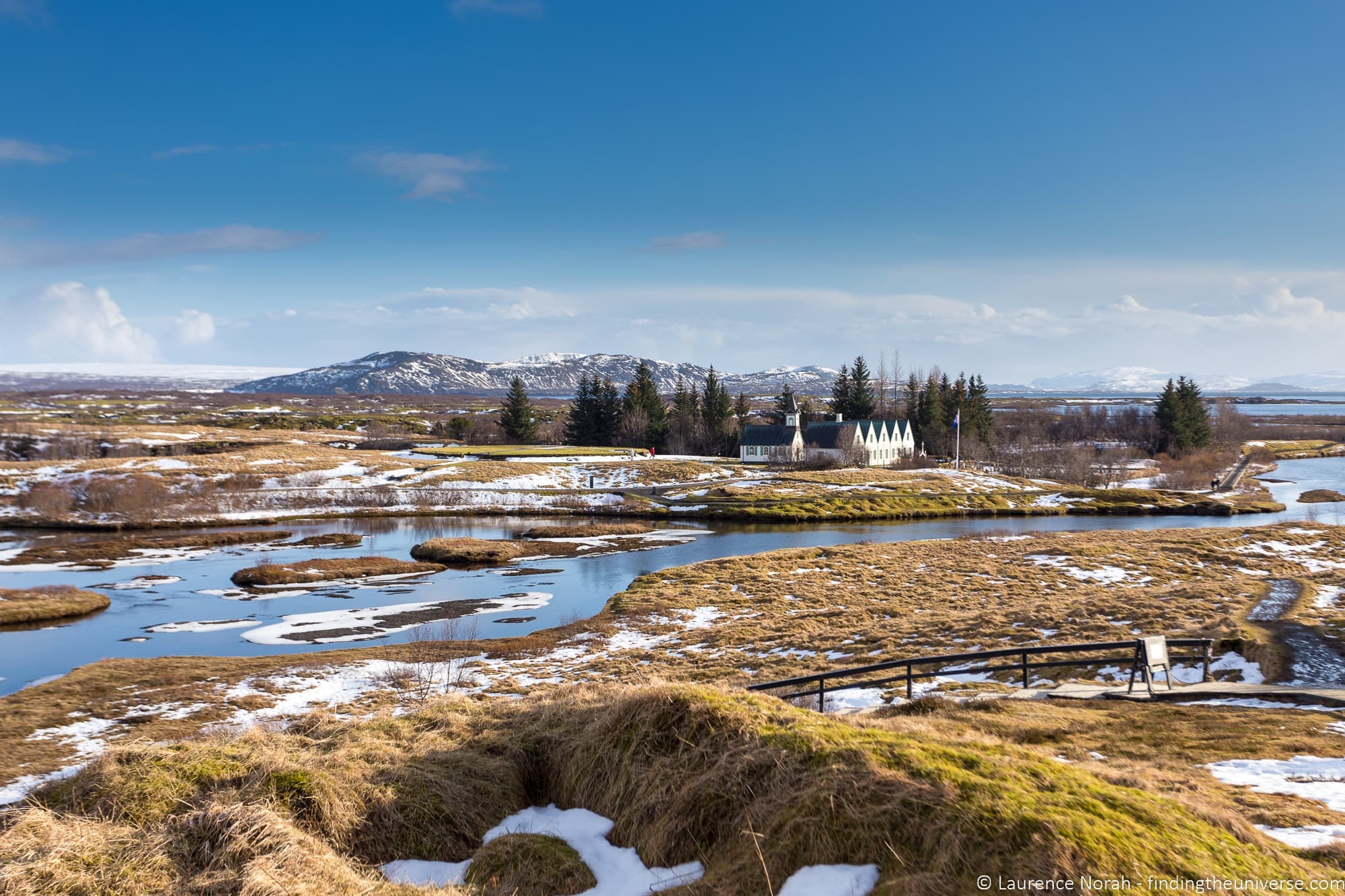 This would make Thingvellir National Park worth visiting alone, but there's more to see here.
As you may know, Iceland sits right on the middle of two continental plates, the Eurasian Plate and the North American Plate. These plates are slowly drifting apart from each other, and Thingvellir is found in the rift valley of these two plates.
This means that you can see and even walk in the cracks that have opened up in the earth as these massive plates move apart from each other. You can even go snorkelling or diving in these fissures, for a truly unique experience.
Fans of Game of Thrones will also be excited to visit Thingvellir, as a number of scenes from the show were filmed in the park.
Most recognisably, the so called Bloody Gate, which forms a part of the path to the Eyrie, was filmed here for Season 4 of the show. More on this, and lots more other locations for the show, in our guide to Game of Thrones locations in Iceland.
Thingvellir National Park is also home to a lovely waterfall, Oxararfoss. This is a ten minute walk from the parking lot, and is a gorgeous waterfall that is well worth the visit.
As you can see, there is plenty to see and do at Thingvellir, so expect to spend at least an hour to 90 minutes here. There are also more walking trails and sights to see if you want to extend your visit.
Visiting Thingvellir is free, however if you are driving yourself there is a small parking charge. This is valid for all the parking lots for the day, and payment is accepted by credit or debit card. Read more on the fees and how to pay here.
Haukadalur Geothermal Field
The next major highlight after Thingvellir National Park on the Golden Circle is the Haukadalur Geothermal Field, also referred to as the Geysir Geothermal Area.
This is around an hours drive from Thingvellir, and is home to a range of geothermal wonders. These include mud pots, fumaroles and hot springs, as well as two of Iceland's most famous geysers – Strokkur and Geysir.
Geysir (the name means "to gush") is where our modern day word geyser comes from, and Geysir was the first geyser ever to be described in print.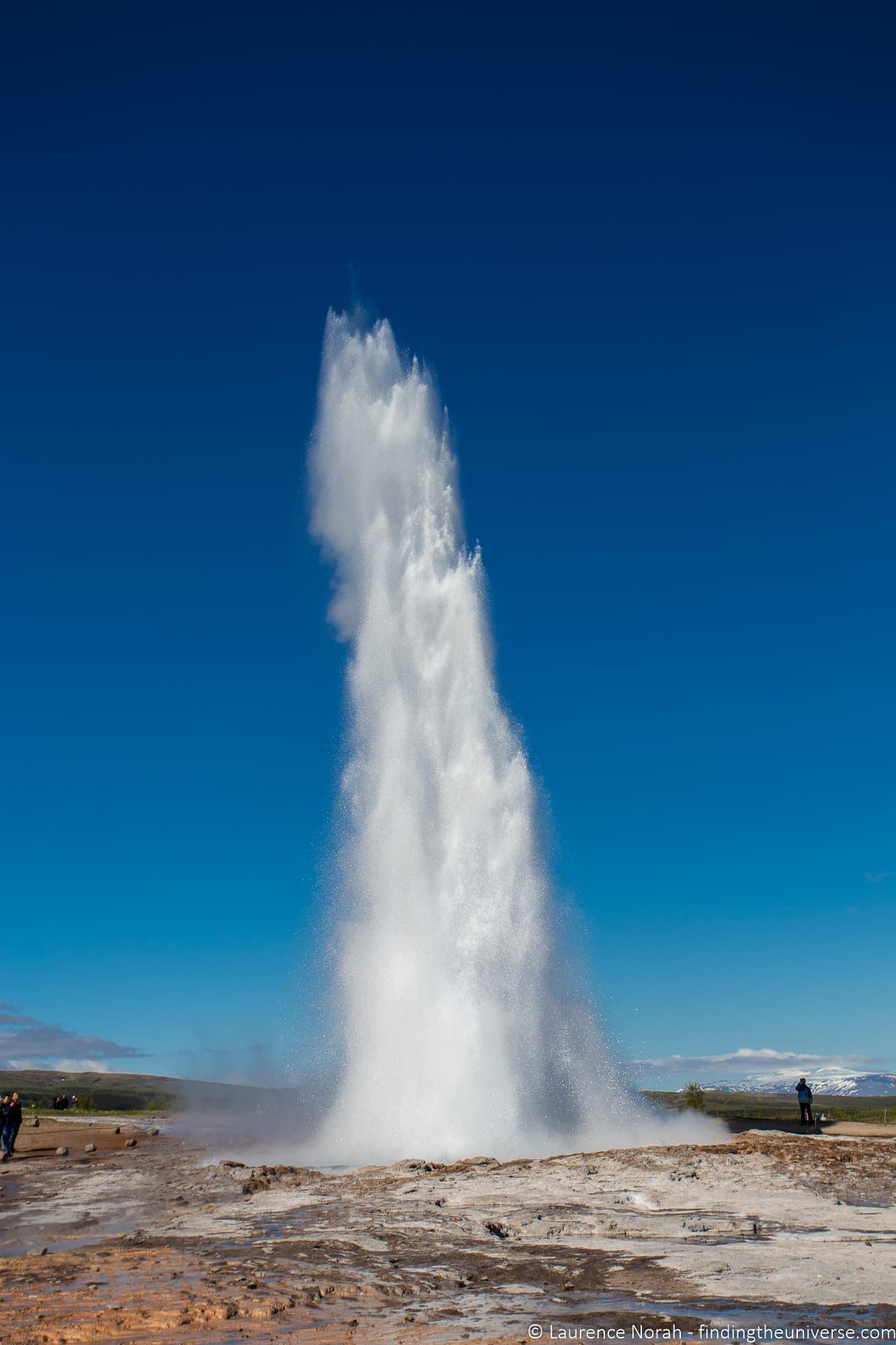 If you want to see geothermal activity in Iceland, then the Haukadalur Geothermal field is a must-stop on the Golden Circle.
The two main geysers are Strokkur and Geysir. Of late, Geysir has been fairly dormant, although as he's believed to have been erupting for at least 10,000 years, we think taking a break from time to time is only natural. When he does go off though it's spectacular, with eruptions of boiling water and steam reaching over 400ft.
The good news though is that Strokkur, which is around fifty metres from Geysir, is far more reliable, usually erupting every five to ten minutes. This eruption is not quite as big as Geysir, generally averaging around 50ft in height, but it is still very impressive.
It's free to visit Haukadalur Geothermal Field, and there's free parking on site too.
Just be aware that this is an active geothermal area with thousands of gallons of boiling water pouring out of the ground, so take care when visiting and stay to the marked paths. Keep a close watch on children.
Gullfoss Waterfall
The last of the three major highlights of the Golden Circle is Gullfoss waterfall. Gullfoss, which means golden falls, is where the name of the Golden Circle comes from.
Gullfoss is a truly spectacular waterfall, and is one of our favourite waterfalls in Iceland.
The waterfall, which is on the Hvítá river, is found around ten minutes drive from Haukadalur. There are two main parking areas which offer different views of the falls, one at a lower elevation, and one at a higher elevation.
The views from both locations are worth seeing, and a set of steps links the two. It's also possible to walk along the edge of the river above the falls for different views.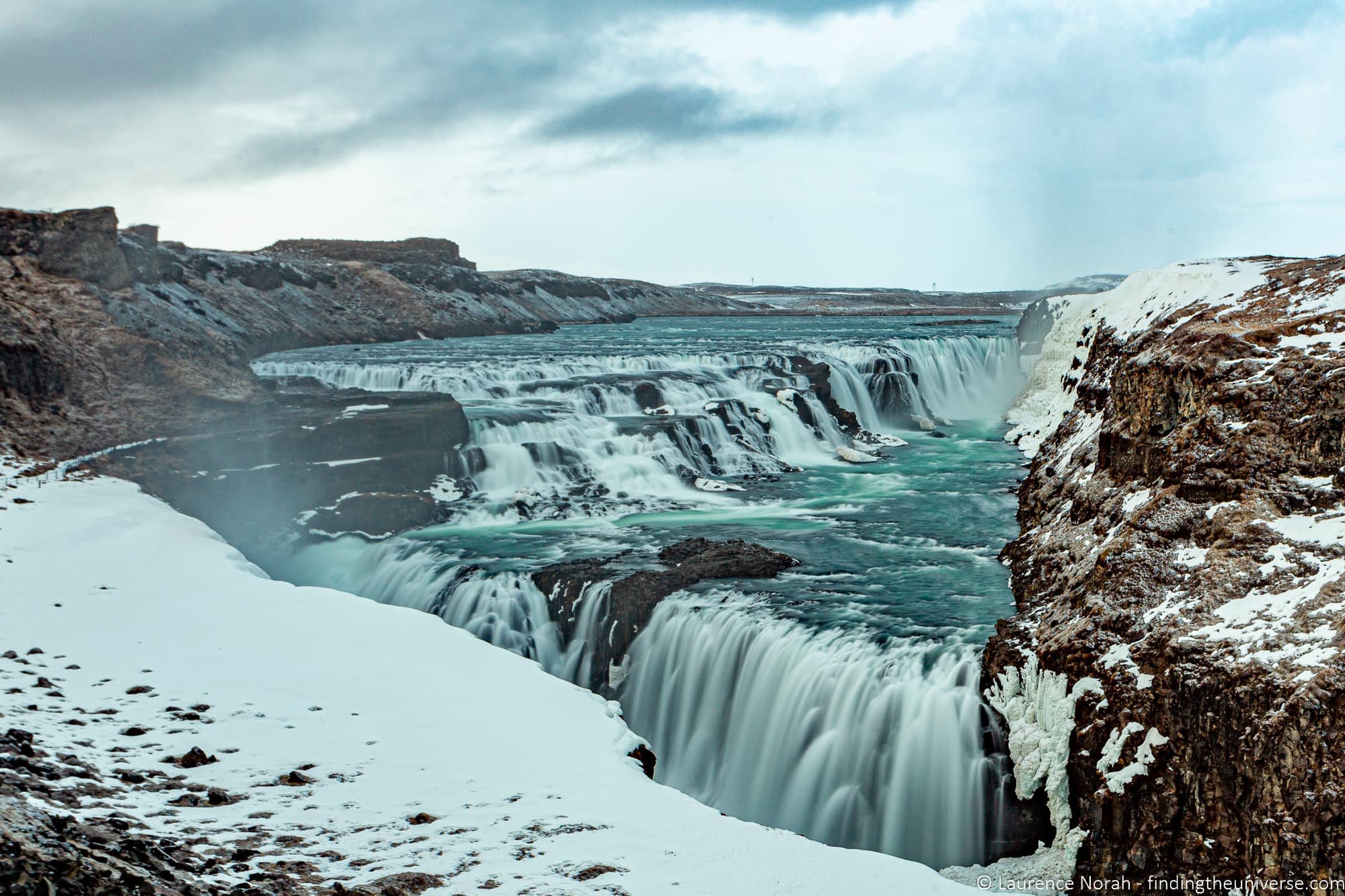 The falls themselves are across two stages, with the first around 36 feet in height, and the second around 70 feet in height. Before these stages there's a wide three-step drop that spans the width of the river. The falls are impressive due to their large volume of water, with approximately 4,900 cubic feet of water passing over the falls each second in summer.
Gullfoss is beautiful in both summer and winter. In summer, it's surrounded by lush green vegetation, and there's a good chance of seeing rainbows in the spray if you visit in the afternoon, as we did. In the winter, it's a whole different scene, with snow covered landscapes stretching off into the distance.
The Falls have a visitor centre, shop, and cafe on site. It is free to visit and park here.
Other Attractions On or Near the Golden Circle
As well as the three major attractions along the Golden Circle, there are a number of other stops that you might consider. Some tours will include some of these locations, whilst others will require you to drive your own car, and even to do a short hike.
These attractions are listed in the order that you would encounter them if you depart from Reykjavik and drive the Golden Circle in a clockwise direction. Some of them do require taking a small detour from the main Golden Circle route.
þórufoss
þórufoss, or Thorufoss, is just a five minute detour from the Golden Circle route, and we think is a detour that is very much worth doing.
The waterfall is just off Route 48, and there's a small parking lot off the road. Note that you can't see the falls from the roads, and there's not much in the way of a sign, meaning many visitors miss it.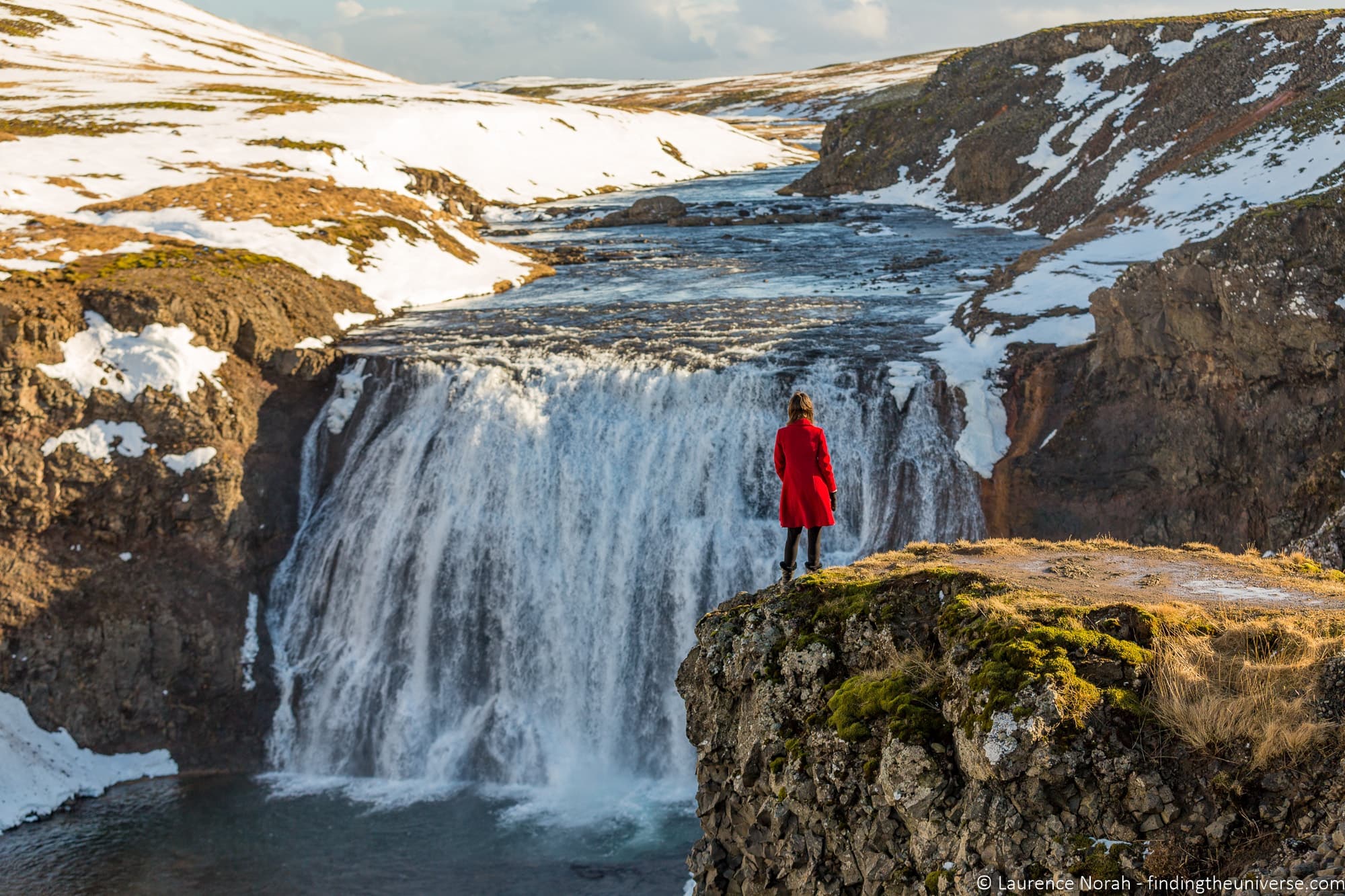 From the small parking area, it's a five minute walk across flat ground to a viewpoint, where you can see the falls. You can also descend down the fairly steep path to the pool at the base if you are so inclined, but we thought the view was just fine from the viewing area.
The falls are not huge, but they are very picturesque. They have around a 54ft drop and are around 100 ft wide. They were also used as a Game of Thrones filming location. A good stop if you have an extra 15 minutes or so.
Laugarvatn Fontana
When you visit Iceland, the chances are high that you will want to take a soak in some sort of geothermal spring. Iceland has no shortage of these, from the famous Blue Lagoon, to hot rivers, and everything in between.
On (or near) the Golden Circle, there are at least three places for you to stop off for a refreshing soak, and the first of these is Laugarvatn Fontana.
The natural geothermal springs here have been a popular attraction since 1929. There are a series of experiences you can have here, including steam rooms, and warm pools that overlook the lake. There's also a hot tub and sauna.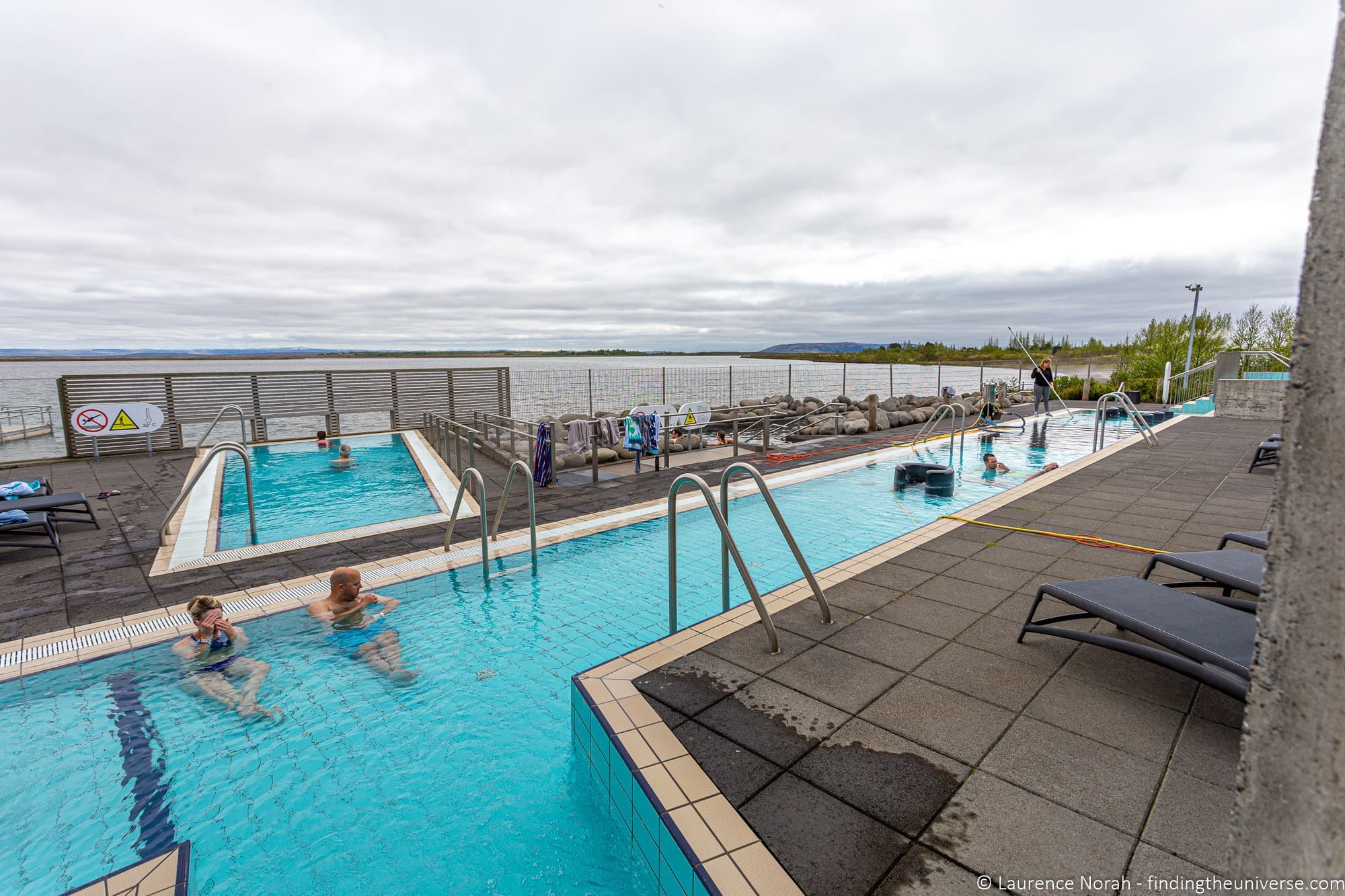 Those of you feeling brave can even take a refreshing dip in the lake itself, which is accessible from the bathing area.
Another reason to visit Laugarvatn Fontana, even if you aren't planning on using their spa facilities, is for their famous lava bread. They bake their own bread using geothermal heat (a process that takes around 24 hours) and the end result is delicious.
Laugarvatn Fontana is in the town of Laugarvatn, which is on the Golden Circle between Thingvellir National Park and Haukadalur Geothermal Field. There's free parking on site, but entry to the spa itself does have a fee, which you can see on their website here.
Towels are available for hire, so we recommend packing a travel towel like this to save on that fee.
They also have a nice on-site cafe which serves traditional Icelandic fare and snacks, including that delicious lava bread.
If you're looking for a tour that includes time at Laugarvatn Fontana, this is a good option.
Faxi
Faxi (also known as Vatnsleysufoss) is another beautiful waterfall on the Golden Circle, found on the Tungufljót river. It's not a very high waterfall at around 22 ft, but it is 300ft wide, and is unusual enough to warrant a visit we think.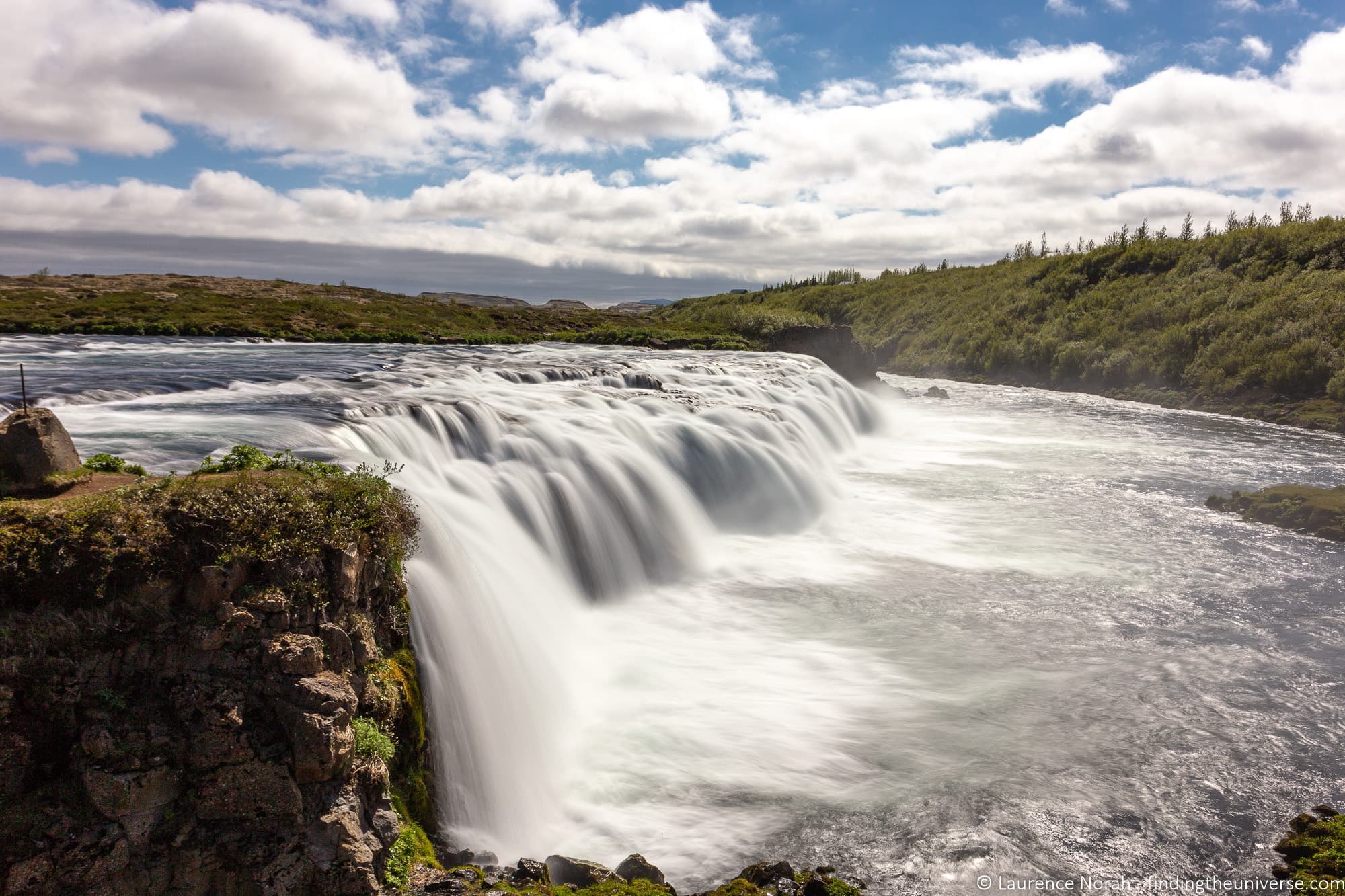 You can either view the falls from the road above them, or drive down to the parking lot at the base. It's a popular place for salmon fishing, so expect to see fishermen during the fishing season.
The falls are around a five minute detour off the Golden Circle route, and if you have the time are worth visiting for some photos. There's also a restaurant on-site here, Vid Faxa, which offers meals with nice views.
This private tour includes a stop at Faxi.
Secret Lagoon Hot Spring
The Secret Lagoon Hot Spring is the second of the geothermal baths you can visit whilst travelling the Golden Circle. Despite the name, it must be said that the secret is definitely out on this one.
The Secret Lagoon dates from 1891, making it the oldest man-made swimming pool in the country. However, it fell into disuse until around 2005, when the present owner started to use it himself as a private pool, and hence it got its name.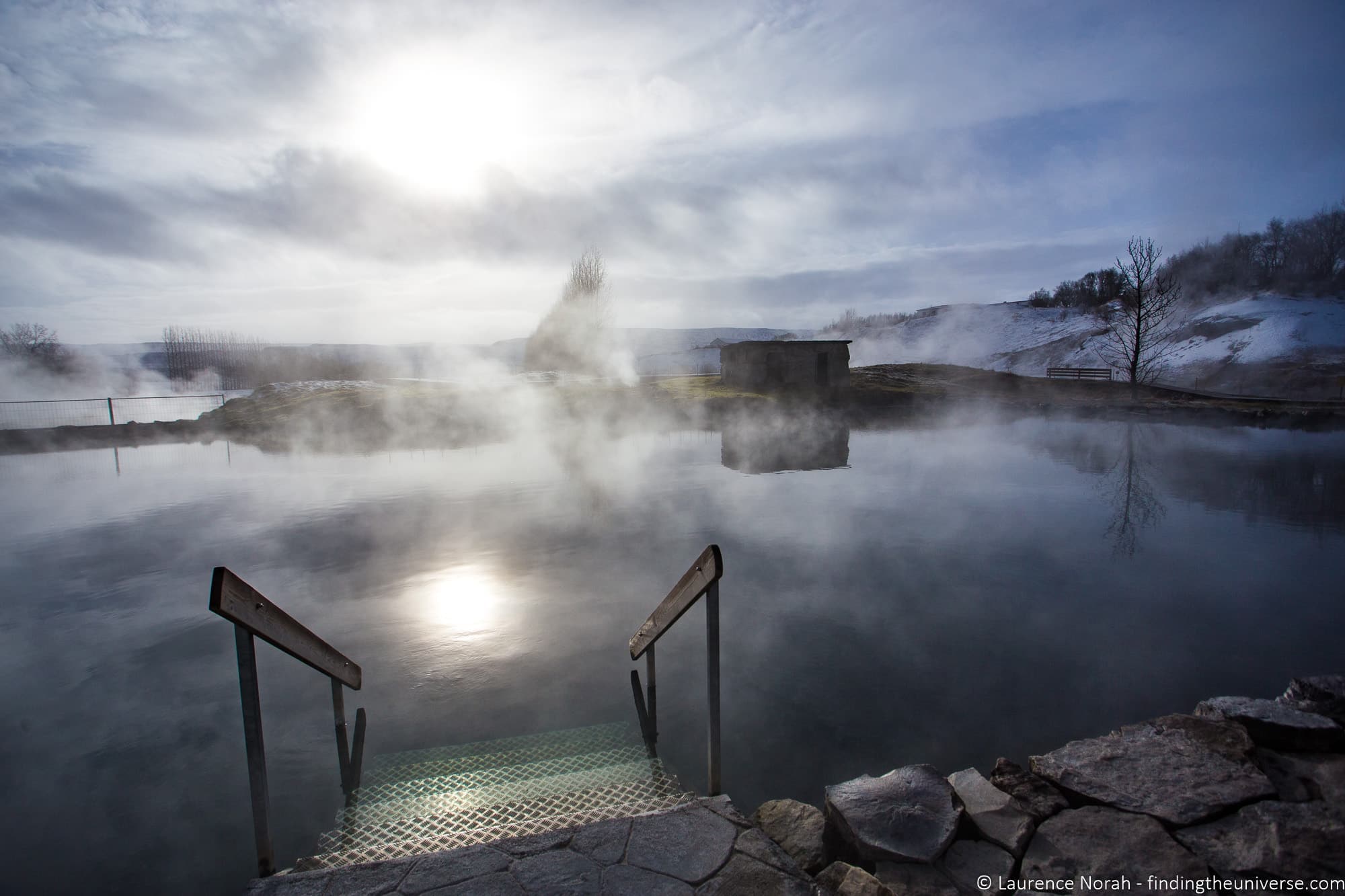 Today the pool is open to all for a fee, and offers a lovely bathing experience. It's part of a larger geothermal area, so you can also see a baby geyser (Litli Geysir) as well as boiling pools.
It's around a 10 minute detour from the main Golden Circle route to get to the Secret Lagoon, which is found in the town of Flúðir. There's a fee to use it, and you can opening hours and prices on the official website here. You can also buy your tickets in advance online here.
Your entry ticket includes access to the segregated changing rooms, lockers and showers. Towel and swimsuit hire is available as an extra charge, so we recommend bringing your own.
Note that in Iceland it is required to shower fully naked prior to bathing, and whilst the changing rooms and showers are normally segregated, there are not usually private shower cubicles. So do keep this in mind prior to booking any spa experience.
The Secret Lagoon can be visited on a self-drive trip, and is also included on this Golden Circle tour, or this private Golden Circle tour.
Kerið Crater
Kerið Crater, also called Kerid Crater, is a lovely volcano crater and crater lake just off the Golden Circle as you return to Reykjavik.
The crater is one of the best examples of its type in Iceland. It only formed around 3,000 years ago, so weathering and erosion have not had too great an impact, meaning it's very visually recognisable.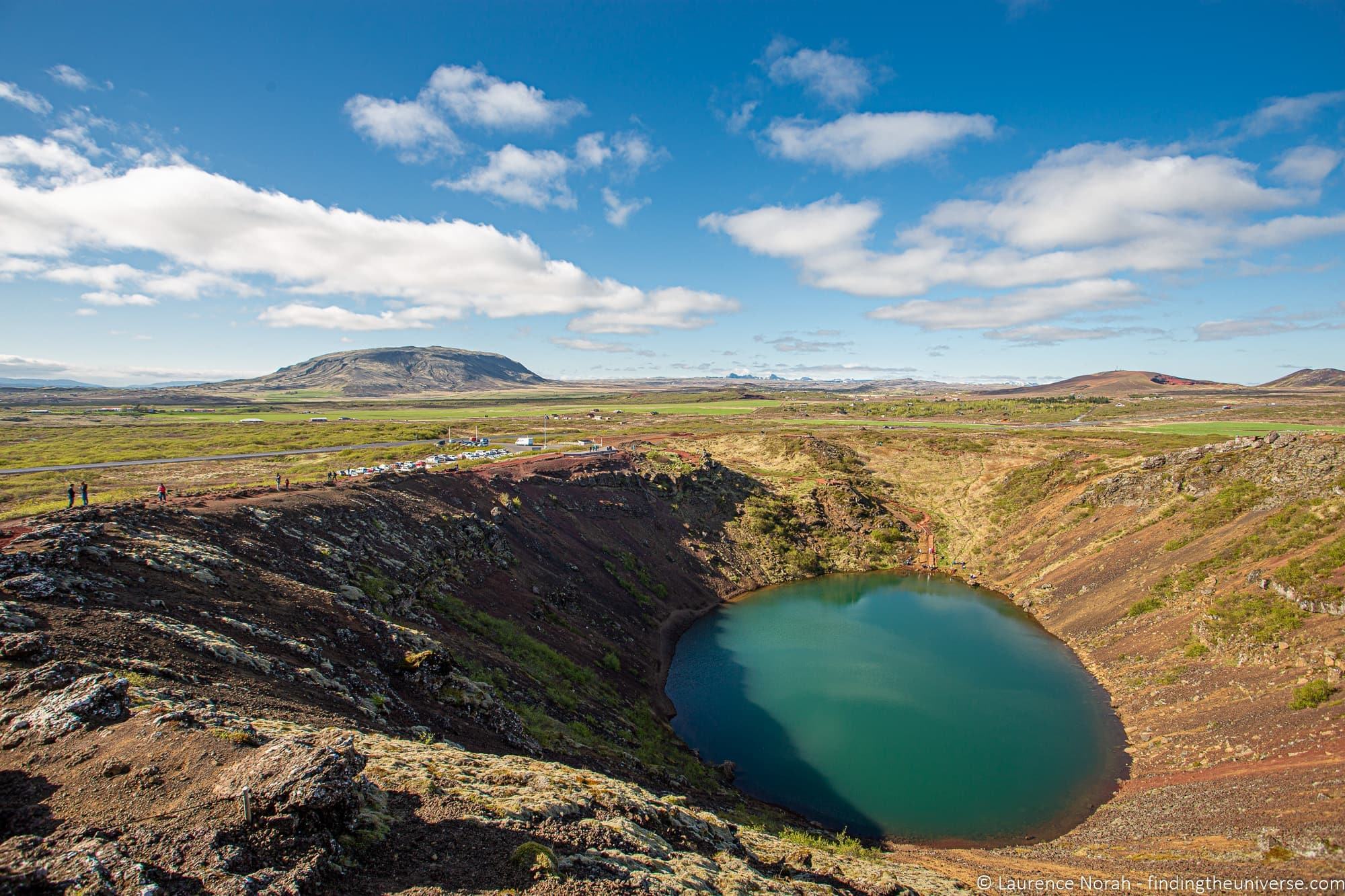 When you visit, you have the option of walking around the crater, and you can also descend the approximately 200 feet down to the lake itself if you wish. It's a lovely colourful red color with a fairly circular lake inside it, and makes for a great stop.
There's a small entry fee of 400 ISK (as of June 2019) to visit the crater and park here. It's also included on this tour, or this private tour.
Bobby Fischer Center
Those of you with an interest in chess will likely be interested in visiting the Bobby Fischer Center, one of the few museums in the world dedicated to a world champion chess player!
This is found in the town of Selfoss, and would be around a five minute detour from your Golden Circle route.
Here you can learn all about Bobby Fischer, often regarded as one of the greatest chess players of all time. Bobby was originally from Chicago in the USA, but lived the last years of his live in Iceland, largely as a way to avoid deportation to the USA following his violation of US sanctions in Yugoslavia.
There's a small entry fee, and the museum is open from mid-May to mid-September. See the official website for opening times.
Horse Riding
Iceland is home to the beautiful Icelandic horse, a tough breed which has a wonderful flowing mane.
Many people want to meet, take photography with, learn about, and of course, ride, an Icelandic Horse when in Iceland.
When driving the Golden Circle, one option is to visit Friðheimar. You can pre-book a visit to the stables, and in the summer months they also run a horse show.
It's also possible to take a tour of the Golden Circle which includes visiting a horse stable, or a tour of the Golden Circle which includes horse riding.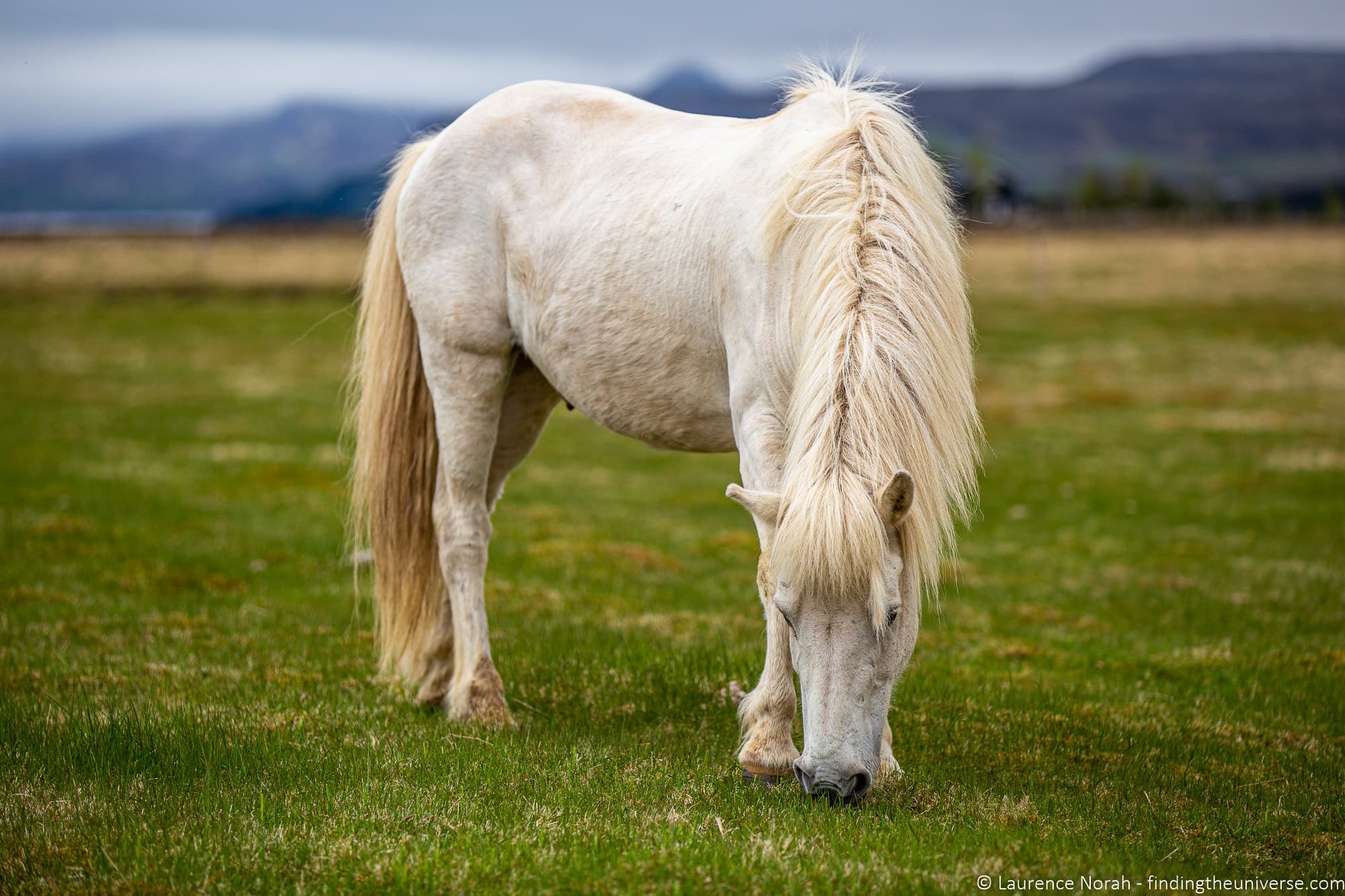 Reykjadalur Hot Spring
Last, but by no means least, on our list of attractions near the Golden Circle, is the Reykjadalur Hot Spring. Unlike the other geothermal springs in this guide, this one is entirely free to visit, and is also a largely natural feature.
This one is just off the Golden Circle, with the parking lot for the hike around a five minute detour through the town of Hveragerði.
Hot water bubbles out of the ground and joins a natural river, and you can get into the river at different points and relax in the pools. To adjust the temperature, you'll just want to go up or downstream!
There are of course a few caveats to this natural attraction. First, it's about a 1 hour walk each way from the parking area to the bathing area. The path is well marked and fairly easy to follow, but it does go uphill for quite a while.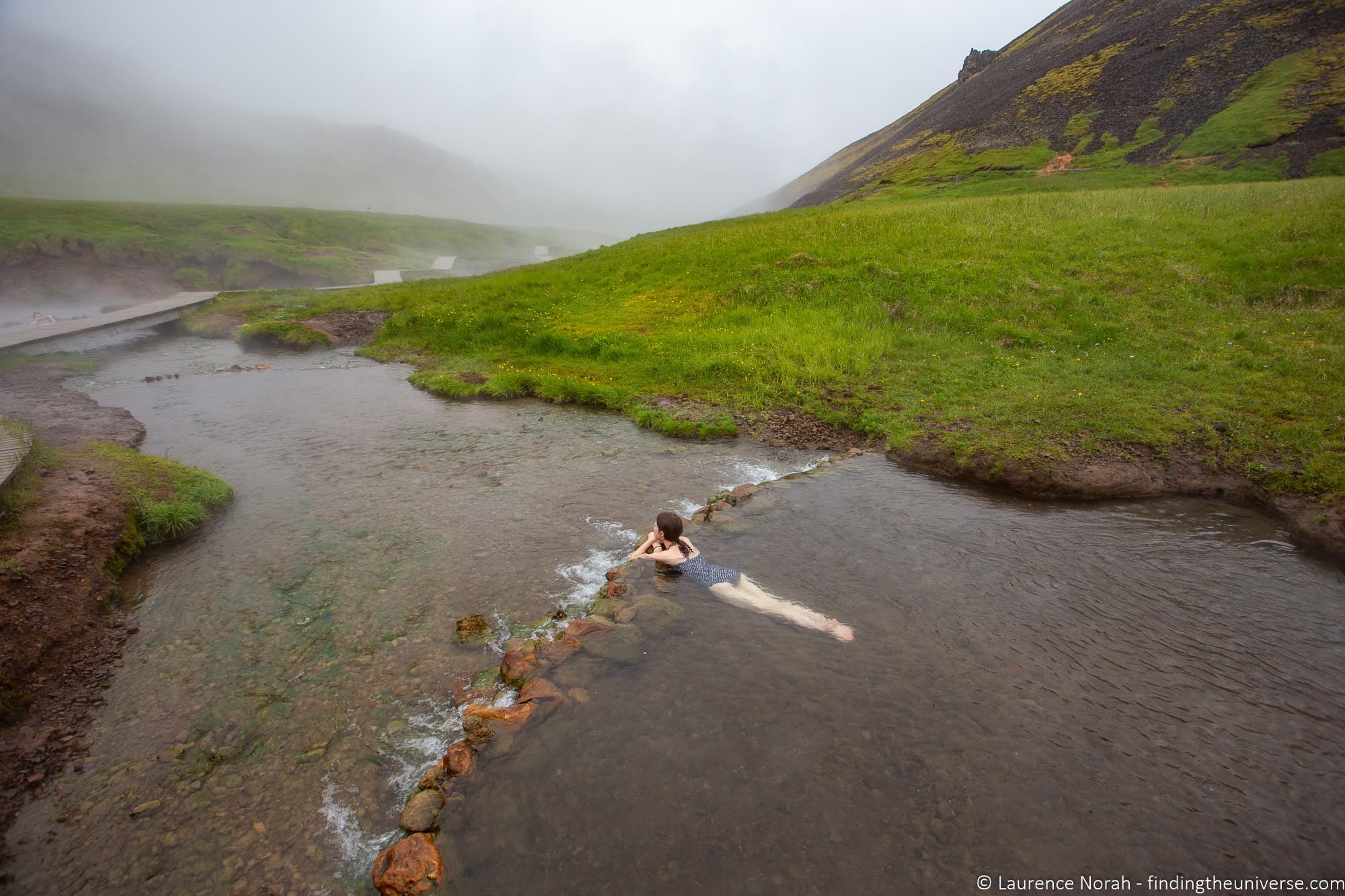 Second, there are no formal changing areas, showers, toilets, or anything like that. There is just a wooden boardwalk area with wooden modesty panels, but they are not enclosed.
So if you are nervous about getting undressed in public, you may want to put your swimsuit on underneath your clothing before you start the hike.
There's also no shelter here for your or your stuff. So if it's raining, you'll want to be sure to have some sort of waterproof cover for your gear.
We advise against visiting in winter or when there is a lot of snow or ice on path as it can be more difficult to follow the path and to distinguish safe and unsafe areas.
All that said, this is a really wonderful natural bathing experience, especially in nice weather. If you are driving the Golden Circle in the summer months when you have lots of light, it would make a great last stop on your adventure!
Itinerary for Iceland's Golden Circle
If you are planning on hiring a car and driving the Golden Circle, we've put together this quick suggested 1 day Golden Circle itinerary that departs from Reykjavik in the morning and returns to Reykjavik in the afternoon / evening.
It could also be used as the starting point for a longer trip in Iceland, and for some inspiration in that department, see our itineraries for 3 days in Iceland, 7 days in Iceland, and the Iceland ring road.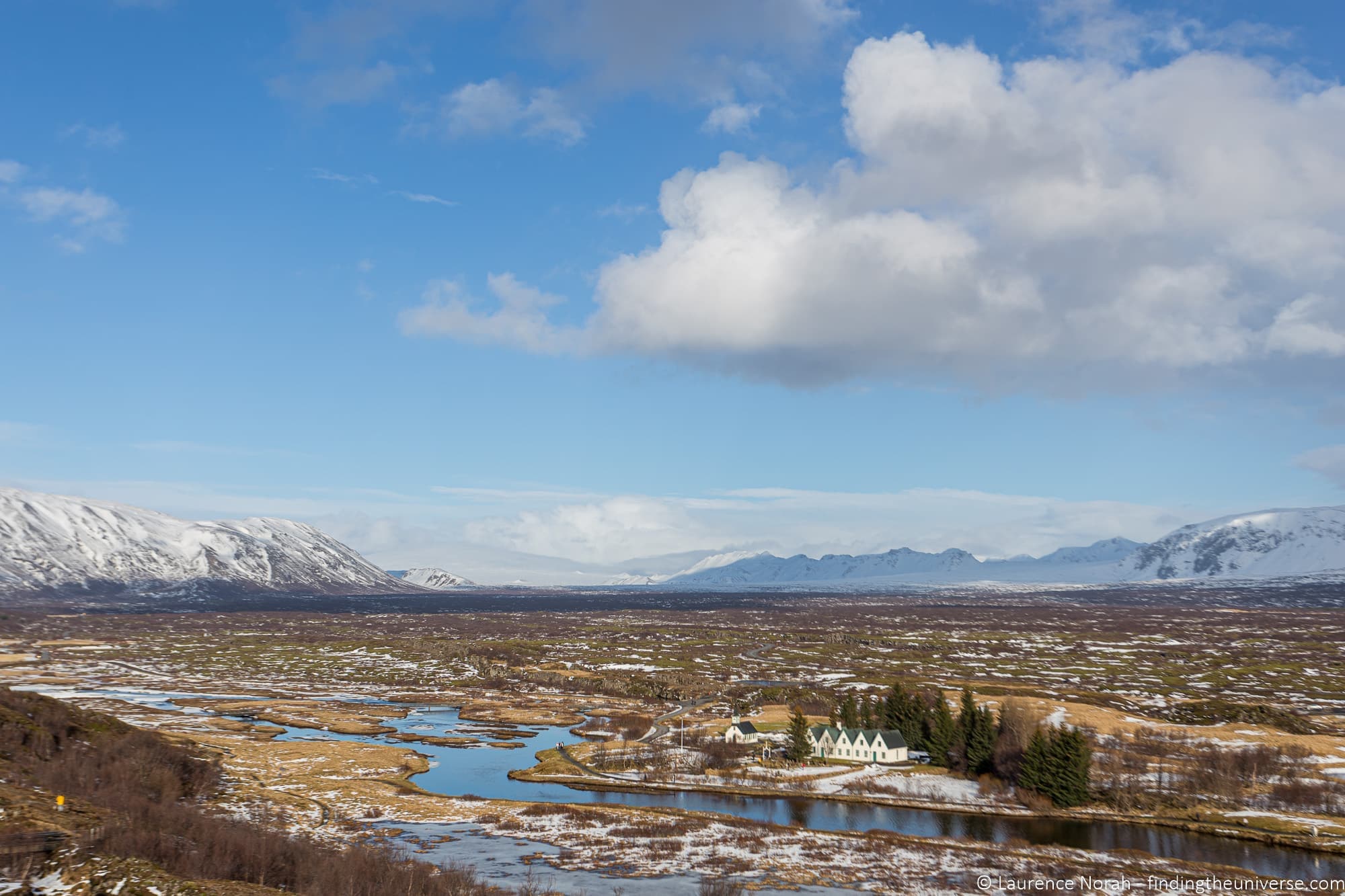 Stop 1: þórufoss
Our first suggested stop on your Golden Circle trip is þórufoss. It's a pretty waterfall and it's not usually too crowded. Depending on the traffic out of the city and where you are leaving from, expect this to take you around 40 minutes of driving. You shouldn't need more than 10 – 15 minutes here.
Stop 2: Thingvellir
From þórufoss it's about a 20 minute drive to Thingvellir National park. There's a lot to see and do here. Don't forget to pay for your parking! Highlights include Þingvallakirkja (the church), Lögberg (rock formations), the various fissures, and the Öxarárfoss waterfall.
You can also schedule in diving or snorkelling here. You'll want to book these activities in advance and expect to allocate at least 2 – 3 hours to them if you choose to do those, which will impact how much you can see over the rest of the day.
Otherwise, we'd suggest scheduling around 90 minutes for Thingvellir.
Stop 3: Lunch at Efstidalur II.
By now you might be getting hungry. Our suggestion for lunch is the restaurants and farm shop at Efstidalur II, which is around a 40 minute drive from Thingvellir.
They have delicious food made from locally sourced ingredients, and we really enjoyed their burger. They are also famous for their ice cream, so even if you are travelling on more of a budget and are rocking a packed lunch, we highly recommend indulging in some ice cream anyway!
Expect to spend 45 – 90 minutes here if you have the full lunch, or a 15 minute break for ice cream.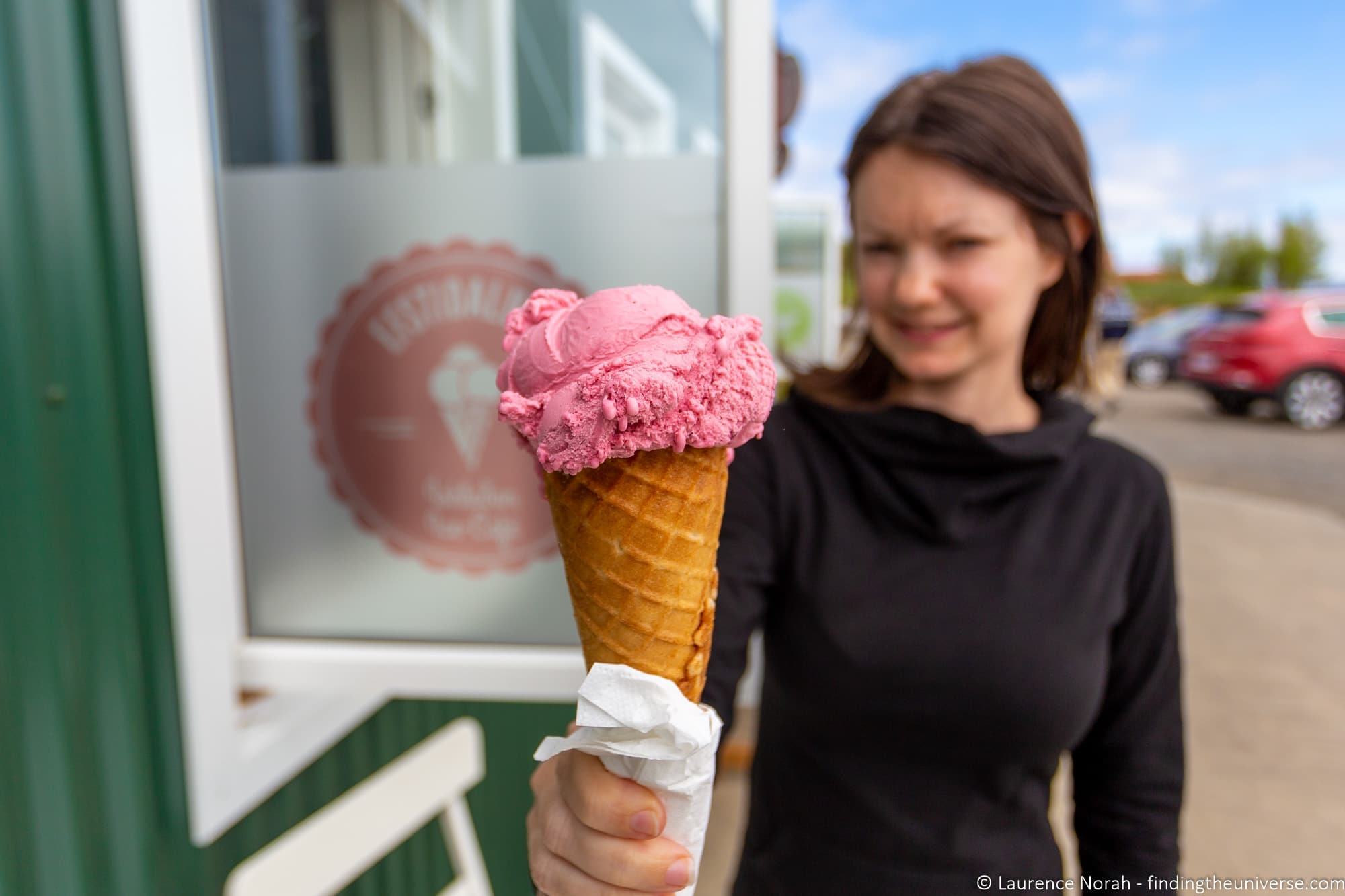 Stop 4: Haukadalur Geothermal Field
After lunch, it's a 15 minute drive to Haukadalur Geothermal field where you can see the bubbling mud points, steaming fumaroles, and erupting geysers.
This is a wonderfully photogenic location and is a lot of fun to visit. Expect to spend around 30 minutes – 45 minutes on site.
Stop 5: Gullfoss Waterfall
From Haukadalur it's just a short 10 minute drive to Gullfoss, which is often the major highlight for most visitors touring the Golden Circle.
It's not hard to see why, and this waterfall is truly impressive. There are a plethora of photo opportunities here, so expect to spend at least 30 – 45 minutes on site. There's also a gift shop, cafe and restrooms here.
Stop 6: Faxi waterfall
It's time to turn around and start heading back to Reykjavik. If you're still keen on seeing some waterfalls, then a stop at the quieter Faxi waterfall, 20 minutes drive from Gullfoss, is worth it.
It's just off the road, and shouldn't take up more than 10 – 15 minutes of your time.
Stop 7: Kerið Crater
From Faxi, continue on Route 35 for around half an hour until you come to Kerid Crater. This is another very worthwhile stop on the Golden Circle, giving you the opportunity to explore a real volcano crater up close.
You can spend a fair amount of time here if you choose to hike around the crater and go down to the crater floor, or you can just swing by and take a few photos. We'd suggest allocating between 15 minutes and an hour here, depending on your interest level.
Stop 8: Choose a Hot Spring
If you are interested in visiting a hot spring in Iceland, the Golden Circle provides three options for you.
The two hot springs on the way around the Golden Circle, Laugarvatn Fontana and the Secret Lagoon, are very easy to visit as you travel round, and there are tours available which stop at one or the other.
See this tour which includes Laugarvatn Fontana, and this tour which includes the Secret Lagoon.
Another option, if you are driving the Golden Circle over the summer months and want a bit of a hike to end out your day, then we definitely recommend taking the time to visit Reykjadalur Hot Spring.
It will take you around 25 minutes to drive to the parking lot here from Kerid Crater, after which you're looking at at least an hours hike each way to reach the bathing area.
After all that hiking, you'll likely want to enjoy the pools, so expect to spend around an hour lazing around. We'd not recommend doing this in winter, or if you need to get back to Reykjavik to return your hire car by a certain time.
From Reykjadalur to Reykjavik it's about a 45 minute drive.
Another option is to add on a visit to the Blue Lagoon at the end of your trip. If you are driving yourself, this is not too great of a detour. This also makes for a good option if you are flying out the following day at the Blue Lagoon is close to the airport, and there are hotels in this area you can overnight at.
It's also possible to take a Golden Circle tour which includes a trip to the Blue Lagoon at the end of the trip.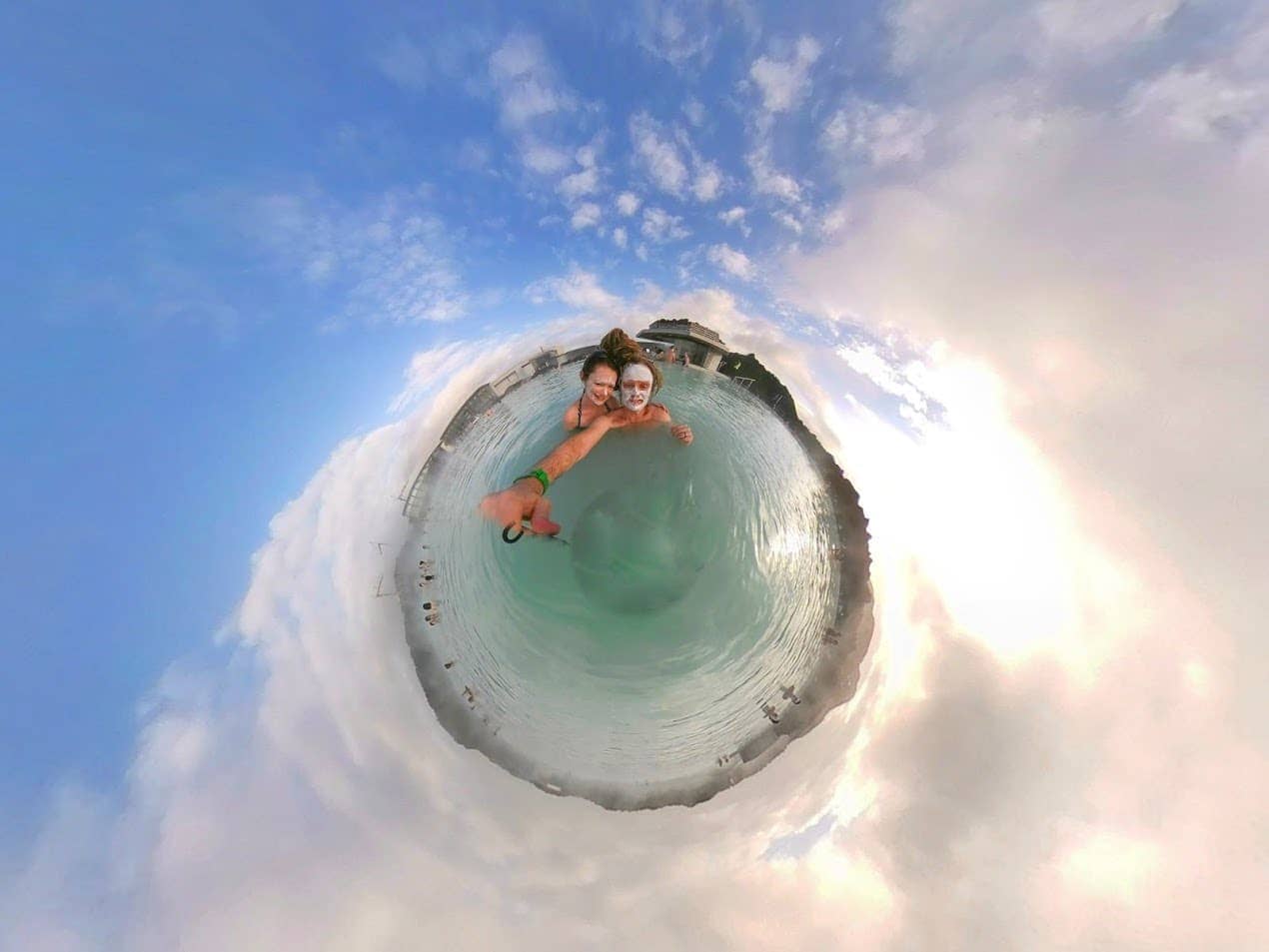 Total driving time on the Golden Circle: ~ 4 hours
Total sightseeing time on the Golden Circle: 3 – 8 hours, depending on sights and activities
Overall time for the Golden Circle 7 – 12 hours.
Map of Iceland's Golden Circle
To help you visualise the Golden Circle and plan your route, we've put together this map. This has the standard Golden Circle Driving Route, as well as the major highlights and other attractions marked. You can see also see this on Google Maps here.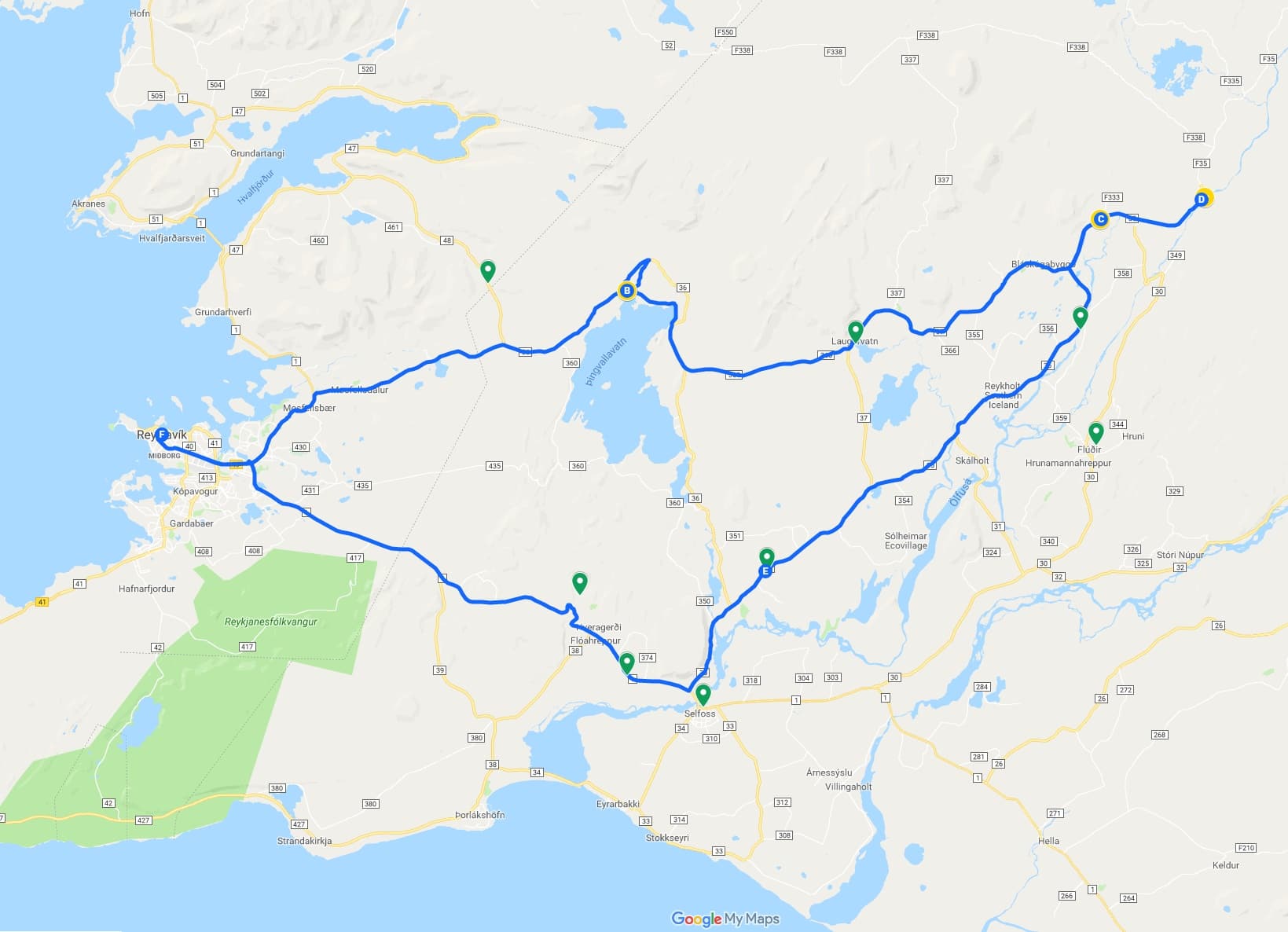 Where to Stay on the Golden Circle
The majority of travellers driving the Golden Circle do it either as a day trip from Reykjavik, day tour, or as the start of larger trip around the country.
However, you can also stay on the Golden Circle too, and thus not feel rushed to get back to the city.
If you have more time in Iceland, you can easily split it up into 2 much more manageable days and have more time to explore this route, with plenty of time for side attractions, day-hikes and thermal baths!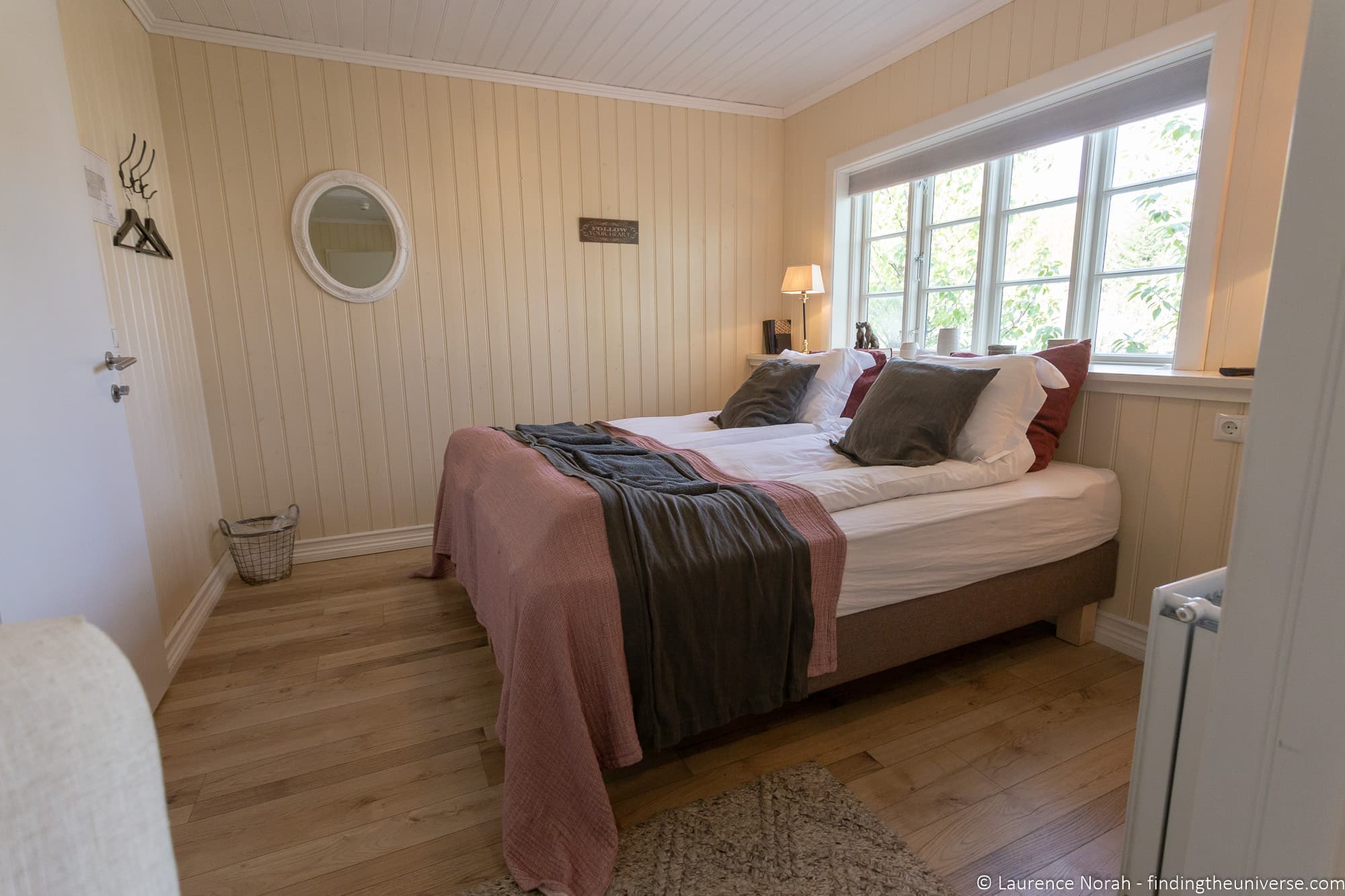 We've stayed at a few properties on the Golden Circle itself, as well as in Reykjavik, and wanted to share some options to help you plan.
Accommodation on the Golden Circle
Accommodation in Reykjavik
Options for Visiting the Golden Circle
You have two main options for visiting the Golden Circle – you can drive yourself, or you can take a guided tour.
Guided tours are a very popular option, and because so many companies offer them, prices are competitive so you can get a full day tour at a good rate. See the next section for some of the tours and companies we suggest you look into for touring the Golden Circle, which includes both group and private tours.
The closest guided tour we found to the itinerary we put together is this private full day tour.
The other option is to rent a car and drive yourself. There are a number of options for car rental in Iceland, but we recommend you use this website. The company is based in Iceland and you can add the various insurances that are unique to the country should you so choose.
See more on insurance in Iceland, plus general advice for driving in the country, in our tips for driving in Iceland post.
The Golden Circle follows good paved roads, so you won't need a 4×4 for the Golden Circle. However, if you are doing it as part of a longer trip and are driving in winter, or are planning any time in the highlands in summer, you might consider a 4×4 vehicle.
At around 300 kms, the Golden Circle is easily driveable as a day trip from the city. Whilst gas is expensive in Iceland, you won't need more than a tank to drive the whole distance.
That said, if you are travelling on your own or even as a couple, and budget is a consideration, you might find that a tour works out to be more cost effective than the cost of vehicle rental, insurance, and gas. This is because Golden Circle tours are really well priced in Iceland.
For budget tips, see our guide to travelling Iceland on a budget for more lots of tips on saving money in the country.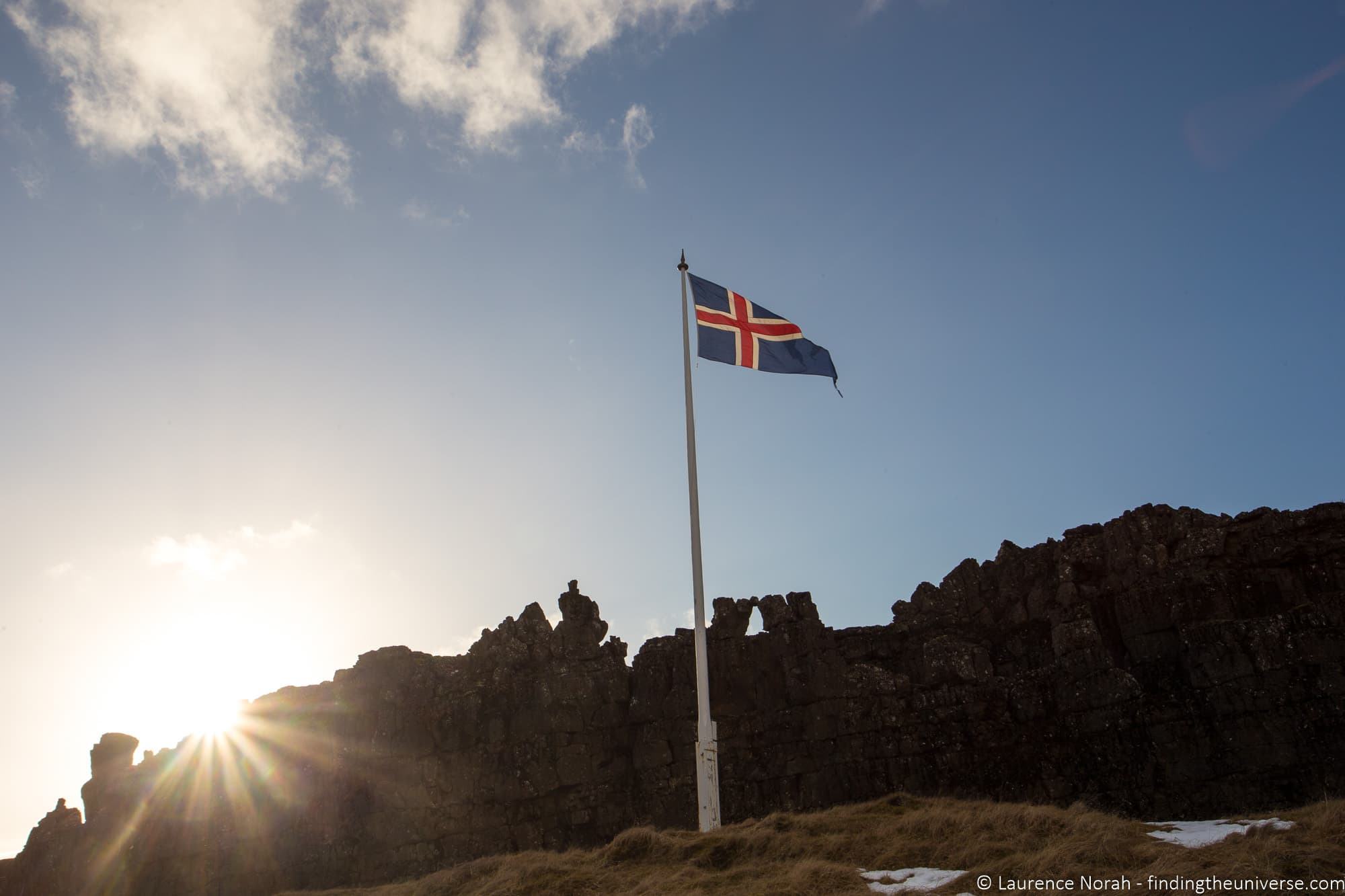 Best Tours of the Golden Circle
As already mentioned in the post, one of the most popular ways to experience the Golden Circle is on a tour. There's a wide variety of Golden Circle tours to choose from, and taking a tour means you can just enjoy the sight-seeing without having to worry about the driving or other logistics.
Here are some suggested tours of the Golden Circle to consider, all of which depart from Reykjavik.
See many more tour options on GetYourGuide here, Viator here and Guide to Iceland here.
Further Reading
That summarises our guide to Iceland's Golden Circle. We've visited Iceland a number of times in both summer and winter, and have put together a number of detailed guides to help you plan your own trip. Here are some we think you will find useful:
And that's it for our post on visiting Iceland's Golden Circle! As always, we're happy to hear your feedback and answer any questions – just use the comments section below and we'll get back to you as soon as we can!