Besalú is one of the most popular medieval villages in the Catalonia region of Spain. It's easy to reach from Girona or as a day trip from Barcelona, and we've visited a number of times. Based on our experiences, we wanted to share with you a guide to things to do in Besalu – beyond taking pictures of that iconic bridge!
As well as a guide to what to do in Besalu, we're also going to share some tips for getting here, where to stay, and some resources for planning your trip to the Catalonia region in general.
Let's get started by answering some questions.
Where is Besalu?
Besalú is a town in Catalonia, Spain. It is part of La Garrotxa region which sits within the wider Girona Pyrenees region. It's next door to the beautiful Costa Brava region, and is situated 25km away from Figueres and 30km away from Girona.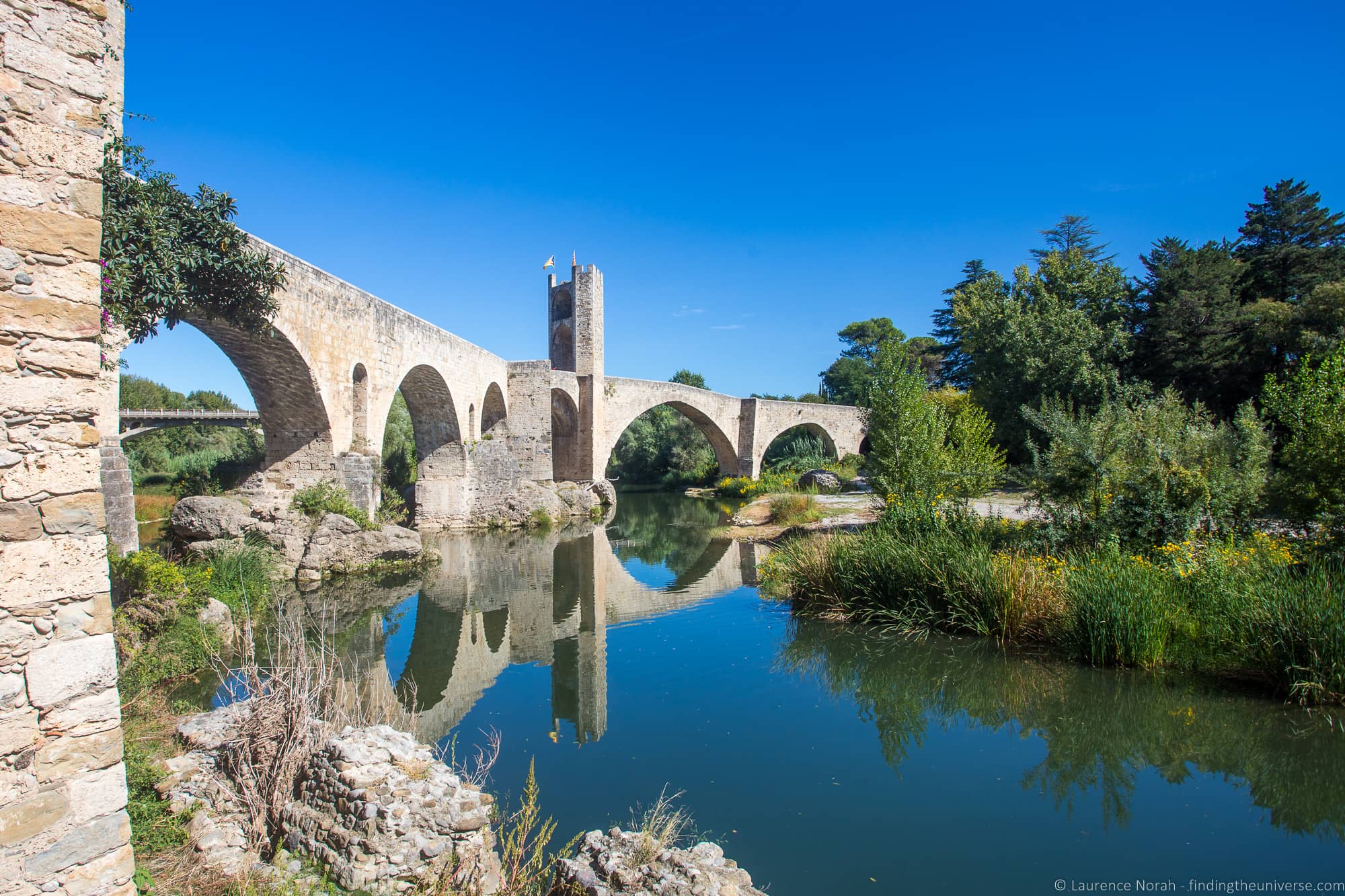 How to get to Besalú
Besalu is relatively easy to get to. If you have a car, it's around a half hour drive from Girona, around an hour and forty minutes from Barcelona.
There are also public transport options. Our suggestion would be to take a train from Barcelona to Girona or Figueres, from where you can take a bus to Besalu. You can also take a bus direct from Barcelona to Besalu, but this will take longer than the train. See bus timetables for the region here.
Visiting both Besalu and Girona as a day trip from Barcelona using public transport is more than do-able. You could also add in Figueres as well, for the Dali museum.
Another option of course if you don't want to drive or take public transport is to take a tour, and we have a section about tours below.
Is there free parking in Besalú?
The good news if you're driving to Besalu is that there is a large free parking lot where you can park your car. This is on the south side of town just across the river from the old town center, near the medieval bridge. You can see the parking location on Google Maps here.
The parking is also right next to the Besalu tourist information office, which is a good place to go to get maps and local information before you start your visit.
Where to stay in Besalu
Whilst the majority of visitors come to Besalu on a day trip, there are definite advantages to spending the night, including having the town more to yourself once the tour buses leave. As such, we wanted to provide a few suggestions for where you could spend a night (or more!) in Besalu itself.
As always, our suggestion is to check reviews, availability and pricing on booking.com, which we usually find to be the best place to book accommodation for travel in Europe. See all their Besalú listings here.
Tours to Besalu
There are a number of tours that include Besalu, with departures from both Girona and Barcelona.
The majority of these tours are full day trips, which include Besalu as part of a larger itinerary, visiting a number of attractions in the area. Here are some recommendations.
Tours from Barcelona
Tours from Girona
This tour from Girona includes hiking within the La Garrotxa Volcanic Park, a packed lunch, a waterfall, and visits to the towns of Santa Pau and Banyoles.
This small group tour from Girona includes stops in Castellfollit de la Roca, Besalú, and Banyoles
Between these choices we're sure you'll find the right tour for you.
Things to do in Besalu Spain
Besalu is a designated National Historical-Artistic Site due to its historical town center, and as you would imagine, there is a fair bit to do in the town center to keep you occupied for a least a couple of hours – if not more!
1. Visit the tourist office
We recommend you start your visit to Besalu by dropping in at the tourist office. This is right next to the car park, and also where most bus tours drop their visitors. You can pick up maps here, as well as book tours of the town and any highlights you want to see.
2. The Medieval Bridge
One of the major highlights of Besalu, and generally the first sight you'll encounter when visiting Besalu, is the stunning medieval bridge across the River Fluvia which leads into the old town.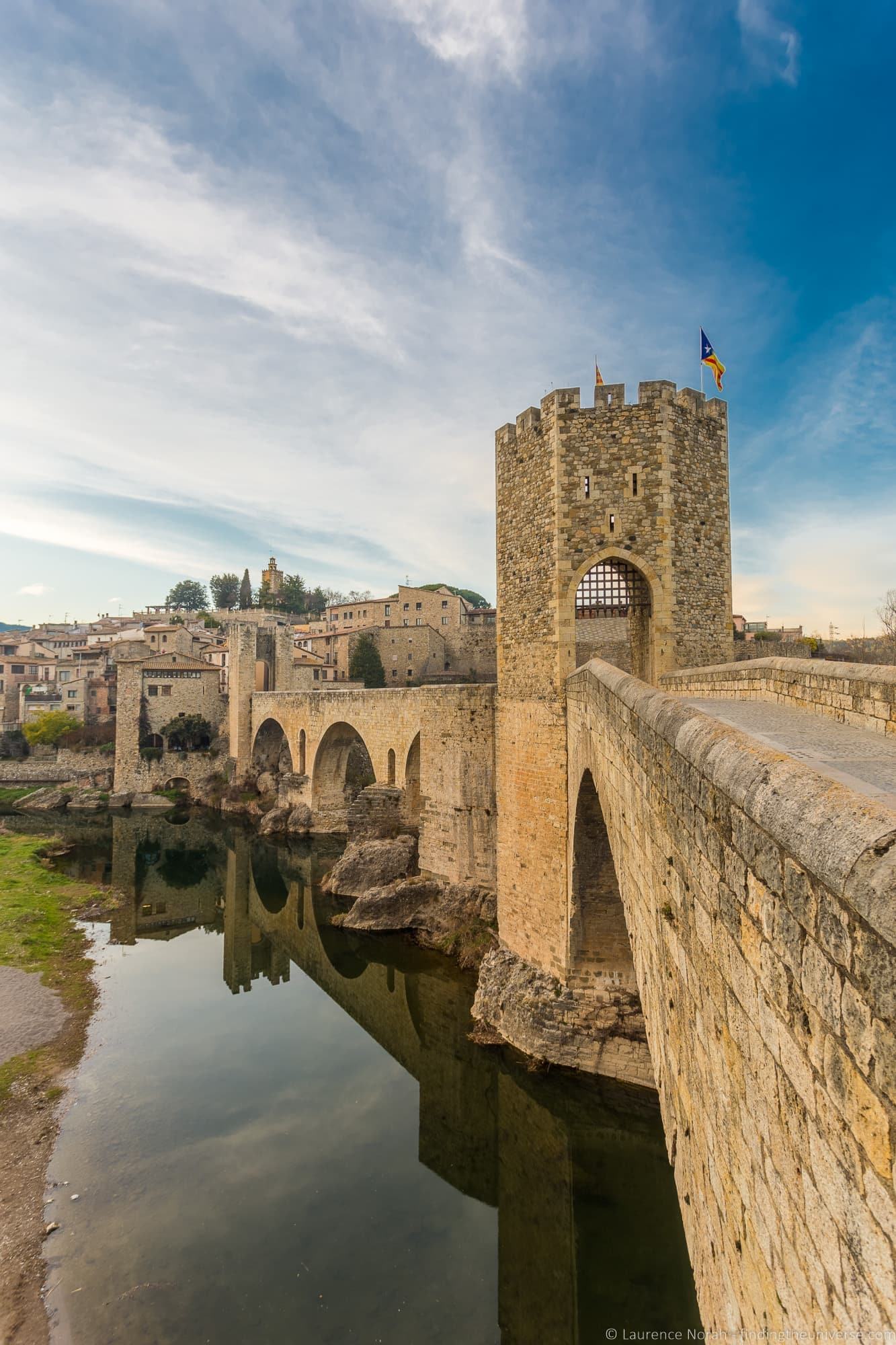 Pont Vell, which literally means "old bridge", was built in the 12th century in the Romanesque style, and is today generally the most recognisably symbol of the town. It has seven arches, two towers, and even has a bend in the middle. It's magnificently photogenic, and is good to photograph both from the bridge itself, and also down by the river.
3. The Monastery of Sant Pere
Whilst most of the monastery of Sant Pere is long gone, the church that belonged to the monastery is still here. The monastery, which was for the Benedictine order, was founded in 977, but the majority of the church building dates from the 11th century.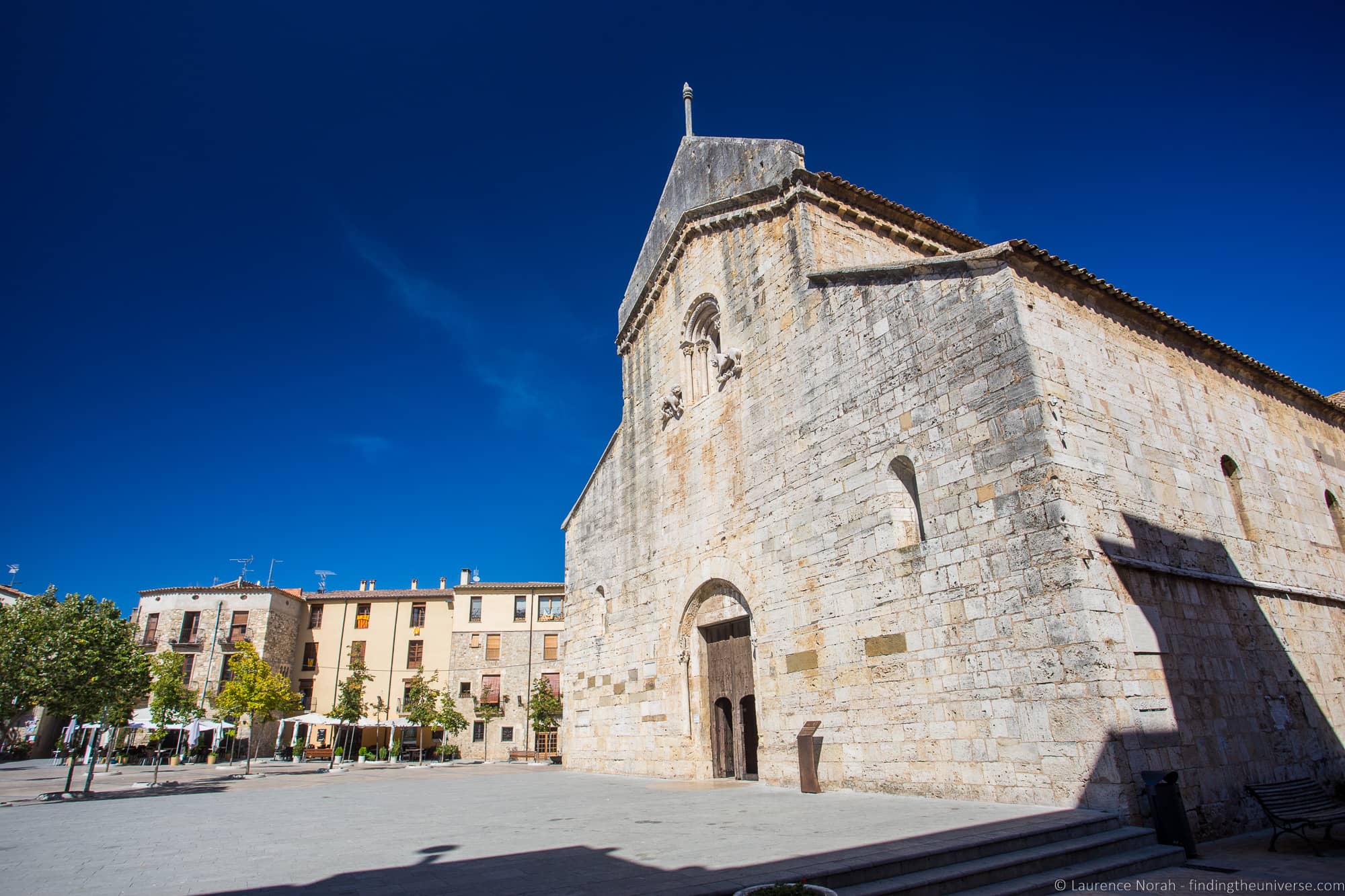 The church is quite large, with three naves and a large central apse, with various decorative features including plant motifs. The church itself was built in the style of a basilica. It's free to visit, and sits in the middle of a Sant Pere square.
The square is also home to Casa Comella, which is believed to be one of the best conserved Romanesque civil buildings in Catalonia. Around the square you will also find a number of cafes and restaurants.
4. The Church of Sant Vicente de Besalú
There are more churches to visit of course, with a popular church being the Church of Sant Vicente de Besalú.
This is the parish church of Besalu, and it dates back to around 977. It's in the Romanesque style, with some gothic elements, and is very impressive to behold. Of particular note is the rose window, which is quite stunning when the light runs through it.
5. Visit the Jewish Baths & Synagogue
Besalu has an important Jewish heritage, and Jewish people are believed to have settled here as early as the 9th century. As a result, there are a number of interesting sites of Jewish history here, with one of the most important discoveries being the 12th century Jewish baths, or Mikveh.
These can be found near to the medieval bridge as you enter the town. The baths were discovered during excavations in 1964. Today this well preserved underground enclosure is open to visitors, and a must for your visit to Besalu.
For those with a special interest, you might want to arrange a guided tour with the tourist office in advance of your visit. These do run in English as well as Spanish and Catalan, however English tours are only offered in the busier season, which generally starts from April.
A private tour is also available that covers the Jewish history and locations in both Girona and Besalu.
6. Visit the Hospital of Sant Julià
This 12th century "hospital" (actually a traveller's hostel) is believed to have been built by the counts of Besalu, and used as a resting place for visiting pilgrims. It would likely have been staffed by monks of the monastery of Sant Pere.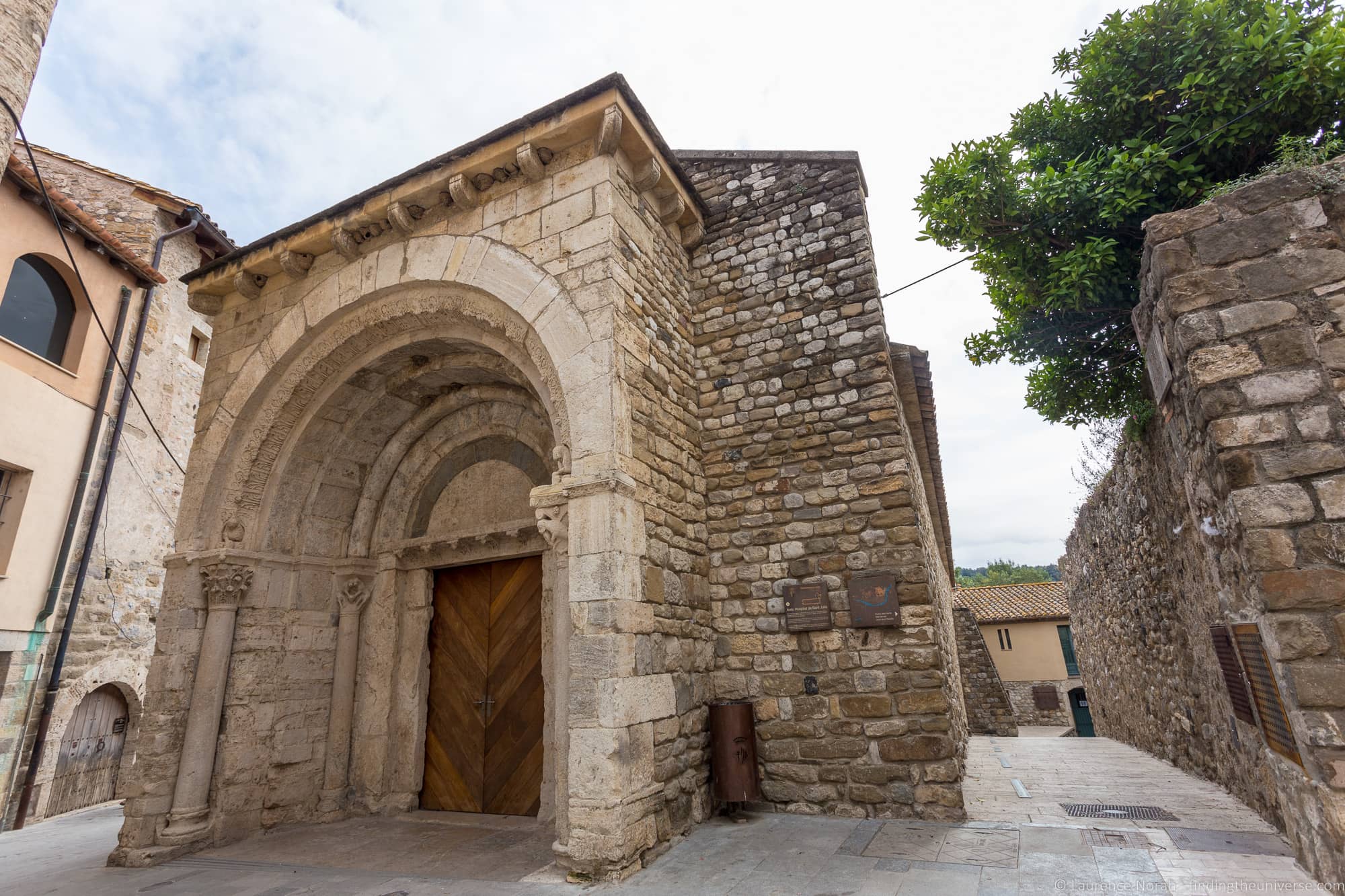 Whilst there is a complete building here, only the facade is original, but it's a very pretty facade, so is worth a visit.
7. Ride the Small Train
Whilst Besalu is not very big, and easy to explore on foot, you can also take the small tourist train to get around. This departs from the free car park by the tourist office, and stops at the major highlights of the town, on a tour that takes around 45 minutes.
There's a small fee to ride the train, it's around 6 euros, and you can get tickets at the tourist office on arrival, or buy in advance before you visit here.
8. Go to the Besalu Miniature Museum
If you're looking for something a bit different, check out the Besalu miniature museum. This is a first of its kind museum in Catalonia, and it has a full collection of miniature displays, from a 14th century pharmacy shop to a 20th century hairdressing salon.
You experience the exhibits through magnifying glasses, as some of them are really tiny, which lets you see the details of each exhibit and the work that has gone into each piece.
9. Attend A Festival
Like many towns and cities throughout Catalonia, Besalu has a number of festivals through the year, celebrating different events and happenings. Some of the more popular festivals are as follows:
Jewish Festival (March)
The Medieval Festival (September)
Ratafia Fair (November)
There's also a big procession to mark Palm Friday. Dating back to the 18th century, the procession of Besalú alternates images with live biblical figures. Jesus and the Apostles. There is also singing of traditional hymns.
10. Souvenir Shopping
Besalú has a wide range of excellent souvenir shops, which make a point of selling locally crafted goods making it a great place to pick up something to remember your trip by, or for gifts to take home.
Even if you don't buy anything, we encourage you to have a look at the beautiful pottery, or woven baskets, as well as many other products, including the locally made ratafia (a herbal liquor).
Further Reading
We've visited Besalu a number of times as part of our trips to the Catalonia region of Spain. As a result, we've put together a number of guides to visiting this lovely part of the world, which we think you will find useful.
And that's it for our guide to visiting Besalu, Spain! We hope you found it useful. As always, if you have any questions or feedback, do let us know in the comments below!