I am quite excited because the title rhymes. Most things that rhyme are pretty good, right? Apart from that, you probably don't have the faintest idea where the heck Besalú is, but guess what: that already makes you smarter than me, because I had in fact been there two years ago and the name still didn't ring a bell when we went back this summer.
'What a memorable place this Besalú must be!', you might be thinking to yourselves now, unaware of my incompetence when it comes to remembering names. Also, when I say that I had already been there, I by that mean: arrived, jumped out of the bus, had half an hour to take pictures of a bridge, jumped back on the bus, off we went.
It is quite the impressive bridge, admittedly, but my disability to remember the name of a place is not tied to the impressiveness of its sights. It's fair like that, I suppose.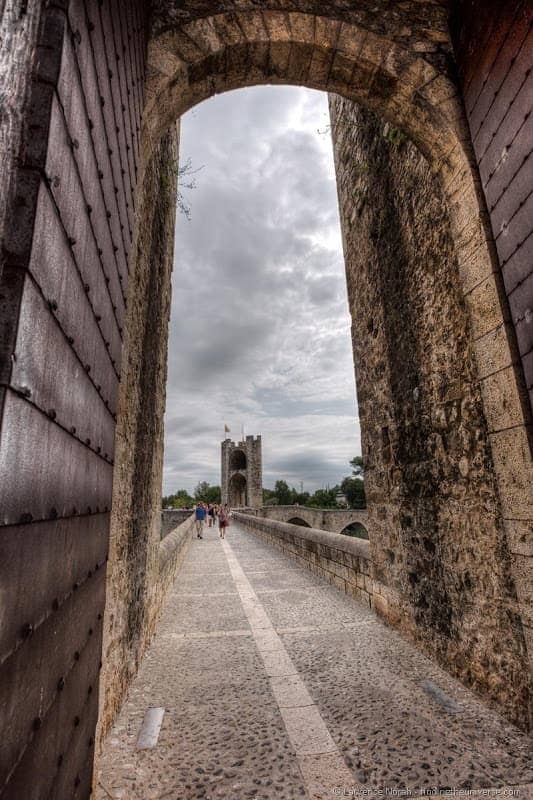 So, Besalú. Besalú is a town in Catalonia, Spain. It is part of the beautiful Costa Brava Region and situated 25km away from Figueres and 30km away from Girona. It's a designated National Historical-Artistic Site due to its medieval-ness (which is not a real word, kids!) and quite frankly, if you're only coming to look at the bridge, you're missing out!
Here's a little guide with just a few things that you could consider when visiting Besalú in Spain.
Go to the tourist office
…and let the lovely ladies there explain it all to you. Hope you enjoyed the post, bye!
…Okay, maybe not. But I'm making a valid point: when you arrive in Besalú, there is a free parking lot, with free toilets, and a tourist information. I just popped in and found some free information and a free map of the town that had all the sights marked on it, plus a bit of a historical background on the most important ones. It also has the addresses of the restaurants, bars and hotels on it.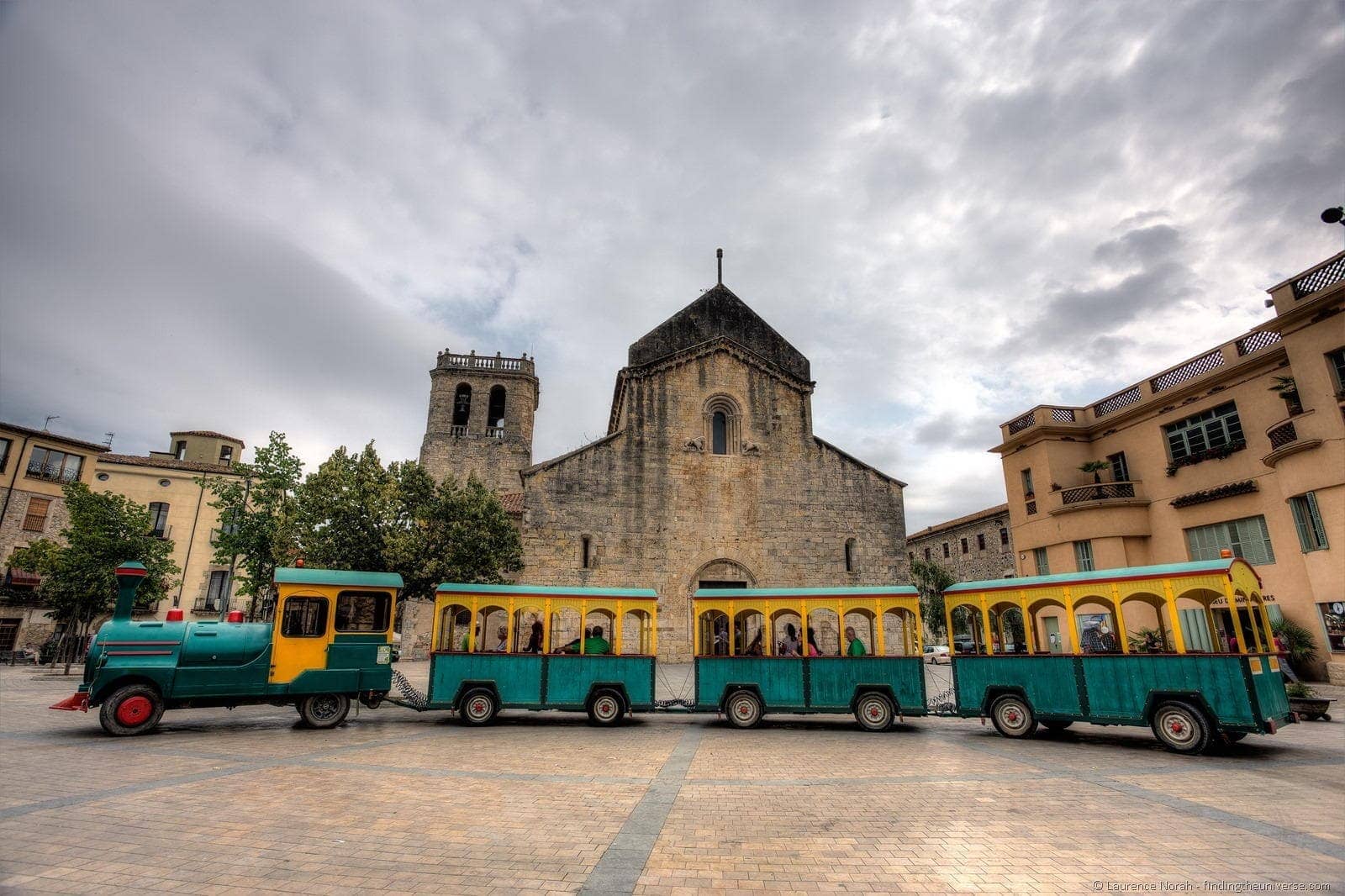 Don't be afraid
Besalú is not a sight-seeing chore. It's too tiny for that. It has just under 2500 inhabitants, and unless you want to meet them all, you do not need a lot of time to get a good impression of the town and its sights. Which is very relaxing and makes it fun to wander around, explore and get a bit lost in the cobble-stoned alley-ways. Speaking of which: don't wear heels. Because: cobble-stone. Cobble-stone aaaall over.
Stay longer
So while you could see most of the town in around 2-3 hours, be prepared to experience reluctance when thinking of leaving again. But who says you need to? You can have a nice meal in one of the restaurants, or a cuppa with a treat in a café on one of the squares. You could walk along the river banks a bit, or hike up one of the hills in the surrounding area.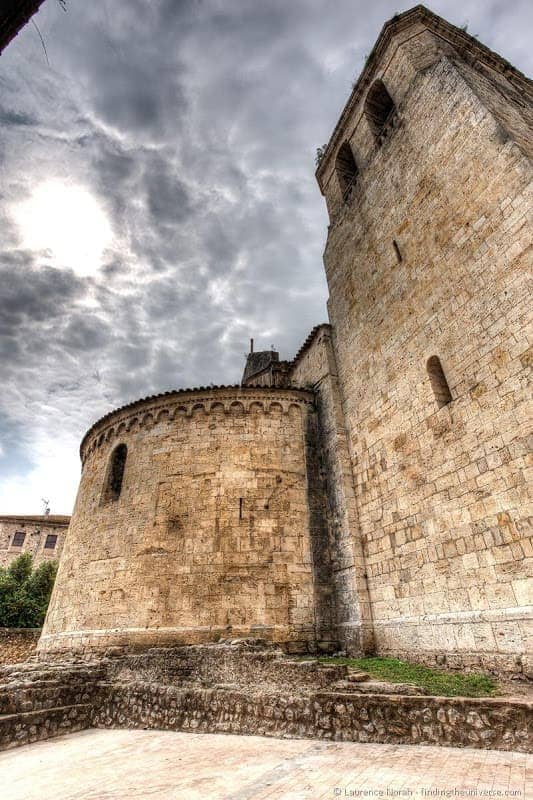 Or you might decide that walking around Besalú has sparked an interest and book a guided tour at the tourism office. One of these will also give you access to buildings you can't otherwise enter. And if you like quirky things: there is a miniature museum which seems to be quite popular!
Get yourself a souvenir
Wow, this is something I don't say very often! It's because most of the time when I eye that little trinket that might be suitable to remind me of a really nice holiday, it says "Made in China" on the back – and I am usually nowhere near China.
Well, Besalú is refreshingly different: the souvenir shops here make a point of selling only locally crafted goods. Even if you don't buy anything, I encourage you to have a look at the beautiful pottery, or woven baskets, or – well, you'll see! Culinary souvenirs are also available, with a special mention going to the locally made Ratafia (a  herbal liquor).
Take in the most important sights of Besalú
Ah yes, the sights! One you already know: the old bridge, which dates from the 11th century. It has seven arches of which the pillars were built on the existing river rocks. Since river rocks don't really think about being bases for bridges much, the arches are in a bit of a zig-zag. And it has towers on it and little bays! This is your path into the heart of the town, and, unlike the travellers from the middle ages, you do not even have to pay a toll.
Besalú is also important due to its Jewish heritage. In the Jewish quarter, you'll find the remains of a synagogue from 1264; the Jewish gate, through which the Jewish population had to leave and enter the town, and, most significant, a mikwah. This is an underground hall with a ritual cleansing pool. It is one of only two of that period in Spain, and one of few in the whole of Europe. To visit it, get a ticket at the tourist office.
If you are interested in that sort of thing, Besalú might be worth some research. The Jewish community was originally well perceived and lived together with the Christian community. At the end of the 14th century however, the persecution started, and documents state that by 1436 there were no Jews left in Besalú.
Then there is the monastery of Sant Pere, of which only the church remains. It's quite an imposing building, and was inaugurated in the year 1003.
As Besalú used to be a Christian pilgrimage destination, there were several hospitals to accommodate pilgrims, of which one is left: the hospital of Sant Julià. You can admire the outer facade from the 12th century, which is quite extraordinary indeed.
These are the highlights, but there are still some more sights, all medievaly (which, again, is also not a real word).
The most important thing is that I have now talked about Besalú so much that I won't forget the name anymore. At least that's what I hope…
I also hope you get to visit one day, because it's a really nice spot in the world. If you're headed to the Costa Brava, and you'd like to stay in a nice villa – like this one, with a pool and a Jacuzzi: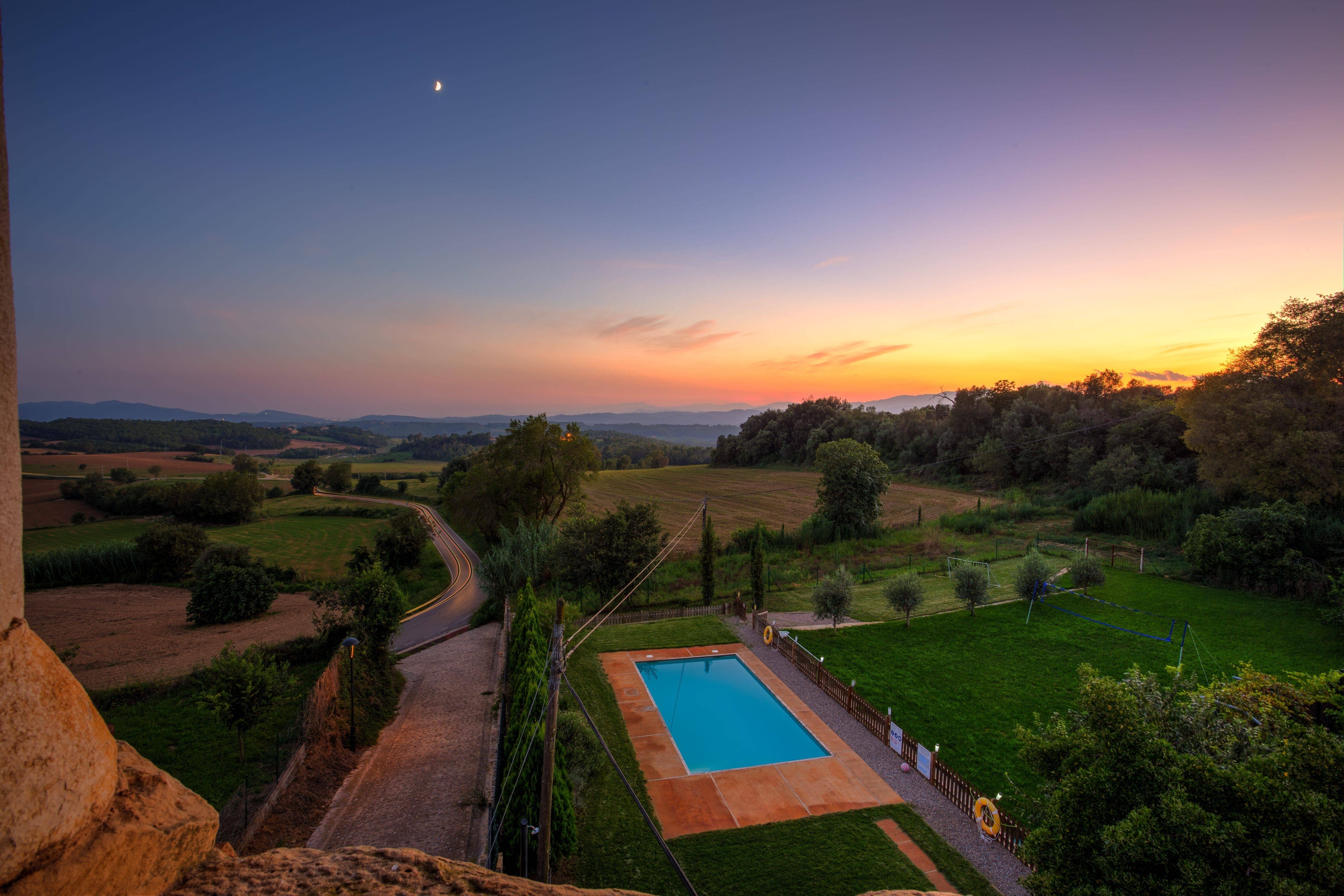 then check out Loz's post about How to stay in a villa for less than the price of a hostel. Said villas are rented out by Naturaki, the guys we recently stayed with. They are the ones who invited us to Costa Brava and took us around the area a bit – thank you, Carme, Narcis & Co!
As to you, all enlightened how you don't just take a picture of the bridge and head off again when you come to Besalú: thanks for reading, stay awesome, and see you some time soon!