We've had the privilege of visiting Barcelona a number of times, and on each visit we see a whole host of wonderful sights. But what if you don't have the luxury of multiple days in the city? What if you're just passing through, and only have a day in Barcelona?
Well, fear not. We think you can squeeze a lot of adventure and sightseeing into one day, from magic fountains to spectacular churches.
In this post, we've put together a recommended itinerary for a day in Barcelona, and included some information on transport options.
Then, at the end of the post we have a couple of extra stop-offs for those of you who really want to fill their day up, as well as some tips and ideas for getting the most out of your day. Let's get started!
A Day in Barcelona – Detailed Itinerary
1. Placa de Catalunya
The Placa de Catalunya is slap bang in the middle of Barcelona, and a good place to start your day. The main Barcelona Tourism office is situated here, and you can prepare by stocking up on maps, leaflets, and information. It's also where a number of transport options converge. Sorted? When you're all ready, it's time to take your:
Transport to the next stop (Casa Batlló)
Five minutes to walk the 400m up the Passeig de Gracia to the Casa Batlló, which will be on your left.
2. Casa Batlló.
Visiting Barcelona is inevitably going to result in you seeing some of the masterpieces that Anton Gaudi left scattered around the city. And this is the case with the Casa Batlló, one of his more famous houses, and one which is entirely open to the public for viewing.
Like many of the tourist attractions in Barcelona, there's an entry fee, and you can book your tickets online here to save time.
You will be issued with an audio guide to take you around the rooms, which explains all the highlights of the building, as well as the history behind its' construction.
I've put this as the first stop in the tour as it is a very popular spot, and can only accommodate so many people at a time.
Once you've explored as much as you can, and boggled at the dragon like roof, head on out into the sunshine, and decide how you want to get to the next stop on your tour, arguably Barcelona's most famous attraction: the Sagrada Familia.
Transport to next stop (Sagrada Familia)
Option 1 – 20 minute walk of 1.7km along Carrer d'Aragó, turning left at Avinguda Diagonal onto Carrer de Sardenya
Option 2 – Public transport, 15 minutes. Walk back towards Placa de Catalunya, take metro line L2 towards Badalona Pompeu Fabra for three stops, and disembark at Sagrada Familia stop.
3. Sagrada Familia
I do not believe that the opportunity to see one of the most spectacular buildings in the world should be passed up, so any itinerary I suggest for Barcelona is going to include this fantastic building.
In fact, if you don't see anything else, just visit this building. It doesn't even matter if you aren't a church type, or have been around every church in the world already – nothing is going to prepare you for the interior of Gaudi's magnum opus. Apart from this picture of course.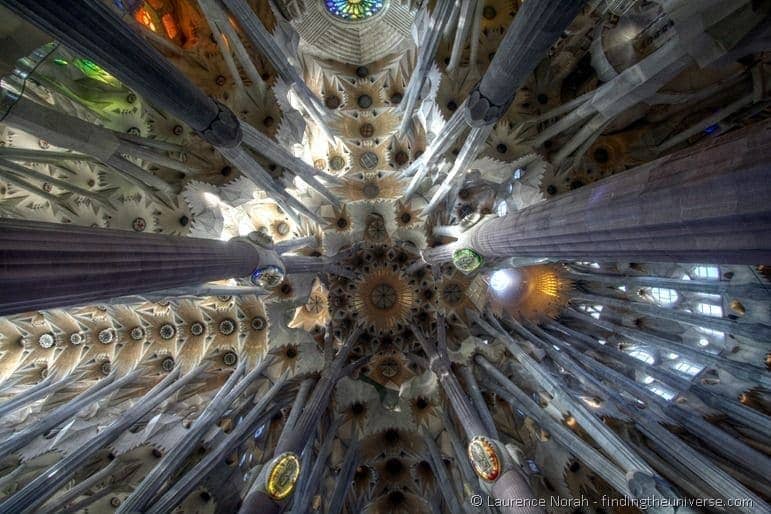 Entry isn't cheap, but the good news is that you are contributing to a bit of actual history here, as your funds go towards the on-going construction of this incredible building.
It's also a massively popular destination, but for good reason, so don't be tempted to skip it. You'll barely notice the crowds anyway, as you gaze upwards at a forest of coral trees.
Note that due to the crowds, the Sagrada Familia operates a timed entry system, which means you need to buy tickets for a specific time slot. We highly recommend you do this online in advance of your visit, as it's unlikely you'll be able to turn up and get the time slot you want.
For full details on visiting the Sagrada Familia, see our complete Sagrada Familia guide, which has everything you need to know including ticket times and tips for photography. You can buy tickets online here which include an audioguide.
Transport to next stop (Urquinanoa, Gothic Quarter)
Option 1 – 30 minute walk of 2.4km. Walk southwest along Carrer de Mallorca, turn left onto Carrer del Bruc and keep going until the streets narrow.
Option 2 – Public transport, 11 minutes. Walk southwest along Carrer de Provença around 400m. Take metro line L4 at Verdaguer for 3 stops, direction La Pau, and disembark at Urquinanoa.
4. Gothic quarter (and lunch!)
Now, I've allocated you three and a half hours in the gothic quarter. Sounds like a lot, right? Well, to me, this is one of the best parts of Barcelona, and worth taking the time to explore. Nearly entirely pedestrianized, this quarter is just one crazy mess of tiny winding streets, stuffed full of history and opportunities for aimless wandering.
There is lots to see, from the world heritage listed Palau de la Musica, to the spectacular gothic cathedral, to the Picasso Museum. You could literally spend days wandering in this maze – and you just might if you lose your bearings.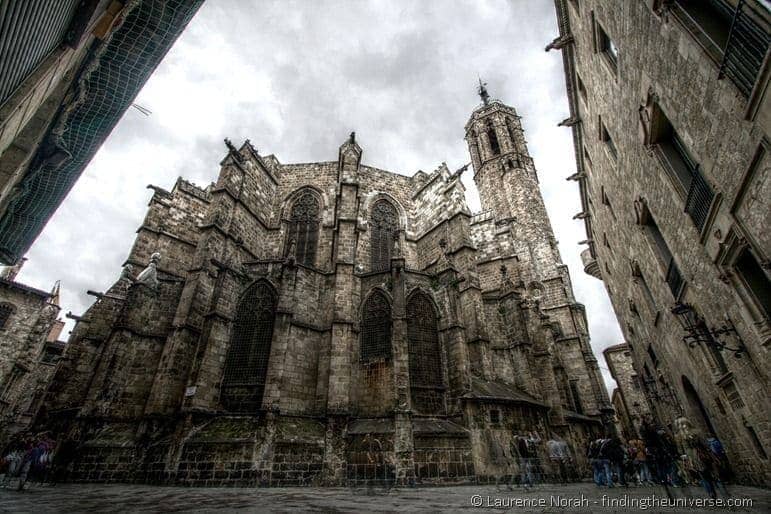 This is also a place stuffed full of eateries. I'd recommend finding an attractive looking menu of the day and gorging yourself silly.
Then spend time indulging your inner tourist up and down the street known as La Rambla (Barcelona's most touristy street, and for good reason), and exploring the Mercat de la Boqueria – Barcelona's most famous market.
When you're sated, head along to the Liceu metro stop on Las Ramblas which is where you'll find the…
Transport to next stop (Castell Montjuic, Gothic Quarter)

Option 1 – 40 minutes walk of 3.2km. Up a hill. If you're still keen on walking, then head down La Rambla towards the ocean, and turn right onto Carrer Nou de la Rambla. Turn left for a block onto Avinduda del Paral-lel (feel free to hop on the cable car about now), then right onto Carrer de Cabanes and then follow the windy road up the hill until you get to the castle at the top. Well done, you deserve an ice cream.
Option 2 – Public transport, 20 – 30 minutes. From the Liceu take line L3 to stop Paral-lel (diretion Zona Universitària, two stops). From here, you take the funicular (line FM) which goes one stop to the start of the cable car, and then take the cable car up to Castell Montjuic. You can get your cable car tickets online in advance here.
5. Castell Montjuic and Grounds
If you still have time in your day, then I can recommend heading up above the city and finishing your day in Barcelona with a bit of time in the Castle Montjuic and surrounding gardens, followed by a visit to the Magic Fountain. Yes, Barcelona has a magic fountain. How can you not love this city?
Castell Montjuic is perched 180 metres above the city, and will give you a great evening view as the sun starts to lower herself down.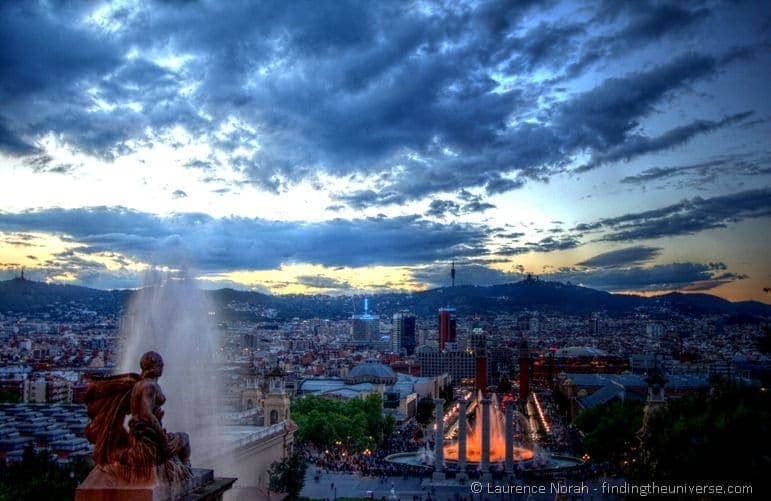 After you've sated your castle and city viewing needs, then I can really recommend timing your visit around Barcelona to take in the magic fountain display, and watch the sun set across the city from the steps of the Palau National.
This is either a 20 minute walk from the Castell Montjuic, through a variety of pretty gardens, or a 20 minute bus ride on the 193 bus. Not a bad way to end your day in Barcelona!
Check here for opening times for the Castle Montjuic for your visit, and here for information as to when the Magic Fountain is doing a display.
If you get your timings right you will finish your evening off in style, with the streets of Barcelona below ready to envelop you in an evening of food, music, and good times!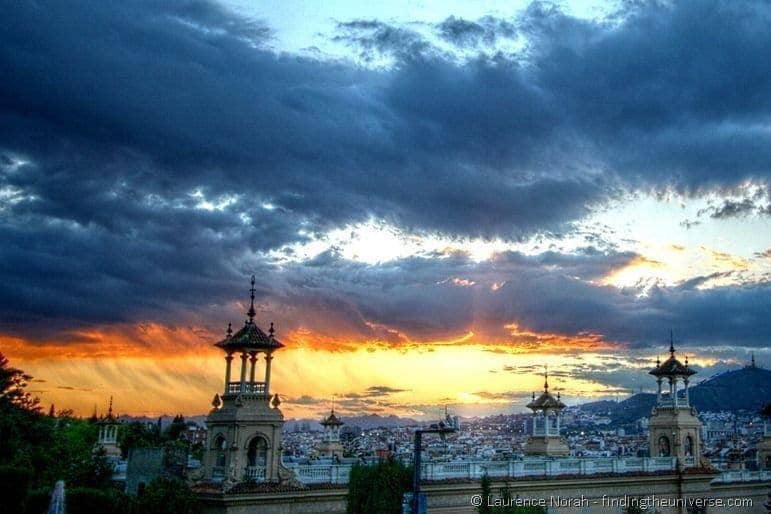 Some optional extras for your day in Barcelona:
If you feel you want to squeeze even more into your day, here are a few optional trips you could do on your day in Barcelona.
Park Guell – This is a big garden complex slightly north of central Barcelona, originally planned as a garden housing development. Only two of the sixty houses were actually built, but the park itself is a remarkable showcase of Gaudi's talents and ideas. It's worth a visit, but it is likely to be very crowded. It also offers splendid views across Barcelona. It's not that central though, so would be a bit of a detour.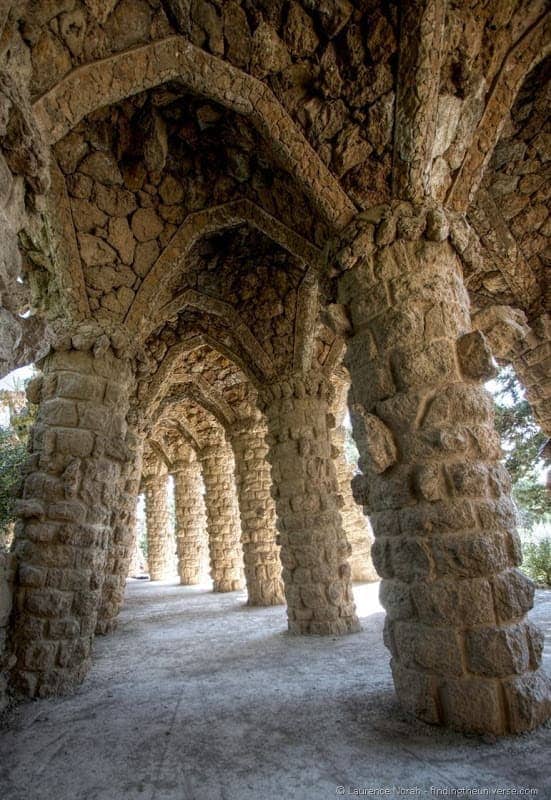 If you wanted to add this onto the route, the optimal way would be to go after visiting Casa Battlo, via subway line L3 to stop Vallcarca. Alternatively, if you are using the hop-on hop-off bus, it's the next stop from the Sagrada Familia. You can book tickets for Parc Guell here.
Casa Milà – Also known as La Pedrera, this is another famous Gaudi designed house. It's only a short walk from Casa Batlló to La Pedrera, so you could do this as an alternative if you wished, although less of the building is open to the public. It's worth taking a look at the exterior at least, which is free to gawp at. If you want to go inside, you can book tickets here.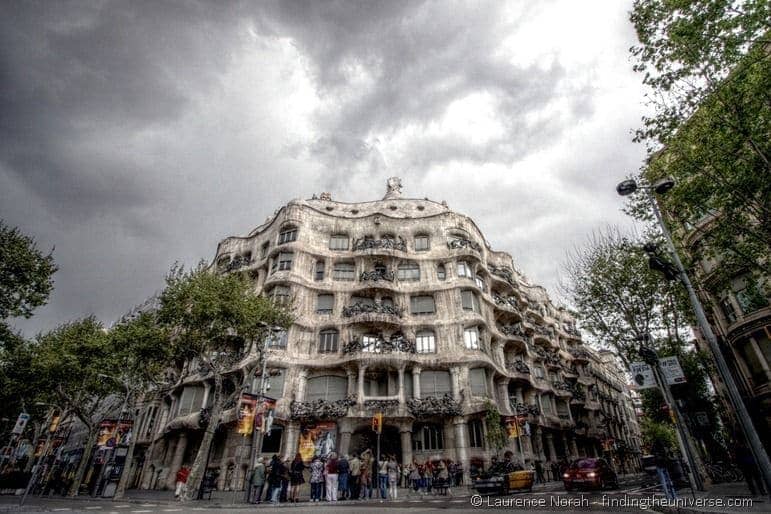 Tips for your 1 day in Barcelona
My route above includes the option of using the metro. Pick up a one zone day pass at the start of your day and you'll be able to take any transport option in Barcelona for the duration of your stay. If you are in the city for a little longer, consider a Hola BCN travel card.
If navigating the metro or walking seem like a bit too much, then the hop on hop off bus is a great option. You will be whisked in fine style between every important sight in Barcelona, with commentary to boot. If you choose this option, we recommend the Barcelona City Pass, which includes this, as well as entry to some of the cities main sights.
Barcelona is notorious for pick pockets. Keep your belongings secure and locked up. Pay particular attention in busy tourist areas, and on public transport.
Barcelona is a popular destination, and is likely to be busy year round. Take a look at my tips for surviving a European city in summer for some ideas as to how to stay sane.
Barcelona is in the Catalan region of Spain, which has its own language as well as Spanish. This will explain the signs in a language you don't understand.
Food is remarkably cheap compared to many other European countries. Aim for a weekday lunch deal, where you should be able to score a three course meal, possibly even with drinks and wine, for under €20.
Grab a guide to Barcelona to have something to take with you
A map for 1 Day in Barcelona: Attractions and Route

View Barcelona day itinerary in a larger map
Where to Stay in Barcelona
Finding the best deal on your accommodation is an important part of trip planning – helping you to get the most from your budget, as well as find the property that is right for you.
It's worth bearing in mind that Barcelona is a city which is a little overwhelmed by tourism, and as such, is taking measures to ensure that residents are able to afford to live in the city.
In particular, there has been a crackdown on city centre vacation rental accommodation, as well as a restriction on new hotel builds in the city centre. So we'd advise booking a hotel if you can. We usually find booking.com has the best deals on accommodation when we travel. Check out their Barcelona listings here.
To give you an idea of what's available, here are some options we recommend:
Apartment rentals through sites like Plum Guide are also available. One thing to be aware of is that in Barcelona these need to be registered with the city. When they are registered they will be issued a license number. If you want to stay in an apartment rental in Barcelona, then we recommend picking one which has the license number on the listing.
If you would prefer to stay in an in apartment in Barcelona, then we recommend Plum Guide.
Plum Guide carefully curate their listings so their options tend to be of a very high quality whilst still being available at a range of price points. We've stayed at a number of their properties around the world, and you can see our review of the Plum Guide here. See their listings for Barcelona here.
If you can't find what you want from the above choices, or you want some new options to try out, we wrote a whole post on the best alternatives to AirBnB which you should check out!
How to Save Money on Your Barcelona Visit
There are three main options for saving money in Barcelona that I'll quickly cover here.
The Barcelona Card
First, the Barcelona Card. This is the official city card from the Barcelona Tourist Office, which is available in a standard version, and an express version.
The normal version can be purchased for 3, 4 or 5 consecutive days, whilst the Express version is valid for two days. The normal version includes free access to a range of attractions, as well as discounted admission to a number of other attractions. It also includes free public transport.
For a one day Barcelona itinerary such as that described in this post, the Barcelona Card is unlikely to be worth it, however you may consider investing in the Express version.
The Express version comes with free transport for two days, as well as a range of discounted admission, but doesn't include free entry. However, it is very competitively priced.
The Go Barcelona Pass
The Go Barcelona Pass is from the same people who make the London Pass that we love. It is more expensive than the Barcelona Card, however it includes free entry to a number of attractions on our one day itinerary including Casa Batlló and the Sagrada Familia.
It also comes with:
If you are planning on visiting the attractions covered by the Go Barcelona Pass, it can quickly save you money.
Jess has written a comprehensive review and guide to using the Go Barcelona Pass to help you decide if it is a good fit for your trip to Barcelona.
Note: In 2020 the Barcelona Pass rebranded to the Go Barcelona Pass. This is now a virtual product only – there is no physical pass option. The products included are the same, but the name and branding changed. Our photos are of the older product, from when it was available as a physical pass.
The Barcelona City Pass
A newer pass card, the Barcelona City Pass focuses on convenience, and covering the attractions that most visitors really want to visit. It includes entry to the Sagrada Familia and Park Guell, transfer from the airport, hop-on hop-off bus and 10% discount on all the other attractions in the city, including the Casa Batllo.
It also lets you book your timed entrance for both the Sagrada Familia and Park Guell, which is something you are absolutely going to want to do before you visit to be sure you aren't disappointed when you arrive.
For a day in Barcelona, we think the Barcelona City Pass is a good option. However, do note that at the time of writing, this only includes free entry for the Sagrada Familia after 2pm. If you want to visit the Sagrada Familia before this, you will be better off picking up individual tickets for each attraction.
Which discount card should you get for Barcelona?
Despite the fact that the Go Barcelona Pass has a minimum duration of two days, the price is still very reasonable for what you get compared to other options on the market. It includes a Hop on Hop off bus to get you round as well as entry to Casa Batllo, a guided tour of the Sagrada Familia and Parc Guell (plus 40 other attractions!).
For a day in Barcelona, another option is the Barcelona City Pass. This includes your entry to the Sagrada Familia and Park Guell, as well as a Hop on Hop off bus. This will get you around all the attractions we've listed, and save you from having to navigate the public transport system.
Honestly though, for only one day the cost savings on both of these passes are unlikely to be very great compared to buying individual tickets for each attraction.
However, if you're staying for two or more days, then one of these passes is very likely to save you money if you plan on visiting a number of the attractions included on them. See our detailed comparison of all the Barcelona discount passes for more information on which might be best for you.
Walking Tours of Barcelona
We love taking walking tours when we visit a city. It's a great way to learn a lot about its history, culture and people, as well as get tips on what to see and where to eat.
There are a number of walking tour companies offering tours in the city. If you pick up one of the aforementioned passes, some of these include a walking tour, so definitely take advantage of that.
Otherwise, we usually recommend walking tour company Take Walks. We've taken tours with them in cities around the world, and enjoy the small groups and knowledgeable guides. They offer a number of tours in Barcelona, some of which we've included below along with other suggestions.
Obviously, if you decide to take a walking tour it will affect this itinerary. So it's up to you how you want to spend your day. We just wanted to give you the option so you can make your own decision as to what works for you.
Naturally, there are also many other walking tours to choose from. See this selection on GetYourGuide and these options on Viator for more ideas.
Further Reading For Your Day In Barcelona
There's a lot of information out there about visiting Barcelona – some we've written ourselves, plus some external resources. Below you'll find some of the best of that content to help make the most of your trip to Barcelona.
And that's it for our guide to spending a day in Barcelona! I'd love your thoughts and feedback as to what I'd put in, left out, or anything at all! Hit up the comments below and share your feelings with the world!