This is my third post on Angoulême! Who would have thought one French town could hold so much appeal? Admittedly, Angoulême cheated slightly, by seducing me with awesome street art. That's a good way for any city to get my attention, and more than one post. See Berlin's street art for example.
So I have now thoroughly covered the paintings on the walls of Angouleme in this post and this post.
There is, I am pleased to tell you, more to Angouleme than just great street art. Although, if you ask me, that's enough to make a city worth a visit anyway.
Angoulême is the capital of France's Charente department, in the Poitou-Charentes region. Charente is also notable for being home to the town of Cognac, for the drinkers amongst you.
The Charente department is named for the river Charente, above which the main centre of the town of Angoulême perches. The rocky outcrop upon which the old town sits was, back in the day, splendidly defendable, and this is a town which has seen its fair share of sieges and plunders, with a history of invasions dating back to the 5th century.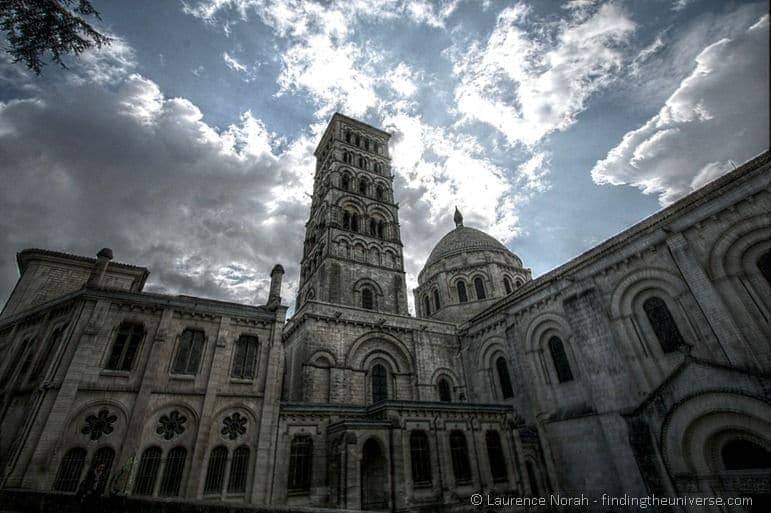 These days the fortifications that surrounded the old town have been turned into boulevards which sit upon the old city walls, and afford the visitor a rather jolly set of views across the valley surrounding. A valley which is, admittedly, rather full of industry, but still. The thought is there.
The old centre of Angoulême is rather more interesting than its surrounding industrial area, being home as it is to a fine pedestrianised and cobbled town centre, which is just stuffed full of restaurants and quirky little streets to explore.
It also has its fair share of interesting looking buildings, including a fine cathedral (as seen in the photo above), and the "hotel de Ville" (first photo), which incorporates into its design the old chateau of Angoulême.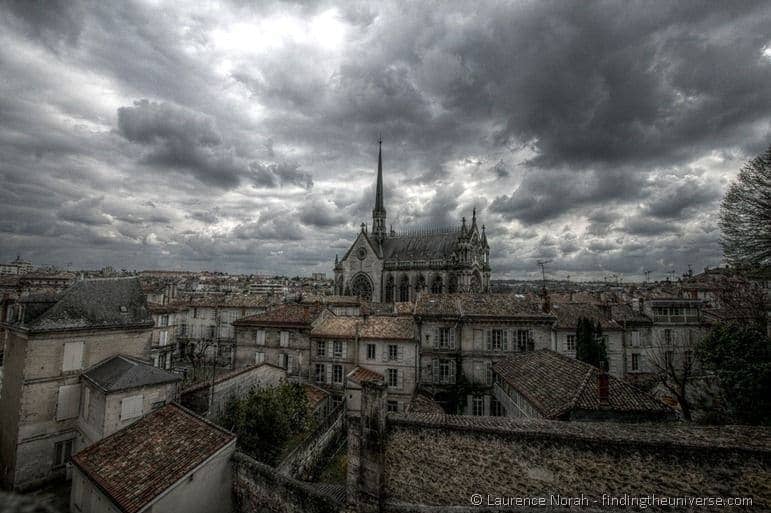 Angoulême is a very vibrant town, made so perhaps by its large student population. There is a really positive buzz in the city centre, with lots of people wandering and plenty to see down the twisty alleys.
When wandering, if you're in the mood, there are a number of museums that could while away a rainy afternoon. These include the Fine Arts and Archaeology Museums, as well as the Paper Museum and Comic Book Museum. The latter sounding more interesting to me, although to be honest, museums have to be pretty damn amazing (or featuring Dali) to get me excited.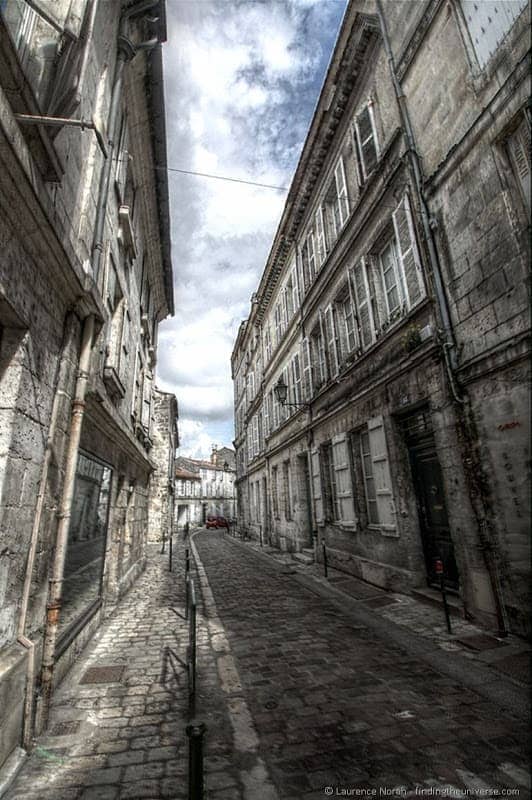 If you're like me, and wandering aimlessly peering at street art or sculptures is more your thing, then you should swing into the tourist office and pick up the map of the notable street art in Angouleme, which will guide you past the main highlights.
If you're more into formalised art with a side of greenery, then there is a lovely park under the ramparts to the west of the city, which features sculptures and fountains. A nice way to round off a bit of exploration.
Finally, Angoulême is also notable for its events and festivals. As well as the yearly international comic book festival, held every January, there is a classic car race which takes place around the roads of Angoulême , held every September since 1939. There are also music, food and animation festivals. Something to suit every taste!
If you're in the area, I can really recommend taking a bit of time out to explore Angoulême. It's a fascinating town with loads to see and do, and no shortage of excellent restaurants to fill up on fine French food!
As always, I'd love your feedback on this post! Is Angoulême somewhere you've been, or somewhere you'd want to visit? Never heard of it before now? Hit up the comments below, and let me know!