We had the pleasure of visiting the Cliffs of Moher as a day trip from Dublin on a recent trip to Ireland. This gave me the opportunity to regularly repeat the following words:
"You killed my father. Prepare to die."
To anyone who would listen. What fun I was to be with.
If you're not familiar with the line, they are a line from a classic book, later made into a classic film. If you've not seen the Princess Bride yet, you really need to add it to your watch list. It's worth it, I promise you.
I've always wanted to somehow include those lines in a post, which made Paddywagon's offer to take us on one of their day trips from Dublin to visit the Cliffs of Moher a no-brainer.
Of course, you don't have to have seen the film to appreciate Ireland's Cliffs of Moher – they are happily spectacular in their own right. But if you have seen the film, then you will also recognise them as the Cliffs of Insanity, which is a supremely epic name for a pile of rock falling up out of the sea, as scaled by both our hero and various protagonists from the aforementioned film.
Anyway, back to the day in question. The Cliffs of Moher are on Ireland's west coast, and are one of Ireland's most visited attractions outside of Dublin. We visited the Cliffs of Moher on a day trip from Dublin which is a good way to see them. It's easy, someone else handles driving the Irish roads, and you get a fair amount of time at the cliffs.
A fair amount of time that is, if you don't happen to meet a man who sends you on a mission to the most scenic point on the Cliffs. I'll get to that.
Visiting the Cliffs of Moher from Dublin on a Day Trip
We were picked up by the Paddywagon bus at 8am in central Dublin, a fairly ungodly hour. It's quite a long way from one side of the Ireland to the other, and we had to do it both ways in one day. The bus did have free wifi, which made up for the fact that the clouds were low and ominous. I wondered if we'd even be seeing any cliffs – and wondered also as to the luck of friends who'd visited only the day before to a rare (for October) sunny day.
Of course, clouds do happen to work well for the kind of photography I like to do, so all was not lost.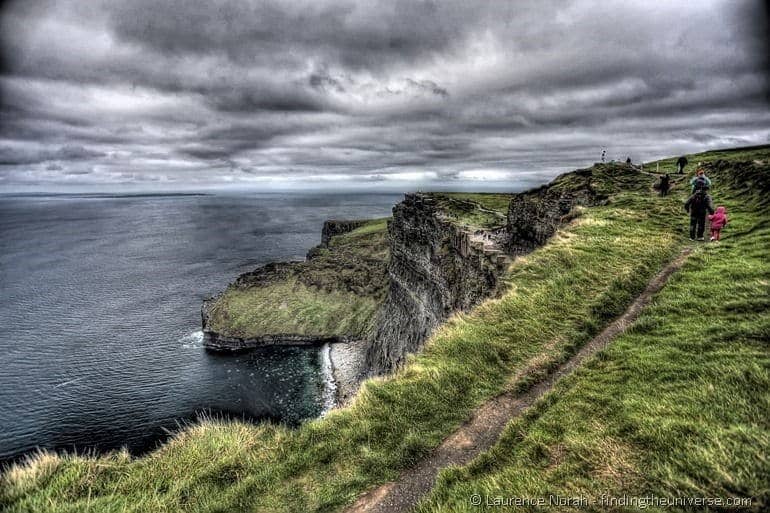 With an odd detour via Limerick, it took us four hours, with bathroom break, to get to the Cliffs. Our driver entertained us on the way, but to be sure, if you're not into prolonged periods of time sitting on a bus, this might not be for you.
Arriving at the Cliffs, we were given ninety minutes to experience them, and offered dire warnings as to the risks before us. To be fair, people fall off these cliffs quite regularly, so the warnings seemed only fair. I pondered if the driver sat in terror for ninety minutes, wondering if this was going to be the journey where he went home with fewer than he had arrived with.
These thoughts were only brief in my mind though, as we walked up the path towards the top of the cliffs. Which, I have to admit, were kind of impressive. Even having seen countless pictures of them, I still wasn't quite prepared for their sheer splendour.
At this point I should point out that I am fairly poor at heights, although I tend to stand near the edge of things anyway, to see how it feels. In this case though, my partner threatened me a fate worse than death if I stood too near the edge, so I resisted the temptation.
Although, looking at the behaviour of my fellow travellers, who all seemed to want to get a shot as close to the edge as possible, it wasn't hard to see why people died up here. One wrong foot, and it's a 200 metre trip straight down onto a fairly unforgiving looking surface.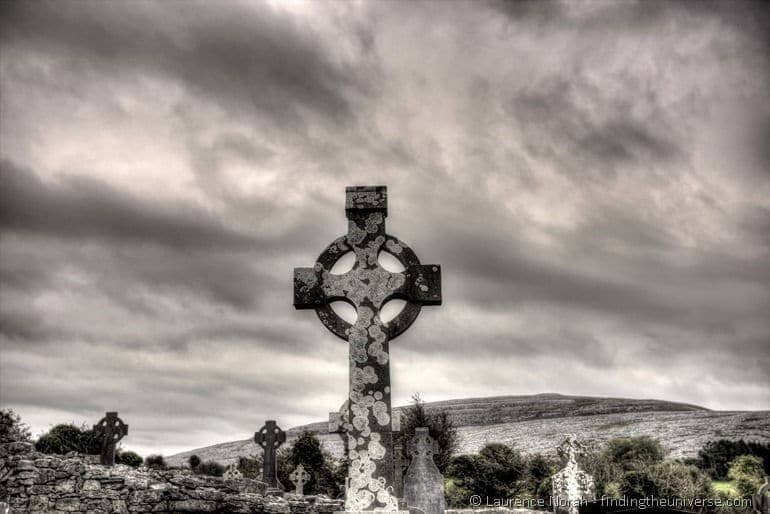 I lugged my tripod around, and tried to get "the shot", which resulted in me dawdling some distance behind Vera, who was trying to ignore me in case I fell off, which she would have to get cross about.
Setting my camera equipment up for the umpteenth time, a chap approached me.
"Do you want to get the best shot?" he asked.
I indicated that yes, perhaps I did.
"Come over here" he said, beckoning me right to the edge of precipice.
I gulped, and looked around, wondering if this was some sort of Irish cliff serial killer, who preyed on gullible photographers looking for "the shot".
"Don't worry, I just need to show you the spot" he reassured me.
"It's ok, it's Roy, he built the walk!" chipped in one of Roy's companions, who was, I noticed, standing a safe distance back from the cliff.
Still, the opportunity to get a great shot overcame me, so I hopped (ok, inched) over to Roy, who was casually standing toe to toe with death on the cliff edge. Calling them the cliffs of insanity seemed apt.
"You see that sign over there?" said Roy, pointing off into the distance at a tiny white sign.
"That's where you want to be. Good luck."
And with that he resumed his cliff top walk with his companions, and left me to my own devices.
I consulted my watch. I had about half an hour left, and the sign looked to be about a kilometre away, and quite a way down. Still, I figured Roy seemed like he knew what he was talking about. He had a Cliffs of Moher rambling badge on and everything.
I threw my tripod over my shoulder, caught up with Vera, and explained the situation. She peered at the distant sign, expressed doubt as to the existence of a path and rather unenthusiastically, trudged after me. At least I wasn't trying to stand near the edge of anything.
After a bit of a scramble, clearly past the most popular part of the walk, and down a hillside that did contain the semblance of a path, we arrived at the sign.
Which, I was rather delighted to discover, did contain a nice view. It looked like this: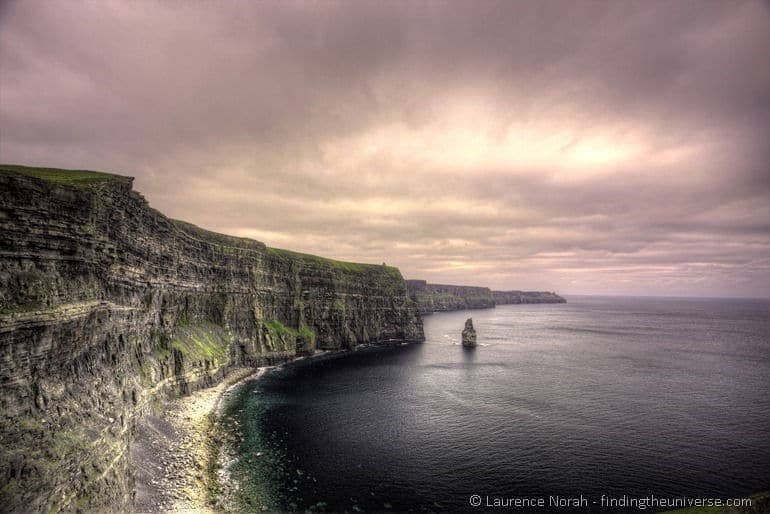 Pleasing clouds? Check? Cliffs happily disappearing away to the horizon? Check. Lack of anyone visible in the shot? Check.
Totally worth the whole day.
Of course, that wasn't the whole day. We legged it back to the bus, because, well, we'd used up quite a lot of our time heading to "the spot". From there we were taken to the tiny town of Doolin where we grabbed some sandwiches, and then we further explored the coastline.
We stopped off at a ruined church and an old castle, both of which were very, well, church and castley. Everything you would hope from a beach side castle and a ruined church.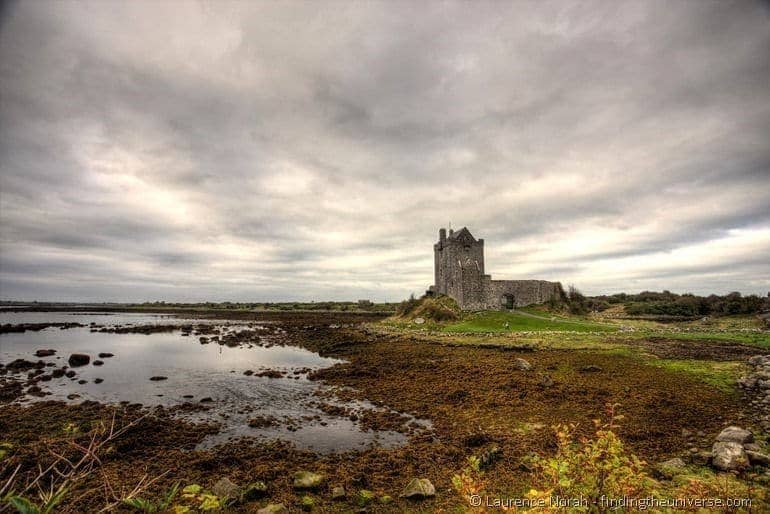 The highlight for me though from the afternoons activities was the limestone landscape of the Burren.
I'm normally averse to describing landscapes as being moon like, as I've not been to the moon, plus I'm sure the moon is fairly cloud free, but the Burren did have a lunar feel. Seemingly endless limestone plateau of nothing stretched out all around, with the "baby" Cliffs of Moher providing the line between land and sea.
Naturally I took a whole bunch more photos.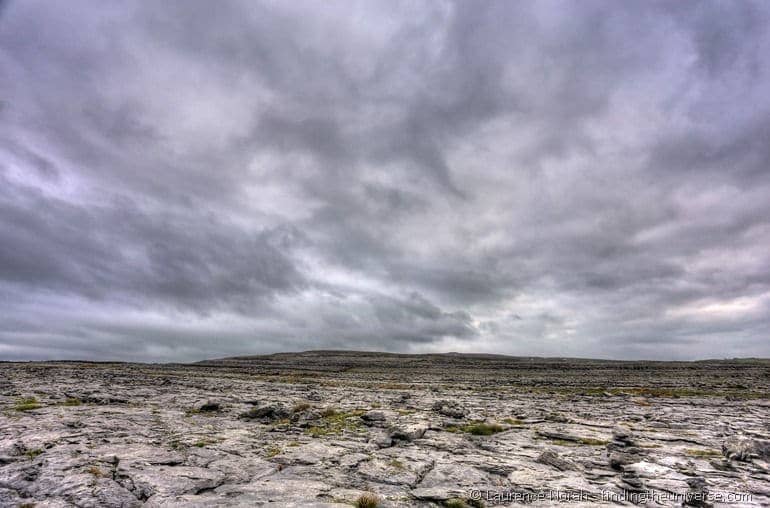 Finally, it was time to head back to Dublin. Like I said, this was a full day, and we didn't get back into Dublin until 9pm. Most slept on the bus as we returned, which after a full day of sight seeing, was a sensible option.
How To Visit the Cliffs of Moher
So would I recommend the Paddywagon tour to the Cliffs of Moher? Well, of course, that depends on you.
For an easy day trip that you don't have to think about, that includes a number of attractions on the West Coast, as well as free on bus wi-fi, then this tour is definitely worth doing. Our driver was friendly and funny, the tour was clearly well organised, and the bus was comfortable, with plenty of added attractions beyond the Cliffs to keep us occupied.
If you prefer more flexibility in your schedule, and the ability to stop and see sights at your leisure, then hiring a car and going at your own speed is likely to work better for you, and you probably weren't considering a bus tour anyway.
The Cliffs of Moher can be visited from Galway, Dublin and other locations in Dublin quite easily, and there are tours from multiple locations as well.
Either way, visiting the Cliffs of Moher should definitely be on your list for your visit to Ireland. For more ideas on visiting Ireland, check out all our Ireland blog posts!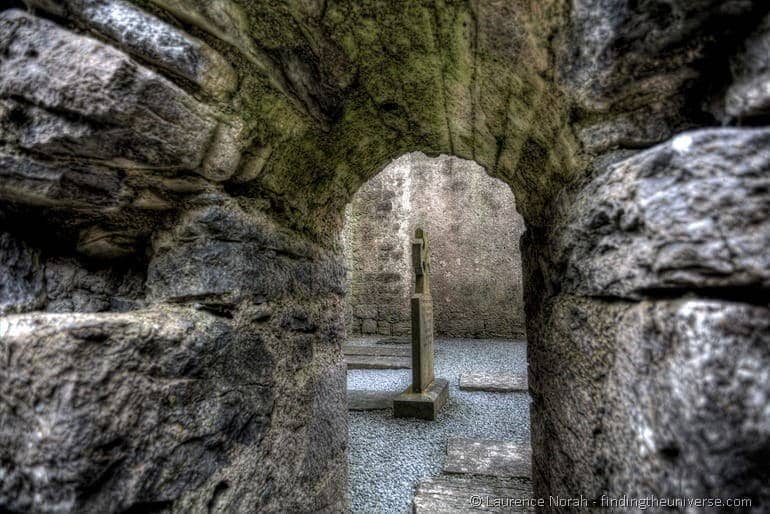 PS – if you're looking to take a great shot of the Cliffs: from the visitor centre, go up to the right, past the castle, and keep going. Go past all the people looking like they're going to fall off, and keep going, at one point the path will descend sharply for around 100m, and then curve off round to the left, where you will see a white sign. From that sign, you will get the view.
It is, I promise you, entirely worth it.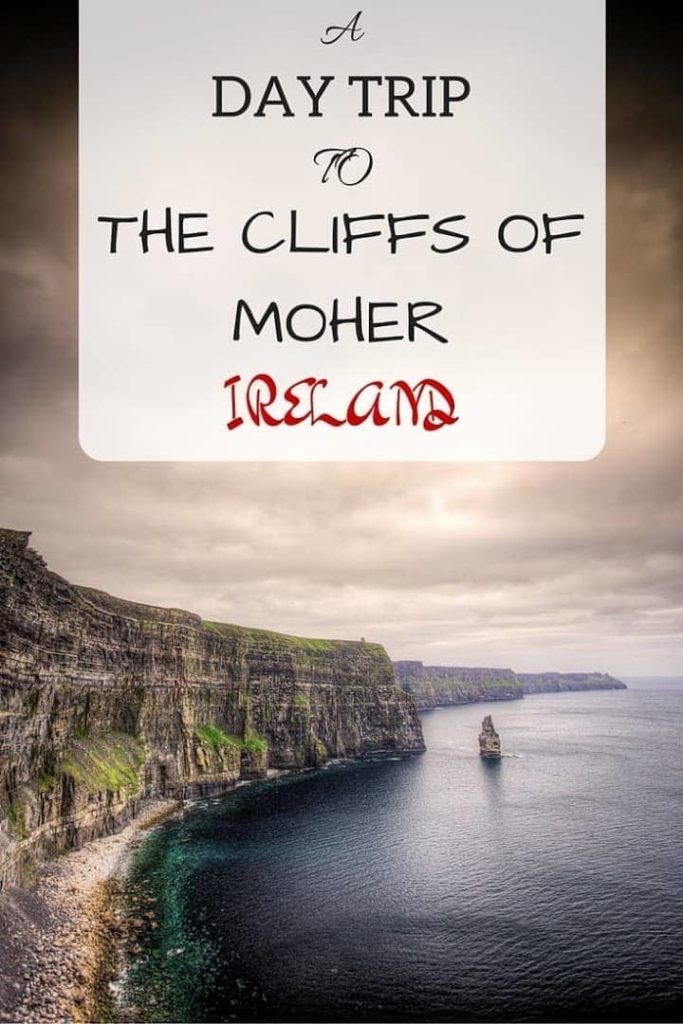 Note – our trip out to the Cliffs of Moher was provided by Paddywagon in return for us writing about it. The content always remains our own. Current pricing for this tour from Dublin is available on the Paddywagon tours page.