Heading to Belfast? The capital of Northern Ireland impressed us on a recent trip here, and we wanted to share some of our findings with you. Our first post on Belfast is a guide to spending 2 days in Belfast, although we spent a few more days than that here, and were far from running out of things to do.
Whilst it is hard to fit all the highlights of Belfast into 2 days, we know that many visitors will likely want to explore more of the Emerald Isle, perhaps either along the Causeway Coastal route, or down south into the Republic of Ireland. So with that in mind we've put together this itinerary to help you make the most of your time here.
We think this itinerary for two days in Belfast will give you an excellent overview of what this city has to offer, from ancient pubs to modern day art and culture. We think it works well in conjunction with our guide to things to do in Belfast. We also have a guide to the best day trips from Belfast, if you plan on using the city as a base and exploring the area.
2 Days in Belfast, An Itinerary
Day 1: Belfast Itinerary
The Waterfront Area
The majority of Belfast's attractions don't open until 10 am, which is great news if you want a lie in, but not great if you're an early bird. So you have two options – a leisurely breakfast, or a bit of time spent sightseeing at some of the outdoor locations.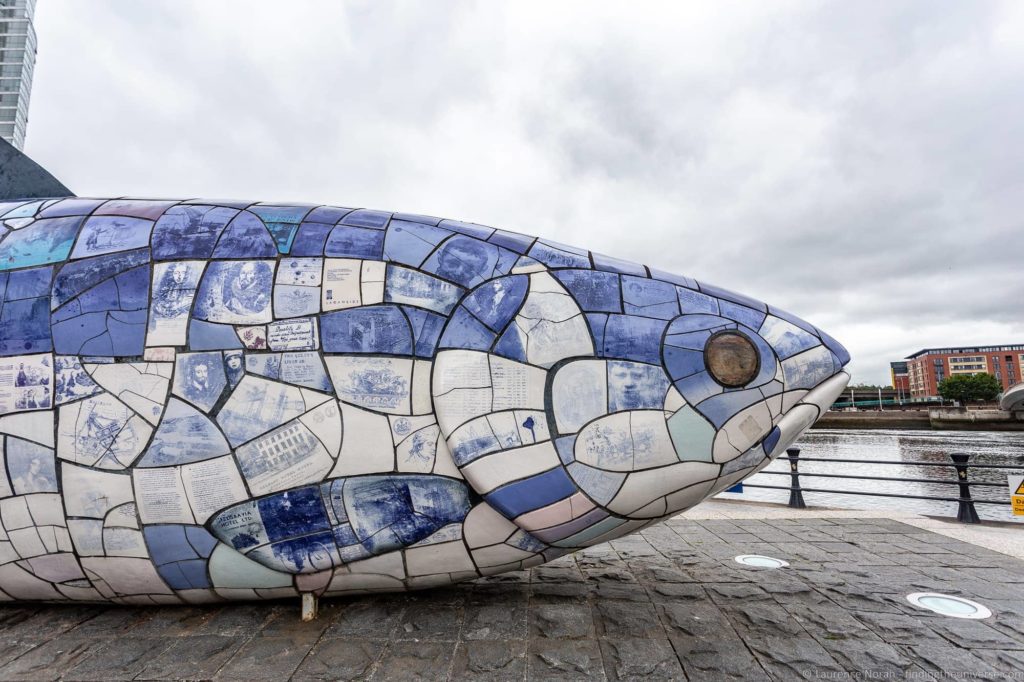 One good option is along the waterfront, where you can take a leisurely stroll from the actual Belfast Waterfront building (an event space), northwards past a couple of art installations – the Beacon of Hope and the Big Fish.
The former is a massive stainless steel and bronze sculpture of a lady holding a large ring, which is meant to symbolise thanksgiving. She also has a globe at her feet which celebrates peace and harmony, and is marked with the cities where the people and goods of Belfast have migrated and been exported to respectively.
The Big Fish, also known as the Salmon of Knowledge, is a large sculpture of, as you would imagine, a Salmon. This is covered in ceramic tiles, and each one tells a different story of the city, meaning you can spend quite a while here looking at all the different tiles. It's also located at the meeting point of Belfast's two major rivers, the River Farset (from where Belfast gets its name) and the River Lagan.
The MAC
First on our list of indoor attraction is the MAC, Belfast's Metropolitan Arts Centre. This opens at 10 am, and there are three major art galleries on site, with exhibitions varying depending on when you visit. Most of these are also free, which is nice. You can see what's on by visiting the art exhibition page.
When we visited the Mac, we toured the exhibitions and we were impressed by the variety of what was on offer, so we definitely recommend you check out their listings and add this to your itinerary.
As well as the exhibition space, the venue plays host to numerous events, including family focused events, art shows and performances. We didn't have time to take in one of the events, but they did seem to have some excellent options. You can see the full event listing here, although obviously you'll need to tweak this itinerary if something is coming up that interests you.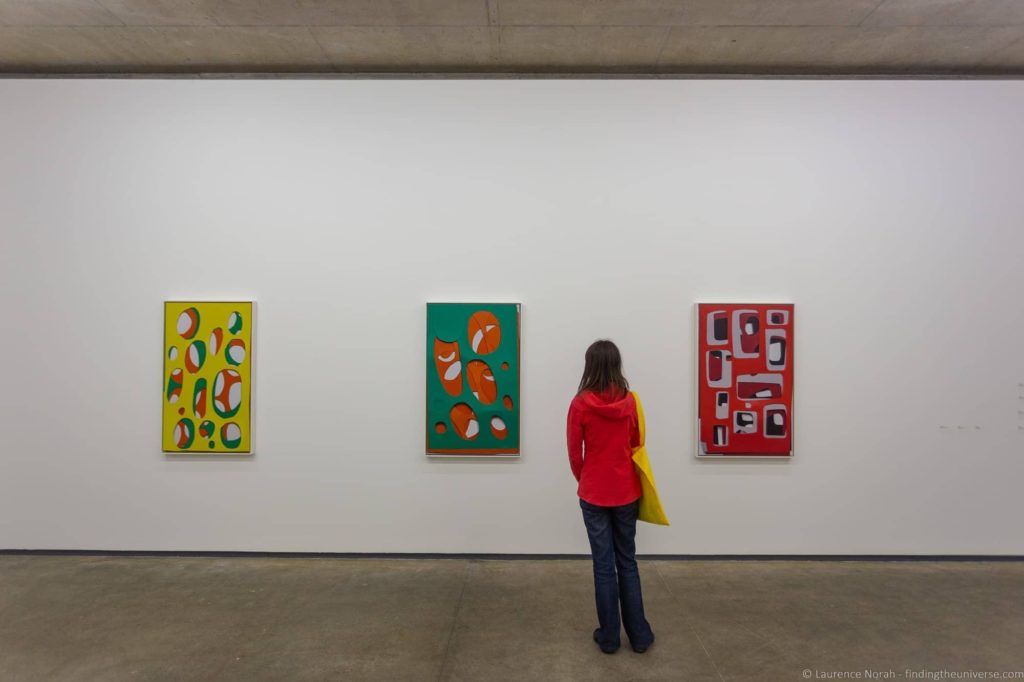 If you have time, just near the MAC is the Northern Ireland War Memorial Museum. This is quite a small museum that covers the history of World War II in Northern Ireland, and particularly the damage inflicted on Belfast by a number of air raids which targeted the docks here.
Belfast was initially believed to be out of range of the German bombers, so was quite badly prepared for the attacks when they did come, resulting in significant damage and loss of life. This is a free museum that is open from 10 am, just a two minute walk from the MAC.
Crumlin Road Gaol
Our next stop in Belfast is the Crumlin Road Gaol. This was, for over 150 years, one of Northern Ireland's main prisons, and is today the only surviving Victorian era prison in Northern Ireland.
Opened in 1846, the prison was one of the most advanced of its time, and was originally built to house around 500 prisoners, although in its later years, and especially during the Troubles, it held many more than this. It closed in 1996 as a prison, and following an extensive restoration project, was opened as a visitor attraction in 2012.
Visits, which are by tour only, take you to all the major parts of the prison. This includes a visit to the tunnel under the road which linked the prison with the courthouse over the road (now derelict, but slated to become a luxury hotel), as well as to a cell wing and the execution chamber – seventeen prisoners were executed on site by hanging, with the last execution taking place in 1961.
The tour shares lots of information about the history of the prison, its design and notable inmates, and the tour takes around 70 – 90 minutes. It's definitely worth booking your tour in advance as it is slightly cheaper than booking in person. You can do that online here.
For our itinerary we'd recommend booking a tour between 12 pm & 1 pm, which will give you time for your afternoon activities. There's a café on site where you can get some food too.
Tours of Belfast
For your afternoon in Belfast we recommend taking a tour. We took three different tours in Belfast during our time in the city, which included a street art walking tour with Seedhead Arts, a Black Cab Tour with Belfast local blue badge guide Billy Scott, and a gin tasting tour with Taste & Tour.
Naturally, the tour you want to take will very much depend on your interests! Here's a quick overview of each tour we took so you can see which is right for you. You can also see more Belfast tour options here.
Belfast Street Art Tour
The Street Art walking tour of Belfast that we took was put together and is run by local Belfast street artists. The tour lasts around ninety minutes, and in that time you'll learn all about the history of the Belfast street art scene, as well as see a lot of different pieces of street art.
Note that this is a bit different to the tours that cover the Belfast murals, such as the Black Cab tour we mention below. Those primarily focus on the political art, while this one focuses more on everyday street art and the local & international artists who have visited and worked in the city.
We really enjoyed this tour, and particularly getting an insight into the various pieces of art and street artists from our tour leader Tim, a Belfast Street Artist who works under the artist name Verz. Whilst you can of course walk around Belfast and spot street art on your own, a tour is a great way to really get an understanding of each piece, and the thinking behind it.
Currently tours run weekly and start at noon, so if this is a tour you want to take you will have to check it's on the right day for you, and also you'll need to slightly juggle this itinerary to fit it in. We'd suggest doing it in place of your Crumlin Road Goal tour, and scheduling that for a bit later – around 3pm perhaps. Alternatively, you can contact Seedhead Arts about a tour outside of their usual times. See their website for more information. We also have a post with lots more Belfast street art for you to check out!
Belfast Black Cab Tour
If you're interested in learning a bit more about the political history of Belfast, then a Blackcab tour is a great option. This tour, which takes place in an iconic Black Cab vehicle, will take you around various parts of Belfast, many of which are synonymous with the years of conflict that the city went through during the time known as The Troubles.
Parts of the city are still separated by the Peace walls, massive barriers that literally divide the Republican / Catholic neighbourhoods from the Loyalist / Protestant neighbourhoods. The Black cab tour we took was run by Belfast local Billy Scott.
Billy knows a great deal about the local history of the city, and seemed to know hundreds of people – often waving out the cab window to wish hello to folks passing by. He's also a registered Blue Badge guide, which is the highest level of qualification awarded to tour guides in the UK, meaning he has to really know his stuff. Which, he did.
We were able to tailor the tour as we wished based on our interests. We saw several different quarters of the city and learnt a lot about the history of the city and its people and struggles over the years from Billy. The tour was at times moving and at times funny. We also had the opportunity to write our own message on the Peacewall, which has been covered in murals, as well as signed by people including the Dalai Lama and US President Bill Clinton.
Tours run on demand, visit the official website for booking and pricing information. You can also book a similar tour here.
Gin Tasting Tour of Belfast
If you're looking for something a bit more, well, alcohol focused, then the Gin tasting tour of Belfast might be for you. Gin has experienced a surge in popularity around the world, and Northern Ireland is no stranger to this trend.
A number of local gin distilleries have started creating their own gins, and this gin tour is a great way to both sample a number of these as well as learn about the history of this drink and visit some of Belfast's iconic drinking venues.
The tour we took lasted around four hours and included seven generous gin drinks! Our tip is definitely to have prepared yourself with a good meal beforehand, as this is a fair amount of gin to drink. The drinks came in a variety of ways, from straight up gin shots through to gin martinis and the classic gin and tonic.
As well as gin, the tour included some nibbles, and in total we stopped at five different pubs and bars. The tour guide was very knowledgeable and a lot of fun, and we particularly enjoyed chatting with the other folks on the tour, many of whom were Belfast locals out for a fun afternoon exploring their own city.
The Gin Jaunt is currently offered on weekends, but the company who runs the tours also runs other food and drink based tours, so you should be able to find something to suit whenever you visit. See all their tours, prices and details here.
Visit The Crown Bar
Belfast has no shortage of watering holes (see the section later on in the post on where to drink in Belfast), but one location that deserves its own entry is the Crown Liquor Saloon, also known as the Crown Bar.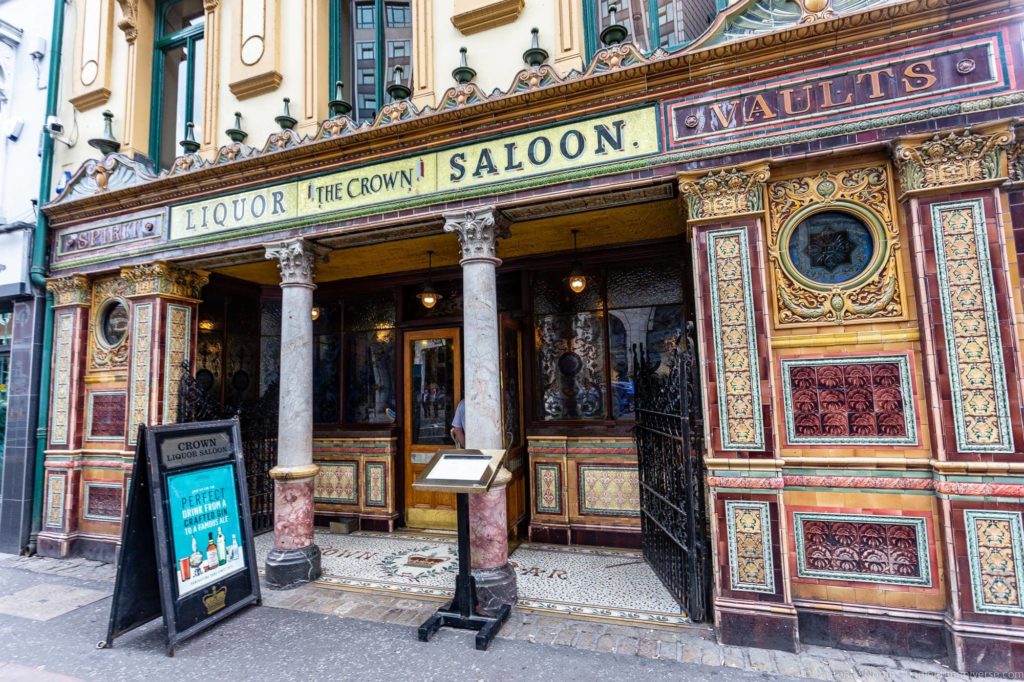 This is actually owned by the National Trust, and is probably the most famous pub in Belfast. It dates from at least 1826, and features an incredible ornate interior of tiles, original gas lamp fixtures and a beautiful carved ceiling. There's even a heated footrest under the granite bar.
This was the place to be in Victorian times, when it was a gin palace of unparalleled design. Appropriately, the gin tour we took started here, with a gin and tonic. Today you can enjoy a wide range of drinks as you admire the incredible interior, and we think this is the perfect place to end your first day in Belfast!
Day 2: Belfast Itinerary
Our second day in Belfast has you visiting one of Belfast's most popular attractions – the Titanic Museum.
However, there's a lot more to do here than this museum, so we think you should allocate around half a day to visiting this quarter, known as the Titanic Quarter, and we'll go through some of our favourite attractions in this area which will easily fill your time.
Titanic Museum
First on our list for this area is the Titanic Belfast Experience itself. For those of you who weren't aware, the RMS Titanic was built in Belfast's dockyards, by shipbuilders Harland and Wolff. Harland and Wolff were responsible for the majority of the ships of the White Star Line, including the Titanic, and are still operating today – although they have since diversified into other products including offshore wind turbines.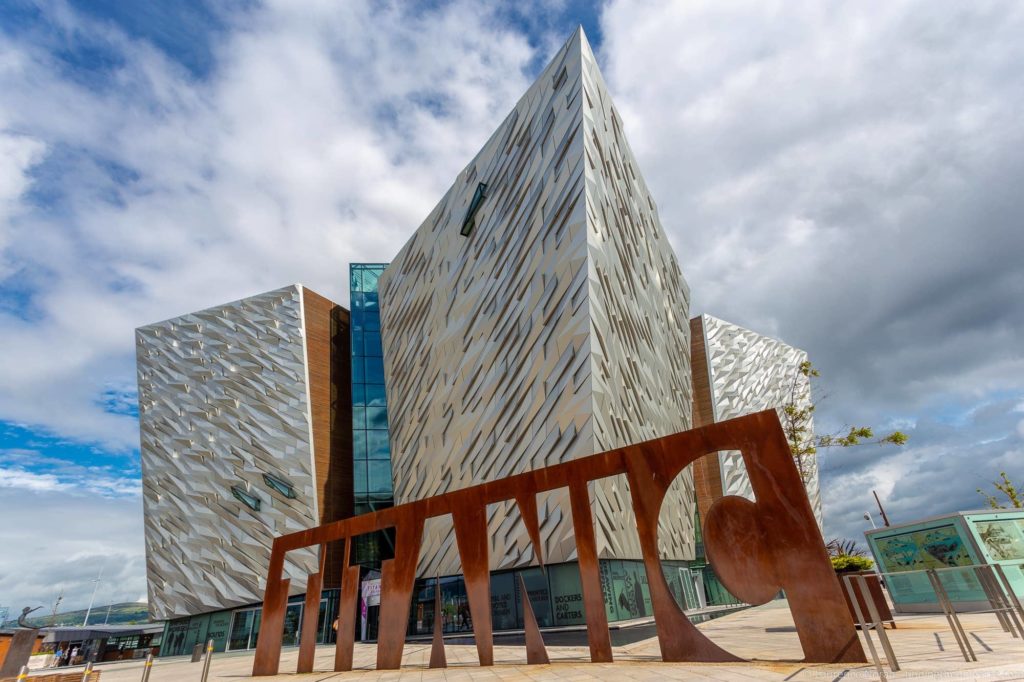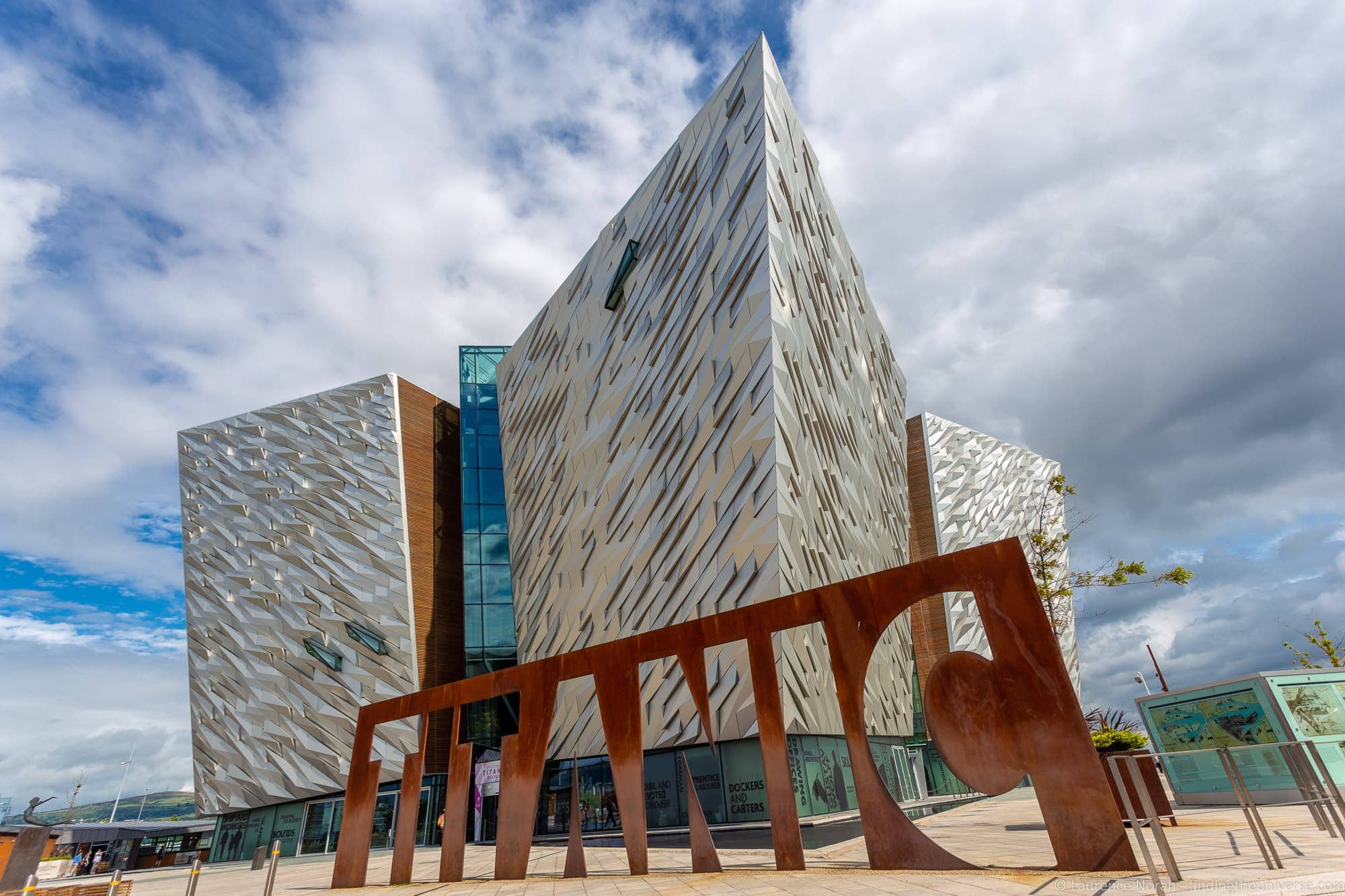 The most recognisable feature of the present day Harland and Wolff facility are the massive Samson and Goliath cranes, huge yellow gantry cranes which dominate the Belfast skyline, and which you'll probably spot when you visit the Titanic Quarter.
Back to the Titanic Belfast experience. This visitor attraction, which opened in 2012 (100 years after the Titanic sank), is found on the site of the original Harland & Wolff shipyard. Here, both the RMS Titanic and her sister ship, the RMS Olympic were built and launched.
The museum, whose four corners are shaped like the prow of a ship, takes you on a fascinating journey into the history of the shipyard, the building of the RMS Titanic itself, the people who worked on her and, her first voyage and, of course, an overview of the tragic events that resulted in the sinking of the Titanic in 1912, with a loss of over 1,500 lives.
The museum goes further than that, and covers events up to the current day, including the discovery of the wreck and stories about how popular culture has portrayed the events. Yes, you will even hear that famous Celine Dion song. Overall, this museum is a fascinating attraction, and well worth two or three hours of your time.
The Titanic Museum operates a timed ticketing system, with entrances every 15 minutes from opening time. These varies depending on the time of year, and are currently from 9 am April – September, and 10 am October – March. It's always a good idea to check the official website for opening times first though to be sure.
We definitely recommend you get your ticket in advance here to save queuing, and coming early to avoid the crowds. Tickets bought online include your entrance to the SS Nomadic, which is just next to the Titanic Museum.
Note that the Titanic Museum also has a full shop, on-site paid parking and dining options. Find out more about visiting in our comprehensive guide to the Titanic Belfast here.
SS Nomadic
The SS Nomadic is the last surviving White Star Line ship in the world. Built by Harland & Wolff in Belfast, she was originally designed to serve as a tender to both the Titanic and the Olympic.
Due to the massive size of the Titanic and Olympic, not every harbor could accommodate them. In particular for the Titanic, the SS Nomadic ferried first and second class passengers and their luggage from Cherbourg Harbour in France onto the Titanic. Third class passengers primarily travelled on the SS Traffic, Nomadic's running mate.
Following her role as tender to the Titanic and other White Star Ocean Liners, the SS Nomadic had a varied existence, from minesweeper and troop transport during World War One, through to troop evacuation in World War Two. Between and after the wars she continued to work as a tender, including to vessels such as the Queen Mary and Queen Elizabeth.
Finally, she wound up as a restaurant ship on the Seine in Paris, where she spent almost thirty years – a function which likely saved her from being scrapped. Following the failure of the restaurant business, her fate hung in the balance, before she was saved by the Northern Ireland government and returned to her original port of Belfast, a rather sorry version of her former self.
Following extensive restoration, including work by Harland & Wolff, the SS Nomadic was opened to visitors in June 2013. Today, you can tour the wonderfully recreated ship and learn everything there is to know about her past and association with the Titanic. We'd recommend visiting this in conjunction with the Titanic Museum, as you can purchase an entry ticket that will get you access to both attractions. Alternatively, you can just pay a lower entry fee for only visiting the SS Nomadic, and you can buy this on site.
Titanic Dock & Pump House
If you want to get a feel for the massive scale of the Titanic, the best option is to visit the Titanic Dock and Pump House. This is about a ten minute walk from the Titanic Museum in the opposite direction to the SS Nomadic, which you can do along the waterfront.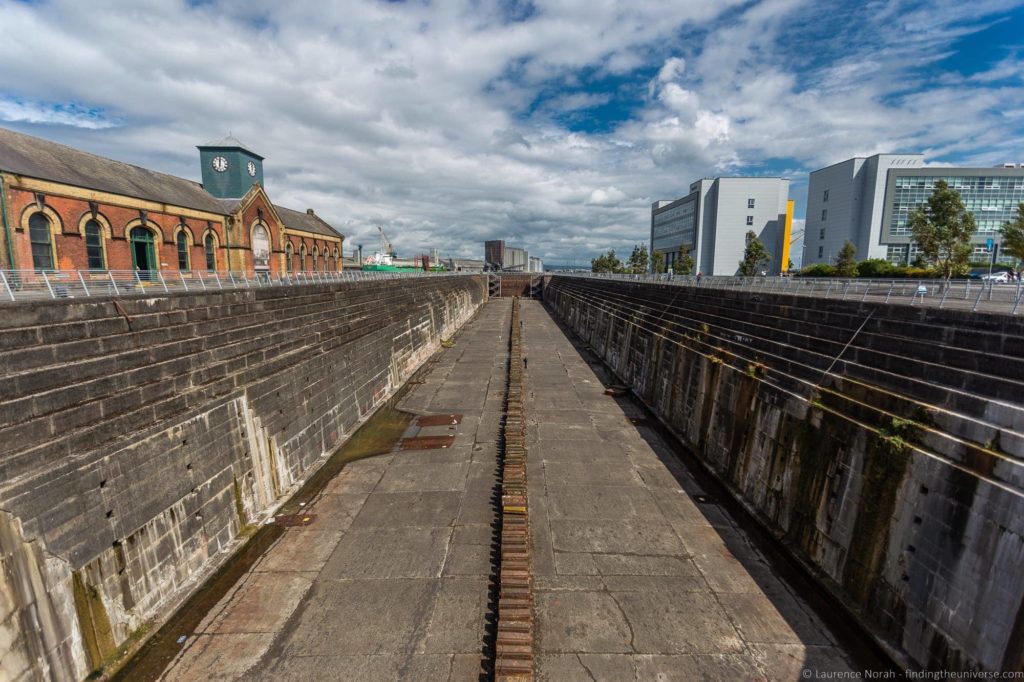 The Titanic Dock, officially called the Thompson Graving Dock, was where the Titanic was fitted out, after the superstructure had been completed and her engines and other major components were fitted.
In terms of a timeline, from her original point of construction (marked out outside the Titanic Museum), the hull was first floated to the Thompson deep water dock where things like engines, boilers, anchors and so on were fitted.
She was then put in the Thompson Graving Dock in February 1912. This dry dock was where all the final parts of the Titanic was completed, including fitting her propellors, painting of the hill, and all the finishing she needed prior to her sea trials and maiden voyage.
At the time it was opened, the Titanic dry dock was the largest of its kind in the world. It was specially designed to accommodate the Titanic and Olympic, and at 850 feet in length, was the same size as the Titanic herself. So a visit here really gives you an impression of the incredible size of these vessels.
You can walk all around the dry dock as well as down inside it, where you can see the keel blocks where vessels rested. You can also visit the pump house, which was responsible for moving water out of the dry dock. It could do this at a remarkable speed, removing all 26 million gallons of water from the dry dock in ninety minutes!
There's a small fee to access the Titanic Dock, payable in Cafe 1404 which is also how you access the site.
If you're interested in naval history, you can also visit the HMS Caroline, which is a world war one light cruiser and last survivor of the Battle of Jutland. This is parked in the dry dock right next to the Pump House, and as well as the ship itself you can visit the small museum on shore about the vessel.
City Hall
Belfast's City Hall is a fantastic piece of Victorian engineering, built in the late 19th century following Belfast being awarded city status by Queen Victoria in recognition of its rapid growth.
Spread over an area of an acre and a half, the Baroque Revival style building is a beautiful centrepiece to the city, and the park area around it is a popular place in summer for people to visit. While we were in Belfast, part of this grassy area was being used an outdoor cinema screening venue, which appeared to be a popular event given the large number of people in attendance.
It's also possible to visit City Hall. As well as an exhibition space that features stories of the city itself, you can take a free guided tour of the main areas of the building, including the main rooms used by the council.
Tours last around 45 minutes, and run at various times throughout the day, depending on the time of year. You can see the tour times on the official website here. Tours are free and are on a first come first served basis – if you want to join one, we'd advise turning up 15 – 30 minutes before the tour to register for spaces. You can then spend the time before the tour looking at the free exhibition.
Based on our 2 day itinerary layout, we'd advice aiming for the 2pm tour, which will give you time to go to the next attraction on our itinerary.
Ulster Museum & Botanic Gardens
Now, we think it's time to head to another part of the city. You can either grab some food around the Titanic Quarter (the Titanic Hotel is an excellent spot), near City Hall, or wait until you get to the Ulster Museum area of town, depending on time and your hunger levels.
The Ulster Museum is found in Belfast's Botanic Gardens, with both attractions featuring free entry (although donations are of course welcomed). It's a large building spanning multiple floors, and has a little bit of everything from natural history through to archaeology, art and culture.
When we visited the museum, a highlight for us was the massive Game of Thrones tapestry. This is a 77 metre long linen tapestry which features a scene from every episode of the show up to the current season – with room for the final season.
This is a fun way to celebrate Belfast's rich linen history, and the detail of the tapestry is quite wonderful. Unfortunately this was a temporary exhibit, but it gives you an idea as to the quality of the exhibits on offer!
In case you are wondering why a Game of Thrones tapestry was on display in the Ulster Museum, this is because Game of Thrones is filmed in Northern Ireland, at such iconic sites as the Dark Hedges as well as at the Titanic Studios. This is one of Europe's largest film studios, which is found right next to the Titanic Museum. When we walked past this, we saw the massive green screens inside, as well as a set featuring a ruined castle. Pretty cool!
Ulster Museum is open 10am – 5pm every day except Monday, when it is closed. If this is something you want to do, and this day falls on a Monday, feel free to switch the days around, or the locations you visit on each day, so you can see everything you want.
Drink in the Cathedral Quarter
Last on our list of activities for your 2 days in Belfast is to have a drink in the Cathedral Quarter. This is a region of Belfast that is famous for its bars and restaurants, and is the perfect location to end your trip.
For some suggestions of where to go, take a look at our where to drink in Belfast section below. You can also take a beer bike tour, which sees you pedalling around the city and enjoying a beverage as you go.
Map of 2 Day Belfast Itinerary
To give you an idea of where the various attractions in this Belfast itinerary are we've put together this map, which should help you with planning your trip to Belfast. You can also see this on Google Maps here.
2 Day Belfast Itinerary Overview
Here's a summary of this 2 day Belfast itinerary for quick reference:
Day 1: The Waterfront Area, The MAC, Crumlin Road Gaol, Tour of Belfast,
The Crown Bar
Day 2: Titanic Museum, SS Nomadic, Titanic Dock & Pump House. City Hall, Ulster Museum & Botanic Gardens, Drink in the Cathedral Quarter
Where to Drink in Belfast
As mentioned throughout this post, there's no shortage of fantastic venues to drink in in Belfast. To help you put a shortlist together for your Belfast visit, here's a few options to choose from that we visited.
The Crown: A Victorian era gin palace that is a must for any visit to Belfast
Muriel's Cafe bar: Famous for cocktails, but you can get everything from a traditional pint to a range of craft gins
John Hewitt Bar: A more traditional style bar with live music and a full range of drinks
The Duke of York: A staple of the Cathedral Quarter, this bar was blown up in 1972 during the Troubles, and has since been restored as a tribute to the city. The cobbled streets and hanging flower baskets mean this is a very photogenic pub!
The Dirty Onion: On warmer days the outdoor seating in this Cathedral Quarter bar makes it hugely popular. There's also a massive indoor seating area, plus the restaurant upstairs, Yardbird, serve really good chicken wings and ribs.
Babel Bar: If you're after a rooftop bar, the Babel Bar in the Bullitt Hotel (just next door to Muriel's) is an excellent choice
Whites Tavern: Down a series of winding alleys, Whites Tavern isn't obvious, but it has been serving drinks since 1630, so is worth finding. Good pub food too!
Where to Stay in Belfast
Belfast has been growing quickly as a tourism and business destination, and as such, there is a huge choice of hotels to stay in, with multiple new hotels opening every year! At most times of the year, it is easy to find a good value deal here.
We stayed at the Bullitt Hotel for our four nights in Belfast. This was fantastically central, within easy walking distance of the Cathedral Quarter and the majority of the sights on this itinerary.
It also has an excellent on site restaurant, as well as three bars to choose from – including the previously mentioned Babel Bar. Staff were friendly and very knowledgeable about the area, and we have no hesitation in recommending this as a central Belfast option. See prices and book online here.
Of course, there are lots more options to choose from in Belfast when it comes to accommodation. As always, we recommend booking.com for planning your accommodation – they offer a range of properties from hotels to hostels and apartments, meaning you can usually find what you need. Some options to consider include the following:
You can see all the listings available in Belfast here.
Getting To and From Belfast
Belfast is an easy city to reach from multiple locations around the world.
From Ireland, there's a direct rail link between Dublin and Belfast which takes just over two hours. From the rest of the Republic of Ireland you'll probably want to take the train to Dublin and then continue on to Belfast.
There are also multiple bus options from Dublin, including direct from Dublin Airport. Journey time is around two hours, depending on traffic. It's also easy to drive yourself of course.
From the UK, you can either fly or take the ferry. Ferries to Belfast depart from Liverpool, Cairnryan (Scotland) and the Isle of Man. We travelled with Stena Line and enjoyed the crossing from Cairnryan in Scotland. You can book your ferry here.
Numerous flights service Northern Ireland's three major airports, with service from the UK, continental Europe and North America. There are even more options available if you include Dublin Airport as an option. We recommend checking prices on flights using Kiwi.com for the best deals.
Saving Money in Belfast
Belfast has a visitor pass which offers free public transport around the city and discounted admission on a number of attractions as well as food.
It's probably going to be the easiest way to manage your public transport around the city if you plan on using it, plus the discounts can quickly pay for the cost of the card, which is very reasonably priced.
You can buy the Belfast Visitor Pass for 1, 2 or 3 days, either from the tourist office in the city, or online from the Visit Belfast website here.
When to visit Belfast
The Emerald Isle, as Ireland is often referred to, did not get its lush green colour as a result of being a dry and sunny hotspot. As such, similarly to Scotland, the weather in Belfast and Northern Ireland is best described as changeable, although we had our share of sunny weather.
Rain is a possibility year round, but if you want a chance at better weather, then May through September are your best options. The city is a popular destination year round, and there are plenty of indoor attractions to keep you busy regardless of the weather outside.
Belfast also plays host to events throughout the year, so if you are interested in attending one of these, check the Visit Belfast events page for ideas on what's on that you might want to see.
How to Get around Belfast
Belfast is an easy city to get around on foot, and many of the attractions on this list are a short walk apart.
The city also has an excellent public transport system which includes buses as well as local trains. The aforementioned Belfast Visitor Pass makes it affordable to get everywhere you need to go, including to and from the airport.
In particular, of the attractions on this list, you might want to take a bus to the Crumlin Road Gaol, Ulster Museum, and perhaps from the Titanic Quarter to central Belfast.
There's also a hop on hop off bus tour of Belfast you can take, which visits all the attractions covered in the article.
There are also taxis available, which can be quite cost effective for shorter journeys, especially if you are in a group. You can either hail these on the street, or book in advance – we recommend a taxi booking service called minicabit, book them for Belfast here.
Further Reading
Well, that sums up our idea of how to spend two days in Belfast! We've got a lot more content to come on the city which we'll be linking to below, so do check back and don't forget to subscribe to get updates on new content, which you can do here.
In the meantime, here's some content to help you along with planning your Belfast trip.
And that's it! Hopefully you found this post useful. As always, if you have any feedback or questions, do let us know in the comments below.
So you know: Our accommodation and tours in Belfast were covered by Discover Northern Ireland, who invited us to experience the country and write about it. We covered our own meals and other expenses, including transport and attraction entry, and as always, only share our honest opinions and advice. See our code of ethics for more on how we work with brands and destinations.