For nearly a year now I have been travelling around New Zealand. That's what all those
posts about New Zealand
have been about, in case you were wondering.
I've been travelling as a twosome, with my ever patient other half, who has allowed me to visit a lot of, quite frankly, odd locations. But a third member of our troupe was ever present, always reliable, always patient, always cosy.
I am of course talking about Bernie, our van. She started off her life with us as just a four wheeled pile of metal who seemed to be a little more mossy on the inside than you might expect (turned out she used to belong to a gardener), but who with some very careful ministrations, became our home.
Despite conveying us nearly twenty thousand kilometres around New Zealand, on surfaces varying from good solid seal to ice covered grit and every form of gravel in between (for some reason Kiwis refer to gravel as metal. I have no idea why), she never let us down. We didn't suffer so much as a flat tyre in our whole trip. At her services we always received tremendous thumbs up from the grease coated mechanics, who reported that she was a solid little van.
Not that she was that little. At just a little over five metres in length, she was, if not "spacious", at least roomy. There was space in her for a gigantic double bed, plus a chest of drawers. When it rained, we could shelter inside her and cook, without the hassle of playing around with tarpaulins and other such complicated nonsense. She was also the only travellers van I have ever seen to come equipped with a gorgeous, if highly impractical, cream shag pile carpet.
We slept in her by beaches, at the foot of mountains, by rivers and by seas. In sub zero temperatures at the foot of Mount Cook, and almost warm temperatures on the Coromandel. When things turned a little sour in Rotorua, she got us out of town with dignity and composure. She was always there for us, and we really loved her for it.
And now, trip over, the inevitable has had to happen. Bernie is gone. On to new adventures, with new people. To greet new horizons. To be home to… someone else.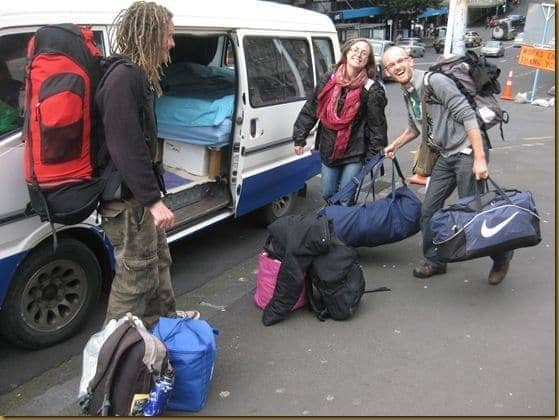 The good news is that the new owners are terribly nice people. They even liked the name Bernie, so Bernie she has remained. I'm sure they're going to be very happy with her, as we were.
So thanks Bernie, for all the good times, and all the memories. You'll be missed.