The eyes of the world are about to turn on New Zealand for a little upcoming tournament involving an oddly shaped ball and burly men wearing short shorts. As a result, I imagine that the New Zealand tourism board is working feverishly to ensure that every last piece of information that the potential tourist could ever dream of needing is written and ready to go.
Information on walks, on mountains, on sights, on whales. Information on where to go, and what to see, and what to do. Information on pretty much everything really, I would imagine.
And to be honest, the job isn't that tough. New Zealand has attractive scenery by the bucket loads, from stunningly long beaches to snow dusted mountain tops. This isn't selling fridges to eskimoes.
But there is one thing that the tourism board hasn't, yet, thought of. An item of immense practical value that everyone has a use for, which also has the potential to provide tremendous aesthetic pleasure. I am, of course, talking about the humble toilet.
And the good news is that New Zealand doesn't just have toilets. Oh no. Stunning scenery is so ubiquitous here that even the toilets are blessed with spectacular vistas.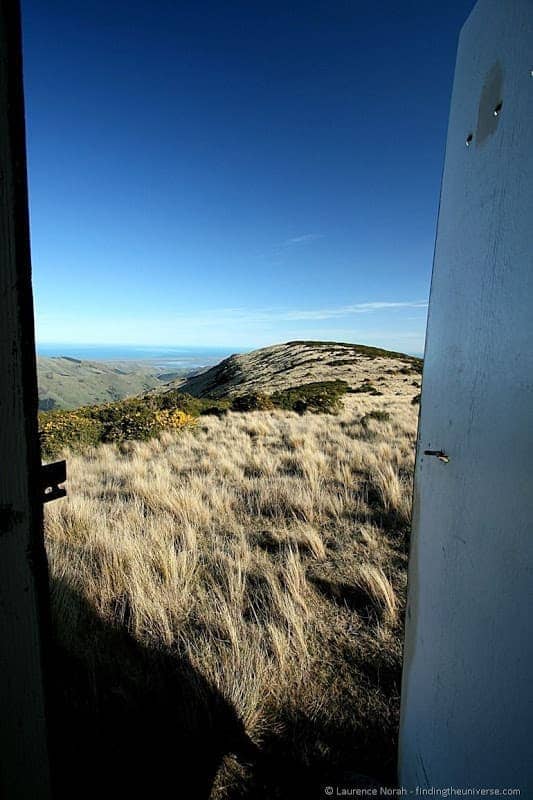 And so, without further ado, and for the visitor who truly wishes to experience every marvel that New Zealand has to offer, I present, five of the most scenic toilets in New Zealand, as personally experienced by me.
Mount Herbert – The Banks Peninsula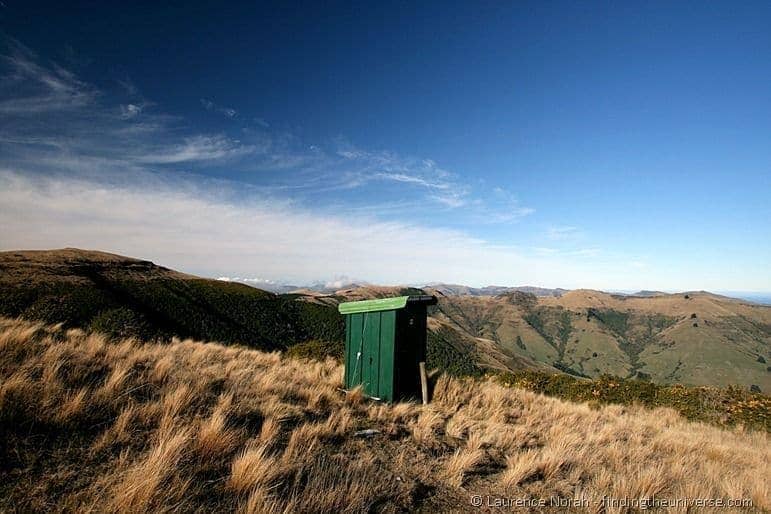 Jutting out of the south island next to Christchurch is the Banks Peninsula, a rounded land mass formed by a gigantic volcanic explosion. If you're in need of your own explosion, or in fact, any other kind of bodily function, and you happen to find yourself at the top of the regions highest peak (Mount Herbert), then you may find this gem of a toilet to be a worthwhile visit.
It's a short walk from the actual peak, and affords splendid views of the entire peninsula, not to mention the Canterbury Plains and the spine of the southern alps.
Toilet Highlights: The view is second to none if you leave the door open.
Toilet Lowlights: It's windy up here. You'll want to close the door.
Castle Rock Reserve – Arthurs Pass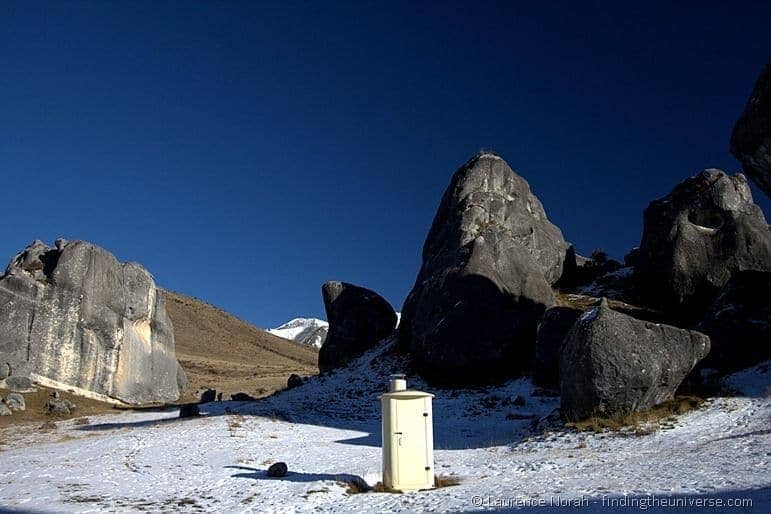 The Southern Alps run the entire length of the south island, so getting from one side to the other can be a bit challenging. Luckily, some brave chaps found a number of passes to allow for safer passage, and Arthurs Pass is one of these. (I can see you grimacing at the thought of a passage related joke. I promise not to go there.)
If you need to pass whilst (I couldn't help myself) taking the journey from one side of the island to the other, then the toilet in the Castle Rock reserve isn't the worst place you could choose. It's surrounded by huge boulders (often coated with boulder climbing aficionados), and when I visited, even had a dusting of snow.
Toilet Highlights: The surrounding rocks are a pretty unique toilet viewpoint
Toilet Lowlights: This is one of the worlds foremost bouldering spots. Don't expect much in the way of privacy.
Key Summit – Fiordland National Park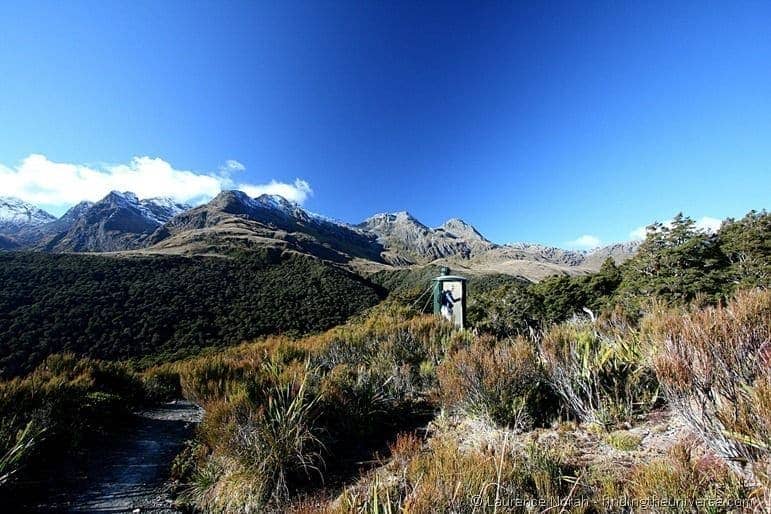 Fiordland is home to myriad wonders, including New Zealand's most photographed mountain. It has mountains, sounds, glaciers and more, in a national park which is the largest of New Zealand's fourteen.
Naturally, therefore, you would expect there to be some pretty stunning scenic toilet action. And you would not be disappointed.
The toilet I chose is located on the top of Key Summit, accessible either as part of a short day walk from the main Milford Sound road, or by doing the multi day Routeburn track. The location affords quite spectacular views of the Fiordland National Park, including the Humbolt mountain ranges. Worth the visit.
Toilet Highlights: It's about half way along the Key Summit walk, so ideally located for a stop off.
Toilet Lowlights: I can't think of any toilet related humour regarding Key Summit.
Rob Roy Glacier Track – Mount Aspiring National Park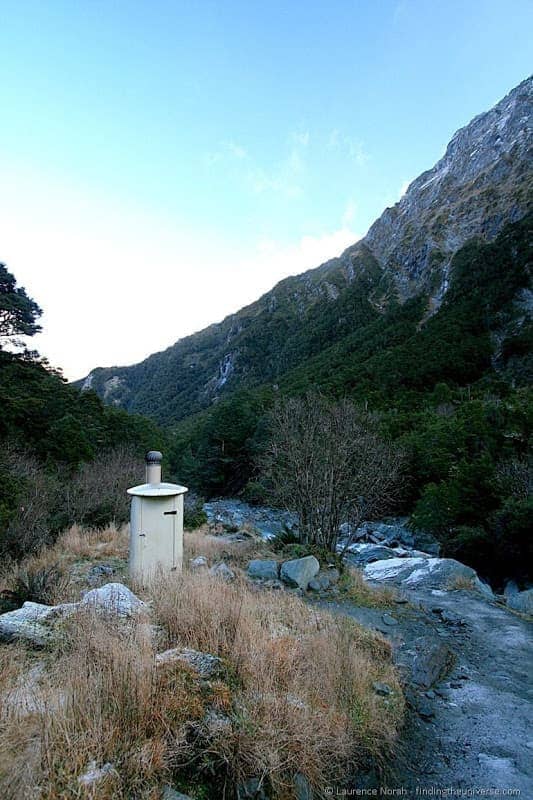 The walk to the Rob Roy glacier was one of my favourite walks in New Zealand, not least because despite having just gorged on two of New Zealand's most famous glaciers, this one was still able to induce awe.
The glacier track is in the Mount Aspiring National Park, and the walk itself goes steadily upwards, through moss coated forests and glacier carved chasms, before finally bringing you to the highlight of the walk, a toilet surrounded by cliffs coated in walls of precariously balanced blue ice. Your neck will ache from craning, your jaw will dangle slackly. Your bowels will quietly thank the foresight of the toilet architects.
Toilet Highlights: This could be the closest toilet to a glacier in New Zealand.
Toilet Lowlights: Glaciers are not warm places. Beware the frozen toilet.
The Hundertwasser toilets of Kawakawa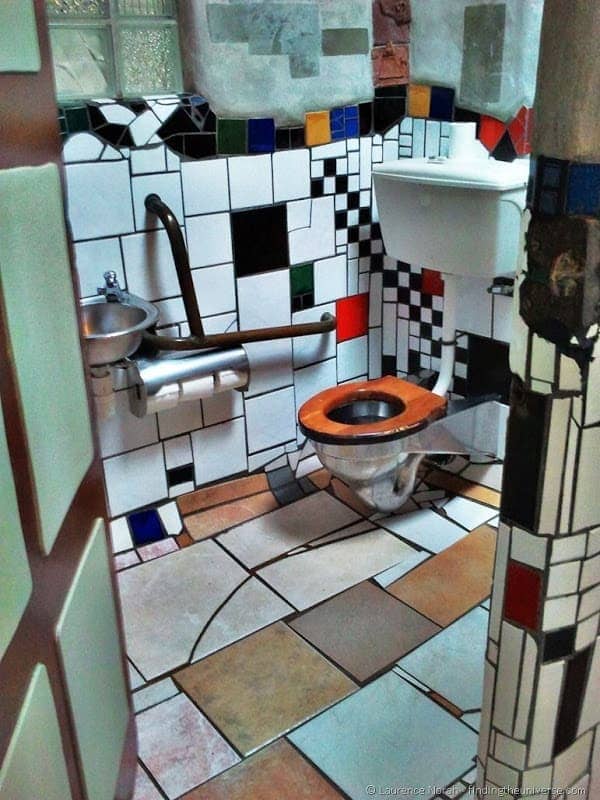 Every single toilet featured so far in this post has been on the South Island. I will now redress that with a mention of the Hundertwasser toilets of Kawakawa, without which no toilet related article on New Zealand would be complete.
Admittedly, these toilets are not located in the most scenic of spots. Mountains are notable by their absence. Reaching them does not require any kind of hardship or mud. In fact, you could just park outside them and walk in.
The scenic nature of these toilets comes rather from their unique design, and their scenicness is more about their interior aesthetic than their exterior location. And to be honest, most people using a loo are probably going to have the door closed, so the only scenery on view will be that of the toilet walls, and in that respect, the Hundertwasser toilets blow all the other toilets on this list away.
They were designed by Friedensreich Hundertwasser, one of Austria's foremost artists of the 20th century, and are truly unique as a toilet solution, featuring amongst other things: sculptures, a grassy roof, mosaic tiling and glass bottles for windows.
If Milford Sound is home to New Zealand's most photographed mountain, then Kawakawa is without a doubt home to New Zealand's most photographed toilet.
Toilet highlights: Really funky design. You could find yourself in a serious Zen like toilet moment here.
Toilet lowlights: Flashes going off from passing tourists can really spoil a Zen like toilet moment.
And that, folks, is pretty much it for New Zealand's scenic toilets. Have you come across a toilet in your travels that you feel would make it into a list of scenic toilets? Let us know about it in the comments below, or even better, pop a photo of it up on the site's Facebook Page 🙂