I thought it was about time to revisit a series I started a while ago looking at some of the great offroad adventures you can have in Australia. Today I'll be talking about the Gibb River Road, perhaps one of Australia's most famous outback four wheel drive routes.
First things first. Whilst iconic – and certainly four wheel drive only – apart from a few sections this isn't a particularly challenging four wheel drive route. So if you were hoping for hill climbs, boulders, or seriously way off the map isolation, you may be better off looking at something like Gregory National Park or the Canning Stock Route to give yourself a serious 4WD challenge.
If on the other hand you were thinking more about scenic gorges, endless croc free (mostly!) rockpools to bathe in and just enough of a four wheel drive adventure to make your trip that bit more exciting, then the Gibb River Road is for you.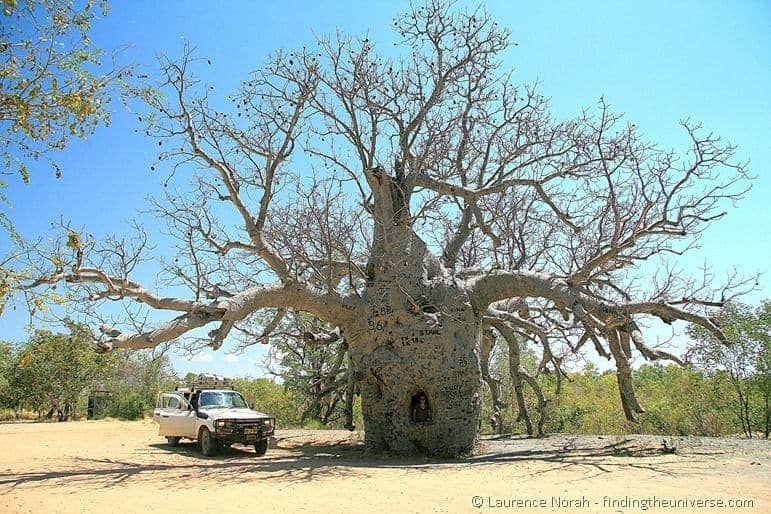 Where and what is the Gibb River Road?
Set in the northern half of Western Australia, and cutting across the jaw droppingly beautiful Kimberley region, this is one trip that absolutely must be on the list for anyone with the right sort of wheels travelling through this area. The route starts (or finishes, depending on your mood) at the town of Derby and then runs for nearly 660 largely unsealed and glorious kilometres to the tarmac of the great northern highway, between the towns of Wyndham and Kununarra.
Like so many of Australia's legendary outback tracks, the road was initially built as a cattle route, to transport cattle from farm to market. It is deep in Western Australia's tropics, so it's best to tackle the road during the dry season, as in the wet the three main river crossings become largely impassable, and large sections of the road are liable to be either flooded or washed out.
Wyndham and the Cockburns
We took the trip starting at the Wyndham end of the route. It's worth dropping in to Wyndham if only to drive up to the top of the lookout where you can see no less than five rivers converging to merge into the sea. An amazing view, with the Cockburn ranges providing a tremendous backdrop. Sunset is a great time to take this in.
From Wyndham the road winds it's way past the Cockburn ranges, and here you have a choice of a fairly easy gravel road or a far more exciting (if time consuming) sand filled track, before the first river crossing in this direction, the Pentecost. In the dry season, this is an easy (if wide) shallow crossing where the water is unlikely to get more than 10-20cm deep.
From the Pentecost river the road continues through beautiful scenery, all the way to the junction with the Kalumburu road.
The Kalumburu Road
The Kalumburu road is an optional side track which takes you all the way to Western Australia's northern coastline, to the four tiered waterfall known as Mitchell Falls and the aboriginal community of Kalumburu.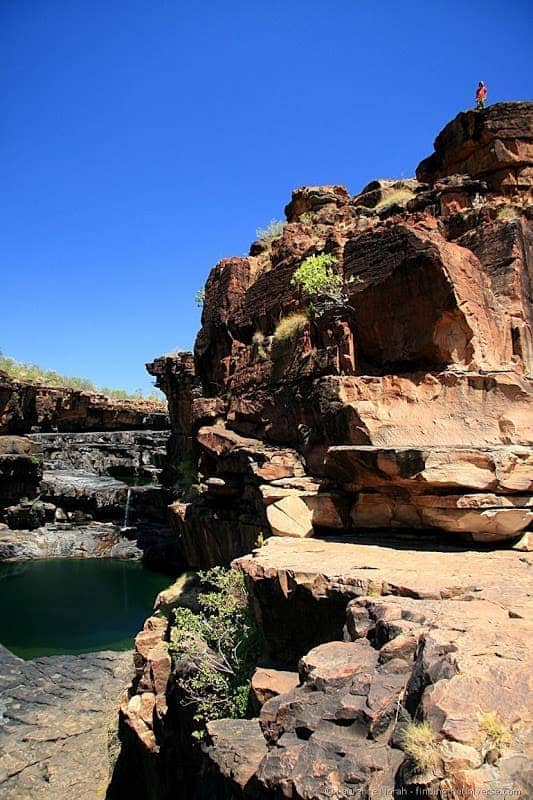 The latter requires a permit for visitation and has a no alcohol policy. If you decide to do the side trip, and I would highly recommend it for the waterfall alone, which is a magnificent sight as it carves its way over four ledges via a series of glorious lakes, then be prepared for a fair amount of additional driving.
From the turn off to the Drysdale Station is around 60km, and from there to the Mitchell Falls is a further 188km, the last section of which can be a bit tricky and has claimed a few vehicles. Fuel on this side route is only available at either the Drysdale Station or Kalumburu, although if you can, take fuel with you because it is really quite expensive along the whole route due to the isolation.
The Water Holes and Gorges
After the side trip to Mitchell Falls and Kalumburu is where the journey really starts to get interesting. Along the road there are multiple beautiful gorges that can be explored, most of which have rock holes that are croc free and safe to swim in (although if in doubt, don't enter the water).
Highlights of the route include the Mount Barnett campsite, which has two swimming options – one a long stretch of water just next to the camp with free inner tubes to bob around on, another a short hike through the bush to Manning Gorge – a stunning rock pool and waterfall. Definitely worth the walk. You could probably spend days just in this spot alone.
From Mount Barnett, the road takes you past a number of other wonderful spots, including Galvans Gorge and Adcock Gorge, before you arrive at another unmissable spot – Bell Gorge. This requires another short walk, although camping is available nearby, to a river which drops away over a multi-tiered waterfall into another gorgeous swimming spot.
When you spend as much time driving on dusty roads as the Gibb River demands, these spots really are heavenly relief, and you could spend some serious time here doing very little.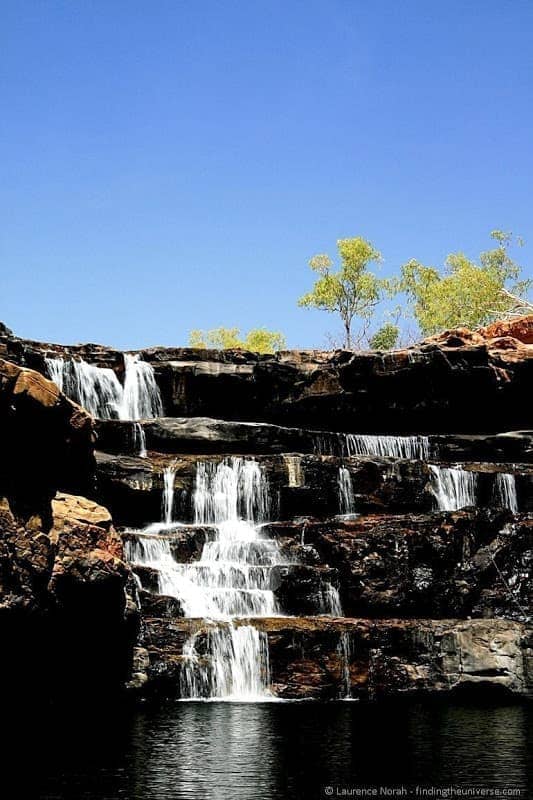 From Bell Gorge the road takes you on to Lennard Gorge (gorges are a serious drawcard of this drive, as you may have guessed), before splitting and giving you an option. You can continue on to Derby, via a bit of dirt road and then bitumen, or you can turn south towards the Great Northern Highway, and go to Windjana Gorge and Tunnel Creek. I cannot recommend doing this enough.
Windjana Gorge and Tunnel Creek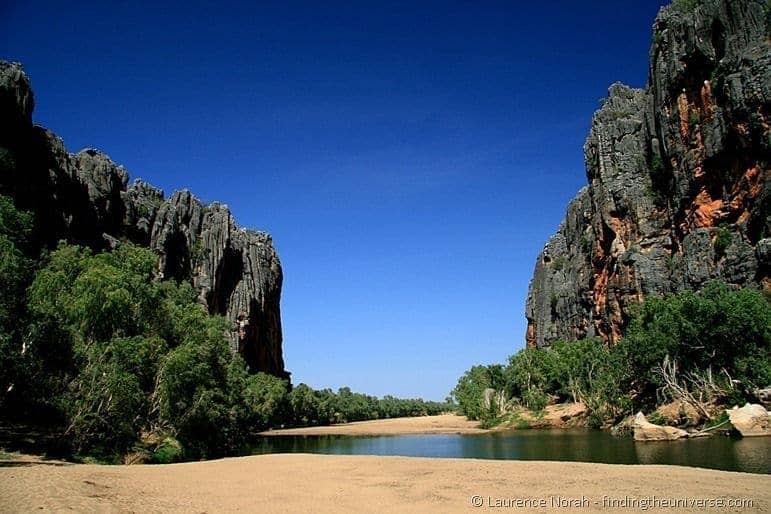 Windjana Gorge is where a river cuts its way through a 360 million year old Devonian reef, which due to the wonders of geology, has now found itself deep in the Australian outback. It rises out of the surrounding flatlands, an imposing black cliff straight out of a science fiction movie, with the gorge running through its centre.
It is home to a large population of freshwater crocodiles, and has played host to some remarkable fossil finds, which are embedded in the reef. A walk from one end of the gorge to the other, past hordes of bats hanging upside down in the trees and fossilised Devonian era creatures in the cliff face, is a must.
A little further south from this spot is Tunnel Creek, a kilometre long tunnel which cuts underneath the reef, which can be explored on foot. It is dark, full of bats, and some parts will require you to wade, so bring a torch and go in clothes you don't mind getting wet. A tremendous way to end your Gibb River Road adventure.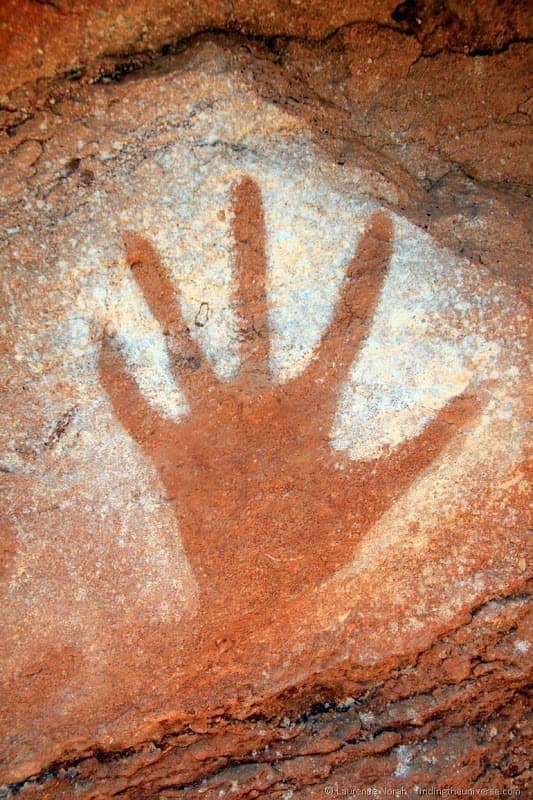 Trip Planning, Accommodation and Preparation
In terms of preparing for the trip, you need to be largely self sufficient as there are very limited supplies on the route. Fuel is available at Mount Barnett, Imintji Roadhouse and Drysdale Station, as well as at the top at Kalumburu. Don't rely on both petrol and diesel being available everywhere though, and expect it to be expensive everywhere – getting fuel to these remote locations isn't cheap.
The only store on the main road is at Mount Barnett, and as always, you should be carrying enough food and water to last you should you be unfortunate enough to break down. Recovery options are limited and expensive on this road, so be as prepared as you can to sort yourself out (two spare tyres, recovery equipment, etc..).
Accommodation options are also fairly limited. Free camping along the way isn't that easy to find as much of the land is privately owned. There are some national park campsites at spots like Mitchell Falls, Bell Gorge and Windjana Gorge, otherwise you will be at privately owned sites like El Questro, Barnett River and Drysdale River.
Whilst not overly expensive, do expect to pay a little bit more at these spots than you would elsewhere in Western Australia. My advice would be to just suck it up and pay because it is absolutely worth it.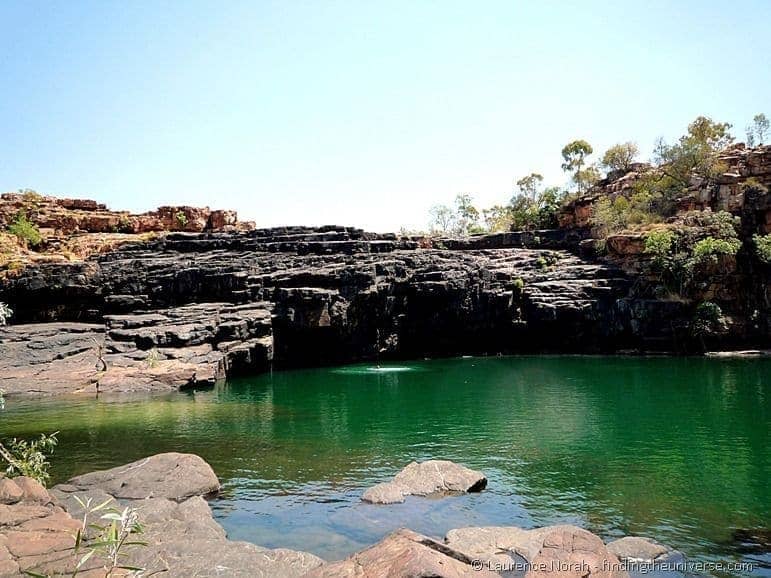 If you enjoyed this post, you may want to look at the others in the series, where I looked at going offroad in Australia's Gregory National Park and Limmen National Park. I also did a full article on preparing for an offroad trip, as well as other ideas for things to do whilst in Western Australia. Enjoy!