If, like me, you grew up in the 1980's, you might be familiar with a movie called Space Camp. If not, here's a brief plot recap – some kids go a summer camp to learn to be astronauts, accidentally end up in space when they press the wrong button, and then come home safely.
Ok, so that is a bit abbreviated. You should go watch the movie.
Anyway, it turns out that Space Camp is actually a real place, where you can take part in all kinds of space related activities, from simulated space shuttle landings to moon walks. And so when Jess and I were invited to Space Camp to experience it for ourselves, naturally we leapt at the chance to find out what it is like to train as an astronaut.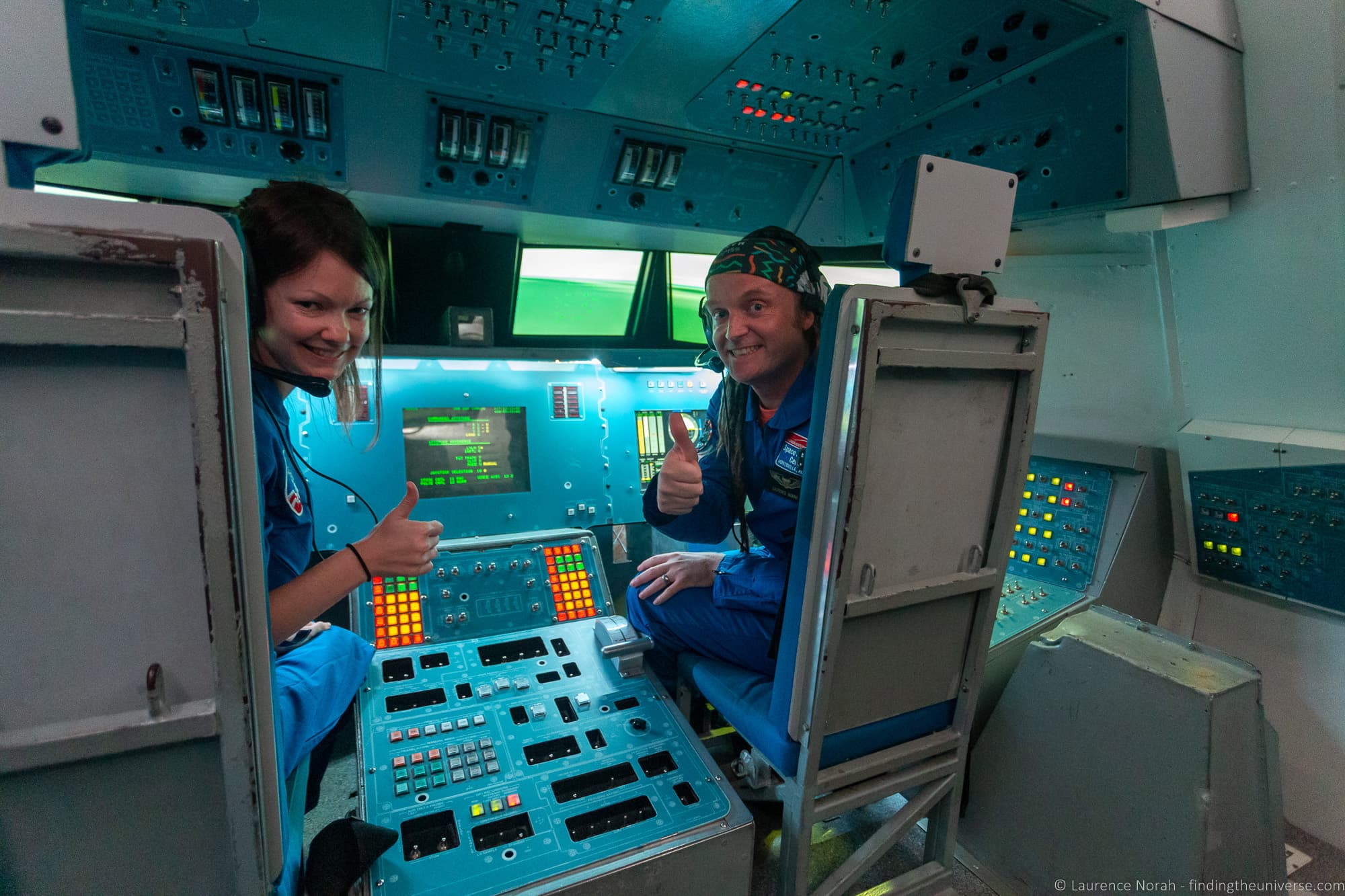 And with any luck, we might even press the wrong button and end up in space! Did that happen? Find out soon, where I detail our experience visiting Space Camp as adults. First though, some primer questions for you, as part of our detailed Space Camp guide!
A Guide to Space Camp USA
What is Space Camp?
Space Camp, formally known as United States Space Camp, is an educational camp program, operated by the U.S. Space and Rocket Center, with the goal of promoting science and math learning in a space themed environment.
Space Camp runs for between 2 and 6 days, with participants taking part in various hands on missions, a few of which we'll go into a little further on in the post.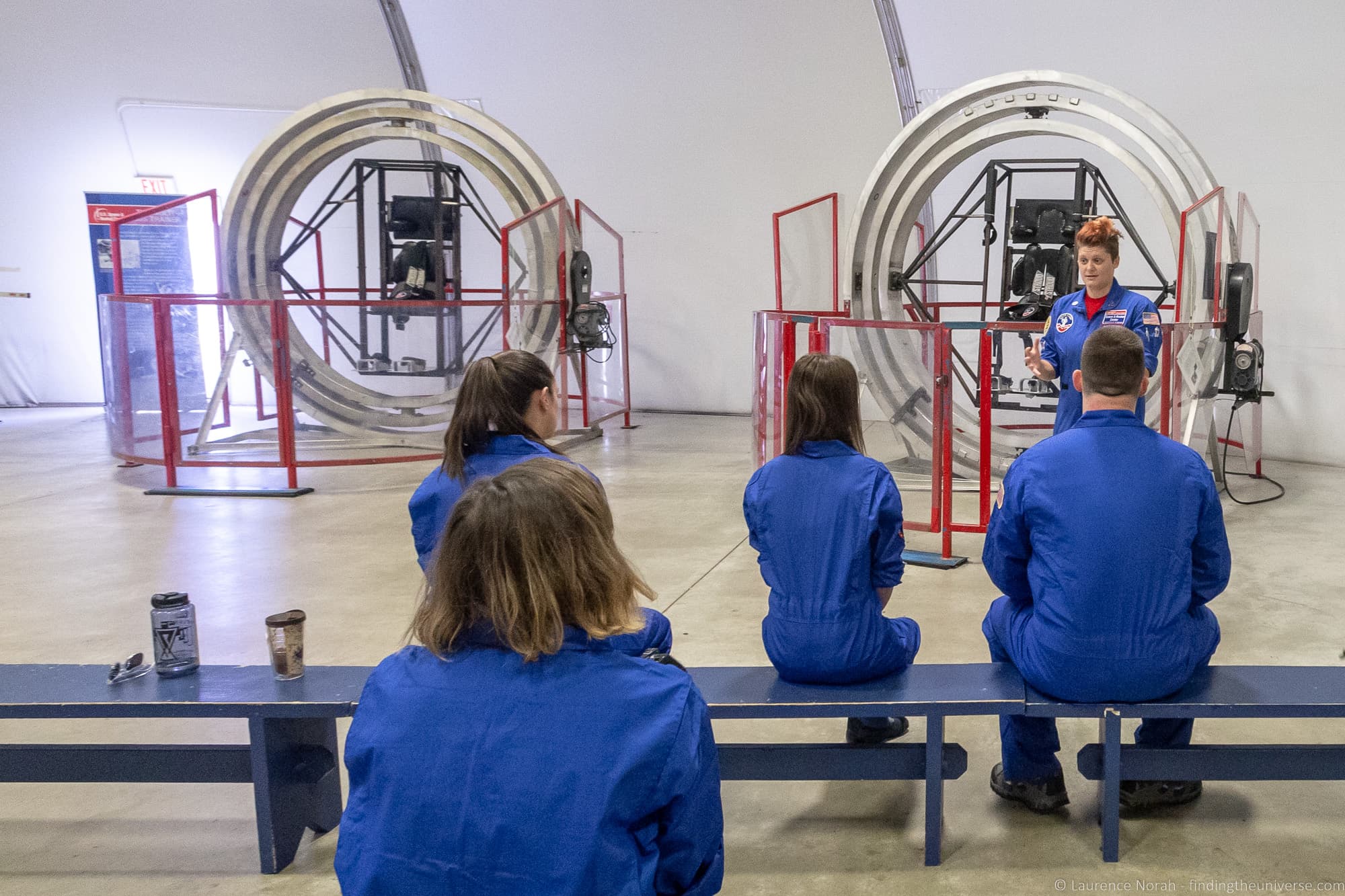 If you're not familiar with the concept of a camp like this, here's a quick overview. Camps in general in the USA, including Space Camp, are usually designed for both education and recreation, and involve an on-site stay of a few days or more, usually in a group of peers.
Camps are a fairly popular thing in the USA, with camps for everything from football to music to astronomy. They usually take place over the long summer break from school, and are generally aimed at school age children. However many camps run throughout the year, and there are often programs available for adults too.
Space Camp, which runs throughout the year, came about when Wernher Von Braun, father of the modern space program, suggested that perhaps a space camp might be a good idea to help promote science and math learning among America's children. The first space camp started in 1982, and since then it has had over three quarters of a million budding astronauts pass through.
Even more impressively, as of 2017, seven of Space Camp's graduates have gone on to become actual astronauts! Which is pretty cool I think.
Where is Space Camp?
Space Camp takes place in Huntsville, Alabama. This is the home of NASA's Marshall Space Flight Center, which was where Wernher Von Braun and his team actually designed the rockets that took man to the moon, as well as the Space Shuttle and International Space Station.
Today, NASA Marshall is actively working on the next generation of space flight systems, namely the SLS (Space Launch System), which is designed to take man back to the moon and on to Mars.
As you might imagine, Huntsville is literally full of real-life rocket scientists.
What better place therefore for Space Camp to be, practically next door to NASA and in the shadow of a Saturn V rocket?
Note that in the SpaceCamp movie, space camp takes place in Kennedy Space Center, which is near Cape Canaveral, Florida. Presumably this was because this is where the shuttle launches actually took place, and that's kind of a key plot requirement. However, the film was shot in part in Huntsville at the real-life Space Camp location.
Is Space Camp for Adults?
You might think that Space Camp is aimed at children. And certainly, the majority of attendees who go through the various programs on offer are aged 7 – 18.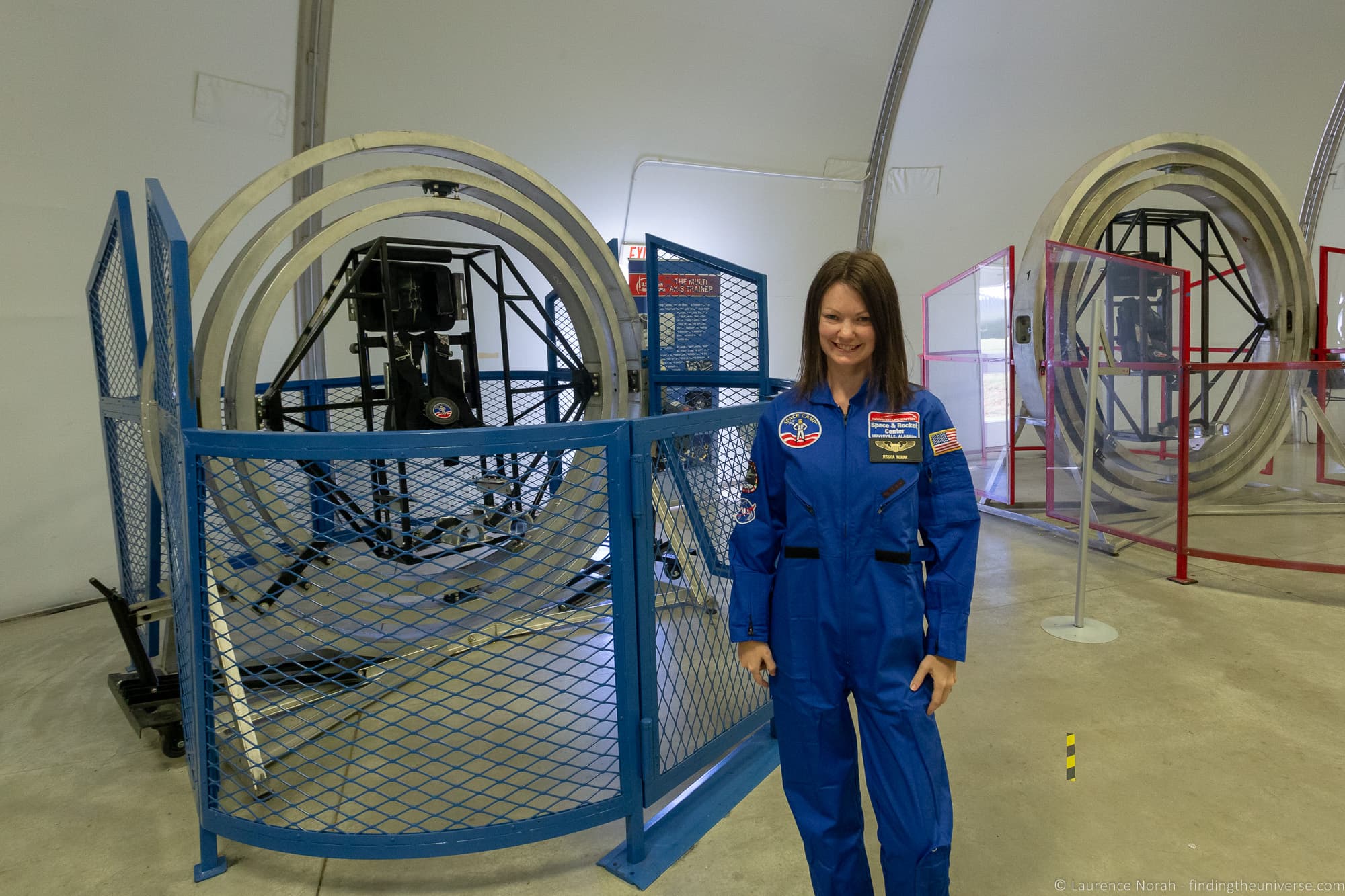 But, as I was personally rather delighted to learn, there is a whole program of activities just for adults, who can attend adult-only Space Camp astronaut training programs. These vary in length from 2 days to almost a week, and the content on offer is geared towards adults.
There are also a number of other space camps targeted at specific needs – essentially there's a space camp option for almost everyone! This includes a family program where parents and grandparents can attend with their children, see below.
Can Families attend Space Camp?
Yes! Space camp runs programs for families, so you can take your kids to Space Camp and pretend you are there for their benefit and fun, rather than yours.
As of 2022, there are two family-oriented space camp programs as follows:
A 2-day Space Camp Program for children aged 7 and up (at least one adult must also attend). Runs over the weekend and costs $299 per person. Accommodation is not included
A 3-day Space Academy for children aged 7 and up (at least one adult must also attend). Runs Friday through Sunday and costs $529 per person. Accommodation is included
How Much Does Space Camp Cost?
Space Camp prices vary, depending on the program and age of the attendee. Prices for 2022 are as follows.
For children ages 9-11, the 6 day Space Camp program is $1,299.
For children aged 12-14, the 6-day Space Academy program costs $1,299.
For children aged 15-18, the Advanced Space Academy is $1,499 for a 6 day program.
For children aged 17-18, the Advanced Space Adademy Elite is $2,499 for a 6-day program. Attendees must have already completed the Advanced Space Academy.
For children, the Space Camp program includes meals and lodging on-site as well as all the activities.
For adults there are three Space Camp programs in 2022.
A 2 day Adult Space Camp which costs $299 and does not include accommodation
A 3 day Adult Space Academy which costs $549 and includes two nights accommodation on-site
A 6 day Advanced Adult Space Camp Academy, which costs $1,449 and includes five nights on-site accommodation
You can see a list of all the current programs and their associated costs here.
Can you Sleep at Space Camp?
For the programs which are three days or longer, accommodation is normally available and provided on-site in dormitory style single-sex rooms, and this is included in the price.
As an adult or family attendee it's also possible to stay off-site if you prefer. The closest hotel to Space Camp is the Huntsville Marriott at the Space & Rocket Center, which is the only hotel on the grounds of the U.S. Space and Rocket Center.
Another option, if you have an RV or other camper, is to stay in the on-site Space Camp RV park. This is open to any Huntsville visitor, you don't have to be attending Space Camp, and is a great option if you happen to have your own RV.
See more on hotels near Space Camp in the next section.
Hotels Near Space Camp
If you're visiting as an adult or family, or simply want to stay near your child when they attend Space Camp, you have a number of options in the immediate area. Here are some to consider.
Another option, if you have an RV or other camper, is to stay in the on-site Space Camp RV park. This is open to any Huntsville visitor, you don't have to be attending Space Camp, and is a great option if you happen to have your own RV.
There are also properties in downtown Huntsville that you can stay at, which is around a 10 – 15 minute drive away. Take a look here at all the hotel options in Huntsville to see what is available.
If you choose to stay off-site, you will be responsible for your own transfers to and from Space Camp.
Is Space Camp for Americans only?
Absolutely not! Space Camp is open to all nationalities, and they have in fact had attendees from over 150 countries. Each year, 20% of visitors to Space Camp are from overseas.
The only requirement is a good understanding of English, as the program is only offered in English. If you are an international visitor, you'll also need a visa for the USA, depending on your country of residence.
How Long is Space Camp?
Space Camp experiences vary in length, depending on the program.
For children, the space camp programs are usually 6 days / 5 nights.
For adults, the standard program is two days / one night, although there are also longer camps available.
What do you need to Bring for Space Camp
Space Camp is going to be fairly similar to most other trips that you might take in the USA, and you don't need to pack anything particularly special. Comfortable clothing with enough changes for the duration you are there. Bear in mind that some activities might require a bit of physical activity, so you might get warm – layers are always a good idea.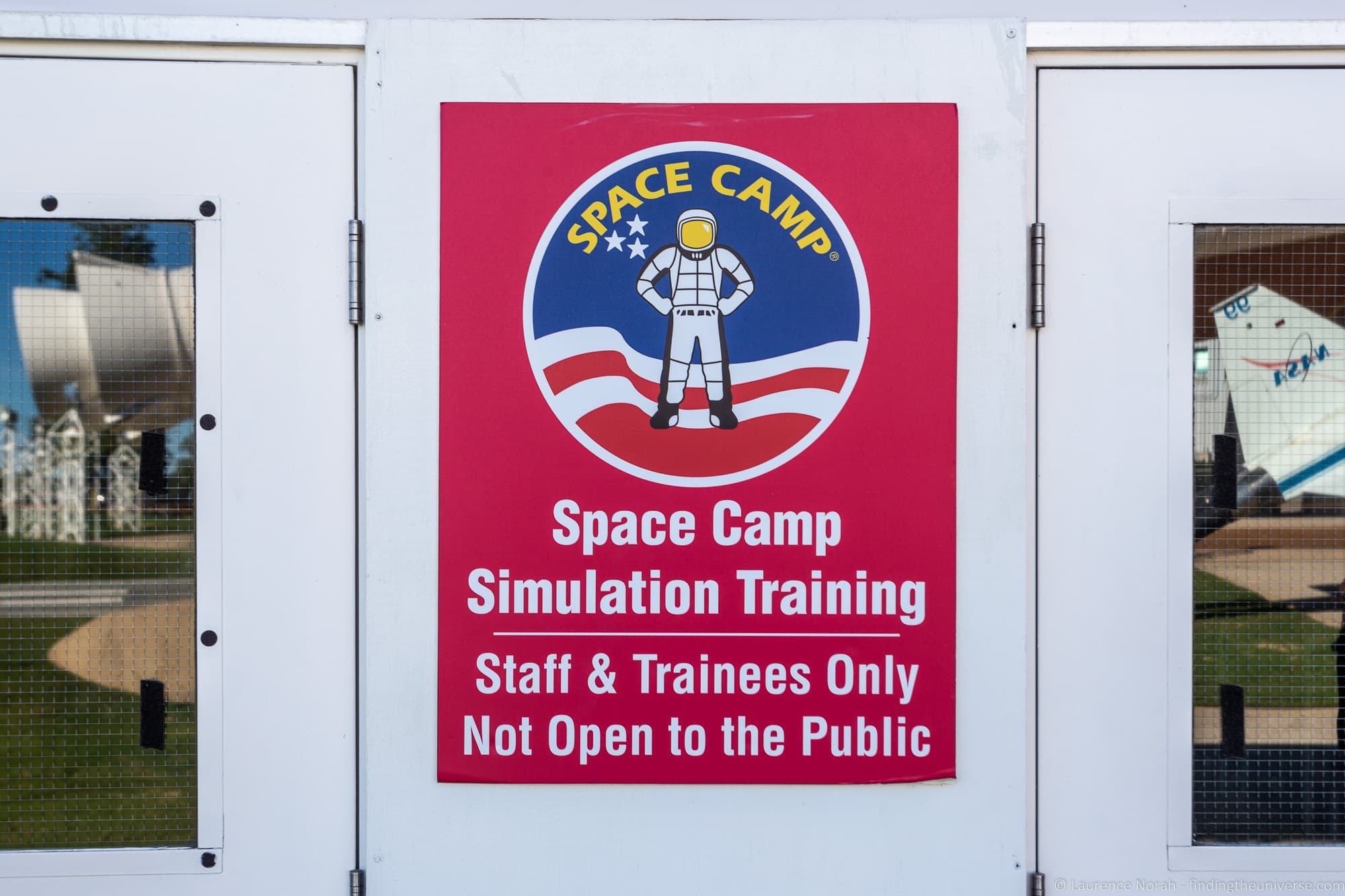 There isn't a dress code exactly, however there are requirements for the clothing that you should check out here before you pack. As a guide, loose comfortable clothing, layers, and comfortable close-toed shoes are a good idea.
Also some of the activities will likely be outdoors, so you will likely need a rain coat and / or sunscreen, depending on the time of year you visit.
It's also recommended to bring sleepwear (bed linen is provided if you sleep on-site), a padlock for the provided lockers, a water bottle, and a day pack to carry things between activities.
You are also allowed to bring cameras and cell phones / tablets with you, but you are encouraged to minimise use of connected devices so as not to spoil the immersive experience.
For more information on what to bring, check out the Space Camp official frequently asked questions page.
How to arrange a Space Camp Experience
I'm sure that all this information has got you excited about planning your own Space Camp experience, and now you're wondering how to go about doing that. Well, it's pretty easy! Just head over to the official Mission Control page where you can set up your profile and book your adventure.
For groups, you'll want to head over to the group page where you can request availability for the various programs.
Our Space Camp Experience
So, hopefully that answers many of your Space Camp questions. If not, head on over to the official FAQ page for lots more information! Now, I'm going to talk about our experience attending Space Camp.
We only had a day at Space Camp, so we didn't get the full experience, which usually includes more of a mission feel and team-based exercises.
Instead, we got a handle on the various experiences that trainees go through as part of their time at Space Camp. Essentially a highlights reel! Here's what we did.
Suiting up
The first thing that happened after meeting our mission co-ordinators Moriah and Margie (I don't know if this was their official title, but this is what I'm going to call the lovely people who managed our experience) was we were issued with our flight suits!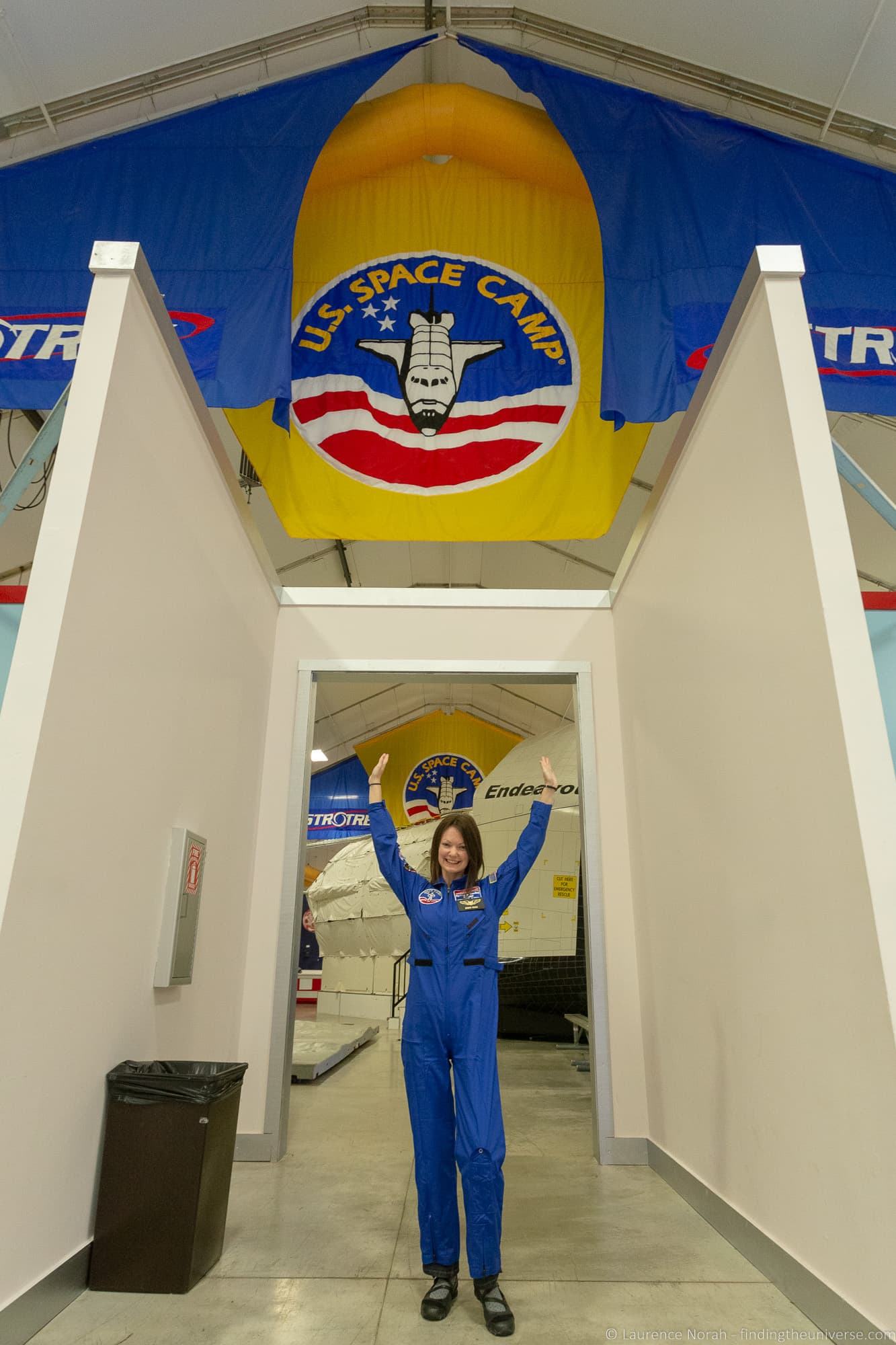 These were super cool all-in-one suits with loads of pockets, not to mention NASA badges and logos. They even all came with our own custom leather name logo.
We were thrilled to each get one of these to keep (note, these are available for $99 if attending Space Camp), and it certainly put us all in the mood for starting some space activity training!
Multi-Axis Trainer
Our first adventure of the day was a ride (I'm not sure I'm supposed to call it a ride, but there we are) on the Multi-Axis Trainer.
This is based on a trainer that was used for NASA's first manned space flight program – the Mercury program. It's constructed of three large concentric rings with a chair in the middle, in which you sit. And then, you get spun around and upside down as the rings move inside each other.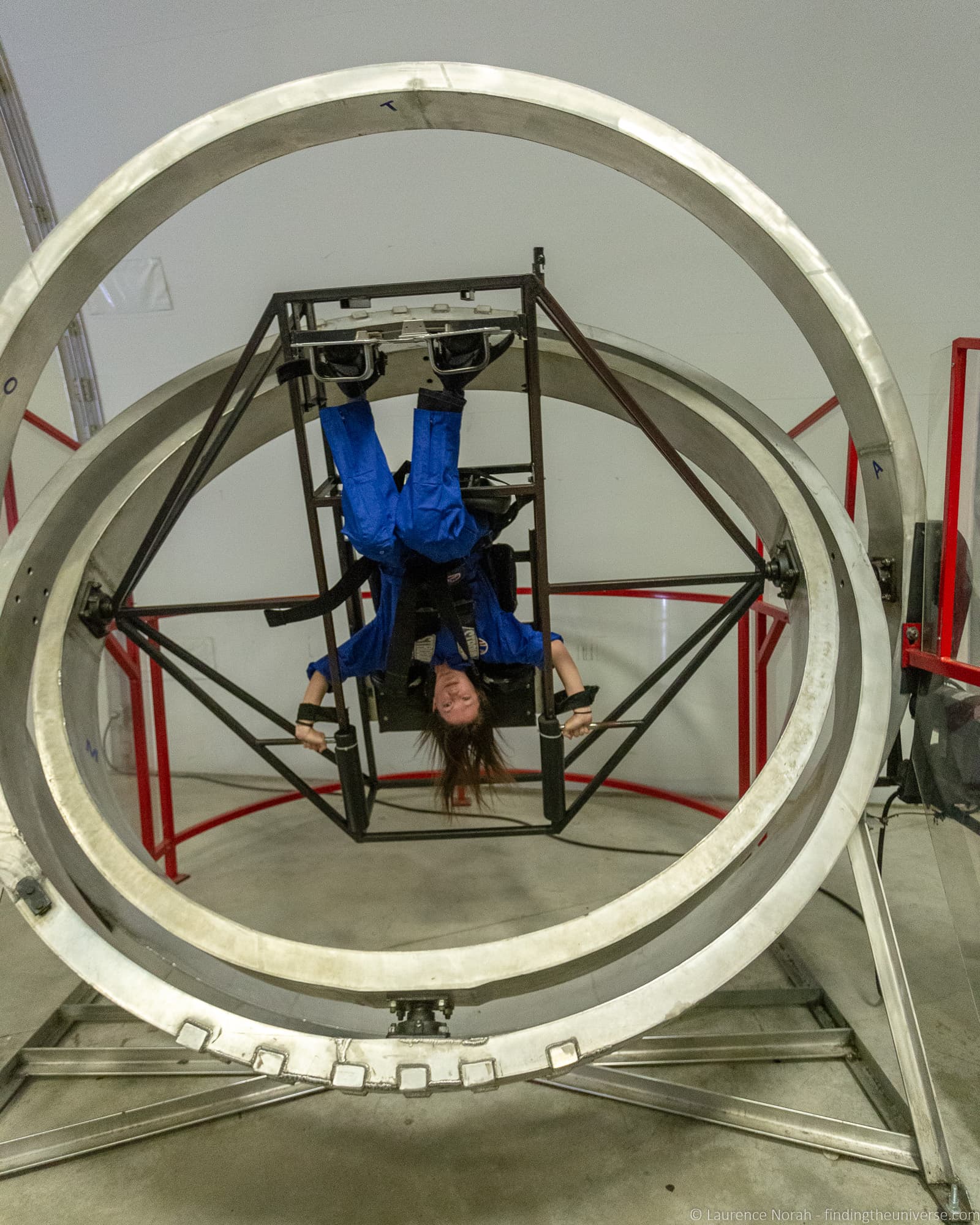 This may sound nausea inducing, but the simulator is actually specifically designed so your stomach stays centered, and it shouldn't cause nausea. In addition, as you don't spin more than twice in any direction, your inner ear fluid doesn't move, meaning there's no dizziness.
Certainly, all of us who took part in it didn't feel any ill effects from the movement. Instead, the trainer is designed to disorient the user, and NASA used it to help astronauts learn how to handle instruments in a fluid environment.
We certainly enjoyed it!
Moon Walking
Our next adventure was moon walking! Ok, so technically the simulator is called the 1/6 chair, which alludes to the fact that it simulates a 1/6th gravity environment – the same as the moon.
As an idea of what this means – if you weigh 170lbs on earth, the simulator would give you an idea of what it would be like to weigh around 28lbs – the same as you would on the moon. Best diet machine ever.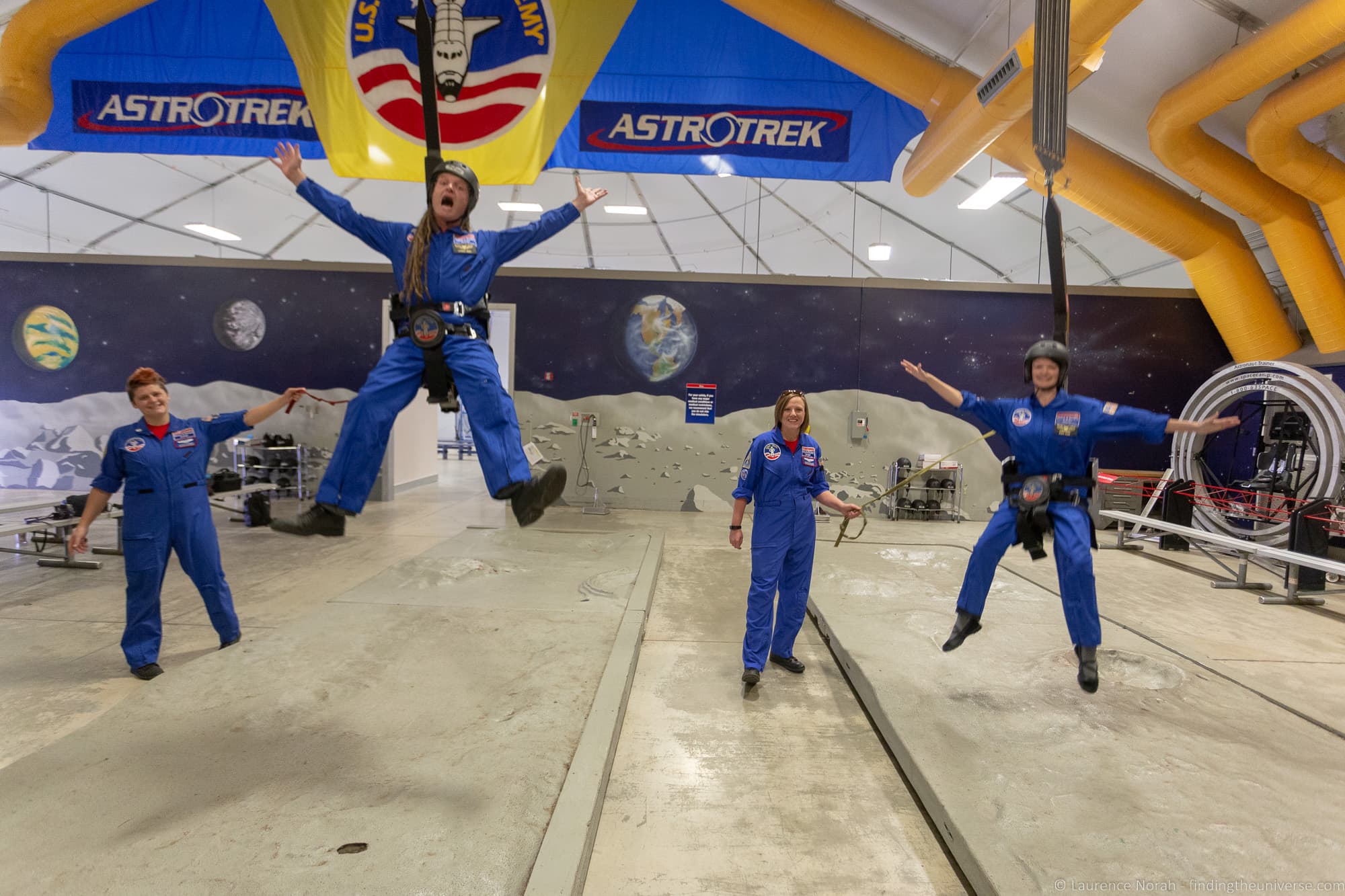 The simulator is set up above a surface that looks like the moon, and you get to essentially practice "moon-walking". No, not the version by Michael Jackson – the version that actual astronauts did on the actual moon.
This was one of my favourite activities of the day, although it did take a while to get used to walking on the moon – all I did in the beginning was bounce up and down very high, which whilst fun, didn't actually get me anywhere. Once I figured out it was similar to walking, but in slow motion, I did better.
Space Shuttle Flight
Whilst the space shuttle itself is no longer in operation, you can still get a feeling for what it might have been like to fly aboard this awesome vessel in the space shuttle simulator.
This is a fairly accurate model of the space shuttle interior, complete with more buttons and switches than you can imagine, as well as a flight simulator style interface with joysticks and so on.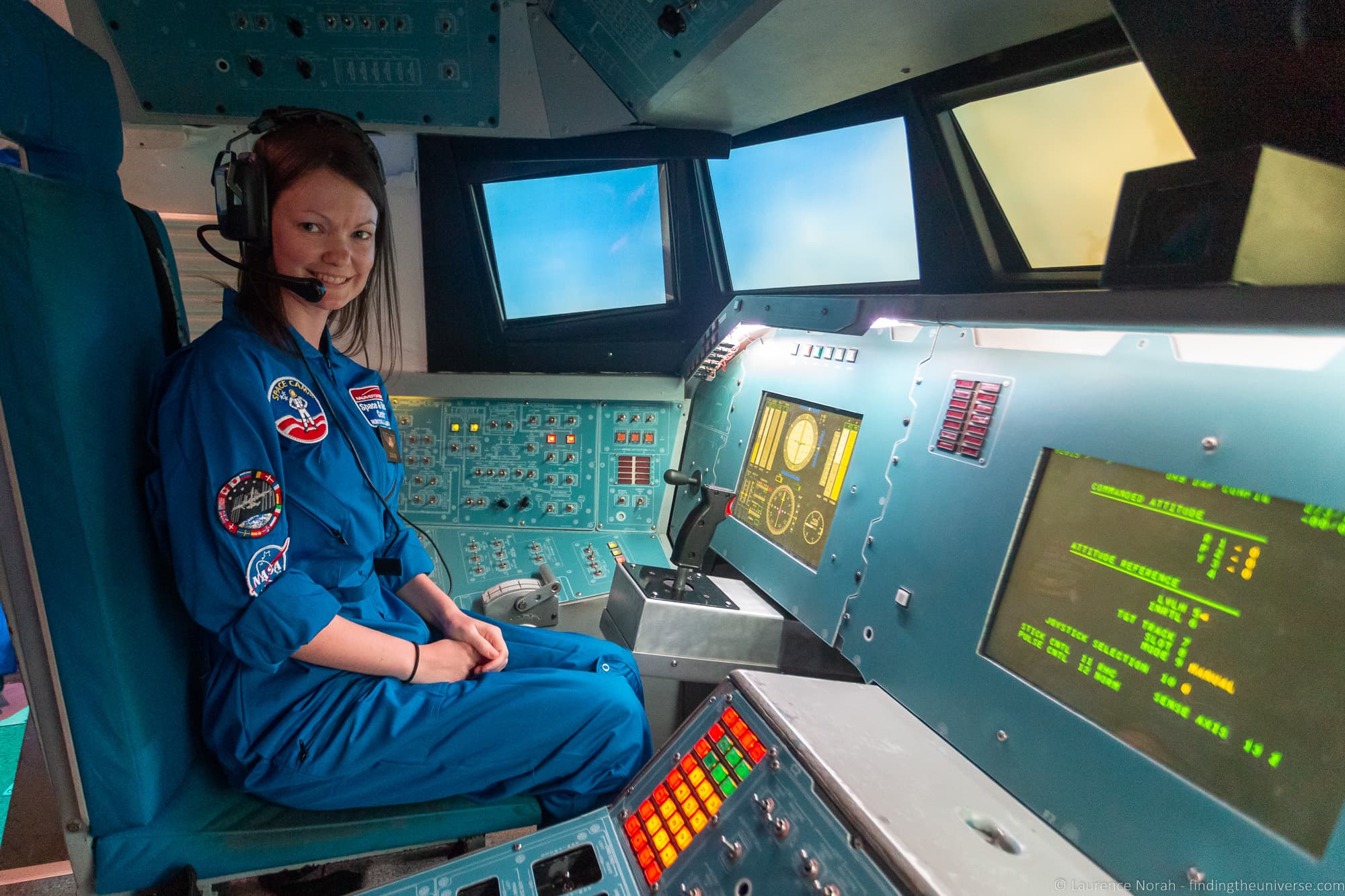 We ran through a few missions in the space shuttle – Jess was lucky enough to be the mission commander on this experience, and I got to be the pilot. Our first missions involved troubleshooting with mission control various simulated issues, which required us to find and locate various switches, and enter commands into the command line interface.
The highlight though was getting to land the space shuttle, which fell to Jess to do, as shuttle commander. She definitely landed us near the runway, although I'm not sure we walked away without a few bumps…
Space Station Experiments
Our next mission had us inside a mock-up of the International Space Station, or at least, a part of it. Here, we were introduced to some of the science experiments that Space Camp attendees get to take part in when on mission.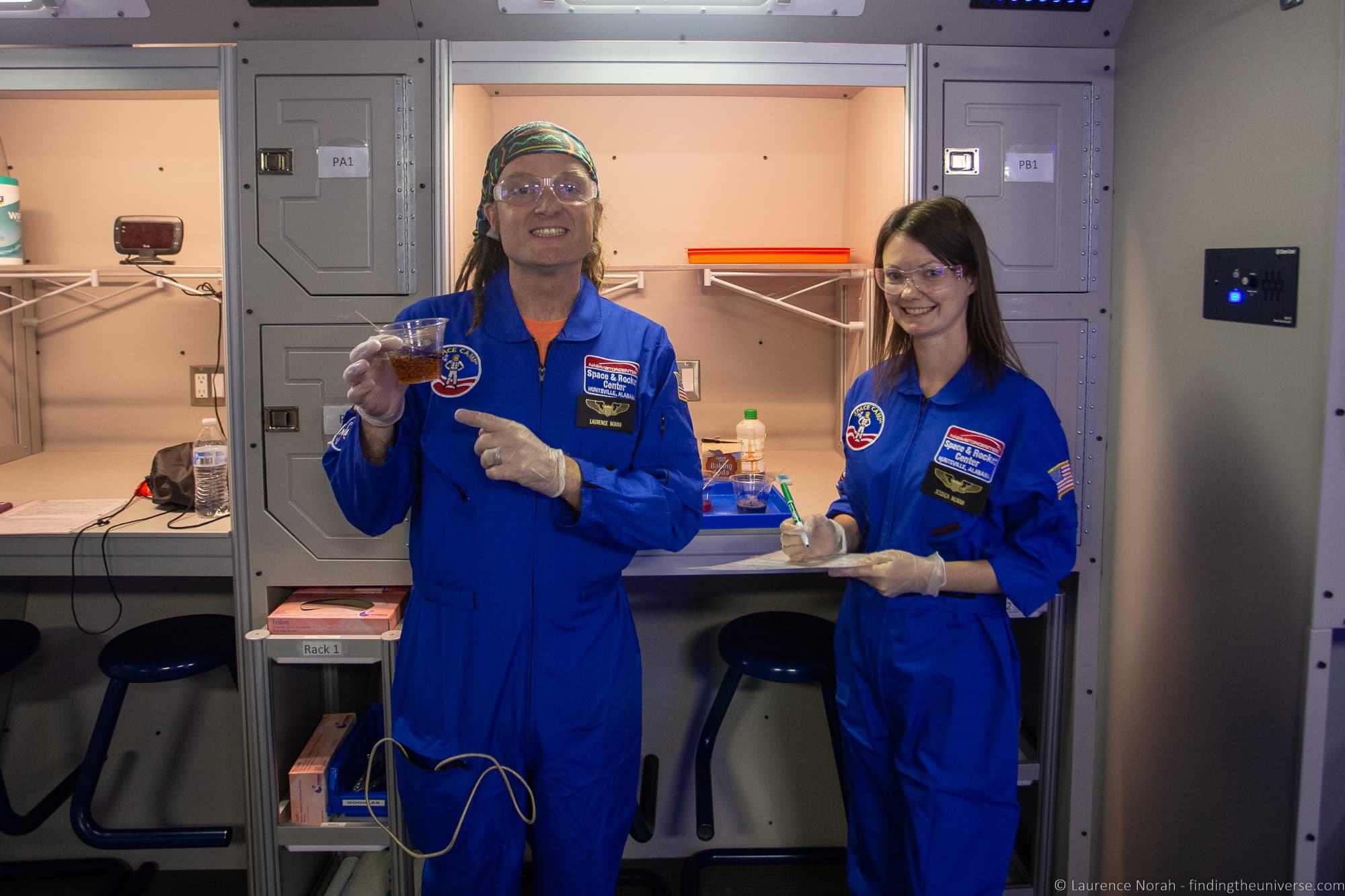 In our experience, we had to locate a number of items inside the module (to give us an idea of how a space station is organised), after which we had to follow instructions to mix various liquids together, and report our findings.
It was essentially a chemistry lesson, but as we were in space – it was a lot of fun. A lot of the work on the real life International Space Station involves science experiments, so getting people hands on with this is a great idea.
Orion Launch
You might not know this, but we're in a good place in terms of space activity right now, with NASA building the world's largest rocket system (the SLS) in order to take humans further than they've ever been before, including on to Mars. Whilst there is no firm date set for this, projections for Mars missions put them around the 2030's.
The pace of change in technology, both space related and in general, has given the Space Camp folks a great deal of opportunity for introducing new experiences, and while we were visiting, they were working on a whole new Mars based experience.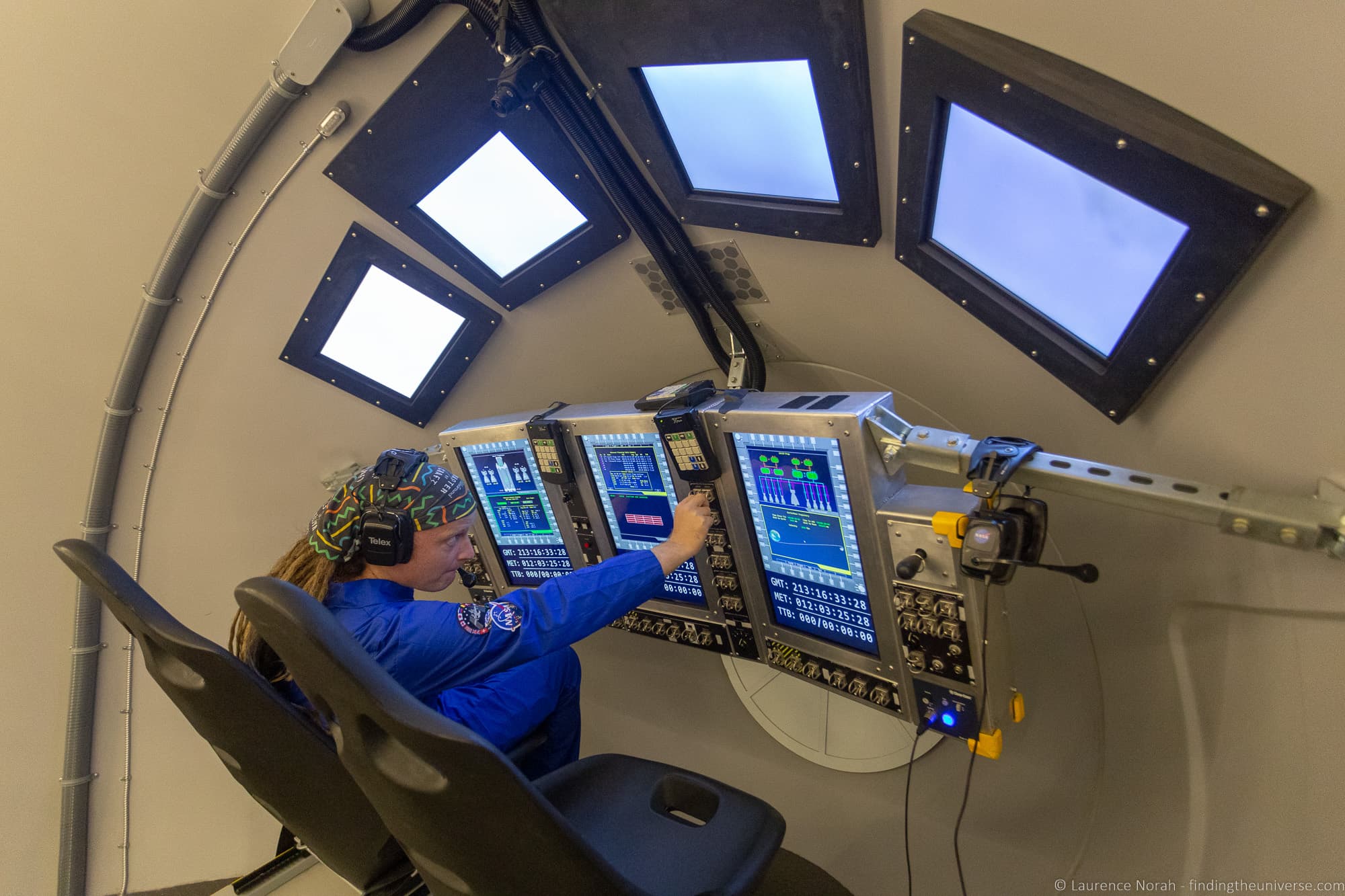 In the meantime, we got to have a ride inside the new Orion Spacecraft. This is a new crew capsule, designed for up to four astronauts, that's going to be launched on the massive new SLS. This has a goal of getting people everywhere from the International Space Station, to the Moon, and beyond.
What was fun about doing this experience was being able to compare it to something like the Space Shuttle simulator. Massive advances in computer technology have meant that so much more of these missions are now automated. Gone are the hundreds of buttons, switches and dials, replaced by more streamlined and automated systems.
This of course presents a new challenge for Space Camp – keeping things as interactive and hands on as possible, yet whilst still keeping true to the real experience.
We certainly enjoyed our simulated launch, earth orbit, and splashdown in the Orion Simulator though!
EVA Practice
Another highlight of our time at Space Camp was our EVA mission. EVA, for those of you not familiar with the acronym, stands for Extra Vehicular Activity, and refers to the time when an astronaut goes outside their spacecraft to perform some sort of task.
Yes folks, I'm talking about a spacewalk.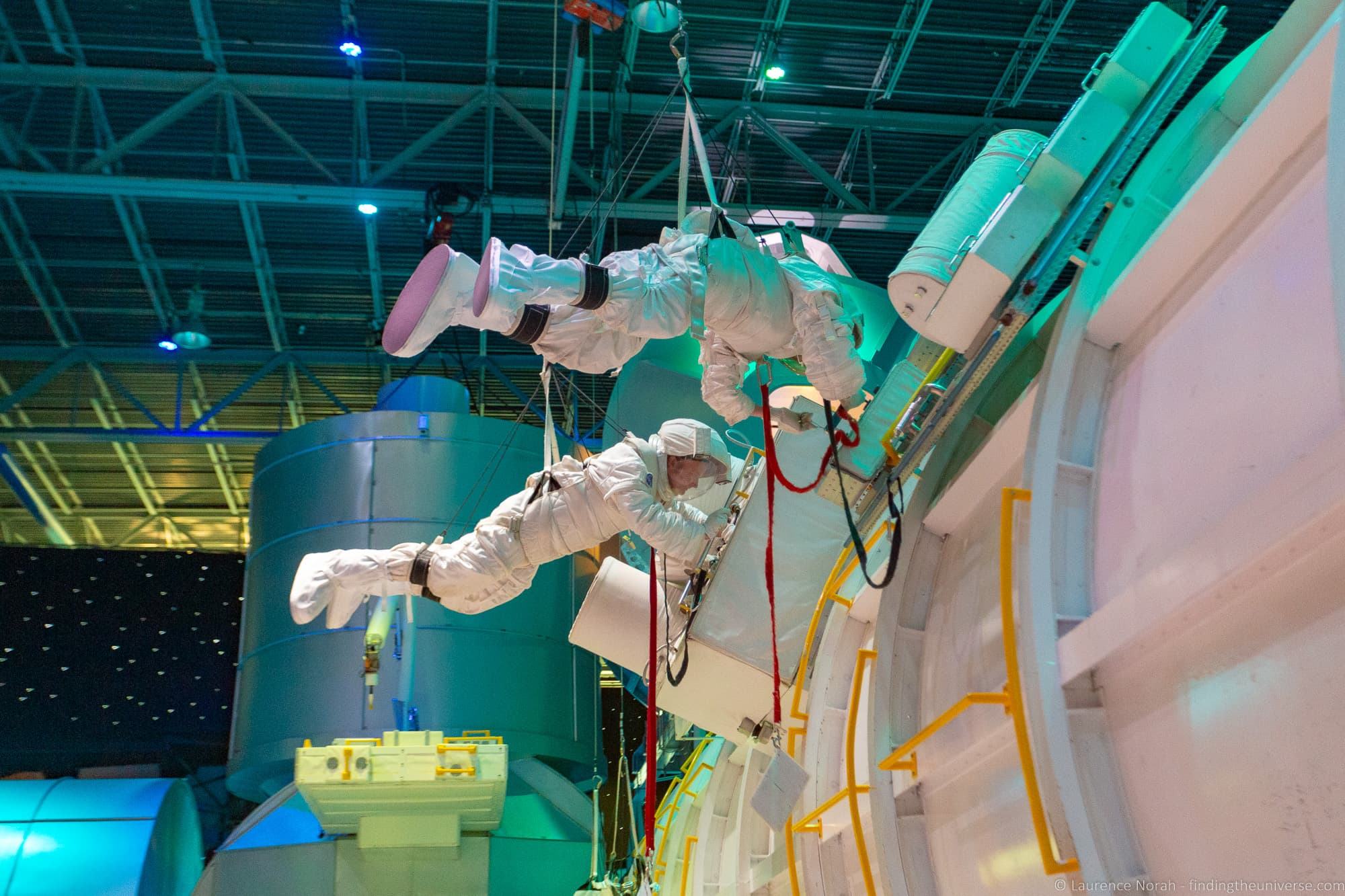 OK, so we didn't get to go to actual space. But with the help of some impressive suits and various cable systems, Jess and I did get to have an idea of what it is like to try and repair a section of a space station from the outside, and the various challenges that entails.
This included trying to manipulate fittings with bulky gloves on, stopping our gear and tools from "floating away" (or in our case, hitting our cable operators on the head), and working as a team in a high pressure environment.
This was fun but also definitely one of the more physically demanding activities we did – who knew floating around outside the ISS could be so much work!
Food
It may be hard to believe, but with an early start, we somehow managed to fit all the above into an experience that we completed in time for lunch.
Which meant that we got to have lunch at the on-site cafeteria. This featured a range of cuisines, which rotate based on the nationalities of people who have stayed on the ISS. When we visited, it was Vietnamese food, so we had noodle bowls for lunch!
Of course, there are lots of options, including a full salad bar, various classic American dishes (pizza, hamburgers), and various soft drinks, as well as dessert options.
Touring the U.S. Space and Rocket Center
What is really cool about Space Camp is that it is on the same site as the U.S. Space and Rocket Center – a large museum dedicated to space flight and exploration. This can be visited as a separate attraction, and thousands of people do that every day.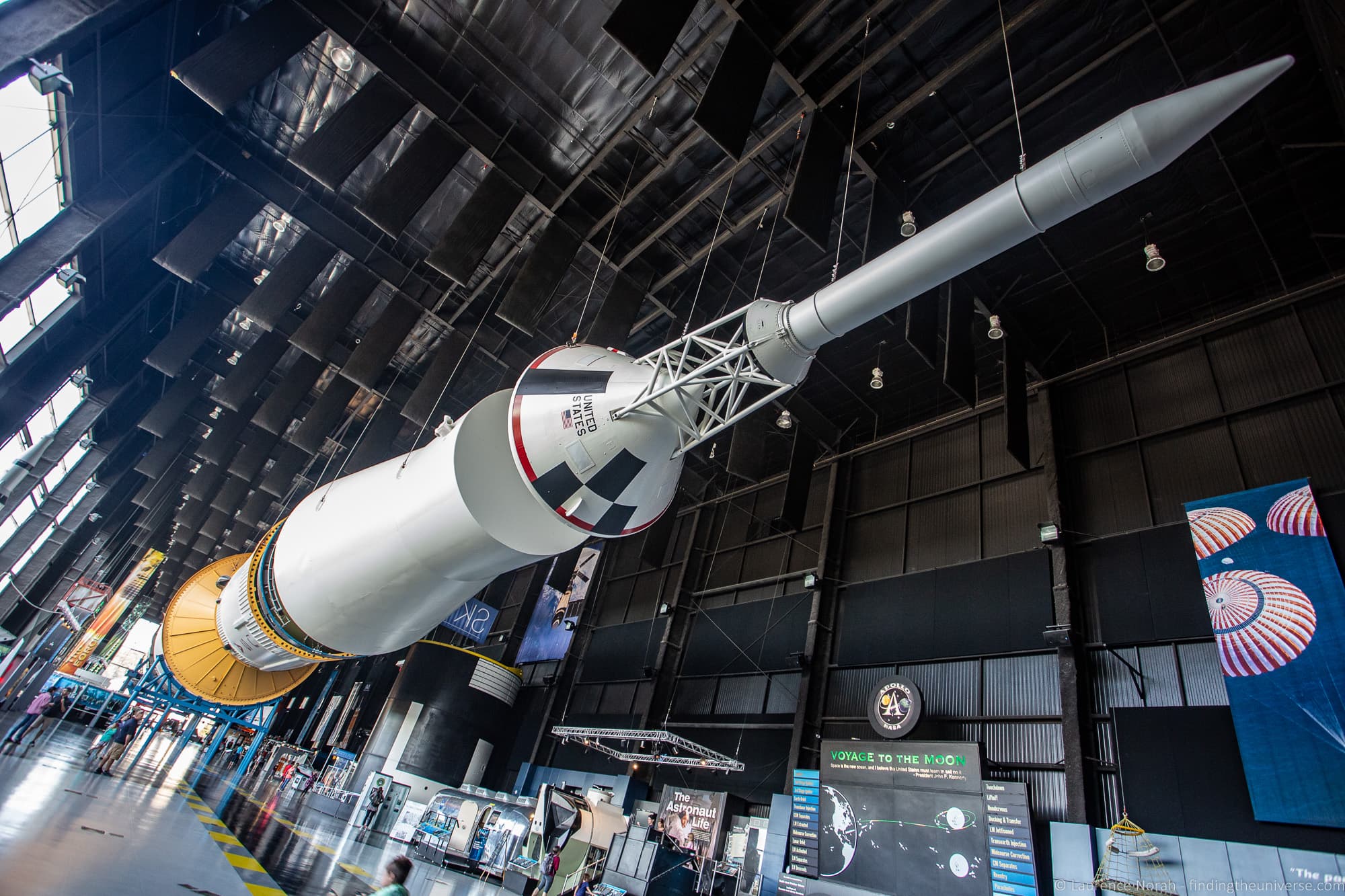 There are various exhibits here, ranging from the dawn of space flight, right up to the present day and beyond. Perhaps most impressive are the two Saturn V rockets, one mock-up, which sits outside in a vertical configuration, and then a "real" Saturn V, which sits inside the Saturn V hall laying horizontally.
It's here that you can see the immense scale of the rockets that sent man to the moon, and understand the complexities involved in doing so. You can also take a tour with one of their 100 docents – folks who actually worked on the various NASA space programs, and hear their stories of life at NASA. Which is pretty amazing.
Our guide, Kenny Mitchell, had worked with NASA since the 1950's, and has even got a book coming out about his experiences!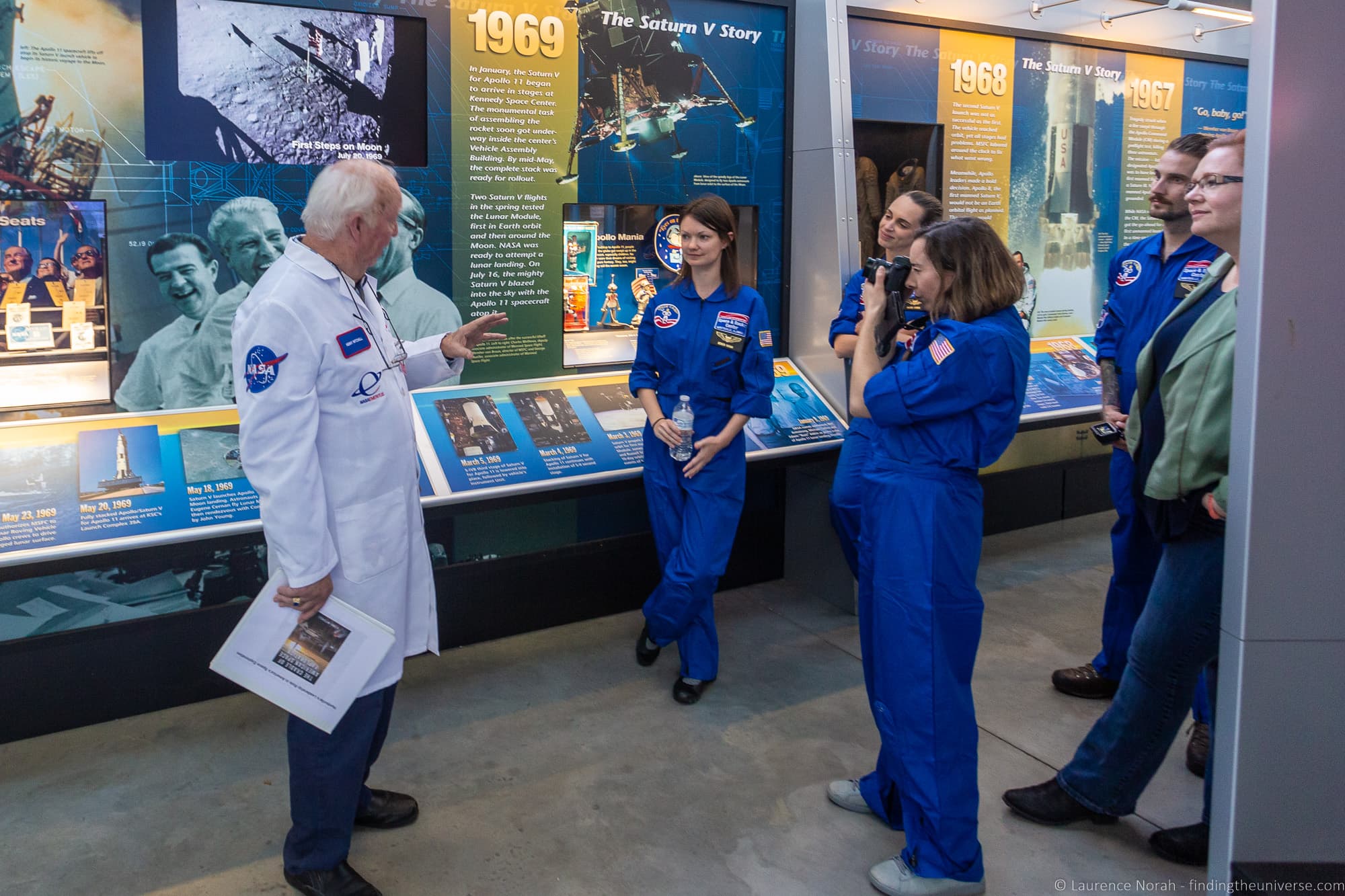 There are also some fun rides to take part in, which are also related to space. The two we tried were the Moon Shot and the G-Force accelerator. The Moon Shot gives you an impression of rapid acceleration followed by a couple of seconds of actual Zero-G, by firing you up into the sky – covering 140 feet in 2.5 seconds!
The G-Force accelerator is a huge centrifuge which spins you around to create a force equivalent to three G, which is quite a lot, and makes even simple activities like moving your arms around a lot of work.
There's loads more to see here and enough to easily fill a whole day (we actually came back on a different day to see more, as the afternoon wasn't enough!). There's also an on-site gift shop (two in fact!), which is a must-stop for space fans.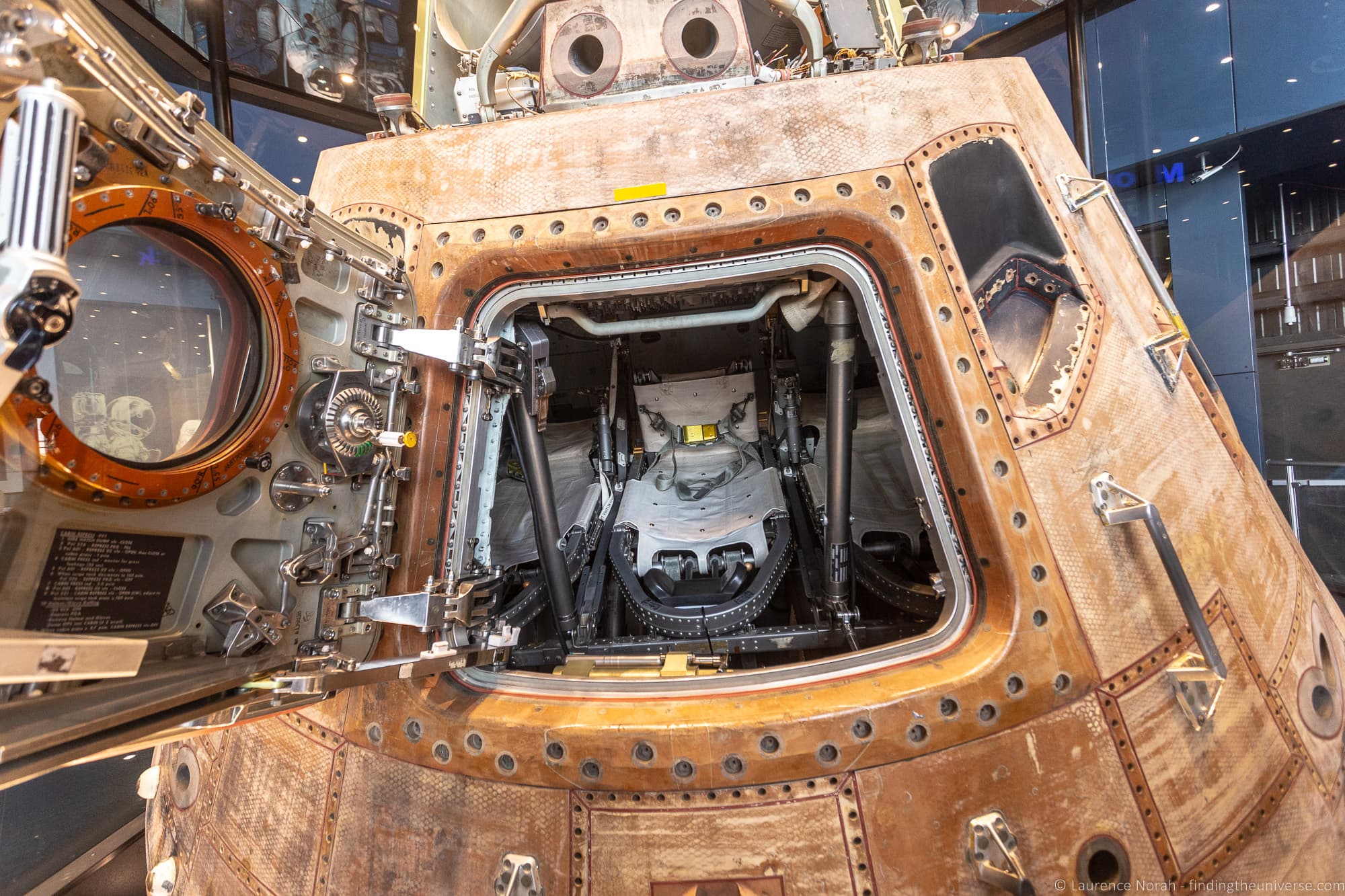 Even if you don't do a Space Camp experience, a visit to the U.S. Space and Rocket Center is definitely recommended!
In Summary: Our Space Camp Experience
As you can hopefully tell from this post, we had an amazing time at Space Camp. Even Jess, who by admission isn't nearly as interested in space stuff as me, really enjoyed herself. The learning experiences and hands-on activities were a lot of fun, and everyone we met with was enthusiastic, knowledgeable, and fun to be around.
If you are thinking of going to Space Camp as an adult, we can highly recommend the experience. Even though we only had a short version of what's available, it really got us excited for how much fun it must be to do a fuller, more lengthy program with a real mission structure.
Learning to be an astronaut whilst having fun. I mean, what could be better than that?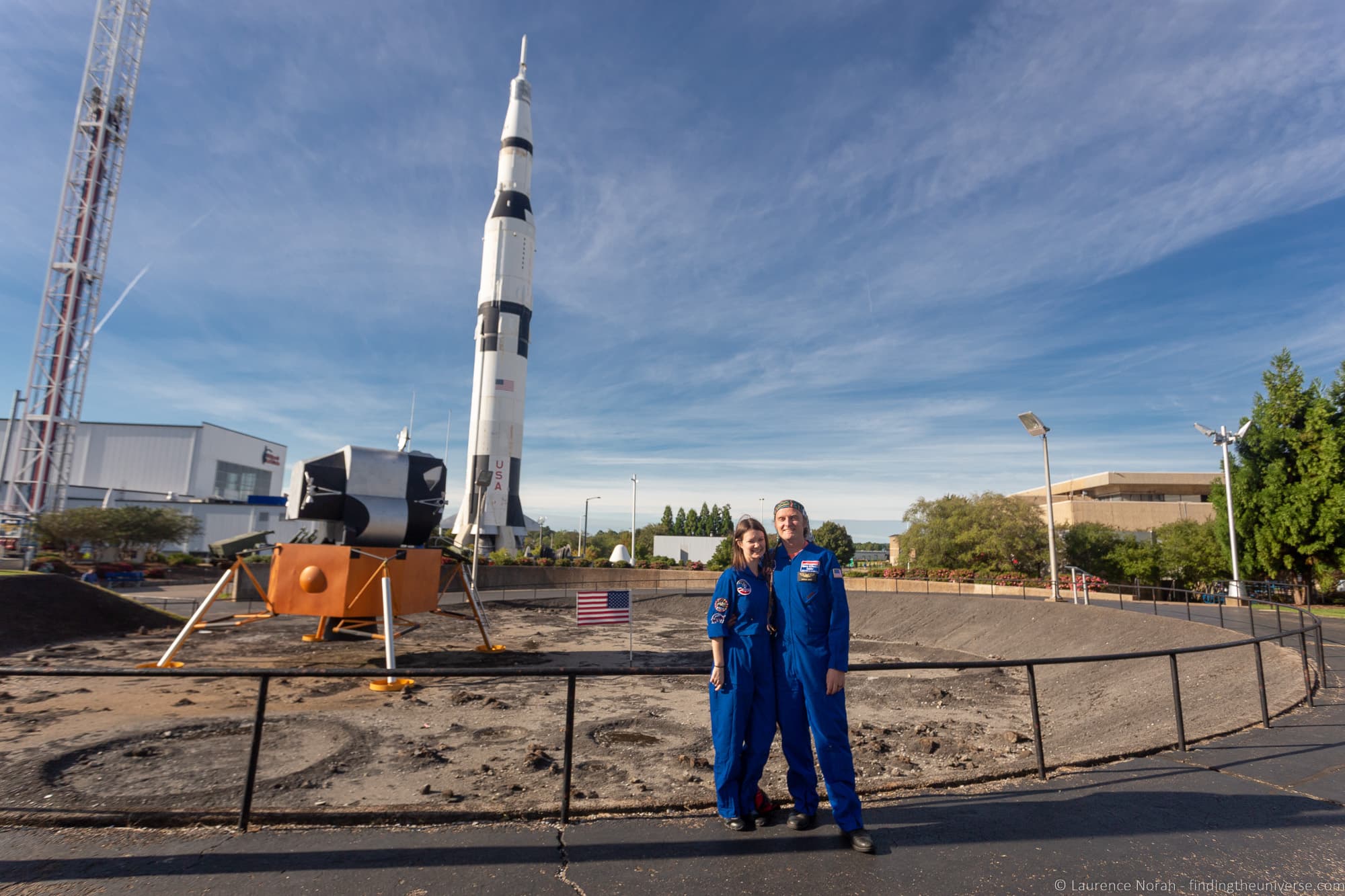 What else is there to do in Huntsville?
We appreciate that a lot of folks bring their families along to Space Camp but don't attend themselves, and so you might be wondering if there's anything else to do in Huntsville beyond attend Space Camp. After all, you don't want to be sitting in a hotel for six days!
The good news is that there is loads to do in Huntsville, from quirky restaurants to art museums to hiking and more. There's so much to do in fact, that we put together a comprehensive guide to the best things to do in Huntsville. We definitely recommend checking that out.
Further Reading
Hopefully you enjoyed reading about Space Camp in the USA, and our short experiences learning all about life in space! We did a lot of other things in Huntsville during our stay as well, which you can read about in our guide to things to do in Huntsville.
In addition to that, here are some more resources to help you plan your trip to Space Camp!
And that's it for now! As always, we're happy to answer any of your questions or hear your feedback about the above. Just use the comments section below to get in touch.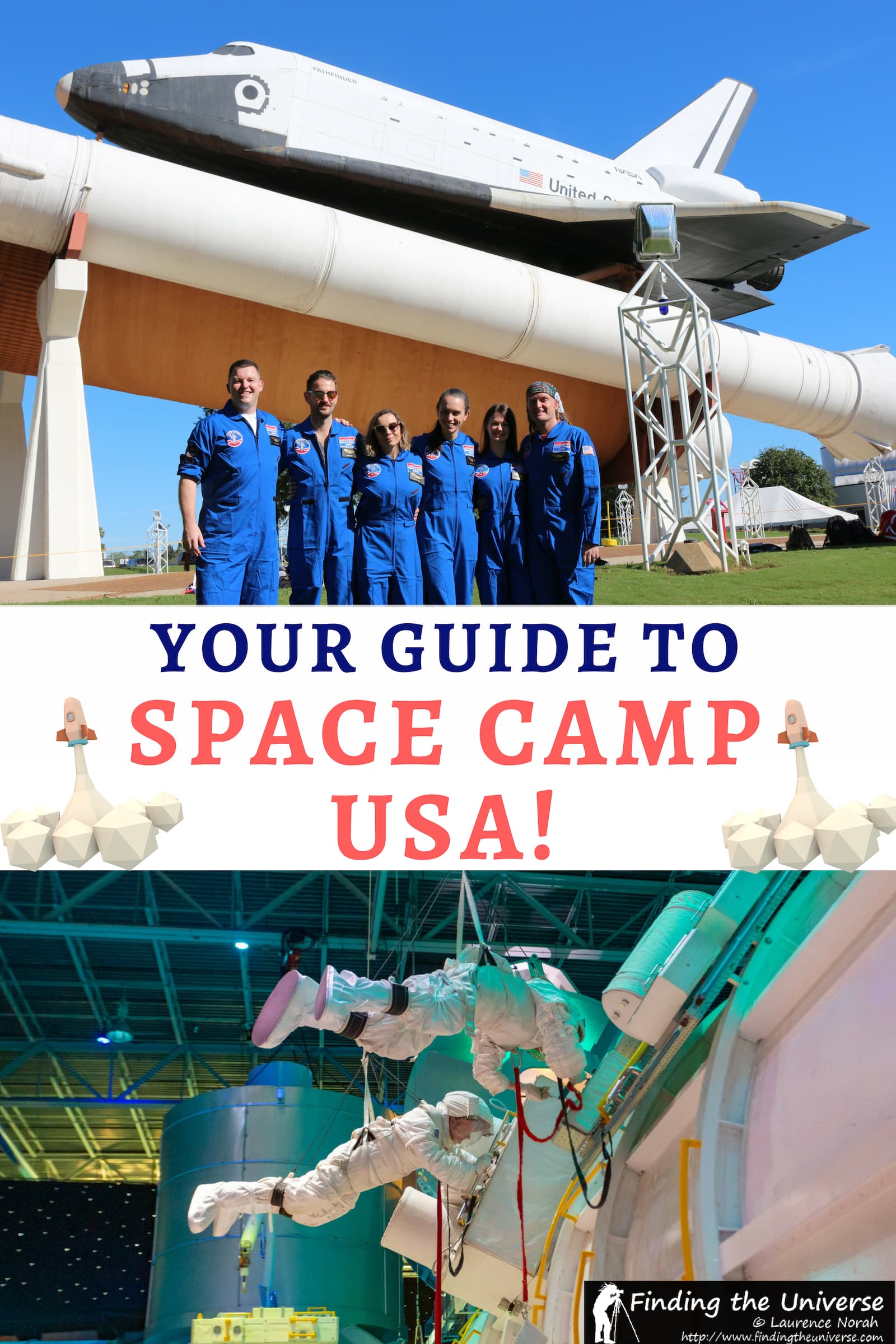 So you know: We were invited to experience Space Camp by the Visit Huntsville CVB in partnership with the U.S. Space and Rocket Center, and they covered our accommodation, food, transport and experiences whilst in the area. As always our opinions are our own, and getting excited about space is something we do naturally. For more information on how we choose partners to work with and what that means, you can read our code of ethics.