If you're visiting Huntsville Alabama, the chances are good that a visit to the U.S. Space and Rocket Center is on your list of things to do.
And it if isn't, well, I'm here to tell you that it should be! This is one of the largest museums of its kind in the world, with the largest collection of space artefacts. In addition to that, Huntsville itself is home to one of the major NASA facilities, NASA Marshall, and the U.S. Space and Rocket Center is right next door to the NASA Marshall facility.
NASA Marshall Space Flight Center is where NASA develops and tests a wide range of items relating to the US space program, with a major focus on rocket engines.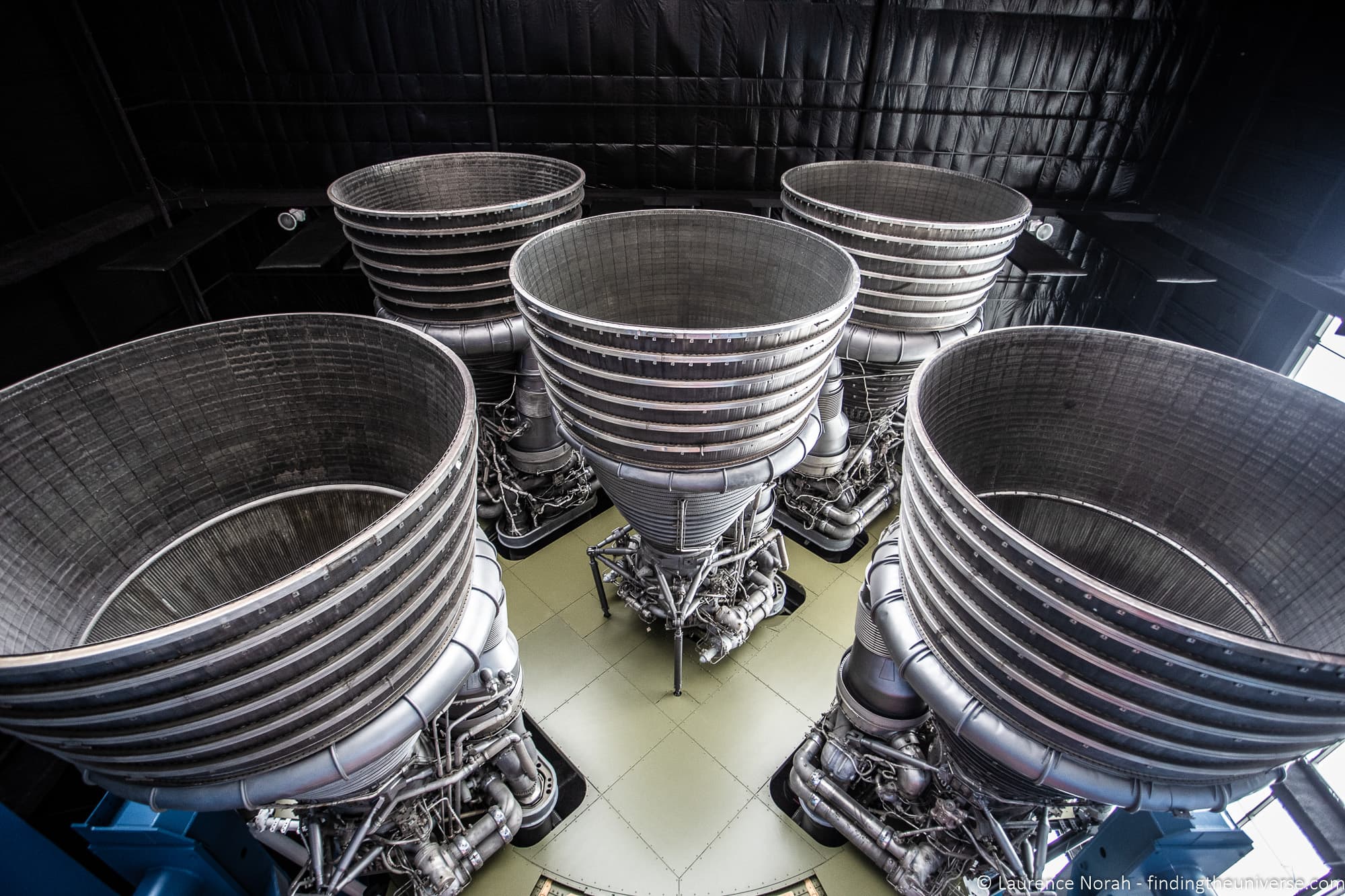 At the U.S. Space and Rocket Center you can learn everything you ever wanted to know about space flight, see historical artefacts from the whole history of space exploration, and even learn how to become an astronaut yourself!
In this post,we're going to share with you everything you need to know to plan your own visit to the U.S. Space and Rocket Center, including getting here, what to expect, and tips for your visit.
Where is the U.S. Space and Rocket Center?
The U.S. Space and Rocket Center is located at 1 Tranquility Base, Huntsville, AL 35805.
It is about a 10 minute drive from downtown Huntsville, which is located in northern Alabama not too far from the Tennessee border.
How to get to the U.S. Space and Rocket Center
The U.S. Space and Rocket Center is about ten minutes drive from the center of Huntsville. The easiest way to get here is to drive, and there's a large free parking lot for visitors on site. You can also take the Huntsville Shuttle, specifically Route 3, which runs from 6am to 6pm Monday through Friday.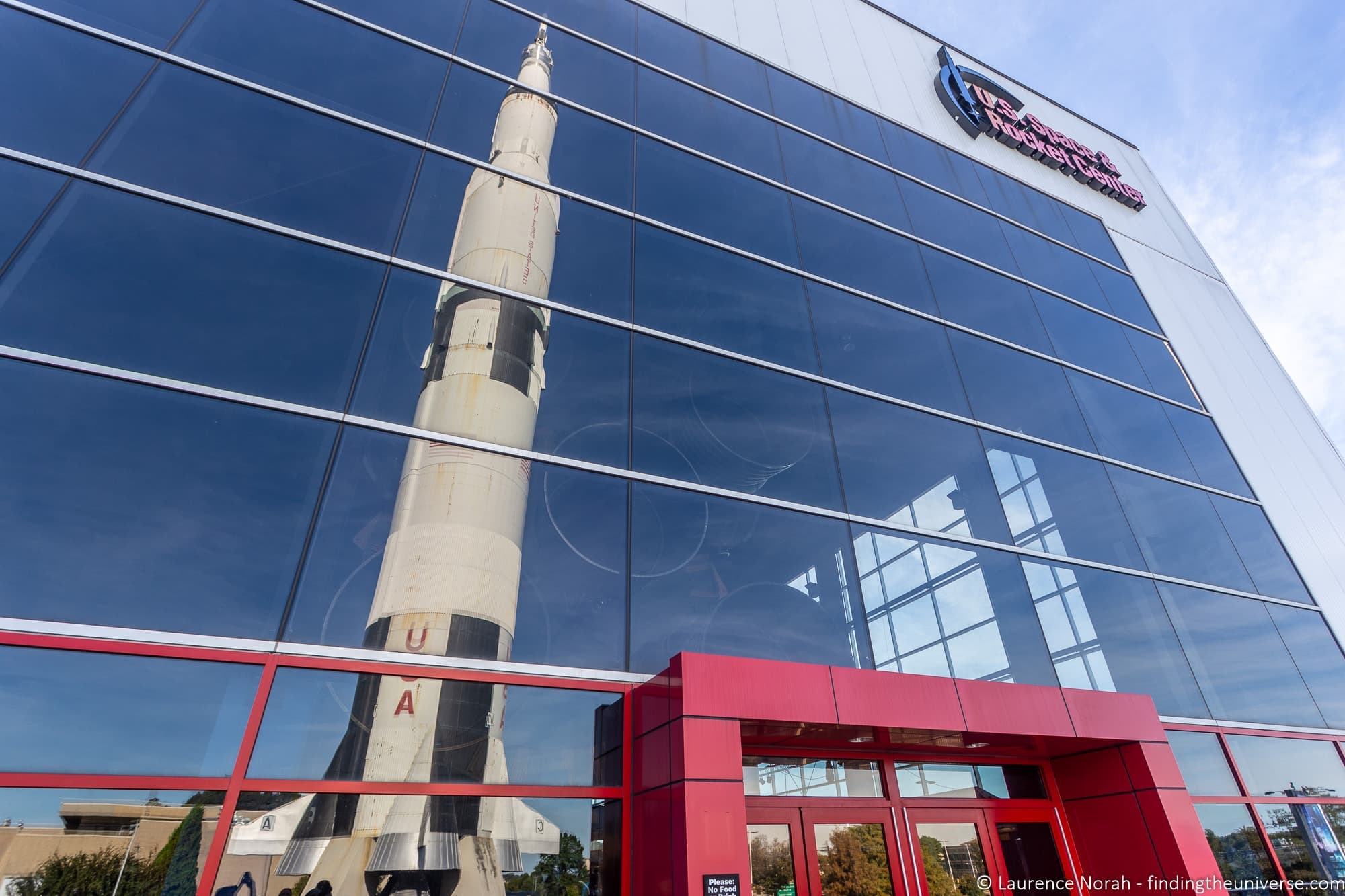 Huntsville itself is easy to reach as it has an airport, and being less than an hours flight from the major international hub at Atlanta means you can get to Huntsville fairly easily from anywhere in the world.
From the airport it's around a fifteen minute drive to the U.S. Space and Rocket Center, with a taxi or private car being the best option. If you are staying at one of the nearby hotels, check if they offer a shuttle service.
When is the U.S. Space and Rocket Center Open?
The U.S. Space and Rocket Center is open 7 days a week from 9am to 5pm. It closes for Thanksgiving Day, Christmas Eve, Christmas Day, and New Year's Day.
As always, we recommend you check the official website before visiting to ensure there are no special events or changes to these opening hours.
How much does the U.S. Space and Rocket Center cost?
As of May 2022, the U.S. Space and Rocket Center is $30 general admission for adults, which includes children aged 13 and above. Children aged 5-12 pay $20, and children 4 and under are free.
There is a wide range of discounts on general admission available for Seniors, Veterans, and AAA members, as well as active military and those working for NASA amongst others. Check out the pricing page here for full information.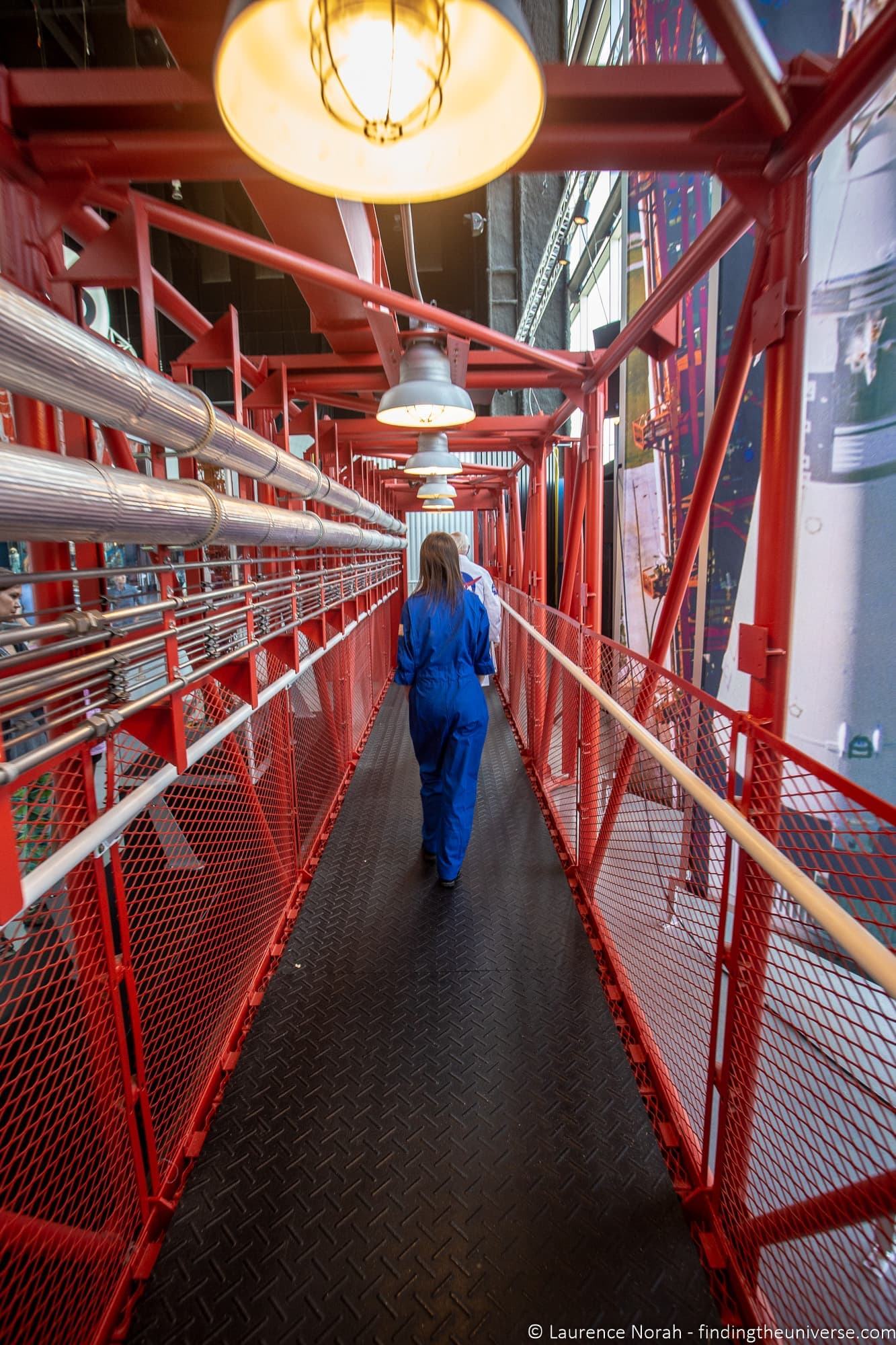 Admission includes access to the main attractions, including the historic Shuttle Park, Rocket Park, all indoor exhibit areas, guided tours of the Saturn V Hall, and all the museum simulators and rides.
Entry does not include any of the movies, which are individually priced at $12, or the NASA Marshall Space Flight Center Bus Tour. This tour runs once a day at 12:30pm, is open to U.S. citizens only, and costs $20 per person.
You can purchase your tickets at the official website, or on Tiqets here.
How Long Does it Take to Visit the U.S. Space and Rocket Center?
Obviously this depends on you and your level of interest, but we would suggest spending at least 4 hours here. Just seeing the various permanent exhibitions will take you around 3 – 4 hours. Adding in time on the rides and a movie is likely another 1.5 – 2 hours. There's also cafeteria dining on site, so you'll want to consider that, as well as any time spent in the giftshop.
If you take the Marshall bus tour, that's going to be another 2.5 hours, in which case you should plan to spend the whole day here!
What to see at the U.S. Space and Rocket Center
There is a lot to see at the U.S. Space and Rocket Center, and if you plan on doing everything that's on offer here, we can recommend you plan to spend a whole day here. Here are some of the major highlights we recommend you see.
The Main Exhibit Area
The U.S. Space and Rocket Center has a number of permanent exhibition spaces which between them display over 1,500 space artifacts.
The main exhibit area is home to an extensive collection of rockets and space memorabilia – in fact, the largest on display anywhere in the world. Here you'll also find various rides and simulations that you can partake in.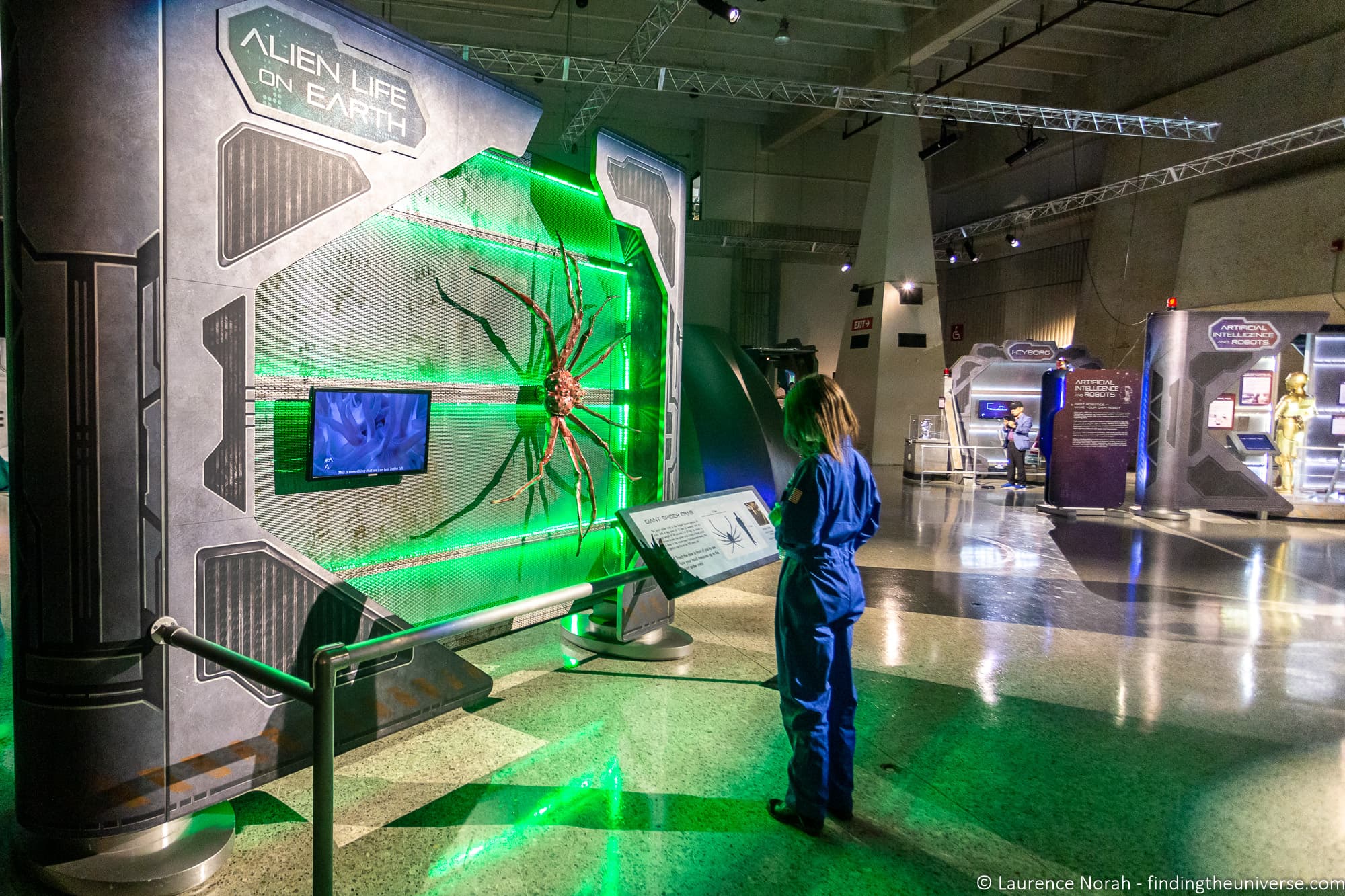 As well as the permanent collection, the main exhibit area is also where you'll find the featured exhibitions, which change periodically. When we visited, this was titled "Alien World and Androids", and featured both information on science's efforts to find life on other worlds, as well as information on how aliens and robots have appeared in popular culture – from Star Wars to Lost in Space!
There was also an International Space Station exhibit, which featured two ISS modules designed to help visualise what life is like on board the ISS for astronauts. This contains 20 full-scale replica racks to illustrate the Environmental Control and Life Support System, an astronaut sleeping birth, toilet, and examples of the sort of food astronauts eat on board the ISS.
The Davidson Center for Space Exploration
The newest addition to the U.S. Space and Rocket Center is the Davidson Center for Space Exploration – a massive hall which is home to an equally massive exhibit – the Saturn V Dynamic Test Vehicle. This is definitely a highlight of the center.
This is a full size prototype Saturn V rocket – the same that took astronauts to the moon – which was used to test the rockets performance when vibrating under launch power. There were 15 Saturn V rockets built in total, and 12 were used, including the Apollo 11 that took men to the moon for the first time!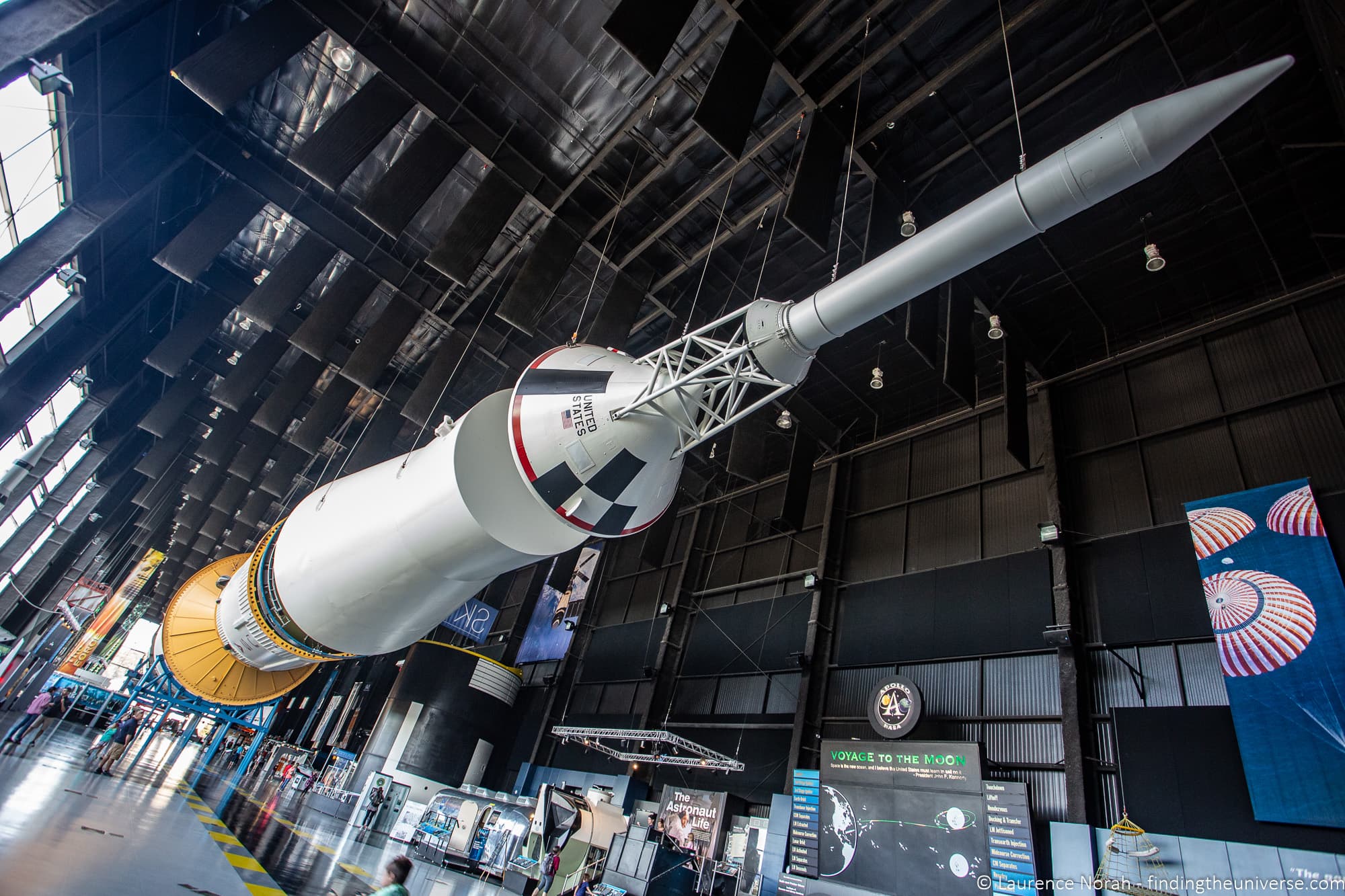 Whilst the displayed rocket never actually launched, it was tested to ensure it would be able to withstand the 7.6 million pounds of force of a launch. As you can imagine, this amount of power produces a great deal of vibration, and 450 hours of testing were performed on the test vehicle to help the NASA team ensure that their design would work.
After testing, the Saturn V Dynamic Test Vehicle was put on display at the Alabama Space Science Center, which later became the U.S. Space & Rocket Center. However, it was displayed outside, and nearly 30 years of weather and pests meant that it needed some significant care and attention to restore it to its former glory.
Thankfully, this happened, and today the Saturn V hangs proudly inside the Davidson Center, where it is protected from the elements, and it's true size can be appreciated.
Of course, the Davidson Center is more than just the Saturn V, although this is a highlight here. Here, you can learn all about the history of NASA Marshall and how it continues to be involved in space exploration programs, from historic activities through to future programs.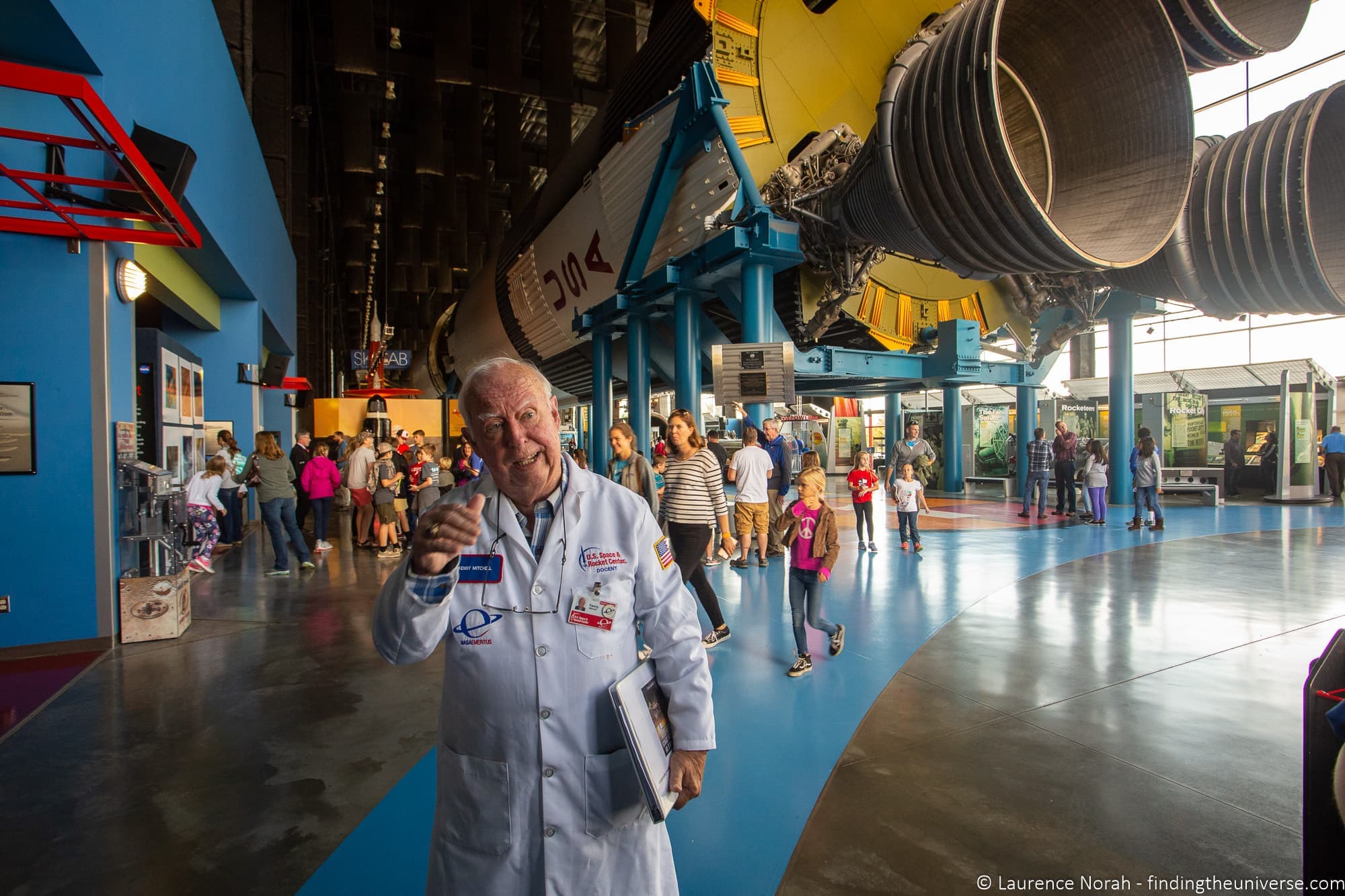 There are also cool artifacts from the Apollo program on display, including the original Apollo 16 capsule, and the original walkway that astronauts used to access the Apollo command modules atop the Apollo Rockets. There are also interactive exhibits, including a simulator to give you an idea of the noise and vibration associated with a rocket launch.
We can highly recommend taking advantage of the free guided tours of this facility and friendly docents, which are usually run by folks who actually worked for NASA on these programs. The first time we visited we did a tour with Kenny Mitchell, who had worked with NASA since the 1950's. He provided lots of background and interesting anecdotes about working at NASA. On our second visit we just wandered around on our own.
Rocket Park and Shuttle Park
This being the U.S. Space and Rocket Center, naturally, there are a fair few actual rockets to see! As well as the Saturn V in the Davidson Center, the outside areas of the museum are home to a number of other rockets, both real and mocked-up. The two main display areas are located outdoors and known as Rocket Park and Shuttle Park.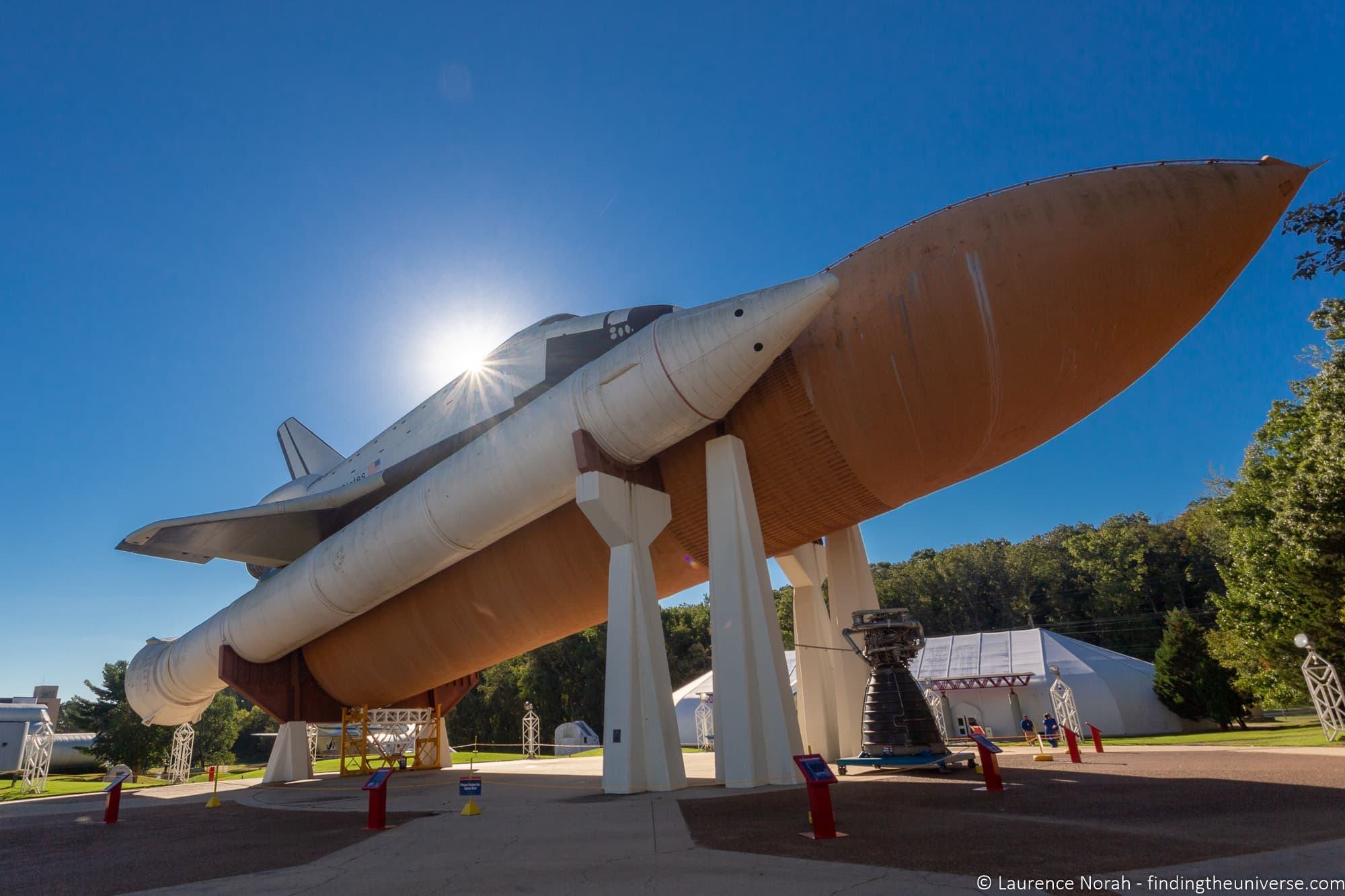 Rocket Park is home to no less than 27 missiles and rockets, which showcase the evolution of America's space program. Highlights include the Saturn I, precursor to the Saturn V, the Mercury Atlas, which was used to launch the Mercury astronauts into orbit, and Redstone rocket, which was the first rocket developed in Huntsville.
Shuttle Park, as the name suggests, is home to a full-scale space shuttle in launch configuration, more formally known as the Space Transportation System (STS). This includes two solid rocket boosters, genuine space shuttle main engine nozzles, and a genuine external tank. The shuttle itself and rocket boosters are not genuine, but the whole thing is still stunning to behold, and it is the only display of a fully configured STS in the world.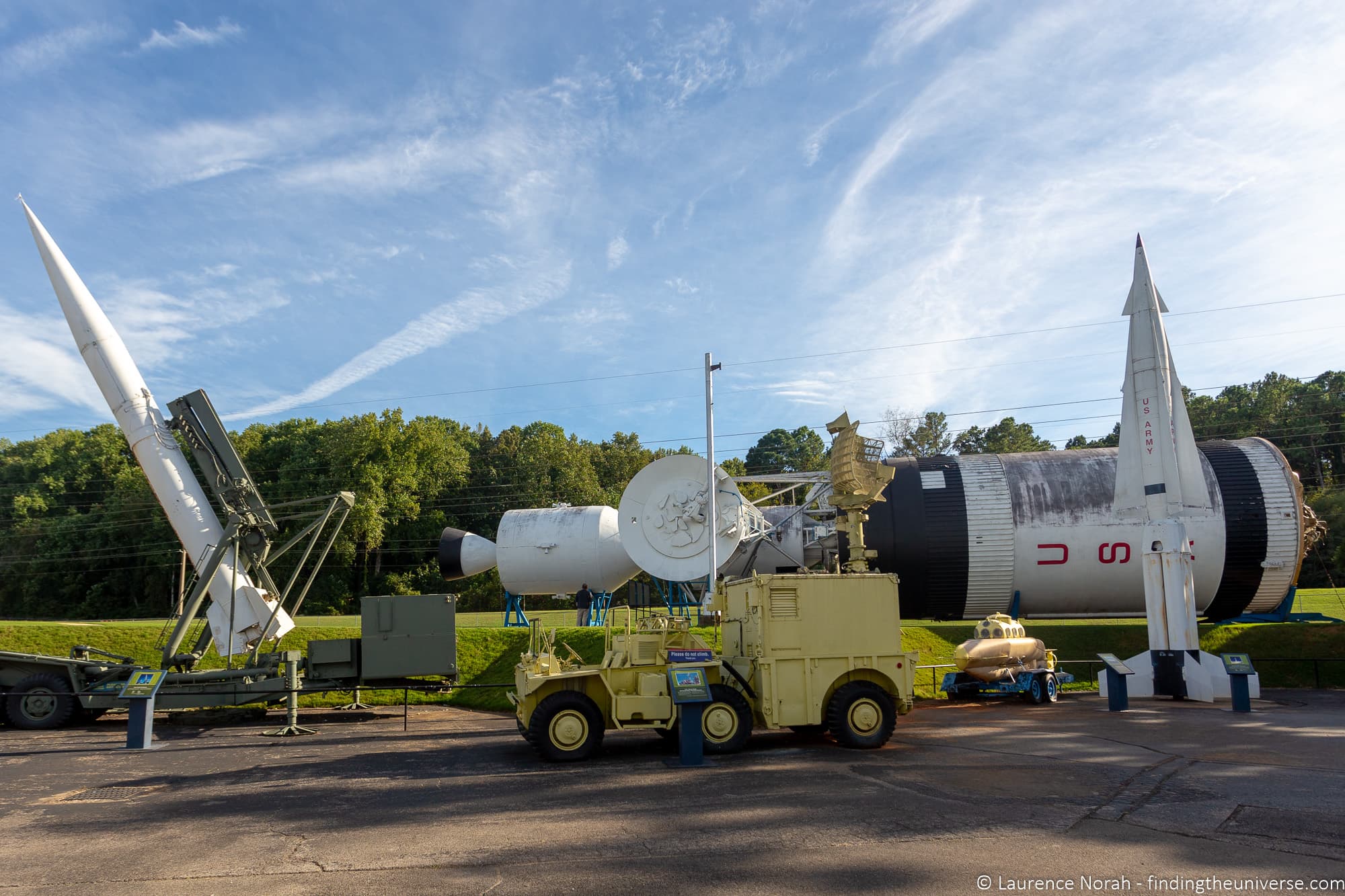 Shuttle Park is also home to a number of other exhibits, including jets used in astronaut training, so there are plenty of photo opportunities and things to see here.
The Rides
There are a number of rides and simulators on offer at the U.S. Space and Rocket Center, all of which are included in the price of your admission ticket, which is pretty cool.
Outside, you'll find the G-Force accelerator, which simulates a 3G force on your body, to give you a sense of how it feels to be under acceleration. It does this by spinning you around, but because the whole room moves, there's none of the disorientation that might otherwise happen with this sort of ride, and you just get to feel the odd sensation of your body feeling three times as heavy as normal!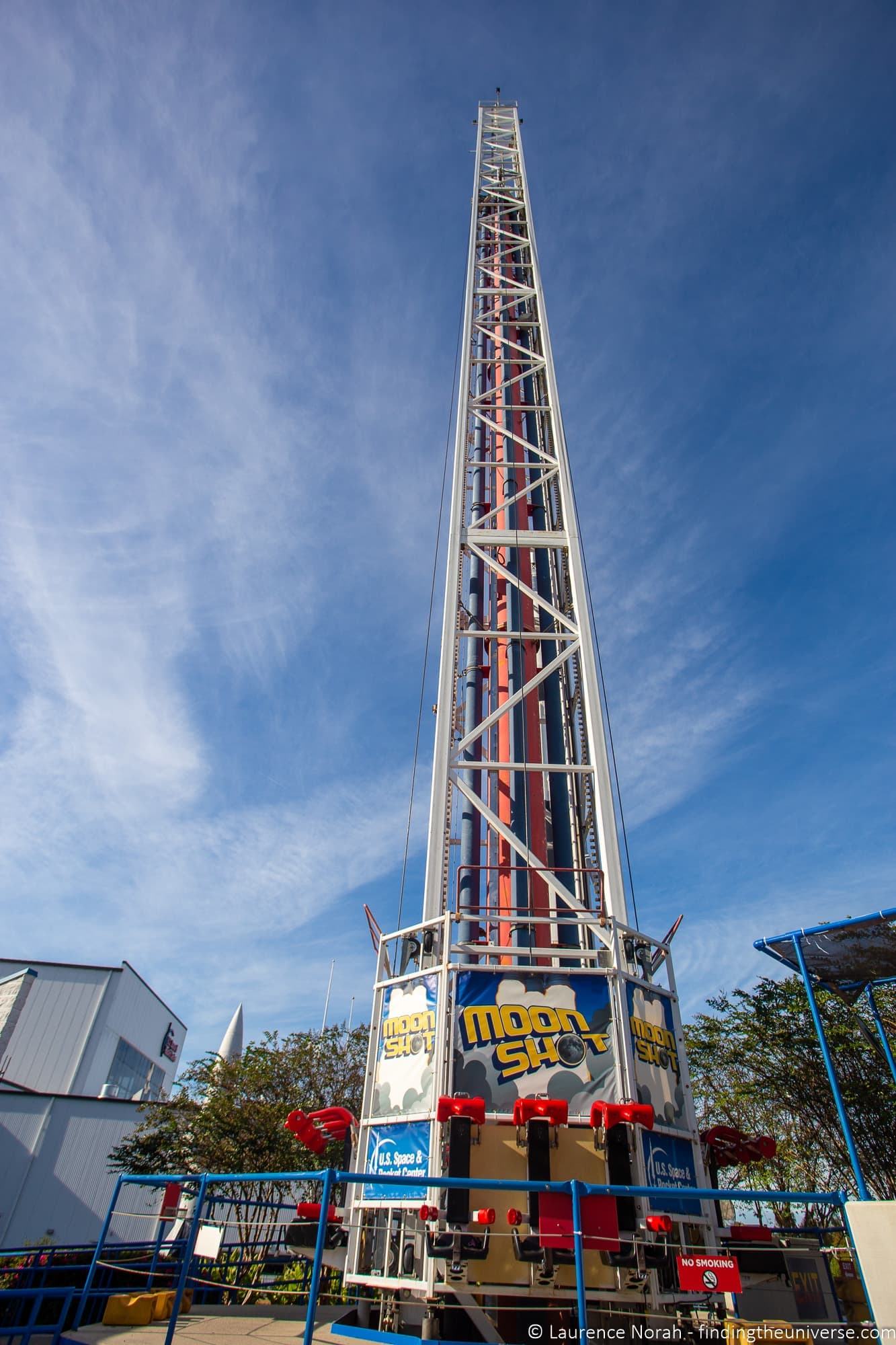 There is also the Moon Shot, which fires you straight up 140 feet in 2.5 seconds, giving you a taste of what a rocket launch might feel like. This also includes 2-3 seconds of weightlessness! This was much faster than I expected and is not for the faint of heart! Jess was happy to have passed on this one.
Inside within the main exhibit area, there's a motion based simulator called "Hypership", where a high definition movie is played inside a simulator that moves with the images to create a realistic feeling of motion. There's also a climbing wall, and various kid friendly activity and play spaces where the more active members of the family can burn off some energy!
Theater / Planetarium (new for 2019)
Inside the Davidson Center is the National Geographic 3D Theatre, which plays a variety of space related titles, usually lasting in the region of 45 minutes. Tickets for these shows are sold separately ($8 each), although a combo ticket is available which includes entry to the museum as well as one movie.
For a long time the center has had a domed IMAX movie theatre and planetarium, however the technology is now out of date, and a decision was made to replace this with an upgraded experience. As such, a brand new Planetarium with cutting edge 4K laser projectors is currently under construction, and is due to open in 2019.
NASA Marshall tour
If you want to tour the actual NASA Marshall Space Flight Center, this is possible to do by taking the guided bus tour that departs daily from the U.S. Space and Rocket Center. This is a separately ticketed attraction, with tickets currently costing $20. There is only one tour a day, so if this is something you are interested in, it's advisable to book this in advance.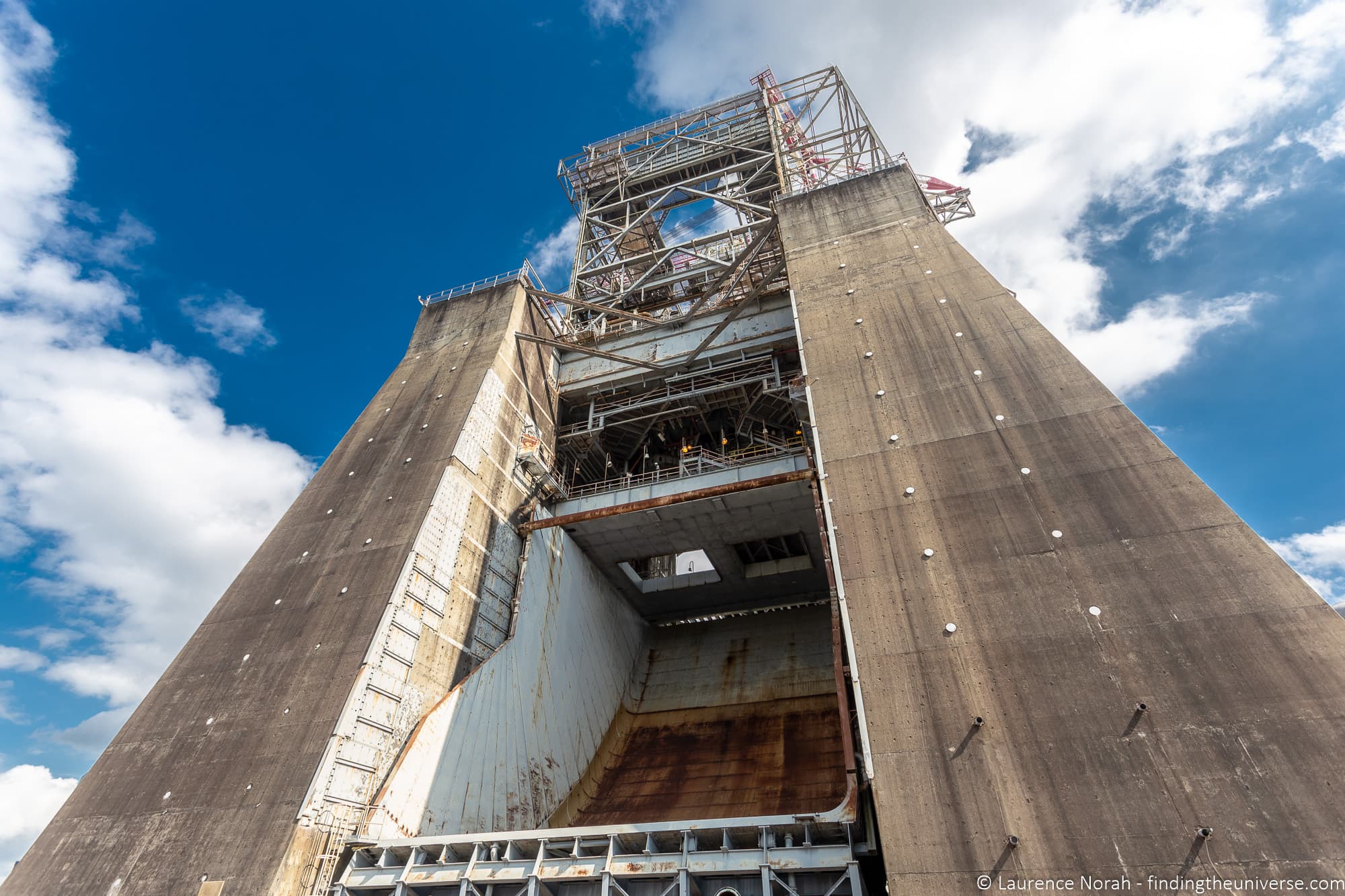 It's also worth noting that for security reasons, the tour is only open to U.S. citizens. The NASA Marshall Space Flight Center is found on an active military base, and as such security is fairly tight. You will need a valid government-issued photo ID, like a driver's license or a passport.
The tour itself is well worth doing. The locations it visits can vary due to operational reasons (this is a working NASA facility after all!), but will likely include stops to see:
the historic test stands where the Apollo rockets were tested, including the historic Redstone test stand
the Payload Operations Integrations Center (where the ISS scientific missions are co-ordinated from)
Propulsion Research and Development Laboratory
the ECLSS, where you can see how waste water is turned back into drinking water on the ISS
The tour take around 2.5 hours.
Space Camp
The U.S. Space and Rocket Center is also home to the US Space Camp program – an awesome on-site educational camp experience that will give you a taste of what it is like to train to be an astronaut.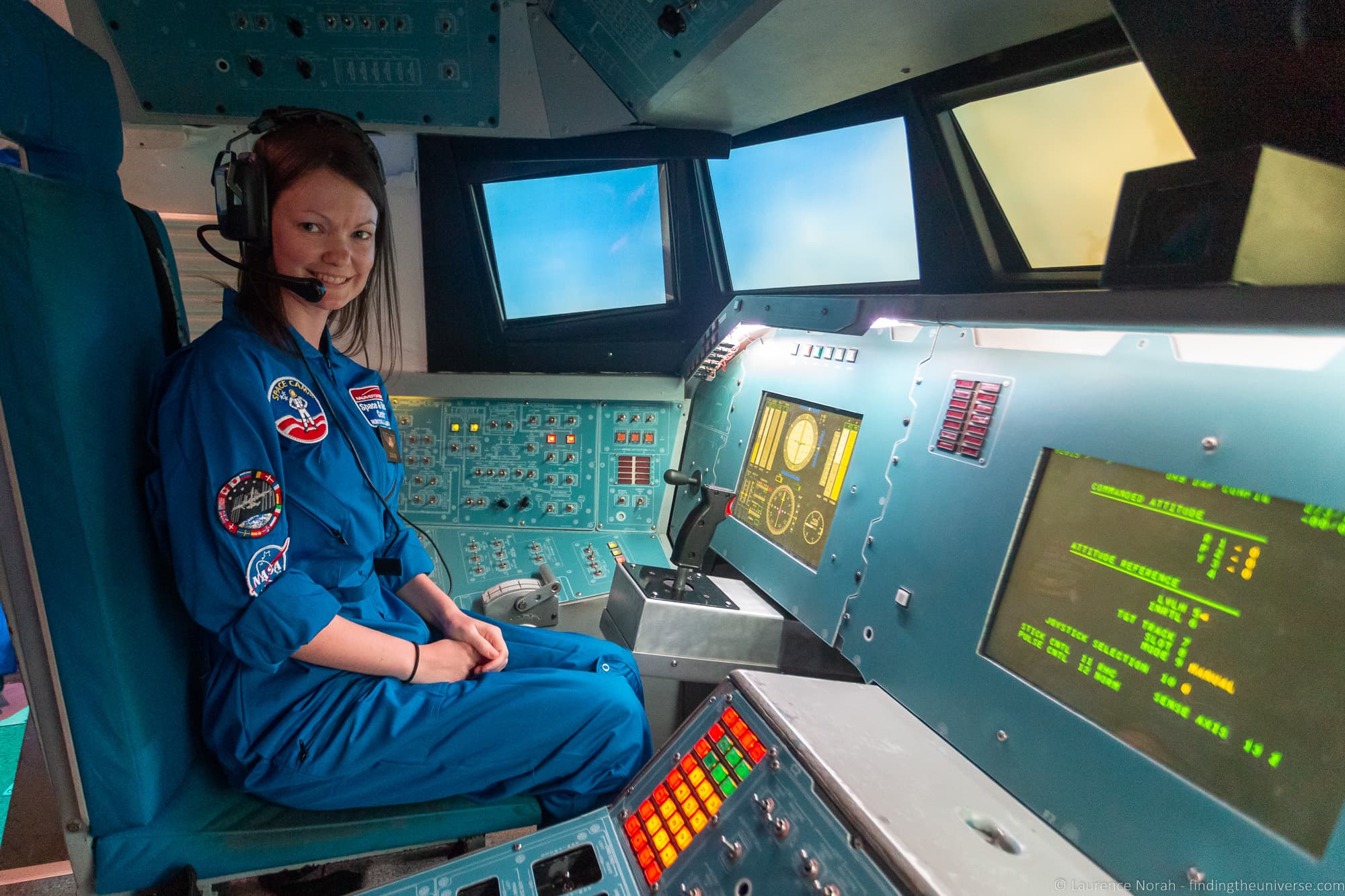 This is not something you can just turn up and do, as it requires advance booking, and usually between 3 and 6 days of your time. The main people who take part are school children, but individuals, families, and international visitors can also take part.
We were lucky enough to be given a taste of what Space Camp has to offer, and we wrote all about our experiences in our Guide to Space Camp post. Suffice to say, if you've ever wanted to do an EVA, walk on the moon, or try your hand at flying the space shuttle – Space Camp might be for you. And, despite what you might think, yes, it is open to adults, with special Space Camp adult programs available.
The Gift Shop
We're going to finish our list of things to see at the U.S. Space and Rocket Center with a mention of the gift shop.
The main reason we're doing this is because the gift shop is full of all kinds of awesome NASA related things, from clothes to fridge magnets, and you want to be sure you give yourself enough time to pick up any souvenirs you are interested in.
There are actually two gift shops – one fairly small one next to the National Geographic Theater entrance, and a larger one in the main exhibit building. Both are worth looking at as they seem to have slightly different products, but if you only have time for one, head to the big one!
Other space-related sites in Huntsville
If you are interested in visiting more space related sites around Huntsville, we have good news – there are plenty! Here are a few to give you some ideas for your visit.
The Hermes Guided Missile. This was the first American-made guided missile ever put on public display. It can be found near the junction of Airport Road and Memorial Parkway, just near the airport.
Boeing Space Station Connecting Node – This Boeing built connecting node was built as a mock-up for the Space Station program and was later given to the Huntsville Botanical Garden. It now sits within the Children's Garden section of the botanical garden.
The Wernher von Braun Planetarium. This Planetarium and observatory is run by the Von Braun Astronomical Society. Fun fact, the dome in the planetarium was actually a part of a rocket! Public shows are available on most Saturday nights. The planetarium is located in Huntsville within the Monte Sano State Park.
Alan Shepard bootprints. Alan Shepard was the first American in space, and you can find his bootprints and a marker along Franklin Street in downtown Huntsville next to the Alabama Constitution Hall.
As you can see, there's lots of space related stuff to do in an around Huntsville! There's also plenty more to see and do in the area beyond space themed attractions – check out our comprehensive guide to things to do in Huntsville for more inspiration.
Where to stay near the U.S. Space and Rocket Center
There are a number of options for accommodation near the U.S. Space and Rocket Center, as well as in downtown Huntsville itself. Whilst downtown Huntsville is convenient for shops and restaurants, there's nothing quite like having a view of a rocket out of your hotel window, as we did!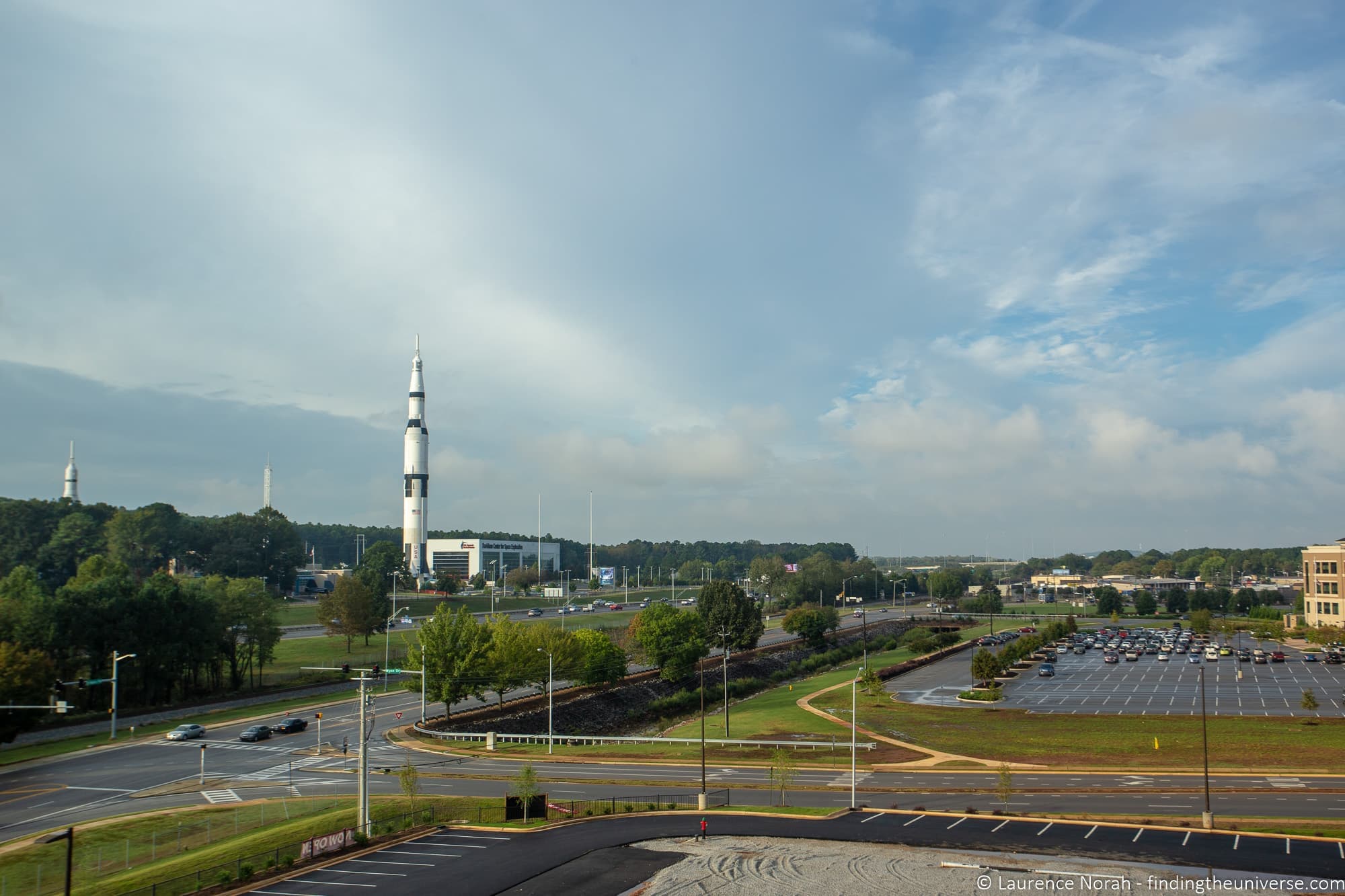 Here are some hotel and other accommodation ideas for your trip, plus you can take a look here at all the hotel options in Huntsville to see what is available.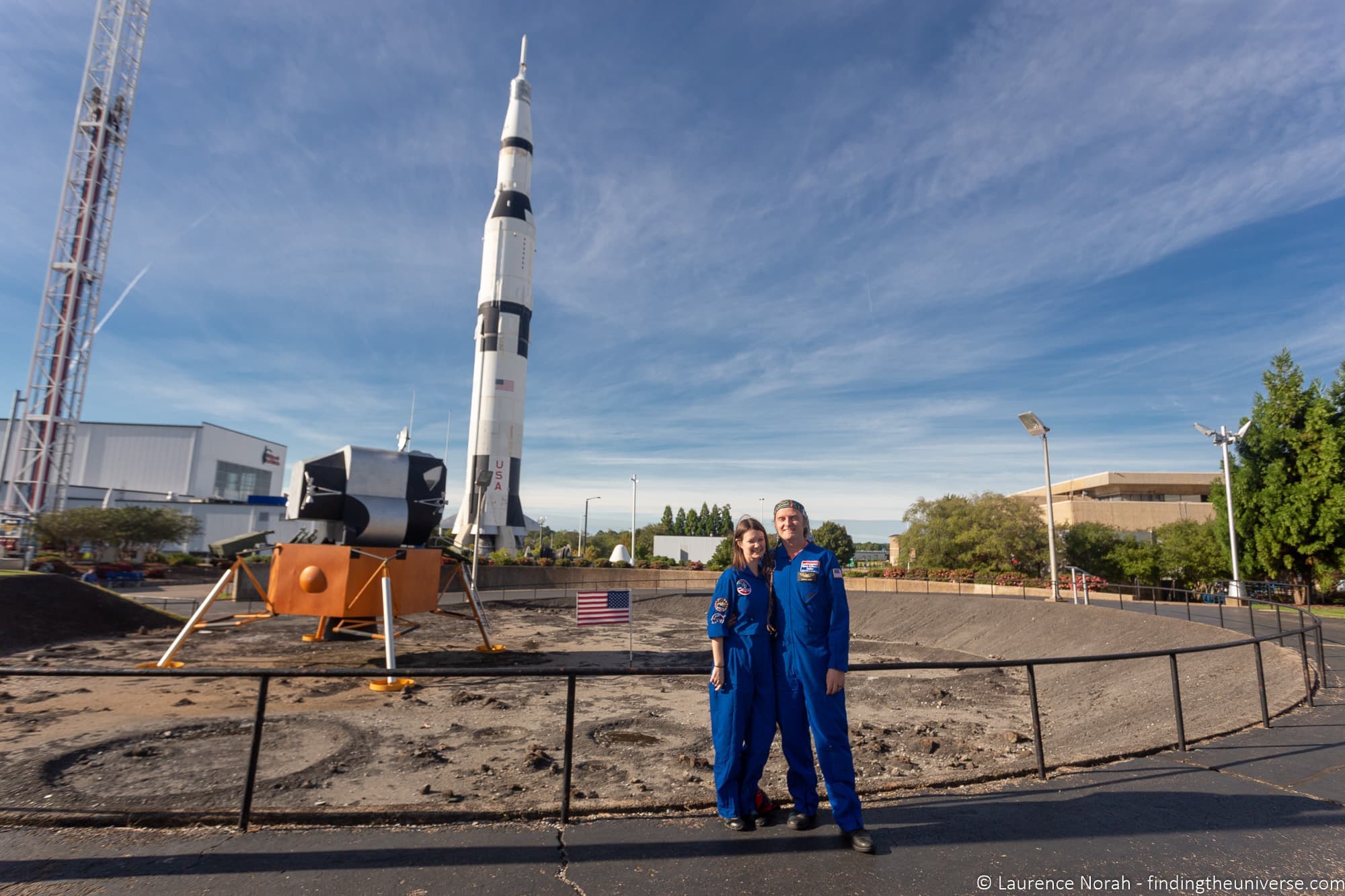 Further Reading for your Visit to Huntsville, Alabama
During our stay in Huntsville we experienced a lot of fun activities and sights, and we've created a series of posts to help you make the most of your time in the city. We've also put together content around travelling in the USA which we think you'll find useful in planning your trip.
And that finishes up our guide to visiting the U.S. Space and Rocket Center! We hope you found it useful. As always, we'd love to hear your feedback and any questions you might have in the comments below!