I love cycling. When I lived in France it was my preferred method of getting round. It's faster than walking, environmentally friendly, and you get to take in the scenery and fresh air. Plus the odd fly, for nutrition. So when the opportunity to spend three days cycling in the Pyrenees presented itself, I jumped at the chance.
Ok, so the real reason I jumped at the chance was because the cycle trip included a balloon ride. But it turned out that cycling is one hell of a way to experience the gorgeous countryside of the Pyrenees region of Catalonia, even when not floating above it suspended by nothing but hot air and ultramagic.
I was initially a little concerned by the proposed itinerary for our three day trip. I like to think of myself as fairly fit, but the first day included nearly fifty kilometres of cycling. And the route was right up near the Pyrenees. And even I know that the Pyrenees are a fairly big pile of mountains. Fifty kilometres of leg busting sounded like hard work, even with a balloon ride as pay off.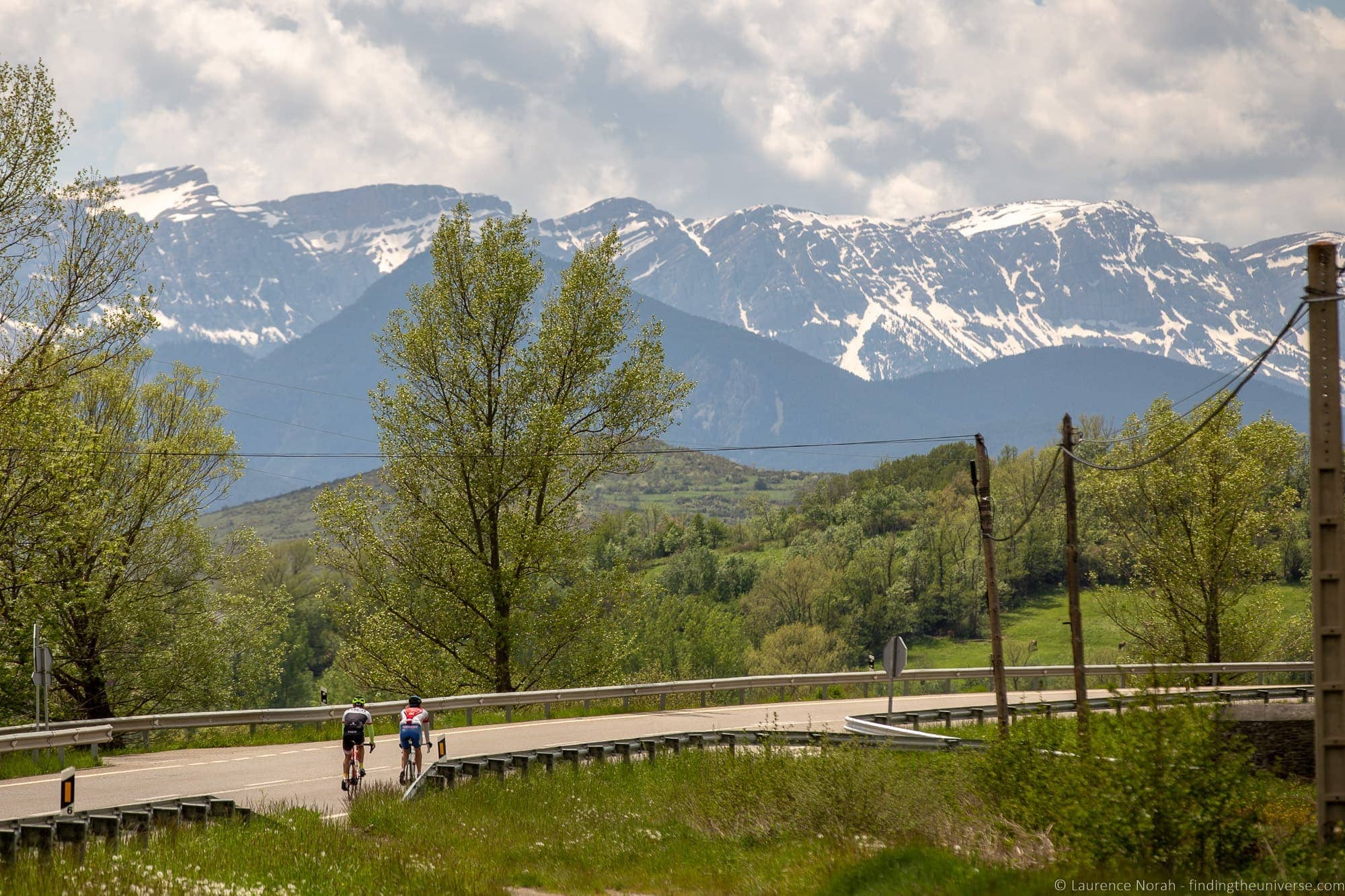 I needn't have worried though. Our route was all about taking in the old rail trails of Costa Brava, which have been converted into lovely cycling routes, as part of the Girona Greenways programme, known locally as the Vies Verdes.
And one thing that most railways have in common is that they are usually flat, valley following affairs. So, despite towering mountains all around, our route took us gently meandering around the hills and through pretty villages, offering the scenery with not so much of the effort. Result!
We followed a variety of routes on our trip, including one of the more popular stretches of the Olot – Girona route, between Olot and Les Planes d'Hostoles. We also cycled parts of the Baix Emporda coastal route, to get an impression of the different landscapes and options available to cyclists coming to the Pyrenees and Costa Brava region.
Here are some of the highlights of our trip, followed by some practical information to help you plan your own route.
Highlights from Cycling in the Pyrenees
Olot
Olot is the capital of the La Garrotxa region, which is famous for its volcanic landscapes. The town is home to a lovely old market, an excellent museum on volcanoes, and another fantastic museum on the production of religious figures, which Olot is well know for.
The Gorge of Cogolls
On the 57km long narrow gauge railway route which we followed between Olot and Les Planes d'Hostoles, we stopped at the picturesque gorge of Cogolls, where a little waterfall tumbled into an appealing swimming hole. We even dipped our toes in, to see how warm it was, though none of us were as brave as the local in attendance with his dog, who entered the water with gusto.
Had we had more time (and some swimming gear), we totally would have headed in to the water. As it was, lunch wasn't far away, so after taking a few photos and admiring the wetness of the happy hound, our stomachs rumbled us towards:
Taking time to picnic
My general memories of picnic lunches involve rain dampened grass and slightly moist sandwiches, followed by, if I was lucky, a bag of crisps and if I was unlucky, a piece of fruit. It was all well and good, but hamper toting affairs they weren't.
Our picnic lunch in Costa Brava was a slightly different affair. Wine, for example, was front and centre (never mind the fact that we still had 20km of cycling ahead of us). A variety of different sausage types were on offer, as well as an array of cheeses. There was bread, along with garlic and fresh tomatoes. The latter of these two items are supplied in order for you to rub them vigorously against the first, to create a Catalan speciality. It's also tremendously good fun.
Lunchtime entertainment was provided by Shaun of Over Yonderlust, who demonstrated to the group how to fall off a bike safely. Given the state of his hands afterwards, I'm not sure "safe" is the word I'd use. Still, the entertainment value was high, and with the food and wine, lunch had to be one of the finest picnics ever. Huzzah!
Making pottery
Of course, the rail trail wasn't all about food and pretty little hideaways. There was some history along the way, and two highlights really stuck out. The first was at the Quart pottery museum.
Here, at the site of the town's original brickworks, stood Quart's old pottery workshop, founded back in 1926. We took a tour of the facilities, peered in wonder at the vast drying kiln, and then had a go at our own pottery making.
Presented with a lump of clay and some pieces of paper, I have to say my mind departed from it's usual sane track, and I ended up creating a rather surreal scene featuring the figures of an angel and a devil fighting over the earth for man's soul.
That's totally what you got from the above image, isn't it? Not some randomly arranged bits of dirt? I knew we were friends. Don't worry though, I'm keeping to photography as my main artistic outlet.
And that was the pottery. The other highlight from the trip that stuck in my mind was:
The steam powered engine of yore
The railway lines we were cycling weren't build for scenic purposes, as the above pottery museum demonstrates. Rail has always gone hand in hand with industry, and this was no more apparent than in the town of Angles, where we visited the site of the remarkable Bures d'Angles steam machine.
This puffing, steam driven monster dominated one of the rooms in the Angles factory, once home to over 1,100 workers involved in textile production. And the steam engine was the driving force behind this piece of Catalan industrial history.
All of that is of course terribly interesting, but who cares about a rusty bit of old iron mongery? No-one, that's who. Which is why it was such a pleasant surprise to see this machine in all it's finery, looking like something out of the pages of a steampunk novel, in fully working order.
I'm talking gleaming pistons, shining cogs and lubricated… well. I'm sure you get the idea. And then, as if it being in working order wasn't enough, they flipped the switch, and like waking a dragon, the device puffed to life, giving us a glimpse of a world where steam was king. Quite fabulous stuff.
Girona
Girona is without doubt one of our favourite towns in Catalonia. With its beautiful colourful houses along the river front, winding medieval streets, and fantastic culinary scene, there's a great deal to do and see here.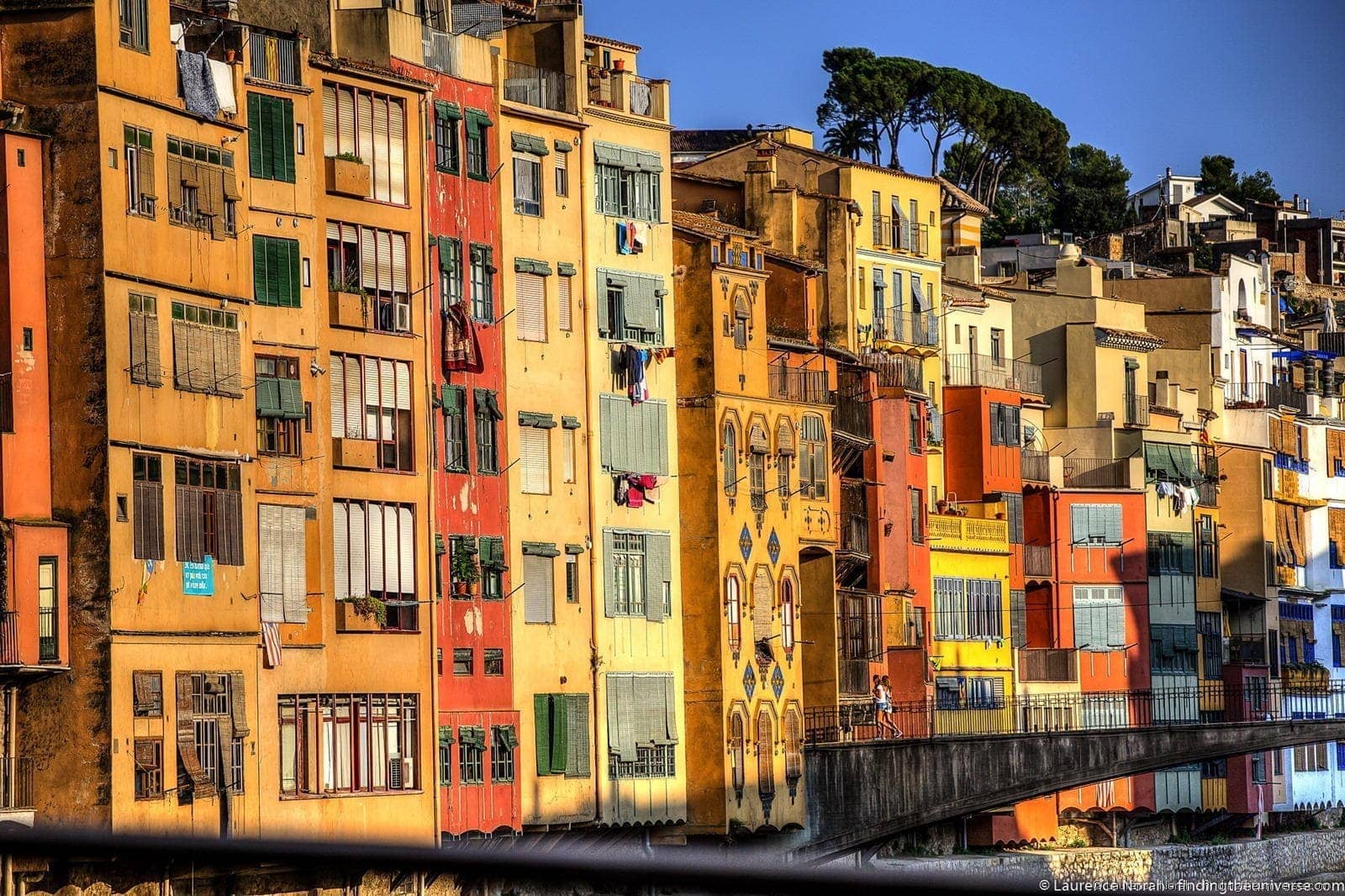 You could easily spend quite a few days just exploring Girona (which we have also done), but we definitely suggest it's worth including, even if only for a short visit, on any cycle trip in this region.
Planning your own Cycling Trip in the Pyrenees
Those were some of the many experiences we were able to take in as part of our bike the rail trail experience. Now I want to share some ways that you can do this trip, with useful resources and links you might find helpful.
If you want to plan your own trip but don't want to bring your own bikes, then check out Cicloturisme, who provided the bikes we used on our trip. As well as bike rentals, they can also put together itineraries and tours for you, and they cover everything from mountain biking routes to more gentle routes like we did.
For route planning, check out the Vies Verdes website. This lists all the various cycle routes available, difficulty levels and distances involved, as well as the highlights to look out for. It's all very well put together and nearly impossible to lose yourself even for a navigationally challenged chap like me.
If you're looking for a tour that just includes everything so you can just focus on cycling and enjoying the scenery, we recommend you check out the following:
This 7 day tour from Olot to the coastline, which includes time cycling in the Pyrenees, the volcanic Garrotxa region, Girona, and the Costa Brava coastline. It includes accommodation, breakfast and luggage transfers. You can bring your own bike, or hire one.
This selection of cycling tours that ranges from 7 – 12 days, and covers a variety of regions and difficulty levels. We're sure you'll find something to suit here.
Further Reading for Visiting the Pyrenees
We've been lucky enough to visit the Catalonia region a number of times, and we've put together a number of posts which we think you will find helpful to planning your visit. Here are some to start you off.
And that's it for our guide to what to cycling in the Pyrenees! As always, we're open to your questions and feedback, just pop them in the comments below.
We were guests of the above companies as well as the Visit Costa Brava folks, as part of our ten day Spanish adventure. Don't worry though, however much fun I might have had, my opinions remain my own.